Raymond Reddington Quotes from The Blacklist
Enjoy these Raymond Reddington quotes from a criminal mastermind.
Raymond Reddington is the main character in the TV series "The Blacklist".
Reddington is a genius criminal who had made it to number one on the FBI's most-wanted list and then after twenty years suddenly turns himself in.
Produced by Jon Bokenkamp, John Eisendrath, and John Davis, the series premiered on NBC on September 23, 2013.
It follows Reddington and his relationship with the FBI.
Even though he turns himself in, Reddington negotiates his continued freedom in exchange for constantly and repeatedly helping the FBI bring in other highly wanted criminals, some that the FBI would not even know about without him.
The character is masterfully played by James Spader.
Each season of The Blacklist has received positive reviews, with many critics praising Spader's performance in particular.
Don't forget to also check out these Joe Dirt quotes from the hilarious character.
Best Raymond Reddington quotes from The Blacklist
1. "Value loyalty above all else." – Raymond Reddington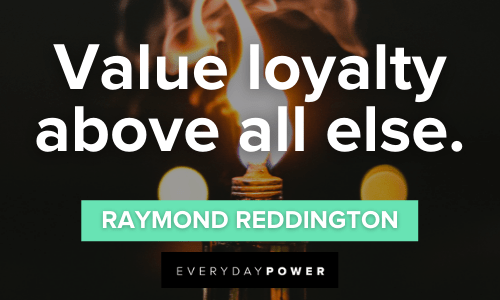 2. "You have to make your choices; you have to be happy with them." – Raymond Reddington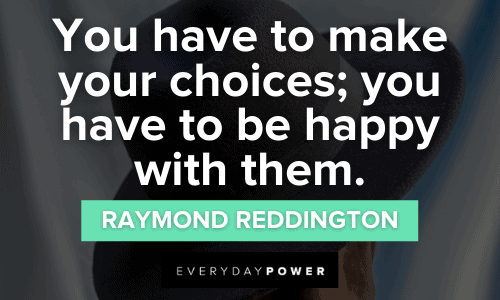 3. "When you love someone, you have no control. That's what love is. Being powerless." – Raymond Reddington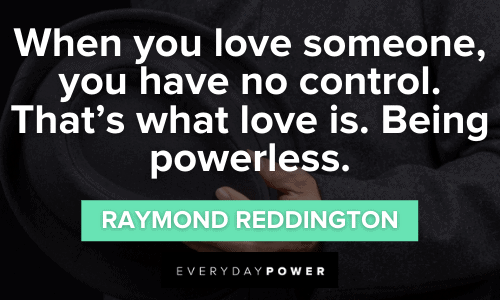 4. "Revenge isn't a passion, it's a disease that eats at your mind and poisons your soul." – Raymond Reddington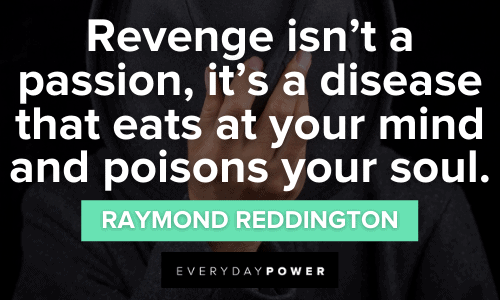 5. "Dead? Pishposh. What's death? It's just a process, right?" – Raymond Reddington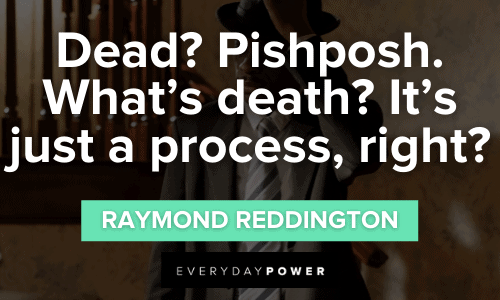 6. "Once you cross over, there are things in the darkness that can keep your heart from feeling the light again." – Raymond Reddington
7. "There is nothing that can take the pain away. But eventually, you will find a way to live with it." – Raymond Reddington
8. "The world can be such an unsparingly savage place one can be forgiven for believing that evil will triumph in the end." – Raymond Reddington
9. "The only thing that is real is the present, and you've plundered it, robbed it of the very geniuses that might have averted the dystopia you so fear." – Raymond Reddington
10. "As you well know, one of the keys to my success is a clear and consistent understanding of my own limitations." – Raymond Reddington
Best Raymond Reddington quotes and lines
11. "You see that Geoff, that is what a good man does. That is what separates men like him from men like you… and me." – Raymond Reddington
12. "You can't judge a book by its cover. But you can by it's first few chapters and certainly by its last." – Raymond Reddington
13. "As bad as you think I am, as far as you think I'm willing to go to protect that which I hold dear…" – Raymond Reddington
14. "Life is far too important a thing ever to talk seriously about." – Raymond Reddington
15. "In this world, there are no sides. Only players." – Raymond Reddington
16. "I had bullets. He had words. But when he was done talking for the first time, I truly understood which of those was more powerful." – Raymond Reddington
17. "God can't protect you, but I can." – Raymond Reddington
18. "I always found fear to be my most valuable sense." – Raymond Reddington
19. "You know the problem with drawling lines in the sand? With a breath of air, they disappear." – Raymond Reddington
20. "Every cause has more than one effect." – Raymond Reddington
Raymond Red Reddington Quotes About His Thoughts
21. "You lost her. I can't find her. It's that simple." – Raymond Reddington
22. "I could tell you how to win a marathon, but you're assuming it's a 26.6-mile race." – Raymond Reddington
23. "As a rule, I consider jealousy to be a base emotion, but in this case, It's quite endearing." – Raymond Reddington
24. "You look familiar…Have I threatened you before?" – Raymond Reddington
25. "I'm not a gumball machine, Lizzy. You don't get to just twist the handle whenever you want a treat." – Raymond Reddington
Which of these Raymond Reddington quotes is your favorite?
As you can see from the quotes above, Raymond Reddington is a complex, genius, narcissist who is always a few steps ahead of everyone else.
His focus is never on the task at hand, but what that task at hand leads to and the FBI needs to learn to start thinking like Reddington in order to keep up with him.
A sociopath who seemingly has no emotion or care for others, Reddington does show a fondness for a few loved ones throughout the series, but he is still the number one concern to himself.
With Reddington's intellect, charm, and cold-blooded reasoning he is able to get in and out of most situations and his past makes him an integral resource for the FBI as he leads them in capturing many high-profile criminals.
Check out Raymond Reddington in The Blacklist and see if you are as cunning as he is.
Did you enjoy these Raymond Reddington quotes and lines?
Which of the quotes is your favorite?
Let us know in the comment section below.
September 23, 2022 4:47 AM EST