110 Rest In Peace Quotes And Messages For Those Who Are Grieving
These rest in peace quotes will give you a little positivity that you need to hear to get you through the day.
Death is one of the only things we can be absolutely sure of in life.
But that doesn't make losing someone who has passed away any easier for those who are grieving.
You may also enjoy our article on:
Some people die from old age, some die from sickness, and some die from unexpected tragedies.
While some deaths may be easier to accept than others, the heartbreak of losing someone close to you is absolutely unimaginable.
But having faith that a person's soul is at peace can help us get through this difficult time and eventually take the steps we need to move on with our lives.
These rest in peace quotes won't bring back those who have passed on, but they may help relieve some of the pain.
Check out our most popular quote article, a list of short inspirational quotes for daily inspiration.
Explore our complete collection of motivational quotes here.
Rest in Peace Quotes on Death
1. "Death is only passing through God's other door." ― Edgar Cayce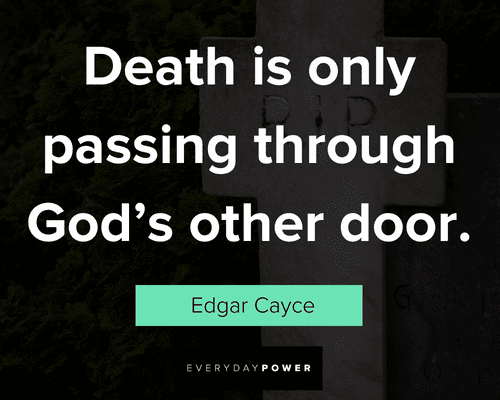 You will also enjoy our article on quotes about death.
2. "Peace is joy at rest. Joy is peace on its feet." ― Anne Lamott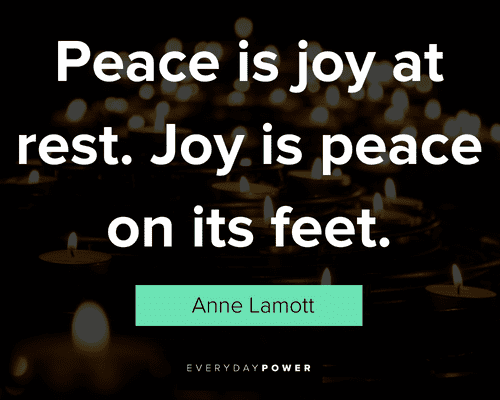 3. "You embrace death because life doesn't exist without it." ― Dominic Riccitello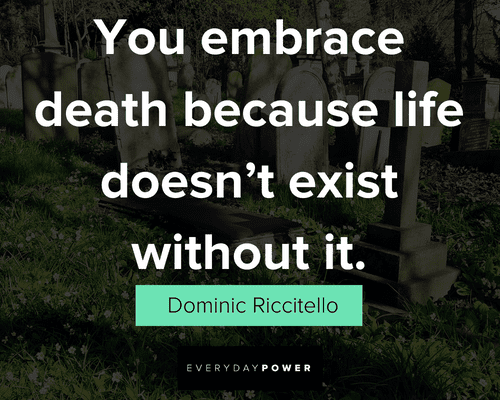 4. "When you are alive – try to find peace at rest; After death – RIP!" ― Amresh Jha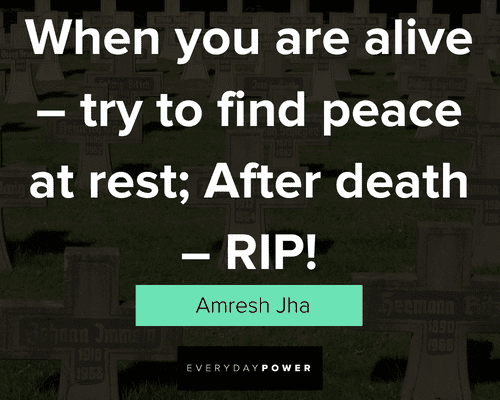 5. "Death is just another stage of life, although the one you kind of hope comes last." ― Robert Breault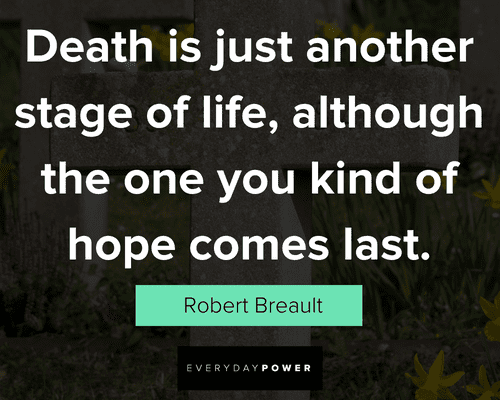 6. "A rested face is a beautiful face. However you can, find your place of rest and peace." ― Goldie Hawn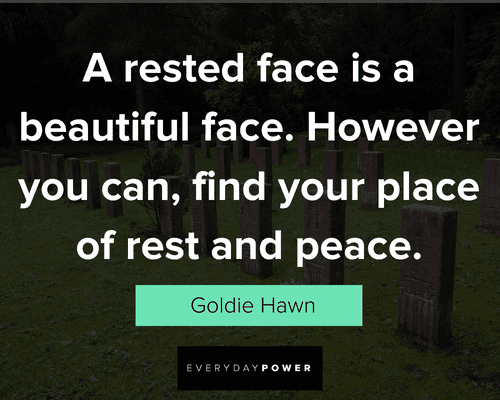 7. "Rest your mind for a moment in the peace of knowing you were created and you do exist." ― Bryant McGill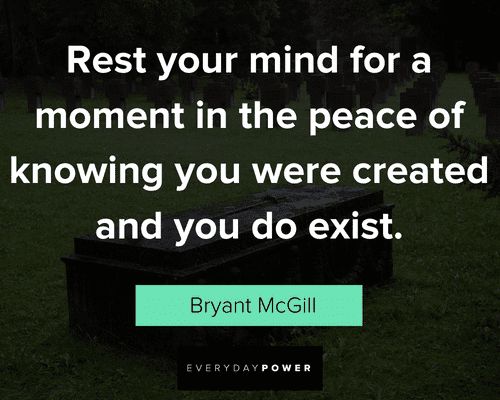 8. "There are no goodbyes. Where ever you'll be, you'll be in my heart." — Ghandi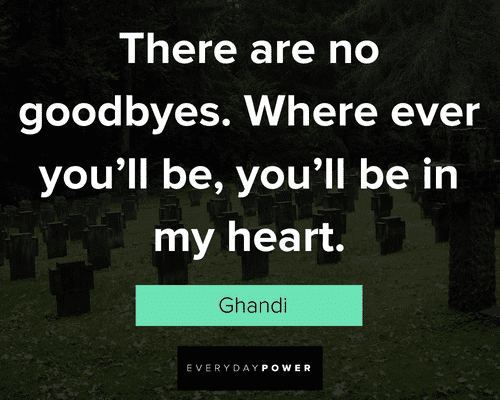 You will also enjoy our article on Tombstone quotes.
9. "What is lovely never dies, But passes into other loveliness." – Thomas Bailey Aldrich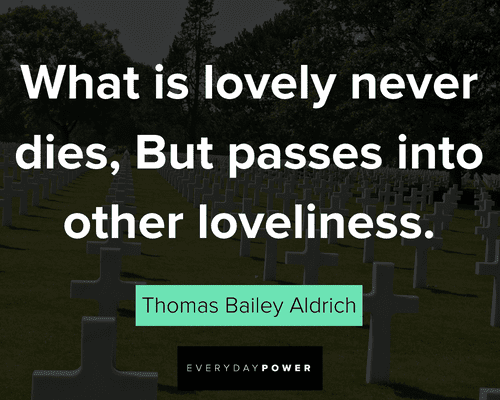 10. "Life is pleasant, death is peaceful. It's the transition that's troublesome" ― Isaac Ashimov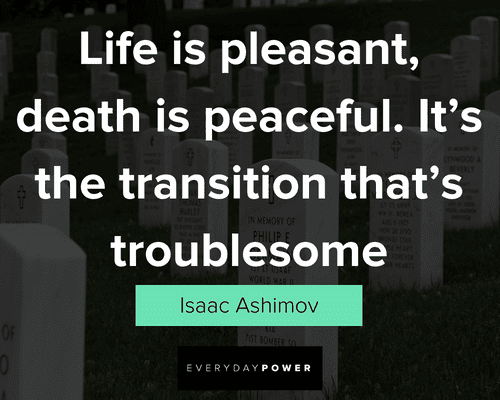 11. "After all, to the well-organized mind, death is but the next great adventure." ― Albus Dumbledore, Harry Potter and the Sorcerer's Stone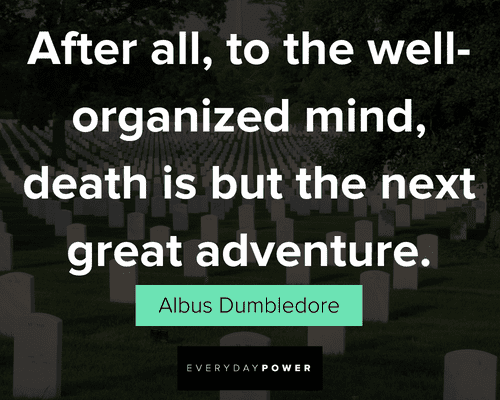 12. "Those who walk uprightly enter into peace; they find rest as they lie in death." ― Isaiah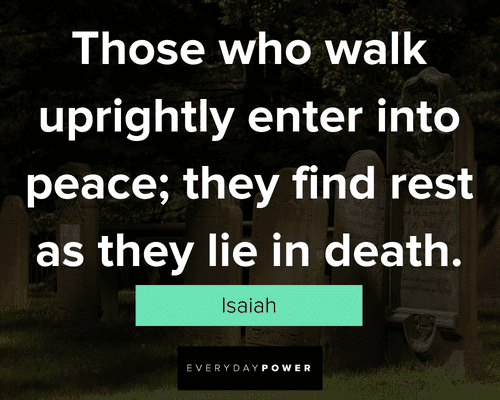 You will also enjoy our article on peace quotes.
13. "Death is not extinguishing the light; it is only putting out the lamp because the dawn has come." ― Rabindranath Tagore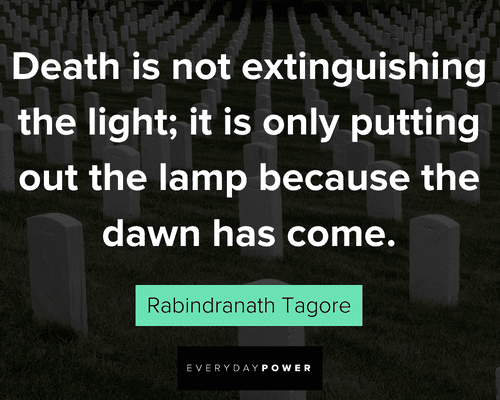 14. "Death is beautiful, part of life…No, it is sad. It's sad when anyone dies. Even though every single human dies. So it's really not that sad." ― Harris Wittels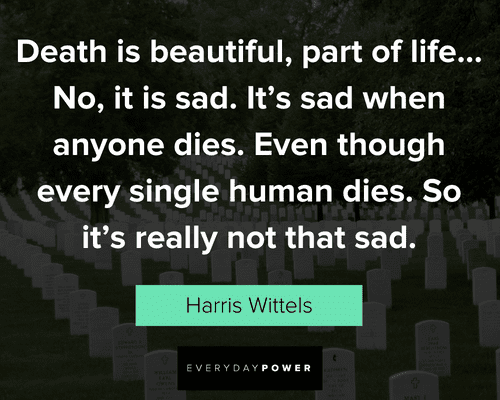 You will also enjoy our article on After Life quotes.
15. "We say that the hour of death cannot be forecast, but when we say this we imagine that hour as placed in an obscure and distant future. It never occurs to us that it has any connection with the day already begun or that death could arrive this same afternoon, this afternoon which is so certain and which has every hour filled in advance." ― Marcel Proust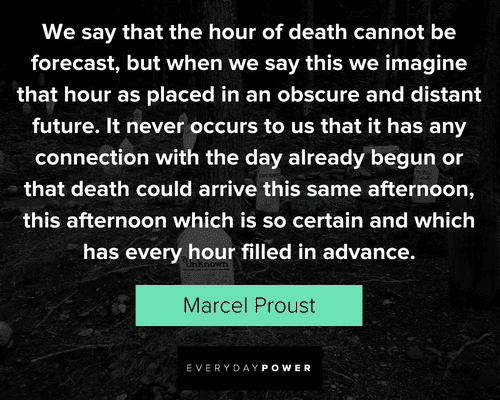 16. "When it comes time to die, be not like those whose hearts are filled with the fear of death,so when their time comes they weep and pray for a little more time to live their lives over gain in a different way. Sing your death song, and die like a hero going home." ― Chief Aupumut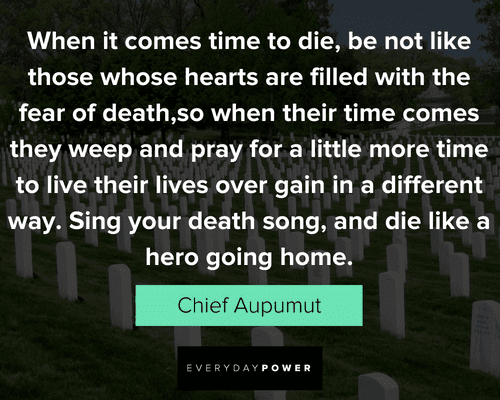 17. "Wishing the dead, 'rest in peace' is meaningless – it's something they already have. Resting peacefully is an exclusive desire of the living or do you wish to be disturbed when at rest? Rest peacefully and rest in peace are one and the same thing. The difference is only in our perception." ― Vincent Okay Nwachukwu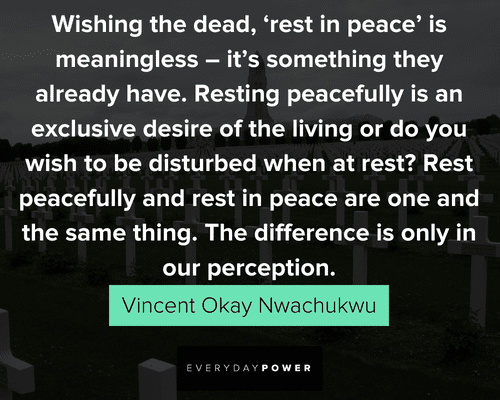 Rest in Peace Quotes on Life
18. "He died that day because his body had served its purpose. His soul had done what it came to do, learned what it came to learn, and then was free to leave." — Garth Stein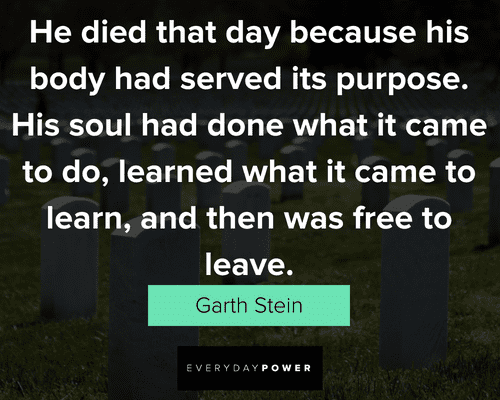 19. "Like the ocean, life ebbs and flows with the occasional rip." ― Kamil Ali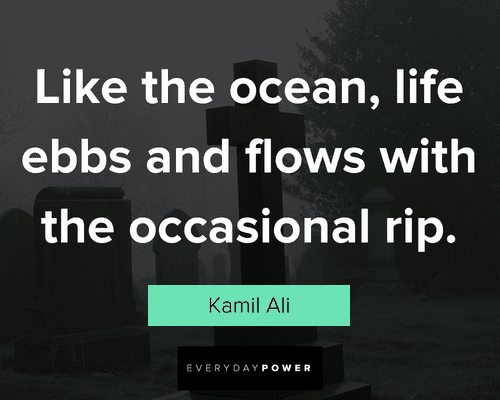 20. "Keep the door to her life open." ― Edith Fogg Hickman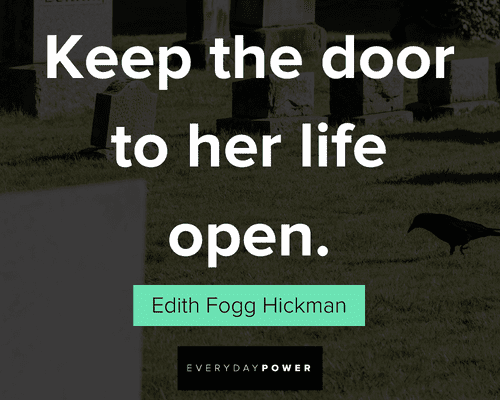 21. "We tell the dead to rest in peace, when we should worry about the living to live in peace." ― Anthony Liccione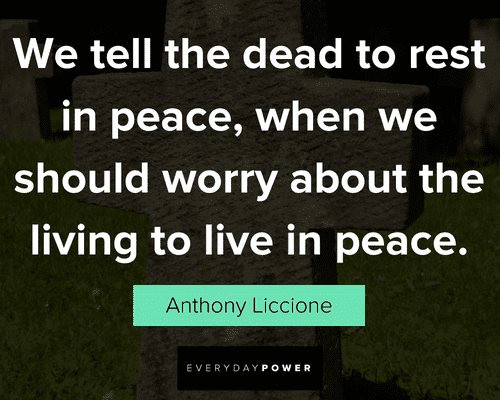 22. "My life will end someday, but it will end at my convenience." ― Michael Bassey Johnson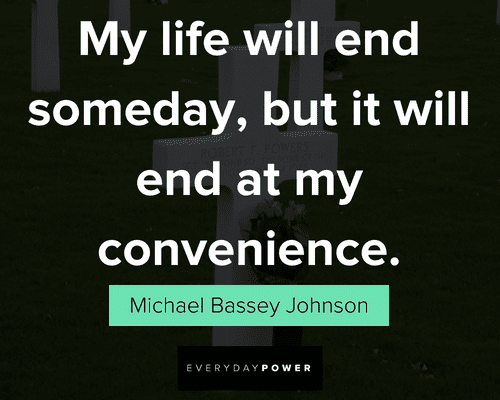 23. "When you were born, you cried and the world rejoiced. Live your life in a manner so that when you die the world cries and you rejoice." ― Native American Proverb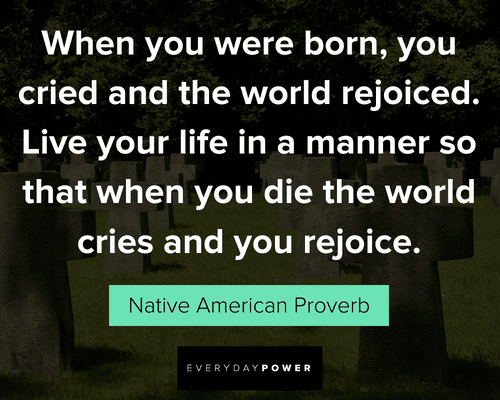 24. "And because I love this life I know I shall love death as well The child cries out when From the right breast the mother Takes it away, in the very next moment to find in the left one its consolation." ― Rabindranath Tagore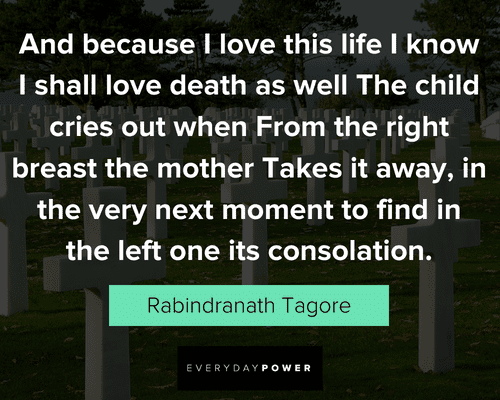 25. "Do not pity the dead, Harry. Pity the living, and, above all those who live without love." ― Albus Dumbledore, Harry Potter and the Deathly Hallows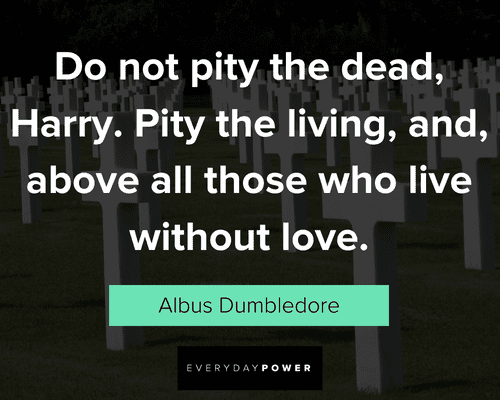 If you're enjoying these quotes, make sure to read our collection of Dumbledore quotes on love, life, integrity and socks.
26. "As a well-spent day brings happy sleep, so a life well used brings happy death." ― Leonardo da Vinci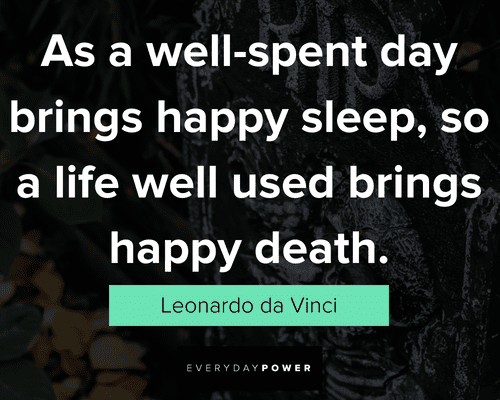 27. "My religion is to live and die without regret." ― Milarepa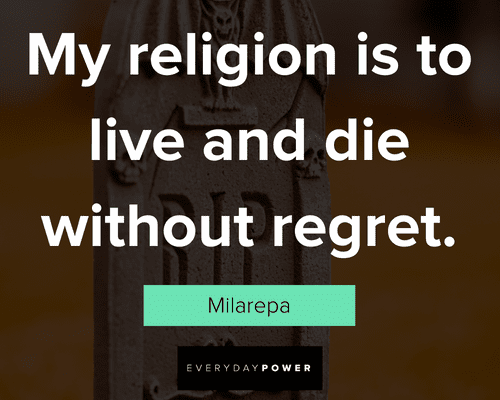 28. "Let's learn to live! Then there is no death, save the transition, when desired. Many live who have never died as yet." ― Edgar Cayce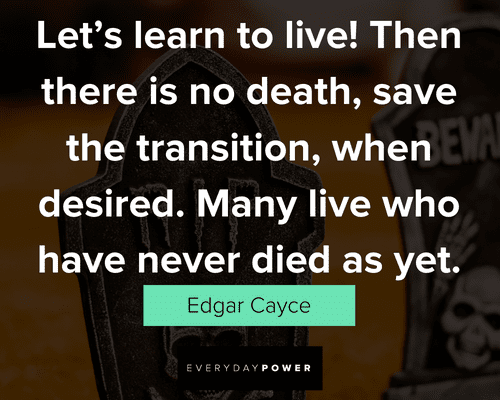 29. "But not all men seek rest and peace; some are born with the spirit of the storm in their blood." ― Robert E. Howard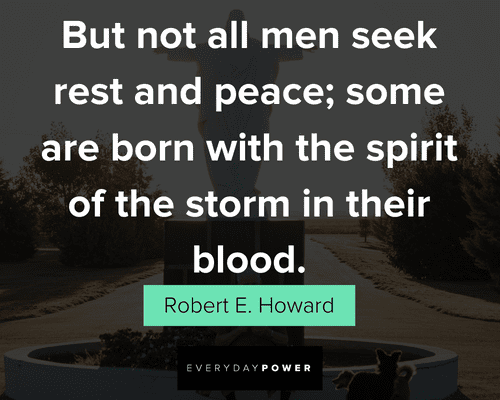 30. "Let life be beautiful like summer flowers and death like autumn leaves." ― Rabindranath Tagore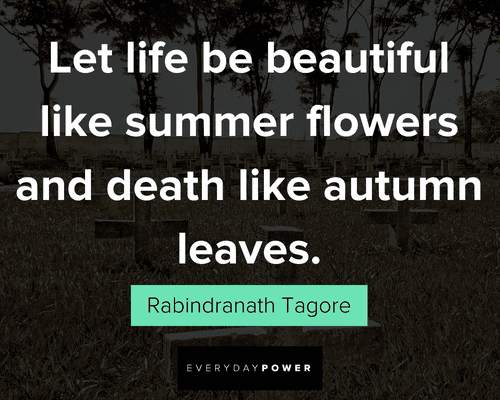 If you're enjoying these quotes, make sure to read our collection of fall quotes the falling in love.
Rest in Peace Quotes on Grief
31. "Grief is not a disorder, a disease, or a sign of weakness. It is an emotional, physical, and spiritual necessity, the price you pay for love. The only cure for grief is to grieve." — Rabbi Earl Grollman
32. "Despite all progress in science, there's still no way to show gratitude to a person who is no more. Show your love when people are around." ― Vineet Raj Kapoor
33. "My life will end someday, but it will end at my convenience." — Michael Bassey Johnson
34. "How many brothers fell victim to the streets? Rest in peace, young nigga, there's a heaven for a G." — Life Goes On, Tupac Shakur
35. "He who has gone, so we but cherish his memory, abides with us, more potent, nay, more present than the living man." — Antoine de Saint-Exupery
36. "Our death is not an end if we can live on in our children and the younger generation. For they are us, our bodies are only wilted leaves on the tree of life." — Albert Einstein
37. "A thousand words won't bring you back, I know because I've tried; Neither will a thousand tears, I know because I've cried." — Jessica Crowley
38. "All say, How hard it is that we have to die—a strange complaint to come from the mouths of people who have had to live." ― Mark Twain
39. "I want to find a quiet place, to sit with you a while, to talk about the happy times, and hope that makes you smile. Rest in Peace Darling." — Susan Smith
40. "When your heart is heavy, sometimes it's just easier to retweet the words of another person who seems to know exactly how you feel." ― Germany Kent
41. "Grief is a normal and natural response to loss. It is originally an unlearned feeling process. Keeping grief inside increases your pain." ― Anne Grant
42. "Every step I take, every move I make. Every single day, every time I pray. I'll be missing you" ― Sean Combs, Faith Evans
Rest in Peace Quotes on Remembering
43. "I'll remember you. When I've forgotten all the rest. You to me were true. You to me were the best." — Bob Dylan
If you're enjoying these quotes, read our collection of Bob Dylan quotes from the iconic Folk singer.
44. "Not everyone who died had left a memory and not everyone who had left a memory had left a blessed one. Therefore, not all have died should be tagged of a blessed memory." — Israelmore Ayivor
45. "Loving memories last forever, I am at a loss for words during this sorrowful time. Please know that I am thinking of you and praying for peace and comfort." — Leo Buscaglia
46. "When we were kids you believed with all your heart that your mom was among the stars looking down on us. Tonight I look up searching for you among the stars. Dedicated to Rohinie Haridat." ― Tilicia Haridat
47. "I know for certain that we never lose the people we love, even to death. They continue to participate in every act, thought and decision we make. Their love leaves an indelible imprint in our memories. We find comfort in knowing that our lives have been enriched by having shared their love." ― Leo Buscaglia
48. "Don't cry because it's over, smile because it happened." ― Dr. Seuss
49. "Life can be so illogical at times. Today I am crying for the person who taught me how to laugh. You meant everything to me. Rest in peace, my dear!" ― Unknown
50. "A man may die but his legacy will continue through his deeds. Today the pain of losing you is difficult to bear because this world needed you for some more years." ― Unknown
Other Rest in Peace Quotes and Sayings
51. "I know that your kind soul is in Paradise watching over us. Till we meet again." ― Unknown
52. "Death is something inevitable. When a man has done what he considers to be his duty to his people and his country, he can rest in peace. I believe I have made that effort and that is, therefore, why I will sleep for the eternity." ― Nelson Mandela
53. "I'll always remember the things you taught me, and how much you loved me. Rest well, my angel."― Unknown
54. "Across the years I will walk with you,
in deep green forests,
on shores of sand and when our time on earth is through,
in heaven too, you will have my hand!" – Robert Sexton
55. "My heart hurts every time I think about you, but knowing you are in a better place brings me comfort to live on."― Unknown
56. "Darkness may hide the trees and the flowers from the eyes but it cannot hide love from the soul." – Rumi
57. "Sleep well best friend. Words cannot explain the vacuum you've left. I'll continue rekindling our memories together."― Unknown
58. "The Remembrance of the good done by those we have loved is the only consolation when we have lost them." – Demoustier
59. "Tears are sometimes an inappropriate response to death. When a life has been lived completely honestly, completely successfully, or just completely, the correct response to death's perfect punctuation mark is a smile." – Julie Burchill
60. "What we have once enjoyed we can never lose. All that we love deeply becomes a part of us." – Helen Keller
Find comfort with Rest in Peace Quotes to help you grieve and regain hope
61. "Only people who are capable of loving strongly can also suffer great sorrow, but this same necessity of loving serves to counteract their grief and heals them." – Leo Tolstoy
62. "Grief is the price we pay for love." – Queen Elizabeth II
63. "Simply touching a difficult memory with some slight willingness to heal begins to soften the holding and tension around it." – Stephen Levine
64. "All things grow with time, except grief." – Jewish Proverb
65. "Tears shed for another person are not a sign of weakness. They are a sign of a pure heart" – Jose N. Harris
66. "Be the things you loved most about the people who are gone" – Unknown
67. "Make peace within yourself, it can bring you a deep sense of joy" – Unknown
68. "Grief can be the garden of compassion. If you keep your heart open through everything, your pain can become your greatest ally in your life's search for love and wisdom." – Rumi
69. "Joy comes, grief goes, we know not how." – James Russell Lowell
70. "To live in hearts we leave behind is not to die." – Thomas Campbell
Rest in Peace Quotes To Cheer You Up and Let Go
71. "One sweet world Around this star is spinning One sweet world And in her breath I'm swimming And here we will rest in peace." ― Dave Matthews
72. "You know who was wonderful to work with? Was Paul Gleason, may he rest in peace." ― Judd Nelson
73. "Heroes who shed their blood and lost their lives! You are now lying in the soil of a friendly country. Therefore rest in peace." ― Mustafa Kemal Ataturk
74. "To look upon its grass grown yard, where the sunbeams seem to sleep so quietly, one would think that there at least the dead might rest in peace." ― Washington Irving
75. "Is this year over yet? Too many people are passing away. Rest In Peace, George Michael." ― William Shatner
76. "The greatest rapper of all time died on March 9th. God bless his soul, rest in peace, kid. It's because of him now at least I know what beef is." ― Canibus
77. "Beheading, burying and burning humans alive are extreme acts of cruelty. Such crimes against humanity must be investigated and the guilty parties brought to justice. May ALL victims rest in peace!" ― Widad Akrawi
78. "Life is stressful,dear. That's why they say "rest in peace." ― David Mazzucchelli
79. "I kept going back while I was writing the novel – which never sold, may it rest in peace – and by the time it was finished I had too many connections to Haiti to walk away." ― Ben Fountain
80. "I've told my children that when I die, to release balloons in the sky to celebrate that I graduated. For me, death is a graduation." ― Elisabeth Kubler-Ross
Rest in Peace Quotes To Help You Let Go and Move On
81. "Open the gates of wisdom, tear the veil of ignorance, enter the abode of Divine Bliss. Rest in peace forever." — Sathya Sai Baba
82. "We'll meet again. Don't know where don't know when, but I know we'll meet again, some sunny day." — Vera Lynn
83. "To lose someone you love is to alter your life forever." — Jeanette Winterson
84. "A great soul serves everyone all the time. A great soul never dies. It brings us together again and again." — Maya Angelou
85. "There are no goodbyes for us. Wherever you are, you will always be in my heart." — Mahatma Gandhi
86. "The two hardest things to say in life are hello for the first time and goodbye for the last." — Moira Rogers
87. "I love you every day. And now I will miss you every day." ― Mitch Albom
88. "People you love never die… Not completely. They live in your mind, the way they always lived inside you. You keep their light alive." — Matt Haig
89. "The sorrow we feel when we lose a loved one is the price we pay to have had them in our lives." ― Rob Liano
90. "When I am lonely, I think of you and all that you brought to my life. Your memory rests gently on my soul!" — Cindy Adkins
Rest in Peace Quotes To Express You Condolences
91. "I can't hold the tears back. It wasn't fair that your life had to end. I'll always keep you in my heart. Rest in peace my friend." — Jay Jay
92. "I see someone I love, / in everyone I meet / The wellspring eternal / —its blessings complete." — Kurt Philip Behm
93. "Our memories of our loved ones are the pearl we form around the grain of grief that causes us pain." — Jeff Zenther
94. "Keep in mind there has never been a loss precisely like yours." — James E. Miller
95. "And we wept that one so lovely should have a life so brief." — William Cullen Bryant
96. "In the night of death, hope sees a star, and listening love can hear the rustle of a wing." — Robert Green Ingersoll
97. "Rest, weary heart, / From all Thy silent griefs and secret pain, / Thy profitless regrets, and longings vain; / Wisdom and love have ordered all the past, / All shall be blessedness and joy af last; / Cast off the cares that have so long oppressed; / Rest, sweetly rest!" — Jane Borthwick
98. "I can't even make up a rhyme about an umbrella, let alone death and life and eternal peace." — Knut Hamsun
99. "All dust is the same dust. / Temporarily separated / To go peacefully / And enjoy the eternal nap." — Dejan Stojanovic
100. "Thou fool, what is sleep but the image of death? Fate will give an eternal rest." — Ovid
Rest in Peace Quotes to Remember Your Loved Ones
101. "Death is but a sleep, so peaceful, so quiet, so free from all the weary pains and aches of life." ― Samuel Johnson
102. "Memory is a way of holding onto the things you love, the things you are, the things you never want to lose." ― Kevin Arnold
103. "Though nothing can bring back the hour of splendour in the grass, of glory in the flower; We will grieve not, rather find strength in what remains behind." ― William Wordsworth
104. "The life of the dead is placed in the memory of the living." ― Marcus Tullius Cicero
105. "Grieve not, nor speak of me with tears, but laugh and talk of me as though I were beside you…I loved you so-'twas heaven here with you." ― Isla Paschal Richardson
106. "Death is only a horizon, and a horizon is nothing save the limit of our sight." ― Rossiter Worthington Raymond
107. "Do not stand at my grave and weep, I am not there; I do not sleep. I am a thousand winds that blow, I am the diamond glints on snow, I am the sun on ripened grain, I am the gentle autumn rain." ― Mary Elizabeth Frye
108. "It is not length of life, but depth of life." ― Ralph Waldo Emerson
109. "Our dead are never dead to us, until we have forgotten them." ― George Eliot
110. "Death is but a doorway to another world, a gateway that leads into the stars." ― Edgar Allan Poe
111. "May the soul find tranquility in the eternal embrace of peace, a serenity that surpasses the trials of mortal existence." ― Kahlil Gibran
112. "In the symphony of life, your melody may have ended, but the echoes of your song will linger in our hearts forever." ― Victor Hugo
113. "As the sun sets on a life well-lived, may the stars above bear witness to the brilliance of a soul now at rest." ― Maya Angelou
114. "The journey of life is but a fleeting moment, and in death, we find the everlasting calm that eluded us in the chaos of existence." ― Paulo Coelho
115. "Rest in peace, where shadows fade and the light of eternity welcomes you home." ― Rumi
116. "The end of life is not the end of love. In the quiet of eternity, may your spirit find solace and your memory be a blessing." ― Anne Frank
117. "In the vast expanse of the universe, your presence was a unique constellation. Now, as you return to stardust, may your essence shine on in the cosmic tapestry." ― Carl Sagan
118. "As the curtain falls on the stage of life, may your encore in the realm beyond be a symphony of eternal peace." ― Albert Schweitzer
119. "In the garden of memories, your soul remains a perennial bloom, forever in the hearts of those you touched." ― Rabindranath Tagore
120. "Rest in peace, not as an end but as a transition to a timeless existence where love, joy, and serenity know no bounds." ― Edgar Allan Poe
Which of these rest in peace quotes resonated with you best?
Rest in peace quotes are not always easy to read, but they can give us a little positivity that we need to hear to get us through the day.
And when experiencing something like this, all we can do is take it one day at a time.
Learning that someone has passed away is never easy, no matter how prepared we may be for someone to leave this world.
And when someone passes away suddenly, we may find ourselves wondering how life can possibly be so cruel.
Some of us may never get over the death of someone we cared about.
Hopefully, the rest in peace quotes above can help us remember the beautiful things about that person, and give us hope that their soul is at peace.
Did these rest in peace quotes make you feel better?
Do you have any other helpful quotes to add?
Let us know in the comment section below.