Passion Quotes to Reignite Your Inner Fire
If you're feeling low energy and indecisive, these passion quotes are exactly what you need to read today to reignite the fire inside of you.
According to research by the University of Pennsylvania, having a sense of passion and purpose can lead to higher levels of motivation, engagement, and overall well-being.
This suggests that passion quotes may be a valuable source of inspiration for individuals looking to reignite their inner fire.
Passion is a powerful force in our lives.
When you're enthusiastic and proud of what you do and where you are, you'll be better equipped to overcome any obstacles.
Even if you're feeling lost, you can remind yourself that you have the heart of a champion with these passion quotes, friend.
They will fill you with meaning, give you the energy to keep going, and inspire you to live a better life.
For it to fully emerge, you need to take action and feel your way to your truth from the inside out.
Look through our complete collection of inspirational quotes here.
Passion quotes to reignite your inner fire
Great dreams begin to become reality when you follow your heart.
Discover the currents that move you deep inside.
1. "To succeed, you have to believe in something with such passion that it becomes a reality." Anita Roddick
2. "Money will never replace happiness. Life is too short to work at something you do not have a passion for, something that does not excite you." – Catherine Pulsifer
3. "It's your place in the world; it's your life. Go on and do all you can with it, and make it the life you want to live." – Mae Jemison
4. "You should enjoy your work, so pursue something you find interesting, and if you work hard at it, it will turn into a passion." – Cary Bergeron
5. "Passion is the genesis of genius." – Anthony Robbins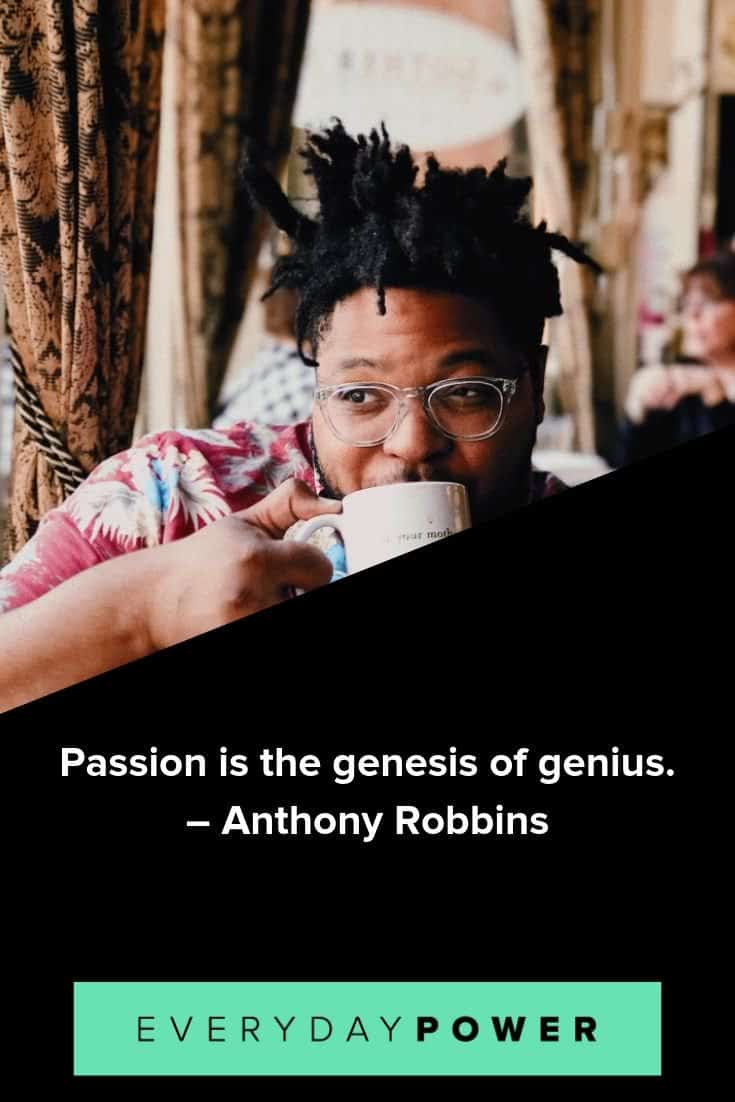 6. "Let your love be your guide. Let your courage be your driver, and let your passion be your road to enjoy this magnificent life to the fullest." – Debasish Mridha
7. "Nothing great in the world has ever been accomplished without passion." – George Hegel
8. "Love life, engage in it, give it all you've got. Love it with a passion, because life truly does give back, many times over, what you put into it." – Maya Angelou
9. "Our passion is our strength." – Billie Joe Armstrong
10. "Forget about the fast lane. If you really want to fly, harness your power to your passion. Honor your calling. Everybody has one. Trust your heart, and success will come to you." – Oprah Winfrey
Passion quotes to help you experience work and life to the fullest extent possible
It drives you to know your own desires and seek success and happiness, pushing you to reach your highest potential.
11. "If you don't love what you do, you won't do it with much conviction or passion." – Mia Hamm
12. "Passion will move men beyond themselves, beyond their shortcomings, beyond their failures." – Joseph Campbell
13. "Happiness is the key to success. If you are truly passionate with what you are doing and are relentless in overcoming any obstacle that will come your way, you will be wildly successful." – Ziad K. Abdelnour
14. "Happiness is an attitude, a passion that you alone own and create – you cannot buy it, rent it, or steal it from another." – Byron Pulsifer
15. "Your passion is waiting for your courage to catch up." – Isabelle Lafleche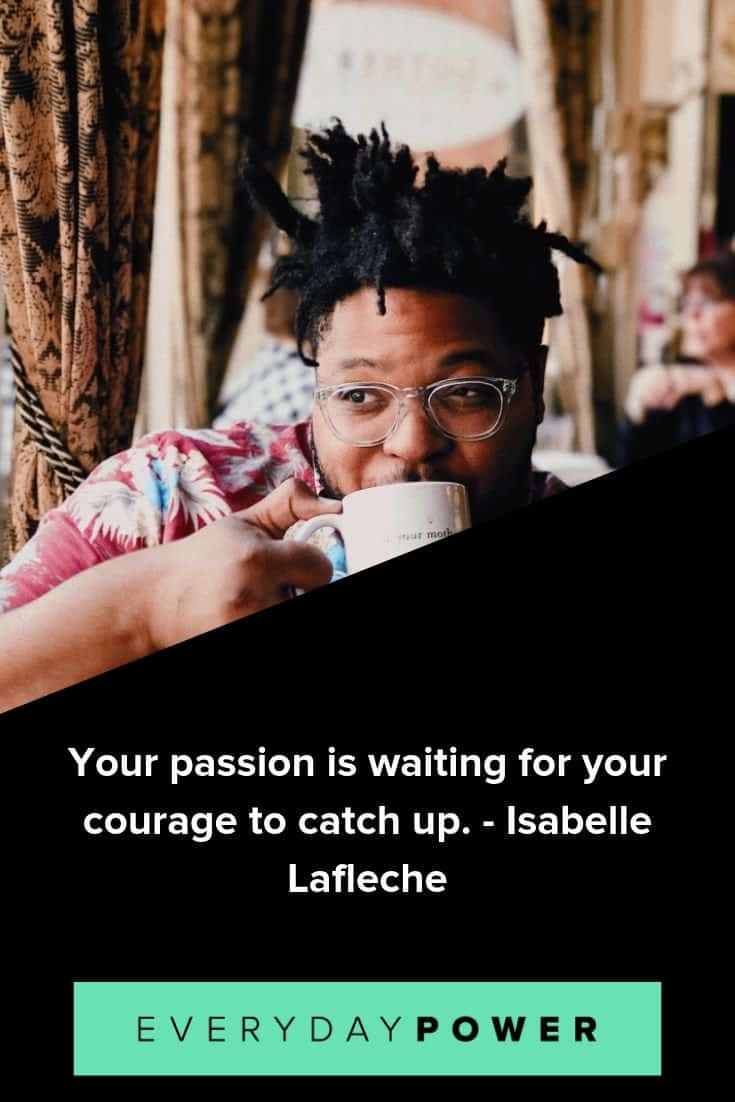 16. "Life is going to give you just what you put in it. Put your whole heart in everything you do, and pray, then you can wait." – Maya Angelou
17. "Always remember, you have within you the strength, the patience, and the passion to reach for the stars to change the world." – Harriet Tubman
18. "Nothing is as important as passion. No matter what you want to do with your life, be passionate." – Jon Bon Jovi
19. "With a strong mind, you can realize most anything. Only you can determine what you desire most or what your deepest passion is in life." – Dale L. Roberts
20. "Passion is your joy, it is the essence of who you are. You have to unwrap it and find it." – Jackie St. Onge
Passion quotes that will inspire you to live a better life
Without passion, it's almost impossible for you to live a happy and fulfilling life by following your soul's duty.
21. "So try to pursue the very things that you are passionate about- that is the difference between good and great!" – Shawn Doyle
22. "Just don't give up trying to do what you really want to do. Where there is love and inspiration, I don't think you can go wrong." – Ella Fitzgerald
23. "Always go with your passions. Never ask yourself if it's realistic or not." – Deepak Chopra
24. "Take passion and determination anywhere you go and we promise you, you'll go far." – Dorothea Jackson
25. "Dreams and passion are more powerful than facts and reality." – Gail Lynne Goodwin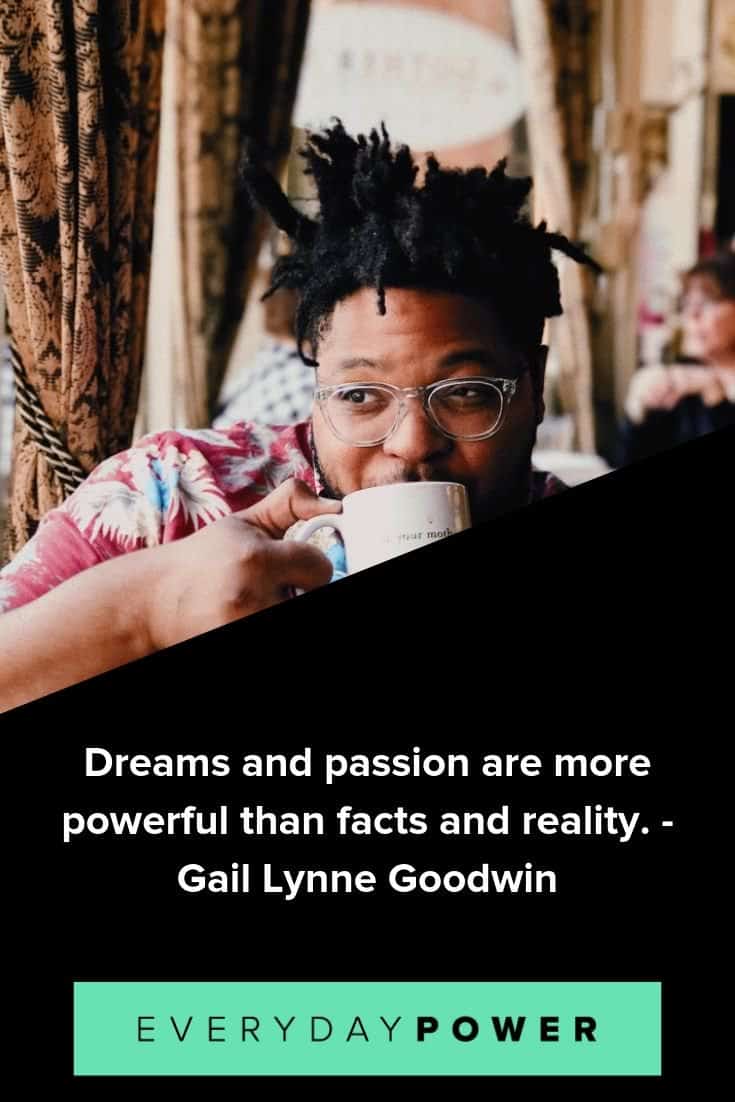 26. "When we are engaged in pursuing our passion, we feel better about ourselves and have a more positive view of the world around us." – Dennis Houchin
27. "Follow your passion, and success will follow you." – Terri Guillemets
28. "If you can't figure out your purpose, figure out your passion. For your passion will lead you right into your purpose." – T.D. Jakes
29. "Passion and perseverance, it turns out, matter more than talent or intelligence when it comes to being successful." – Linda Kaplan Thaler
30. "If you have a positive outlook in life, you will attract positive and passionate people." – Ed Austin
Passion quotes to help you accomplish anything you set your mind to
Remember that passion lives in your heart if you feel lost or unfulfilled.
31. "If you feel like there's something out there that you're supposed to be doing, if you have a passion for it, then stop wishing and just do it." – Wanda Sykes
32. "The wisdom of others can ignite your passion, uplift your spirit, and motivate you to reach your full potential." – Melissa Eshleman
33. "I have no special talents. I am only passionately curious." – Albert Einstein
34. "Life starts when you find a passion and begin writing down a plan to obtain your dreams." – Grommit Howard
35. "Living passionately is the opposite of living passively." – Marty Cauley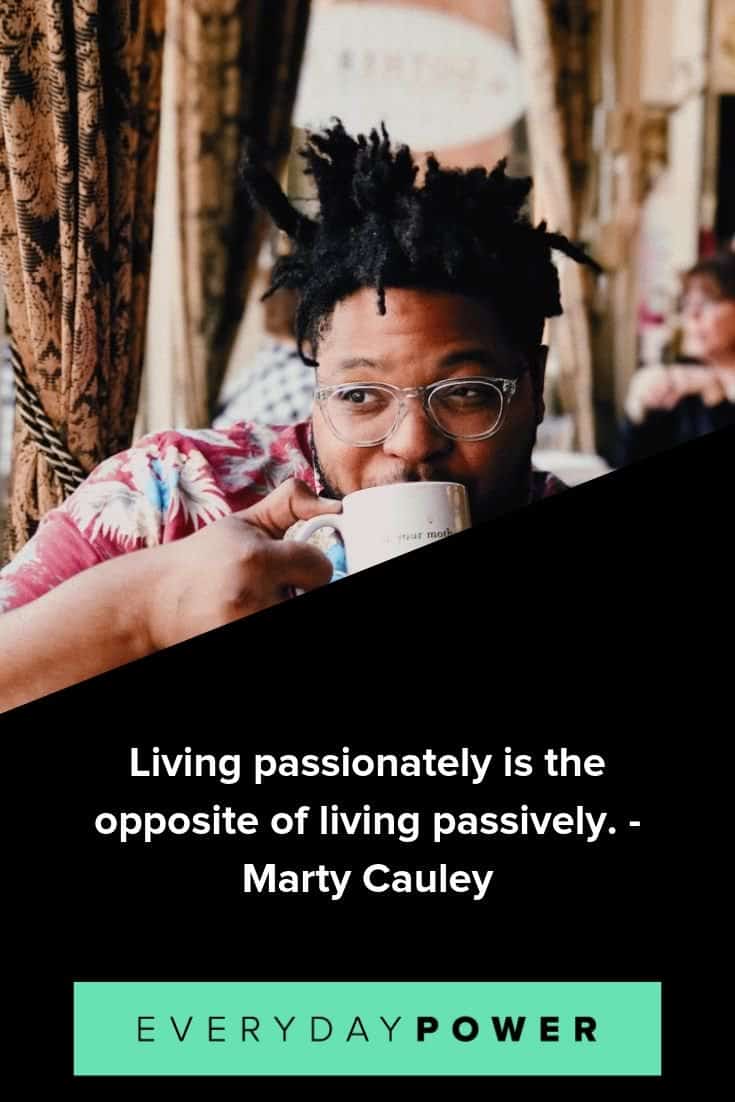 36. "There is no passion to be found playing small – in settling for a life that is less than the one you are capable of living." – Nelson Mandela
37. "Pursue your passion, and everything else will fall into place. This is not being romantic. This is the highest order of pragmatism." – Gabby Giffords
38. "You will be much more successful, if you are not passionate in what you do, or cannot find it with you to be passionate about your current job, either change your attitude or change your job." – Catherine Pulsifer
39. "Chase down your passion like it's the last bus of the night." – Terri Guillemets
40. "Know that there is always more than one road to a destination and that passion still reigns supreme, regardless of the road chosen." – Adam Jacobs
Passion quotes to give you the energy to keep going
Knowing and living your passion builds your confidence, fuels growth, gives you a sense of direction, and drives you to success.
41. "We are all capable if we have faith and passion." – Yanni
42. "Follow your passion and dreams, do what you truly love, put aside any nonsense or worries and realize that this moment it is all we've got." – Frank Arrigazzi
43. "Only passions, great passions can elevate the soul to great things." – Denis Diderot
44. "The only thing you have control over is your life and your choices. Are you doing what you're passionate about?" – Joe Gaebel
45. "Great dancers are not great because of their technique, they are great because of their passion." – Martha Graham
46. "Love what you do and do what you love. Passion is the key that opens the door to joy and abundance." – David Cuschieri
47. "Passion gives you the motivation to keep trying, even if you fail time after time." – David A. Hunter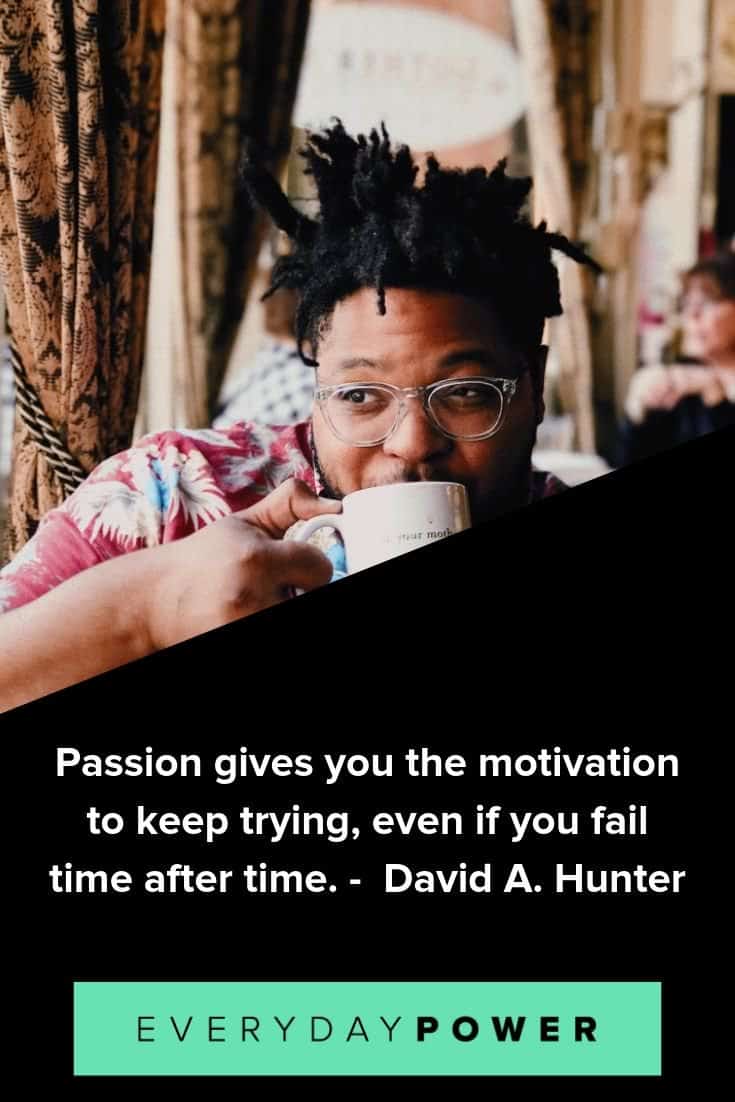 48. "Far and away the best prize that life offers is the chance to work hard at work worth doing." – Theodore Roosevelt
49. "Your true passion should feel like breathing: it's that natural." – Oprah Winfrey
50. "The one thing that you have that nobody else has is you. Your voice, your mind, your story, your vision. So write and draw and build and play and dance and live as only you can." – Neil Gaiman
Why is passion inspiring?
If you feel like you are drifting through life, unsure of your place, you aren't alone.
51. "I want to know what passion is. I want to feel something strongly." – Aldous Huxley
52. "There is scarcely any passion without struggle." – Albert Camus
53. "Passion is the very fuel of inspiration." – Carole Katchen
54. "You don't choose your passions; your passions choose you." – Jeff Bezos
55. "Intellectual passion drives out sensuality." – Leonardo da Vinci
56. "Clarity of mind means clarity of passion, too; this is why a great and clear mind loves ardently and sees distinctly what it loves." – Blaise Pascal
57. "All you need is passion. If you have a passion for something, you'll create the talent." – Yanni
58. "Paradise is to love many things with a passion." – Pablo Picasso
59. "Greatness comes from living with purpose and passion." – Ralph Marston
60. "A strong passion for any object will ensure success, for the desire of the end will point out the means." – William Hazlitt
Passion Quotes To Empower You Daily
61. "My mission in life is not merely to survive, but to thrive; and to do so with some passion, some compassion, some humor, and some style." — Maya Angelou
62. "One person with passion is better than forty people merely interested." — E. M. Forster
63. "Passion is energy. Feel the power that comes from focusing on what excites you." — Oprah Winfrey
64. "Passion will always move you in the direction of your authentic self." — Danielle LaPorte
65. "I am seeking, I am striving, I am in it with all my heart." — Vincent Van Gogh
66. "He that would be superior to external influences must first become superior to his own passions." — Samuel Johnson
67. "Passion gives you an advantage over others because one person with passion is greater than ninety-nine who have only an interest!" ~ John C. Maxwell
68. "Chase your passion, not your pension." — Denis Waitley
69. "If you don't have a passion, you'll give up." — Steve Jobs
70. "Passion and purpose go hand in hand. When you discover your purpose, you will normally find it's something you're tremendously passionate about." — Steve Pavlina
Passion Quotes to Find Purpose in Life
71. "A true passion that burns within your soul is one that can never be put out." – Zach Toelke
72. "No alarm clock needed. My passion wakes me." – Eric Thomas
73. "True passion attracts. If you have passion in your business, the right people will be attracted to your team." – Robert T. Kiyosaki
74. "Passion is so key in leading and creating excellence that I will hire passion over education and talent every time." – Dave Ramsey
75. "Develop a passion for learning." – Anthony J. D'Angelo
76. "The very basic of a man's living spirit is his passion for adventure." – Christopher McCandless
77. "Anything that gets your blood racing is probably worth doing." – Hunter S. Thompson
78. "Without passion, you don't have energy, without energy you have nothing." – Donald Trump
79. "The most powerful weapon on earth is the human soul on fire." – Ferdinand Foch
80. "I've been absolutely terrified every moment of my life, and I've never let it keep me from doing a single thing that I wanted to do." – Georgia O'Keeffe
Quotes to keep you passionately curious
81. "You can do anything as long as you have the passion, the drive, the focus, and the support." ― Sabrina Bryan
82. "Our passion for learning … is our tool for survival." ― Carl Sagan
83. "I do believe that such a life can only be found by living one's true passion." ― Tony Robbins
84. "Knowledge of mankind is knowledge of their passions." ― Benjamin Disraeli
85. "What to ourselves in passion we propose, The passion ending, doth the purpose lose." ― William Shakespeare
86. "Passion keeps me loving you again and again. You are the key that has unlocked my passion." ― Anna Gable
87. "Passion makes the best observations and the sorriest conclusions." ― Jean Paul
88. "Passion is in all great searches and is necessary to all creative endeavors." ― W. Eugene Smith
89. "Passion serves its purpose to help give a person motivation to learn the necessary skills and overcome the hardships they're going to face." ― Derek C. Doepker
90. "Making sure our goals are properly aligned with our passions only makes sense." ― Josh Hinds
Which of these passion quotes was your favorite?
Passion is the energy that drives you to accomplish anything you set your mind to.
That is why great minds like Steve Jobs and Albert Einstein spoke of it often
It's a necessary ingredient for you to experience work and life to the fullest extent possible.
Building your life around what you love is one of the best things you can do for yourself.
Hopefully, the quotes above have inspired you to stop wishing things were different and inspired you to use your special talents to improve your life.
Which of these passion quotes encouraged you to think about how much conviction you have for your current path?
Do you have any other favorite quotes to add to the list that remind you that settling for a life of hard work and no passion is soul-sucking?
Feel free to share with us in the comment section below.
Also, don't forget to share with your friends and followers.
Check out these related lifestyle articles:
Reinvent Yourself When You're Stuck in Life
Rather than doing nothing and getting sucked into a terrible rabbit hole, let's explore ten ways to reinvent yourself so you – and your life – can become unstuck.
10 Things You Can Do To Nourish Your Soul
There are many ways to nourish your soul, from breathing and spending time with nature to volunteering; here are ten ways to start today.
10 Signs You're on the Right Path in Life
There's a certain sense of ease when you're heading in the right direction that doesn't feel like it needs to be questioned.
7 Steps to Overcome Challenges Facing Your Dreams
Discover the secrets to overcoming challenges as you pursue your hopes and dreams.
Check out these related quote articles
Quotes About Having Fun and Enjoying Your Life
Life was meant to be enjoyed!
Rare Inspirational Quotes That You've Never Heard Of
Sometimes thinking outside of the box has the power to open a window of opportunity you may never have realized.
Funny Inspirational Quotes About Life
Here are our favorite funny motivational quotes about life, work, and becoming successful.
Deep Quotes Inspiring Thought & Introspection
Here are some deep quotes from authors, sports figures, geniuses, and everyone in between!