25 The Golden Girls Quotes From One of America's Favorite Sitcoms
These The Golden Girls quotes from Rose, Blanche, Dorothy, and Sofia are still timeless and funny!
As a young girl, I lived with my grandparents, and my grandma's widowed friend, who moved in with us after the death of her husband.
Growing up in the late 80s and 90s, it was impossible to escape The Golden Girls mania, especially living with two senior citizen ladies who thought the show parodied their lives.
Even though I might have been a little young at the time for all the innuendos, I still recall laughing hysterically, along with the two golden girls who would crochet while they watched this show.
The show aired on NBC from September 14, 1985, to May 9, 1992, and ran 180 thirty-minute episodes.
After that, you could catch episodes on Lifetime, CMT, and the Hallmark Channel.
If you want to stream them, you can find them on Hulu, Amazon Prime, and Vudu.
If these Golden Girls quotes make you giggle, and you haven't watched the series I highly recommend you do!
After all, a show with stars like Betty White, Estelle Getty, Bea Arthur, and Rue McClanahan is bound to be entertaining.
Keep reading to learn more about what The Golden Girls so special.
Don't forget to also check out these Golden Girls Blanche Southern quotes on how to live a long, happy life.
If you like this article, we suggest you explore our most popular quotes article, a list of short inspirational quotes for daily encouragement.
Read more related content on our inspirational quotes category page.
Funny The Golden Girls quotes that will make you laugh
1. "Go to sleep, sweetheart. Pray for brains." — Dorothy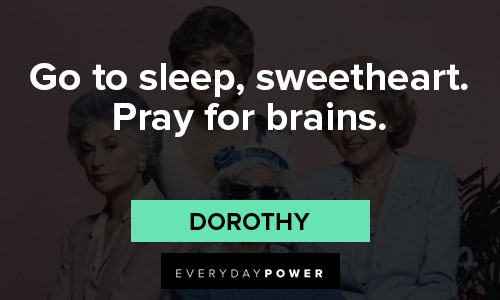 You will also enjoy our article on rose quotes.
2. "People waste their time pondering whether a glass is half empty or half full. Me, I just drink whatever's in the glass." — Sophia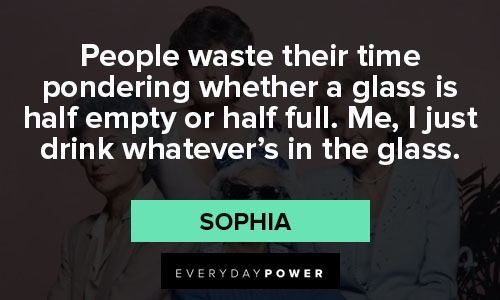 3. "Excuse me Rose, have I given any indication at all that I care?" — Sophia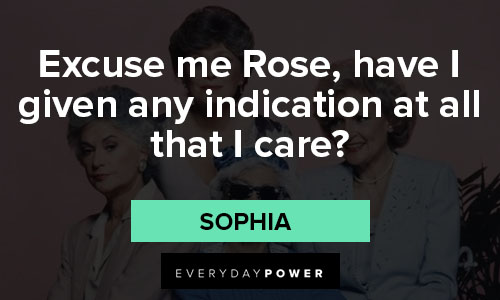 You will also enjoy our article on John D Rockefeller Quotes.
4. "Oh, I remember when Stanley told me he was having an affair. It was at least 24 hours before I cut the crotches out of all his slacks." — Dorothy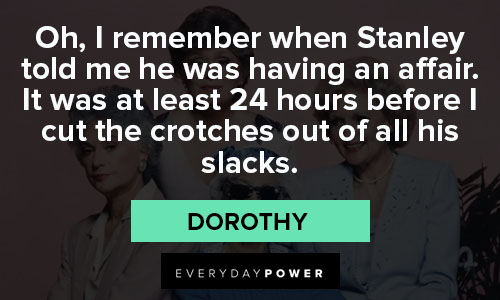 5. "She's really a very sweet woman. She just doesn't like to show it." — Dorothy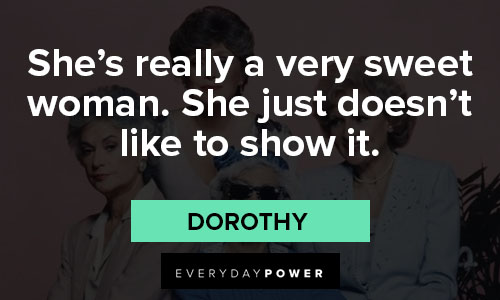 6. "My son married a welder. Too bad she didn't weld his zipper shut. They got ten kids they can't afford." — Sophia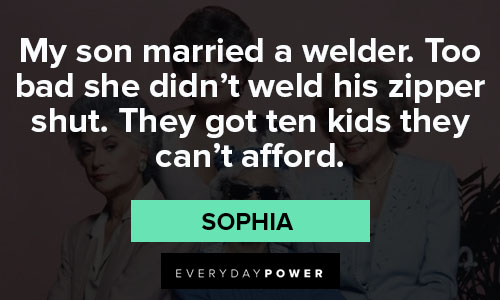 7. "I thought I was gonna die. I swear I have never felt such agony. I saw my entire life flash before my eyes and I thought, 'What a shame if I die now, I'm too young… and I'm wearing the wrong underwear.'" — Blanche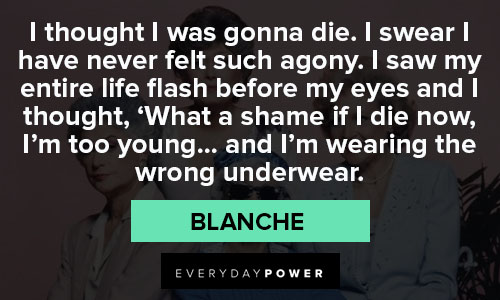 8. "Eat dirt and die, trash." — Blanche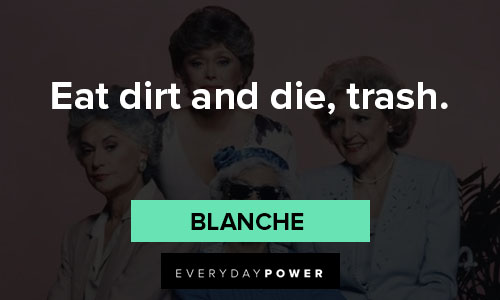 9. "If this sauce was a person, I'd get naked and make love to it." — Sophia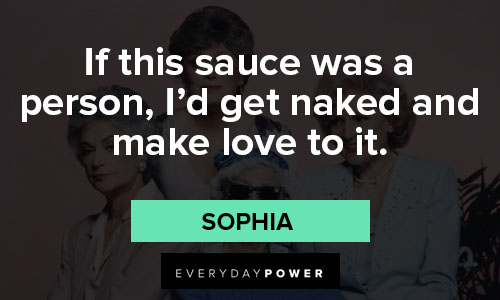 10. "Want a glass of water to wash down your foot?" — Sophia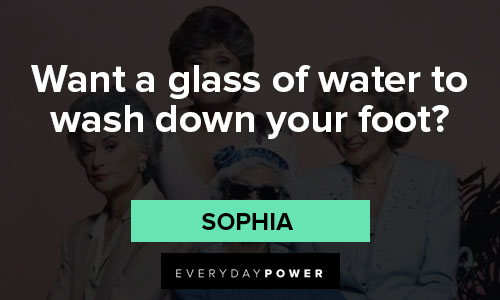 If you enjoy this article, check out our collection of New Girl quotes to brighten your day.
Silly The Golden Girls quotes from Betty White as Rose
11. "It's like life is a giant weenie roast, and I'm the biggest weenie!" — Rose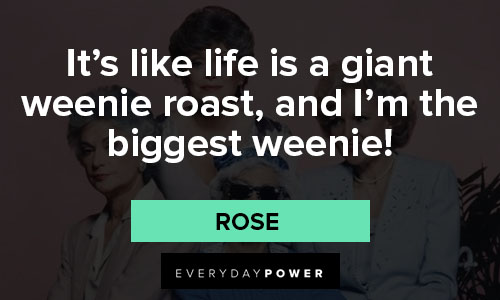 12. "My mother used to say: the older you get, the better you get. Unless you're a banana." — Rose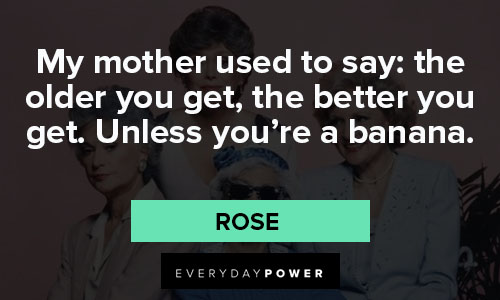 13. "It's like we say in St. Olaf — Christmas without fruitcake is like St. Sigmund's Day without the headless boy." — Rose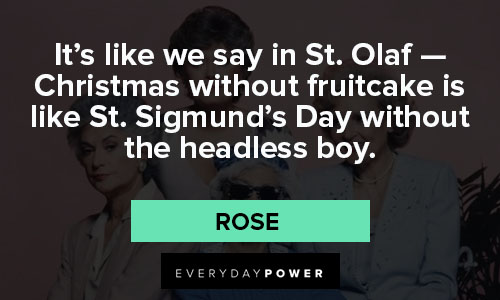 14. "I know I look square, but I'm like my father's tractor. I take a while to warm up, but once I get going, I can turn your topsoil till the cows come home." — Rose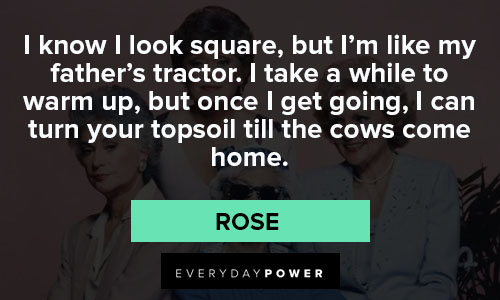 15. "I eat raw cookie dough. And occasionally, I run through the sprinklers and don't wear a bathing cap. And at Christmas, I've been known to put away more than one eggnog." — Rose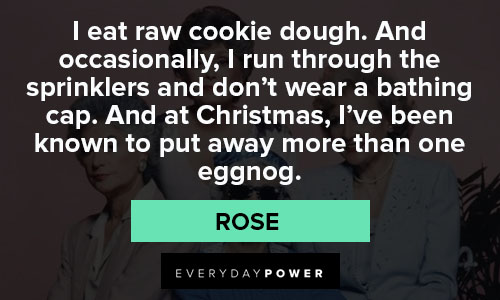 16. "As they say in St. Olaf: hergenbargenflergenflurfennerfen." — Rose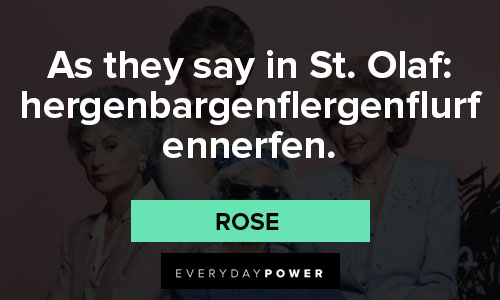 17. "Dorothy, was Sophia naked just now, or does her dress really need ironing?" — Rose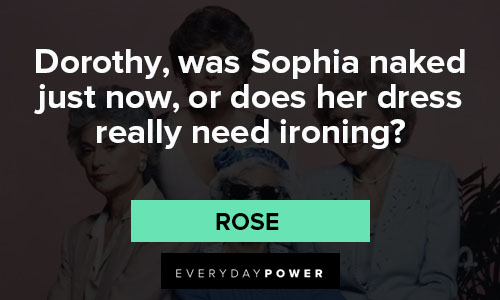 18. "You know what they say: you can lead a herring to water, but you have to walk really fast or he'll die." — Rose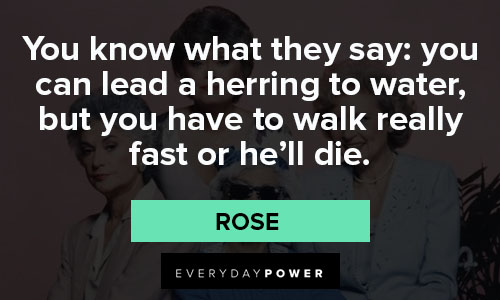 19. "When I was a child, I used to get overexcited and pet the cat too much." — Rose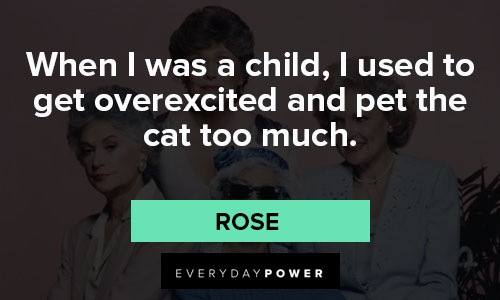 20. "I can't believe my mother is out riding around on a smelly old bus. Being pushed around, harassed, possibly even mugged by hostile teenagers with bad haircuts!" — Rose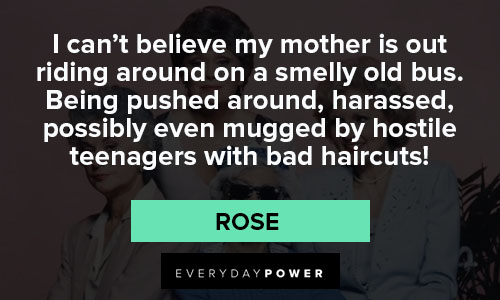 21. "Please forgive me. It's not my fault my cousins have been marrying each other for generations." — Rose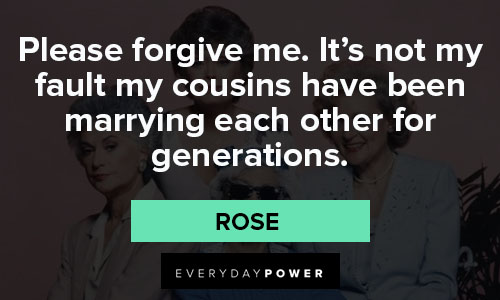 22. "Tell me the truth: do these glasses make me look stupid?" — Rose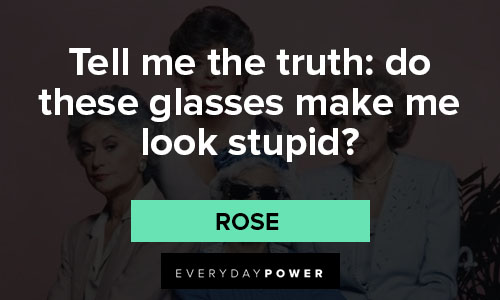 23. "It's like you people don't pay any attention to me whatsoever." — Rose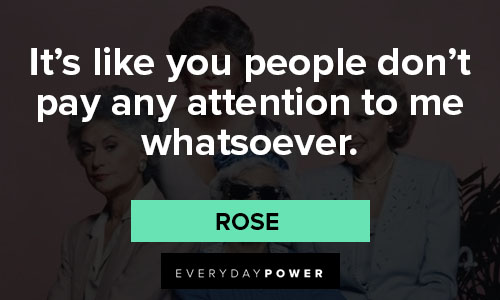 24. "I thought you wore too much makeup and were a slut. I was wrong. You don't wear too much makeup." — Rose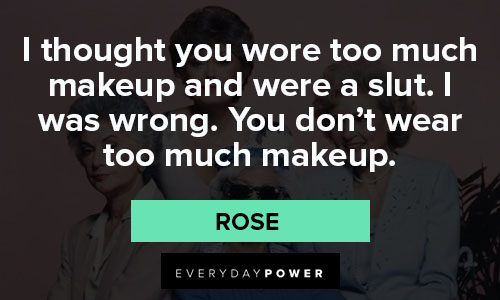 The Golden Girls quotes from Rue McClanahan as Blanche
25. "Crying is for plain women. Pretty women go shopping." — Blanche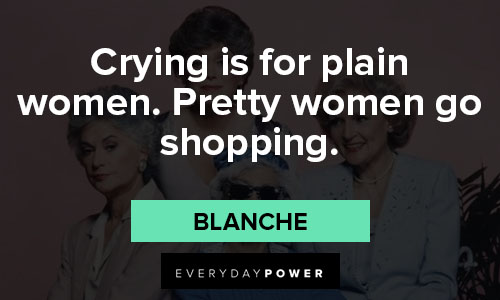 Which of these Golden Girls quotes is your favorite?
The show focuses on the lives of four women, Rose Nylund, Sophia Petrillo, Blanche Devereaux, and Dorothy Zbornak.
Blanche (McClanahan) owns a house in Miami and places an ad to rent out the rooms in her house.
Rose (White) and divorcee Dorothy (Arthur), responded to the ad, and the trio has been living together for a year when the show starts.
In the pilot episode, Dorothy's 80-year-old widowed mother, Sophia (Getty), moves in with them after the retirement home she lived in burns down.
It follows their escapades involving men, their children and family members, and the dynamic of the women in the house.
The Golden Girls cast had excellent on-screen chemistry and was a fan favorite.
The show was also a favorite with critics and won several awards, including the Primetime Emmy Award for Outstanding Comedy Series—twice.
It also won three Golden Globe Awards for Best Television Series—Musical or Comedy.
The Golden Girls was one of only four sitcoms in the award's history in which each of the stars won an Emmy Award.
Did you enjoy reading our selection of The Golden Girls quotes and lines?
If you are a fan of the show, share your favorite quote that didn't make the list (or maybe your favorite St. Olaf story) with us in the comment section below.