The Weeknd Quotes on Love, Music, and More
March 7, 2023 5:00 AM EST
These lyrics and The Weekend quotes help you get to know the singer better.
Which one surprised you the most?
Searching for relatable quotes and lyrics from Grammy-award-winning musician The Weeknd?
This collection of The Weeknd quotes will give you a look into the life of Mr. "Heartless" himself. 
A study published in the journal Psychology of Aesthetics, Creativity, and the Arts found that engaging with music can lead to increased creativity and divergent thinking.
The Weeknd's music and quotes may serve as a source of creative inspiration for his fans.
What's your favorite song by The Weeknd?
Born Abel Makkonen Tesfaye, The Weeknd is a Canadian singer, songwriter, and producer.
Initially, he grew his fanbase online by releasing a trilogy of mixtapes, entitled House of Balloons, Thursday, and Echoes of Silence.
He's known for producing mysterious, sultry tracks that twist elements of indie, pop, electronic, and R&B into their beats.
The Weeknd's discography boasts a long list of chart-topping hits, including "The Hills", "Earned It", "Can't Feel My Face", "Starboy", and "Heartless."
Want to learn more about the life and music of The Weeknd?
Take a look at the quotes below.
Check out our most popular quote article, a list of short inspirational quotes for daily inspiration.
Check out our inspirational quotes category page for more inspirational life quotes.
The Weeknd quotes on love
According to a survey conducted by Billboard, The Weeknd is the most successful Canadian artist of all time, based on chart performance and sales.
This underscores his status as a global music icon and inspiration to many.
1. "Don't make me make you fall in love." – The Weeknd, "The Birds (Part 1)"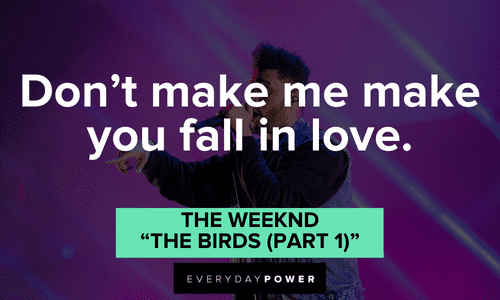 You will also enjoy our article on song quotes.
2. "I mean, in life, what relationship is easy?" – The Weeknd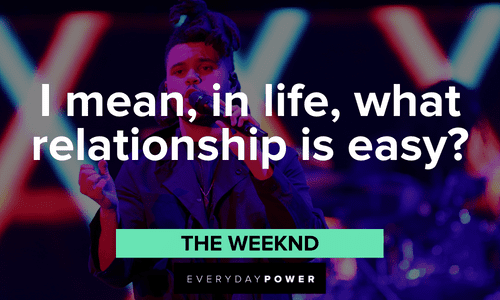 You will also enjoy our article on weekend quotes.
3. "He's what you want. I'm what you need." – The Weeknd, "What You Need"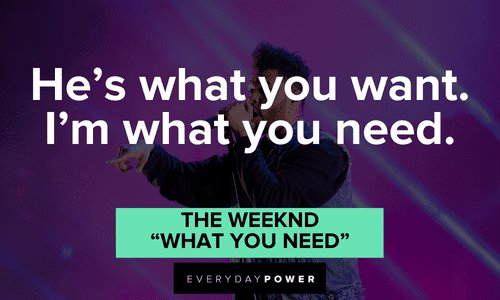 You will also enjoy our article on Bart Simpson quotes.
4. "I love trying new things." – The Weeknd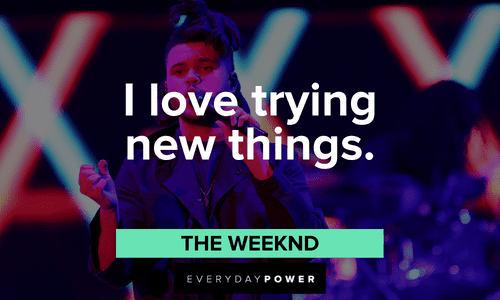 You will also enjoy our article on nas quotes.
5. "We'll find our love in the sky." – The Weeknd, "Love in the Sky"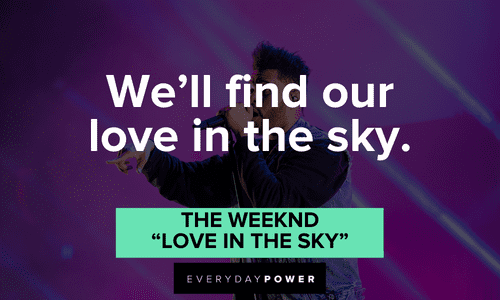 6. "I'm the drug in your veins, just fight through the pain." – The Weeknd, "What You Need"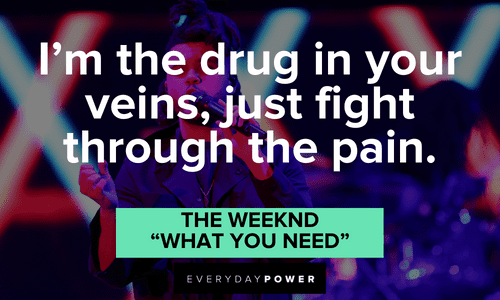 7. "Nothing is stopping me from doing what I love to do." – The Weeknd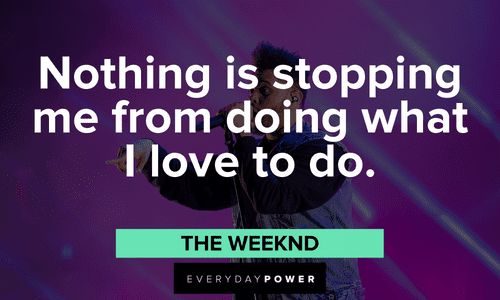 8. "Tell me you love me, even though you don't love me." – The Weeknd, "Wicked Games"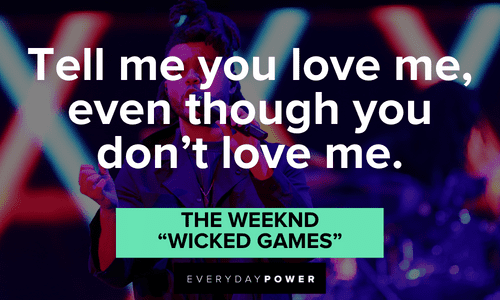 You might also like these Lil Baby quotes that will motivate you to hustle.
The Weeknd quotes on music
The Weeknd has won 3 Grammy Awards, 10 Billboard Music Awards, and an American Music Award, among others.
These accolades demonstrate his success and enduring popularity in the music industry.
9. "I make good music for long journeys." – The Weeknd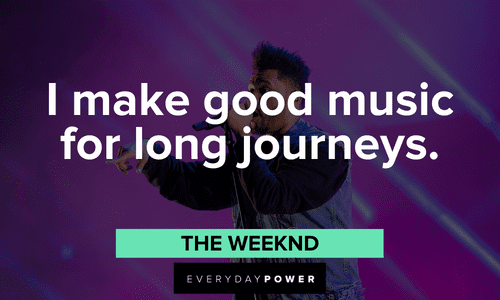 10. "Music is like film to me." – The Weeknd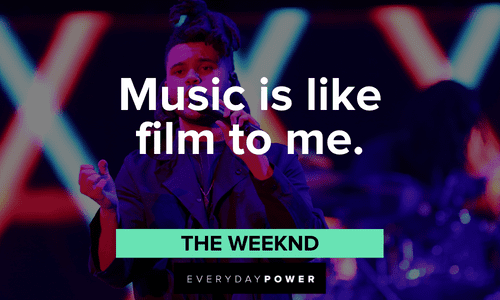 11. "We're all insecure, aren't we?" – The Weeknd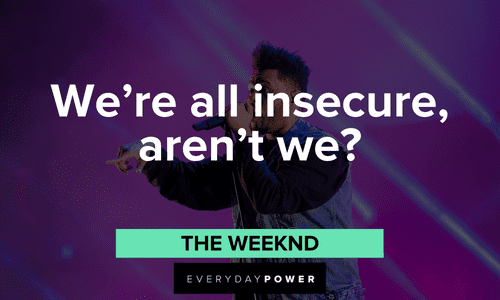 12. "I ain't scared of the fall. I've felt the ground before." – The Weeknd, "The Fall"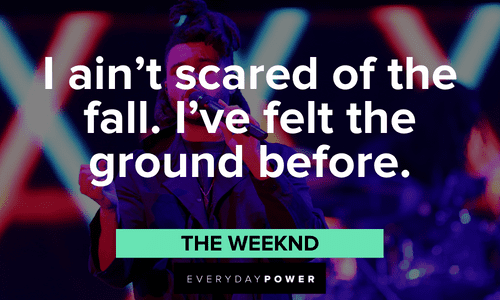 13. "I just want to keep pushing the envelope without it feeling forced." – The Weeknd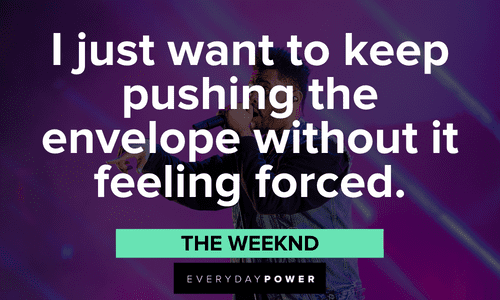 14. "My closet is like Bart Simpson's." – The Weeknd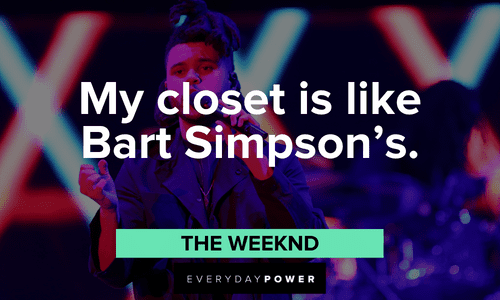 15. "I'm all about evolution. I'm the first person to judge myself." – The Weeknd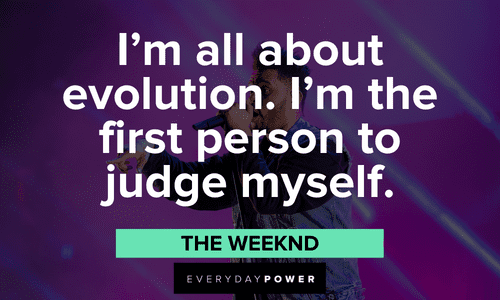 16. "I'm the most boring person to talk to." – The Weeknd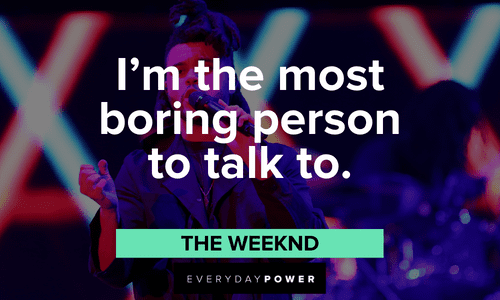 17. "When people meet me, they say that I'm really kind – contrary to a lot of my music." – The Weeknd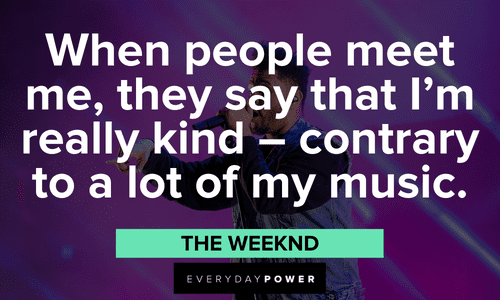 18. "I want to be remembered as iconic and different." – The Weeknd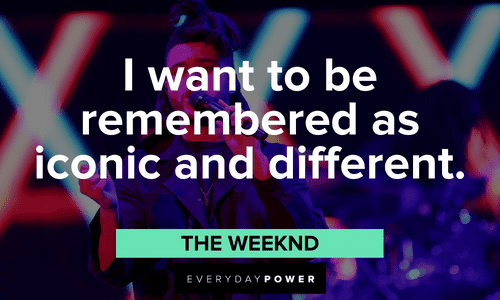 19. "I just kept touring and touring until it became second nature to go on stage, perform, and sing." – The Weeknd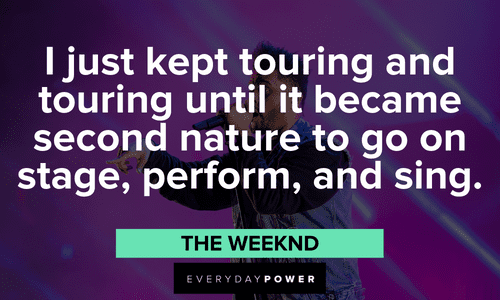 20. "I'm always getting high 'cause my confidence low" – The Weeknd, "Love in the Sky"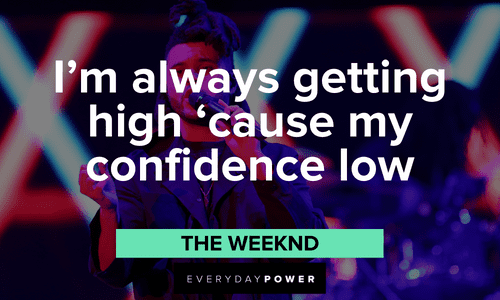 If you enjoy this article, check out our collection of After Hours quotes celebrating The Weeknd's album.
The Weeknd quotes on creativity
21. "The last thing you want is to not be recognized for all of the hard work you put in." – The Weeknd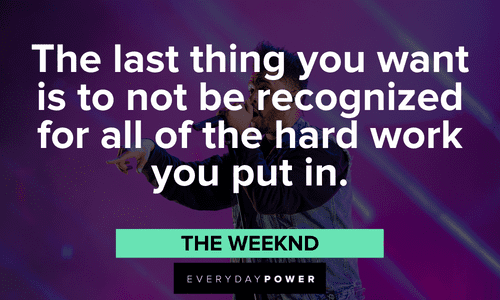 22. "When I'm faded I forget, I forget what you mean to me. I hope you know what you mean to me." – The Weeknd, "Coming Down"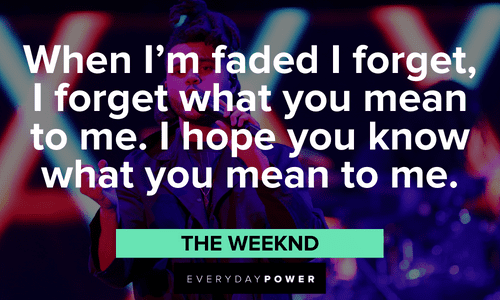 23. "You aren't normal if you sing to people. You aren't a normal person. It's nerve-racking." – The Weeknd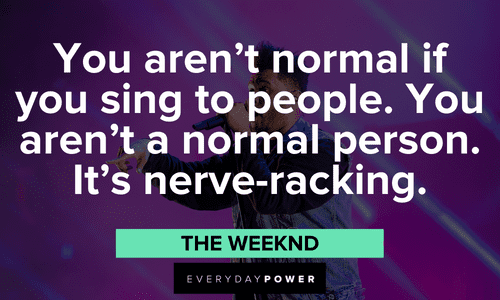 24. "The effect of music on fashion has been immense, especially hip-hop and urban music." – The Weeknd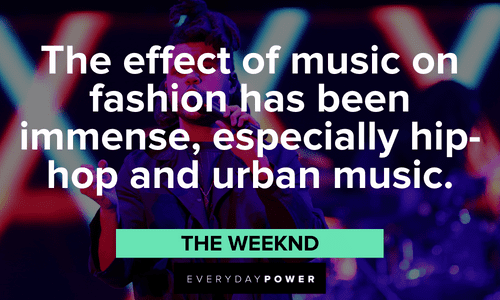 25. "You're gonna hate him, then you'll want me, then you'll miss him, then you'll hate me." – The Weeknd, "Till Dawn (Here Comes the Sun)"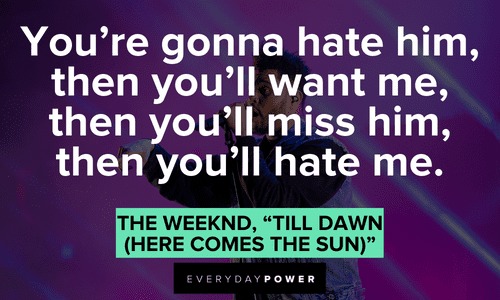 Don't forget to also read these great BTS quotes from the platinum-selling South Korean boy band.
Relatable The Weeknd quotes
26. "If it hurts to breathe, open a window." – The Weeknd, "House of Balloons"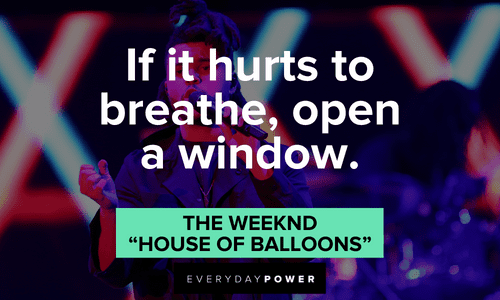 27. "Don't show the world how alone you've become." – The Weeknd, "Tears in the Rain"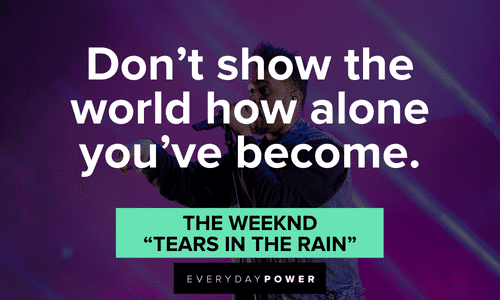 28. "Heaven only lets a few in. It's too late for me to choose it." – The Weeknd, "Real Life"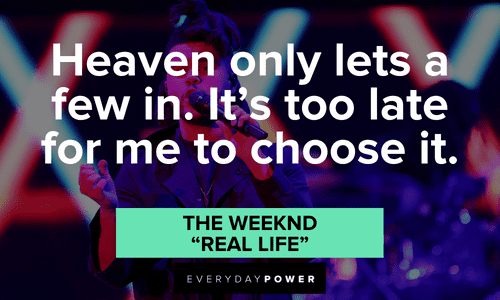 29. "Got up, thank the Lord for the day. Woke up by a girl, I don't even know her name" – The Weeknd, "Party Monster"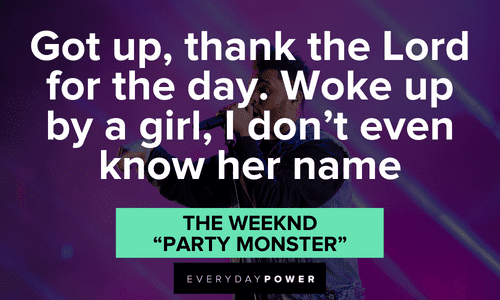 30. "You don't have to waste your energy." – The Weeknd, "Rockin'"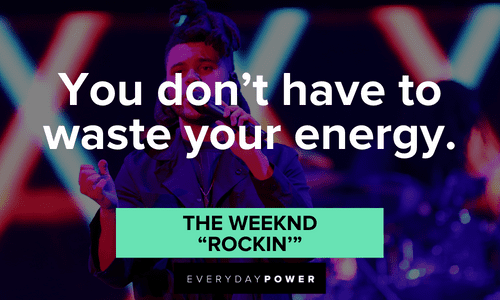 31. "I never put a face to my music, which actually made the music that much more mysterious." – The Weeknd
32. "Once you've changed who you are or who you've portrayed in your music, the fans, they'll catch it…Once I feel like the world knows me for anything else but my music, then I feel like I failed." – The Weeknd
33. "When I was making the early stuff, I never expected it to be so big. I was in my own kind of bubble. I never wanted to tour; I just wanted to create music and make a diary I could put out into the world. And sometimes, I became the characters." – The Weeknd
34. "I wish I could make music about politics. I feel like it's such an art and a talent that I admire tremendously, but when I step into the studio, I step out of the real world, and it's therapeutic." – The Weeknd
35. "Environment is very important to me. Sometimes I have to perform during the day for festivals, and my music does not work in the daytime. It is nighttime music." – The Weeknd
36. "Nothing feels better than going on stage and everybody is singing every word – and actually wanting to see you." – The Weeknd
The Weeknd quotes on drugs
37. "My purpose is to make exciting music, and I feel like I'll be doing that for the rest of my life, so there's no pressure." – The Weeknd
38. "My god white, he in my pocket. He get me redder than the devil 'til I go nauseous" – The Weeknd, "Often"
39. "And I'ma lean, till I fall." – The Weeknd, "The Zone"
40. "The only girls that we f*ck with seem to have 20 different pills in 'em." – The Weeknd, "Loft Music"
41. "I only love it when you touch me, not feel me. When I'm f*cked up, that's the real me." – The Weeknd, "The Hills"
Also read these motivational Lil Nas X quotes that will make your day.
The Weeknd quotes on his upbringing
42. "Me not finishing school – in my head, I still have this insecurity when I'm talking to someone educated." – The Weeknd
43. "I didn't have a father figure in the house." – The Weeknd
44. "I couldn't ever go back home without being something. I probably would never have gone back home. That was definitely a big motivation. To get back home, and not empty-handed." – The Weeknd
45. "In the beginning, I was very insecure. I hated how I looked in pictures." – The Weeknd
46. "I always use Michael as, first and foremost, a vocal inspiration, and 'Off the Wall' was definitely the one that made me feel like I could sing." – The Weeknd
47. "Going to a therapist is not something you do when you're growing up as a street kid in Toronto." – The Weeknd
48. "For an Ethiopian mother, if you have a chubby kid, it means you're doing something good." – The Weeknd
49. "From when I was born to when I was 21, I never left Toronto. That's why I'm such a city cat." – The Weeknd
50. "When I was born, that was the music my mother was listening to. Michael Jackson is a third parent to me." – The Weeknd
You might also like these Janis Joplin quotes from the iconic singer.
More quotes from The weeknd
51. "Once you learn to hit, teach yourself to never miss again." – The Weeknd
52. "Happiness exists when u don't know a thing." – The Weeknd
53. "The Joker is my favorite villain of all time: You don't know his past; you just know what his plans are." – The Weeknd
54. "The mind of a 19-year-old is very different from the mind of a 26-year-old. You grow. You get into better relationships. You experience more, meet more people, better people. But when you're in a dark hole at an earlier point in your life – you write about the mindset you're in at that moment." – The Weeknd
55. "When you're traveling constantly, every day you become inspired, and it shows in my work, sonically, lyrically, visually." – The Weeknd
If you're enjoying these quotes, you'll love our collection of travel quotes to channel your inner wanderlust.
56. "I usually don't like to 'spoon feed' my audience, because I grew up idolizing storytellers who tell stories using symbolism, so it was in my nature to do the same." – The Weeknd
57. "I like to create characters based on different people I've met, and relationships. I like to tell stories loosely based on real-life events." – The Weeknd
58. "I think that's why my career is going to be so long: Because I haven't given people everything." – The Weeknd
What can you learn from The Weeknd's creative process?
What makes The Weeknd's music stand apart from others is his raw, unedited perspectives on life.
He isn't afraid of discussing topics that may be considered taboo.
His fans are drawn to his authenticity like a magnet.
Whether you are starting a new relationship or looking to move up in your career, authenticity is key.
People put on different masks throughout their day for a variety of reasons.
It's when we take off those masks that we're able to make deep connections with other people that can be life-changing.
Did you enjoy this list of The Weeknd quotes and lyrics?
Is there another artist that we should showcase on Everyday Power?
Let us know in the comments section!