Falling in Love Quotes for Him and Her
These magical falling in love quotes prove just how incredible it is to find your special someone.
Falling in love with the right person is one of the best feelings in the world.
When you finally meet the person that's your perfect match, your mind, your body, and your spirit are instantaneously flooded with positive emotions.
When you're with the right person, you'll feel safe and secure, with a sudden desire to open up and share everything with them. You'll feel an underlying happiness despite what is going on around you.
The right someone will make you feel like you're the best thing that ever happened to them and constantly remind you how easy it was for them to fall in love with you.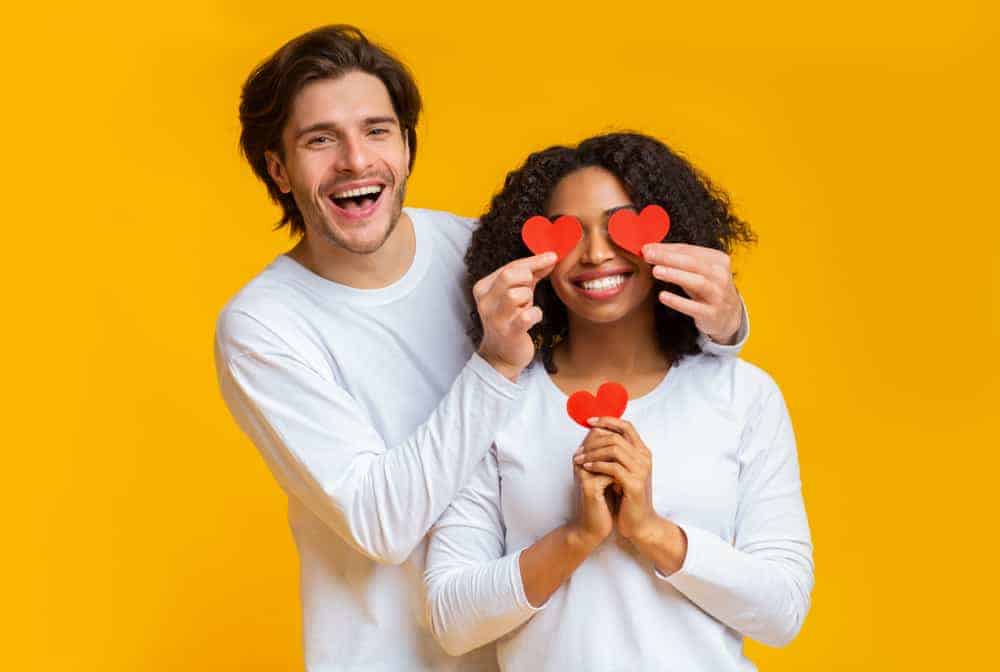 Best of all, the right relationship will help you experience more out of life and feel hopeful about the future. You'll look forward to the future, no matter what it may bring, because you know you're with someone special. And life is best lived with your special person by your side.
Granted, it's common to find yourself falling in love (or simply lust) with the wrong person; and I'd be remiss if I didn't mention the appropriateness of sad love quotes in these types of situations, but when you finally fall for the right someone, you realize it was worth the wait no matter how long it took to find them.
The person you love can change you positively and help you make the most out of your Everyday Power. In that respect, here are some beautiful falling in love quotes to make you cherish this special feeling forever.
We also have a list of lovely engagement quotes for when that time comes. Be sure to check it out as well.
Falling in love quotes for him and her
1. "Let us not only fall in love, let us live life as if life is our love affair."― Debasish Mridha
2. "I spend most nights at home falling in love with the idea of you."― Michael Faudet
3. "When I fall in love, it will be forever." – Jane Austen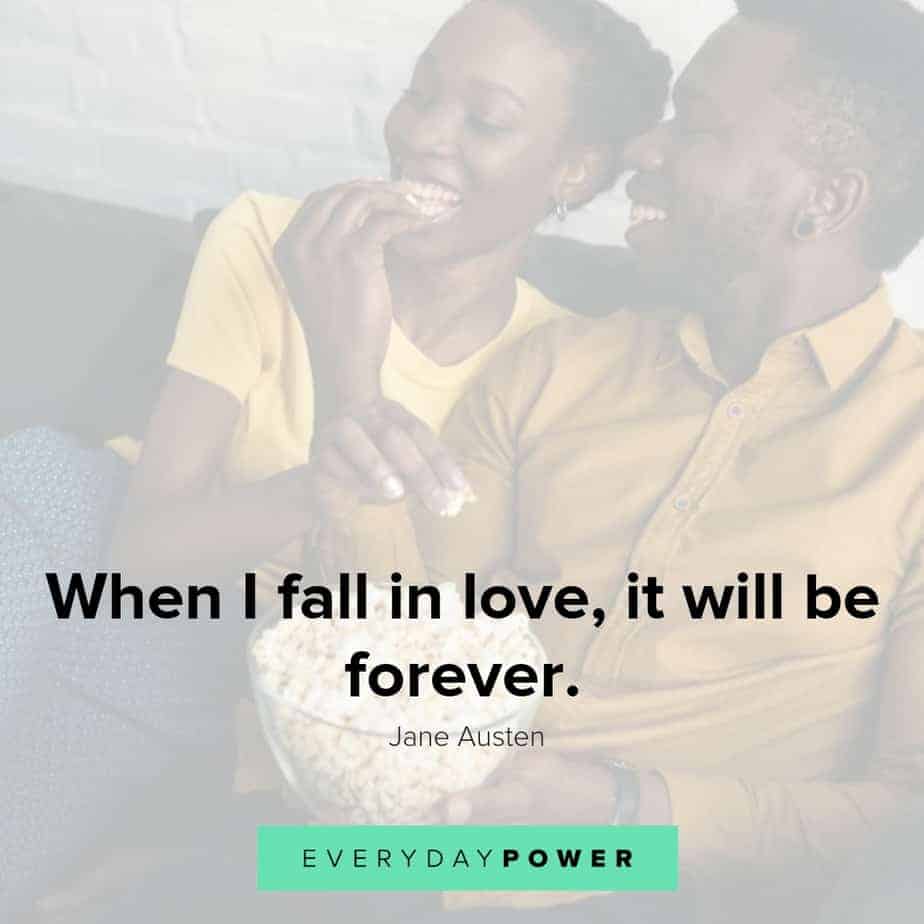 4. "As he read, I fell in love the way you fall asleep: slow, and then all at once." – John Green
5. "This thing about you that you think is your flaw – it's the reason I'm falling in love with you." – Colleen Hoover
6. "I'm not just falling in love with you, I'm falling into you. You're an ocean, and I'm falling in, drowning in the depths of who you are."—Unknown
7. "It was the way you laughed, I knew I wanted that in my life." – R. M. Drake
8. "All, everything that I understand, I only understand because I love." — Leo Tolstoy
9. "You are what I never knew I always wanted." – Fools Rush In
10. "Love unlocks doors and opens windows that weren't even there before." ― Mignon McLaughlin
Falling in love quotes for him
11. "I don't know how to say this, or even if it's true. But I love the way you make me feel, and I think I'm falling for you." – Nicole Kinder
12. "Have you ever watched a leaf leave a tree? It falls upward first, and then it drifts toward the ground, just as I find myself drifting towards you." — Beth Kephart
13. "I fall into him like one would fall into a dream, ready to submit to your subconscious's innermost desires and your deepest fears." — Stephanie Binding
14. "I fell in love with his unchanging soul." ― Claudia Gray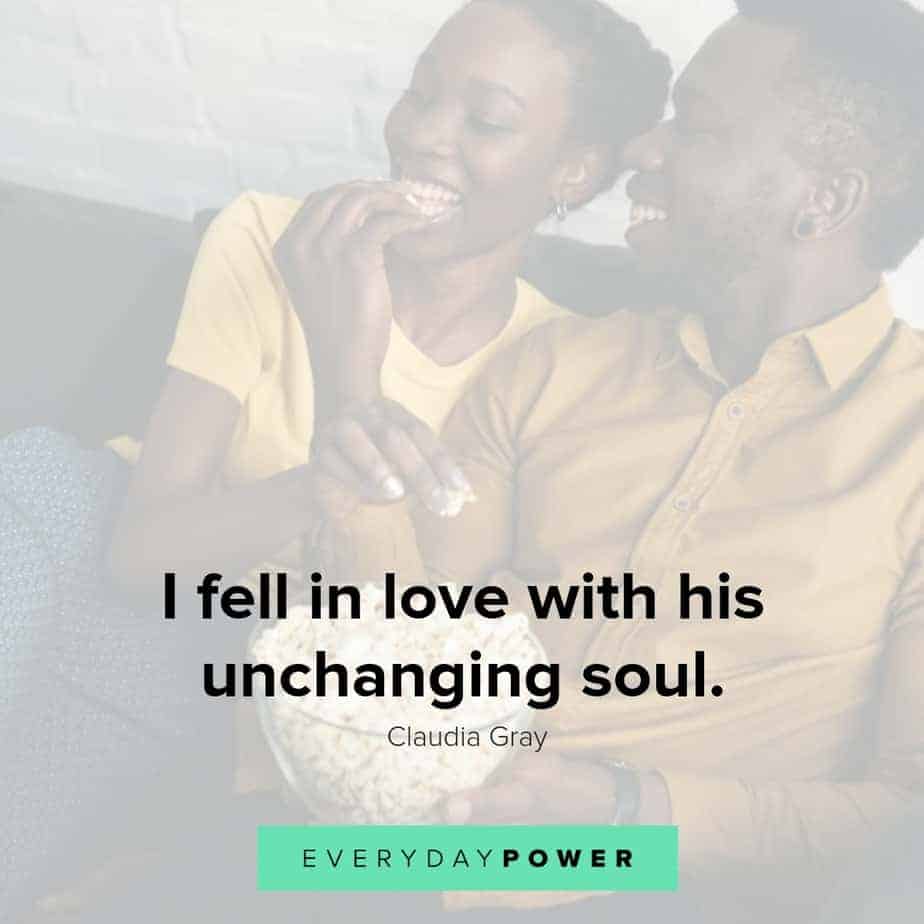 15. "I was so blessed. The first person I gave my heart to was an angel who plucked the feathers off his wings and built a nest for it." ― Kamand Kojouri
16. "I saw that you were perfect, and so I loved you. Then I saw that you were not perfect and I loved you even more." — Angelita Lim
17. "A feeling … That we have some history together that hasn't happened yet." ― Jennifer Egan
18. "In vain have I struggled. It will not do. My feelings will not be repressed. You must allow me to tell you how ardently I admire and love you." – Jane Austen
19. "The friendship I have had in my heart for you has ripened into a deeper feeling, a feeling more beautiful, more pure, more sacred. Dare I name it? Ah! It is love which makes me so bold!" — Margaret Mitchell
20. "Falling in love with you was the easiest thing I've ever done." ― Kate Meader
Falling in love quotes for her
21. "I fell in love with you because there was a mischief in your eyes."—Michka Assayas
22. "A guy knows he's in love when he loses interest in his car for a couple of days." – Tim Allen
23. "Speak to me: I will spend my lifetime trying to understand you."― Kamand Kojouri
24. "I've fallen in love many times… but always with you." – Unknown
25. "She was made of a magic, that only I could see."– Atticus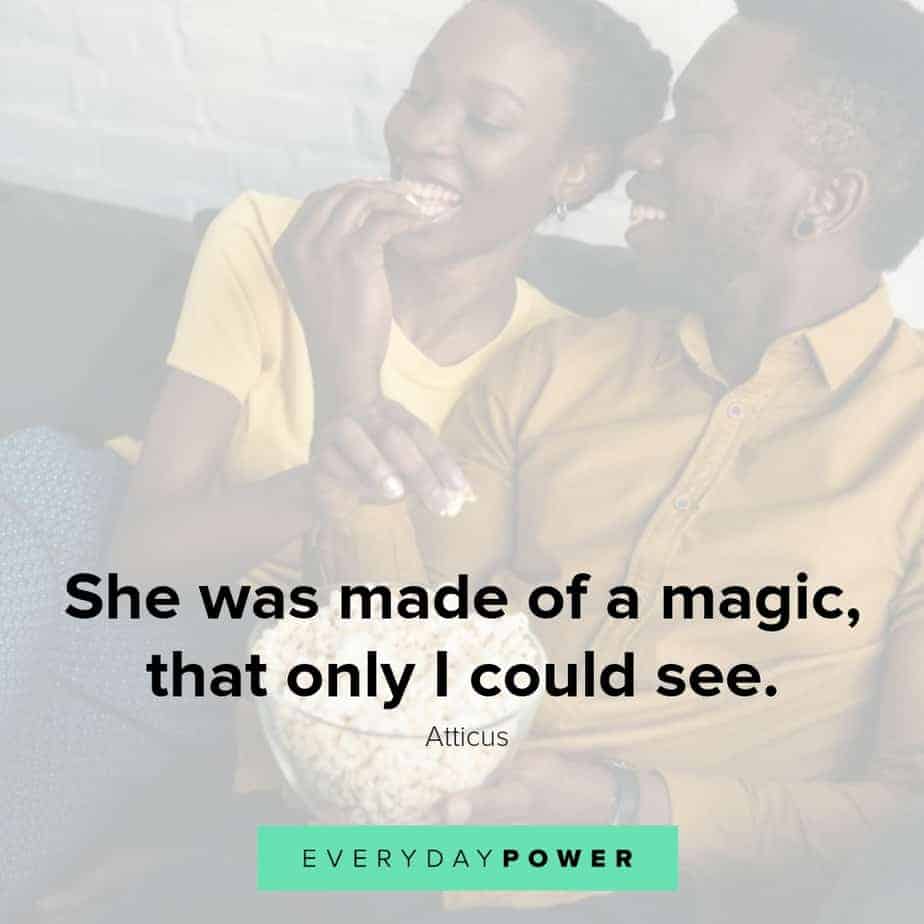 26. "I swear I couldn't love you more than I do right now, and yet I know I will tomorrow." — Leo Christopher
27. "And in that moment, I swear we were infinite." ― Stephen Chbosky
28. "But the you who you are tonight is the same you I was in love with yesterday, the same you I'll be in love with tomorrow." ― Gayle Forman
29. "Meeting you was fate..Becoming your friend was a choice..But falling in love with you I had no control over." ― Teresa Conroy
If you're enjoying these quotes, you'll love our collection of boyfriend quotes that will give you butterflies.

30. "When I saw you I couldn't keep my eyes off of you. When you smiled at me I couldn't keep my heart from racing. When you looked into my eyes that's all it took for me to fall in love with you." – Unknown
Quotes about falling in love unexpectedly
31. "No one ever fell in love gracefully."—Connie Brockway
32. "You will always fall in love, and it will always be like having your throat cut, just that fast." – Catherynne M. Valente
33. "I think falling in love is always a surprise, right?" – Josh Dallas
34. "The greatest wonderful feeling is falling in love."—Lailah Gifty Akita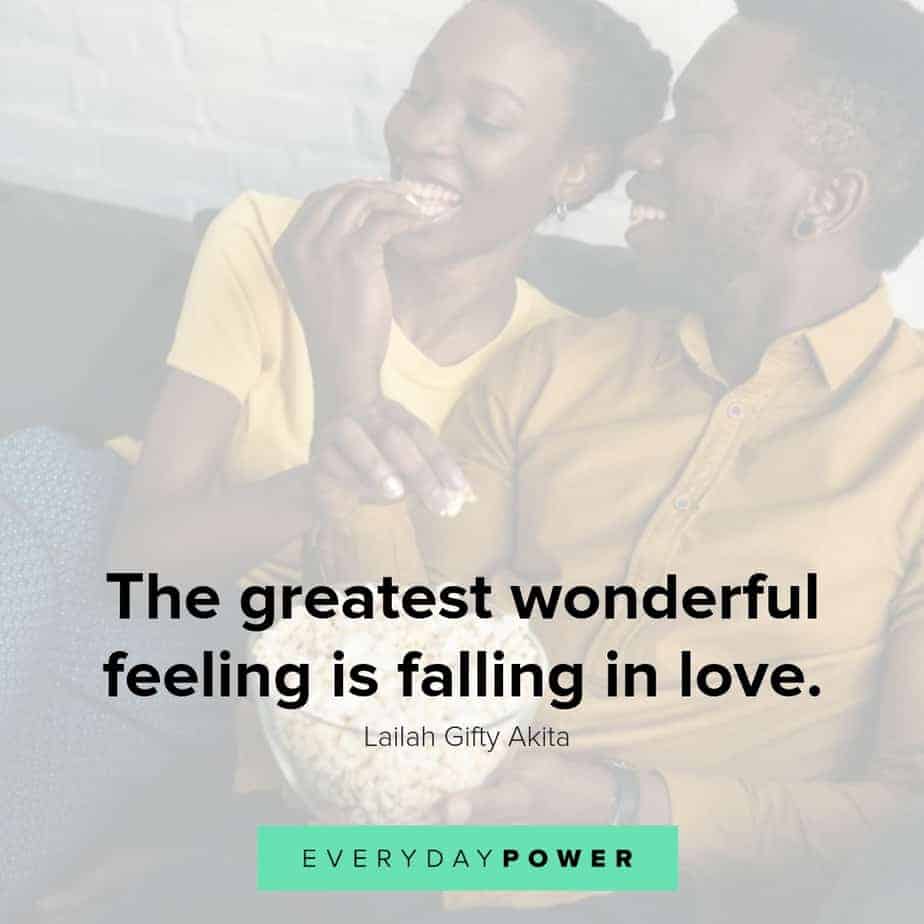 35. "When you trip over love, it is easy to get up. But when you fall in love, it is impossible to stand again." – Albert Einstein
36. "You always fall for the most unexpected person at the most unexpected time and sometimes for the most unexpected reason." – Unknown
37. "In order to be happy oneself it is necessary to make at least one other person happy." — Theodor Reik
38. "The heart wants what it wants. There's no logic to these things. You meet someone and you fall in love and that's that." — Woody Allen
39. "Falling in love is not an extension of one's limits or boundaries; it is a partial and temporary collapse of them." – M Scott Peck
40. "There is never a time or place for true love. It happens accidentally, in a heartbeat, in a single flashing, throbbing moment." ― Sarah Dessen
If you're enjoying these quotes, make sure to check out our collection of true love quotes for the hopeless romantic.

Beautiful falling in love quotes
41. "To love is nothing. To be loved is something. But to love and be loved, that's everything." — T. Tolis
42. "A proof that experience is of no use, is that the end of one love does not prevent us from beginning another. – Paul Bourget
43. "We never get enough of falling in love and believing in love."—Shemar Moore
44. "There's no substitute for a great love who says, 'No matter what's wrong with you, you're welcome at this table.'" — Tom Hanks
45. "I fell in love the way you fall asleep: slowly, and then all at once."— John Green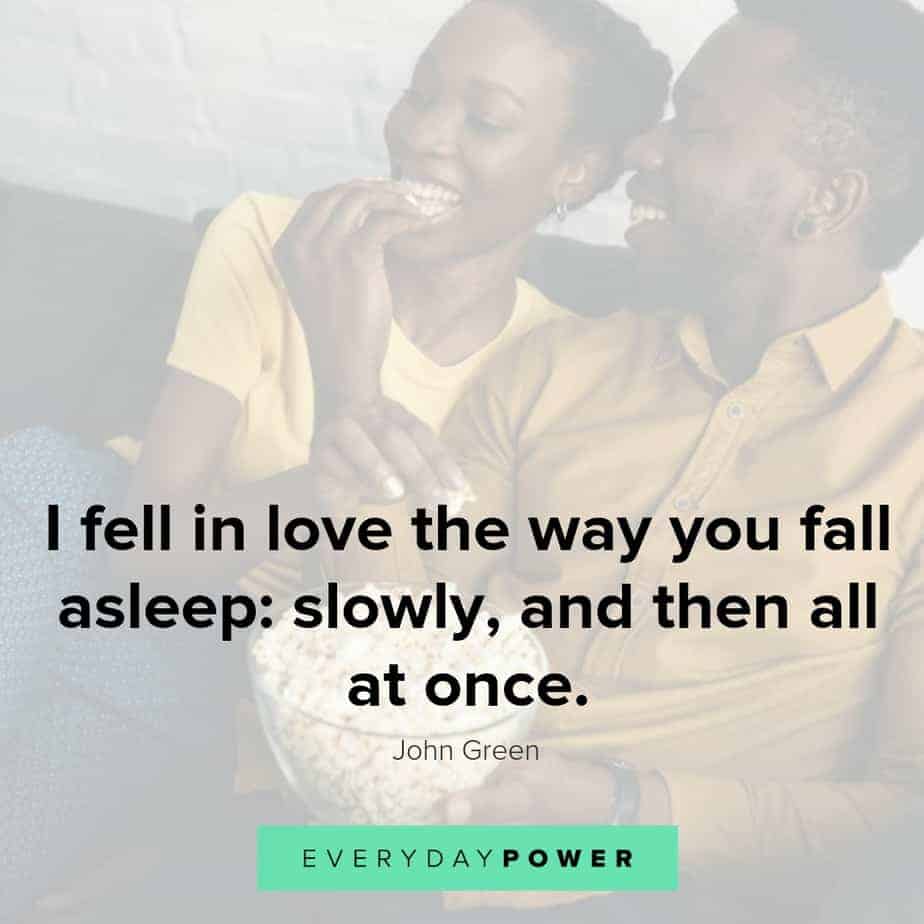 46. "Don't find love, let love find you. That's why it's called falling in love because you don't force yourself to fall, you just fall." – Unknown
47. "Falling in love is sudden, easy, and fun. It's like a child going down a playground slide." ― Jayden Hunter
48. "Falling in love is easy. Falling in love with the same person repeatedly is extraordinary." — Crystal Woods
49. "Isn't that how falling in love so often works? Some stranger appears out of nowhere and becomes a fixed star in your universe." — Kate Bolick
50. "People usually fall in love. But some people were born in love. Already. And always." ― C. JoyBell C.
Powerful falling in love quotes
51. "Falling for you was easy – perhaps even way too easy. You were all I had in my mind, and I don't think I will want to change that for anything else." – Unknown
52. "Falling in love is a wonderfully terrifying sensation."― Steve Maraboli
53. "I'm starting to believe that when we fall for someone, we are just falling for the better parts of ourselves that we wish we were."- Unknown
54. "Don't fall in love rise with it."― Dr. Amit Abraham
55. "To fall in love with someone's thoughts – the most intimate, splendid romance."― Sanober Khan
56. "The secret about falling in love is how you can do it a million times over with the same person, when the person is the right one."― Amy Spalding
57. "… it's a blessed thing to love and feel loved in return."― E.A. Bucchianeri
58. "Love is like black and white color; falling for same person, over and again."― Vikrmn
59. "Is this how it goes? You fall in love, and nothing seems truly scary anymore, and life is one big possibility?"― Jenny Han
60. "You fall for a person, not a type."― Melanie A. Smith
Read more love quotes to help you share what is in your heart and mind.
More falling in love quotes and sayings
61. "He asked if I loved him and I asked him if the sun ever needed the permission of the day to shine." – Temi O'Sola
62. "Fall in love, not fool in love." – Alvi Syahrin
63. "Falling in love is literally falling from your independence to let another control your life." – Bangambiki Habyarimana
64. "Let's fall in love and screw up our lives even more?" – Tamara Stamenkovic
65. "Falling in love is more than infatuation. It is the need to feel whole, to feel safe, to be healed, to join together with someone, heart and soul." – Michael R French
66. "Sometimes I only fall in love with the moment itself – not the people or places in it." – Laura Chouette
67. "It's just fun to make men fall in love with you." – A.D. Aliwat
68. "Always fall for a person who makes you rise up every time you fall. Rise in love." – Aqib Shah
69. "Were it not for some basic misunderstanding no two people would ever fall in love." – Marty Rubin
70. "He made me feel the infinite number of feelings, In which I lost myself." – Luffina Lourduraj
Which of these falling in love quotes was your favorite?
Falling in love brings a unique sense of immense joy and happiness. When you fall in love with that special someone, it's the best feeling in the entire world. It's something you hold dear to your heart and a memory that lasts a lifetime.
Love allows us to develop our identities and to observe the world from a more exalted perspective. Hopefully, these quotes have inspired you to express how you feel for your significant other.
Did you enjoy these falling in love quotes? Which of the quotes was your favorite? Tell us in the comment section below. We would love to hear all about it.
April 6, 2021 6:00 AM EST
Be the first one to leave a comment!