25 The Funniest King of the Hill Quotes Every True Fan Will Know
Any true fan will know these hilarious King of the Hill quotes.
For 13 years, Hank, Bobby, and Peggy showed us just how funny the life of a mundane Texas family could be.
Mike Judge and Greg Daniels created the adult animated sitcom, which follows the life of Strickland Propane Shop's assistant manager, Hank Hill.
Unlike other adult sitcoms of the early 21st century, King of the Hill took a realistic approach to comedy and found the funny in everyday aspects of life.
Who'd have thought a show about mowing lawns and drinking beer would be so successful?
Despite the humdrum lives of the show's characters, Judge and Daniels found a way to bring a dark but funny edge to the show by discussing serious issues like education, family, and community through the lens of the show's redneck crew.
Here are some of the best King of the Hill quotes that sum up the series.
Don't forget to also check out these Tony Soprano quotes from the boss.
Also, check out our most popular quote article, a list of short inspirational quotes for daily wisdom.
See the rest of our quote database for even more inspirational ideas and thoughts.
Best King of the Hill quotes from Bobby
1. "Why do you hate what you don't understand?" — Bobby Hill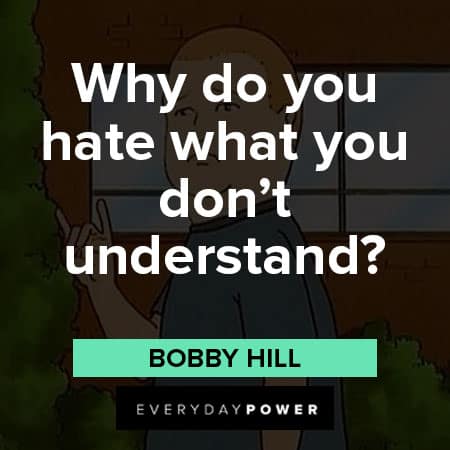 You will also enjoy our article on Talladega Nights quotes.
2. "Think about it, Luanne. Why would you bring a child to a department store to buy a dryer when his birthday is three-and-a-half weeks away? It just doesn't make sense!" — Bobby Hill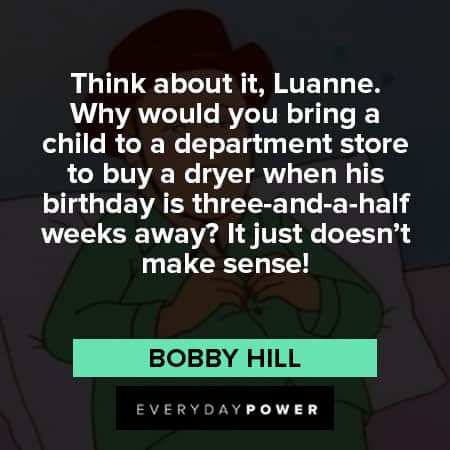 You will also enjoy our article on Ricky Bobby quotes.
3. "And white people always be walking around like this… LIke they be crushing diamonds in their or something! Look at me! I'm White!" — Bobby Hill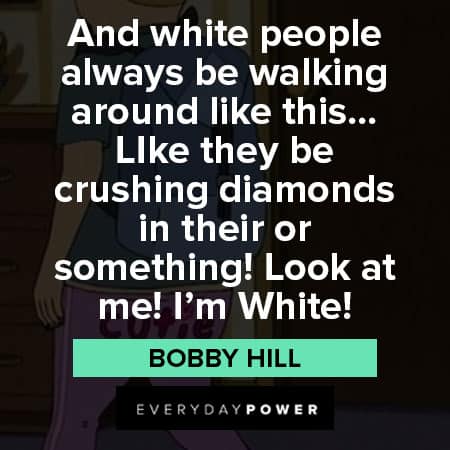 You will also enjoy our article on Waterboy quotes.
4. "My dad sure wants me to be at that haunted house. Last time he wanted me to be somewhere so bad, I woke up without tonsils!" — Bobby Hill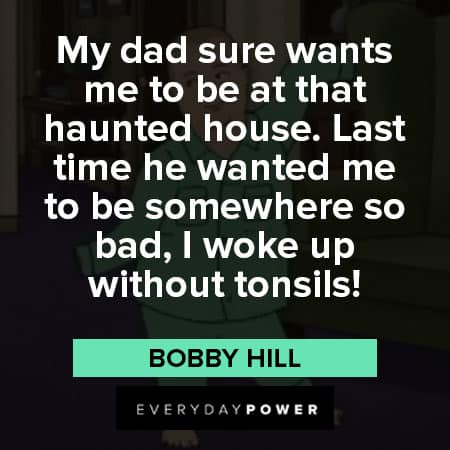 5. "Good-bye, Luanne. I j wantd you to know that I never read your diary, even though you suspected I did on June 18th, 1985." — Bobby Hill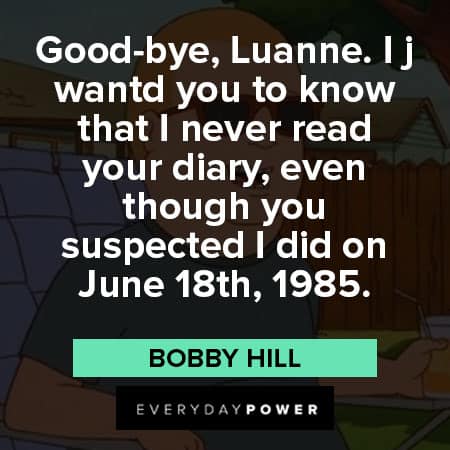 6. "I was getting ready but I worked up an appetite looking for dress pants, so I ordered a pizza, and that ate up a chunk of time." — Bobby Hill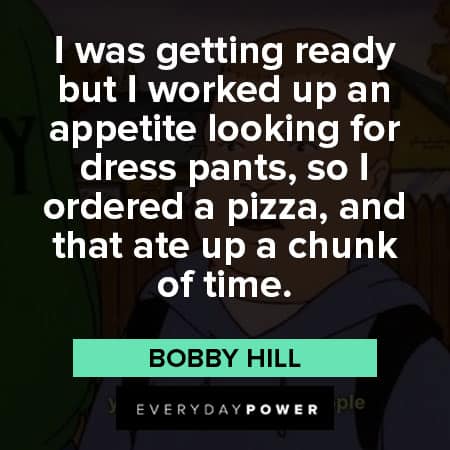 7. "Donuts were one of life's little joys. If the government bans puppy breath and good yawns, I'll have nothing left to live for." — Bobby Hill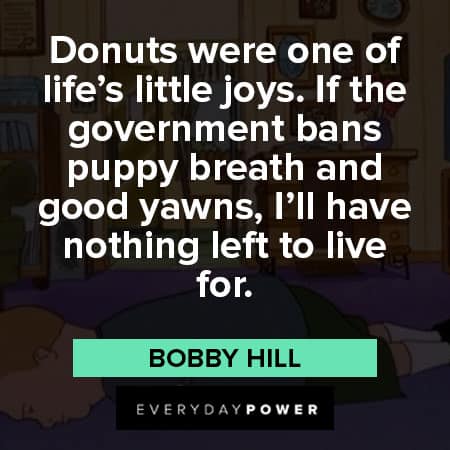 8. "Luanne, I know we've had our differences, but I was kinda hoping we could make up and not get married." — Bobby Hill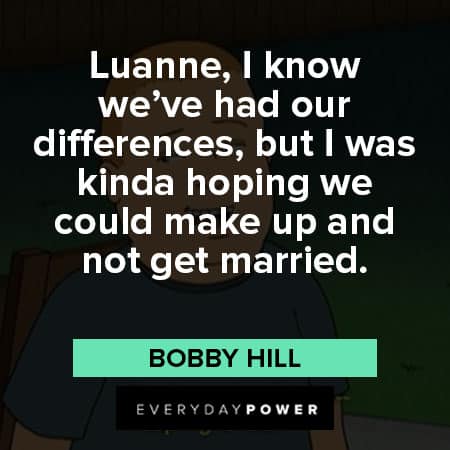 9. "To tell you the truth, dad, that sounds boring. It's okay if you're into boring, but I'm not." — Bobby Hill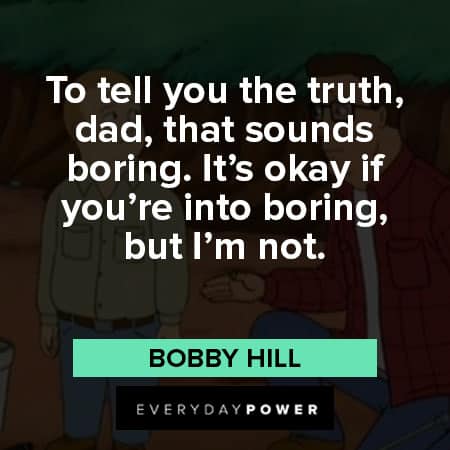 10. "That's my purse! I don't know you!" — Bobby Hill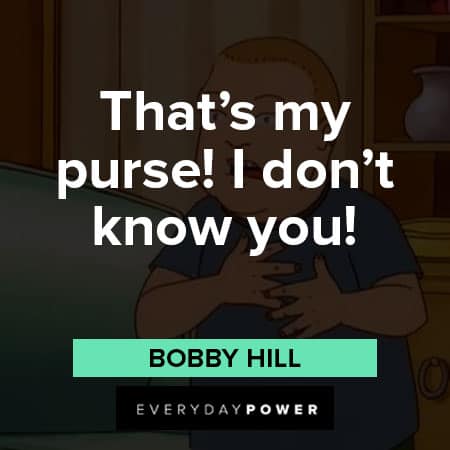 11. "Git out my house! My boy ain't much, but he's all I got!" — Bobby Hill (Mocking his dad)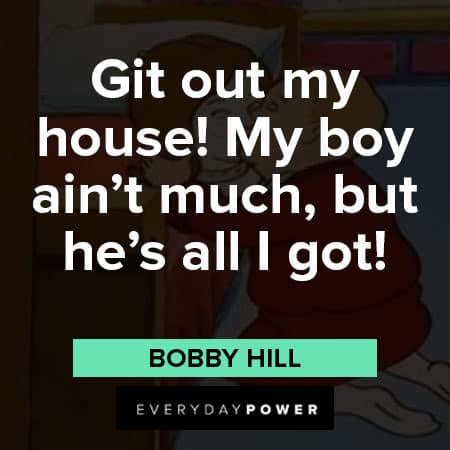 If you enjoy this article, check out our collection of hilarious Boomhauer quotes.
Best King of the Hill quotes from Hank
12. "Bobby, Al Yankovic blew his brains out in the late 80s after people stopped buying his records. He's not worth getting in trouble over." — Hank Hill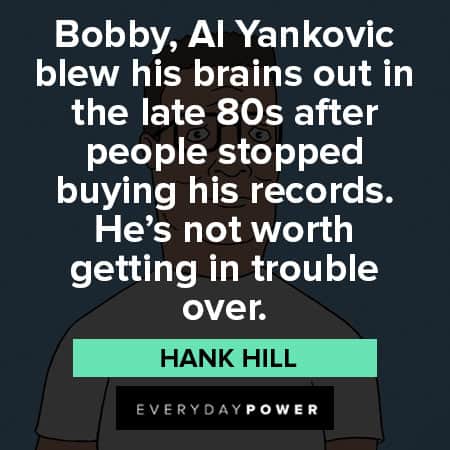 13. "There better be a naked cheerleader under your bed!" — Hank Hill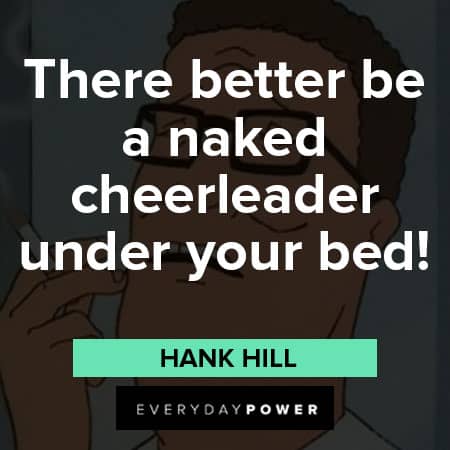 14. "I sell popcorn and popcorn accessories." — Hank Hill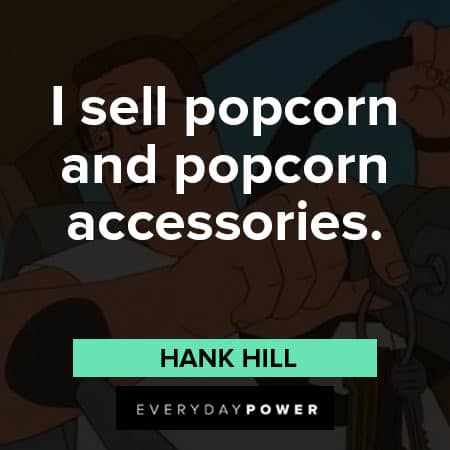 15. "I am the mack daddy of Heimlich County!" — Hank Hill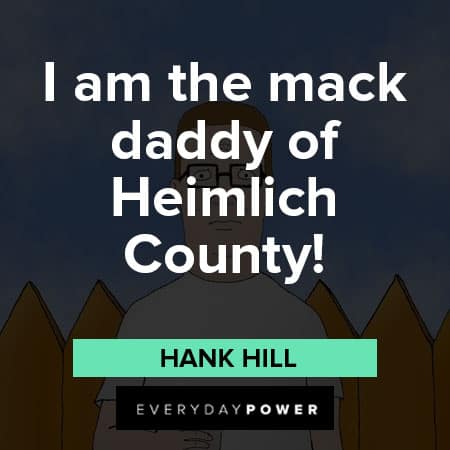 16. "I have a sense of humor. I laugh at Tony Danza." — Hank Hill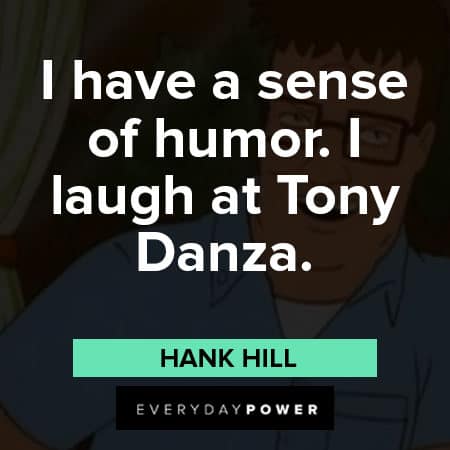 17. "Can't you see you're not making Christianity any better, you're just making rock and roll worse?" — Hank Hill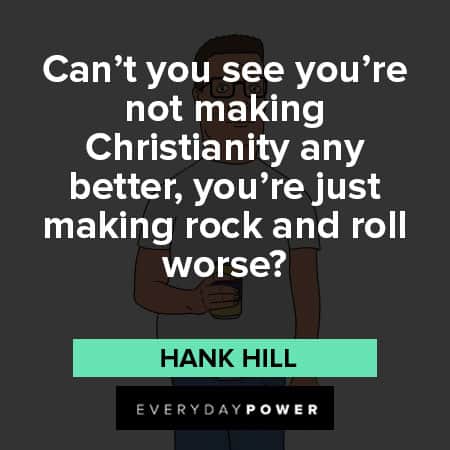 18. "So, are you Chinese or Japanese?" — Hank Hill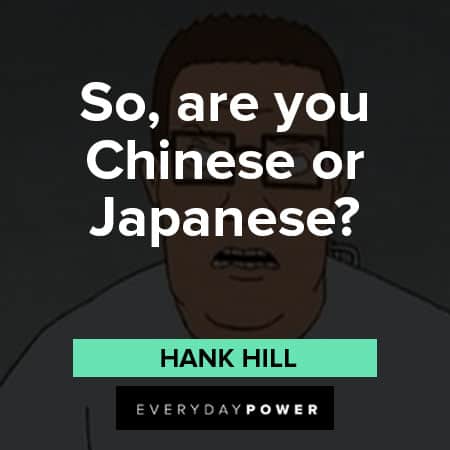 19. "What the hell kind of country is this where I can only hate a man if he's white?" — Hank Hill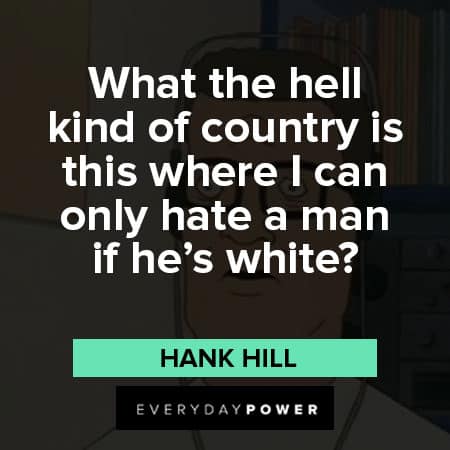 20. "An 'F' in English? Bobby, you speak English!" — Hank Hill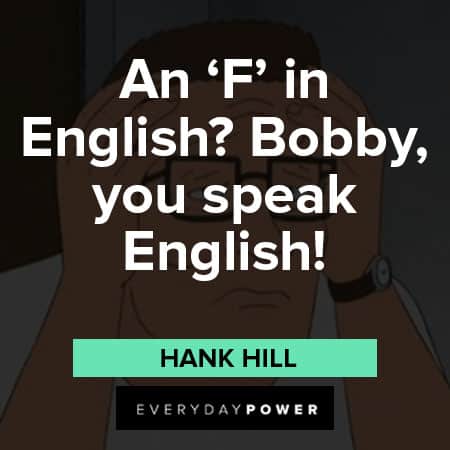 21. "What? No, I sell propane!" — Hank Hill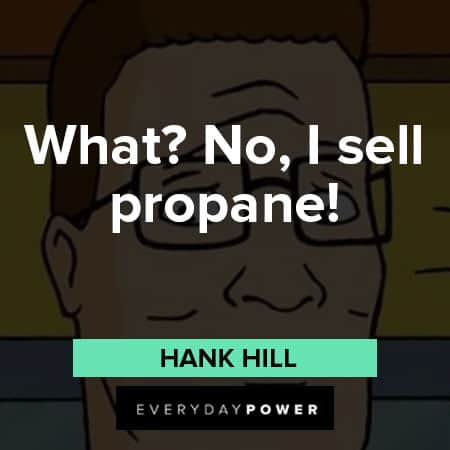 22. "There's something missing, something wrong…it's like a pretty girl with short hair." — Hank Hill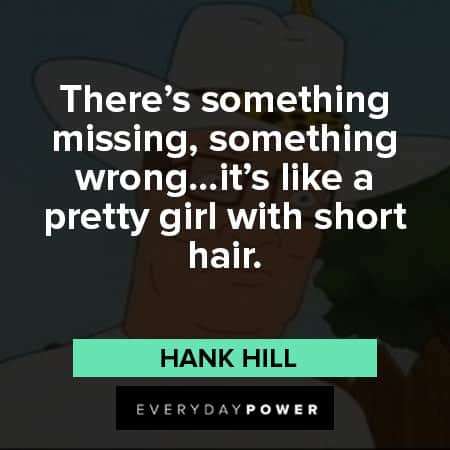 23. "Soccer was invented by European ladies to keep them busy while their husbands did the cooking." — Hank Hill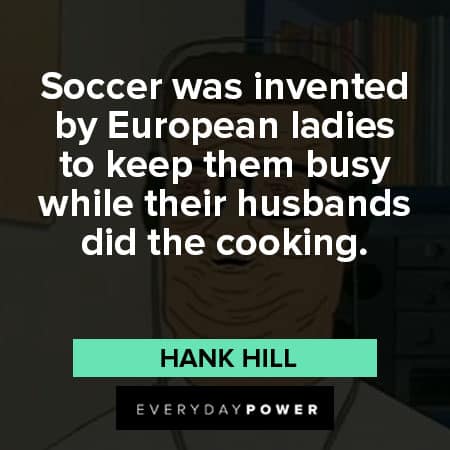 24. "Bobby, some things are like a tire fire, trying to put it out only makes it worse. You just gotta grab a beer and let it burn." — Hank Hill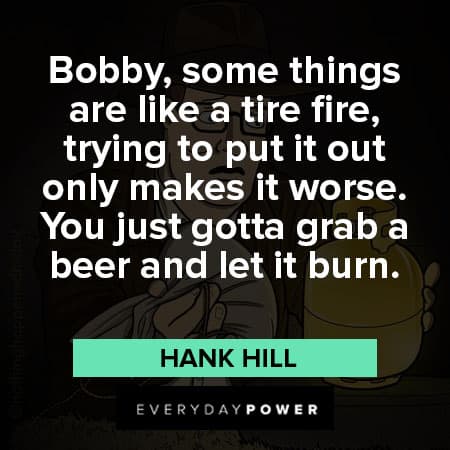 25. "Why would anyone smoke weed when they could just mow a lawn?" — Hank Hill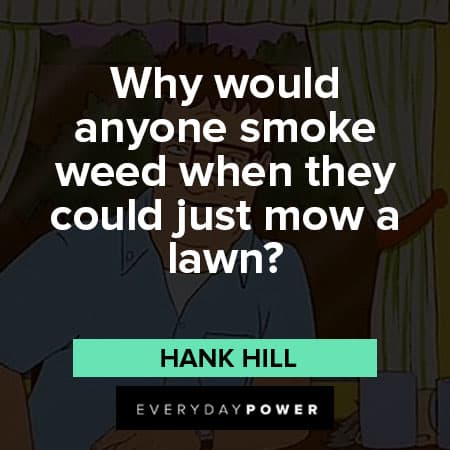 Which King of the Hill character is your favorite?
King of the Hill creator, Mike Judge, initially found success in his first show, Beevus and Butt-Head on MTV.
When Judge pitched the idea for a new show based on a realistic family in Texas to FOX, executives weren't sure it could be a success.
So, they decided to team up with Simpsons allum, Greg Daniels, who reworked the show to be better suited for television.
Daniels contributed major character building to Judge's characters and even came up with a few vital characters of his own— Luanne and Cotton.
In fact, Judge and Daniels worked so well together that Judge decided to give Daniels co-creator status in the credits, rather than just co-writer.
Did you enjoy these King of the Hill quotes and lines?
Which quote was your favorite?
Let us know in the comments below.