60 Shopping Quotes About This Therapeutic Activity
These shopping quotes will have you relating to your inner shopaholic.
They are funny, witty, and several are perfect Instagram captions for your latest haul.
Share some of your favorite things about shopping with us in the comment section below.
What is it about shopping that makes us feel good and take part in a little retail therapy?
We have all felt that little glimmer of joy at purchasing something new.
But why does shopping make us happy?
According to Scott Bea, PsyD. "Research suggests there's actually a lot of psychological and therapeutic value when you're shopping—if done in moderation, of course."
He lists a few reasons why.
First, shopping helps us restore a sense of control in our chaotic world.
This is because we have to make some kind of choice when we are shopping.
Like do I buy the red dress or the blue one?
Do I want to spend money on this?
When we decide one way or the other, we are restoring our personal control.
Keep reading through these shopping quotes from TV shows and movies and people who love shopping to better understand why it makes them happy.
If you enjoy this article, check out our most popular quote article, a list of short inspirational quotes for daily motivation.
Browse our entire collection of inspirational quotes for more motivating ideas and concepts.
Funny shopping quotes
1. "Wal-mart… do they like, make walls there?" — Paris Hilton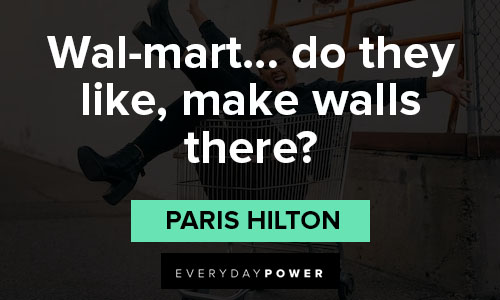 2. "We always hold hands. If I let go, she shops." — Henry Youngman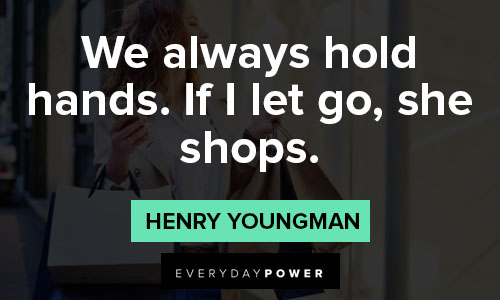 3. "I always say shopping is cheaper than a psychiatrist." — Tammy Faye Bakker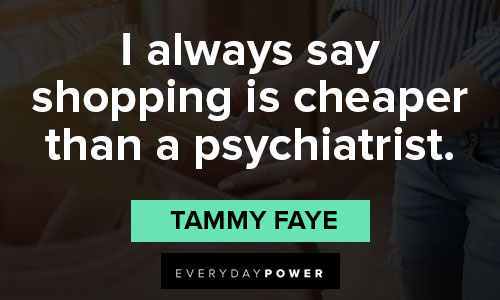 4. "I rationalize shopping. I buy a dress because I need change for gum." — Rita Rudner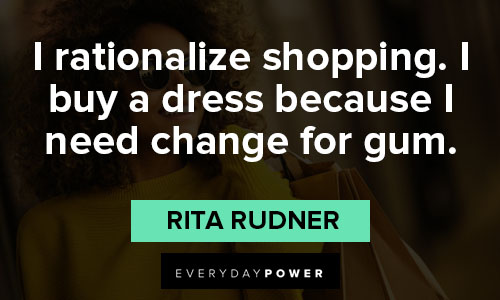 5. "Whoever said money can't buy happiness simply didn't know where to go shopping." — Bo Derek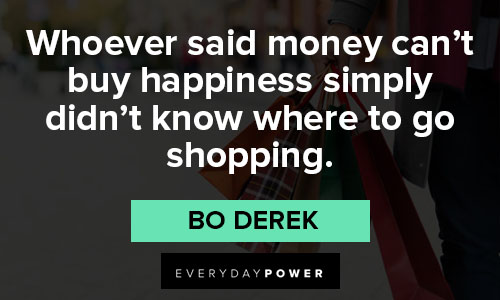 6. "The odds of going to the store for a loaf of bread and coming out with only a loaf of bread are three billion to one." — Erma Bombeck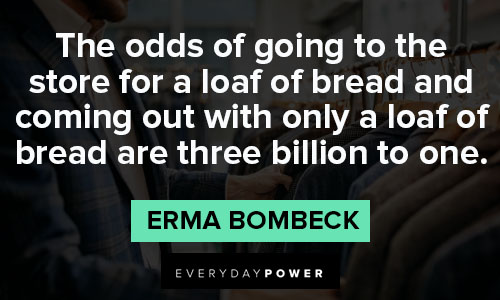 7. "Shopping is better than sex. If you're not satisfied after shopping you can make an exchange for something you really like." — Adrienne Gusoff
8. "I haven't reported my missing credit card to the police because whoever stole it is spending less than my wife." — Ilie Nastase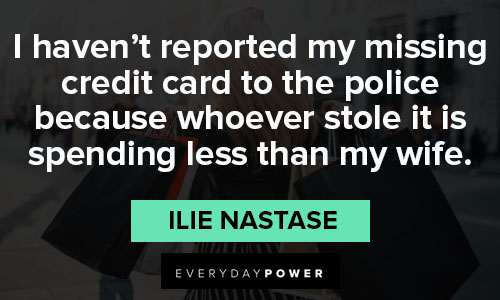 9. "Ever notice there are no clocks in stores? It's like casinos; they don't want you to know how much time you've spent dropping your quarters." — Gina Barreca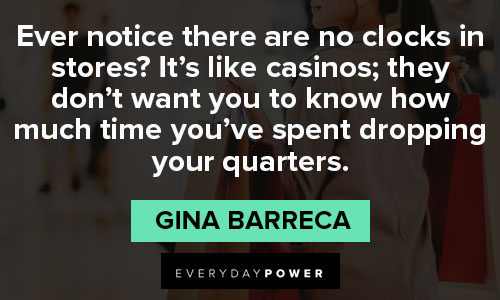 10. "Anyone who believes the competitive spirit in America is dead has never been in a supermarket when the cashier opens another checkout line." — Ann Landers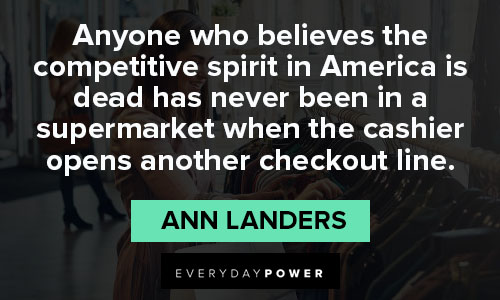 Shopping quotes for Instagram
11. "Saturday is for shopping." — Unknown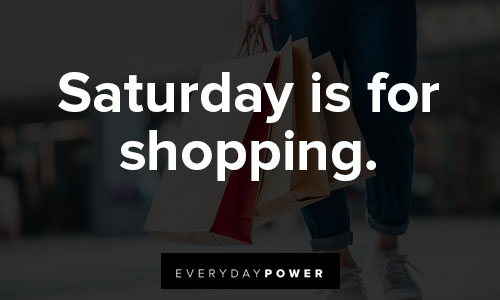 12. "Keep calm and go shopping." — Unknown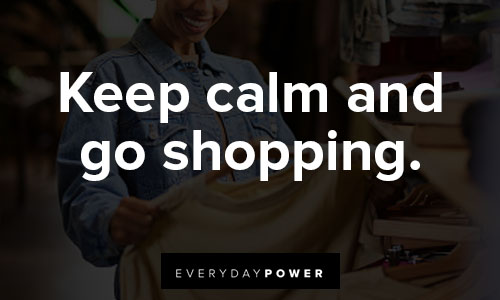 13. "Work hard so you can shop harder." — Unknown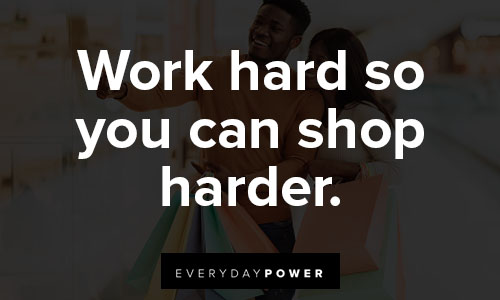 14. "Shortest horror story ever: sold out." — Unknown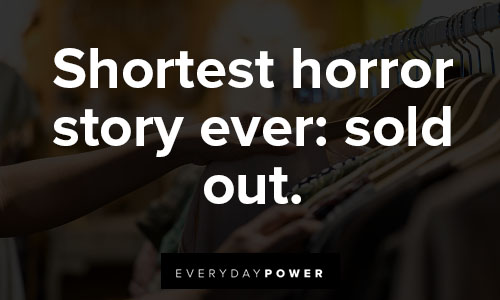 15. "Life isn't perfect but your outfit can be." — Unknown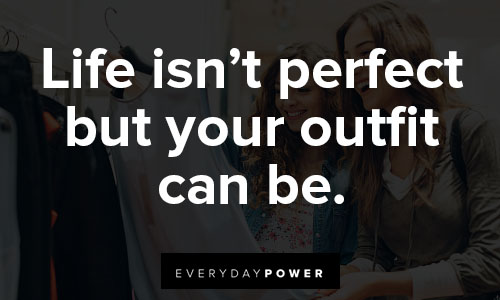 16. "The bags under my eyes are designer." — Unknown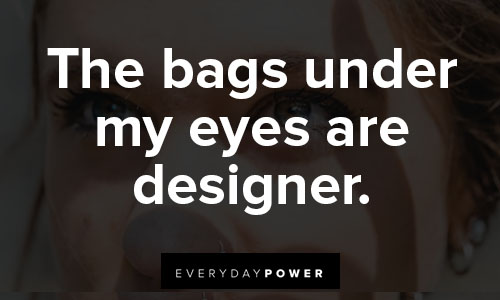 17. "When the going gets tough, the tough go shopping." — Unknown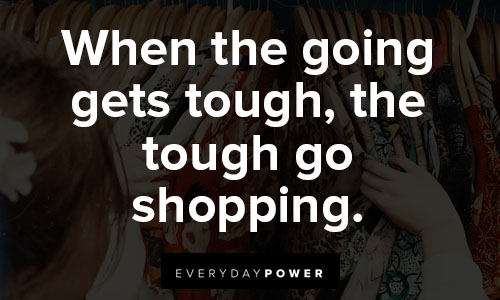 18. "Fashion is what you buy, style is what you do with it." — Unknown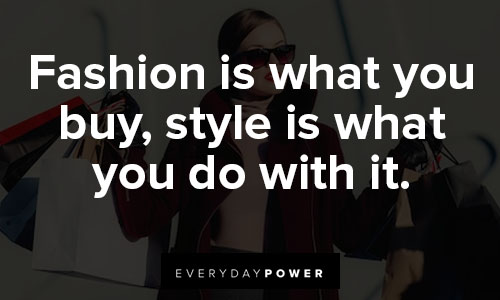 19. "Who needs love when there's this thing called shopping." — Unknown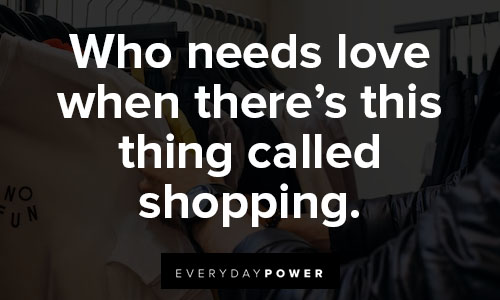 20. "Cinderella is proof that a pair of shoes can change your life." — Unknown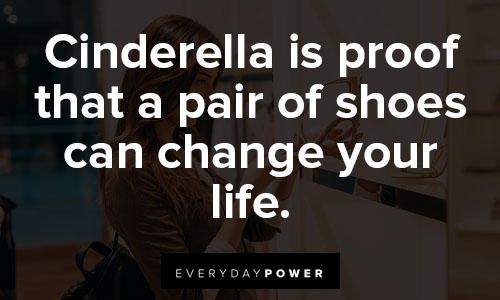 Short shopping quotes
21. "I shop, therefore I am." — Barbara Kruger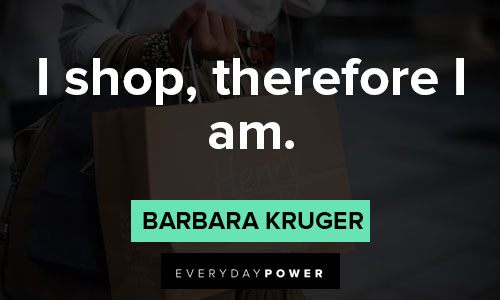 22. "Life is short. Buy new shoes." — Unknown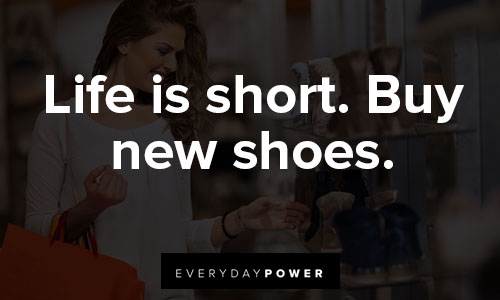 23. "Is there more to life than shopping?" — Amanda Ford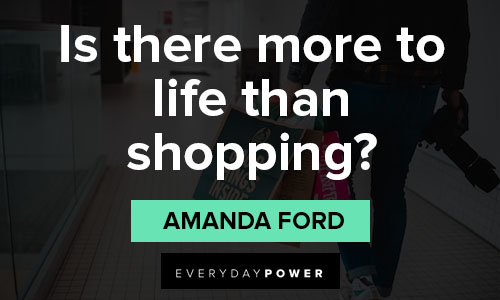 24. "Life's too short to wear boring clothes." — Unknown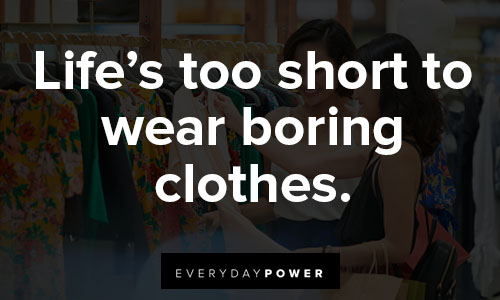 25. "Shopping is an art. Respect my art, please." — Unknown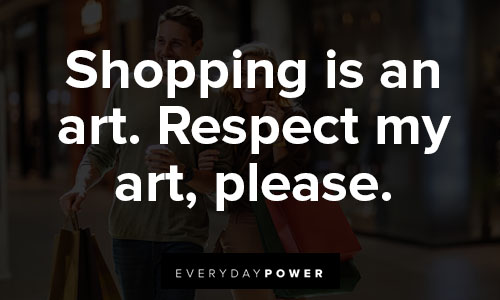 26. "Happiness is not in money, but in shopping." — Marilyn Monroe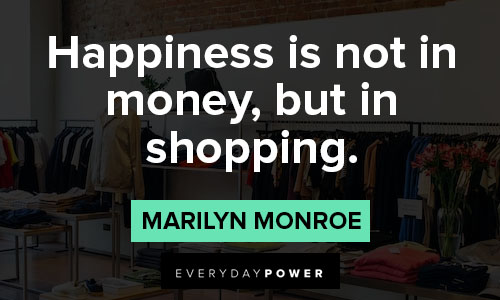 27. "If men liked shopping, they'd call it research." — Cynthia Nelms
28. "For some, shopping is an art; for others, it's a sport." — Pamela Klaffke
29. "A bargain is something you can't use at a price you can't resist." — Franklin P. Jones
30. "The quickest way to get to know a woman is to go shopping with her." — Marcelene Cox
Shopping quotes from movies and tv
31. "Shopping is my cardio." — Carrie Bradshaw, Sex And The City
32. "I like my money right where I can see it: hanging in my closet." — Carrie Bradshaw, Sex And The City
33. "I NEED these cashmere gloves because it's winter… and I have hands." — Rebecca Bloomwood, Confessions Of A Shopaholic
34. "You sold your soul to the devil when you put on your first pair of Jimmy Choo's, I saw it." — Emily, Devil Wears Prada
35. "Oliver liked to play the part of disaffected youth, but he liked shopping in SoHo even more." — Melissa de la Cruz, Blue Bloods
36. "If a man doesn't fit, you can't exchange him seven days later for a gorgeous cashmere sweater." — Rebecca Bloomwood, Confessions Of A Shopaholic
37. "The only consolation I had was buying things. If I bought some pretty thing it cheered me up for a while." — Iris Murdoch, The Black Prince
38. "The car, the furniture, the wife, the children—everything has to be disposable. Because you see the main thing today is—shopping." — Arthur Miller, The Price
39. "I think they should list shopping as a cardiovascular activity. My heart never beats as fast as it does when I see a 'reduced by 50 percent' sign." — Sophie Kinsella, Confessions Of A Shopaholic
40. "I did a lot of shopping for her in Tokyo because the colors here are very conservative. A shopaholic would have a coat in every color and lots of accessories." — Sophie Kinsella, Confessions Of A Shopaholic
I love shopping quotes
41. "Well, I like shopping." — Lianne La Havas
42. "God, I love Christmas shopping." — Sophie Kinsella
43. "I'm much more of a city girl. I like the mall. I like shopping." — Chloe Kim
44. "And then, I do love my shopping, but actually, lounging is the big thing." — Delta Burke
45. "I love dress shopping, and I love talking about the wedding food. That's what makes me happy." — Chrissy Teigen
46. "I love vintage shopping, I think it's really fun. And I love the feeling of finding the most amazing piece for less." — Emma Roberts
47. "I love shopping; I'm a jeans and a T-shirt kind of girl, but I go classy when I dress up – with a little bit of sexy." — Adrianne Palicki
48. "I love to go shopping at Target. They have so much stuff there, you can buy almost anything, it's really amazing." — Liv Tyler
49. "I love shopping. There is a little bit of magic found in buying something new. It is instant gratification, a quick fix." — Rebecca Bloom
50. "My mom passed on her obsession of all things antique or vintage. I love to go thrift store shopping or explore any sort of garage sale. Treasure hunting is a family passion." — Zoey Deutch
51. "I've purged myself of worldly goods; half my stuff is either being sold or going to charity. I need to go shopping." ― Christy Leigh Stewart
52. "To travel is to shop." ― Susan Sontag
53. "It saddened me that sometimes shopping was far more perilous than dealing with zombies and vampires." ― Anton Strout
54. "Buy, buy, says the sign in the shop window; Why, why, says the junk in the yard." ― Paul McCartney
55. "No decision should be made on an empty shopping bag." ― Donita K. Paul
56. "Shopping is always fun for those that enjoy it." ― Oscar Auliq-Ice
57. "Don't buy much but make sure that what you buy is good." ― Christian Dior
58. "It's time to shop high heels if your fiance kisses you on the forehead." ― Amit Kalantri
59. "Anybody can buy. It takes an artist to shop." ― Jennifer Finney Boylan
60. "On every shopping trip, there is one indulgence." ― Judy Blundell
Why shopping makes us feel good
Another reason that shopping improves your mood is that it stimulates the senses.
Shopping malls and boutiques are designed in a way that is bright and visually appealing.
Then there is the smell of new things—like that brand-new leather handbag.
Or the weight of new golf clubs in your hand.
This sensory experience and the visualization of how the item will improve something in your life can lessen feelings of anxiety.
Dopamine is also released while shopping, even if it is just window shopping!
Dopamine increases your desire to continue to find things that make you feel good—not just in getting the reward.
So, if browsing around and trying on some new shoes make you feel good, go do it!
You don't have to actually purchase something to feel the benefits of retail therapy.
Even if you aren't a fan of shopping in person because of the crowds, online shopping can produce the same chemical effects.
Do you like shopping? What do you like about it?
Let us know in the comment section below.