50 Danny DeVito Quotes That Will Make You Do More Than Laugh
Danny DeVito is an American actor, comedian, director, producer, and screenwriter who needs little introduction, as he has been in Hollywood for over 40 years.
Not only is he a Hollywood staple, having starred in many movies, but he is also known as one of Hollywood's nicest actors.
Some of these Danny DeVito quotes show off his comic genius, and others are inspirational and deeper than you might expect.
He garnered attention for his portrayal of the taxi dispatcher Louie De Palma in the television series Taxi (1978–1983).
Taxi was a tremendous hit in the 80s, and Danny won a Golden Globe and an Emmy for his work.
Danny followed Taxi with a string of popular movie roles in the 80s and 90s.
These include Terms of Endearment (1983), Throw Momma from the Train (1987), Twins (1988), The War of the Roses (1989), Batman Returns (1992), Get Shorty (1995), Matilda (1996), Mars Attacks! (1996), L.A. Confidential (1997), and Man on the Moon (1999).
Audiences loved his voiceover work too, which he did for Space Jam (1996), Hercules (1997), The Lorax (2012), and The One and Only Ivan (2020).
If you ask my children who Danny DeVito is, they will tell you, Phil, from Hercules and the grandpa in Jumanji 2.
Keep reading to learn more about Danny DeVito's personal life.
Don't forget to also check out these Tom Hanks quotes from Hollywood's nicest actor.
If you like this article, we suggest you explore our most popular quotes article, a list of short inspirational quotes for daily encouragement.
Look through our complete collection of inspirational quotes here.
Funny Danny DeVito quotes and lines
1. "Fill me up with cream. Turn me into cannoli." — Danny DeVito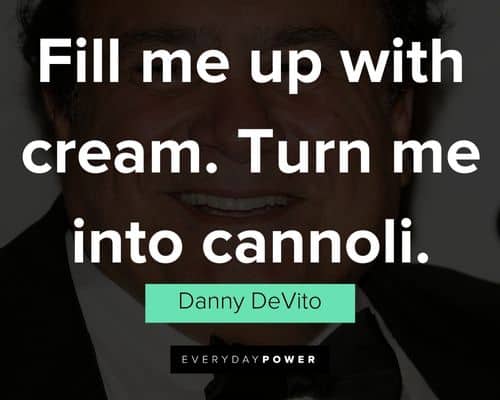 You will also enjoy our article on Batman quotes.
2. "Christmas is a good excuse to eat everything." — Danny DeVito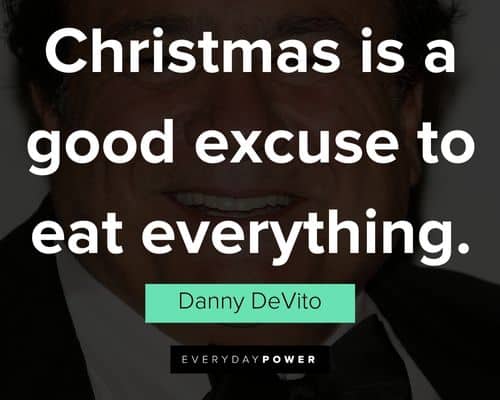 You will also enjoy our article on Pulp Fiction quotes.
3. "Everybody needs money. That's why they call it money." — Danny DeVito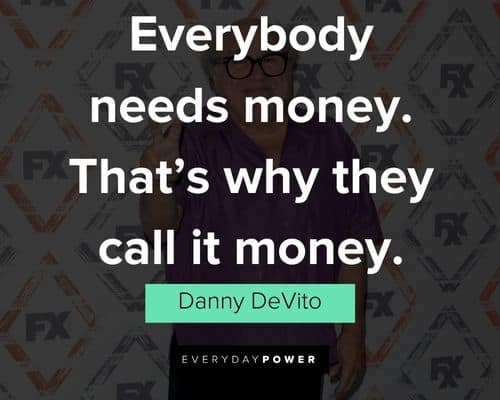 4. "I climbed like a billion stairs… it's not like I can take them two at a time." — Danny DeVito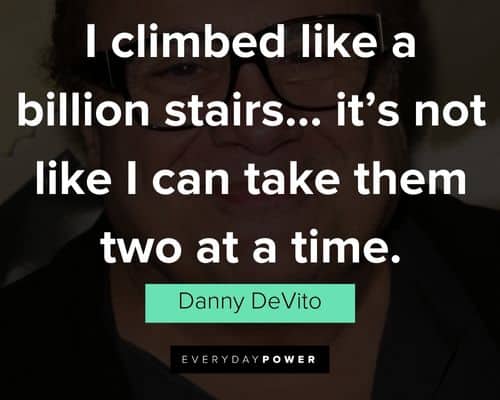 5. "What do you call 500 lawyers lying on the bottom of the Ocean? A good start." — Danny DeVito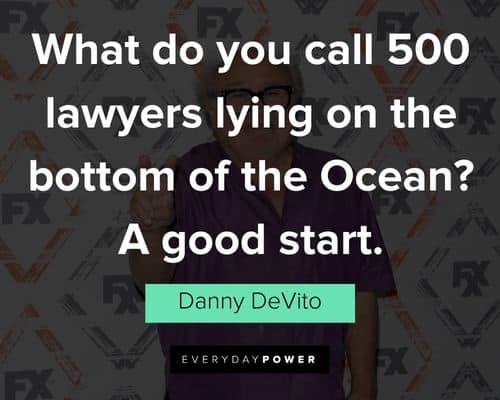 6. "A word to the wise ain't necessary – it's the stupid ones that need the advice." — Danny DeVito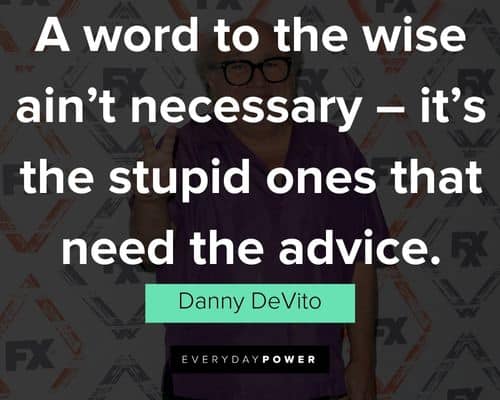 7. "I think of all the characters that I've ever played, they're always about five feet tall." — Danny DeVito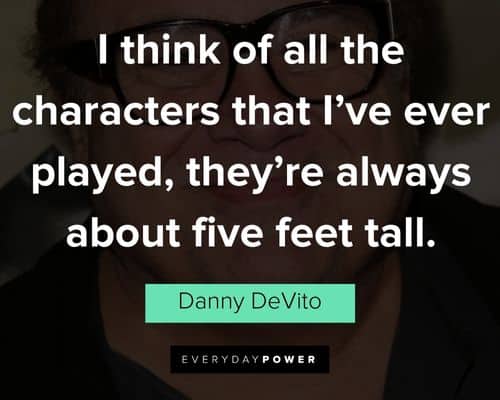 8. "I don't know. I think it's funny! I think it's funny! I go, what? It's so absurd. I'm alone." — Danny DeVito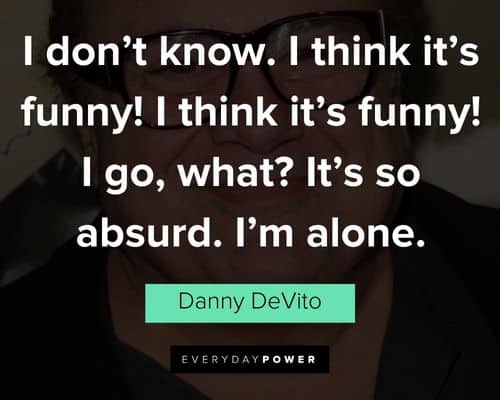 9. "We don't even know if we're in this room. We could be in a turtle's dream in outer space." — Danny DeVito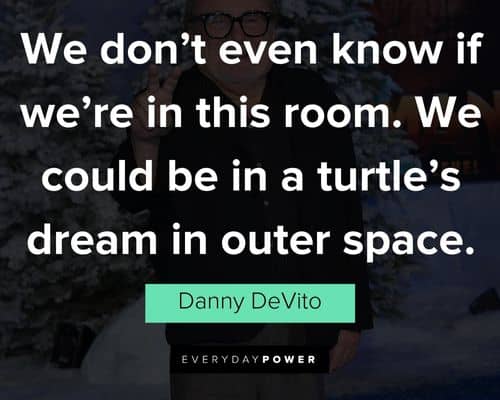 10. "People would say to me, 'Why don't you do Broadway?' and my big joke was, nah, the dressing rooms are too small." — Danny DeVito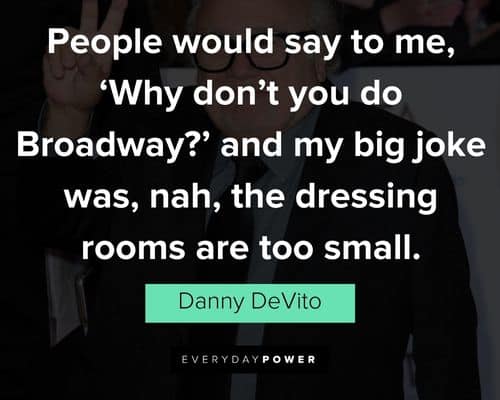 11. "You have to give people permission to laugh. That's why they would always cut to the banana peel in the Laurel and Hardy movies." — Danny DeVito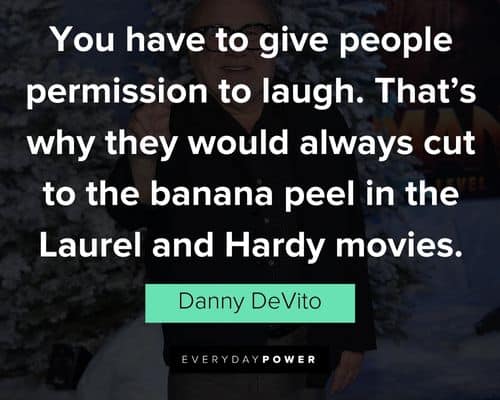 12. "I believe that if life gives you lemons, you should make lemonade… And try to find somebody whose life has given them vodka, and have a party." — Danny DeVito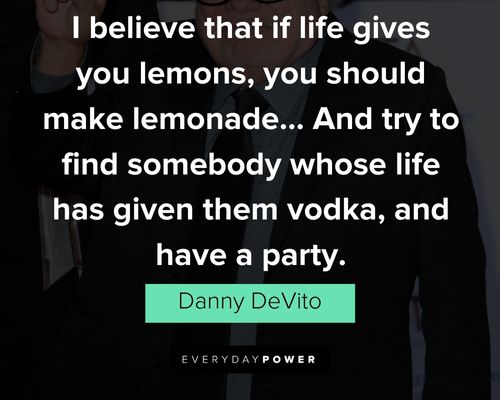 13. "Of course, I've got lawyers. They are like nuclear weapons, I've got em 'cause everyone else has. But as soon as you use them, they screw everything up." — Danny DeVito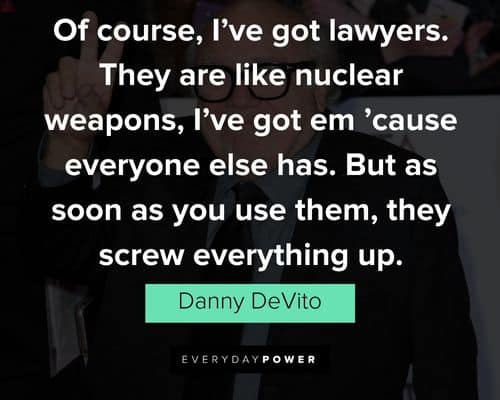 14. "I like a good banana peel; I like all of that. I was raised on the Marx Brothers and the Three Stooges, which is a little cruel. It's kind of like, in a way, dark." — Danny DeVito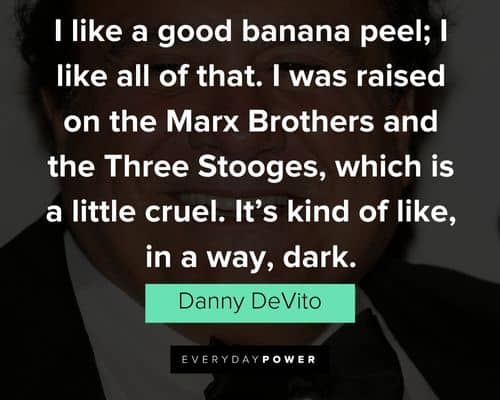 15. "I've been to the Leaning Tower of Pisa. It's a tower, and it's leaning. You look at it, but nothing happens, so then you look for someplace to get a sandwich." — Danny DeVito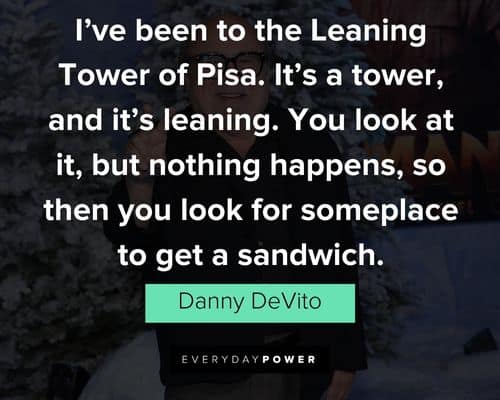 Danny DeVito quotes about himself and his life
16. "I am self-centered. I just adore myself." — Danny DeVito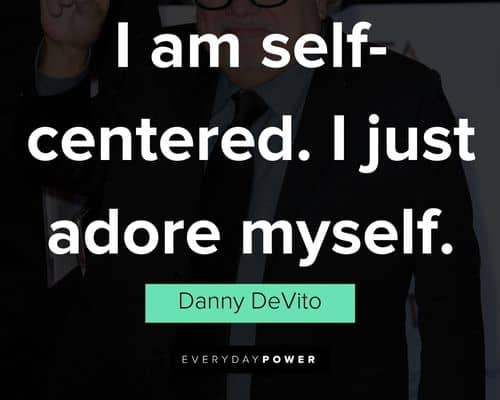 17. "I'm always studying and I've been doing it for a long time now." — Danny DeVito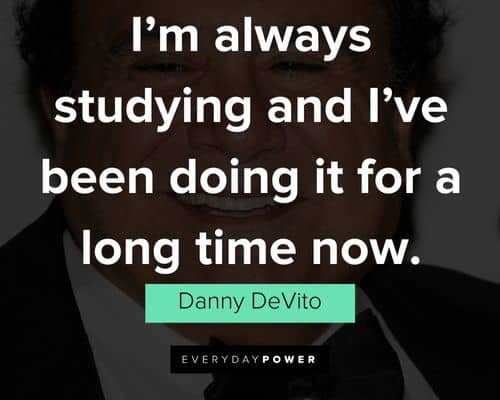 18. "I don't look ahead. I'm right here with you. It's a good way to be." — Danny DeVito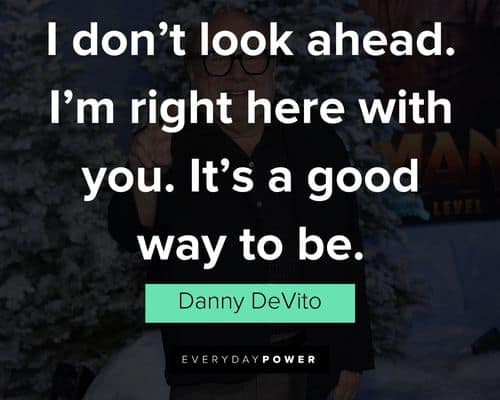 19. "I'll watch Ricky Gervais in any'thing he does. The guy's hilarious." — Danny DeVito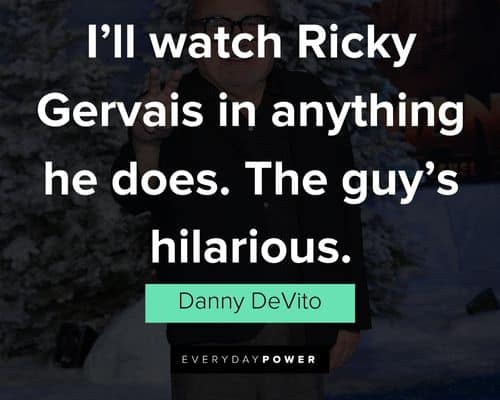 20. "A bad salesman will automatically drop his price. Bad salesmen make me sick." — Danny DeVito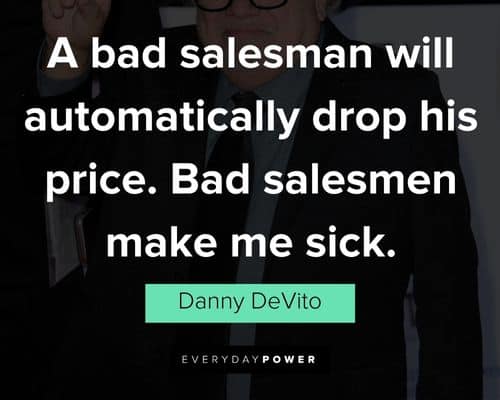 21. "A lot of it revolves around food with me because a lot of my life does in a way." — Danny DeVito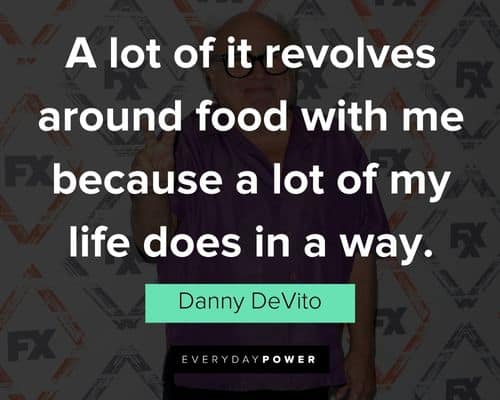 22. "I have been very fortunate in my life. I have had a lot of happiness. I have a great family and I work a lot, and that's what I like to do." — Danny DeVito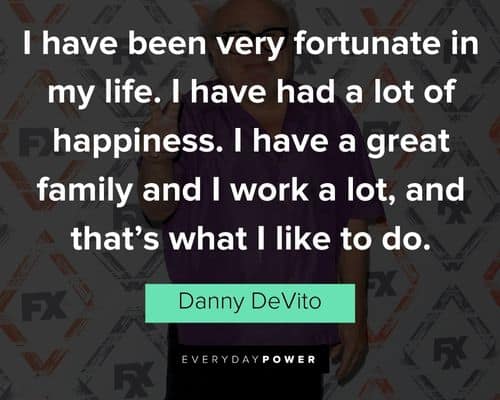 23. "Jersey is always with me. I was one of the lucky ones. Asbury Park is just the greatest place in the world to spend your childhood." — Danny DeVito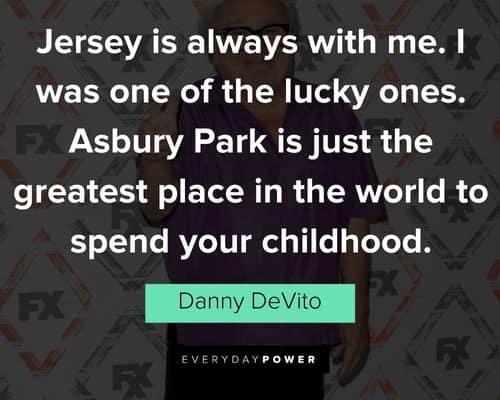 24. "My parents worked their tails off, but we weren't the poorest people in town. Some people I went to school with, you could tell they were dirt poor." — Danny DeVito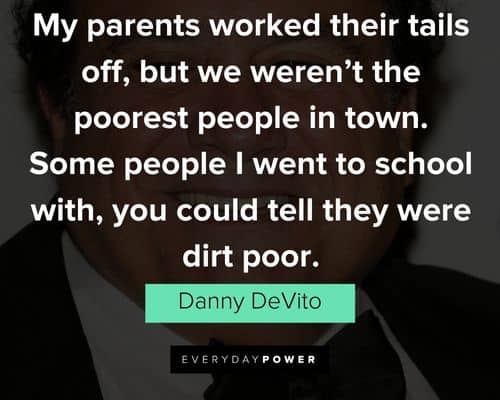 25. "When I'm directing or producing, I like to do different kinds of stories. But you have to know what you really like, and when you do, you have to front your position." — Danny DeVito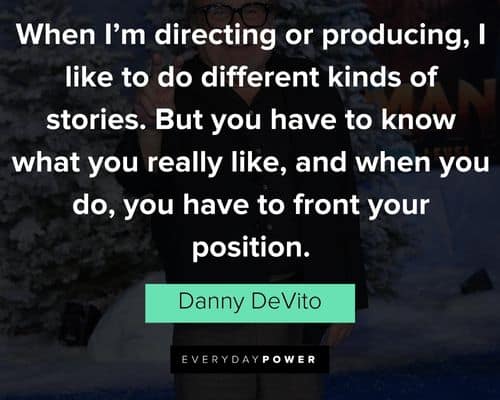 26. "I love going to all kinds of movies; I screen DVDs in my house, but I go to the theatre a lot in the afternoon. I don't get bugged because there aren't many people around." — Danny DeVito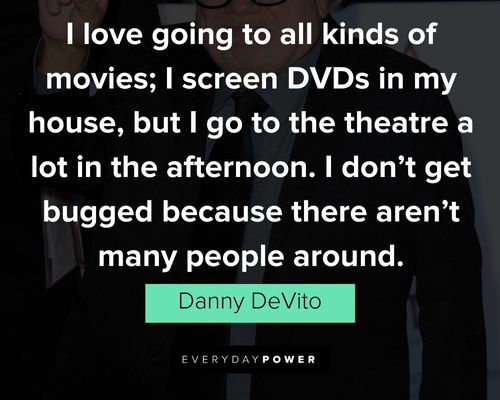 27. "I don't think I've been bored, ever. I've always been working on two or three things at a time; whether it was in the early days, or whatever, I was always working on something." — Danny DeVito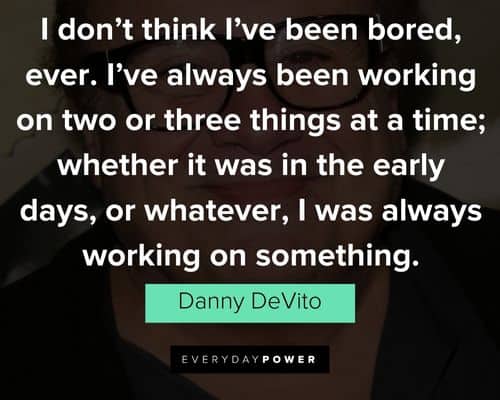 28. "I developed that for a long time. I also developed 'Sugar Sweet Science' at New Line, and that didn't happen. That was a boxing movie. And between all that, there were a couple of other things." — Danny DeVito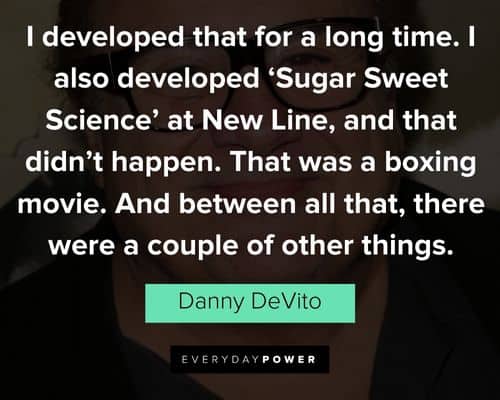 29. "I'm remarkably proud of the ideas and everything we've had to say. The jokes are always on the characters themselves, but I do get upset about little things like camera angles when I watch the old episodes." — Danny DeVito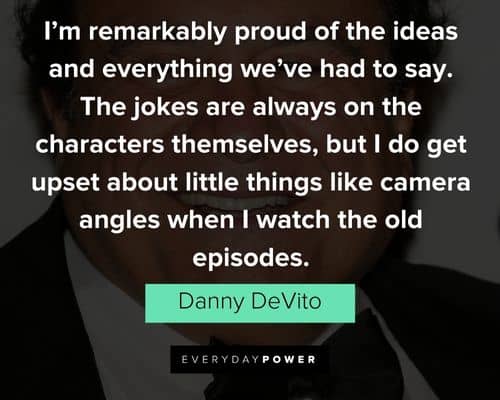 Inspirational Danny DeVito quotes
30. "The choices we make dictate the lives we lead." — Danny DeVito
31. "A tree falls the way it leans. Be careful the way you lean." — Danny DeVito
32. "Do not take life too seriously. You will never get out of it alive." — Danny DeVito
33. "In order for the light of gratitude and happiness to shine so brightly, the darkness of how it could be worse must be present." — Danny DeVito
34. "It's fun to be on the edge. I think you do your best work when you take chances, when you're not safe, when you're not in the middle of the road, at least for me, anyway." — Danny DeVito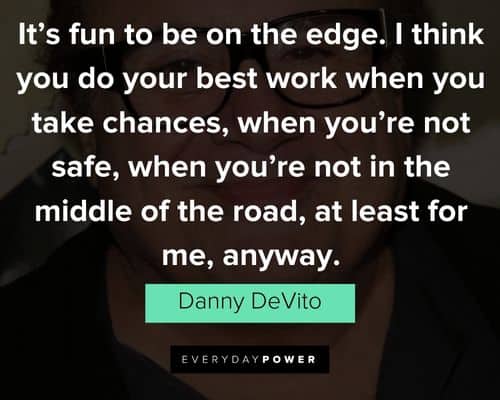 35. "It don't care whether I'm good enough. It don't care whether I snore or not. It don't care which God I pray to. There are only three things with that kind of unconditional acceptance: Dogs, donuts, and money." — Danny DeVito
Danny DeVito quotes about men, women, and families
36. "I love women. I mean, I'm married, but I used to get in all kinds of trouble." — Danny DeVito
37. "After you've lived with somebody for 11 years, what's a guy in a robe reading from a book going to change?" — Danny DeVito
38. "A successful man is one who makes more money than his wife can spend. A successful woman is one who can find such a man." — Danny DeVito
39. "Most men somewhere in their psyche are still dragging women around by their hair. It's terrible. I have two daughters, but even before my kids were born I always thought that it was terrible." — Danny DeVito
40. "If you're going to have kids, there's only one way to go. They have to know they're the most important things in your life, and once you're doing that, there's no way that you could not learn from them because they just give you stuff constantly." — Danny DeVito
Danny DeVito quotes about the world and getting through life
41. "America's racist, so what do you expect." — Danny DeVito
42. "I'll tell you one thing, it's a cruel, cruel world." — Danny DeVito
43. "The whole point of love is to put someone else's needs above your own." — Danny DeVito
44. "Even if one doesn't smoke pot, one has to see the benefits of decriminalizing it." — Danny DeVito
45. "It's unfortunate that the entire country is a racist country. We're living in a country that discriminates and has certain racist tendencies." — Danny DeVito
46. "Wherever I am, it's a really good feeling to have that connection to people. I love to go out to talk to people and be with folks. I don't shy away from it." — Danny DeVito
47. "There are two dilemmas that rattle the human skull: How do you hang on to someone who won't stay? And how do you get rid of someone who won't go?" — Danny DeVito
48. "People come into your lives who you have a good time with, and time goes by and you still have a good time with them and you do stupid stuff with them. To me, that's life." — Danny DeVito
49."I didn't do it because of the underlying greed that's prevailing, but it is about greed, doing the right thing at the right time using your clout when you have it, and what for and what reason." — Danny DeVito
50. "You just throw the dice and you get lucky. And I surround myself with smart folks—usually young smart folks. It's good to be thought of in a good light, to have a little bit of clout, but you can't carry the ball all by yourself. You need a team." — Danny DeVito
Which of these Danny DeVito quotes is your favorite?
Danny DeVito doesn't come from a Hollywood or star-studded family.
In fact, he was born in Neptune Township, New Jersey.
His father, Daniel DeVito Sr., was a small business owner.
He grew up in a family of five, with his parents and two older sisters, in Asbury Park, New Jersey.
DeVito is of Italian descent and was raised as a Catholic.
After school, he worked as a beautician in his sister's salon.
It was his search for a professional makeup instructor that led him to the American Academy of Dramatic Arts.
He met his future wife, Rhea Perlman, during his early years while doing theater work.
Danny DeVito isn't just an actor.
He and Michael Shamberg founded Jersey Films, and Stacey Sher became an equal partner soon after.
Their production company is known for films such as Pulp Fiction, Garden State, and Freedom Writers.
He has won several awards for acting and producing.
Not only does it seem like he is a nice guy, but he has a diverse and successful career.
What are your favorite Danny DeVito quotes and lines?
Let us know in the comment section below.