Mark Cuban Quotes On Being A Billionaire, Success and Shark Tank
Mark Cuban quotes on Everyday Power Blog!
You might know Mark Cuban from one of my favorite shows, Shark Tank. Or, as the outspoken owner of the Dallas Mavericks Or, as the rockstar billionaire entrepreneur who currently invests in 100s of businesses.
However, you know Mark Cuban, you know he's a straight talker, very honest and truly loves what he does.
We hope you enjoy this collection of some of our favorite Mark Cuban quotes.
Mark Cuban Quotes
1. It is so much easier to be nice, to be respectful, to put yourself in your customers' shoes and try to understand how you might help them before they ask for help, than it is to try to mend a broken customer relationship. – Mark Cuban
2. Social media is just a platform. Twitter is a very simple and immediate broadcast platform. Facebook is a very personal, when it comes to friends and when it comes to fan pages, a little bit less but still somewhat personal way to communicate. – Mark Cuban
3. What I've learned in these 11 years is you just got to stay focused and believe in yourself and trust your own ability and judgment. – Mark Cuban
4. Being rich is a good thing. Not just in the obvious sense of benefitting you and your family, but in the broader sense. Profits are not a zero sum game. The more you make, the more of a financial impact you can have. – Mark Cuban
5. Money is a scoreboard where you can rank how you're doing against other people. – Mark Cuban
Mark Cuban Quotes on entreprenuership
6. Because if you're prepared and you know what it takes, it's not a risk. You just have to figure out how to get there. There is always a way to get there. – Mark Cuban
7. Sweat equity is the most valuable equity there is. Know your business and industry better than anyone else in the world. Love what you do or don't do it. – Mark Cuban
8. What I've learned is that if you really want to be successful at something, you'll find that you put the time in. You won't just ask somebody if it's a good idea, you'll go figure out if it's a good idea. – Mark Cuban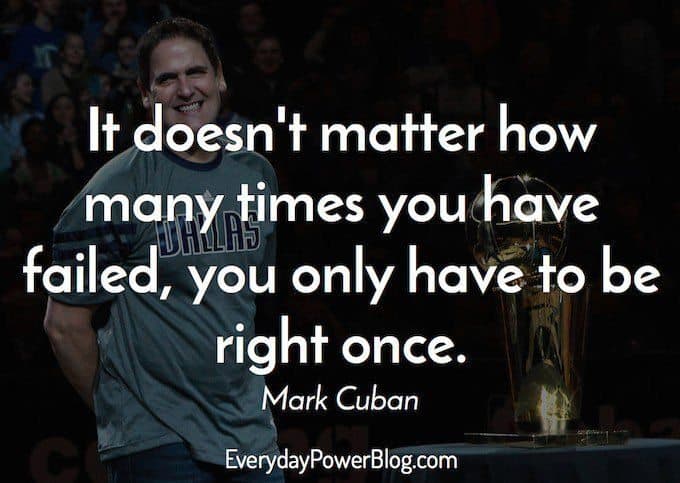 9. Work like there is someone working 24 hours a day to take it all away from you. – Mark Cuban
10. Don't start a company unless it's an obsession and something you love. If you have an exit strategy, it's not an obsession. – Mark Cuban
11. It doesn't matter how many times you have failed, you only have to be right once. – Mark Cuban
12. I love to compete. To me, business is the ultimate sport. It's always on. There is always someone trying to beat me. – Mark Cuban
13. When you've got 10,000 people trying to do the same thing, why would you want to be number 10,001? – Mark Cuban
14. I worked hard and smarter than most people in the businesses I have been in.
It's not in the dreaming, it's in the doing. – Mark Cuban
15. Doesn't matter if the glass is half-empty or half-full. All that matters is that you are the one pouring the water. – Mark Cuban
16. Wherever I see people doing something the way it's always been done, the way it's 'supposed' to be done, following the same old trends, well, that's just a big red flag to me to go look somewhere else. – Mark Cuban
Quotes by Mark Cuban about passion and determination
17. Treat your customers like they own you. Because they do. – Mark Cuban
18. Everyone is passionate about something. Usually more than one thing. We are born with it. – Mark Cuban
19. There are always going to be things we love to do. That we dream about doing. That we really, really want to do with our lives. Those passions aren't worth a nickel. – Mark Cuban
20. I'm a believer that you accomplish much, much more with direct relationships than by using an intermediary. And that cash you keep in the bank can be the difference between staying alive as a small business, or not. – Mark Cuban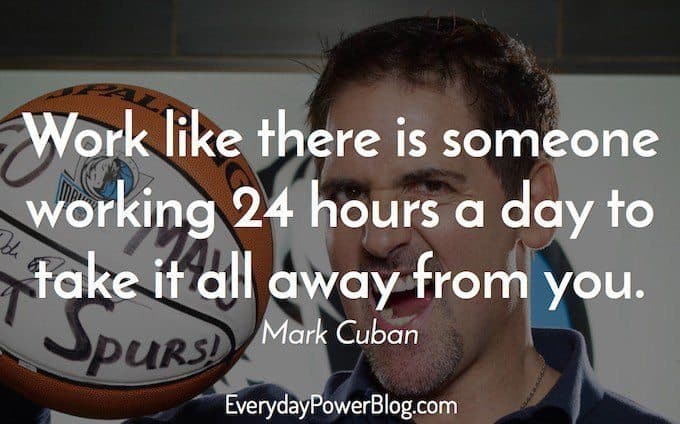 More Mark Cuban quotes about success
21. What I do know, at least what I think I have learned from my experiences in business, is that when there is a rush for everyone to do the same thing, it becomes more difficult to do. Not easier. Harder. – Mark Cuban
22. It's not about money or connections — it's the willingness to outwork and outlearn everyone… And if it fails, you learn from what happened and do a better job next time.
We are acting in the best interests of shareholders. – Mark Cuban
23. Open offices keep everyone in tune with what is going on and keep the energy up. If an employee is about privacy, show him or her how to use the lock on the bathroom. – Mark Cuban
24. Once you have found out what you love to do, there is only one goal: to be the best in the world at it. – Mark Cuban
25. Creating opportunities means looking where others are not. – Mark Cuban
Always wake up with a smile knowing that today you are going to have fun accomplishing what others are too afraid to do. – Mark Cuban
26. Find something you love to do. If you don't make money at it, at least you love going to work. – Mark Cuban
Mark Cuban Quotes
27. The thrill of victory in business blows away the thrill of victory in sports. Business is a sport 24/7/365. – Mark Cuban
28. The only thing any entrepreneur, salesperson or anyone in any position can control is their effort. – Mark Cuban
29. I create offbeat advice; I don't follow it. I rarely take third-party advice on my investments. – Mark Cuban
30. I've learned the number one job of a pro manager is not to win championships but to keep their job. – Mark Cuban
31. Make sure you are the boss. I don't think I would encourage executives that work for me to blog. There can be only 1 public vision for an organization. – Mark Cuban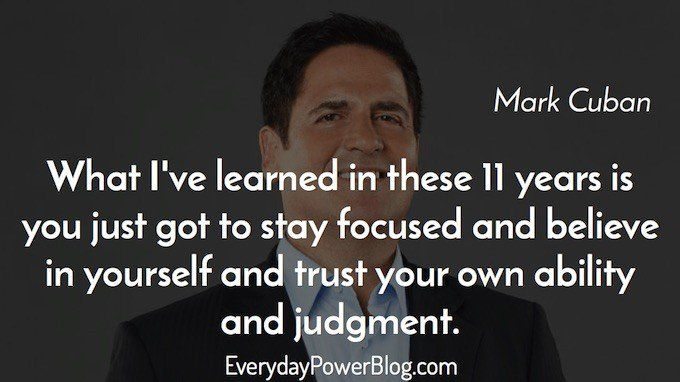 Which Mark Cuban quote was your favorite?
October 9, 2017 12:00 AM EST
Be the first one to leave a comment!