Endurance Quotes To Help You Climb Life's Mountains and Keep Going
These endurance quotes, sayings, and proverbs will inspire you to keep going even when times are tough.
Life can be difficult at times and throw us curveballs when we least expect it.
Sometimes it can feel like the bad things keep coming up, but that is when we get the chance to show our strength, faith, and endurance.
What does endurance mean?
Merriam-Webster defines endurance as the ability to withstand hardship or adversity, especially the ability to sustain a prolonged stressful effort or activity.
It also means the act or an instance of enduring or suffering endurance of many hardships.
These biblical endurance quotes will help those who find comfort in their faith keep going.
Faith is a big part of endurance for some people, however, not everyone is faithful and it is not a requirement for the human spirit to endure.
There are many proverbs from different countries that will also inspire you to keep going when times are tough.
Literary works like The Old Man and the Sea and A Thousand Splendid Suns offer many endurance quotes about why it's important to go on when we feel like giving up.
Hopefully, these endurance quotes will lift your spirit and help you get through whatever struggle you might be facing.
Don't forget to also check out these persistence quotes for when you need strength to keep going.
If you like this article, we suggest you explore our most popular quotes article, a list of short inspirational quotes for daily encouragement.
Read more related content on our inspirational quotes category page.
Biblical endurance quotes for the faithful
1. "Knowing that the testing of your faith produces endurance." ― James 1:3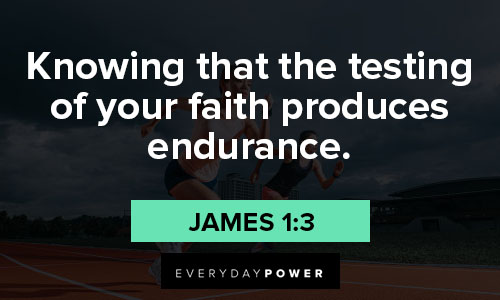 2. "For whatever was written in earlier times was written for our instruction, so that through perseverance and the encouragement of the Scriptures we might have hope." ― Romans 15:4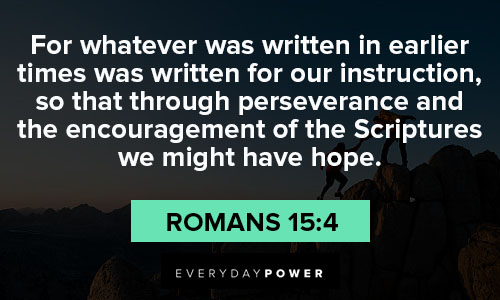 You will also enjoy our article on perseverance quotes.
3. "Here is the perseverance of the saints who keep the commandments of God and their faith in Jesus." ― Revelation 14:12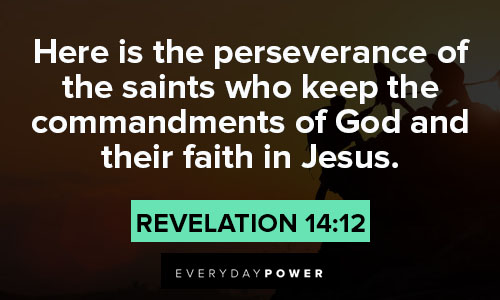 You will also enjoy our article on Latin quotes.
4. "Now may the God who gives perseverance and encouragement grant you to be of the same mind with one another according to Christ Jesus." ― Romans 15:5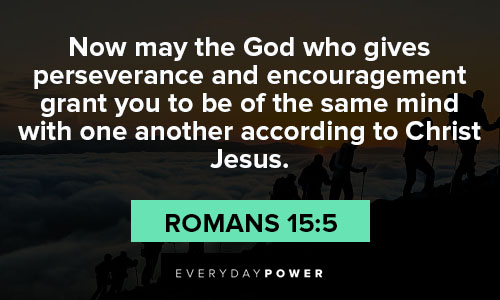 5. "For you have need of endurance, so that when you have done the will of God, you may receive what was promised." ― Hebrews 10:36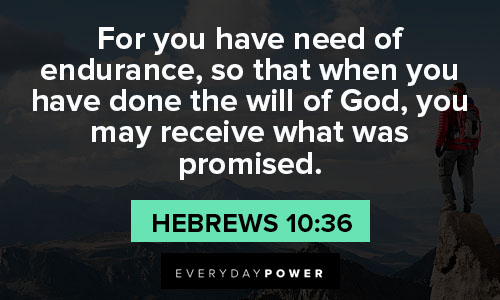 6. "And let endurance have its perfect result, so that you may be perfect and complete, lacking in nothing." ― James 1:4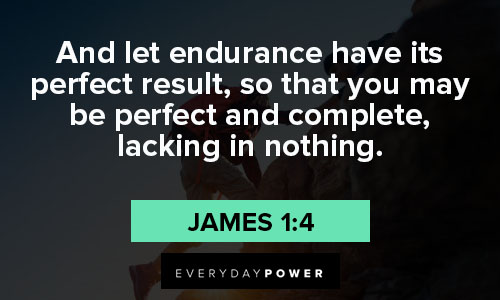 7. "By your endurance, you will gain your lives." ― Luke 21:19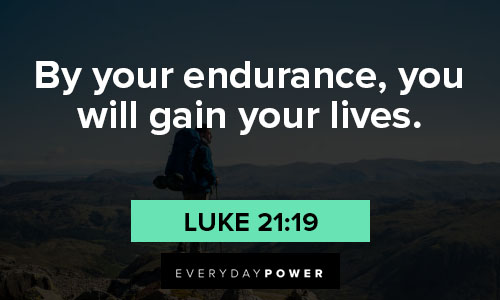 8. "We count those blessed who endured. You have heard of the endurance of Job and have seen the outcome of the Lord's dealings, that the Lord is full of compassion and is merciful." ― James 5:11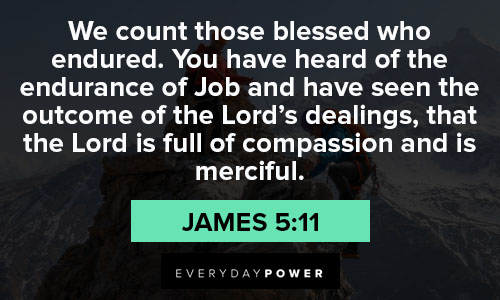 9. "But the one who endures to the end, he will be saved." ― Matthew 24:13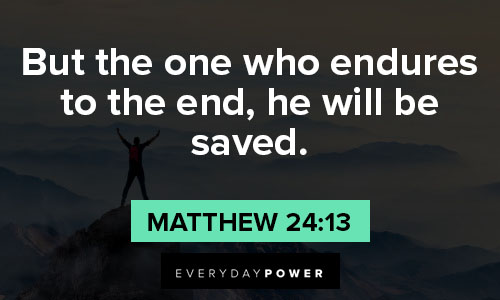 10. "Blessed is a man who perseveres under trial; for once he has been approved, he will receive the crown of life which the Lord has promised to those who love Him." ― James 1:12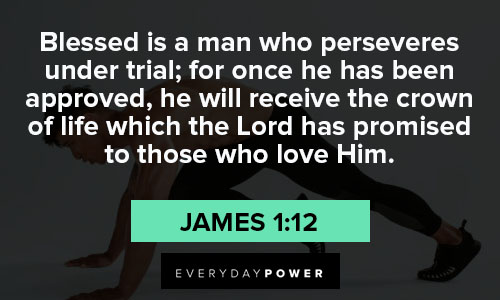 Endurance quotes and proverbs from various cultures
11. "Only he who knows his own weaknesses can endure those of others." ― Japanese Proverbs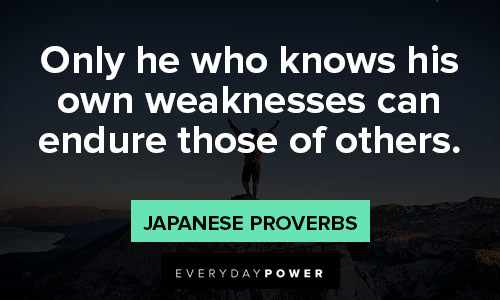 12. "Who wants heat, must endure the smoke." ― Russian Proverbs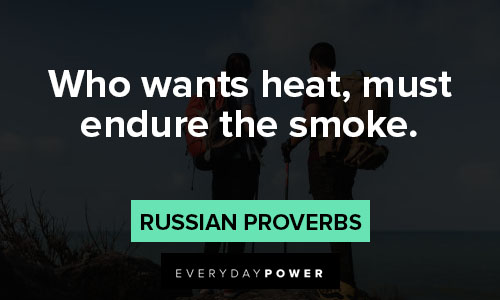 13. "What was hard to endure is sweet to recall." ― French Proverb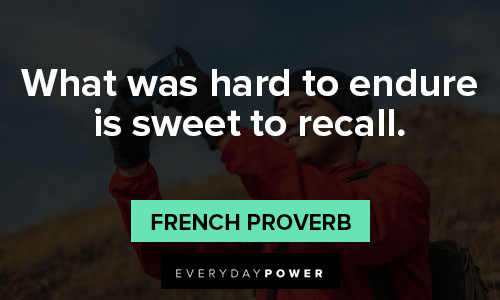 14. "What cannot be cured must be endured." ― Scottish Proverbs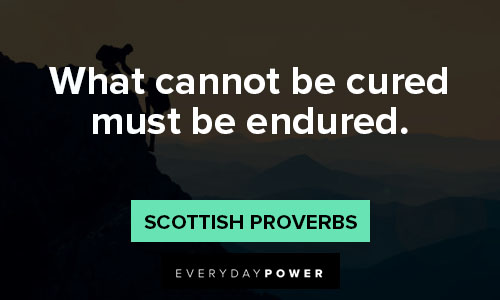 15. "Pain is easier to endure than an itch." ― Chinese Proverb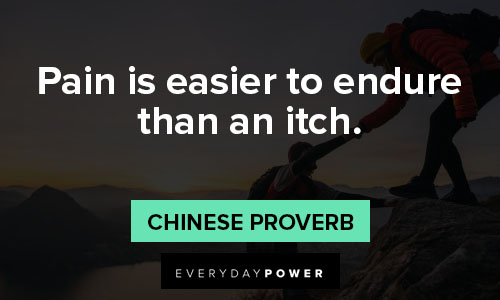 16. "The stupid fear fortune, the wise endure it." ― Latin Proverbs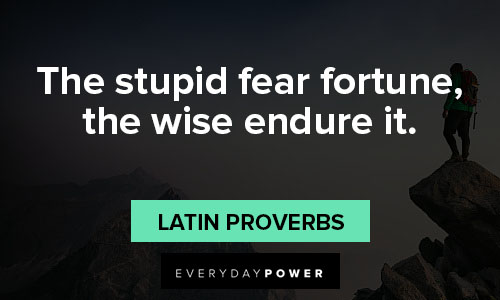 17. "If you are a peg, endure the knocking; if you are a mallet, strike." ― Moroccan Proverb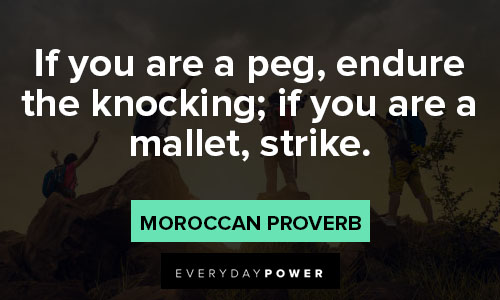 18. "Pray that you will never have to bear all that you are able to endure." ― Jewish Proverb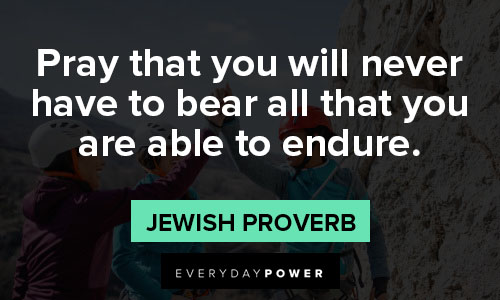 19. "He who wants to eat honey should endure the stings." ― Lebanese Proverb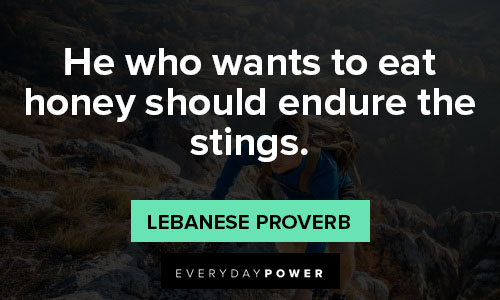 Inspirational quotes about endurance in life
20. "Endurance is not just the ability to bear a hard thing, but to turn it into glory." ― William Barclay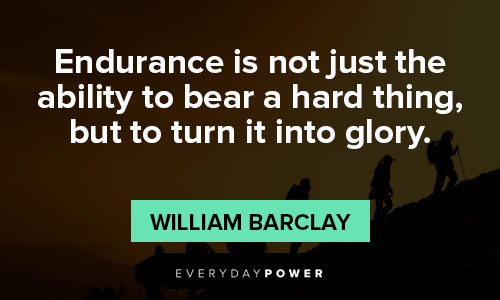 21. "Every calamity is to be overcome by endurance." ― Virgil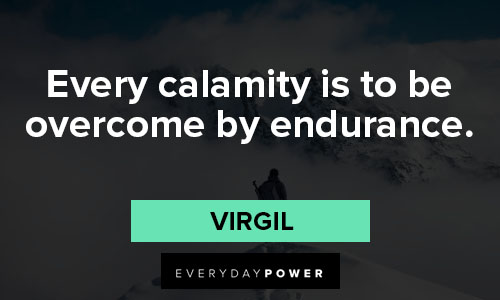 22. "I'm taking each day one day at a time and building up my strength and endurance. It's crazy because it takes no time at all to lose everything you have and then so much time to gain it back." ― Michelle McCool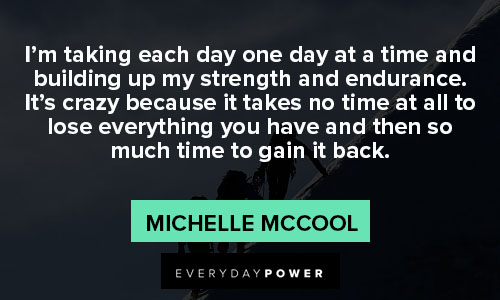 23. "Small change, small wonders – these are the currency of my endurance and ultimately of my life." ― Barbara Kingsolver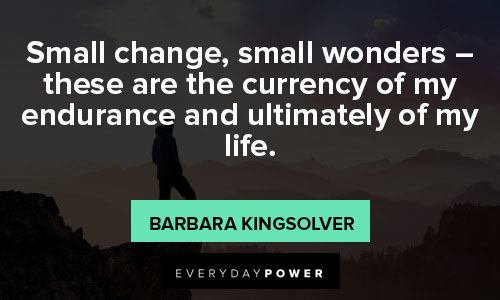 24. "When everything goes wrong, what a joy to test your soul and see if it has endurance and courage. An invisible and all-powerful enemy – some call him God, others the Devil, seem to rush upon us to destroy us; but we are not destroyed." ― Nikos Kazantzakis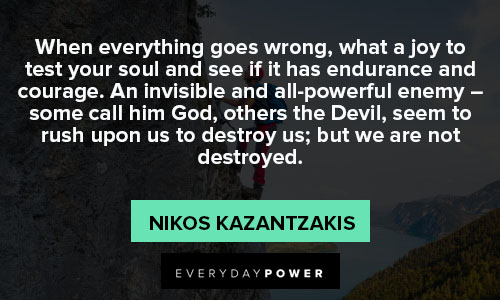 25. "What is a ruin but time easing itself of endurance?" ― Djuna Barnes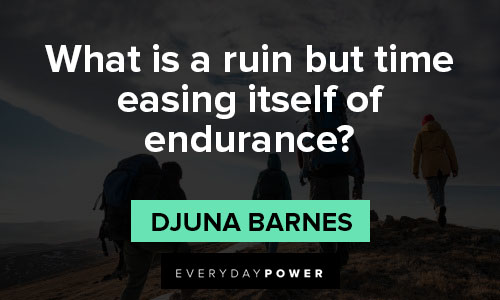 26. "Endurance, after all, is the only reason we even exist. We think of ourselves as nature's deadliest animals, but the truth is, a naked human is the biggest wimp in the wild. We have no fangs, no claws, no strength, and no speed." ― Christopher McDougall
27. "Endurance in ministry is rooted in the eternal perspective. The absence of an eternal perspective makes you vulnerable to losing heart." ― C. J. Mahaney
28. "Heroism is endurance for one moment more." ― George F. Kennan
29. "Endurance is a much better test of character than any single act of heroism, however noble." ― John Lubbock
Endurance quotes about sports, fitness, and health
30. "The main thing about an endurance challenge is that you have to endure. Not so much physically, but mentally. Your mind gives up first. Not your body." ― Milind Soman
31. "I wanted to be an endurance athlete from a young age. I remember being in a careers class at school and saying I wanted to be a professional athlete and the teacher replying, You're not going to make it; it's not possible." ― Alistair Brownlee
32. "There's only one thing I love more than race day; the morning after! The morning after the Marathon, New York catches running fever. The Hudson River bike path on Manhattan's west side was like a traffic jam of joggers on Monday morning. No doubt the great race fires up the endurance athlete in all of us – and it's beautiful." ― Stephanie Ruhle
33. "The winners in life treat their body as if it were a magnificent spacecraft that gives them the finest transportation and endurance for their lives." ― Denis Waitley
34. "Discipline, focus, endurance is what it takes to be the greatest at this sport." ― Jordan Burroughs
35. "Healthy foods are great, but it's important to keep your body active. Your muscles only get stronger and build more endurance for everyday things if you're moving and get the blood pumping. Exercising stimulates certain brain chemicals and can put you in a better mood!" ― Jenna Ushkowitz
36. "Endurance is not a young person's game. I thought I might even be better at 60 than I was at 30. You have a body that's almost as strong, but you have a much better mind." ― Diana Nyad
37. "You must be fast enough ― you must have endurance. So you run fast for speed and repeat it many times for endurance." ― Emil Zatopek
38. "All that is worth seeing in good boxing can best be witnessed in a contest with soft gloves. Every value is called out: quickness, force, precision, foresight, readiness, pluck, and endurance. With these, the rowdy and 'rough' are not satisfied." ― John Boyle O'Reilly
39. "Exactly the style of football I love is like a terrier. We are not the biggest dog, we are small, but we are aggressive, we are not afraid; we like to compete with the big dogs and we are quick and mobile and we have endurance. We never give up. This small dog has fighting spirit for sure." ― David Wagner
Endurance quotes from "A Thousand Splendid Suns" and "The Old Man and the Sea"
40. "Of all the hardships a person had to face, none was more punishing than the simple act of waiting." ― Khaled Hosseini, A Thousand Splendid Suns
41. "Behind every trial and sorrow that He makes us shoulder, God has a reason." ― Khaled Hosseini, A Thousand Splendid Suns
42. "Laila has moved on. Because in the end she knows that's all she can do. That and hope." ― Khaled Hosseini, A Thousand Splendid Suns
43. "A woman who will be like a rock in a riverbed, enduring without complaint, her grace not sullied but shaped by the turbulence that washes over her." ― Khaled Hosseini, A Thousand Splendid Suns
44. "She would grab whatever she could – a look, a whisper, a moan – to salvage from perishing, to preserve. But time is most unforgiving of fires, and she couldn't, in the end, save it all ." ― Khaled Hosseini, A Thousand Splendid Suns
45. "But man is not made for defeat," he said. "A man can be destroyed but not defeated." ― Ernest Hemingway, The Old Man and the Sea
46. "I may not be as stong as I think, but I know many tricks and I have resolution." ― Ernest Hemingway, The Old Man and the Sea
47. "Most people were heartless about turtles because a turtle's heart will beat for hours after it has been cut up and butchered. But the old man thought, I have such a heart too." ― Ernest Hemingway, The Old Man and the Sea
48. "Fish," he said softly, aloud, "I'll stay with you until I am dead." ― Ernest Hemingway, The Old Man and the Sea
49. "Take a good rest, small bird," he said. "Then go in and take your chance like any man or bird or fish." ― Ernest Hemingway, The Old Man and the Sea
50. "He rested sitting on the un-stepped mast and sail and tried not to think but only to endure."― Ernest Hemingway, The Old Man and the Sea
Endurance Quotes That Teach Us To Hold On Even During Difficult Times
51. "Come what may, all bad fortune is to be conquered by endurance." — Virgil.
52. "Endurance is one of the most difficult disciplines, but it is to the one who endures that the final victory comes." — Gautama Buddha.
53. "Scars are not signs of weakness, they are signs of survival and endurance." — Rodney A Winters
54. "We can do anything we want to do if we stick to it long enough." — Helen Keller.
55. "When you get into a tight place and everything goes against you never give up then, for that is just the place and time that the tide will turn." — Harriet Beecher Stowe.
56."It's hard to beat a person who never gives up." — Babe Ruth
57. "Endurance is staying calm under storms." — Ruchi Gambhir
58. "Do not pray for an easy life, pray for the strength to endure a difficult one." — Bruce Lee.
59. "Tough times never last, but tough people do." — Dr. Robert Schuller.
60. "Endurance in this wicked world is the bravest thing a person can show through it all." — Victoria Landrum.
Endurance Quotes To Overcome Adversity
61. "A leader should have higher endurance and ability to accept and embrace failure." — Jack Ma
62. "It was courage, faith, endurance and a dogged determination to surmount all obstacles that built this bridge." — Thomas J. Watson
63. "Lasting happiness is the offspring of endurance." — Chris Heimerdinger
64. "Right now, it's just a matter of getting my strength and endurance back. So far, no setbacks." — Kip Wells
65. "Worthy goals are consistently achieved by enduring forces of adversity and opposition until they subside." — Wes Fesler
66. "Endurance is patience concentrated." — Thomas Carlyle
67. "Endurance is often the best indicator of validity & value." — Jim Rohn
68. "True endurance, I think, comes from the inside. It comes from motivation and belief in what you're doing." — Neil Strauss
69. "I'd always had an interest of pushing my limits and was intrigued by endurance." — Jennifer Pharr Davis
70. "I have a lot of endurance and I have a good background right now in my training and it's time to get ready." — Ryan Lochte
What did you learn from these endurance quotes?
Endurance isn't just about our mental toughness when dealing with challenging situations.
It is also a tool that athletes and health enthusiasts use to train their bodies.
The human body can preserve through much physical discomfort and athletes constantly push themselves harder, in order to be better.
It is not just athletes that show us how much the human body can handle.
We have all heard of survival stories where people face incredible odds like the elements or animal attacks and survive against all odds.
Wild, a book by Cheryl Strayed, tells the story of how she endured the death of her mother and the end of her marriage, while also surviving being lost and alone on one of the United States' longest and arduous trails.
That experience reshaped her life, and each of our trials and tribulations offers us the same opportunity.
The attitude we adopt when we are at our lowest points has the power to determine much in our lives.
We are all capable of so much more than we realize, and when life gives us the chance to endure something challenging, we get to learn just how strong we are.
What's your biggest takeaway from these endurance quotes and sayings?
If you would like to share how an experience you endured has shaped you, then let us know about it in the comment section below.