Groucho Marx Quotes from the Greatest Comedian
April 9, 2023 5:00 AM EST
Listen to article
4 minutes
Enjoy a good laugh with these Groucho Marx quotes.
While his legal name was Julius Henry Marx, he is famously known as Groucho Marx.
And he was the third born of the Marx Brothers.
Not only that, but he was also known for being one of America's greatest comedians.
Groucho was an actor, writer, television star, and radio star.
Even if you don't really know who he is, there's one thing that you're sure to be familiar with—Groucho glasses.
A study by the Pew Research Center found that millennials are more likely than previous generations to share content online, including humorous content.
By incorporating Groucho Marx quotes into your article, you can target this audience and increase the likelihood of your content being shared widely across social media platforms.
These are the horned rim glasses that have the nose and fake mustache attached to them.
He was famously known for this along with his walk and one-liners.
Keep reading these Groucho Marx quotes to help you escape from the tension of your day.
Don't forget to also check out these G.K. Chesterton quotes from one of the greatest writers of his time.
If you like this article, we suggest you explore our most popular quotes article, a list of short inspirational quotes for daily encouragement.
Read more related content on our inspirational quotes category page.
Wise Groucho Marx quotes
Research by Harvard University has shown that humor can be an effective tool for building social connections and strengthening relationships.
Sharing Groucho Marx quotes with friends, family, or colleagues can therefore help to improve your social bonds, as laughter and shared humor can help to break down barriers and bring people closer together.
1. "The secret of life is honesty and fair dealing. If you can fake that, you've got it made." – Groucho Marx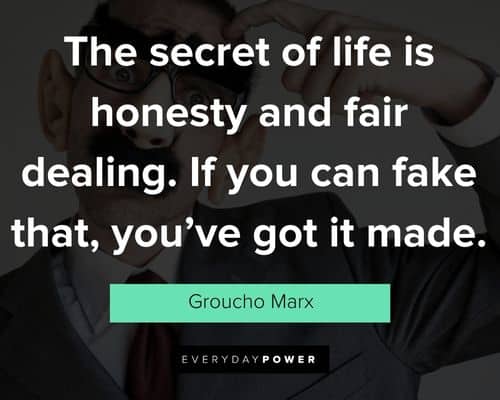 2. "Who are you going to believe, me or your own eyes?" – Groucho Marx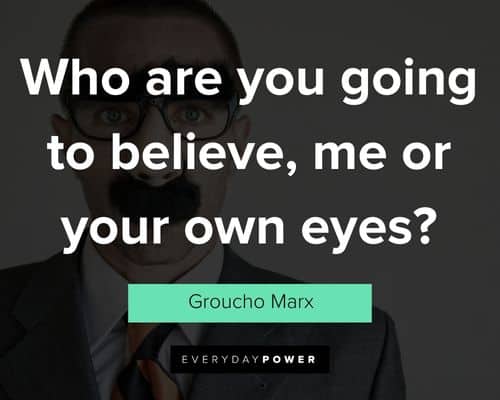 3. "I, not events, have the power to make me happy or unhappy today. I can choose which it shall be. Yesterday is dead, tomorrow hasn't arrived yet. I have just one day, today, and I'm going to be happy in it." – Groucho Marx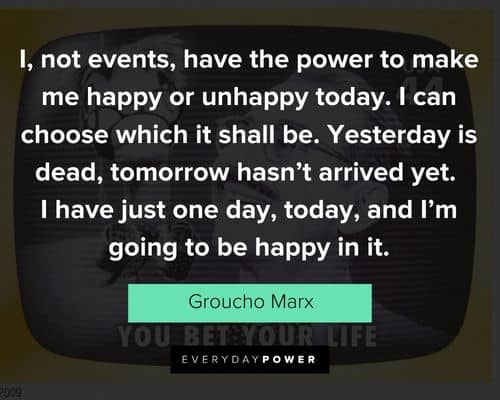 4. "If you are not having fun you are doing something wrong." – Groucho Marx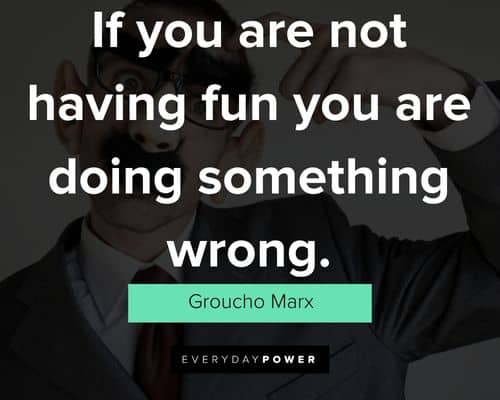 You will also enjoy our article on Lucille Ball quotes.
5. "While money can't buy happiness, it certainly lets you choose your own form of misery." – Groucho Marx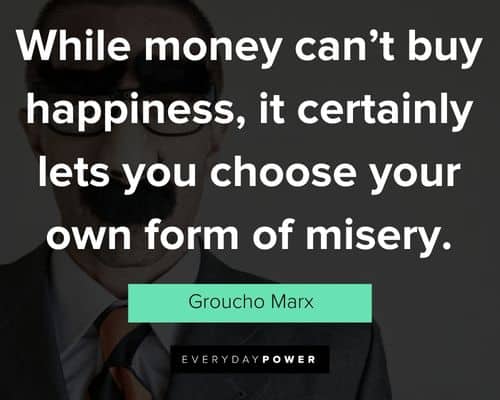 6. "Patience is the art of finding something else to do." – Groucho Marx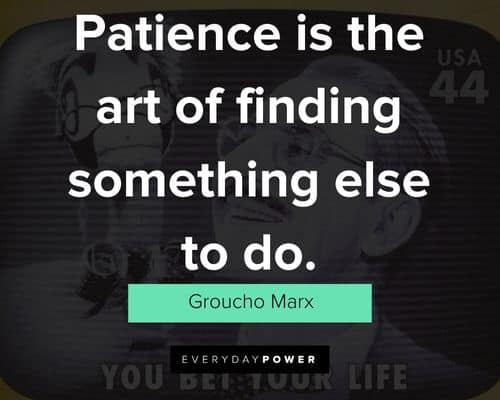 7. "The only real laughter comes from despair." – Groucho Marx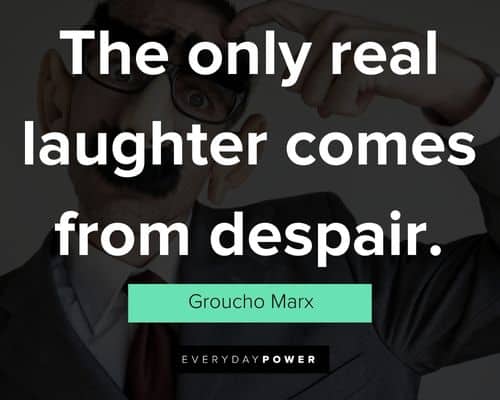 8. "With a little study you'll go a long ways, and I wish you'd start now." – Groucho Marx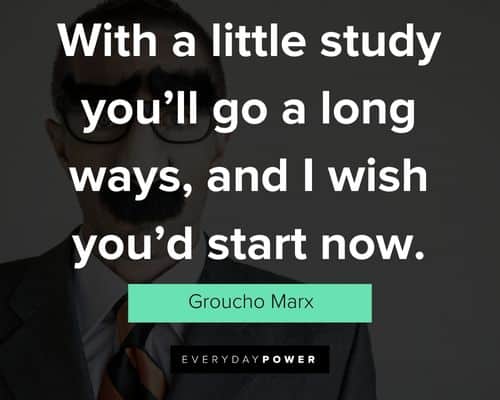 9. "Blood's not thicker than money." – Groucho Marx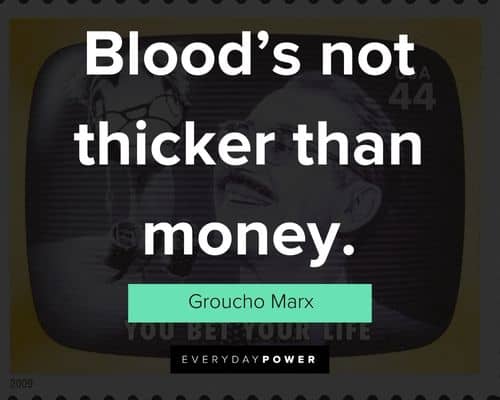 10. "You're heading for a breakdown. Why don't you pull yourself to pieces?" – Groucho Marx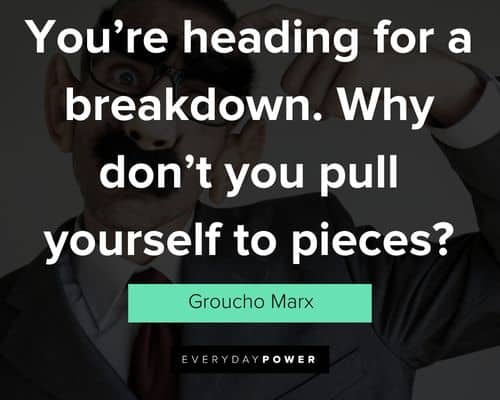 You will also enjoy our article on Filthy Frank quotes.
Funny Groucho Marx quotes
According to a study by the University of Kansas, laughter has been shown to have significant health benefits, such as reducing stress and boosting the immune system.
This is particularly relevant when sharing humorous quotes, such as those from Groucho Marx, as they can elicit a positive emotional response in readers, which may improve their overall wellbeing.
11. "My mother loved children – she would have given anything if I had been one." – Groucho Marx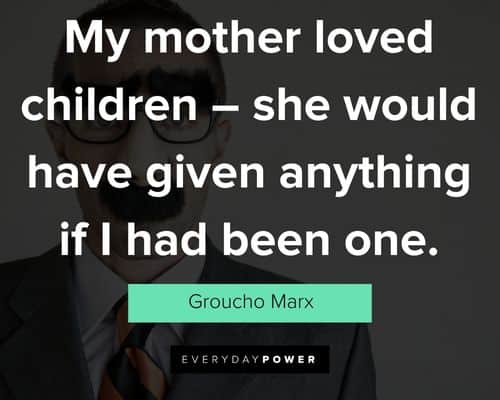 12. "I would never join a country club with standards so low as to allow me as a member." – Groucho Marx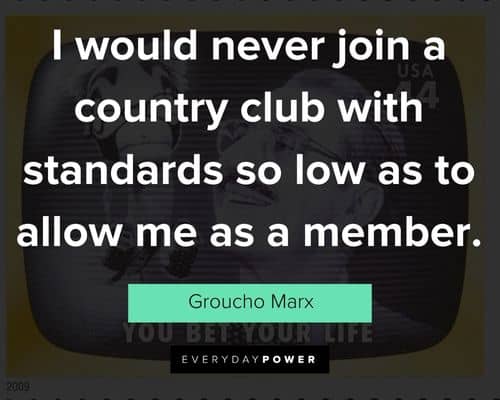 13. "Before I speak, I have something important to say." – Groucho Marx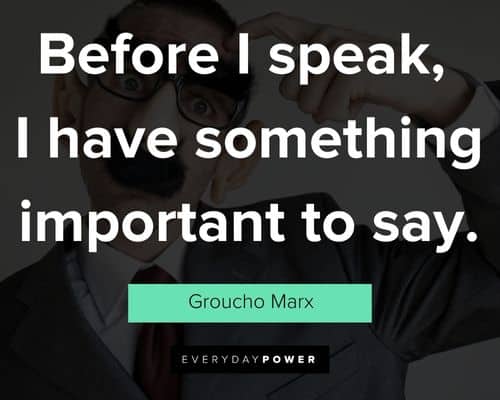 14. "Getting older is no problem. You just have to live long enough." – Groucho Marx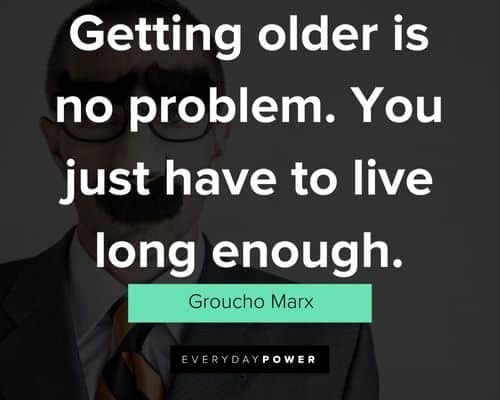 If you're enjoying these quotes, you'll love our collection of getting older quotes that will make you embrace the beauty in aging.
15. "Will you marry me? Do you have any money? Answer the second question first." – Groucho Marx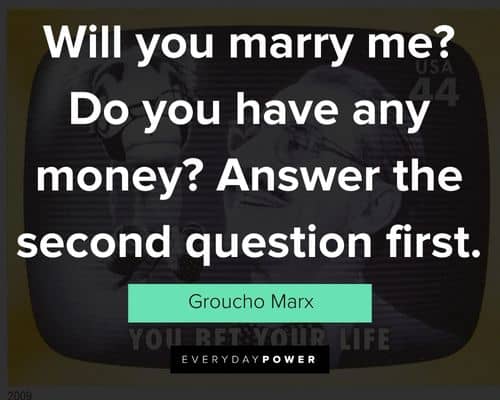 16. "Money will not make you happy, and happy will not make you money." – Groucho Marx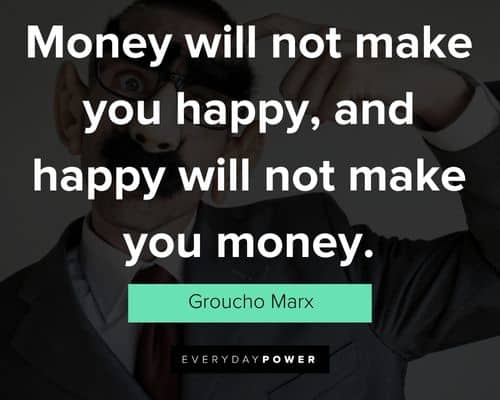 17. "Those are my principles, and if you don't like them… well, I have others." – Groucho Marx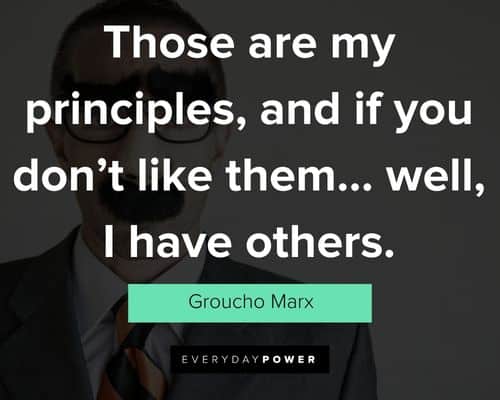 18. "I'm not a vegetarian, but I eat animals who are." – Groucho Marx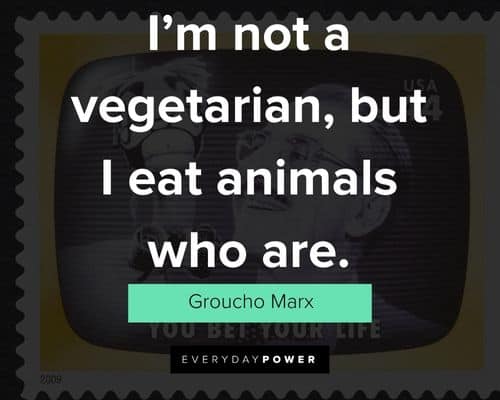 19. "I intend to live forever, or die trying." – Groucho Marx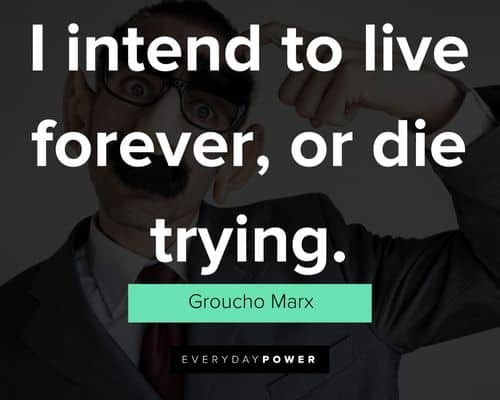 20. "When you're in jail, a good friend will be trying to bail you out. A best friend will be in the cell next to you saying, 'Damn, that was fun.'" – Groucho Marx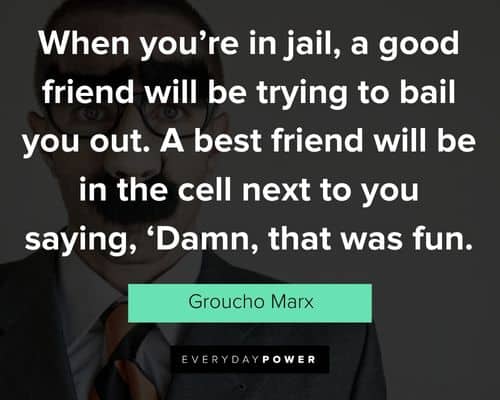 Sarcastic Groucho Marx quotes
A research conducted by the University of California Berkeley found that using sarcasm can be a form of social bonding.
The study found that individuals who used sarcastic comments in a conversation were perceived as more likable and trustworthy by their peers.
21. "If you find it hard to laugh at yourself, I would be happy to do it for you." – Groucho Marx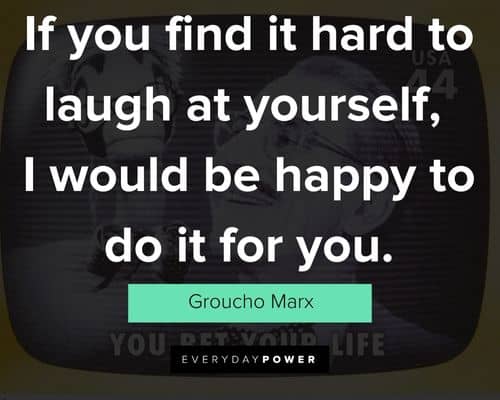 22. "Here's to our wives and girlfriends…may they never meet!" – Groucho Marx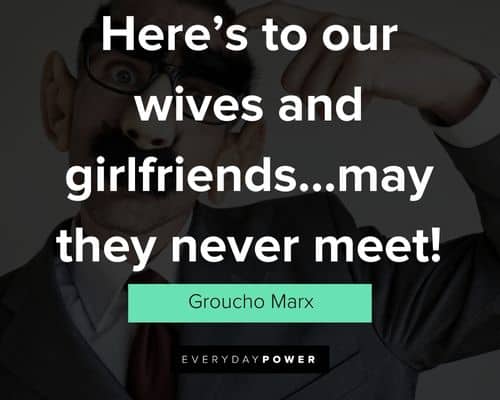 23. "I never forget a face, but in your case I'll be glad to make an exception." – Groucho Marx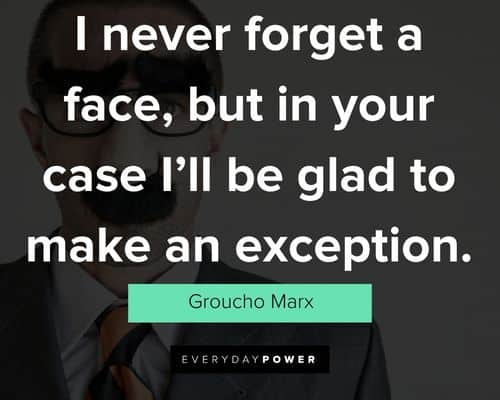 24. "Time wounds all heels." – Groucho Marx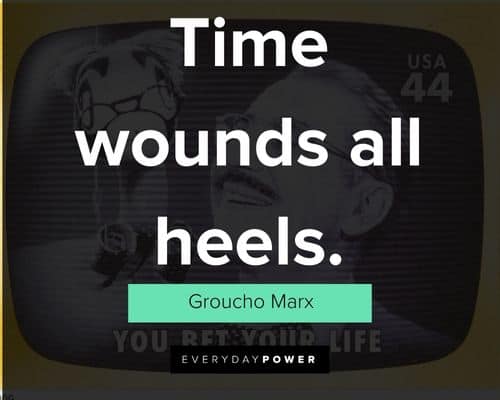 25. "Marriage is the chief cause of divorce." – Groucho Marx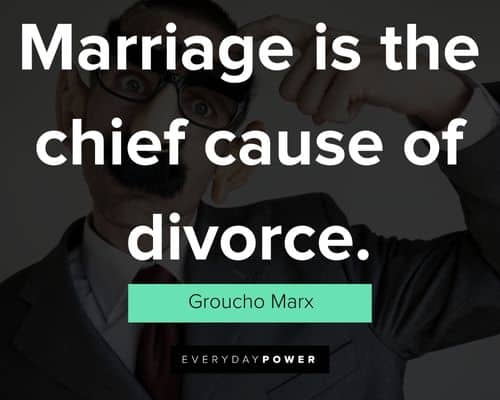 Did you enjoy these Groucho Marx quotes?
Groucho Marx is a comedian and actor who ended up almost becoming the character that he played.
While his personal life wasn't always filled with the best of times, including going through three divorces, you would never be able to tell it from the sense of humor that he portrayed.
If there is one thing that we could all use this year, it's more humor.
Laughter is one of the best forms of medicine.
If you could use a little more laughter in your life right now, find some old comedies to watch and enjoy.
Something about the humor from the past is more simplistic and can help you escape from the tension of your day.
Did you enjoy these Groucho Marx quotes and sayings?
Which of the quotes resonated with you best?
Let us know in the comment section below.