Life Goes On Quotes For A Brighter Day
August 29, 2022 7:00 AM EST
Listen to article
4 minutes
These life goes on quotes will keep you in tune with the present.
Intent matters and the intent behind the phrase "life goes on" can vary in degree.
It can be said to someone who is grieving or dealing with an abrupt life change or it can be said to the chagrin of someone who is over exaggerating the severity of a not-so-serious situation.
Either way, the phrase "life goes on" can be heavy.
Despite our conditions, life is not going to stop happening.
We can see this as a detriment or as a powerful tool to use to our advantage.
Every day we have a choice.
We can remember that life does go on.
The sun is still going to rise the next day, and despite our current conditions, we will be presented with a new opportunity to deal with what we are given, or we can choose to let our conditions deal with us.
Also, check out our most popular quote article, a list of short inspirational quotes for daily wisdom.
See the rest of our quote database for even more inspirational ideas and thoughts.
Life Goes On Quotes For Change
1. "New beginnings are often disguised as painful endings." ― Lao Tzu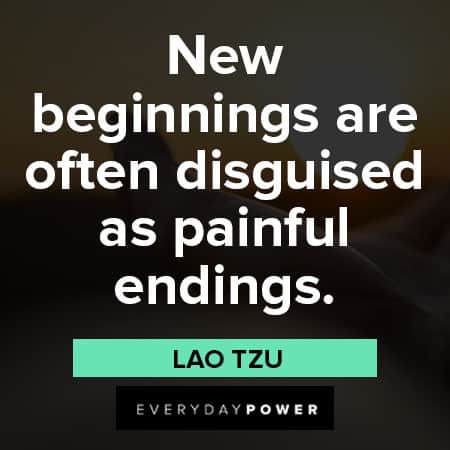 2. "Morning will come, it has no choice." ― Marty Rubin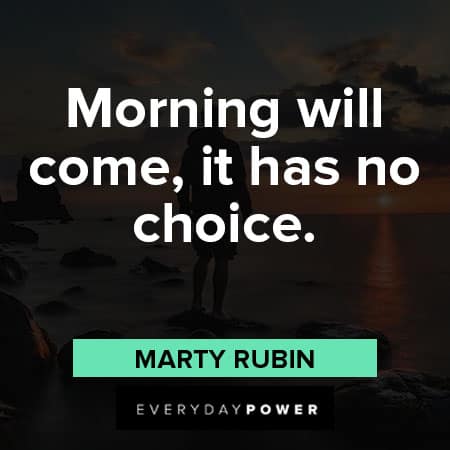 3. "Life goes on, and one should look ahead and not backward." – Sonali Bendre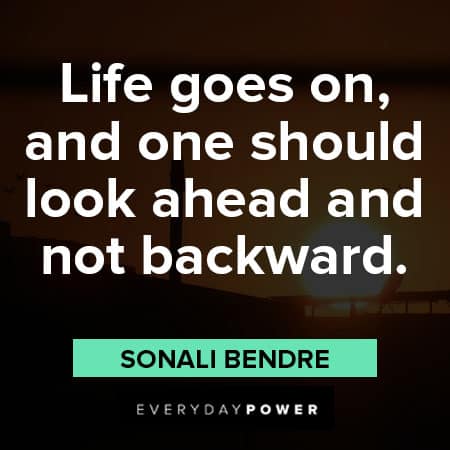 4. "Life is to short to spend it on regrets. life goes on." ― Gloria Lamisi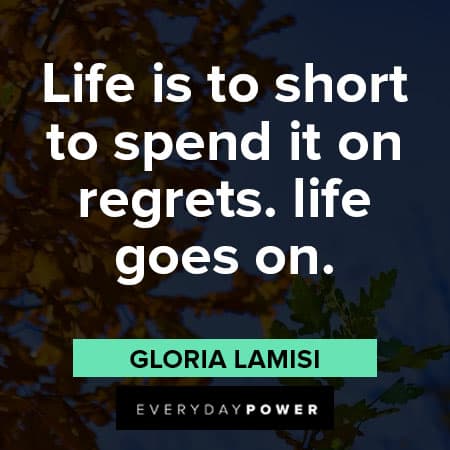 5. "Things change. Stuff happens. Life goes on." ― Elizabeth Scott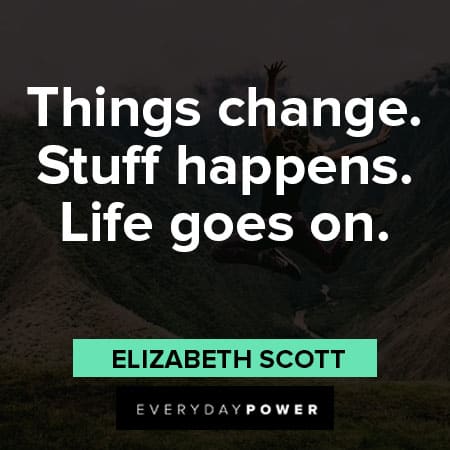 6. "Don't cry because it's over, smile because it happened." ― Dr. Seuss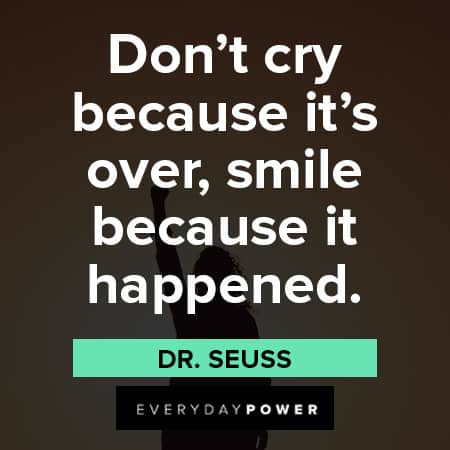 7. "Mistakes do happen and life goes on." – Sourav Ganguly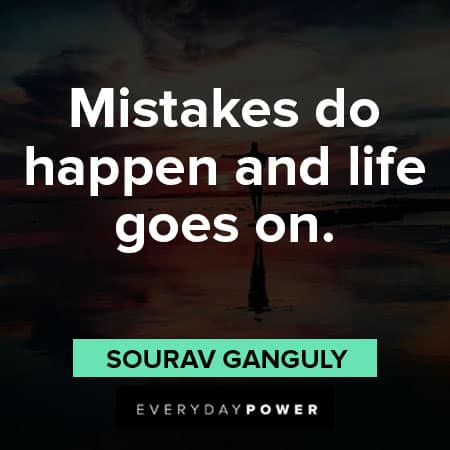 8. "…but ready or not, life goes on." ― Sidney Sheldon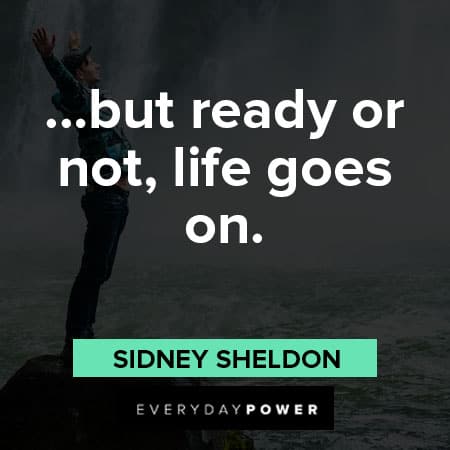 9. "Every new beginning comes from some other beginning's end." ― Seneca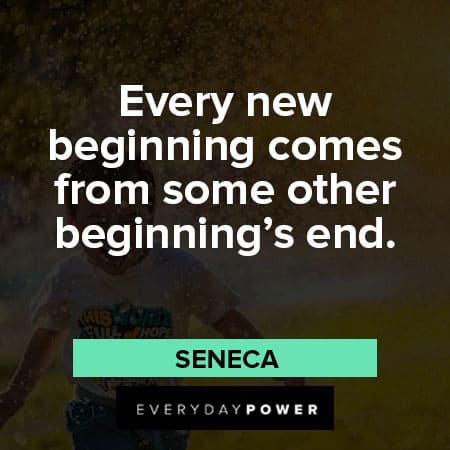 10. "Remember, whether you choose to move on or stay stuck in the past, life goes on!" ― Billy Cox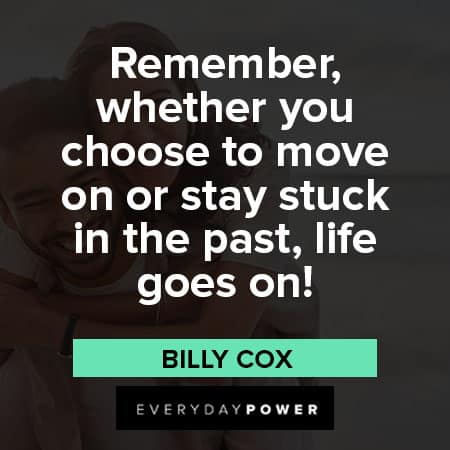 11. "Life goes on if you're one of the lucky ones." – Judy Blume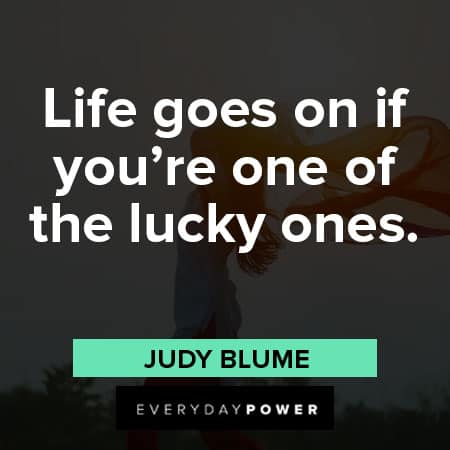 12. "As life goes on, life just gets harder." – B. J. Penn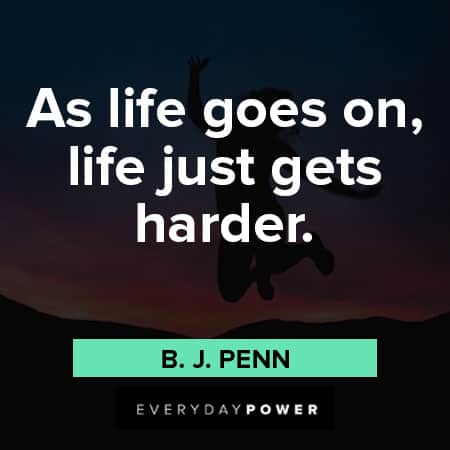 13. "Unlike our minds, life is forever moving in one direction." ― Mokokoma Mokhonoana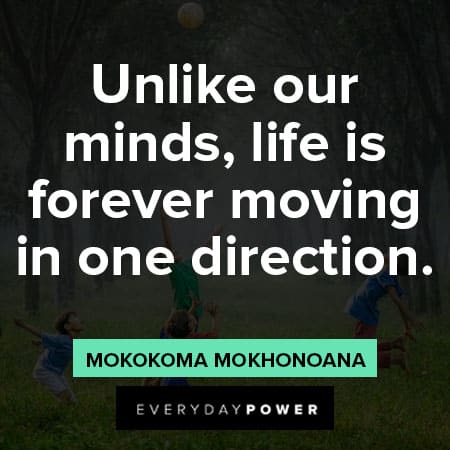 14. "Life goes on. People move on, but God remains on your side." ― Gift Gugu Mona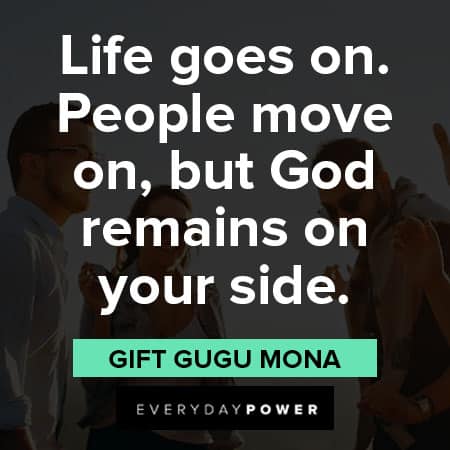 15. "The longer your life goes on, the more death you face." – Patrick Swayze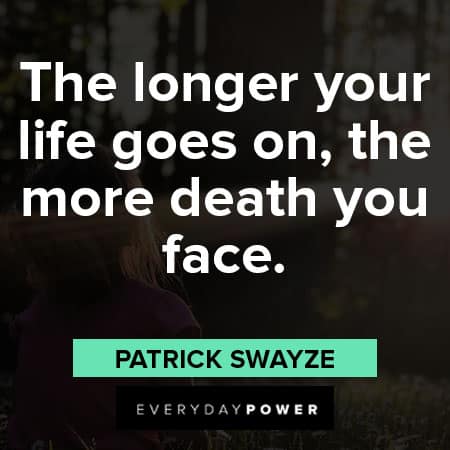 16. "I would say people remember me from 'Life Goes On' more than anything." – Kellie Martin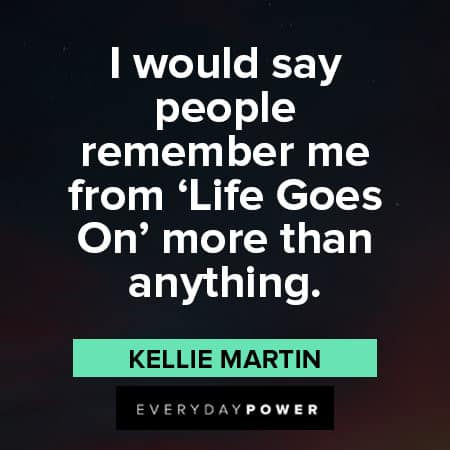 17. "We're all expendable. We think the world's going to stop when a pope dies, or a king. And then… life goes on." – Sylvester Stallone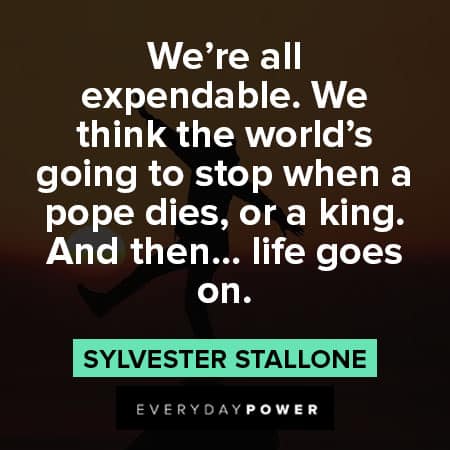 18. "I wanted to acknowledge that life goes on but that death goes on, too. A person who is dead is a long, long story." – Elizabeth McCracken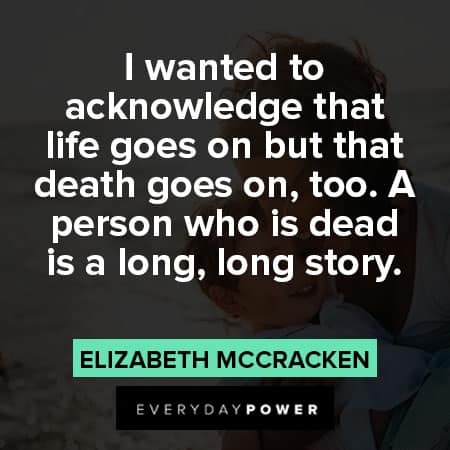 19. "People moan about Twitter, people being rude and trolling. Just turn it off. Life goes on." – Tom Parker Bowles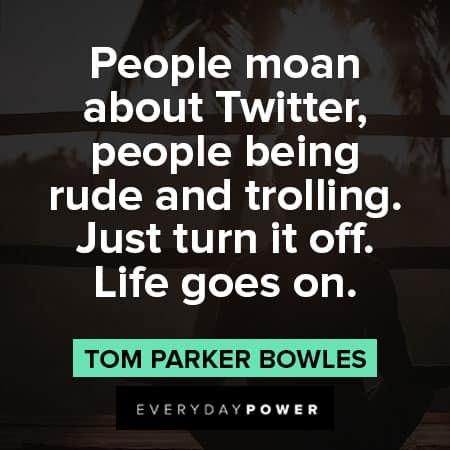 20. "You cannot be truly humble, unless you truly believe that life can and will go on without you." ― Mokokoma Mokhonoana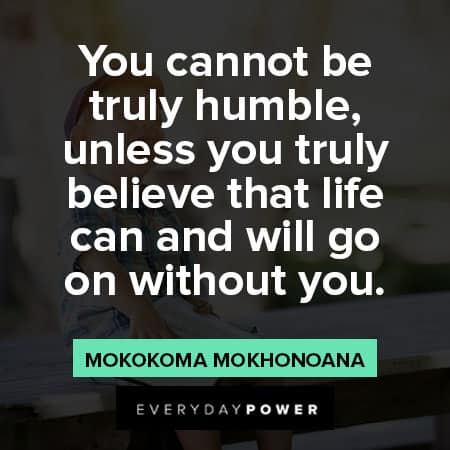 Meaningful Life Goes On Quotes
21. "Life is more than just chess. Though kings die, life goes on." ― Toba Beta, Master of Stupidity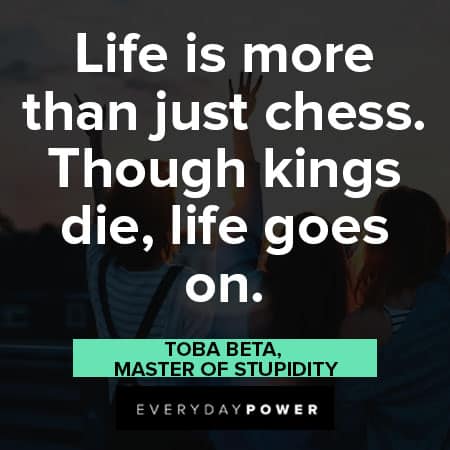 22. "Empires collapse, civilizations disappear, health deteriorates and bodies turn to ash, but life will always go on." ― Mouloud Benzadi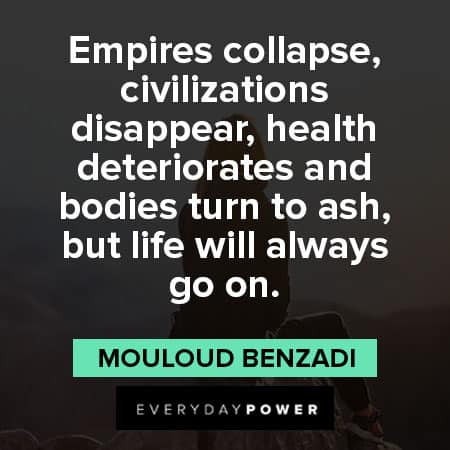 23. "Life goes on after sorrow, in spite of sorrow, as a defense against sorrow." ― Cornelia Meigs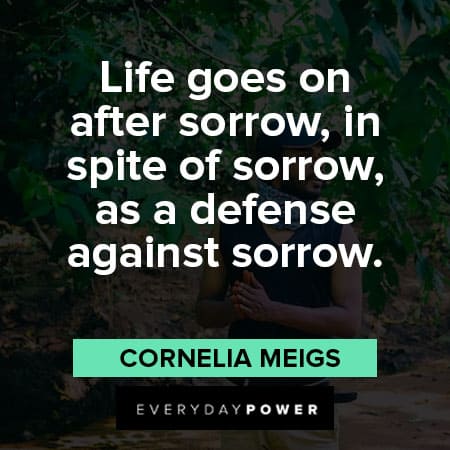 24. "Dear friend, life passes with or without God." ― Marjane Satrapi, Chicken with Plums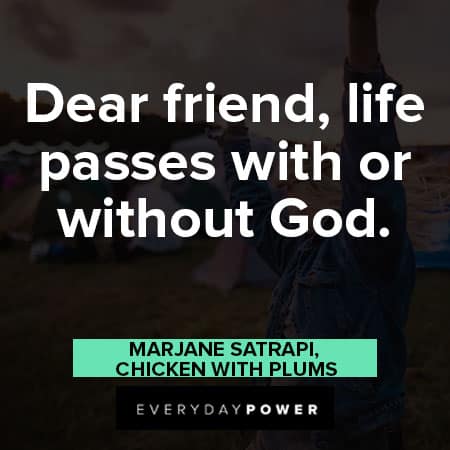 25. "Life is like riding a bicycle. To keep your balance you must keep moving." ― Albert Einstein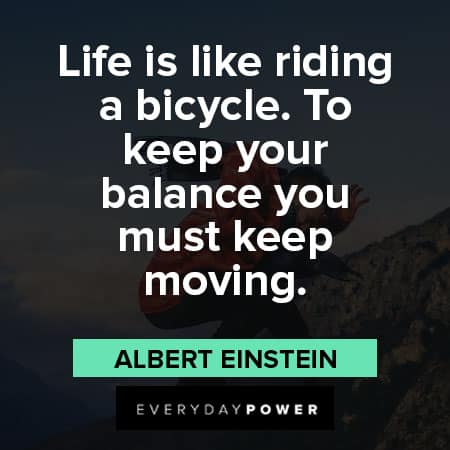 26. "Because even with the dark and the light parts and the good parts and the bad parts, dinner must still be served." ― Patti Callahan, Once Upon a Wardrobe
27. "Regardless of how it goes down, life goes on." ― Rick Ross
28. "Grief is in two parts. The first is loss. The second is the remaking of life." ― Anne Roiphe
29. "Life goes on after a breakup." – Andi Dorfman
30. "Life goes on is a redundancy. Life is defined by its going on."― David Levithan
31. "One thing is always sure. Life goes on with you or without you, no matter how much you have seen." ― Lalita Tademy
32. "In three words I can sum up everything I've learned about life: it goes on." ― Robert Frost
33. "Life goes on, even when you think it can't. Even when you don't especially want it to." ― Jan Strnad
34. "Life gets more interesting as it goes on. It becomes fuller because there is perspective there." ― Ann Dowd
Life Goes On Quotes For A Better Tomorrow
35. "No matter what happens, or how bad it seems today, life does go on, and it will be better tomorrow." ― Maya Angelou
36. "When you lose what you love, remember to stay strong. Look out the window and remember life goes on." ― Drew Chadwick
37. "She taught me that life goes on, and that I had a choice. To lament what I no longer had or be grateful for what remained." ― Louise Penny
38. "Whether you choose to move on from your struggles and enjoy life or waddle in your misery, life will continue." ― Germany Kent
39. "It's never nice to lose someone close to you; unfortunately, life goes on, and we have to make peace with it and move on." ― Francois Hougaard
40. "When the pretty birds have flown, And you feel hurt and alone, Be strong and carry on, And remember that life goes on." ― Mouloud Benzadi
41. "So long as this struggle known as life goes on, there will always be the music to fit the mood and make it better." ― Patrick James Balthazor
42. "You are responsible for your life. You can't keep blaming somebody else for your dysfunction. ― Oprah Winfrey
43. "Suppose you stop writing, painting, believing in God, whatever your obsession is. Won't you survive? Won't you find something else?" ― Marty Rubin
44. "I'm not going to hold my breath because life goes on. Life is too short to sit around moaning about what could have been or what was." ― Tina Weymouth
45. "I am strengthened by my weaknesses. I am brave because of my fears. I am greater because of my mistakes. Life goes on, forget the past." ― Nishan Panwar
46. "Life goes on. Besides, if bad things didn't happen, how would you be able to feel the good ones?" ― Elizabeth Scott
47. "Sometimes you're flush and sometimes you're bust, and when you're up, it's never as good as it seems, and when you're down, you never think you'll be up again, but life goes on." ― George Jung
48. "There are people in your life who've come and gone, they let you down and hurt your pride. Better put it all behind you, life goes on, you keep carrying that anger, it'll eat you up inside." ― Don Henley
49. "They discovered that even in the face of pain that seems unbearable, even in the face of pain that wrings the last drop of blood out of your heart and leaves its scrimshaw tracery on the inside of your skull, life goes on. And pain grows dull, and begins to fade." ― Poppy Z. Brite
50. "Life is really about moving on." ― Oprah Winfrey
Life Goes On Quotes To Give You An Open Mind
51. "Life has to go on even when you don't want it to or when you feel unable to participate. The world doesn't stop turning for anyone." ― Stewart Stafford
52. "Sometimes when I'm in the studio I feel so much but don't know how to express it. You're just like in a cave – life goes on without you." ― Miley Cyrus
53. "That's how life goes on – protected by the silence that anesthetizes shame." ― M. L. Stedman
54. "Yes, I have cancer and it might not go away, but I can still have a future because life goes on." ― Kris Carr
55. "They say life goes on long after the thrill of living." ― John Mellencamp
56. "Life goes on pretty much the same way. I've been working on a couple of films on the side. You may see some more. You may even see another television show." ― Norman Lear
57. "As life goes on it becomes tiring to keep up the character you invented for yourself, and so you relapse into individuality and become more like yourself everyday." ― Agatha Christie
58. "If you don't like me, life goes on, you know what I mean? But I hope you do like me. Because I think that in addition to being pushy, I'm nice." ― Christine Quinn
59. "I'll be strong, I'll be wrong, oh but life goes on. Oh, I'm just a girl, trying to find a place in this world." ― Taylor Swift
60. "Life goes on forever like the gnawing of a mouse." ― Edna St. Vincent Millay
What did you learn from these life goes on quotes?
Lao Tzu once wrote that "New beginnings are often disguised as painful endings."
Everything has its ebb and flow.
Relationships, beliefs, and careers are all aspects of our lives that change over time.
Oftentimes when life changes we tend to focus on what we are losing, what is gone, or how things are different.
Within that ebb and flow is the cycle of death and rebirth which also allows us to focus on how whatever has shifted or changed also marks the beginning of something new.
In our reality, change is the only constant, so it is better to work with change and accept it.
This mindset encourages us to live in the present as best as we can so that we can enjoy the time that we have.
Indeed, life does go on, it is not going to stop just because we stop, so go with the flow.
Keep going.
What's your biggest takeaway from these life goes on quotes and sayings?
Do you have any other favorite quotes to add?
Let us know in the comment section below.