50 Lipstick Quotes About the Tiny but Powerful Tube of Color
Lipstick is an essential part of a makeup routine, as these lipstick quotes will point out.
Some of them even claim it is the most important part!  
In essence, lipstick is just wax, oil, and colorants.
However, lipstick actually is a powerful symbol of femininity.
It is a symbol of strength, rebelliousness, and female power.
In fact, one of the first cases of lipstick we know about was an ancient queen!
Queen Schub-ad of Ur, one of the four ancient civilizations of Mesopotamia, Circa 3,500 B.C., used to color her lips with a base of white lead and crushed red gems.
Dolly Parton has said she used to use red poke berries until she was a teenager!
Women have been coloring their lips for thousands of years, with whatever they could find!
In today's world, we have a plethora of makeup brands to choose from.
Some of these lipstick quotes from makeup moguls like Kylie Jenner and Jeffree Star.
Keep reading the lipstick quotes to learn more fun lipstick facts.
Check out our most popular quote article, a list of short inspirational quotes for daily inspiration.
Check out our entire collection of motivational quotes here.
Short lipstick quotes perfect for Instagram
These quotes match perfectly with a photo for a great Instagram post. Which of these would you post?
1. "Lipstick is the red badge of courage." — Man Ray
You will also enjoy our article on red quotes.
2. "A dream is just a nightmare with lipstick." — Toni Morrison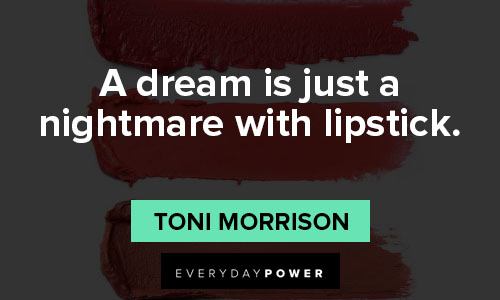 3. "If you're sad, add more lipstick and attack." — Coco Chanel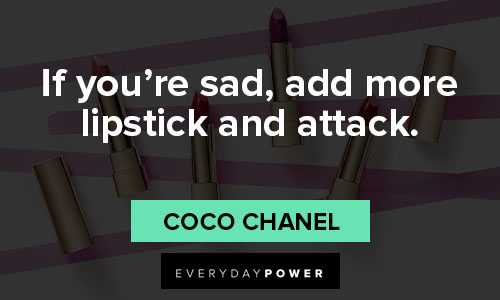 You will also enjoy our article on Makeup quotes.
4. "Just have fun. Smile. And keep putting on lipstick." — Diane Keaton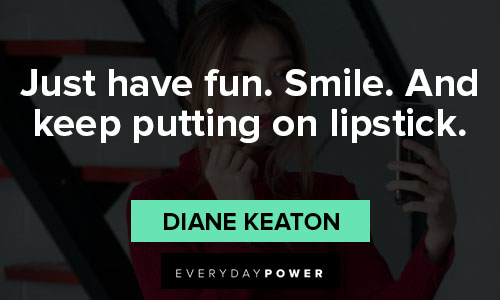 5. "Joy is the best makeup. But a little lipstick is a close runner-up." — Anne Lamott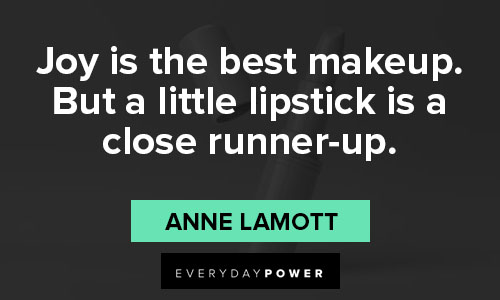 6. "There's something about lonely nights and my lipstick on your face " — Lady Gaga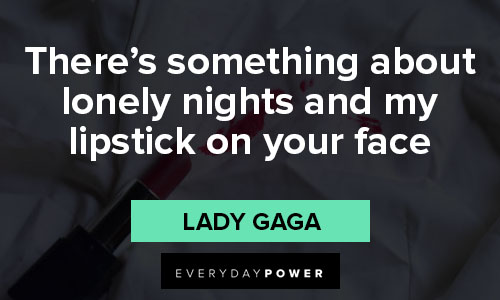 7. "You better check your lipstick before you come and talk to me." — Naomi Campbell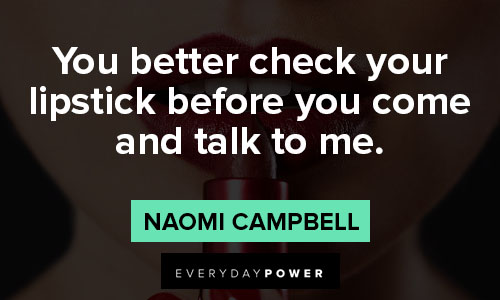 8. "There are some things you can't cover up with lipstick and powder." — Elvis Costello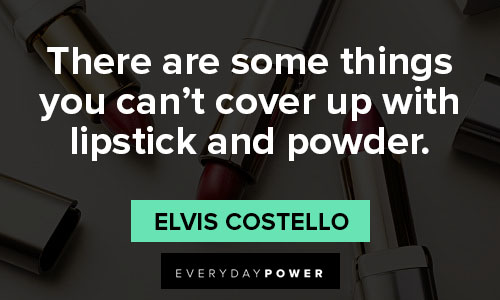 9. "Every woman deserves a man to ruin her lipstick, not her mascara" — Charlotte Tilbury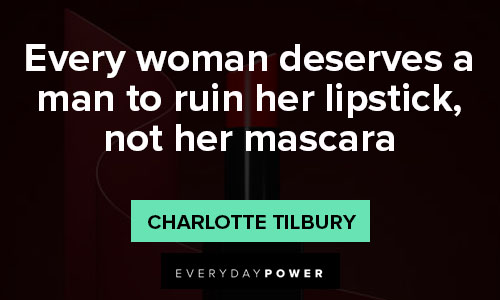 10. "Just because we are wearing lipstick doesn't mean we can't kick your ass!" — Tommy Lee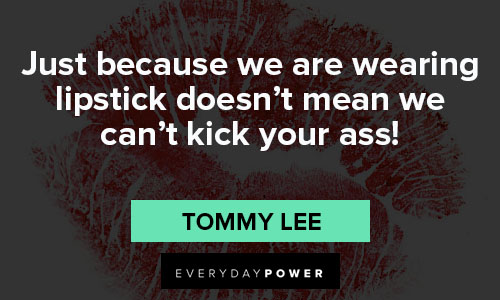 Red lipstick quotes
Red might be the most famous lipstick color. Take a look at these quotes on red lipstick.
11. "I always wear red lipstick." — Kate Nash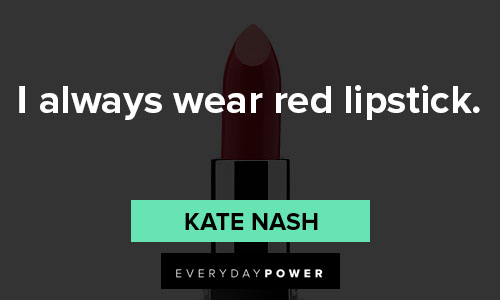 12. "Red lipstick is instant glamor." — Charlotte Tilbury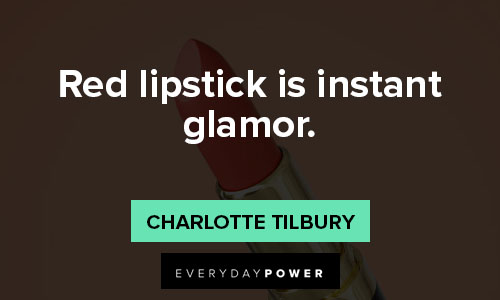 13. "I love to wear red lipstick a lot, even in the daytime." — Heather Morris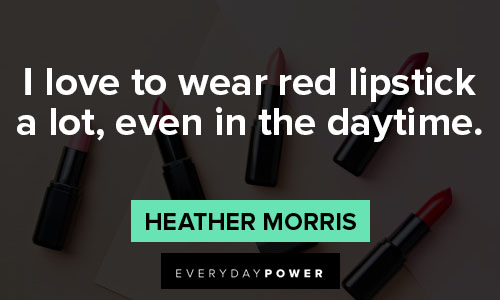 14. "Red lipstick has always been a powerful thing to me." — Nikita Dragun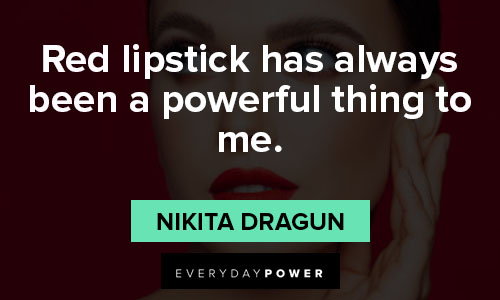 15. "Sometimes I wear red lipstick—it makes me feel sophisticated." — Leandra Medine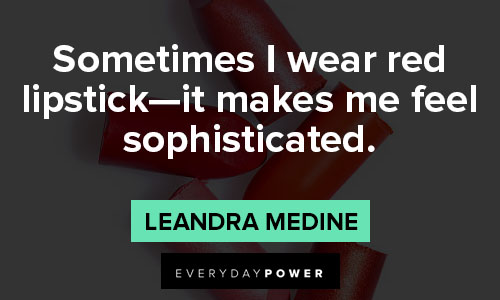 16. "All I need is my Chanel dress, my Louboutins, and some red lipstick." — Blake Lively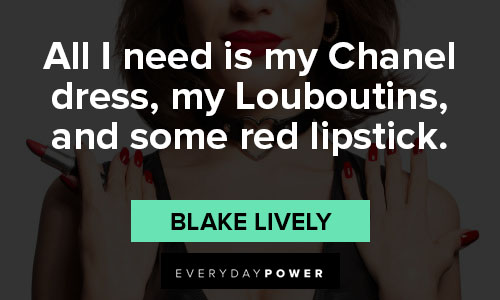 17. "I put on lip balm first thing in the morning and always use it before I swipe on my red lipstick." — Heather Morris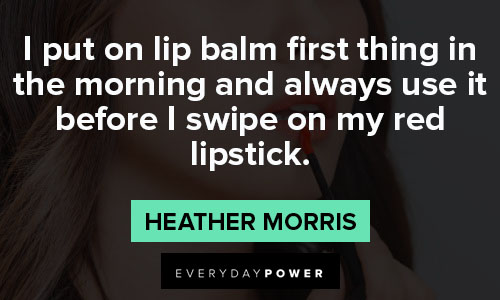 18. "I love a red lip – red is one of my favorite colors, and I really don't wear many other lipstick colors than red." — Kendall Jenner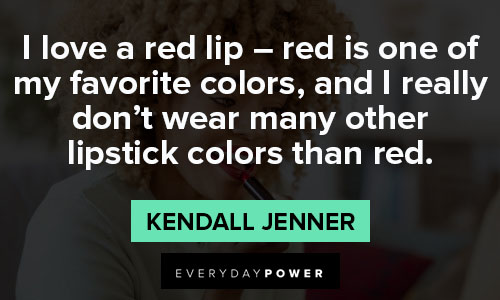 19. "I used to wear a lot of red lipstick, and when I got a pimple, I'd cover it up with eyeliner to turn it into a beauty mark." — Selma Blair
20. "Red lipstick has been my beauty staple for years. I show up to Pilates or yoga at 8 A.M. wearing my red lipstick." — Liz Goldwyn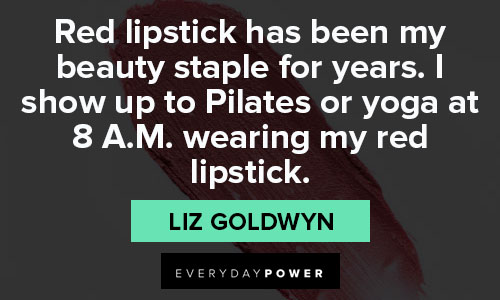 21. "Red lipstick has always been a classic. You have seen the red lip on people from Marilyn Monroe to Marilyn Manson. The right shade of red can turn a boring look into a bold, eye-catching statement." — Jeffree Star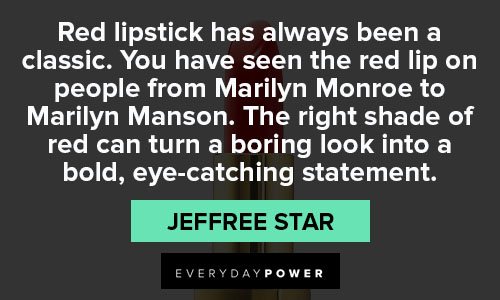 Funny lipstick quotes
If you want a quick laugh or smile the quotes below will do the trick. Check them out to see which is your favorite.
22. "Lipstick is for lips only." — Danielle Fishel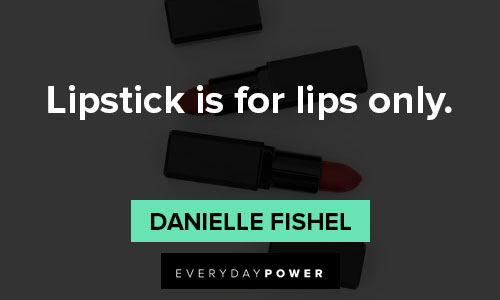 23. "I came out of the womb waving red lipstick." — Rose McGowan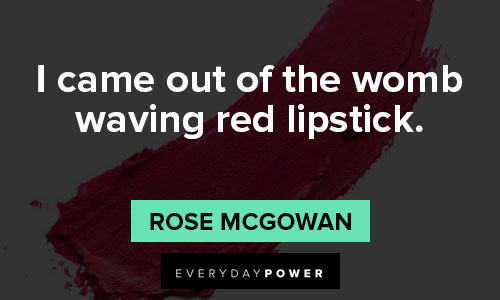 24. "I wear lipstick only when I'm working, usually Carmex." — Sarah Harding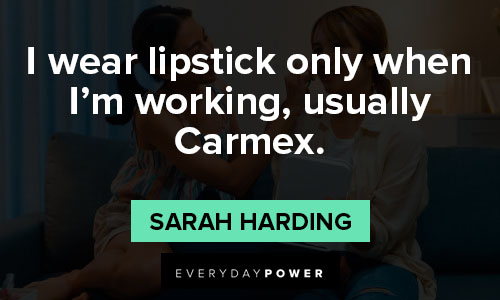 25. "In our factory, we make lipstick. In our advertising, we sell hope." — Peter Nivio Zarlenga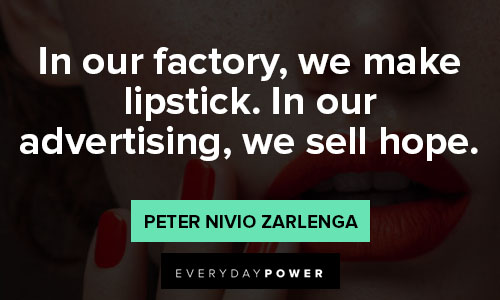 26. "Pour yourself a drink, put on some lipstick, and pull yourself together." — Elizabeth Taylor
27. "You can't keep changing men, so you settle for changing your lipstick." — Heather Locklear
28. "I drive with my knees. Otherwise, how can I put on my lipstick and talk on my phone?" — Sharon Stone
29. "Before I put another notch in my lipstick case, you better make sure you put me in my place." — Pat Benatar
30. "The only way I'd be caught without makeup is if my radio fell in the bathtub while I was taking a bath and electrocuted me and I was in between makeup at home. I hope my husband would slap a little lipstick on me before he took me to the morgue." — Dolly Parton
The importance of wearing lipstick quotes
Lipstick is more than makeup! Take a look at how some people feel about their lipstick.
31. "There's lots of things you pull out lipstick for." — L'Wren Scott
32. "If I walk outside without lipstick, I feel naked." — Sofia Vergara
33. "To me, lipstick is the best cosmetic that exists." — Joan Collins
34. "Lipstick is always in, whether it's matte, creamy, glossy, and so on." — Zoe Foster Blake
35. "Life's too short to wear boring clothes and apply boring lipsticks, and BTW, I loved my blue lipstick." — Nia Sharma
36. "Lipsticks are like socks. I put lipstick on before any other makeup. I use MAC's Chestnut lip liner, and sometimes I mix two or three shades together." — Adrienne C. Moore
37. "I don't feel comfortable without my makeup on. I've got to have my lipstick! I just don't feel like the same person, and I don't like the way I look without makeup." — Betsey Johnson
38. "I feel weird without lipstick. Even after the first time I wore a really neon pink or a really bright red, I felt really strange without it there. My lips are a main feature, so I feel naked without them." — Marina and the Diamonds
39. "Lipstick is the most valuable weapon in a woman's make-up kit. It has the power to transform the appearance and mood of the person wearing it, and, at the same time, arouses the admiration of everybody else." — Monica Bellucci
40. "Lips are kind of like my thing, and I've always been obsessed with lipstick and lip liner. I just always went to lip liner to overline my lips, and I feel like I was really known for that. I can't walk out of my house without my lipstick!" — Kylie Jenner
Lipstick quotes on it being ok to not wear lipstick or makeup
On the other side of the coin some people prefer to not wear lipstick and that is ok. Take a look at some of these viewpoints.
41. "I don't wear lipstick when I'm not at work." — Lily Donaldson
42. "Even as a child, I knew what I didn't want. I didn't want to wear red lipstick." — Patti Smith
43. "I'm always worried that lipstick is on my teeth or caked in the corners of my mouth." — Chyler Leigh
44. "I want to make photographs of very elegant women taking the lipstick off their teeth." — Cecil Beaton
45. "I sing a lot, so if I have lipstick, it gets all over the microphone, so I rarely wear lipstick." — Sabrina Carpenter
46. "I have problems because I'm very expressive, and usually red lipstick gets on my teeth and face." — Jessica Chastain
47. "I like smudgy black eyes and pale lips for evening. Red lipstick looks great on other girls, but it's too much on me." — Saffron Aldridge
48. "For events, I do use make-up, but normally I don't. I might use a bit of eyebrow pencil and a lipstick but nothing else." — Alicia Vikander
49. "If I had to teach someone just one thing about lip color, it would be this: Find a lipstick that looks good on your face when you are wearing absolutely no makeup." — Bobbi Brown
50. "I firmly believe that what makes you sexy & beautiful is not the size of your body or the color lipstick you have on. What really makes you sexy is what you project – your confidence & your self-awareness." — Kate Dillon Levin
Lipstick facts about the little versatile tube
In ancient Greece lipstick was viewed as scandalous by most women.
Especially since it was worn predominantly by sex workers.
However, now about 55% of women in the world wear lipstick!
In ancient Egypt though, both men and women wore lip color!
It was made from a mixture of red ochre, carmine, wax, or animal fat.
The ancient Egyptians favorite shades consisted of magenta, blue-black and red.
Red lipstick is still a favorite today, as shown by all the lipstick quotes particularly about the magic of red lipstick.
Taylor Swift even has a song lyric about red lipstick.
In the 1960s though, white lipstick was considered the bold shade.
It is interesting how lipstick has changed over the years.
This includes not only how it is made, but how it is perceived.
The one constant has been that people wear it!
One final tip, according to Cosmopolitan—the easiest way to find your perfect shade of nude lipstick is to match it to the color of your nipples. Who knew!
What was your favorite lipstick quote?
Do you or your friends have any other fun lipstick facts to share?
Let us know in the comment section below!