Shawn Mendes Quotes on Love, Music, and More
Are you a fan of singer-songwriter Shawn Mendes?
The Shawn Mendes quotes showcased below reveal his perspective on love, life, and fame.
What Shawn Mendes song do you always press "replay" on?
Born in 1998, Shawn Mendes is a singer, songwriter, and model from Pickering, Ontario.
He rose to fame online, uploading cover videos to Vine and YouTube during 2013.
After being signed to Island Records, the artist released a string of platinum singles like "Life of the Party" and "Something Big" in 2014 and 2015.
His recently released collaboration with Camilla Cabello, "Señorita" reached number one on over a dozen charts internationally and domestically, including the Billboard Top 100.
Want to learn more about the life behind one of music's most popular young acts?
Take a look at the quotes below.
Also, check out our compilation of motivational quotes from Matthew McConaughey.
Check out our most popular quote article, a list of short inspirational quotes for daily inspiration.
If you enjoy this collection, check out our inspirational quotes category page.
Shawn Mendes quotes on life lessons
1. "You can't get too comfortable and relax, because your world can flip overnight." – Shawn Mendes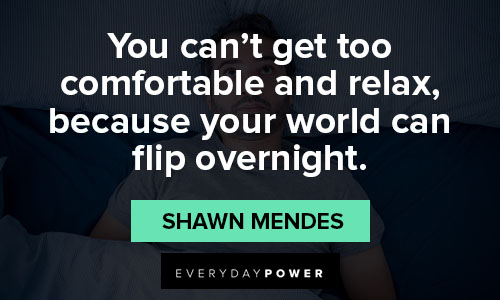 2. "I think it's not about what you say; it's about what you don't say." – Shawn Mendes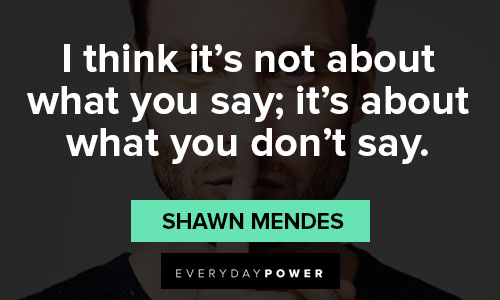 3. "I have a thing where if I'm not in control, I feel the whole world is about to collapse." – Shawn Mendes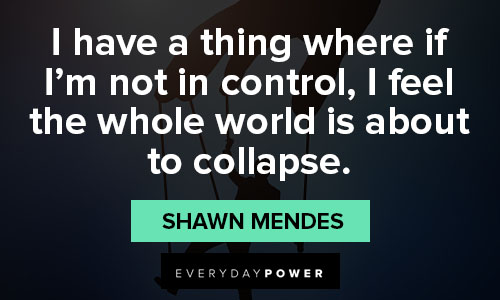 4. "I'm tortured because I care. I'm always upset about not doing things as good as I think I could have because I care." – Shawn Mendes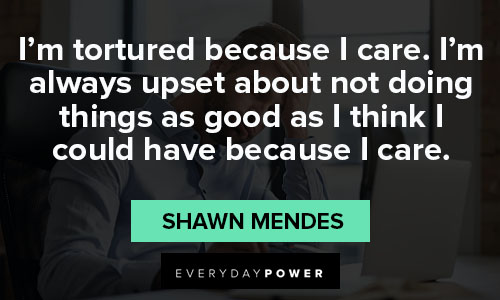 Shawn Mendes quotes on love
5. "Love is probably the strongest emotion that you can feel. It's very natural – and I wouldn't want to say easy – but natural and comfortable to write about, and there's so many different forms of it, millions of layers – you could write forever about it." – Shawn Mendes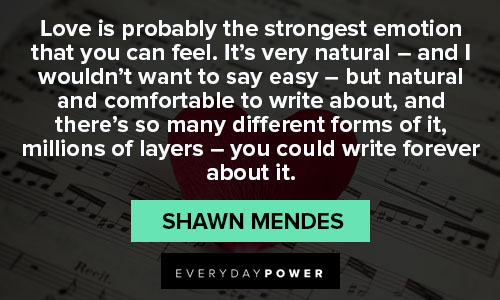 6. "I haven't really found the right person. That sounds like an older person thing to say, but I'm too busy and – not in a bad way – don't want to waste my time." – Shawn Mendes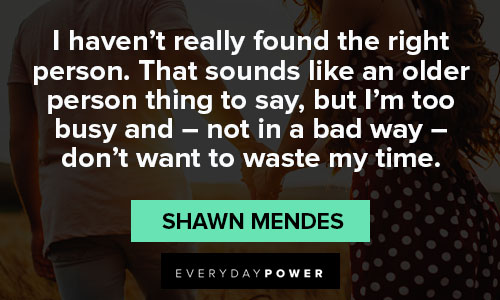 7. "All the stars in the sky could see why you're perfectly wrong for me." – Shawn Mendes, "Perfectly Wrong"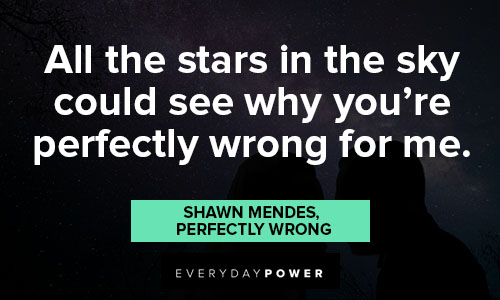 8. "Be my summer in a winter day love." — Shawn Mendes, "Fallin' All in You"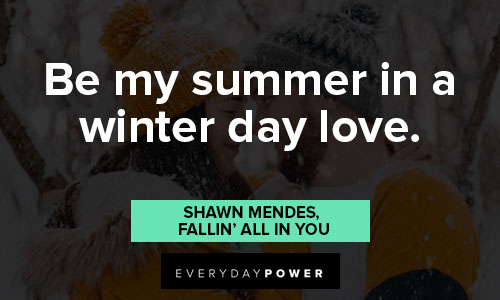 9. "Every single night my arms are not around you my mind's still wrapped around you." — Shawn Mendes, "When You're Ready"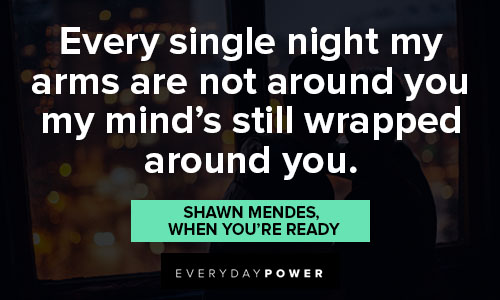 10. "I'll stop time for you, the second you say you'd like me to." – Shawn Mendes, "Treat You Better"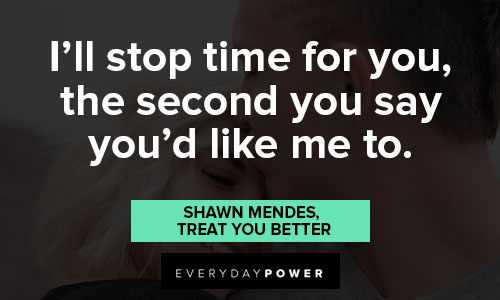 11. "I wanna love you with the lights on." – Shawn Mendes, "Lights On"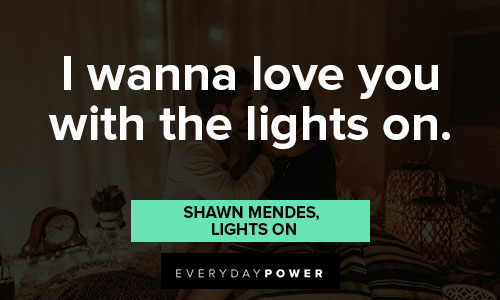 12. "If this is what it's like falling in love, then I don't ever wanna grow up. Maybe I'm just a kid in love." – Shawn Mendes, "Kid In Love"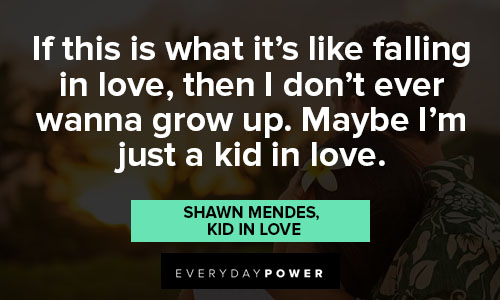 13. "I'm permanent. You can't erase me." – Shawn Mendes, "Aftertaste"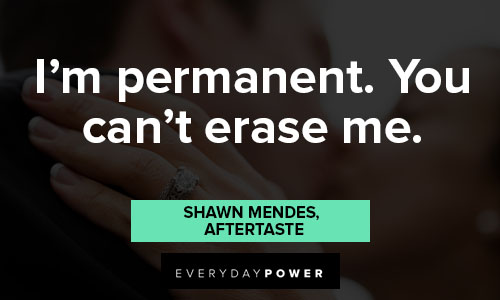 14. "Love your people! Tell the people you love you REALLY love them. Do it. It's impossible to be too kind or too loving." – Shawn Mendes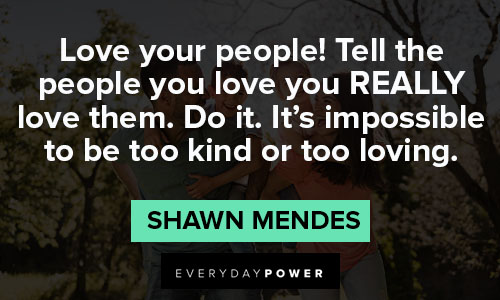 15. "True friends are never forgotten, they live within our hearts and souls forever and always, dancing on our stage of memories." – Shawn Mendes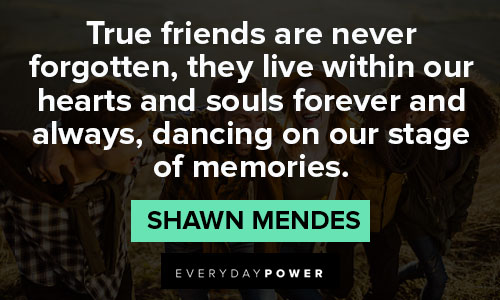 16. "Take a piece of my heart and make it all your own so when we are apart you'll never be alone." – Shawn Mendes, "Never Be Alone"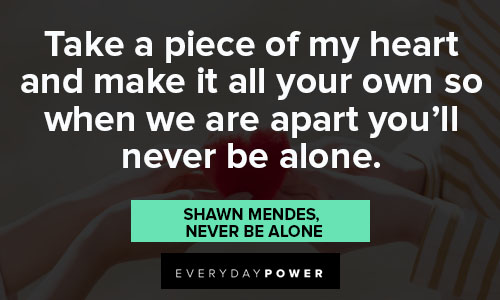 Also, read these inspirational Dove Cameron quotes that will brighten your day.
Shawn Mendes quotes on career
17. "No matter where you play, a stadium or an arena, when you're present on stage, it's going to feel like a theater." – Shawn Mendes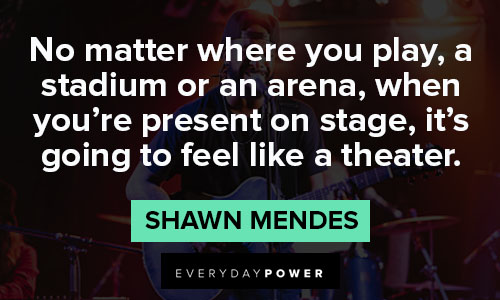 18. "People say to me, 'What are you going to be doing in five years?' The thing is, I don't care! It's what I'm doing today that matters." – Shawn Mendes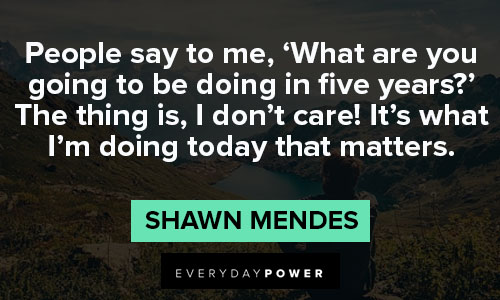 19. "No matter what, I'm trying to have fun and, depending on the mood, fun can be on a roller coaster and playing onstage, or fun can be sitting in a room with three of your best friends talking for two hours." – Shawn Mendes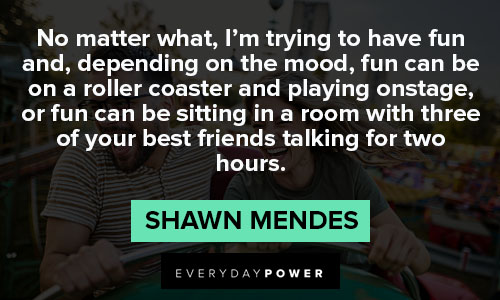 20. "I work so hard to make that sure I'm successful. If you're positive and really excited and enthusiastic about what you're doing, it's going to happen, and it's going to happen big time." – Shawn Mendes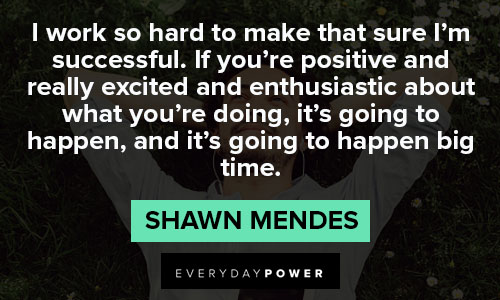 21. "Being a sex symbol isn't cool unless you're in love with a girl, and she calls you a sex symbol." – Shawn Mendes
22. "When I first started playing guitar, so many people told me I couldn't do this or couldn't do that. But I kept at it and ignored that." – Shawn Mendes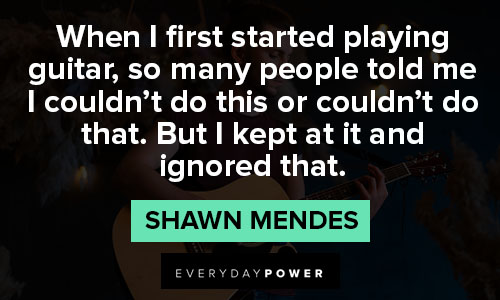 23. "I can see why people change. You get complimented all the time, driven around in a black SUV – your life is crazy. But that's your career, not you." – Shawn Mendes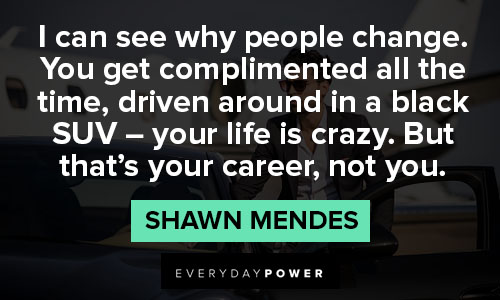 24. "It's hard for me to just say, 'Wow, this is amazing – I'm famous. I'm living the dream.' I sit there and think, 'I'm scared – this can go away tomorrow.' My dad always says that I'm a tortured soul because I'm never pleased; I never feel like I deserve what I've achieved." – Shawn Mendes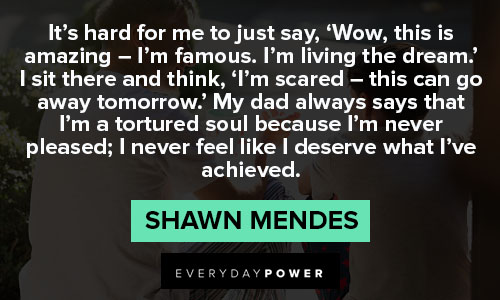 25. "I think if you're creating music, and you love the song, holding it back is just doing it an injustice." – Shawn Mendes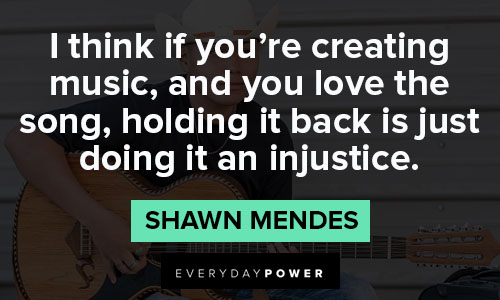 26. "I feel like every time I write a song, it feels like the first time I wrote a song. It's just as hard; it doesn't get easier, but that's why I love it: because it's a challenge every time. I also feel like I'm learning new ways." – Shawn Mendes
27. "Just the fact that a thousand people in front of me were ready to hear me sing was one of the best feelings I can think of." – Shawn Mendes
28. "I think I was just bored one summer afternoon, and I decided to post a little video of me singing and playing guitar out of tune." – Shawn Mendes
29. "I'm just growing so quickly, so my songs are quickly changing on me. But it's fine. I love them for what they are and what they were, to me." – Shawn Mendes
If you're enjoying this article, make sure to also check out these BTS quotes and lyrics from the platinum-selling South Korean boy band.
Shawn Mendes quotes about singing
30. "I picture myself now, and I picture myself in 30 years, and I'll probably be the same. I'll still think I'm not the greatest singer I can be." – Shawn Mendes
31. "As I'm growing, so is my music." – Shawn Mendes
32. "I promise you, if you look at YouTube and see some of my first covers, you will hear that I don't sound good. But I was so obsessed with it and wanted so much to be good at it that I forced myself to figure out what sounds right and what sounds wrong." – Shawn Mendes
33. "I don't want to just be a teenage star. I want to be known by parents, and I want them to go, 'Oh I love that song; he's really good for his age. My daughter loves him, but I love him, too.'" – Shawn Mendes
34. "You look back at people like Elvis and The Beatles and still get their music because it's timeless. That's what I want." – Shawn Mendes
35. "A lot of people who are 'social media' stars aren't considered to be 'real' stars, and people underestimate the amount of work it takes to edit and upload a video every single day and document your life like that." – Shawn Mendes
36. "I come up with more ideas when I'm on the road, but I don't get to finish them. I don't get to fully flush them out because I'm so busy on the road. I'm very all over the place, but I'm definitely most creative when I'm out here." – Shawn Mendes
37. "I think when you have raw emotion in a song, it makes it great." – Shawn Mendes
38. "It's extremely important just to keep things positive and happy as much as we can … I think it's important that singers, actors, or whatever use our voice to spread positive messages as much as we possibly can." – Shawn Mendes
39. "I'm not just writing songs that are narrating my life, but everyone else around my age because they're super-relatable." – Shawn Mendes
40. "As soon as I get time, I really wanna dig down and do some acting." – Shawn Mendes
41. "Island Records was the first record label to… acknowledge me. After that, quickly, Republic Records, and then Atlantic Records, Sony Records and Warner Bros. It was all the labels at once. It was absolutely insane, like, knowing that this many record labels were interested in me." – Shawn Mendes
42. "Someone was like, 'If you wanna be a celebrity, know that every girl you talk to is going to be your girlfriend.' And I was like, 'Fine. I accept that for getting to do what I love for the rest of my life.'" – Shawn Mendez
Don't forget to also read these Freddie Mercury quotes about being yourself.
Shawn Mendes quotes on his upbringing
43. "I was an average student. I wasn't any standout. I remember when people started to know who I was and the label offers, people started to get a little weird and be weird around me." – Shawn Mendes
44. "Growing up in a suburban home, the world seems so massive to you. It seems like cities are so big and so far away, and there's so much in them. So your imagination runs wild, instead of when you are born in the middle of Manhattan, you'd know, like, that this is the biggest city." – Shawn Mendes
45. "To be honest, I've only been to one concert, and it was Aerosmith. Aerosmith and Slash." – Shawn Mendes
Inspirational Shawn Mendes quotes
46. "I think anyone can do anything they dream of if they put their mind to it and put in the work." – Shawn Mendes
47. "My advice to anyone with a dream is to never stop pursuing it." – Shawn Mendes
48. "I think the world is becoming a place where younger and younger people can do great things, and I just hope I can inspire other young people to do the same." – Shawn Mendes
49. "Let your dreams take flight." – Shawn Mendes, "Believe"
50. "An empty coffee cup is sometimes just as beautiful as a full one." – Shawn Mendes
More Shawn Mendes quotes and sayings
51. "I'm always wanting to spread as much positivity as possible, so I really try to keep that the case with my fans and with the campaigns that I do." – Shawn Mendes
52. "With love, there are so many layers to it that you can write all day about it. It's not just heartbreak or falling in love; there's so many different ways to look at it." – Shawn Mendes
53. "There's nothing that scares me more than, like, being in the ocean by myself." – Shawn Mendes
54. "I don't read much, I don't have the time. But I'm not at all happy about that; I want to read more. It's a promise I made to myself. I think it's important." – Shawn Mendes
55. "Honestly, the more things start to get bigger and better, the more I am just inspired to work harder and put my music out there and make better music and keep everything going." – Shawn Mendes
56. "I'm not the best singer in the world; I'm just good at picking up what I want to sound like." – Shawn Mendes
57. "I really love going back home. I think going back to a nice, relaxed little town is the best way to do it." – Shawn Mendes
58. "During crazy times, I just hold back. People are so quick to jump on something or rip it apart." – Shawn Mendes
59. "Every time I write a song my approach changes." – Shawn Mendes
60. "I don't really look into the past too much." – Shawn Mendes
When were you introduced to Shawn Mendes?
Shawn Mendes is one of the many artists to gain massive popularity over the internet.
Even as a child, Shawn Mendes saw an opportunity in online platforms like YouTube and Vine.
This quickly translated from viral Internet videos to a bustling music career.
Mendes still uses his online platforms frequently and responsibly, connecting with his fans and sharing positive reminders.
Like Mendes, understand the importance of using your online platform wisely.
Remember that there's a real person behind that computer screen and try to share as much positivity as you can.
Did we forget an inspirational Shawn Mendes quote?
Let us know in the comments section below.