40 Snowboarding Quotes For Those Cruisin' Down the Powder
These snowboarding quotes will help you caption your pictures from the top of the ski lift, or those shots that other people take of you shredding down the mountain.
These snowboarding quotes also compare snowboarding to skiing and other sports.
You might wonder which is harder—snowboarding or skiing.
The answer is a bit complicated. Skiing tends to be easier for beginners to pick up but seems harder to master.
Snowboarding, however, is a little harder to learn, but once you have the basics down it is easier to move up skill levels.
Another popular question is which is safer—snowboarding or skiing.
That really depends on how you define "safest."
According to research and statistics, you are more likely to have an ankle or head injury if you are snowboarding.
However, people have more fatal accidents while skiing.
The cost of skiing and snowboarding is also pretty comparable, until you get down to the equipment piece of things.
Ski equipment (Skis, ski boots, and ski bindings) costs about twice as much as snowboarding equipment.
Keep reading through these snowboarding quotes if you are curious about giving it a try!
Check out our most popular quote article, a list of short inspirational quotes for daily inspiration.
Our inspirational quote category page has even more inspirational and educational quotes.
Snowboarding quotes for those Instagram pics
Snowboarding photos make great Instagram posts! Just pare one of the quotes below with a photo and you are ready to post!
1. "Just snowboard." — Unknown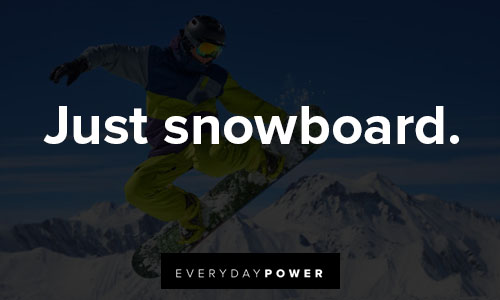 You will also enjoy our article on snow quotes.
2. "Snowboard mode: ON." — Unknown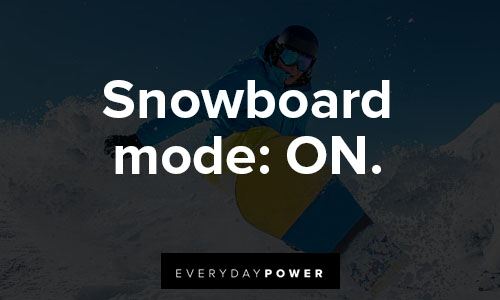 3. "Life is better on the slopes." — Unknown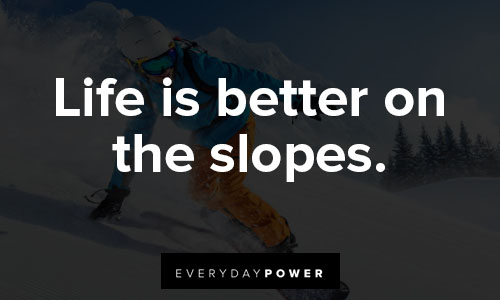 4. "Let's go find some deep powder." — Unknown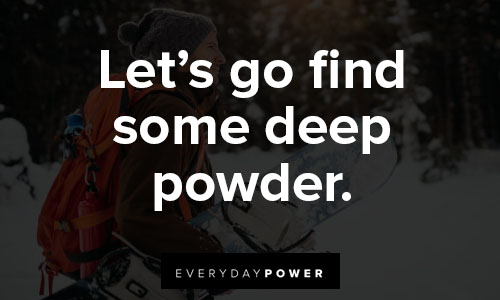 5. "Shredding has never felt so good." — Unknown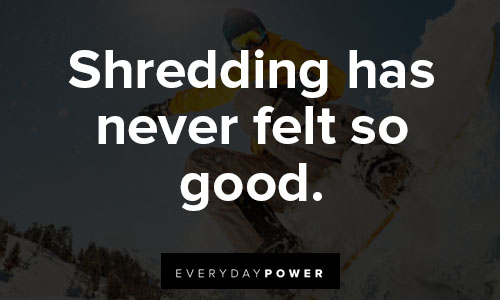 6. "It's only cold if you are standing still." — Unknown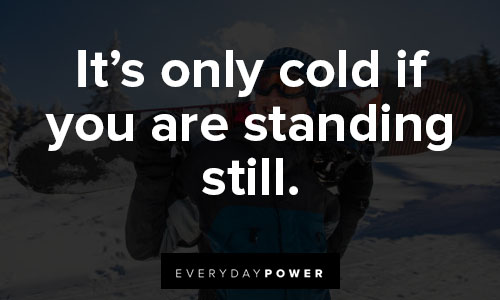 7. "Happiness is the view from a ski lift." — Unknown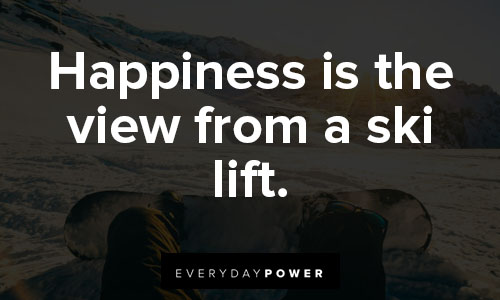 8. "Riding until the snow melts and the sun goes down." — Unknown
9. "You can't buy happiness…. But you can buy a lift ticket." — Unknown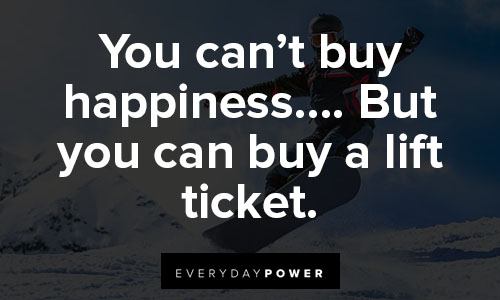 10. "On top of the mountain is where everything makes sense." — Unknown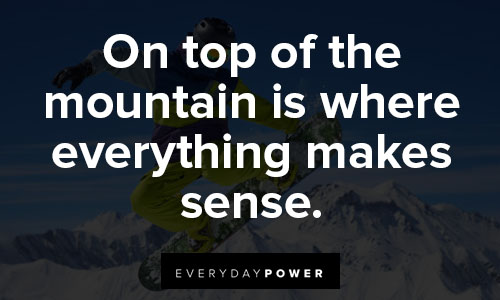 Check out our collection of ski quotes if you enjoy this article.
Witty and funny snowboarding quotes for those lighter Instagram moments
Check out these quotes that will make you laugh or think deeper. Which would you use as a bumper sticker?
11. "Never board." — Unknown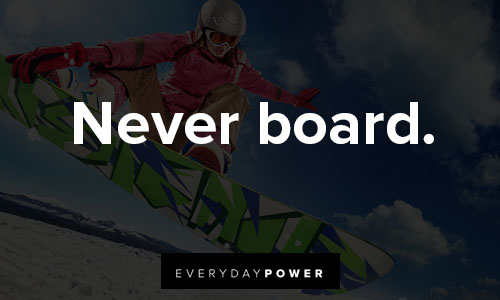 12. "When in doubt, shed it out." — Unknown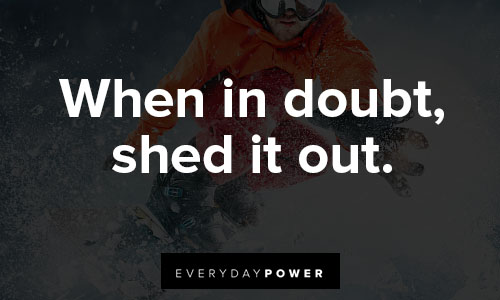 13. "Born to snowboard. Forced to work." — Unknown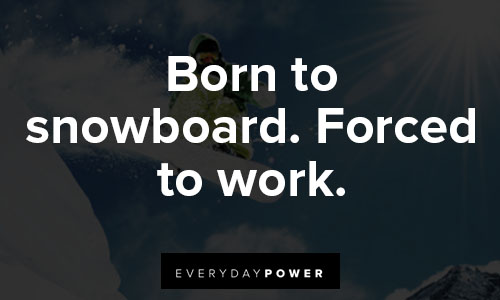 14. "My best friend may be my snowboard." — Unknown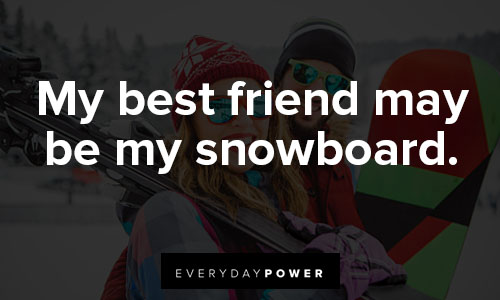 15. "Snowboarding is cheaper than therapy." — Unknown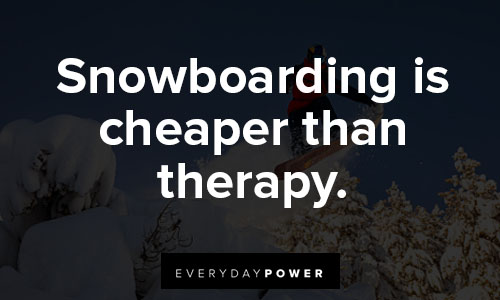 16. "Gone snowboarding. Never be back, never." — Unknown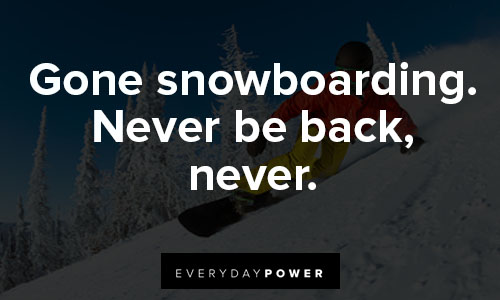 17. "What happens on the slopes stays on the slopes." — Unknown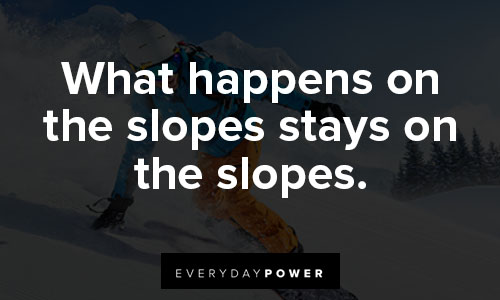 18. "Most likely to be on a mountain with a snowboard." — Unknown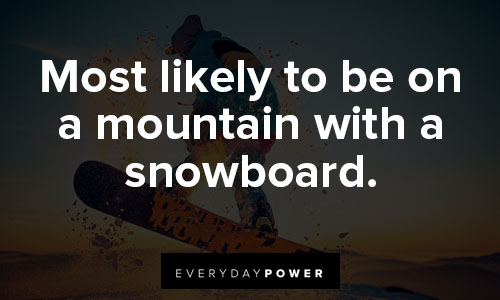 19. "This picture was fine…. but it all went downhill from there." — Unknown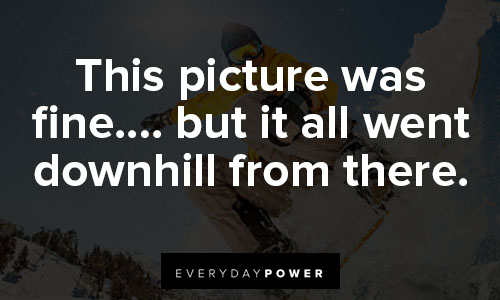 20. "Dear winter, feel free to stick around. I'm board without you." — Unknown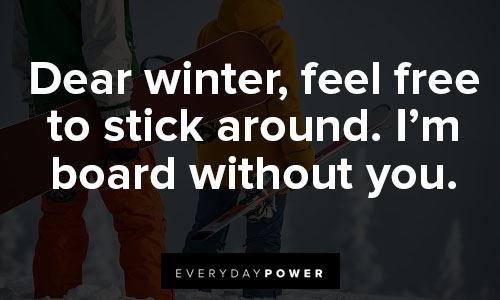 Ski and snowboarding quotes from filmmaker Warren Miller
Check out these quotes from filmmaker Warren Miller. Do you recognize any of the quotes below?
21. "Gravity is love and every turn is a leap of faith." — Warren Miller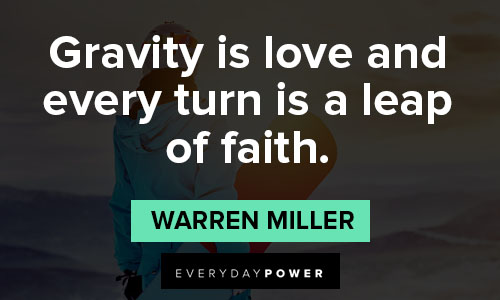 22. "People weren't meant to fly, that's why we make kickers" — Warren Miller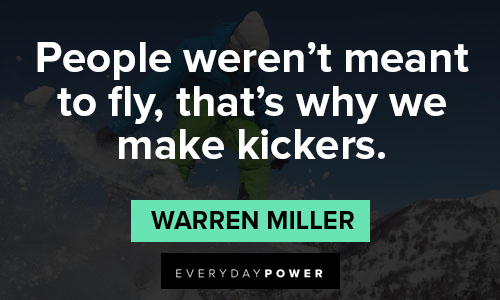 23. "If you don't do it this year, you will be one year older when you do." — Warren Miller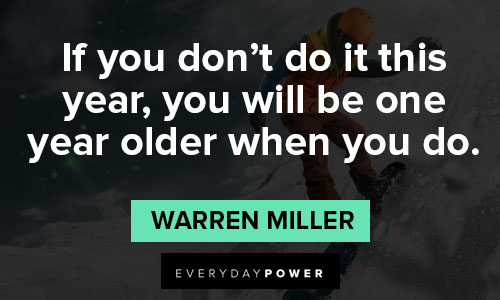 24. "Don't take life too seriously, because you can't come out of it alive." — Warren Miller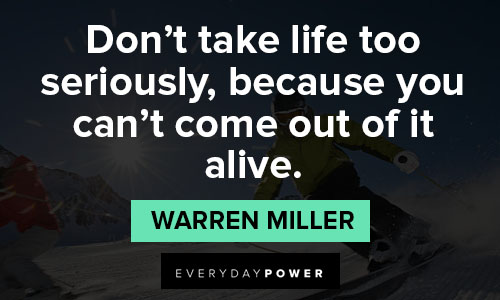 25. "Gotta use your brain, it's the most important part of your equipment." — Warren Miller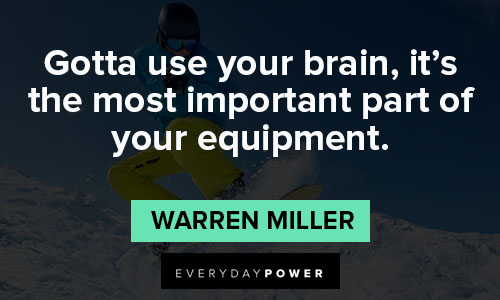 26. "Adventure is the invitation to common people to become uncommon." — Warren Miller
27. "Once you take your first ride up a lift, your life will be changed forever." — Warren Miller
28. "The best thing about skiing backward is you can see where you've been." — Warren Miller
29. "Free spirited free riders, they're on their way but don't know where they're going…" — Warren Miller
30. "There are 2 rules in extreme snow riding: First, always follow your heart; second, never cry when it hurts." — Warren Miller
Snowboarding quotes about it being a way of life
For a lot of people snowboarding isn't a hobby, it's a way of life! Read the quotes below and see if you agree with them.
31. "There are no rules in snowboarding." — Amy Purdy
32. "When hell freezes over, I'll snowboard there too." — Unknown
33. "Snowboarding is the spawn of skating, and skating is my passion." — Tony Hawk
34. "I wouldn't even call snowboarding a sport. For me it's just a way of life." — Travis Rice
35. "Snow skiing is not fun. It is life, fully lived, life lived in a blaze of reality." — Dolores Lachapelle
36. "I know a lot of people who used to ski, but I don't know anyone who used to snowboard." — Unknown
37. "Some people attach snowboards to their feet, very few attach them to their souls." — Shaun White
38. "There's no blueprint to snowboarding, you know? You can really make your own mark." — Sage Kotsenburg
39. "Snowboarding is an activity that is very popular with people who do not feel that skiing is lethal enough." — Dave Barry
40. "The attraction to snowboarding is the freedom it gives you. With a snowboard on your feet, the sky's the limit." — Jeremy Jones
Snowboarding history and fun facts
Snowboarding has only been around since the 1960s!
It was invented by Sherman Poppen, an engineer from Muskegon, Michigan.
It all started when Poppen belted skis together and leveraged them with a rope for steering purposes.
Snowboarding was originally called snurfing, which is just about the coolest name ever!
Poppen's wife coined the term by combining the words snow and surfing.
However, it was (sadly) later changed to snowboarding.
At one point in the 80s, many ski resorts had banned snowboarding.
The reason? Well, the sport drew in a lot of the younger teenage set, and resorts didn't really want them swarming the place.
However, you can't hold back progress and the youth forever, and as the sport grew, the resorts lifted the ban.
Did the snowboarding quotes make you want to hit the slopes?
What tips do you have for those new to the sport?
Share with your friend and let us know your thoughts in the comment section below.