90 Lost Soul Quotes to Help You Find Your Way
Feeling lost?
These lost soul quotes can help you define your experience.
If you're traveling somewhere new with unclear directions and inaccurate GPS, in a sense you are "lost" because you are unsure which is the correct route to your destination.
Well, obviously you are not really lost … you certainly know the planet you are on, as well as the continent, country, and state you are in.
There are some people who would be in the above situation and feel concerned because they were "lost", focusing on their lack of correct information.
Others would be excited in the same situation because it would provide them an opportunity to learn a new route and have a better understanding of their location.
How we perceive conditions determines how we experience them.
This idea shines bright on the soul level as well.
Read through these quotes for more context on how others experience being a "lost" soul.
Don't forget to also check out these feeling lost quotes that will remind you of your highest self.
Check out our most popular quote article, a list of short inspirational quotes for daily inspiration.
Check out our entire collection of motivational quotes here.
Lost soul quotes about embracing challenges
1. "You need chaos in your soul to give birth to a dancing star."- Friedrich Nietzsche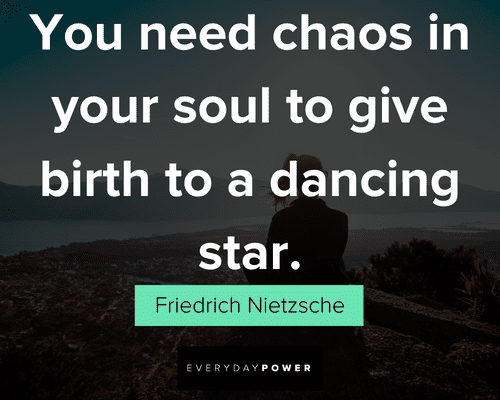 You will also enjoy our article on free spirit quotes.
2. "When my soul was in the lost-and-found, you came along to claim it."- Carole King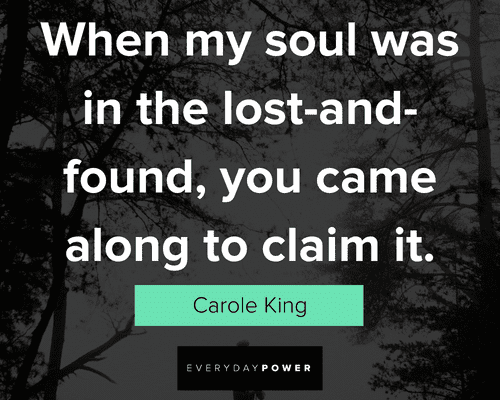 3. "The dark night of the soul is when you have lost the flavor of life but have not yet gained the fullness of divinity."- Ram Dass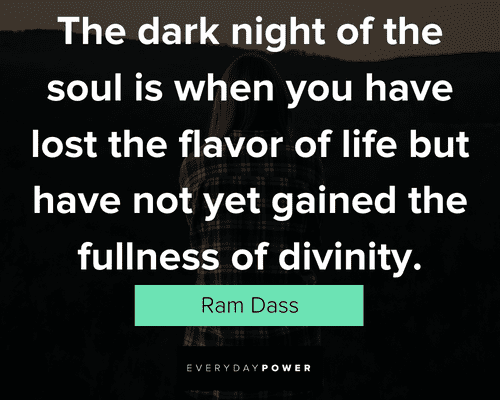 4. "So plant your own gardens and decorate your soul instead of waiting for someone to bring you flowers."- Jorge Luis Borges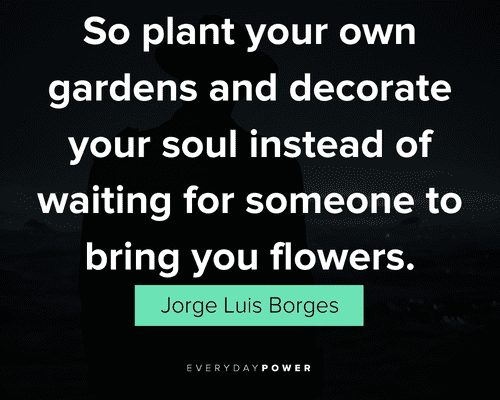 5. "The soul which has no fixed purpose in life is lost; to be everywhere, is to be nowhere."- Michel de Montaigne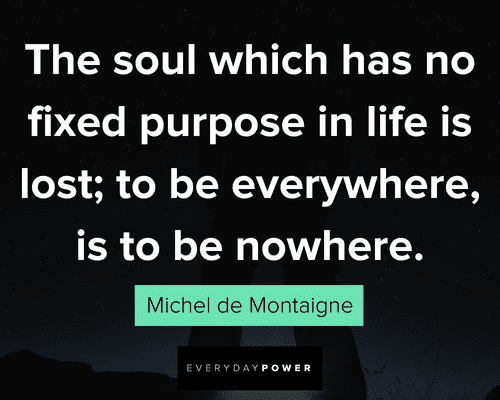 6. "I hope you have lost your good looks, for while they last any fool can adore you, and the adoration of fools is bad for the soul."- George Bernard Shaw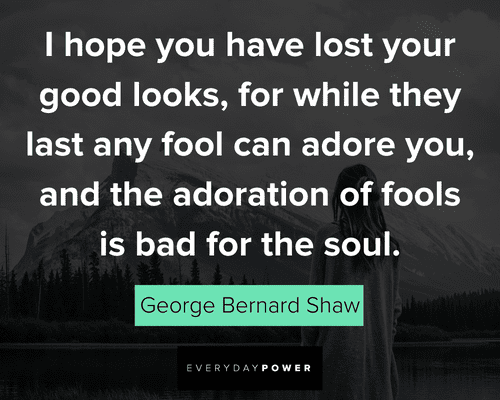 7. "The only good soul is a lost soul, and only a lost soul can find its way home." – Trebor Healey, A Horse Named Sorrow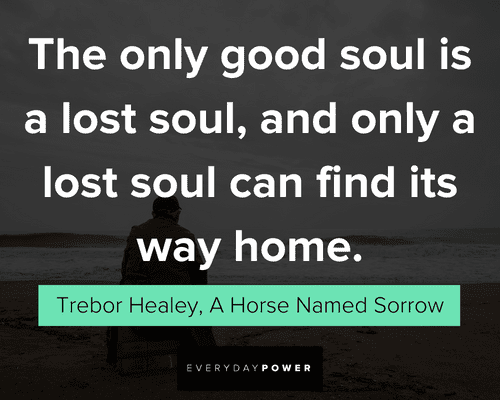 8. "Not every lost soul wants to be found, because not every lost is lost, some of them found something or many things or even everything in their lostness!" – Mehmet Murat ildan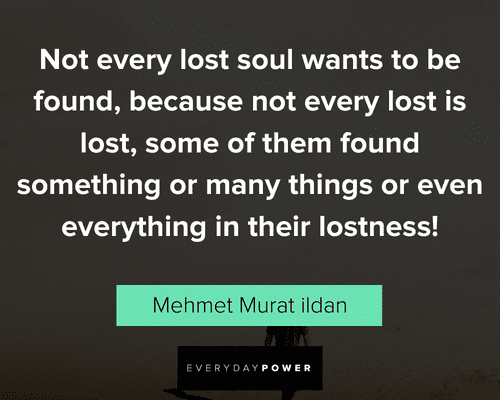 9. "I travel to lose myself in the beauties of the world and to find my lost soul within the chaos of it all." ― Dina Al-Hidiq Zebib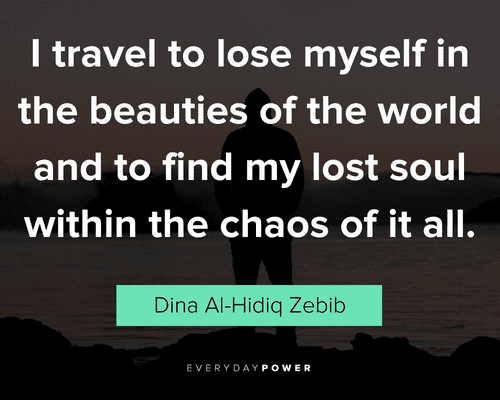 10. "Legends become legends by getting lost, so that humanity doesn't." ― Abhijit Naskar, Time to Save Medicine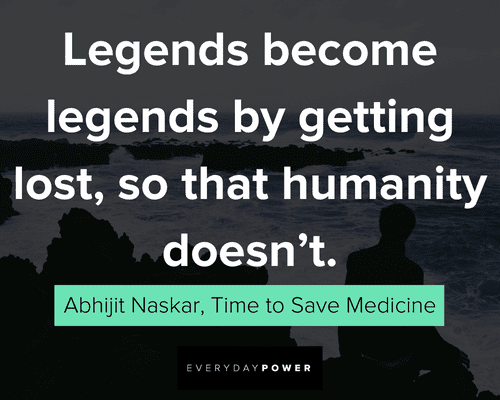 11. "He who does his work like a machine grows a heart like a machine and he who carries the heart of a machine in his breast loses his simplicity. He who has lost his simplicity becomes unsure in the strivings of his soul."— Zhuangzi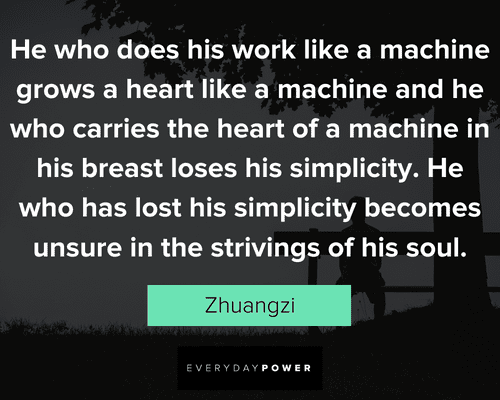 12. "But mark this my friend, it's the lost souls that lay the foundation for a better tomorrow, because those beings are not afraid to be lost, they are not afraid to fail, in the pursuit of something greater, something grander, than to just survive no different than the dogs do on the streets." – Abhijit Naskar, Time to Save Medicine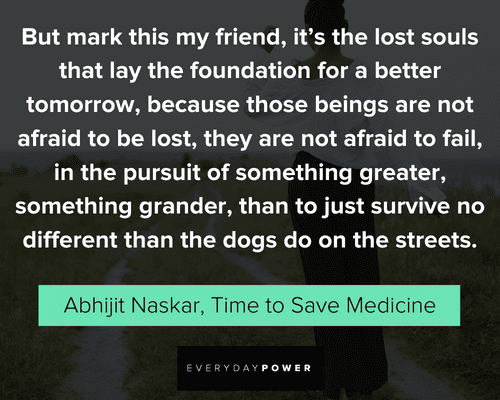 13. "… I've learned that I have many, many soul mates here, and they come to me at the right time and in the right place. They come to help me when I'm lost, and each comes with different sets of lessons for me — usually, always, my most intense lessons — the ones my soul came here to learn."— Melody Beattie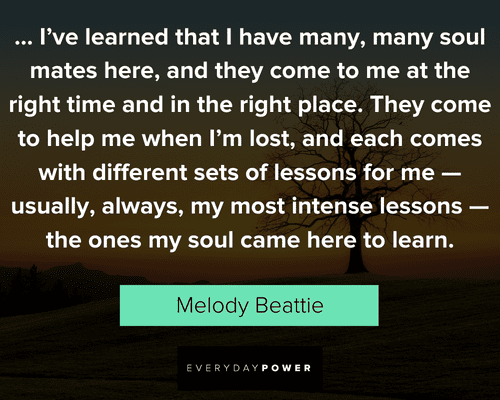 Lost soul quotes about connections
14. "Some souls just understand each other upon meeting."- N.R. Hart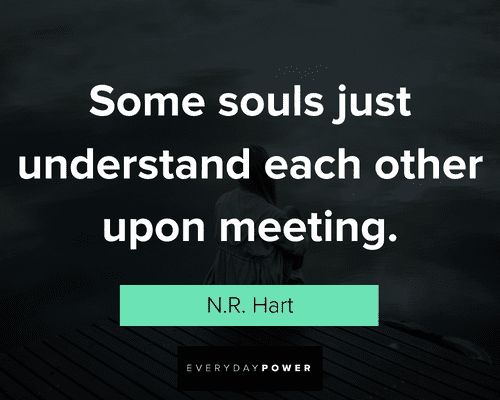 15. "Eloquence the soul, song charms the senses."— John Milton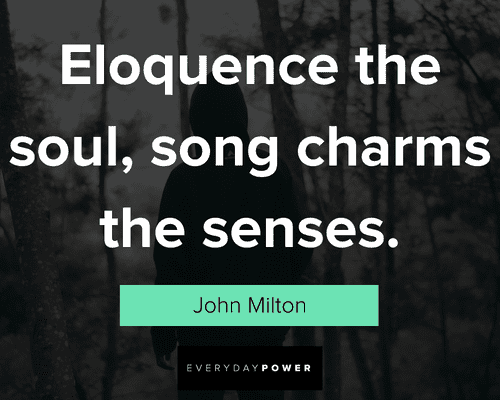 16. "A lost soul often looks for another lost soul!" – Mehmet Murat ildan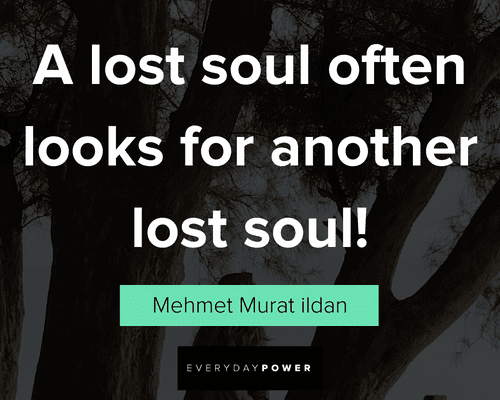 17. "We're all lost souls here. It's a good thing we've got each other."- Amy Plum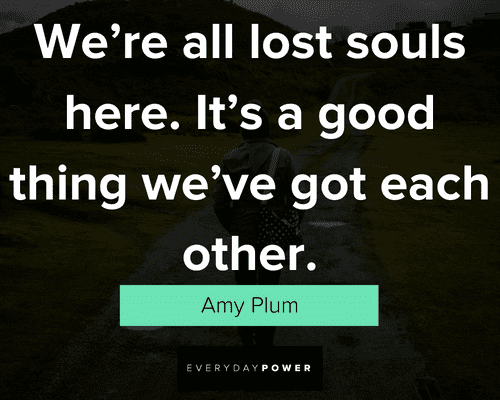 18. "The opportunity to love a dog and to treat it with kindness is an opportunity for a lost and selfish heart to be redeemed. They are powerless and innocent, and it is how we treat the humblest among us that surely determines the fate of our souls."— DeanKoontz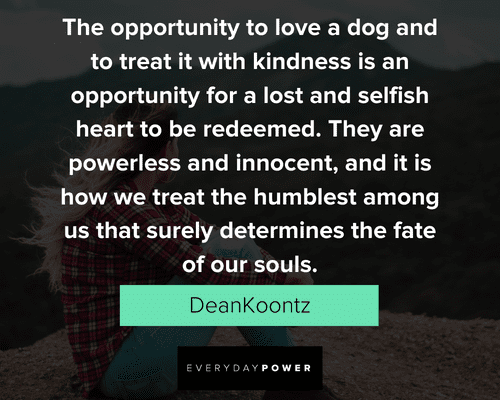 Reflections on lost souls quotes
19. "I put my heart and my soul into my work, and have lost my mind in the process."- Vincent Van Gogh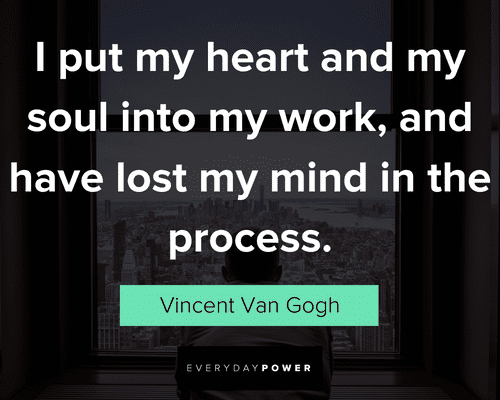 20. "Just as the water reflects the stars and the moon, the body reflects the mind and soul."-Rumi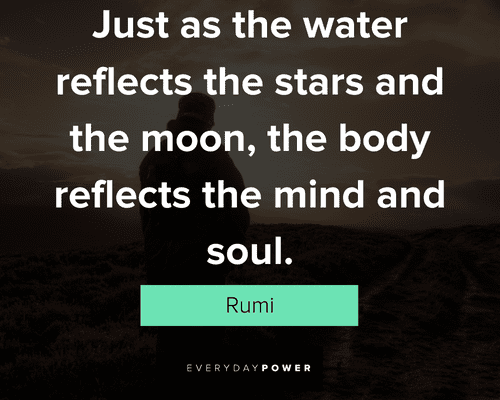 21. "I have to confess that I had gambled on my soul and lost it with heroic insouciance and lightness of touch." – Charles Baudelaire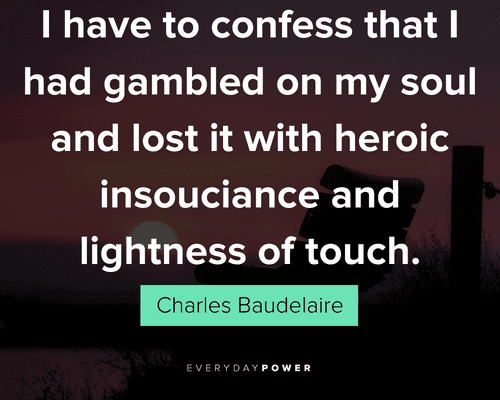 22. "Not a lost soul who fought for fool's gold / I shine like a diamond in it's true state of coal" – Inspektah Deck "R.E.C. Room"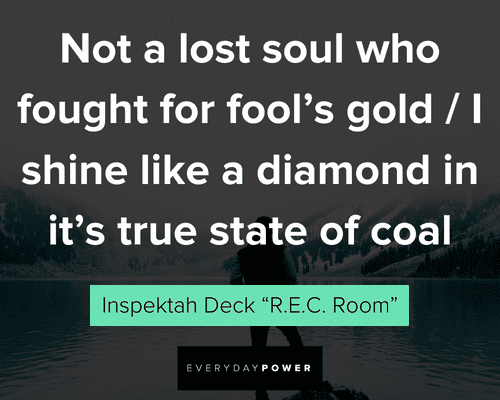 23. "The soul is so impalpable, so often useless, and sometimes such a nuisance, that I felt no more emotion on losing it than if, on a stroll, I had mislaid my visiting card."- Charles Baudelaire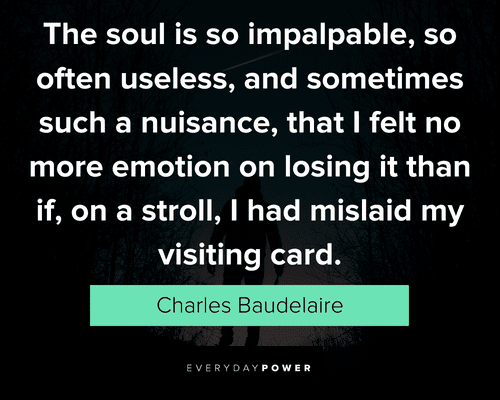 24. "For until ye become as a savior, as a help to some soul that has lost hope, lost its way, ye do not fully comprehend the god within, the god without."— Edgar Cayce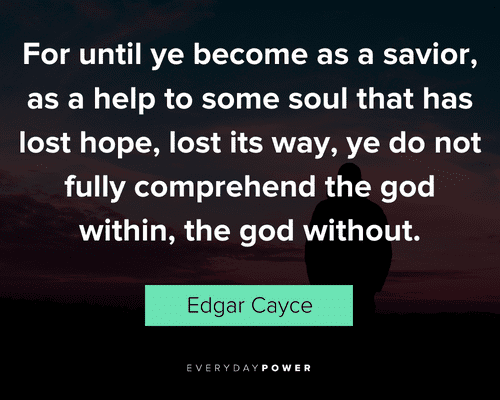 25. "The immortality of the soul is a matter which is of so great consequence to us and which touches us so profoundly that we must have lost all feeling to be indifferent about it."— Blaise Pascal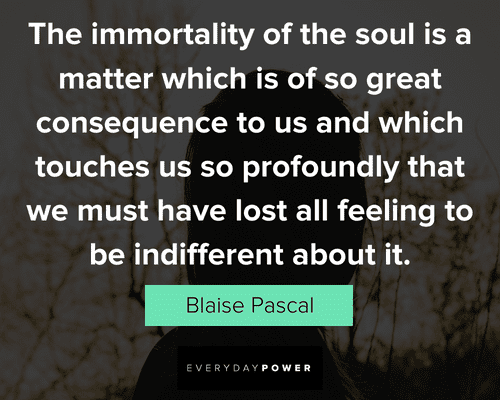 26. "All the impressions which are made on us by Nature are designed to exercise our soul during its terms of penitence, to prompt us towards the eternal truths shown beneath a veil, and to lead us to recover what we have lost."— Louis Claude de Saint-Martin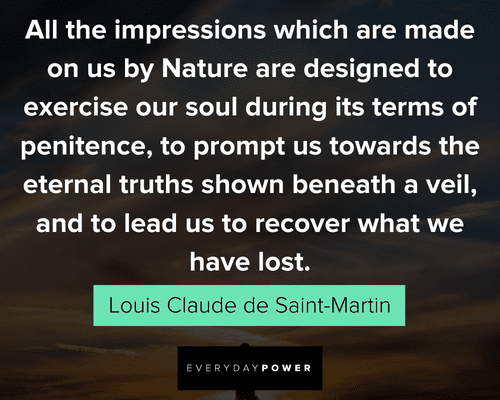 27. "Households that have lost the soul of cooking from their routines may not know what they are missing: the song of a stir-fry sizzle, the small talk of clinking measuring spoons, the yeasty scent of rising dough, the painting of flavors onto a pizza before it slides into the oven."— Barbara Kingsolver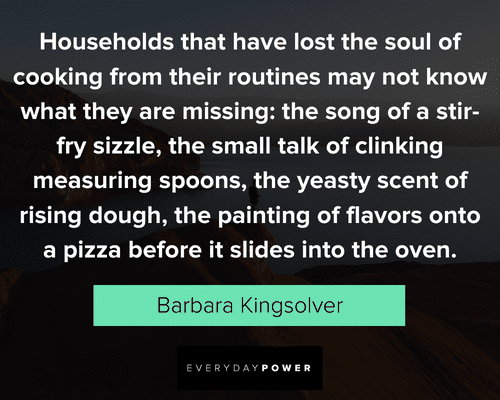 28. "Sometimes I think about dying. And then I wonder about going to hell. And then I think that if and when I go there, the place will be completely organized and run by lost souls, with a council and a works committee and an ethics panel, and I'll feel right at home."— Charles Sheffield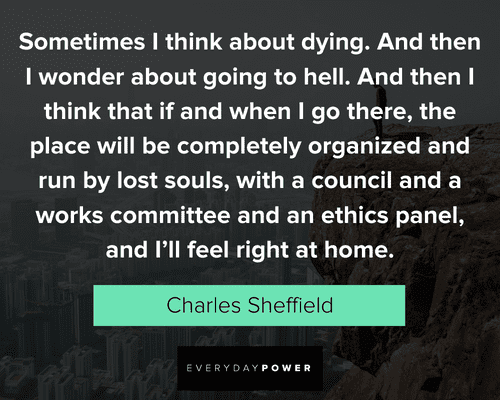 29. "You can exist without your soul, you know, as long as your brain and heart are still working. But you'll have no sense of self anymore, no memory, no . . . anything. There's no chance at all of recovery. You'll just — exist. As an empty shell. And your soul is gone forever . . . lost."- J. K. Rowling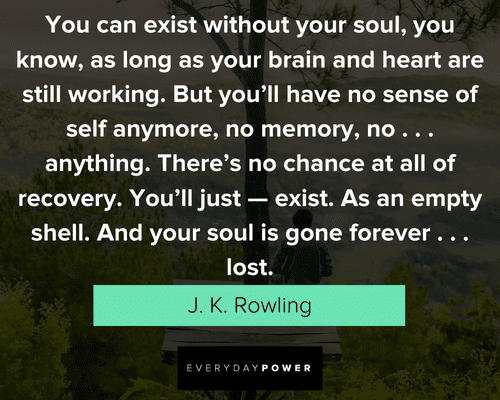 30. "Shape without form, shade without color, Paralyzed force, gesture without motion; Those who have crossed With direct eyes, to death's other Kingdom Remember us-if at all-not as lost Violent souls, but only As the hollow men The stuffed men."- T. S. Eliot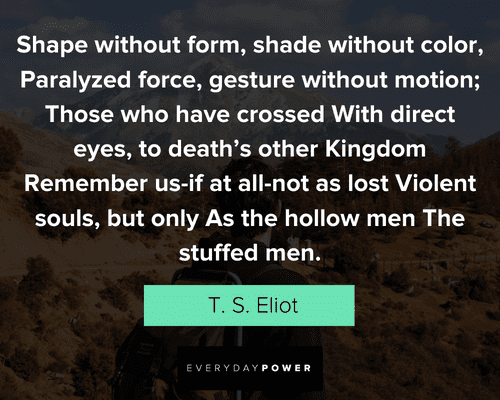 31. "The Westerners have lost the vision of heaven, they go hunting for the pure spirit in the belly. The pure soul takes not color and scent from the body, and Communism has nothing to do save with the body.— Muhammad Iqbal
32. "But I've grown thoughtful now. And you have lost Your early-morning freshness of surprise At being so utterly mine: you've learned to fear The gloomy, stricken places in my soul, And the occasional ghosts that haunt my gaze."— Siegfried Sassoon
Reclaiming a lost soul quotes
33. "Can we go too fast in saving souls? If anyone still wants a reply, let him ask the lost souls in Hell."— William Booth
34. "I believe that every kindness that we create in our lives, if it came because we were affected by a person we loved and lost, that person lives through that kindness. That's what a soul is."— James Woods
35. "While there remains one dark soul without the light of God, I'll fight-I'll fight to the very end!"— William Booth
36. "The whole course of human history may depend on a change of heart in one solitary and even humble individual – for it is in the solitary mind and soul of the individual that the battle between good and evil is waged and ultimately won or lost."— M. Scott Peck
37. "If you would, give him the love that will enable him to see it for himself. To a lost soul, such a treasure is worth its weight in gold. Worth its weight in dreams." – Renee Ahdieh, The Wrath and the Dawn
38. "We've lost hope in politics, preachers. … As a child of God, I just believe that Jesus is our hero, he is the one that came to save man's life, to save man's soul, to restore people back to themselves with a love that's real – an unconditional sacrificial love." – Kirk Franklin
39. "When I look back on my past and think how much time I wasted on nothing, how much time has been lost in futilities, errors, laziness, incapacity to live; how little I appreciated it, how many times I sinned against my heart and soul-then my heart bleeds. Life is a gift, life is happiness, every minute can be an eternity of happiness."— Fyodor Dostoevsky
40. "I want no Christmas without a burden for lost souls, a message for sinners, a heart to bring in the lost sheep so dear to the Shepherd, the sinning souls for whom Christ died." – John R. Rice
41. "There is only one purpose of pentecost; that is to effectively evangelize lost souls."— T.L. Osborn
42. "When a soul can truly say Lord I have no other will than Thine it is truly lost in God and united to Him."— Saint Francis de Sales
43. "It's better to cry than to be angry; because anger hurts others, while tears flow silently through the soul and cleanses the heart."— Pope John Paul II
44. "You discover your soul, which had been submerged in vain pursuits, which had been lost in the coils and toils of modern life. You discover your kinship with nature and man, which is evoked by the naturalness and the gentle humanity of the natives of the desert, and you will also discover God."— Ameen Rihani
45. "This is a jury of your peers. They watch the same TV movies. They belong to Oprah's Book Club. You can take any monster, slap a bad dad into his past, and all of a sudden he's just another lost soul, lashing out. And you were the poor lady that got in the way. They'll argue you lacked compassion. You were the one who took things too far."— Jeremy Robert Johnson
46. "The loss of my childhood was the price for becoming the youngest world champion in history. When you have to fight every day from a young age, your soul can be contaminated. I lost my childhood. I never really had it. Today I have to be careful not to become cruel, because I became a soldier too early."— Garry Kasparov
47. ".. The soul cannot live without having recourse to Mary and recommending itself to her. He falls and is lost who does not have recourse to Mary."— Alphonsus Liguori
48. "May your heart be empty only long enough to give you cause to fill it up again with love. May your soul be lost by you only to be found by God."— Rod McKuen
49. "That's the sacred intent of life, of God–to move us continuously toward growth, toward recovering all that is lost and orphaned within us and restoring the divine image imprinted on our soul."— Sue Monk Kidd
50. "When all thy mercies, O my God, My rising soul surveys, Transported with the view I'm lost, in wonder, love and praise."— Joseph Addison
More Lost Soul Quotes and Sayings
51. "I am a lost soul. We do wail." — Roger Zelazny
52. "It's easier to get over a lost body than a lost soul." – Joshua Prager
53. "Lost is not the place, it's a soul in paralysis… waiting to feel moved." – Alfa
54. "Each lost soul will be a hell unto itself, the boundless fire raging in it's very vitals." – James Joyce
55. "I am a lost soul, wandering into my dreams, lost and confused. A dream full of pain and screams." – Nishu
56. "Another city miles apart, New York; an apple so big that it had engulfed many lost souls like me." – Kanika Sharma
57. "It is not a mistress I have lost but half of myself, a soul for which my soul seems to have been made." – Voltaire
58. "I'd rather be befriended as an aimless lost soul than be befriended for adornment, gain or goal." – Donna Lynn Hope
59. "I believe each of us is a pilgrim in our own way; we are all lost souls, trying to find our way home." – Seth Adam Smith
60. "I am a lost soul, I am living like hell." — Ikki
Mind-Blowing Lost Soul Quotes
61. "Hell is full of musical amateurs: music is the brandy of the damned. May not one lost soul be permitted to abstain?" — George Bernard Shaw
62. "Their screams would echo through the house and reverberate against my eardrums until my mind would fracture. Years went by and with each fracture; I lost a piece of my soul until I became lost and empty inside." — J.D. Stroube
63. "Since each soul is some part of the Whole, it is impossible that any soul can be lost." — Ernest Holmes
64. "The modern hero-deed must be that of questing to bring to light again the lost Atlantis of the co-ordinated Soul." — Joseph Campbell
65. "Not all those who wander are lost, Find your soul, set yourself free." — Jack Coull
66. "I was just another lost soul screaming through the paper thin hotel walls into the ears of the fucked." — Craig Stone
67. "Others find humanity by looking in their own hearts. Only lost souls need to search for it outside themselves." — Orson Scott Card
68. "For Joey Bishop, always was kind of the lost soul, so I did a traffic joke." — Garry Marshall
69. "Poor Hayduke: won all his arguments but lost his immortal soul." — Edward Abbey
70. "Daddy once said, If you don't know what you believe, Annie, you'll be a lost soul." — Gabrielle Zevin
Lost Soul Quotes To Help You Recover Your Lost Soul
71. "My soul is lost, my friend, tell me how do I begin again? My city's in ruins, my city's in ruins." ― Bruce Springsteen
72. "A church that focuses on the external has lost its passion for souls." ― T.D. Jakes
73. "Think lightly of hell, and you will think lightly of the cross. Think little of the sufferings of lost souls, and you will soon think little of the Savior who delivers them." ― Charles Spurgeon
74. "I seemed to have lost all soul or sensation but for this one pursuit." ― Mary Shelley
75. "When it is moving on luxurious wings, the soul is lost in pleasant smotherings." ― John Keats
76. "The grounds of the place were dominated by several large, old willow trees that towered over the surrounding stone wall and swayed soundlessly in the wind like lost souls." ― Haruki Murakami
77. "I was just another sad, lost, lonely soul, wasting his life on a glorified videogame." ― Ernest Cline
78. "Loose the world, get lost in it, and find your soul." ― Henry David Thoreau
79. "Every good story needs a good, bad and lost soul. A people to fight for, an item to turn the tide of battle, an enigmatic character, a motivator/mentor, and an unlikely reluctant hero." ― Josh Rose
80. "Be aware that who you are and what you have to offer can be a beacon to some lost soul." ― Iyanla Vanzant
Lost Soul Quotes That Will Inspire You
81. "Just because someone stumbles and loses their path, doesn't mean they're lost forever." ― Charles Xavier
82. "Once a fear has been faced, whether the battle is won or lost, the soul becomes cleansed." ― Dan Skinner
83. "Tourism does not go to a city that has lost its soul." ― Arthur Frommer
84. "Books are medicine for the soul. They heal the eternal parts of a person." ― Loretta Lost
85. "Anyone can take a false step And fall forever, Everyone is different. Where are they now, all those lost souls?" ― Nguyen Du
86. "Soul is like a surname in this time and space matrix. It's the ever loving, abiding, and continuous connection to your auspicious origin. You can't sell it or give it up. It is not possible. Soul is you." ― Deborah Bravandt
87. "Find your bones. Believe in what you are." ― Grace Sara
88. "Lost soul, broken heart, shattered dreams, with a motivation to win." ― Silent Queen
89. "Sometimes the fear of your soul's purpose is overridden by your heart's knowing that now is the time to begin." ― Kelly Martin
90. "Set your soul in search of the truth." ― Lailah Gifty Akita
What did you learn from these lost soul quotes?
The human hand is an analogy to explain the soul.
It has been said that each soul extends pieces or portions of itself into different parts of time and space to produce the feeling of particular "lifetimes".
Similar to the way our fingers extend out from the same hand, there are many incarnations in many points in space and time all extending from the same soul.
Now, from that point of view, your soul knows exactly where you are at all times.
Although the soul may inhabit many different "incarnations", each one, like each finger, is completely unique and will never occur exactly in that way again, so why not be the most "you" you can be with the version you are experiencing?
If part of being "you" is experiencing the feeling of being "lost", go with it! Experience all of it to the best of your ability until you have found what you have been looking for.
What's your biggest takeaway from these lost soul quotes and sayings?
Do you have any other inspirational quotes to add?
Let us know in the comment section below.