50 Sunglasses Quotes About The Stylish and Safety Accessory
Sunglasses are a multipurpose accessory, as these sunglasses quotes will show you.
They can be a fashion statement, a part of a disguise, or a safety precaution. Some of these funny sunglasses quotes are so silly you will laugh out loud.
Let us know your favorite sunglasses quote in the comment section below.
What are the benefits of reading these sunglasses quotes?
You will learn something new about sunglasses for sure!
There are many types of sunglasses—aviators, wayfarers, cat eyes, and round ones, just to name a few!
Depending on your fashion sense or outfit and the shape of your face, you might have a preference.
However, did you realize that sunglasses also come in different strengths?
Most sunglasses are polarized, which means that the lenses are laminated with tiny vertical stripes.
These stripes only allow vertically angled light to enter the wearer's eyes.
Since glare is caused by the horizontal light, these sunglasses are perfect for driving or hanging out by the water.
Sunglasses have also become almost an essential uniform for the rich and famous.
These sunglasses quotes from famous people about why they wear them might also make you laugh (or feel a little sorry for them)!
Keep reading to learn more about why you really do need a good pair of sunglasses!
If you like this article, we suggest you explore our most popular quotes article, a list of short inspirational quotes for daily encouragement.
Read more related content on our inspirational quotes category page.
Funny sunglasses quotes to make you laugh
1. "Wearing sunglasses at night hurts your eyes after a while." — Corey Hart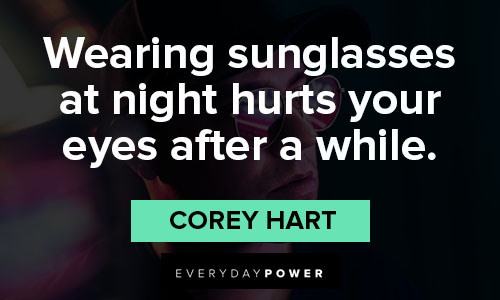 You will also enjoy our article on fashion quotes.
2. "I don't want to be criticized for wearing sunglasses in the sun." — Jerome Boateng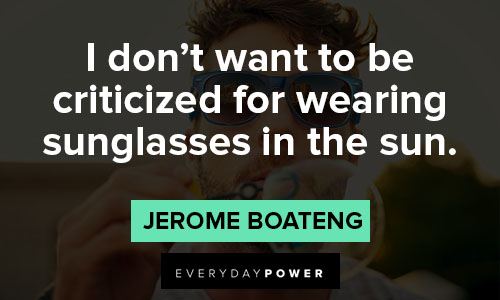 3. "You know who wears sunglasses inside? Blind people and assholes." — Larry David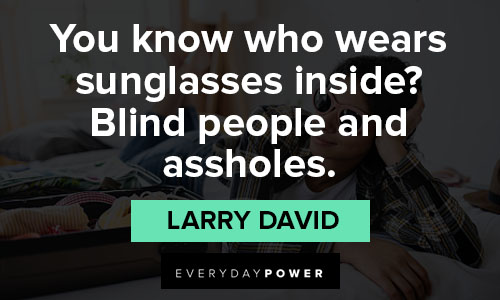 4. "I like sunglasses. The bigger the better, but I lose about a pair a week." — Paul Wesley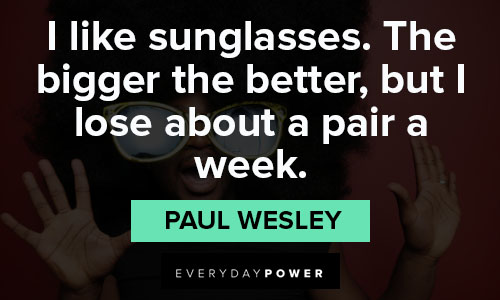 5. "Isn't it a shame military doctors couldn't be as good as military sunglasses?" — Pat Conroy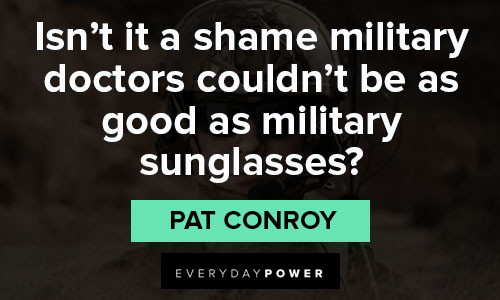 6. "To remove all credibility from what you're saying, try wearing sunglasses on your forehead." — Demetri Martin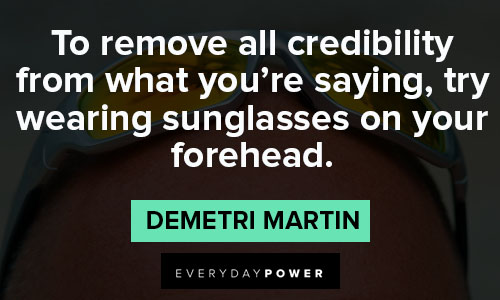 7. "Never wear a hat and sunglasses at the same time, because it looks like you're wearing a disguise." — Jamie Hince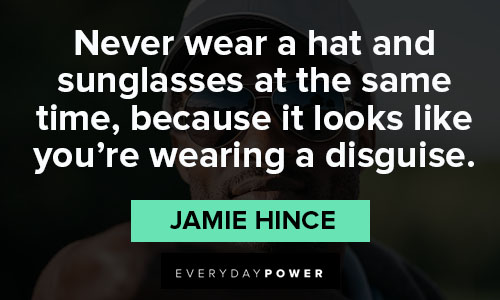 8. "It was really strange to see all these apes standing around eating popcorn, smoking, wearing sunglasses." — Estella Warren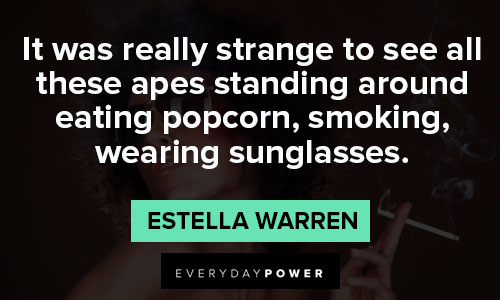 9. "I don't think cops should wear mirrored sunglasses; the whole time the guy was chewing me out, all I could think was I should cut my bangs." — Bonnie McFarlane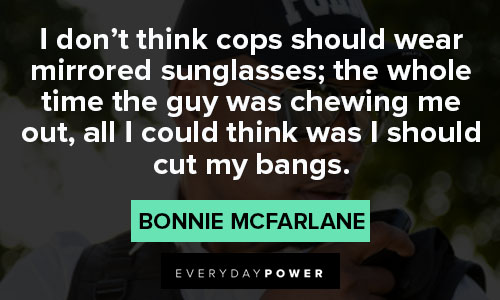 10. "Have you seen the deer heads on the walls of bars, the ones wearing party hats, sunglasses and streamers? I feel sorry for them because obviously they were at a party having a good time." — Ellen DeGeneres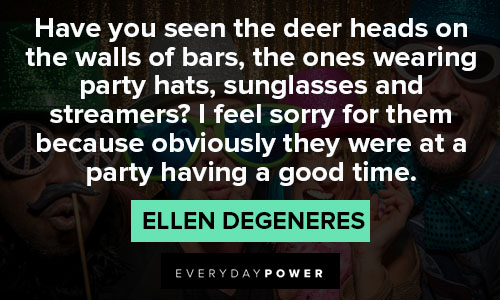 Sunglasses quotes that prove they are a fashion statement
11. "I love sunglasses. I have all shapes and colors." — Alessandra Ambrosio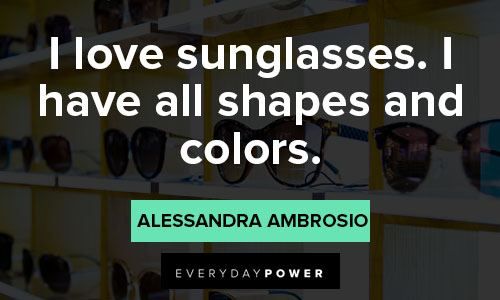 12. "Being stuck in airports, you always end up buying perfume and sunglasses." — Lexa Doig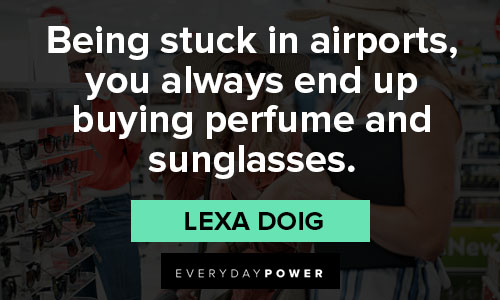 13. "Sunglasses are like eye shadow. They make everything look younger and pretty." — Karl Lagerfeld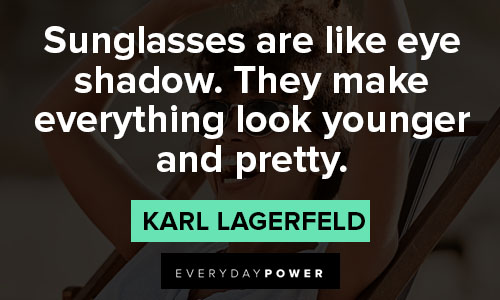 14. "Always have sunglasses with you. They're great for when you can't be bothered to put make-up on." — Alison Goldfrapp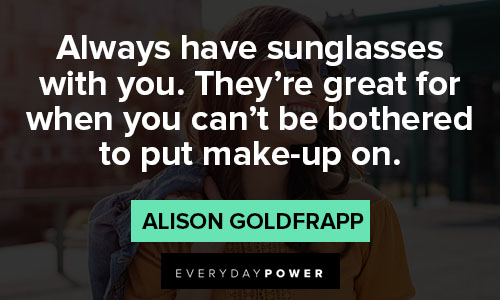 15. "Sunglasses always hide a multitude of sins. Sunglasses and a great pair of heels can turn most outfits around." — Victoria Beckham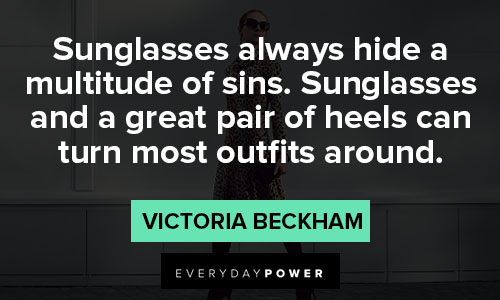 16. "Putting on a new pair of glasses or sunglasses is a simple way to completely transform your look – just like a new hairstyle." — Brad Goreski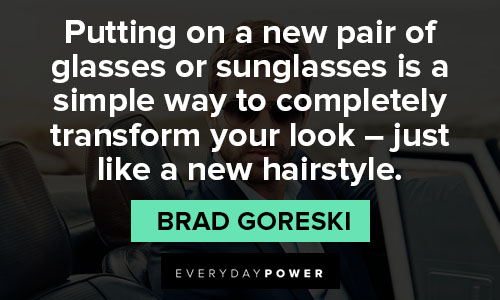 17. "It's important to accessorize. I always turn to the scarves, hats and sunglasses. But wearing too many accessories at once can look very bad." — Kate Moss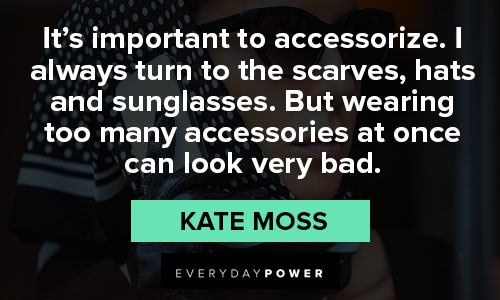 18. "My look is attainable. Women can look like Audrey Hepburn by flipping out their hair, buying the large sunglasses, and the little sleeveless dresses." — Audrey Hepburn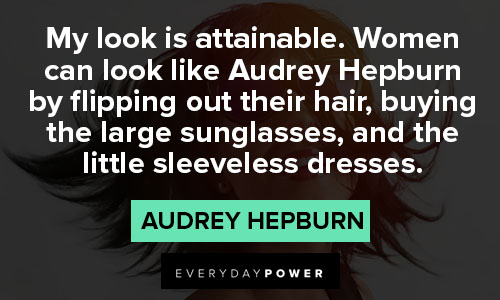 19. "I wish I was born in that era: dancing with Fred Astaire and Gene Kelly, going to work at the studio dressed in beautiful pants, head scarves, and sunglasses." — Catherine Zeta-Jones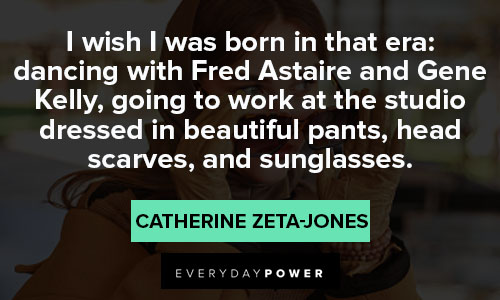 20. "I'm really interested in the idea of anonymity and familiarity. And sunglasses, you know, are so indicative of that. I mean, they're worn by some people to hide themselves. But they're also a fashion statement, meant to be noticed. So there's a dichotomy there." — Sarah Dessen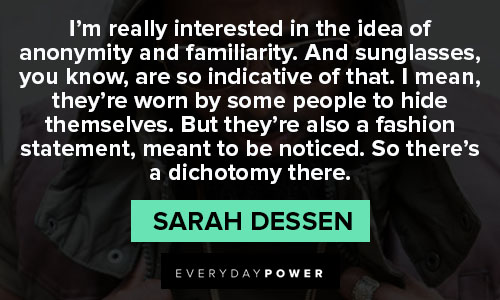 Sunglasses quotes from famous people about why they wear them (or don't anymore)
21. "With my sunglasses on, I'm Jack Nicholson. Without them, I'm fat and 60." — Jack Nicholson
22. "After 'The Matrix,' I cannot wear sunglasses. As soon as I put them on, people recognize me." — Carrie-Anne Moss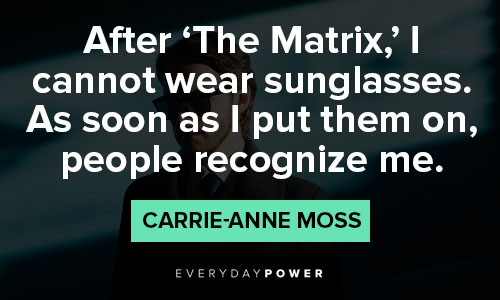 23. "The only reason we wore sunglasses on stage was because we couldn't stand the sight of the audience." — John Cale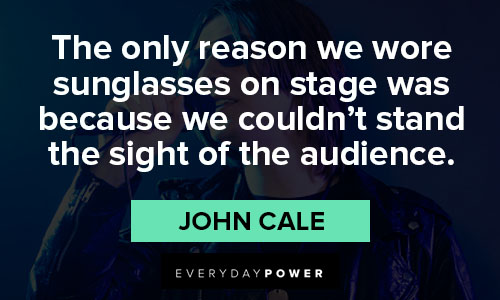 24. "As soon as I go into a Starbucks I take off my sunglasses. I want to be recognised and I want free coffee." — Gerard Way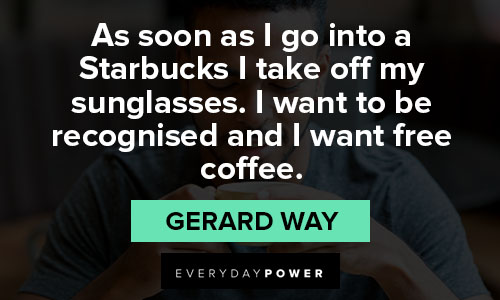 25. "Some movie stars wear their sunglasses even in church. They're afraid God might recognize them and ask for autographs." — Fred Allen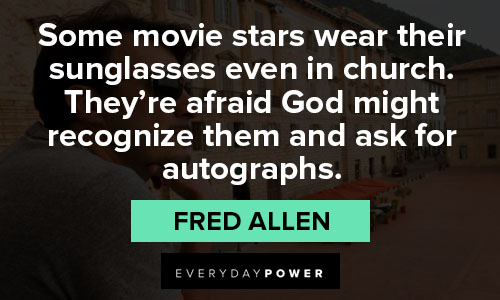 26. "I'm not trying to be cool. I have a problem with lights. I have one eye that's become super-sensitive to lighting, so I do wear sunglasses quite a bit." — Tom Petty
27. "I would say a lack of sleep is a cause for feeling not so beautiful. On those days, I try to drink lots of water and put on the biggest sunglasses I can find." — Kourtney Kardashian
28. "It's fun when you're driving, and people wave at you, and you wave back. I think you either like people or you don't. I mean, I don't want to put on sunglasses. That's why I'm in show business." — Jay Leno
29. "I'm finding it increasingly difficult to simply walk down the street. In New York, I dashed in to buy a big pair of sunglasses to conceal myself, but the guy behind the counter shouted, 'Hey! It's Dr. House.'" — Hugh Laurie
30. "The downside of my celebrity is that I cannot go anywhere in the world without being recognized. It is not enough for me to wear dark sunglasses and a wig. The wheelchair gives me away." — Stephen Hawking
Sunglasses quotes for Instagram
31. "Focus on what matters, like a good pair of shades." — Unknown
32. "If a man takes off his sunglasses I can hear him better." — Hugh Prather
33. "Sometimes you just have to bite your upper lip and put sunglasses on." — Bob Dylan
34. "I've been obsessed with sunglasses since the beginning of time." — Madelaine Petsch
35. "Life is more than sunglasses and hit movies. Reality—that's the main event." — Sylvester Stallone
36. "I don't spend a bunch of money on jewelry or sunglasses, because I lose them a lot." — Mike Will Made It
37. "I think sometimes when you want attention, you can wear sunglasses, and people are like, "Who is that?" — Katerina Graham
38. "Don't be afraid to show your light.. If it ends up being too much for people.. tell them to wear sunglasses!" — Gabrielle Roth
39. "I believe that there is a silver lining in everything, and once you begin to see it, you'll need sunglasses to combat the glare." — Sophia Amoruso
40. "Do not allow people to dim your shine because they are blinded. Tell them to put on some sunglasses because we were born this way." — Lady Gaga
Sunglasses quotes about how you should wear them to protect your eyes
41. "I never go out during the day without sunglasses." — Tory Burch
42. "Sunglasses are a migraine sufferer's best friend." — Cindy McCain
43. "I walk around with a hat, sunglasses, and sunscreen all the time." — Marcia Cross
44. "You know it's going to be a good day when the sun's so bright that I have to wear shades." — Unknown
45. "I always wear sunglasses and often a panama hat, even if I'm just walking in the park, if the sun is hot." — Sean Lock
46. "I wear sunglasses almost all the time outside – not because I think I'm really, really cool, but because of the rays." — Ronda Rousey
47. "Living in Florida, I keep the sun out of my face as much as possible with a nice sun hat, sunglasses, and a sundress I can wear for all occasions." — Linda Cardellini
48. "I pay attention to the sun. I've worn sunglasses while I play, for years, and apply sunscreen. No matter where I'm playing, there's a rain suit in my bag, too." — Louis Oosthuizen
49. "My mom is big on moisturizer and water. She always reminds me to drink a lot of water and wear sunglasses because I always forget them when I go out, even though they are one of my favorite accessories. She always reminds me about wrinkles, and always did, so it's kind of been ingrained into me." — Brittany Snow
50. "I have porcelain skin and tattoos all over my body, so the sun can be my worst enemy. I also am trying to never age, which is why you can always find me hiding behind massive sunglasses or under an umbrella when the sun is out!" — Jeffree Star
Why you need a good pair of sunglasses
You should own some decent polarized sunglasses.
The fun ones can make your outfit pop or hold your hair back off your face, but they really should be on your eyes!
Just why is it so important to wear sunglasses?
Sunglasses can protect your eyes from the elements.
Anytime we take part in outdoor adventures, we risk getting something in our eyes.
Sand, wind, and debris can irritate your eyes.
Even worse, these things could scratch your cornea and cause permanent damage.
If you think living in the wintery parts of the world exempts you from needing sunglasses, you are wrong!
While snow might be less abrasive, it reflects UV rays from the sun at your eyes.
Snow blindness is a real thing!
When there is lots of snow on the ground here, I have to wear my sunglasses even if it is gloomy out because my eyes hurt!
Certain eye diseases are also caused by UV damage like cataracts, macular degeneration, and pterygium.
Skin is not the only thing that needs protection from the sun, so go ahead and invest in a good pair of sunglasses—just try not to lose them!
Why do we lose so many pairs of sunglasses?
I buy so many, and they all disappear!
Let us know what you think about sunglasses in the comment section below!
The whole world, myself included, seems to have one thing in common; we're just a crowd of people who don't really fit in anywhere, attempting to convince one another that we do.
"I guess I'll put my sunglasses on and pretend, like everyone else, that I too belong here." Andrew McMahon.