Best Sympathy quotes And Sayings
Our latest collection of sympathy quotes and sayings on Everyday Power.
Sympathy refers to the feelings of pity or sorrow we have for those who have experienced misfortune.
It is when you feel bad for another person who's going through a difficult moment.
Sympathy and empathy are often used interchangeably.
But unlike empathy, which involves a shared perspective or shared emotions, sympathy is simply a feeling of care and concern for the suffering.
Sympathy may be expressed either verbally or non-verbally.
Since it's associated with bad experiences such as the death of a loved one, it's often appropriate to express your sympathy for someone else.
Letting those who are suffering know that you care about them can be a huge comfort in a stressful and painful time.
Whether you're comforting people in writing or in person, sometimes it can be difficult to know just what to say.
To make it easier for you, here are some great sympathy quotes and sayings that will inspire you to communicate that you care about those who are suffering and that you're there to offer support.
If you like this article, we suggest you explore our most popular quotes article, a list of short inspirational quotes for daily encouragement.
Check out more inspirational quotes on our motivational quotes category page.
Best sympathy quotes and sayings
1. "Sympathy is the first condition of criticism." –Henri Frederic Amiel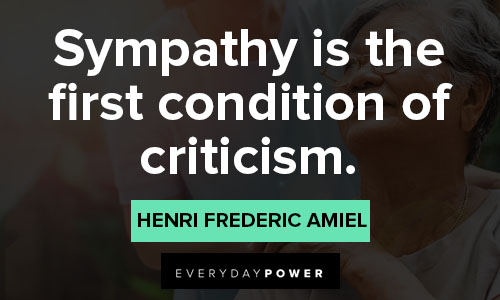 You will also enjoy our article on quotes about losing a loved one.
2. "Those who weep recover more quickly than those who smile." – Jean Giraudoux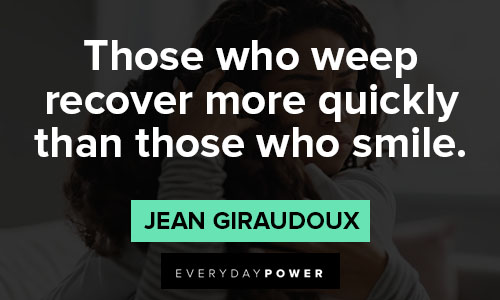 You will also enjoy our article on blue quotes.
3. "There is in souls a sympathy with sounds." – William Cowper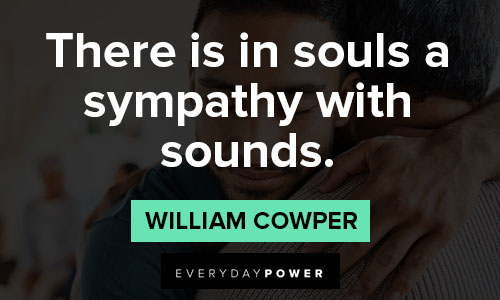 4. "Pity those who nature abuses; never those who abuse nature." –Richard Brinsley Sheridan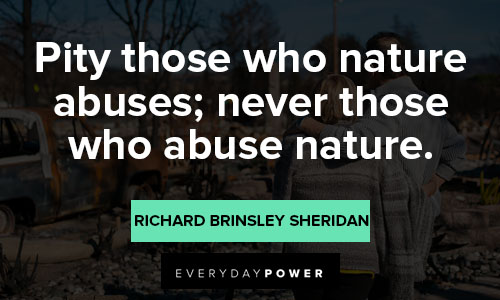 5. "Sorrow is a fruit. God does not make it grow on limbs too weak to bear it." – Victor Hugo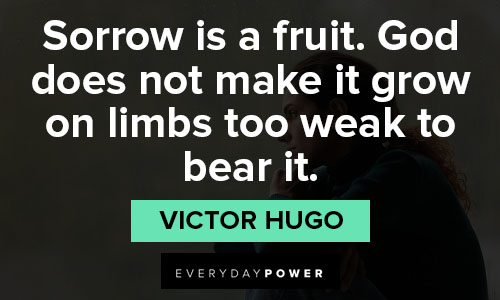 6. "Remember how strong we are in our happiness and how weak he is in his misery!" ― Charles Dickens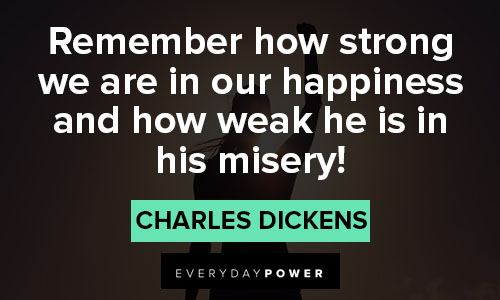 7. "Sympathy is two hearts tugging at one load."-Charles H. Parkhurst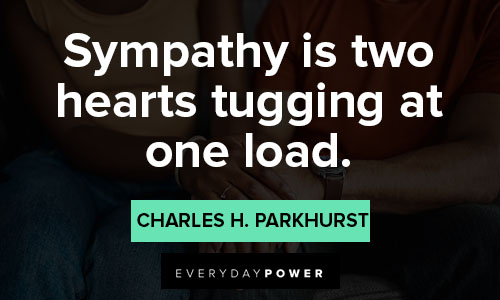 8. "The secrets of life are not shown except to sympathy and likeness."- Ralph Waldo Emerson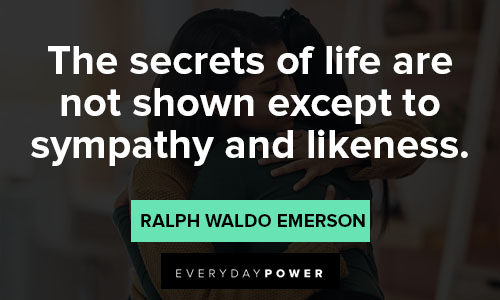 9. "Men are often biased in their judgment on account of their sympathy and their interests." – George W. Norris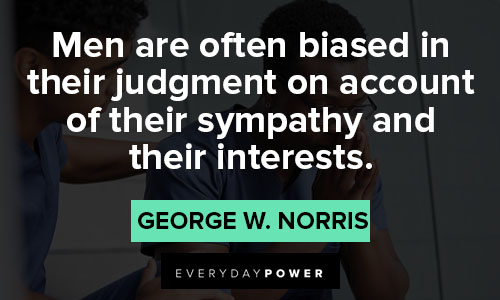 10. "Though sympathy can't alter facts, it can help to make them more bearable." – Bram Stoker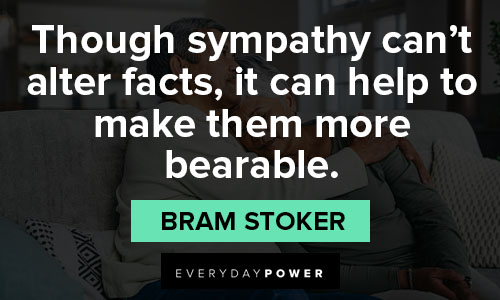 Sympathy quotes on why you should show compassion
11. "Compassion is the antitoxin of the soul: where there is compassion even the most poisonous impulses remain relatively harmless. – Eric Hoffer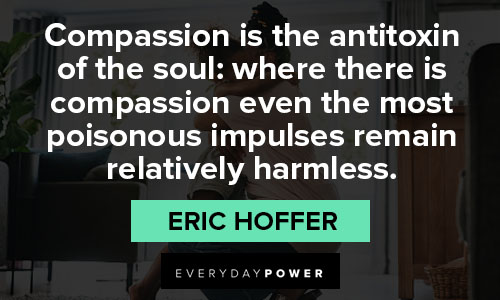 12. "Tears shed for another person are not a sign of weakness. They are a sign of a pure heart." – José N. Harris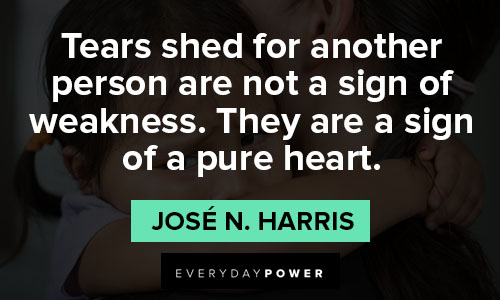 13. "No one has yet realized the wealth of sympathy, the kindness and generosity hidden in the soul of a child. The effort of every true education should be to unlock that treasure." – Emma Goldman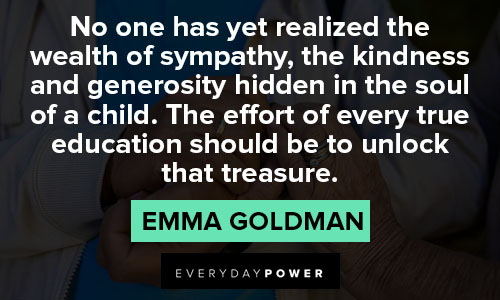 14. "To desire and expect nothing for oneself and to have profound sympathy for others is genuine holiness." – Ivan Turgenev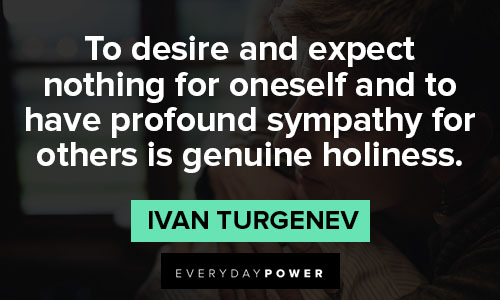 15. "Never allow your own sorrow to absorb you, but seek out another to console, and you will find consolation." –J. C. Macaulay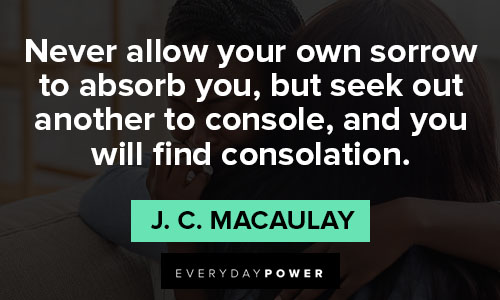 16. "Show your compassion to people in their lifetime; no amount of your tears can serve as compensation when their coffins are lowered!" ― Israelmore Ayivor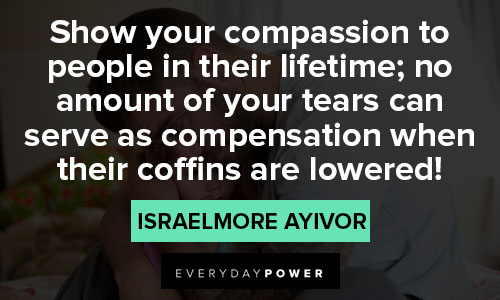 17. "It appears to be a law that you cannot have a deep sympathy with both man and nature." – Henry David Thoreau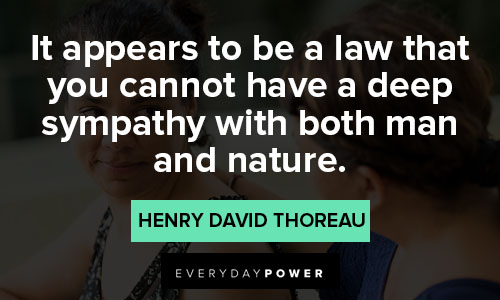 18. "Without empathy, there'd be no harmony in diversity" ― Jennifer Tindugan-Adoviso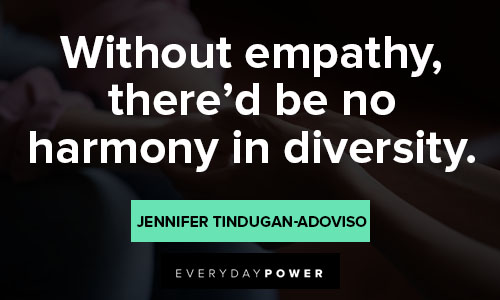 19. "To be without sympathy is to be alone in the world–without friends or country, home or kindred." –CHRISTIAN NESTELL BOVEE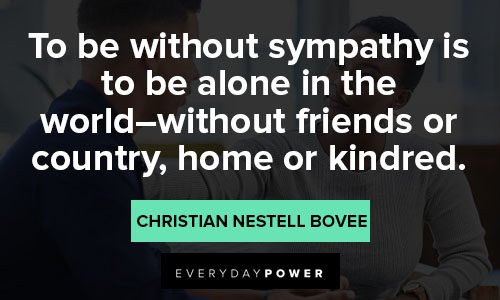 20. "It is in our faults and failings, not in our virtues, that we touch each other, and find sympathy. It is in our follies that we are one." – Jerome K. Jerome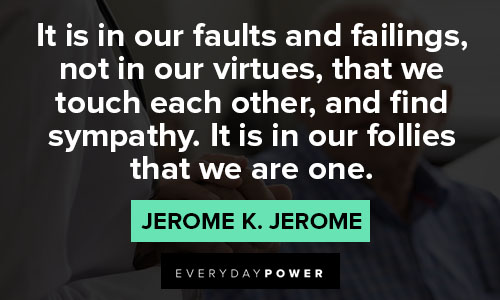 Sympathy quotes and sayings for loss of a loved one
21. "It's so much darker when a light goes out than it would have been if it had never shone." – John Steinbeck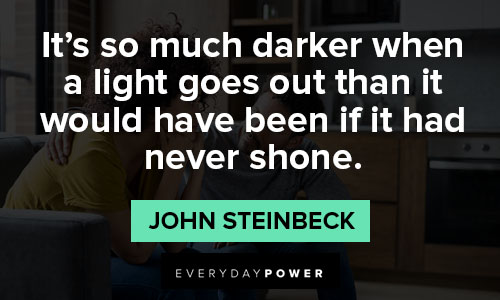 22. "Words can't express how saddened we are to hear of your loss."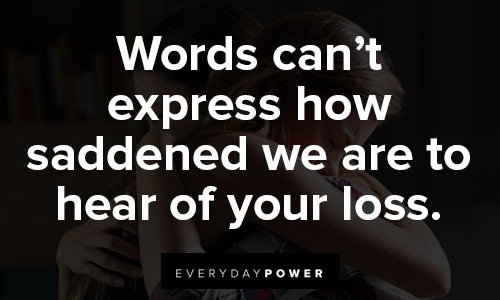 23. "We bereaved are not alone. We belong to the largest company in all the world – the company of those who have known suffering." – Helen Keller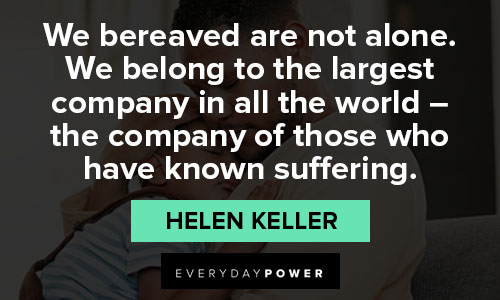 24. "What is lovely never dies, but passes into another loveliness, Star-dust or sea-foam, Flower or winged air." –Thomas Bailey Aldrich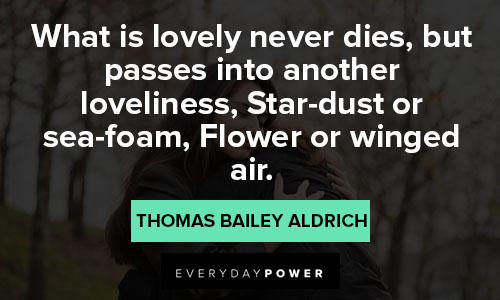 25. "I have no idea why God has allowed this, but I do know that we have a Savior who is acquainted with our griefs and sorrows."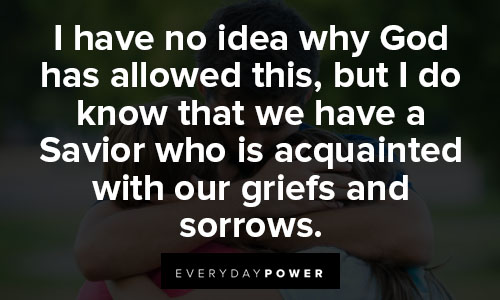 26. "Only a moment you stayed, but what an imprint your footprints have left on our hearts." –Dorothy Ferguson
27. "We weep as we witness the dead of a loved one." ― Lailah Gifty Akita
28. "Love and death are the two great hinges on which all human sympathies turn." –B. R. Hayden
29. "Like a bird singing in the rain, let grateful memories survive in time of sorrow" – Robert Louis Stevenson
30. "The graveyard is the everlasting home of every man." ― Lailah Gifty Akita
Sympathy quotes to highlight its importance
31. "I'm not asking you to walk in my shoes; I'd never wish my afflictions on anyone. But could you walk beside me on secure ground and reach to hold my hand?" ― Richelle E. Goodrich
32. "As Christians, our compassion is simply a response to the love that God has already shown us." – Steven Curtis Chapman
33. "And whoever walks a furlong without sympathy walks to his own funeral drest in his shroud." – Walt Whitman
34. "Pity makes the world soft to the weak and noble to the strong." –Sir Edwin Arnold
35. "There is no greater sorrow than to recall happiness in times of misery." – Dante Alighieri
36. "Seldom in the business and transactions of ordinary life, do we find the sympathy we want." –Johann von Goethe
37. "It's frustrating when our best efforts to help people fail. But if we could see life through their weary eyes and experience their trials with the same frayed emotions, we might understand why." ― Richelle E. Goodrich
38. "If you truly have compassion in your heart, show it by keeping your doubts to yourself and sharing your hope with those who love change!" ― Israelmore Ayivor
39. "There's nothing like your mother's sympathetic voice to make you want to burst into tears." – SOPHIE KINSELLA
40. "Sympathy with joy intensifies the sum of sympathy in the world, sympathy with pain does not really diminish the amount of pain." – Oscar Wilde
Sympathy quotes on why you should care
41. "Sympathy constitutes friendship but in love there is a sort of antipathy, or opposing passion. Each strives to be the other, and both together make up one whole." – Samuel Taylor Coleridge
42. "Sit with me, and I'll not be alone.
Hold my hand, and I'll not feel alone.
Cry with me, and I'll no longer suffer alone." ― Richelle E. Goodrich
43. "When you are sorrowful look again in your heart, and you shall see that in truth you are weeping for that which has been your delight." – Kahlil Gibran
44. "I don't presume to know God's purpose, but I do know that you can cast your cares upon him, because he cares for you."
45. It is in our faults and failings, not in our virtues, that we touch each other, and find sympathy. It is in our follies that we are one. – Jerome K. Jerome
46. "Nobody can tell what I suffer! But it is always so. Those who do not complain are never pitied." – Jane Austen
47. "Sympathy is a currency, and I'm shaking a cup!" – ISAAC OLIVER
48. "The strongest principle of growth lies in the human choice."- George Eliot
49. "Yet, taught by time, my heart has learned to glow For other's good, and melt at other's woe.- Homer
50. "With mercy and sympathy, no one will hate to love one another." ― Auliq Ice
Other inspirational sympathy quotes and sayings
51. "The darker the night, the brighter the stars, the deeper the grief, the closer is God!" – Fyodor Dostoyevsk
52. "Only people who are capable of loving strongly can also suffer great sorrow, but this same necessity of loving serves to counteract their grief and heals." – Leo Tolstoy
53. "The delicate and infirm go for sympathy, not to the well and buoyant, but to those who have suffered like themselves. "-Catharine Esther Beecher
54. "I learned pity, sympathy, and what it was like to be at the other end of the stick. Such lessons can't be learnt in lecture halls." – Lionel Blue
55. "Women have no sympathy and my experience of women is almost as large as Europe." – Florence Nightingale
56. "Strengthen me by sympathizing with my strength, not my weakness." –Amos Bronson Alcott
57. "Look for the person everyone hates, and love them." ― Criss Jami
58. "Is there anything more dangerous than sympathetic understanding?" –Pablo Picasso
59. "Sympathy is a virtue unknown in nature."- Paul Eipper
60. "If your heart is filled with human sympathy you are sure to have friends." – Lewis F. Korns
Don't forget to also check out these empathy quotes that will broaden your understanding of others.
More sympathy quotes and sayings
61. "Sympathy isn't quite as bad. Sympathy says, I know how it feels, doesn't it just suck? Pity means they think you're defeated." – Karen Marie Moning
62. "Little is taught by contest or dispute, everything by sympathy and love." – Samuel Taylor Coleridge
63. "Words of sympathy and love for broken heart people show and appear the feelings of your moral greatness and humanity." – Ehsan Sehgal
64. "Sometimes you don't need any advice. Neither any sympathy. Just a patient heart that listens to everything that you're going through." – Nitya Prakash
65. "One word of sympathy can heal the thousand wounds of heart and soul." – Anonymous
66. "The kind of love bounded by the sympathy will break down by arrogance." – M.F. Moonzajer
67. "There is something very morbid about modern sympathy with pain." – Oscar Wilde
68. "You can have all the sympathy in the world," she said, "just don't feel like you have to wrap your life around it." – Judy Reene Singer
69. "I bask in that sympathy because it's nice to have somebody who cares, even if it's the wrong person for the wrong reasons." – Nenia Campbell
70. "She doesn't want his sympathy. She hates pity." – Julianna Baggott
Sympathy quotes for when one is grieving
71. "As a well-spent day brings happy sleep, so a life well spent brings happy death." —Leonardo Da Vinci
72. "The pain I feel now is the happiness I had before. That's the deal." — C.S. Lewis
73. "May angels lead you in." — Jimmy Eat World
74. "The more sympathy you give, the less you need." — Malcolm Forbes
75. "Death ends a life, not a relationship. All the love you created is still there. All the memories are still there. You live on- in the hearts of everyone you have touched and nurtured while you were here." — Mitch Albom
76. "Sorrow is so easy to express and yet so hard to tell." — Joni Mitchell
77. "There are no goodbyes for us. Wherever you are, you will always be in my heart." — Mahatma Gandhi
78. "The pain of grief is just as much part of life as the joy of love: it is perhaps the price we pay for love, the cost of commitment." — Dr. Colin Murray Parkes
79. "Sympathy does not think. It acts. It acts to remove the ceaseless sufferings of the world."— Sri Chinmoy
80. "A thousand moments that I had just taken for granted, mostly because I had assumed that there would be a thousand more." — Morgan Matson
How did you find these sympathy quotes?
Unfortunately, all of us experience some form of discomfort or grief in our lives.
It could be a broken marriage, the death of a loved one, or any other kind of misfortune.
When those around us encounter such misfortune, it's only appropriate for us to sympathize with them and reassure them that we care about them.
Hopefully, these quotes have made it easier for you to express sympathy for those who are suffering.
Did you enjoy these sympathy quotes?
Which of the quotes was your favorite?
We would love to hear all about it in the comment section below.