Candy Quotes To Sweeten Up Your Day
If you are wondering what it is about candy that people love, the answer is pretty obvious – it's the sweet taste, as you can see from all the sweet references in these candy quotes!
People seem to either really love candy or it's just not their thing.
My grandpa was certainly a candy man.
You may also enjoy our article on:
There was always some in a dish around the house, and he carried Werther's Originals everywhere he went.
Now, I do not love candy.
In fact, I barely eat any.
I much prefer desserts!
The sweetness obviously comes from the sugar used to make the candy, and the reason people like candy so much is because of how sugar affects the brain.
It is no wonder that overeating and craving sweet foods is a problem facing our society.
Especially, because excess sugar impairs our cognitive skills, memory, and our self-control.
Does this mean you should never have hard candy, chocolate bars, or some other confection ever again?
Only you can answer that, but before you do, keep reading through these candy quotes, and see what other ways sugar affects your overall health.
Don't forget to also check out these chocolate quotes to make your mouth water.
Check out our most popular quote article, a list of short inspirational quotes for daily inspiration.
If you enjoy this collection, check out our inspirational quotes category page.
Cute candy quotes for those sweet Instagram captions
1. "I had teeth that stuck out so far, I used to eat other kids' candy bars by accident." – Rita Rudner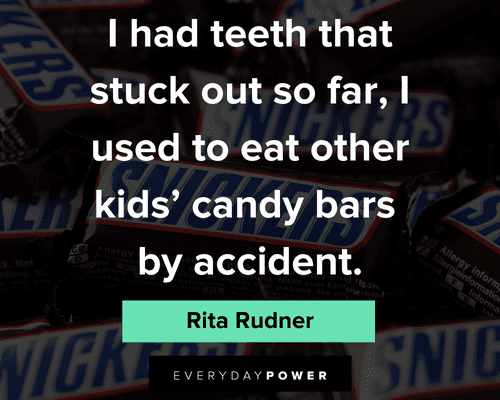 You will also enjoy our article on cute quotes.
2. "Whoever thought a tiny candy bar should be called fun size was a moron." ― Glenn Beck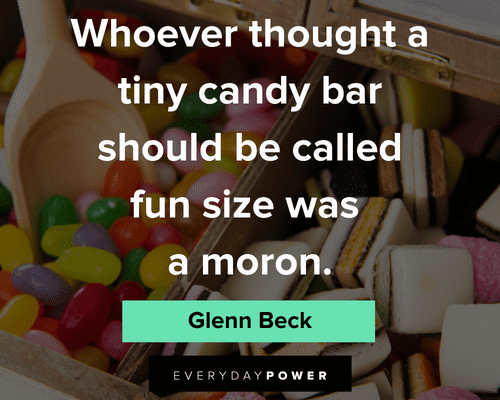 3. "Candy is dandy, but liquor is quicker." ― Ogden Nash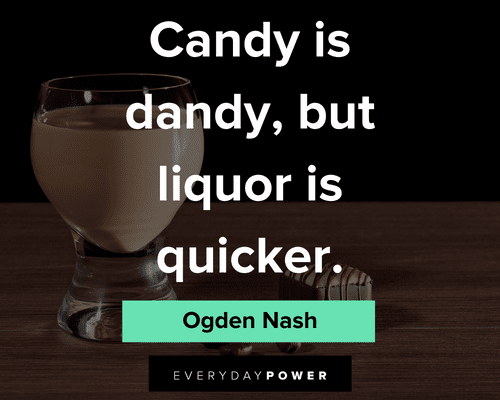 You will also enjoy our article on peach quotes.
4. "All I really need is love, but a little candy now and then doesn't hurt!" ― Charles Schulz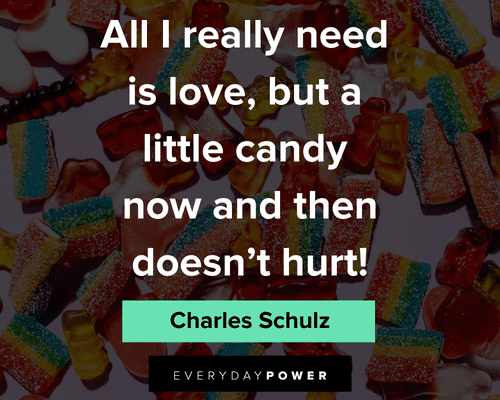 You will also enjoy our article on orange quotes
5. "Keep calm and love candy." ― Handy Shandy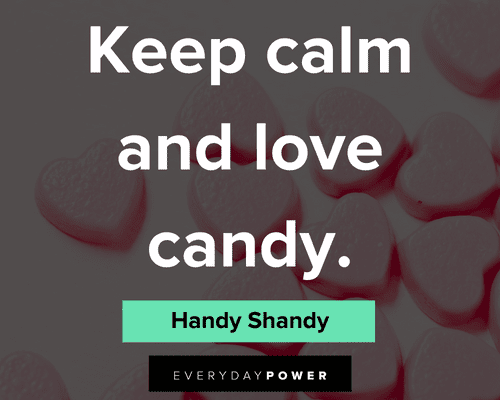 You will also enjoy our article on sweet quotes.
6. "I love any kind of candy." – Kris Allen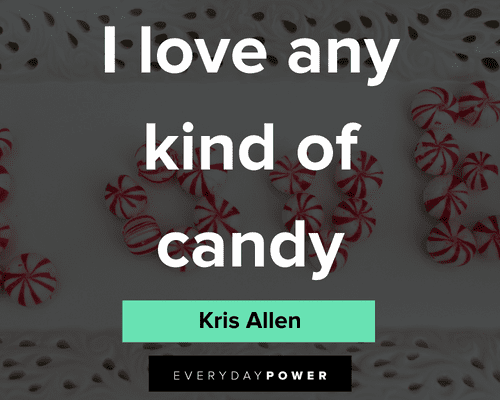 You will also enjoy our article on strawberry quotes.
7. "You know an odd feeling? Sitting on the toilet eating a chocolate candy bar." – George Carlin
8. "No candy bars unless I've had a low blood sugar where I'm shaky" – Mary Tyler Moore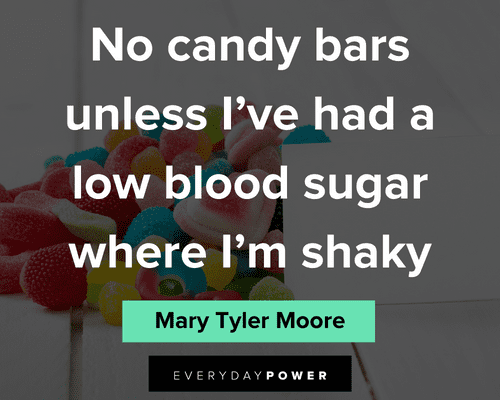 You will also enjoy our article on pennywise quotes.
9. "There's nothing as cozy as a piece of candy and a book." ― Betty MacDonald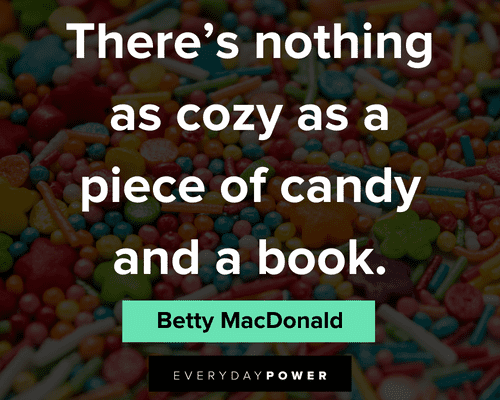 You will also enjoy our article on caddyshack quotes.
10. "Everybody's got their poison, and mine is sugar." — Derrick Rose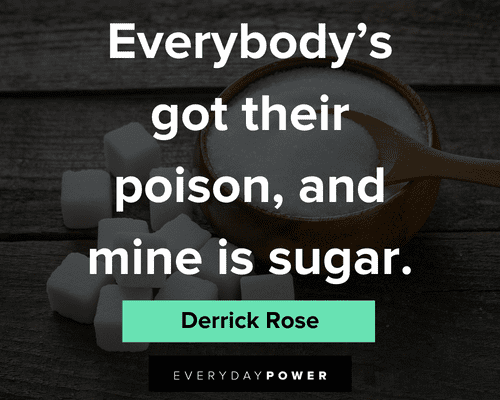 You will also enjoy our article on pineapple quotes.
Candy quotes from song lyrics
11. "Sunshine, lollipops, and rainbows. Everything that's wonderful is sure to come your way." — Lesley Gore, Sunshine, Lollipops and Rainbows
12. "My boy lollipop, you make my heart go giddy up. You are as sweet as candy." — Millie Small, My Boy Lollipop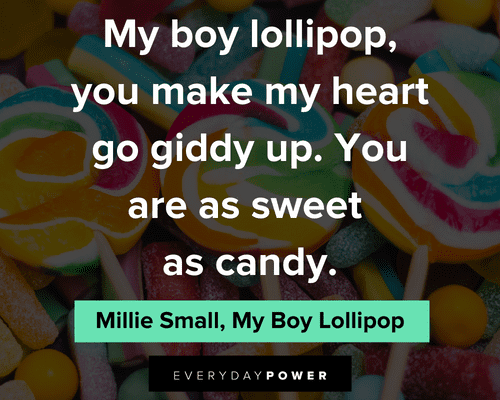 You will also enjoy our article on color red quotes.
13. "I want candy." — The Strangeloves, I Want Candy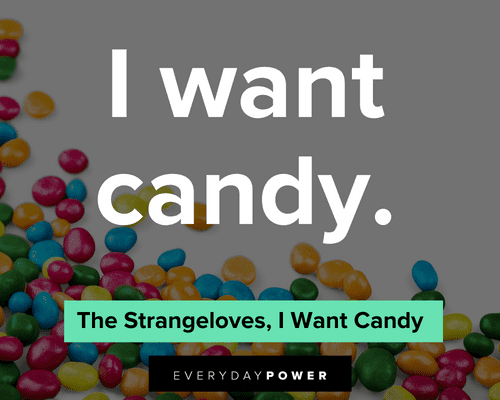 You will also enjoy our article on sunset quotes.
14. "Lollipop lollipop oh lolli lolli lolli Lollipop, sweeter than candy on a stick." — The Chordettes, Lollipop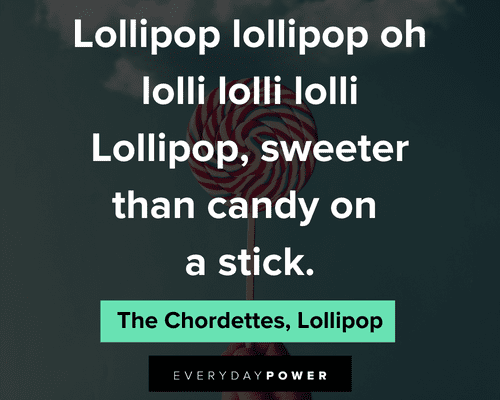 You will also enjoy our article on pink quotes.
15. "I want candy, I want candy. Candy on the beach, there's nothing better. But I like candy when it's wrapped in a sweater." — Bow Wow Wow, I Want Candy
16. "The candy man is here, what kind of candy do you want?" — Sammy Davis Jr., The Candy Man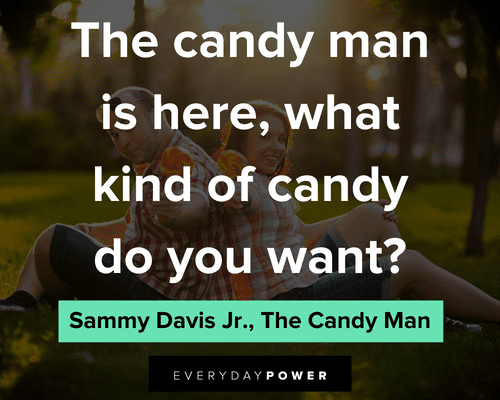 17. ""Ah sugar, ah honey, honey. You are my candy girl, and you've got me wanting you." — The Archies, Sugar Sugar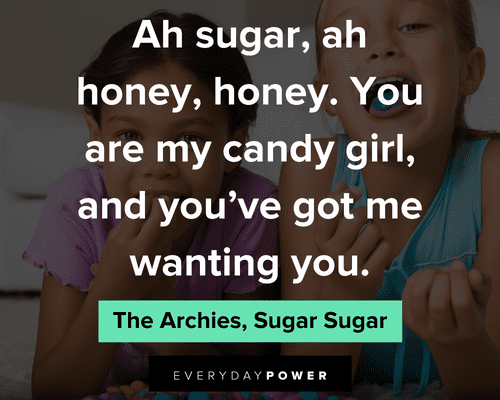 18. "Like sugar to my heart, I'm craving for you. I'm missing you like candy." — Mandy Moore, Candy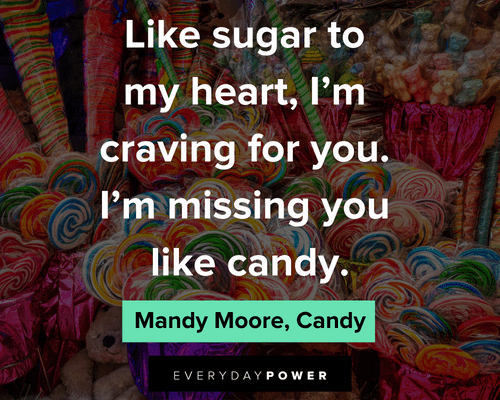 Funny candy quotes and sayings
19. "You can tell a lot about a fellow's character by his way of eating jellybeans. " ― Ronald Reagan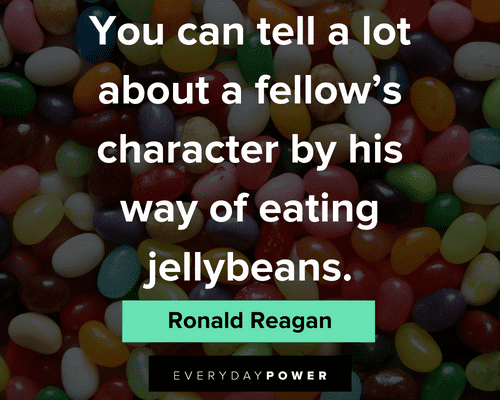 20. "Sometimes I think that the one thing I love most about being an adult is the right to buy candy whenever and wherever I want." ― Ryan Gosling
21. "A lot of people like lollipops. I don't like lollipops. To me, a lollipop is hard candy plus garbage. I don't need a handle. Just give me the candy." ― Demetri Martin
22. "The library is like a candy store where everything is free." ― Jamie Ford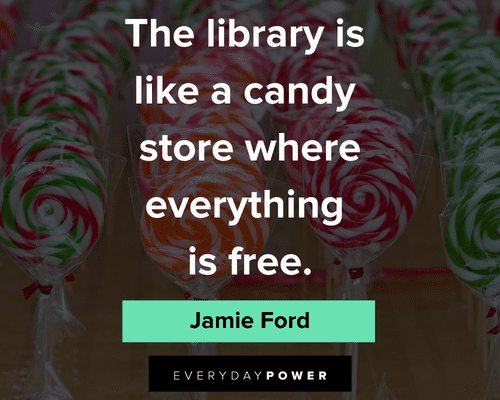 30. "All the candy corn that was ever made was made in 1911." ― Lewis Black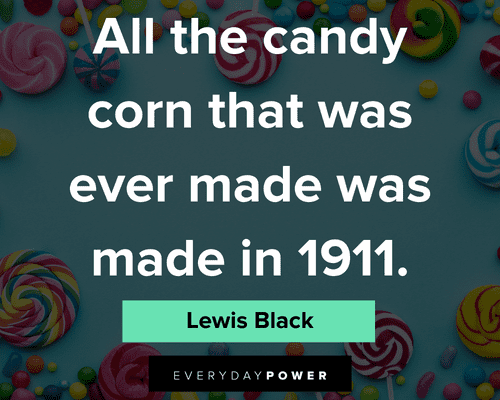 Comforting and inspirational candy quotes
31. "One of the secrets of a happy life is continuous small treats." ― Iris Murdoch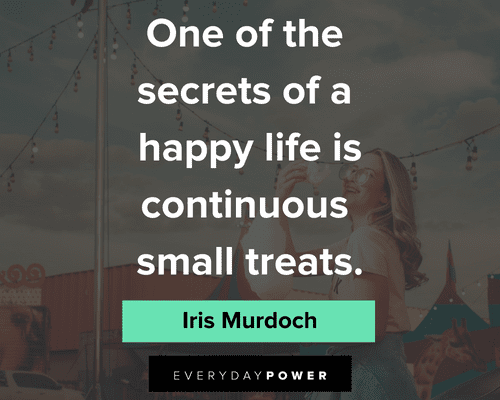 32. "Kindness is like sugar, it makes life taste a little sweeter." — Carla Yerovi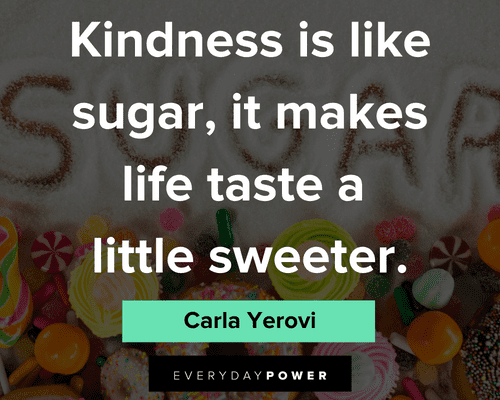 33. "Candy is childhood, the best and bright moments you wish could have lasted forever." ― Dylan Lauren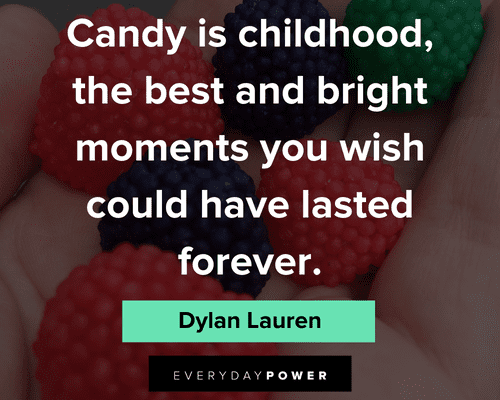 34. "Don't be eye candy, be soul food." ― Truida Genis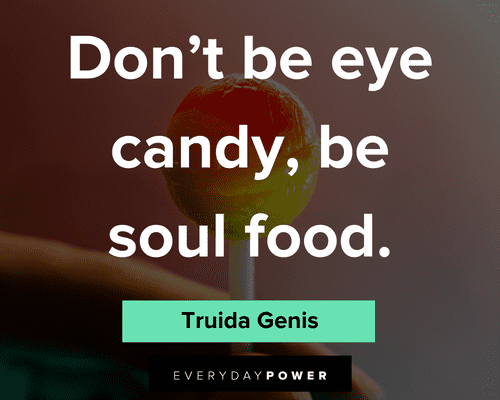 35. "If you take a candy bar in the short run, it gives you a burst of energy, but after a while, it just makes you fat." ― Ben Bernanke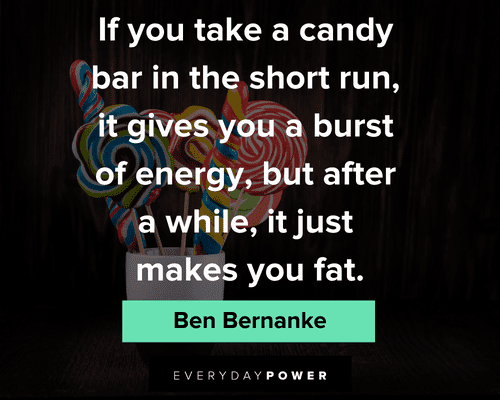 36. "There's no denying that candy is comfort food, and it's affordable." ― Dylan Lauren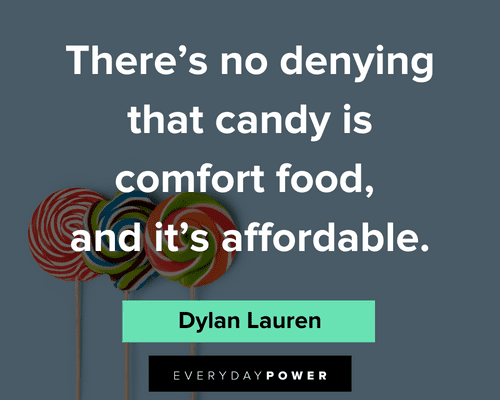 37. "Life is like candy. Sometimes it's sweet, and sometimes it's sour." ― Unknown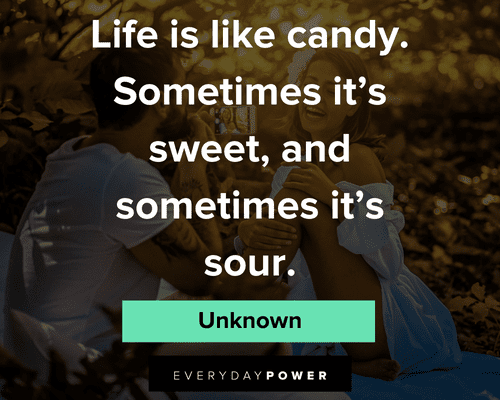 38. "Going out into the world, I do feel like a kid in a candy store." ― Philip Rosenthal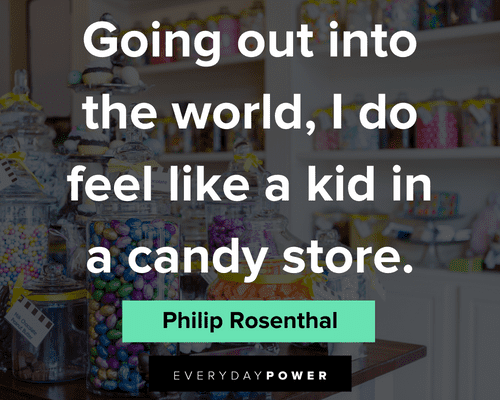 Sweet candy quotes about how we all love it
39. "I think people always want candy, whether you're a kid or an adult." ― Dylan Lauren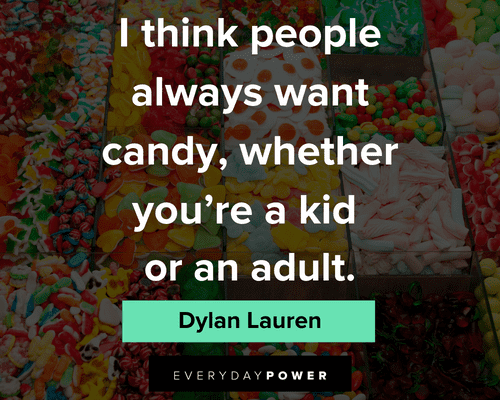 40. "I have candy around my bed. I just kinda like reach over and eat it and then go back to sleep, no problem." ― Lamar Odom
41. "A lot of my fans know that I love candy. I eat candy all day." ― Tyga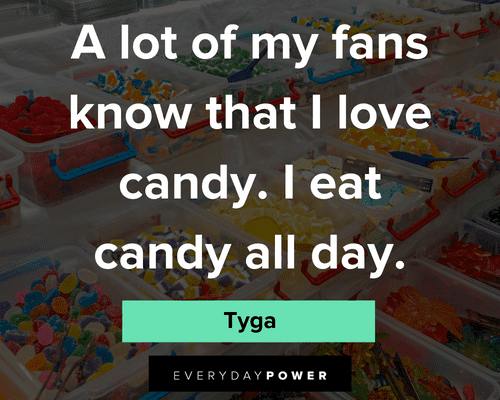 42. "Sour Patch, Swedish Fish. I love candy, man. I can't go without candy." ― Tyga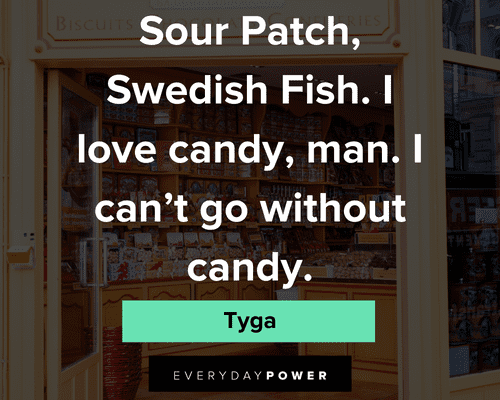 43. "You're never too old to for free candy." ― Kathy Debiec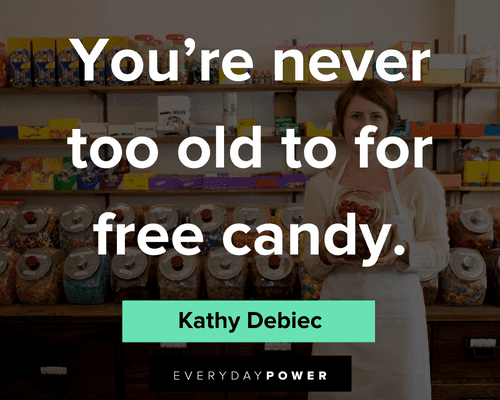 44. "My guilty pleasure is definitely candy! Skittles are my favorite." ― Sara Sampaio
45. "Cotton candy is the most amazing form of caramelization ever invented by man." ― Jose Andres Puerta
46. "Candy is my fuel. Ice cream, too." ― Jane Smiley
Candy quotes to make you smile
47. "I know I have a gigantic sweet tooth. I love candy, I love ice cream, I love anything sweet." – Mark Schlereth
48. "I always saw candy as art." – Dylan Lauren
49. "You know someone is your friend when they give you more than half of their candy bar." – Liam Holland
50. "Candy bar nostalgia puts us all on the same page." – Bee Wilson
51. "Licorice is the liver of candy." – Michael O'Donoghue
52. "I thought Willy Wonka was brilliant. He had all kinds of candy. Who doesn't like chocolate and candies? Everybody wanted a Gobstopper. I just think he's brilliant." – Martellus Bennett
53. "I love every type of candy. I love Skittles and Reeses. I love it all." – Colton Haynes
54. "I'm never without Nerds and peanut M&M's. I have a sweet tooth! I have an unlimited supply on hand at home, but the candy packs in my purse are not for sharing." – Joanna Garcia
55. "I'm a huge candy fan. My favorite growing up was always Sour Belts or Sour Straws." – Kendall Schmidt
If you enjoy this article, you might also like these funny food quotes for your inner foodie.
More Candy Quotes and Sayings
56. "'If you want to grow up to be a big, strong pea, you have to eat your candy,' Papa Pea would say." ― Amy Krouse Rosenthal
57. "People are like M&Ms. They come in a variety of colours, they're hard on the outside and full of obscene yumminess on the inside." ― Michael Makai
58. "He was like her favourite type of candy, she realized, a bit sour at first but all sweetness in the long run." – Victoria Kahler
59. "He picked up the brown bag of candy on the table. 'What's your . . .' He trailed off as he weighed the bag in his hands. 'Didn't I give you three pounds of candy?'" – Sarah J. Maas
60. "I want to get a vending machine, with fun-sized candy bars, and the glass in front is a magnifying glass." – Mitch Hedberg
61. "I like vending machines because snacks are better when they fall. If I buy a candy bar at the store, oftentimes I will drop it so that it achieves its maximum flavour potential." – Mitch Hedberg
62. "There's a list of foods I can't have in the house. […] Random little small mini candy bars, don't even think about it." – Richard Simmons
63. "Be a rainbow lollipop in a world full of Dum Dum suckers." ― Unknown
64. "The sweet taste of candy calms my soul." ― Unknown
65. "Life is short. Eat candy first." ― Unknown
66. "Sweet and twisted like a candy cane." ― Unknown
67. "Happiness is chocolate disappearing in your mouth." ― Unknown
68. "Dreams taste like cotton candy." ― Unknown
69. "All you need is love and a little bit of candy." ― Unknown
70. "Candy is duct tape for the heart." ― Unknown
71. "Living the sweet life." ― Unknown
72. "The best things in life are sweet." ― Unknown
73. "You give me a sugar rush." ― Unknown
74. "Candy can never be as sweet as my love for you." ― Unknown
75. "A bad day eating candy is better than a good day eating salad." ― Unknown
76. "Candy is life's way of making up for Mondays." ― Unknown
77. "I don't care what the problem is. Candy is always the answer." ― Unknown
Candy Quotes To Make You Feel Better
78. "It's clear, it's fresh, like a mint candy." ― Margaret Atwood
79. "Candy within reach and then I have to go on a diet." ― Steig Larsson
80. "Since my initials are J. U., people called me Ju. Or Jujube, like candy." ― Jenna Ushkowitz
81. "Knowledge was like candy: you never turned it down, especially if you didn't have to work too hard to get it." ― Robert Liparulo
82. "Love is candy from a stranger, but it's candy you've had before and it probably won't kill you." ― Daniel Handler
83. "Apologies come in all shapes and sizes. You can give diamonds, candy, flowers, or just your deepest heartfelt sentiment." ― Sarah Dessen
84. "After I won the Tony Award, the film floodgates opened, so I was like a kid in a candy store." ― Dan Fogler
85. "Years are like candy bars… We're paying more, but they're getting shorter." ― Charles M. Schulz
86. "On my first visit to the public library, I was like a kid at a candy store where all the candy was free. I gorged myself until my tummy ached." ― Craig Thompson
87. "The next morning it dawned bright and sweet, like ribbon candy." ― Sarah Addison Allen
Candy Quotes That Will Make You Grab Some Candies
88. "I love all the soft candy. I'm not a big fan of the hard candy though." — Anthony Dirrell
89. "I started acting pretty young, so I haven't had too many odd jobs. But I used to sell candy out of my locker in middle school." — Paul Dano
90. "McDonald's is over with. But chips and candy and stuff, it's going to be hard to get away from that." — Derrick Rose
91. "I just feel such a connection to the little kids in Naples. I remember being on the street wanting a small piece of candy." — Giuliana Rancic
92. "The intelligent desire self-control; children want candy." — Rumi
93. "I usually spend Valentines Day with my friends. But if I did have a girlfriend, I'd bring her flowers and candy." — Zac Efron
94. "Really sucked the red off of all my candy." — Faith Hunter
95. "I love eating junk food. I'm a huge snacker, chips and candy." — Jeremy Lin
96. "I did shoplift but I didn't get in trouble for it. I shoplifted a lot when I was little. Candy. I would steal candy." — Amy Sedaris
97. "What made 'Ice Age' work is that it had its shiny candy coatings, but inside was a soft, creamy center." — Chris Wedge
Candy Quotes for Your Sweet Tooth
98. "I always say that candy is the perfect studio food – it keeps your energy going." ― Nick Cannon
99. "You're like candy, the world sweetest friend, you taste better now than you did back then." ― Jessie Hill
100. "Here lies the powder and perfume, the pretty clothes are scattered 'round the rock, and it's so like candy." ― Elvis Costello
101. "I run to meet her like a kid with a dollar to the corner candy." ― Candy Kisses
102. "Out of mush-mushy candy floss romances which only led to shattering of the heart into infinite pieces." ― Nikhil Parekh
103. "As we long for sure recruits, candy with sugar our choice fruits." ― Henry Vaughan
104. "He took that candy bar from his back pocket, and he gave that dying soldier his chocolate." ― Joe Guillotin
105. "Inside the tin of sweets are four jewels, like candy drops. Look at them closely…and stories spill out." ― Jun Mochizuki
106. "Candy is natures way of making up for Mondays." ― Rebecca Gober
107. "I could not be arm candy to a hero." ― Pooja Bhatt
Candy Quotes to Leave You Craving for Sweets
108. "Life is short, but there's always time for a piece of candy." ― Emma Stone
109. "I don't try to be candy coated. I don't try to walk on eggshells. I am what I am. Love me or hate me." ― Pink
110. "As I get older every year, I'm eating better. As a kid, who can turn down chips and candy? But I'm getting better." ― Mike Trout
111. "Therefore, wheat products elevate blood sugar levels more than virtually any other carbohydrate, from beans to candy bars." ― William Davis
112. "I find that the people who don't eat as much candy are really into heavy protein, like steak. I don't eat that." ― Dylan Lauren
113. "I think that people had this idea that I sat at home and sucked on lollipops and ate cotton candy while I watched cartoons – wearing a tiara." ― Anne Hathaway
114. "I feel like a little kid who just walked into a candy store. I think that's something to smile about." ― Brandon Boyd
115. "Candy is a reminder of childhood, a bite of sunshine, a burst of happiness." ― Sarah Strohmeyer
116. "Candy is like a kiss on the tongue." ― Dita Von Teese
117. "A balanced diet is a piece of candy in each hand." ― Barbara Johnson
Which of these candy quotes is your favorite?
Of course, there are many forms of sugar, and some of it is naturally found in whole foods, like fruit and vegetables.
And that sugar is good for you, which begs the question of how much of a person's sugar consumption comes from candy.
According to the US Census Bureau, the average American consumes 22 pounds of candy each year.
To put this in a little perspective, a bag of fun-size Snickers is 10.59 ounces, so the average person buys and eats a little over 33 bags a year.
What do you think is candy a guilty treat and a wonderfully sweet way to break up your day?
Or is it a health crisis wrapped in a little fun-size wrapper?
Share your thoughts in the comment section below, and let us know what your favorite candy is!
My daughter has a cotton candy addiction, and when I do eat the occasional piece of candy, it has to be a Reese's Peanut Butter Cup.
Did you enjoy these candy quotes and sayings?
Which of the quotes is your favorite?
If you liked these quotes, check out our popcorn quotes about candy's favorite companion!
Let us know in the comment section below.