Delicious Chocolate Quotes to Make Your Mouth Water
September 21, 2022 6:00 PM EST
Listen to article
4 minutes
These yummy chocolate quotes are delightful and delectable.
They are guaranteed to make you crave dessert.
Chocolate is one of the most universally beloved flavors around the globe.
People love to eat chocolate in cakes, cookies, candies, ice cream, and more.
Sometimes chocolate can even be used in savory dishes, like mole.
Do you have a sweet tooth for chocolate?
Read the delicious chocolate quotes below to gain a new appreciation for this sweet treat.
Chocolate is a luxury created from roasted and ground cacao seeds.
There are many different varieties of the tasty treat, including white chocolate, milk chocolate, and dark chocolate.
This collection of sweet sayings and wise words will have your mouth watering.
Indulge in the finer things in life and treat your taste buds to something good.
Share these incredible chocolate quotes with someone you love to activate their sweet tooth.
Don't forget to also read these healthy eating quotes celebrating better food choices.
Check out our most popular quote article, a list of short inspirational quotes for daily inspiration.
If you enjoy this collection, check out our inspirational quotes category page.
Chocolate quotes that will get you drooling
1. "All you need is love. But a little chocolate now and then doesn't hurt." – Charles M. Schulz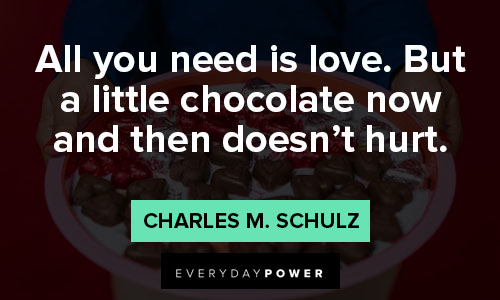 You will also enjoy our article on food quotes.
2. "Nice memories are like chocolate: you can't survive on them alone, as they aren't very filling, but they make life sweeter." – Janine Weger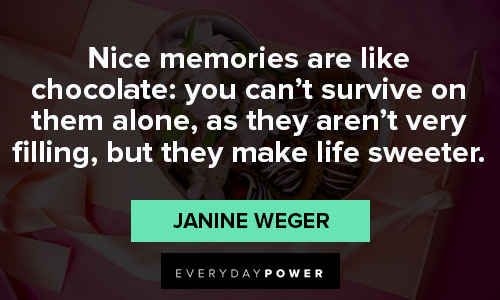 You will also enjoy our article on cake quotes.
3. "Strength is the capacity to break a Hershey bar into four pieces with your bare hands – and then eat just one of the pieces." – Judith Viorst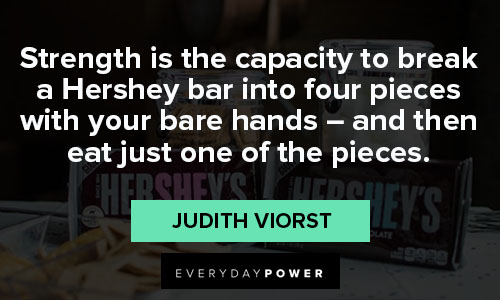 You will also enjoy our article on candy quotes.
4. "Chocolate is happiness that you can eat." – Ursula Kohaupt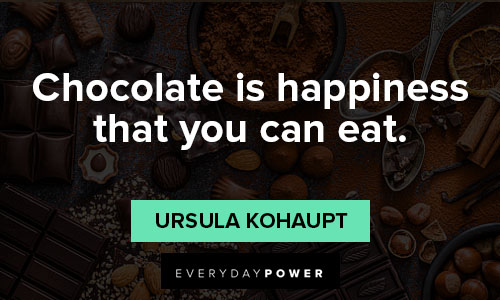 5. "Chocolate symbolizes, as does no other food, luxury, comfort, sensuality, gratification, and love." – Karl Petzke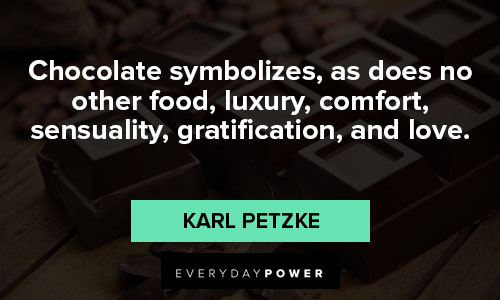 6. "There is nothing better than a friend, unless it is a friend with chocolate." – Linda Grayson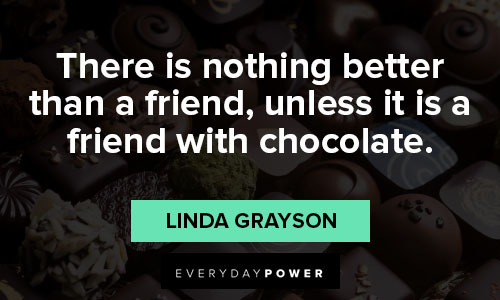 7. "Life is like chocolate: you should enjoy it piece for piece and let it slowly melt on your tongue." – Nina Sandmann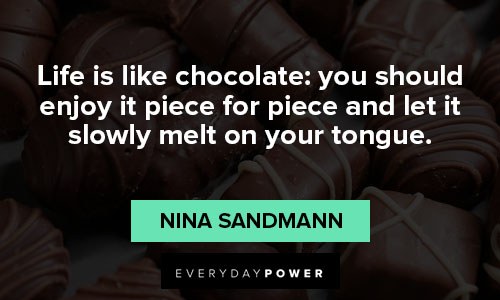 8. "Without pain, how could we know joy?' This is an old argument in the field of thinking about suffering and its stupidity and lack of sophistication could be plumbed for centuries but suffice it to say that the existence of broccoli does not, in any way, affect the taste of chocolate." – John Green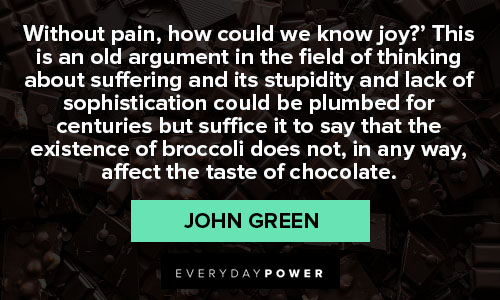 9. "Don't think that chocolate is a substitute for love! Love is a substitute for chocolate." – Miranda Ingram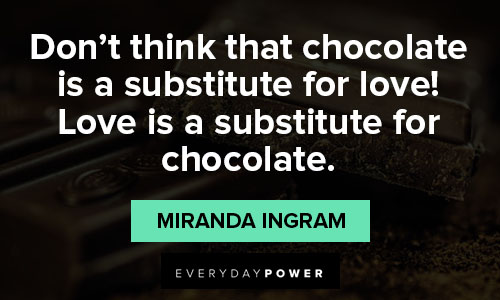 10. "Don't wreck a sublime chocolate experience by feeling guilty. Chocolate isn't like premarital sex. It will not make you pregnant. And it always feels good." – Lora Brody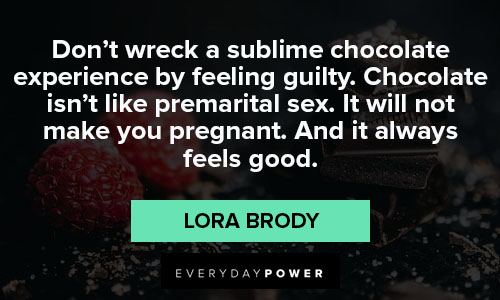 Delightful and delectable chocolate quotes
11. "Happiness. Simple as a glass of chocolate or tortuous as the heart. Bitter. Sweet. Alive." – Joanne Harris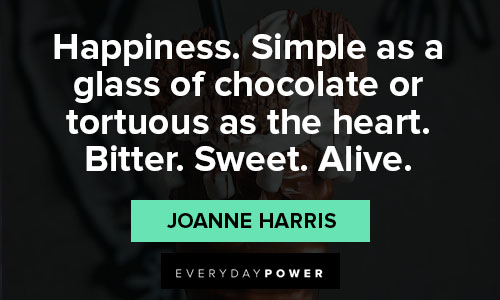 12. "Chocolate says 'I'm sorry' so much better than words." – Rachel Vincent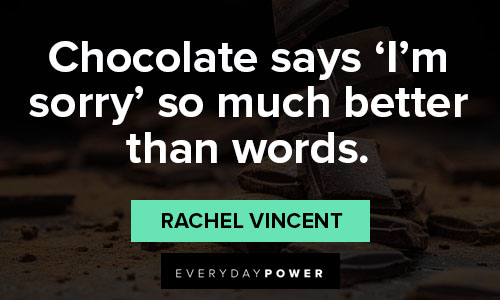 13. "The greatest tragedies were written by the Greeks and Shakespeare … neither knew chocolate." – Sandra Boynton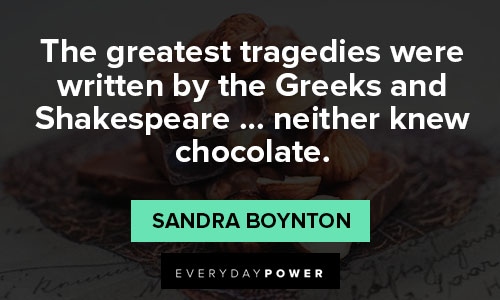 14. "Look, there's no metaphysics on earth like chocolates." – Fernando Pessoa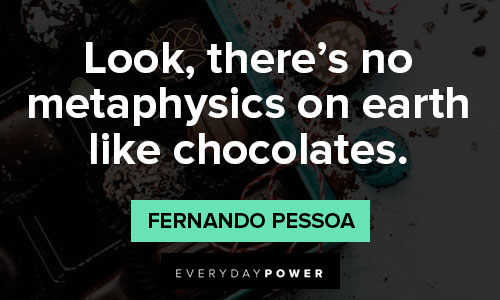 15. "I was like a chocolate in a box, looking well behaved and perfect in place, all the while harboring a secret center." – Deb Caletti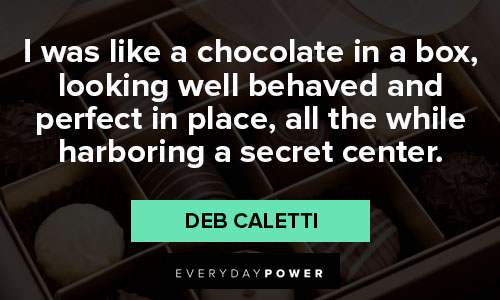 16. "When we don't have the words chocolate can speak volumes." – Joan Bauer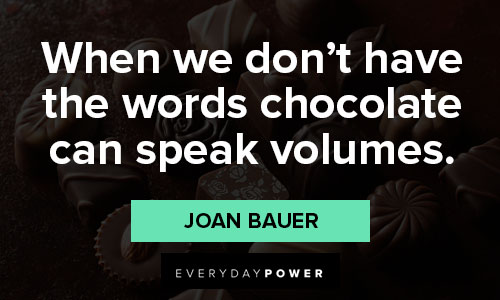 17. "Every now and then, I'll run into someone who claims not to like chocolate, and while we live in a country where everyone has the right to eat what they want, I want to say for the record that I don't trust these people, that I think something is wrong with them, and that they're probably ― and this must be said ― total duds in bed." – Steve Almond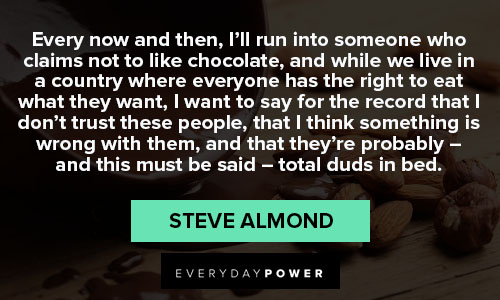 18. "Chemically speaking, chocolate really is the world's perfect food." – Michael Levine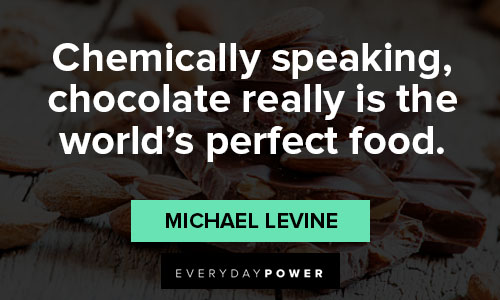 19. "Always serve too much hot fudge sauce on hot fudge sundaes. It makes people overjoyed, and puts them in your debt." – Judith Olney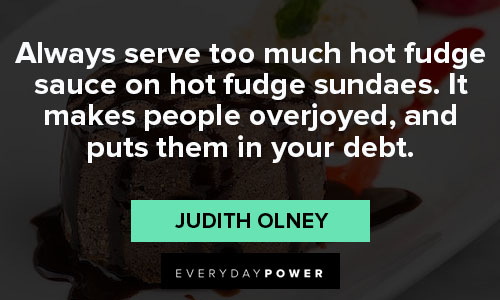 20. "Sometimes a girl's gotta have some chocolate!" – Carrie Underwood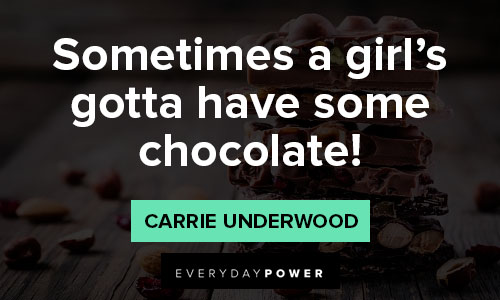 Chocolate quotes to gain a new appreciation for this sweet treat
21. "My wife said, 'Take me in your arms and whisper something soft and sweet.' I said, 'chocolate fudge.'" – Tommy Cooper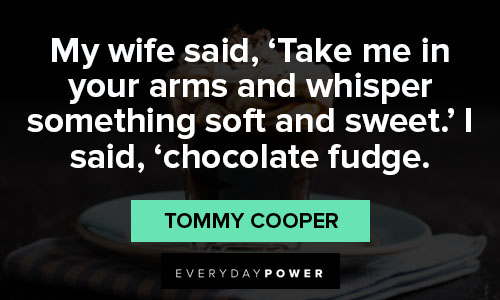 22. "May your life be filled, as mine has been, with love and laughter; and remember, when things are rough all you need is … Chocolate." – Geraldine Solon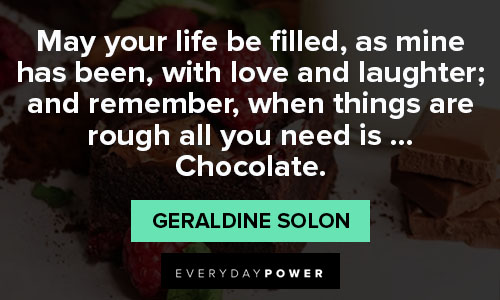 23. "Even a small amount of dark chocolate can be exquisitely satisfying if you meditate on it." – Dean Ornish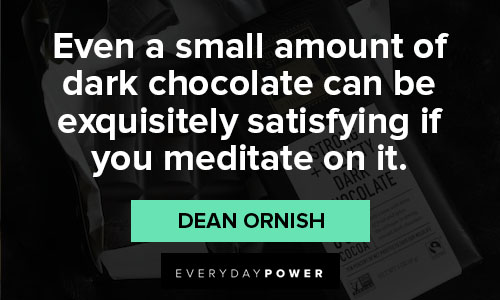 24. "I never met a chocolate I could not eat." – Danielle Steel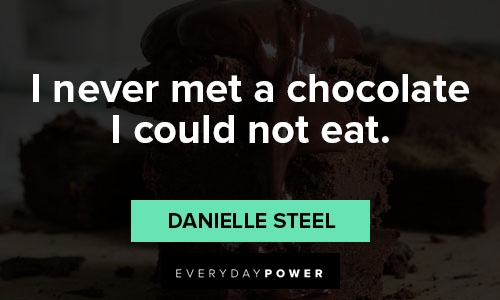 25. "It was like having a box of chocolates shut in the bedroom drawer. Until the box was empty it occupied the mind too much." – Graham Greene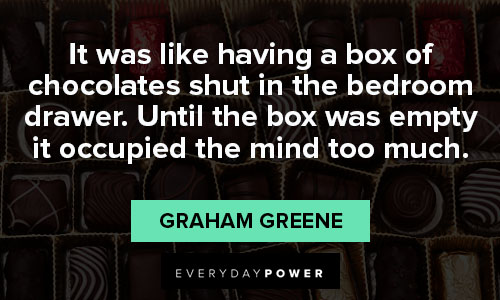 26. "Chocolate is like my best friend and the most intense pleasure at the same time, perhaps not the most intense, but the most regular and reliable one." – Chloe Doutre-Roussel
27. "I'm pretty sure that eating chocolate keeps wrinkles away because I have never seen a 10 year old with a Hershey bar and crows feet." – Amy Neftzger
28. "A little chocolate a day keeps the doctor at bay." – Marcia Carrington
29. "Wherever chocolate is made, chocolate is chocolate. And any month that contains the letter a, e, i, o, or u is the proper time to share it with others." – David Augsburger
30. "Chocolate is a perfect food, as wholesome as it is delicious, a beneficent restorer of exhausted power…it is the best friend of those engaged in literary pursuits." – Justus von Liebig
Chocolate quotes that will make you crave dessert
31. "If God gives you chocolate, you open your mouth, no?" – Alejandro Jodorowsky
32. "Chocolate is one of the world's most beloved discoveries, and when we need a quick boost of energy and endorphins, chocolate is the go-to treat." – Marcus Samuelsson
33. "As long as there is chocolate, there will be happiness." – Wayne Gerard Trotman
34. "Without chocolate, we would have to find something else to do with the fruit & nuts." – Anthony T. Hincks
35. "Chocolate should be savored, not rushed." – Rick Riordan
36. "Chocolate is the first luxury. It has so many things wrapped up in it: deliciousness in the moment, childhood memories, and that grin-inducing feeling of getting a reward for being good." – Mariska Hargitay
37. "Part of life and part of the enjoyment of life is a croissant and a chocolate cake and eggs and milkshakes and oatmeal. There's so many things, you have to learn to appreciate it all. When I don't eat as much as I should, I'm not fun to be around; I'm fussy." – Nina Dobrev
38. "Ganache is a mix of chocolate and cream. Warm cream, warm chocolate, they want to get to know each other ― they're happy." – Alex Guarnaschelli
39. "I've always got a sweet tooth. I have chocolate hidden in places that nobody knows about." – Tony McCoy
40. "We have chocolate in common ― that's enough." – Rachel Hollis
Chocolate quotes to delight you
41. "What you see before you, my friend, is the result of a lifetime of chocolate." – Katharine Hepburn
42. "I guess if I'm a product, either you're chocolate, you're vanilla or you're butterscotch. You can't be all three." – Bruno Mars
43. "Your hand and your mouth agreed many years ago that, as far as chocolate is concerned, there is no need to involve your brain." – Dave Barry
44. "If there's no chocolate in Heaven, I'm not going." – Jane Seabrook
45. "Coffee and chocolate ― the inventor of mocha should be sainted." – Cherise Sinclair
If you enjoyed this collection of quotes, check out our coffee quotes for our high energy coffee lovers out there.
46. "He showed the words 'chocolate cake' to a group of Americans and recorded their word associations. 'Guilt' was the top response. If that strikes you as unexceptional, consider the response of French eaters to the same prompt: 'celebration.'" – Michael Pollan
47. "The 12-step chocolate program: NEVER BE MORE THAN 12 STEPS AWAY FROM CHOCOLATE!" – Terry Moore
48. "Anything is good if it's made of chocolate." – Jo Brand
49. "I'm grateful for every day I'm still alive. Everything is still working. I attribute it to eating a lot of processed foods. I think it's the preservatives that keep me going. That, and I eat as much chocolate as I can get my hands on." – Joan Rivers
50. "Nothing is as alluring as a piece of chocolate you can't have." – Nina Sandmann
More chocolate quotes
51. "There's a sure shot way to get rid of that frown, when you have some chocolate around." – Manali Manan Desai
52. "Women have a special relationship with chocolate mostly because our culture tells them to. It goes back to the old claptrap about sweet treats being for 'ladies', while savoury tastes for men." – Bee Wilson
53. "Chocolate is something you take for granted until you don't have any." – Marja McGraw
54. "There's no point in wasting calories on cheap chocolate, always opt for the darkest and richest." – Nanci Rathbun
55. "Then she thought bitterly that it would be much easier to resist chocolate if her life were less stressful." – J.K.Rowling
56. "Money can't buy happiness. But, it can buy a chocolate, which is pretty much the same thing." – Hanako Ishii
57. "Chocolate is medicinal. I just did another study that confirms it." – Michelle M. Pillow
58. "If I ever meet with the man who fulfills my ideal, I shall make it a condition of the marriage settlement, that I am to have chocolate under the pillow." – Wilkie Collins
59. "Love is just the chocolate-coated realization you're going to spend the rest of your life with a person and unfortunately it melts in your mouth." – Josh Stern
60. "Mom always said too much chocolate is like having too much love—you can't get enough." – Geraldine Solon
Short Chocolate Quotes and Sayings For Instagram
61. "Chocolate remedies adversity." – Jareb Teague.
62. "Have a piece of chocolate today and feel like a queen or king!" — Mike O'Halloran.
63. "Chocolate is comfort without words." — Ursula Kohaupt
64. "When things are rough all you need is chocolate." — Geraldine Solon
65. "Chocolate makes everyone smile." — Benneville Strohecker.
66. "When it comes to chocolate, resistance is futile." — Regina Brett.
67. "Sharing chocolates with others is a form of communication which says, You can share all your sweet and dark secrets with me." — Ruchi Prabhu.
68. "Chocolate is both an industry and a sensation." — Herman A. Berliner.
69. "I don't drink coffee, but I do try to find a way to get some chocolate in every day." — Danielle Brooks
70. "My weakness is dark chocolate. I carry little tins of it in my purse." — Sharon Stone
Chocolate Quotes To Add Some Sugar To the Sweet Treat
71. "Because the best gift in life, is just having someone to drink hot chocolate with". — Tessa Shaffer
72. "Other things are just food. But chocolate's chocolate." —Patrick Skene Catling.
73. "I did get Tom Hanks to say, 'Life is like a box of chocolates'." — James Lipton
74. "I love chocolates. It could be something as simple as a chocolate cake with vanilla ice-cream, or it could be macarons filled with chocolate." — Ranveer Singh
75. "Chocolate is so intense and pure it should be named an element and given a spot on the periodic table. It would be Ch, which isn't even taken." — Laini Taylor
76. "He stared at his hot chocolate like it held the secret to the universe." — Lilith Saintcrow
77. "I've got this thing for spicy stuff. Now, if you give me hot chocolate with chili pepper, a book and a bubble bath, I'm a happy girl." — Shiloh Walker
78. "When I feel myself getting overwhelmed, I take a deep breath and eat a piece of chocolate." — Adrian Grenier.
79. "Welcome my friends, welcome to my chocolate factory." — Willy Wonka
80. "All you need is love and chocolate." — Taylor Lee
Chocolate Quotes That Will Make It Your Favourite Snack
81. "Every day, without fail, I eat some dark chocolate." ― Phoebe Tonkin
82. "If I had any choice in the matter, I'd stay in my comfy bed and eat warm chocolate chip cookies all day." ― Simone Elkeles
83. "There are four basic food groups: plain chocolate, milk chocolate, dark chocolate, and white chocolate." ― Jill Shalvis
84. "The first bowl of chocolate pudding was too hot, but Goldilocks ate it all anyway because, hey, it's chocolate pudding, right?" ― Mo Willems
85. "The calories in chocolate don't count because chocolate comes from the cocoa bean, and everyone knows that beans are good for you." ― Jill Shalvis
86. "To me, chocolate was the sole reason we on this earth." ― Esi Edugyan
87. "Life without chocolate is just an existence." ― Sue Costello
88. "Chocolate is what I love. I have it every day." ― Jennifer Hudson
89. "Chocolate is cheaper than therapy, and you don't need an appointment." ― Jill Shalvis
90. "Chocolate fends off all kinds of nasty stuff. And if you get hungry while warding off evil, you have a snack. It's multipurpose equipment." ― Jim Butcher
Funny Chocolate Quotes To Make Your Day
91. "I'm pretty much a chocolate guy. I'm up for any type of chocolate. Any chocolate." — Denis Leary
92. "If chocolate were a mandatory part of breakfast, people wouldn't be so grouchy in the morning." — Joanne Fluke
93. "And something chocolate, of course. A meal was not a meal without some sort of chocolate for desert." — Janet Evanovich
94. "Chocolate doesn't solve everything, Nana." "It solves a whole heck of a lot, though." — Gabrielle Zevin
95. "Making chocolate is a way of life, not a profession." — Jacques Torres
96. "I love watching keep-fit videos while munching chocolate chip cookies." — Dolly Parton
97. "Whether it's chocolate or socks, the rule is the same; the darker the better." — Pseudonymous Bosch
98. "How much is a chocolate boyfriend – can I have one?" — Christopher
99. "I could give up chocolate but I'm not a quitter." — Lora Brody
100. "For me, it's always easy to choose between the Ultimate, the Infinite, and the Chocolate." — Ashleigh Brilliant
Which of these chocolate quotes makes you the most hungry?
Chocolate is one of the most popular flavors in the entire world.
Everyone loves eating chocolate desserts and snacks.
Whether you're a fan of dark chocolate or white chocolate, this tasty treat will make your mouth water.
Read this collection of delicious chocolate quotes to elevate your love for sweets.
Consider getting chocolate for your friends and family the next time you need to buy a gift.
Yummy cakes, candies, and cookies are the perfect present for birthdays, Valentine's Day, or any other holiday.
This list of lovely sayings highlights the appeal and luxury of chocolate.
If you consider yourself to be a chocolate lover, these words will definitely resonate with you.
Share these chocolate quotes with everyone you know and get them drooling over the thought of a tasty treat.
What are your favorite chocolate quotes and sayings about this sweet, popular food?
Let us know in the comment section below.