50 Pineapple Quotes to Hail the Queen of Tropical Fruits
There's a new queen in town proudly wearing her tropical crown as captured by these cute and witty pineapple quotes used to caption photos and images of the uniquely shaped but delicious tropical fruit.
Move Over Apples and Oranges
If lately you've been seeing images of pineapples almost everywhere imprinted on eye-catching merchandise like coffee mugs, T-shirts, phone cases, pillows, hoodies, notebooks, notepads, bedsheets, and others – it's because the yellow tropical fruit has become a refreshing symbol.
Pineapples do not only represent summer and tropical fun but the core of Southern hospitality symbolizing warmth and acceptance in a welcoming home that treats guests like family.
Check out these clever and funny pineapple quotes and sayings.
If you love this quote collection, read out our most popular quote article about short inspirational quotes for daily motivation.
If you need more inspirational quotes, check out our motivational quotes category page.
Cute and witty pineapple quotes
1. "Dang, you pine." – Unknown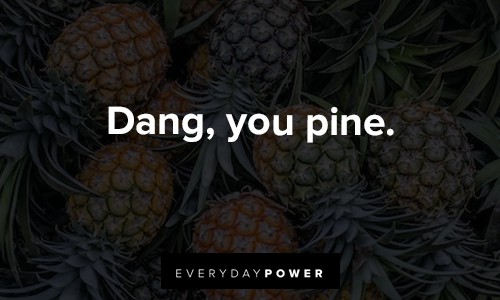 You will also enjoy our article on candy quotes.
2. "I pine for you." – Unknown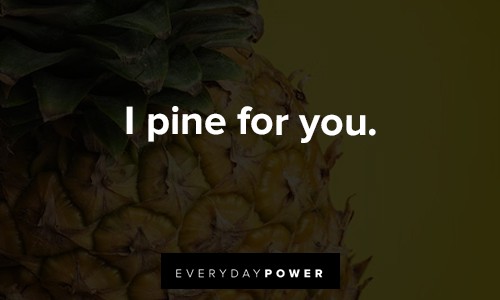 You will also enjoy our article on spongebob quotes.
3. "Passports and pineapples." – Unknown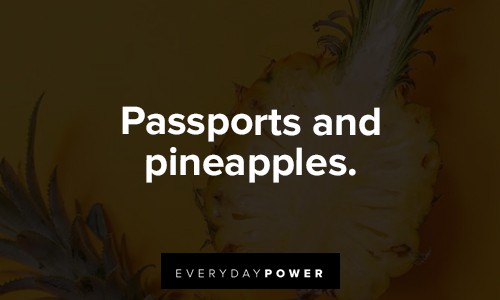 You will also enjoy our article on fruit quotes.
4. "Peace, love, and pineapples." – Unknown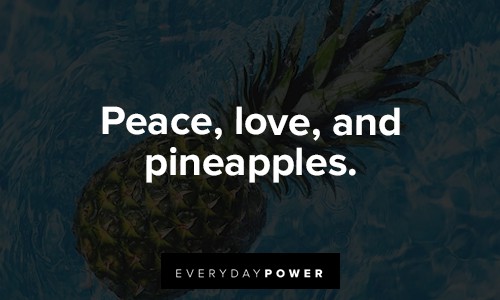 5. "Wear a crown like a pineapple." – Unknown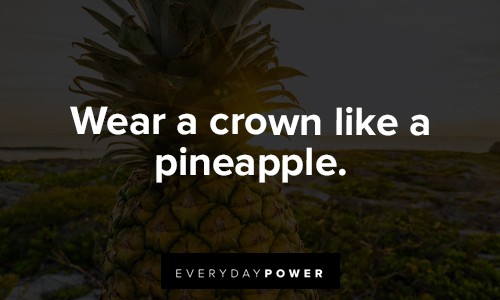 You will also enjoy our article on Conan the Barbarian quotes.
6. "The pineapple is a symbol of welcome, warmth, friendship, and hospitality." – Unknown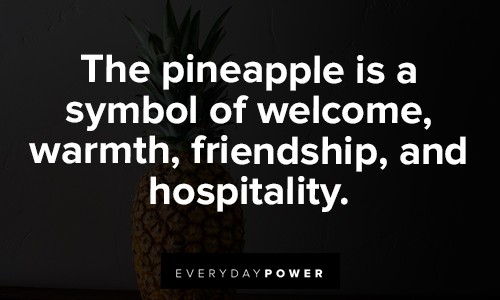 7. "So, bring me two piña coladas. One for each hand." – Garth Brooks, "Two Pina Coladas"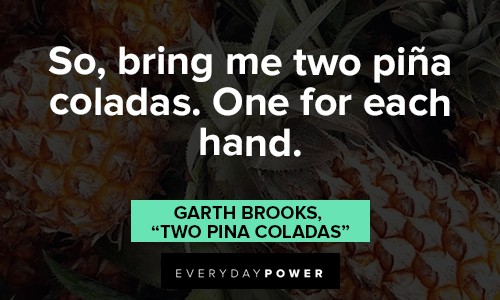 8. "Who lives in a pineapple under the sea? SpongeBob SquarePants!" – From "SpongeBob SquarePants"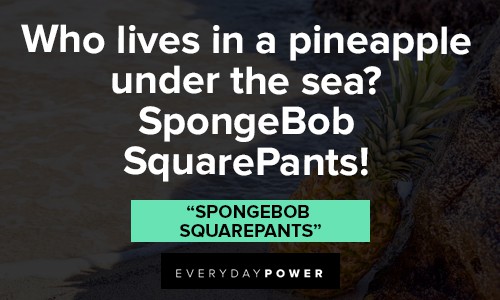 If you're enjoying these quotes, read our collection of Sponge Bob quotes from your favorite cartoon character.
9. "You are one fine-apple." – Unknown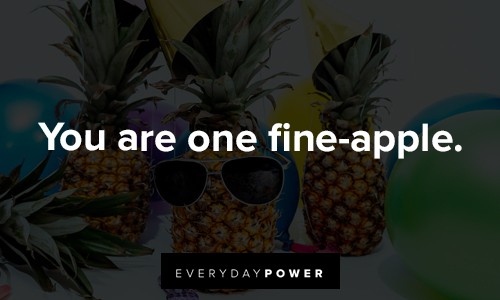 10. "You are the piña to my colada." – Unknown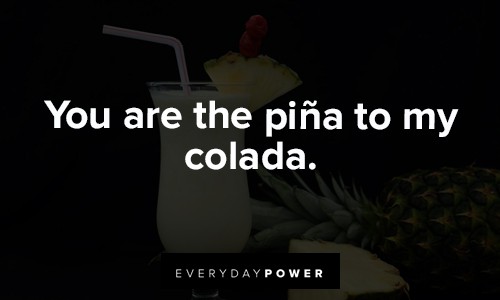 You might also like these sunflower quotes to inspire you
Sweet pineapple quotes
11. "A pineapple has pointy defenses but it's still sweet. Be a pineapple." – Unknown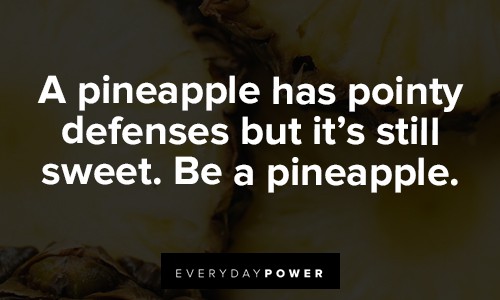 12. "Be as the pineapple. Have a hundred eyes." – Filipino Proverb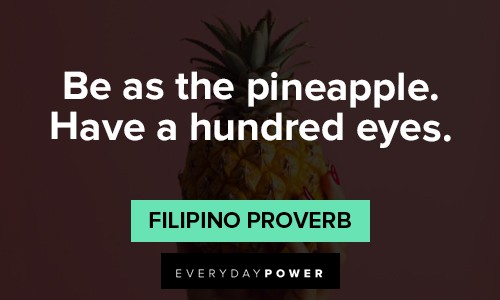 13. "Count the florets of a sunflower, or the spiral scales of a pineapple, running from its bottom up its sides to the top and you will find an extraordinary truth: recurring numbers, ratios, and proportions, all through nature." – Charles Jencks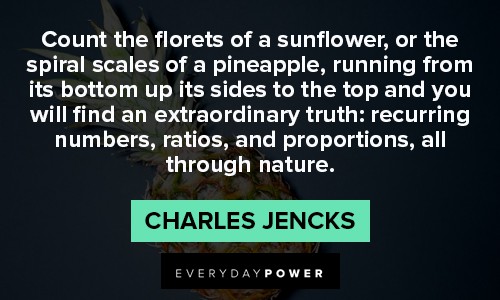 14. "If you were a tropical fruit, you'd be a "fine-apple" – Unknown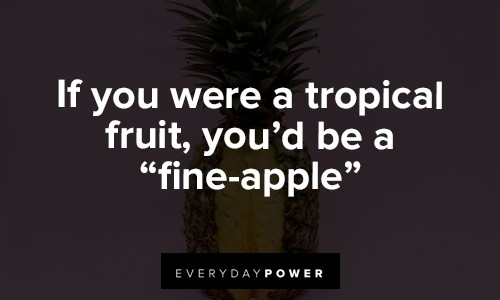 15. "Love is like a pineapple. Sweet and undefinable." – Piet Hein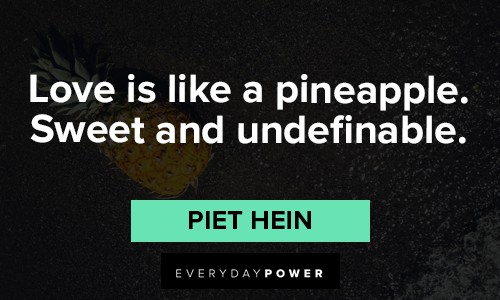 16. "Only the knife knows the heart of a pineapple." – Simone Schwarz-Bart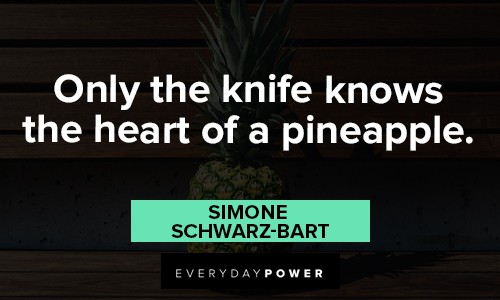 17. "Rapid maturity is most common in the low latitudes. That's where pineapples and women thrive." – Unknown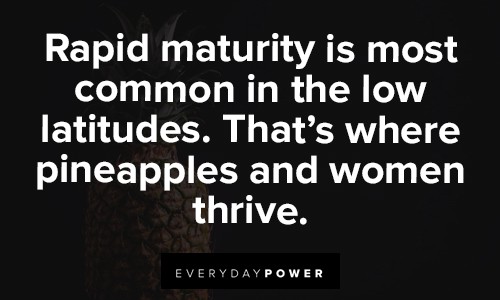 18. "When life gives you lemons, sell them and buy a pineapple." – David Turney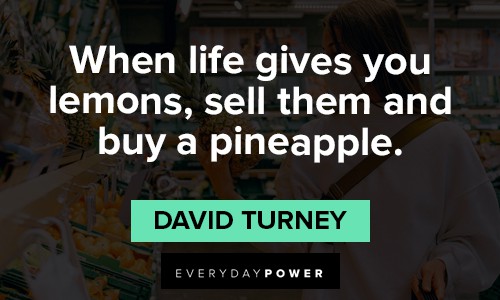 19. "Be like a pineapple. Stand tall, wear a crown, and be sweet on the inside." – Katherine Gaskin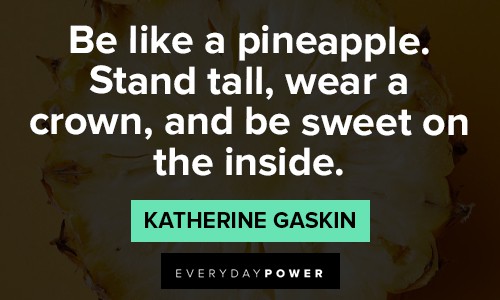 20. "A pineapple a day keeps the worries away." – Unknown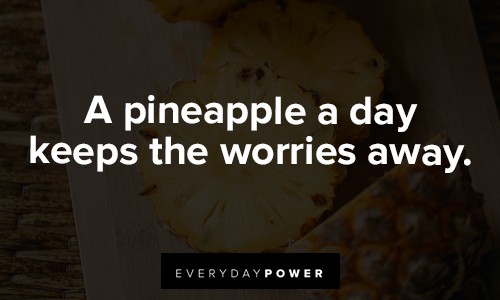 If you enjoy this article, check out our collection of peach quotes about nature's summer candy.
Pineapple quotes that will make you smile
21. "Happiness comes in pineapples." – Unknown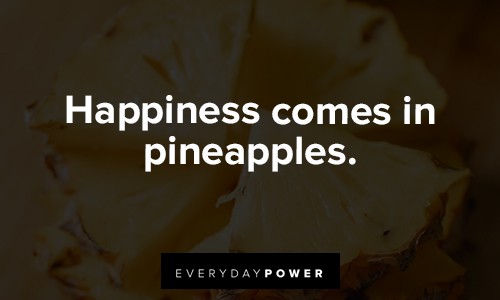 22. "In a world full of apples, be a pineapple." – Unknown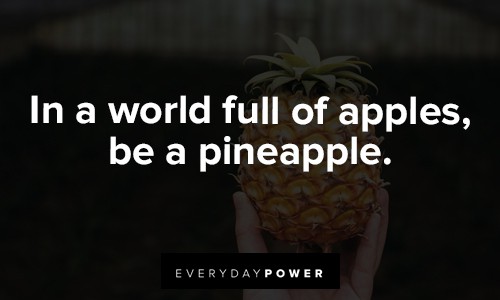 23. "Love you to the pineapple and back." – Unknown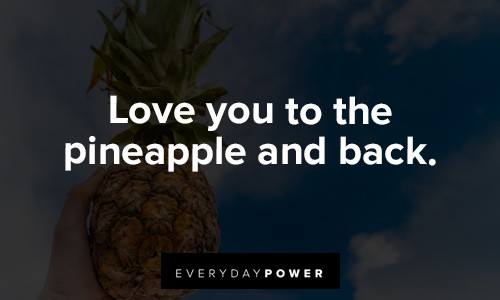 24. "Party like a pineapple." – Unknown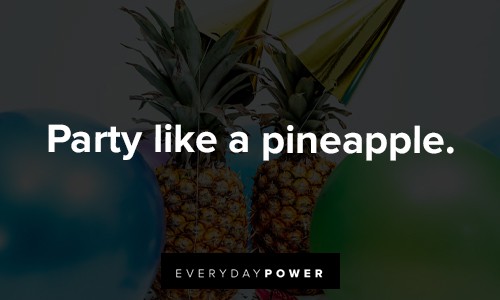 25. "The green pineapple never falls from the tree by accident." – Unknown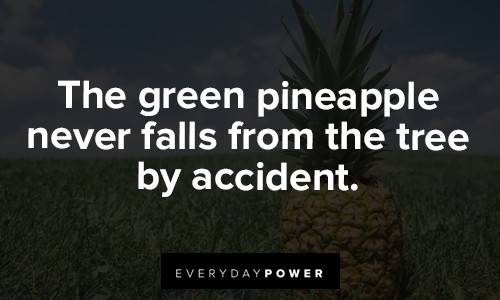 26. "The soul wants pineapples in champagne, and the body requires vodka." – Unknown
27. "When life gives you pineapples, just add rum." – Unknown
28. "You are the pineapple of my eye." – Unknown
29. "You can't compare pineapples and coconuts." – Unknown
30. "He is the very pineapple of politeness." – Richard Brinsley Sheridan
If you enjoy this article, check out our collection of watermelon quotes about the sweet and juicy summer fruit.
More Pineapple Quotes and Sayings
31. "I thought 'Pineapple Express' was hilarious." – J. B. Smoove
32. "Somebody's been putting pineapple juice in my pineapple juice!" – W. C. Fields
33. "I think I was a mermaid and I used to swim the shores of Hawaii and used to pop up and see coconuts and pineapples everywhere." – Ella Henderson
34. "If you sit in a bath of pineapple chunks, it can kill you. That's well documented." – Karl Pilkington
35. "I can't wait to get off the stage, because I've got some LifeSavers in my pocket and pineapple is next!" – Mitch Hedberg
36. "It was really fun on the set of 'Pineapple Express'. I mean, how could I not have fun? It was exactly what you think it would be." – Seth Rogen
37. "Stupid national anthem… Look at this flag; two bears fighting over a pineapple. What kind of message does that send to the world? Come to Belarus, where wild animals will steal your fruit." – Bill Bailey
38. "I describe my music as a mix of juices – Tropicana orange juice and a little bit of off-brand pineapple juice. I guess you could call it generic-brand pineapple-wave." – Mike Tucker
39. "As a kid I'd play with homemade recipes, like putting pineapple on my face to exfoliate my skin and doing facial steams with lavender or peppermint oils." – Demi Lovato
40. "A pineapple is a compilation of berries that grow and fuse together. When joined, they create a single fruit." – Suzy Kassem
Pineapple Quotes To Celebrate Sweetness
41. "Pineapples are one of nature's medicines." ― Steven Magee
42. "In certain areas of the country, a pineapple was a symbol of warmth, welcome, friendship, and hospitality." ― Barbara A. Luker
43. "I like pineapple. It's delightful!" ― Sarah Drew
44. "The dessert plates were arranged with delicate biscuits and pineapple cream served in cunning little glazed pots." ― Lisa Kleypas
45. "It is against the law of Pineapples for humans to drink water after eating them."
― Michael Bassey Johnson
46. "Maturity is most rapid in the low latitudes, where pineapples and women most do thrive." ― Nathaniel Parker Willis
47. "Pineapple reduces swelling." ― Olivia Culpo
48. "A Mai Tai with pineapple. It's like a vacation in a glass!" ― Katie Lee
49. "I had a craving for pineapple and a pink cardigan." ― Sophie Kinsella
50. "A pineapple is far more versatile than you might think, and certainly merits wider use than in Hawaiian pizzas, Piña Coladas and cheese cocktail sticks." ― Yotam Ottolenghi
How Do You Like Your Pineapple?
If you're a certified pineapple lover, you'll enjoy these pineapple quotes paying tribute to your queen of tropical fruits – tough and proud on the outside but sweet, enjoyable, and delectable on the inside.
Use them as witty captions to your favorite colorful pineapple snapshots gracing your social media accounts.
The pineapple is a tropical delight that's been making waves with its refreshing, mouthwatering and satisfying taste, and its unique intricate packaging that's eye-candy to many.
It's also a fitting symbol for warmth, hospitality, fun, and positivity.
Do you like your pineapple cubed, halved, sliced, or squeezed?
It doesn't really matter as long as you understand what the pineapple stands for and that all of us can use a generous helping of "pineapple-ism".
Did you enjoy these pineapple quotes?
Which of the quotes is your favorite?
Let us know in the comment section below.