50 Funeral Quotes About This Important Ritual
These funeral quotes will help you write a eulogy or service, or just find some words of comfort.
Some of them will also challenge your views on death and expose you to funeral practices of other cultures.
There are often no good words when someone is in the middle of grieving.
No one really knows what to say, even though they desperately want to say the 'right thing.'
The funeral itself is a way for loved ones to honor the memory and life of the person they have lost.
Consequently, each culture may have a different way of performing the funeral.
The funeral itself might follow a religious ceremony, or it might have no structure.
Some cultures and beliefs have a wake or party afterwards that is much lighter than the funeral itself.
However you experience a funeral, the point is to offer love and support for the family while remembering the person who has passed away.
These funeral quotes are a good way to prepare and better understand what the purpose of a funeral is.
Check out our most popular quote article, a list of short inspirational quotes for daily inspiration.
Our inspirational quote category page has even more inspirational and educational quotes.
Funeral quotes for the eulogy or service
A funeral is never easy, but it is often a time of reflection on the person who passed, as well as your own priorities. The collection of quotes below are from people reflecting on life.
1. "Grief is the price we pay for love" — Colin Murray Parkes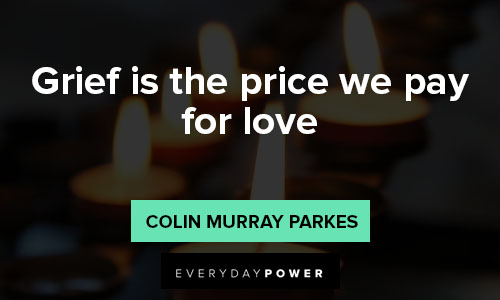 You will also enjoy our article on quotes about death.
2. "The song is ended, but the melody lingers on…" — Irving Berlin, The Song is Ended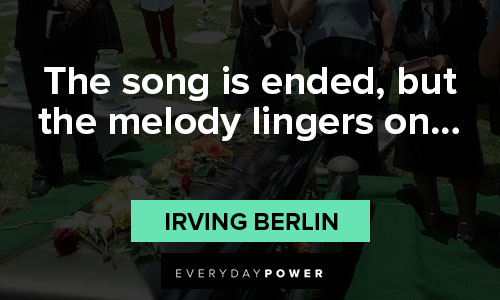 You will also enjoy our article on grief quotes.
3. "Life has to end. Love doesn't." — Mitch Albom, The Five People You Meet in Heaven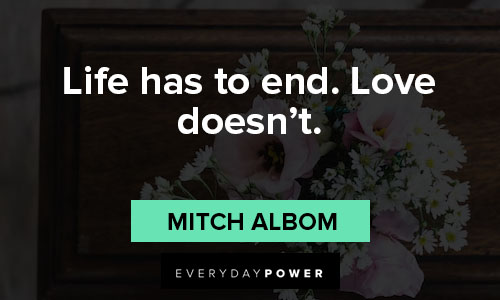 4. "As is a tale, so is a life: Not how long it is, but how good it is, is what matters." — Seneca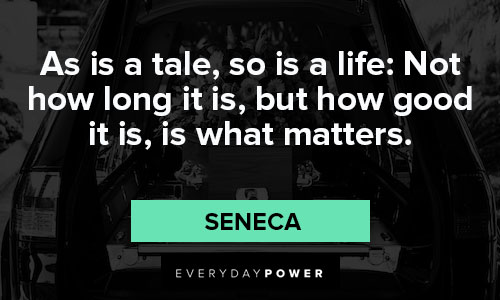 5. "For life and death are one, even as the river and the sea are one." — Khalil Gibran, On Death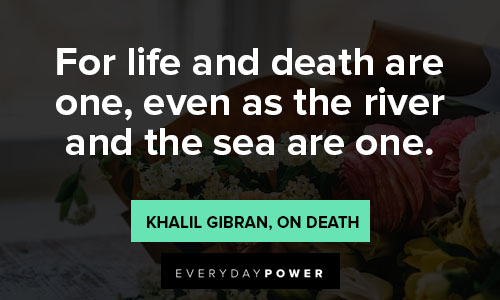 6. "How lucky am I to have something that makes saying goodbye so hard." — A.A. Milne, Winnie the Pooh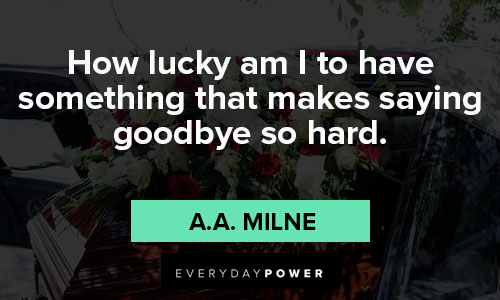 7. "Lives are like rivers: Eventually they go where they must. Not where we want them to." —Richard Russo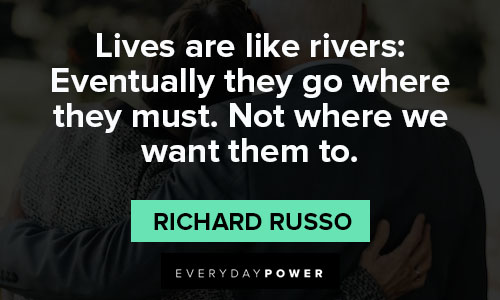 8. "Death is not extinguishing the light. It is putting out the lamp because the dawn has come." — Rabindranath Tagore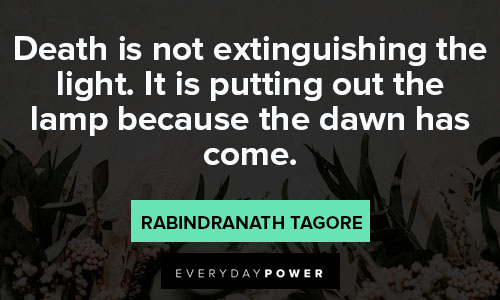 9. "What we once enjoyed and deeply loved we can never lose, for all that we love deeply becomes part of us." — Helen Keller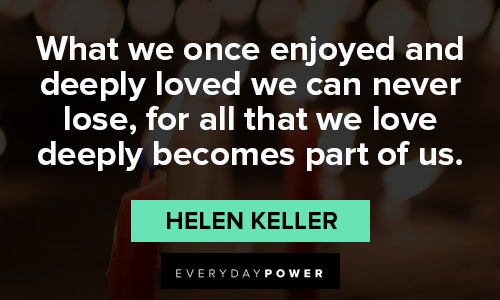 10. "How can the dead be truly dead when they still live in the souls of those who are left behind?" — Carson McCullers, The Heart is a Lonely Hunter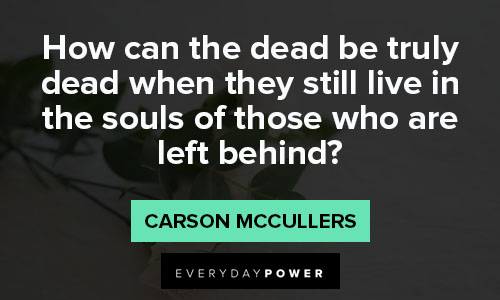 You will also enjoy our article on quotes about losing a loved one.
Funeral quotes about different cultures and customs
From life through death different cultures have different customs. Check out the quotes below to get some perspective on differing views of death and burial.
11. "Among other things, culture is the decision as to how a corpse is to be returned to the soil." ― Mokokoma Mokhonoana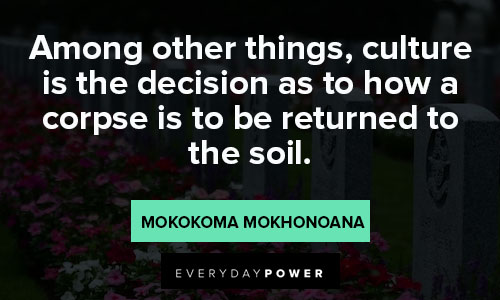 12. "I've never seen a nation more quick at finding joy in a sad situation than the Irish at a funeral." ― E.A. Bucchianeri, Vocation of a Gadfly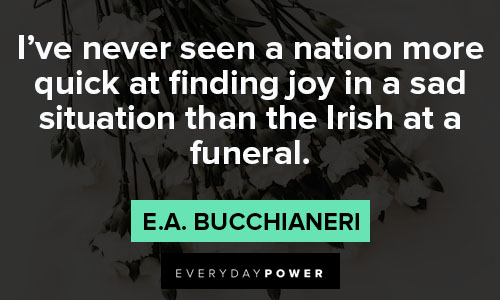 13. "The notion of burial had always struck him as stifling and cold. He liked the Indian way better, setting the bodies up high, as if passing them to the heavens." ― Michael Punke, The Revenant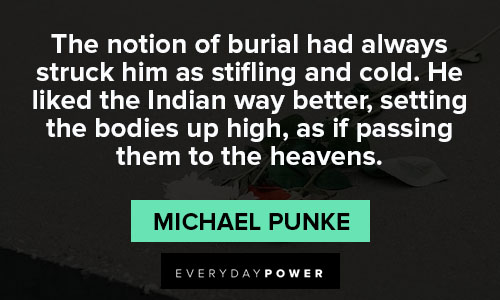 14. "Why should black be the color of death? Why not the colors of a sunset?" ― Daniele Varè, The Maker of Heavenly Trousers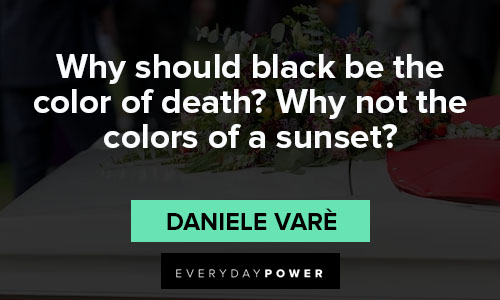 15. "It's important to attend funerals. It is important to view the body, they say, and to see it committed to earth or fire because unless you do that, the loved one dies for you again and again." ― Ann-Marie MacDonald, Fall on Your Knees
16. "It's ghastly to burn someone you love but watching the smoke going into the sky, I think that's rather beautiful now. And I wish Tess could be up in the sky. Somewhere with color and light and air." ― Rosamund Lupton, Sister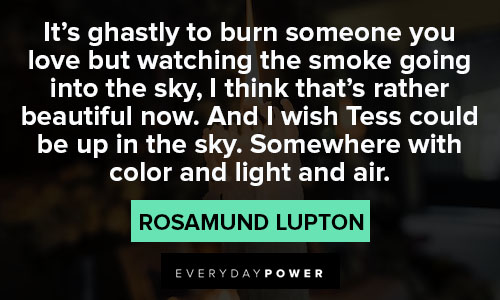 17. "I wish to declare with all earnestness that I do not want any religious ceremonies performed for me after my death. I do not believe in such ceremonies, and to submit to them, even as a matter of form, would be hypocrisy and an attempt to delude ourselves and others." ― Jawaharlal Nehru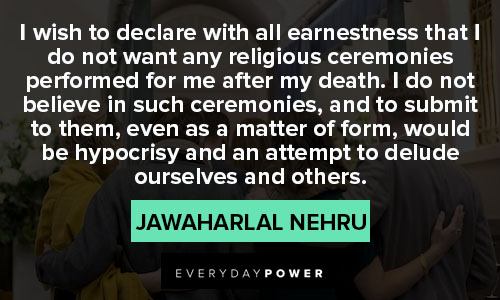 18. "Following directly behind the bier were the servants who would, in earlier times, have been slaughtered at the graveside, along with a warrior's horse. Musicians and torchbearers came next, with the rear taken up by the mimes- sinister, silent figures in wax masks modeled on dead members of the family." ― Catharine Arnold, Necropolis: London and Its Dead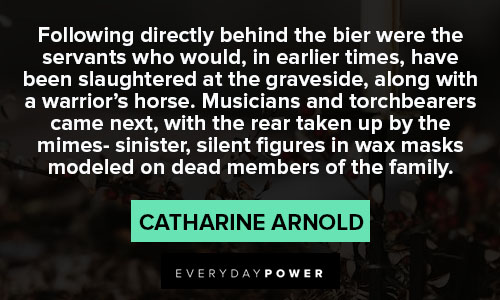 19. "The Romans feared their dead. In fact, Roman funeral customs derived from a need to propitiate the sensibilities of the departed. The very word funus may be translated as dead body, funeral ceremony, or murder. There was a genuine concern that, if not treated appropriately, the spirits of the dead, or manes, would return to wreak revenge" ― Catharine Arnold, Necropolis: London and Its Dead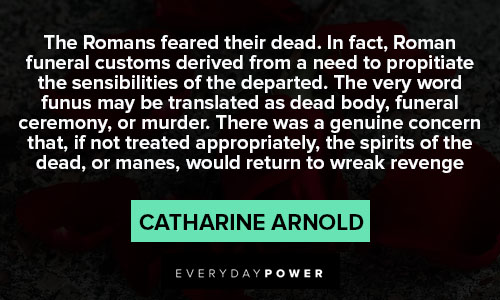 Powerful funeral quotes to make you think about life and death
Sometimes we need a powerful word or quote to get us through a tough time. Take a look at the collection of powerful quotes below.
20. "Laughter at a funeral is a sign of a life well loved." ― Todd Stocker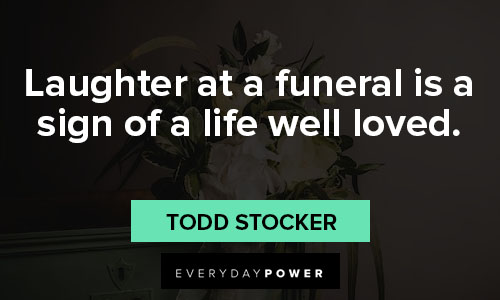 21. "Only you get to attend the funeral when you bury your past." ― Nitya Prakash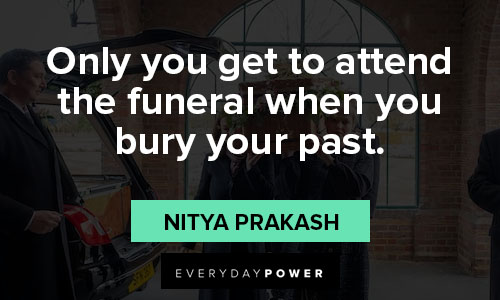 22. "Some people murder your dreams and then attend the funeral too." ― Nitya Prakash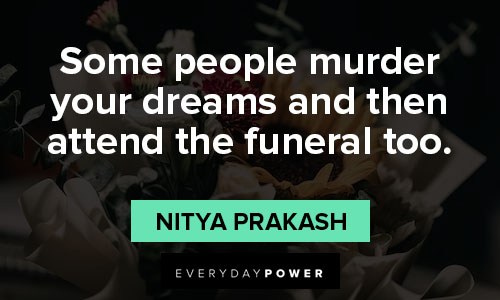 23. "How quickly, how neatly the chaos of a living person could be reduced to an insignificant box." ― Josh Lanyon, Fatal Shadows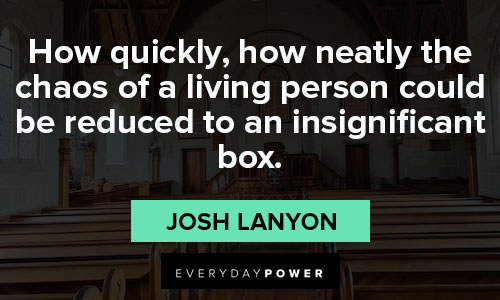 24. "Funerals aren't for the dead, they're for the living, and I want to live." ― Leia Stone, Fallen Academy: Year Three And A Half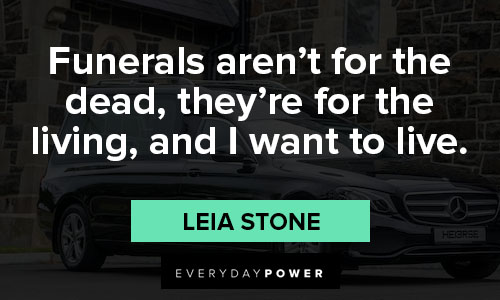 25. "I want words at my funeral. But I guess that means you need life in your life." ― Markus Zusak, The Book Thief
26. "Almost every funeral is attended by at least a few people whose funerals the person being buried thought he or she would attend." ― Mokokoma Mokhonoana
27. "Funerals greatly exaggerate the pleasantness of being alive, while they prevent us from thinking about the advantages of being dead." ― Mokokoma Mokhonoana
28. "Funerals are a constant reminder that chasing most of the things we are chasing is an embarrassing way to spend a portion of our lives." ― Mokokoma Mokhonoana
29. "During a funeral, the corpse receives way more affection, love, or attention, from some people, than was ever received, from those people, by the person the corpse used to be." ― Mokokoma Mokhonoana
30. "In the middle of some of the most passionate debates, I often ask my patients, "At your funeral, will it matter?" And it is amazing how often that question is followed by absolute silence." ― Craig D. Lounsbrough
Funny funeral quotes for a different perspective
Funerals are sad, but good and funny times are often shared. Take a look at these quotes to bring a smile to a hard time.
31. "Life is but a story told at one's funeral" ― Charles Slamowitz
32. "I never saw a dollar bill cry at anyone's funeral." ― J. Lincoln Fenn
33. "Unfortunately, being dead from inside doesn't reduce the cost of the funeral." ― Nitya Prakash
34. "Visit me before I die. We can enjoy one another's company. A funeral is a rather one-sided affair." ― Ralph Webster
35."I wear all black to remind you not to mess with me because I'm already dressed for your funeral." ― Moosa Rahat
36. "Death has a style all its own. I'm glad I don't have to wear it very often." ― Courtney C. Stevens, Faking Normal
37. "In the city a funeral is just an interruption of traffic; in the country it is a form of entertainment. " ― George Ade
38. "I'm telling you, Augustus Waters talked so much that he'd interrupt you at his own funeral." ― John Green, The Fault in Our Stars
39. "In few places is there such a high concentration of hypocrisy as at a writer's funeral." ― Juan Gabriel Vásquez, La forma de las ruinas
40. "That the word funeral starts with fun does not convert it to merriment." ― Vincent Okay Nwachukwu, Weighty 'n' Worthy African Proverbs – Volume 1
41. "People are usually pretty hungry after a funeral. I guess it's because we all realize that time is running out and we better eat all we can. Please don't mention that to my mother." ― Peter Hedges, What's Eating Gilbert Grape
Funeral quotes about mourning and grief
Funerals are a time for mourning. Take a look below to see how others have felt.
42. "Grief remains one of the few things that has the power to silence us." — Anna Quindlen
43. "Death leaves a heartache no one can heal, love leaves a memory no one can steal." — Anonymous
44. "Should the measure of a man be the number of mourners at his funeral? What if he was not close to anyone but himself?" ― Tapan Ghosh
45. "It is sad to fill a grave with a person full of potential yet completely emptied of any more possibility to try it once again." ― Johnnie Dent Jr.
46. "Funerals seem less about comforting the souls of these dearly departed than about
comforting the people they leave behind." ― Rin Chupeco
47. "Your coffin reached the monstrous hole. And a part of me went down into the muddy earth with you and lay down next to you and died with you." ― Rosamund Lupton, Sister
48. "The mourning of a loved one never ends with a funeral. It comes back every so often, like a stage performer eager for a curtain call and expects you to be loud about it. I gave it all the lung capacity I had." ― Kevin Hearne, A Plague of Giants
49. "Part of being a good funeral director—and even a good friend—is knowing that someone may not want to be consoled. They may not welcome your words of support, and you need to respect that. Someone else's grief is not for you to solve." ― Joanne Levy, Sorry for Your Loss
50. "For the funeral, I had to show my proper mourning face. Truly, I longed to break down and have a full-on emotional attack; perhaps if I let myself go long enough, I might get all the pain out of my system. I had no hope of doing such a thing in front of everyone I knew. It simply wasn't proper." ― Maddy Kobar, From Out of Feldspar
Common funeral practices in various cultures
There are common funeral practices in various cultures that might differ from your own customs.
Learning more about how other cultures view death is an eye opening experience.
Each of these customs may differ, however they are each beautiful in their own way!
People from Tibet and Buddhists participate in a sky burial.
They believe that it is important to send the person to heaven.
The manner in which they do this might seem a little strange to some of us, though.
They often leave the body outside (and even dismember it) so that birds and other creatures can eat at it.
This helps take care of the person's remains as well as providing the animals with food.
Famadihana is a common practice in Madagascar.
It translates to "turning of the bones" and involves dancing with the dead.
Following death, loved ones come and open the tombs of the deceased and wrap their bones in ceremonial cloth and dance outside the tomb.
The idea behind it is that it speeds up the rate of decomposition, and moves the spirit into the afterlife faster.
Other customs include burying the dead in the earth or bodies of water, still others believe in cremation and funeral pyres.
It might feel a bit morbid to plan your own funeral, but if you have specific wishes, then this is the best way to make sure they are met.
Consequently, write down what you want your funeral to look like and speak about it with your family members.
What are some other funeral quotes or traditions that you or your friends practice?
Let us know in the comment section below!