Ice Cream Quotes Just In Time For Summer
Life's ups and downs can be associated with one of the most favorite desserts of many—ice cream.
Just like these delicious and yummy ice cream quotes, it mirrors how life can be enjoyed in every lick.
We can all agree that one of the best sweet treats in the world is ice cream.
Eating ice-creams is not just for summer.
In fact, you can have it even in cold seasons.
It is a simple dessert choice without too much complexity that no one can refuse.
You can get a couple of scoops and store the remaining for weeks till months and still taste the same delicious treat.
With endless flavors to choose from and pair with just about everything, a scoop can turn your mood positive in an instant.
It has long been a proven comfort food for those who are feeling blue, giving them that quick dose of happiness and joy in every lick.
Don't forget to also check out these chocolate quotes to make your mouth water.
If you like this article, we suggest you explore our most popular quotes article, a list of short inspirational quotes for daily encouragement.
Check out more inspirational quotes on our motivational quotes category page.
Ice Cream quotes, sayings, and Instagram captions about life and love
1. "Falling in love is a completely transcendent experience. It's like eating pizza-flavored ice cream" – Mike Birbiglia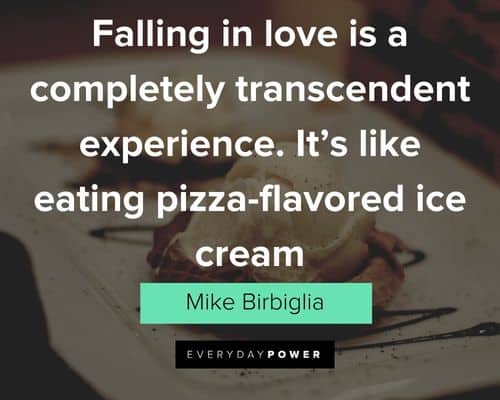 2. "My advice to you is not to inquire why or whither, but just enjoy your ice cream while it's on your plate." – Thornton Wilder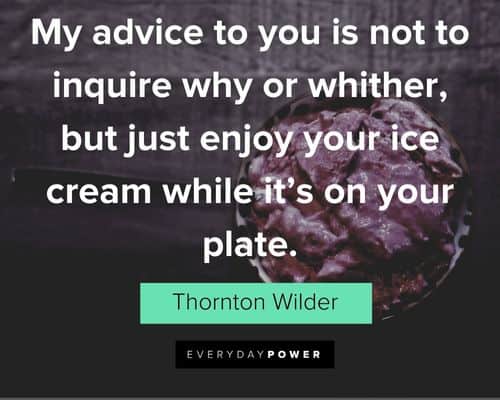 3. "To maintain a youthful mind, write down two or three things you can do that are totally childlike, such as eating an ice cream cone, coloring a picture, or jumping rope. Find something that brings back the sense of fun you had as a child and choose one of these activities to do today." – Deepak Chopra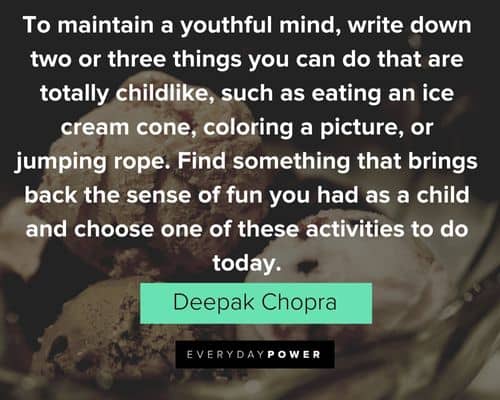 4. "The last laugh, the last cup of coffee, the last sunset, the last time you jump through a sprinkler, or eat an ice-cream cone, or stick your tongue out to catch a snowflake. You just don't know." – Lauren Oliver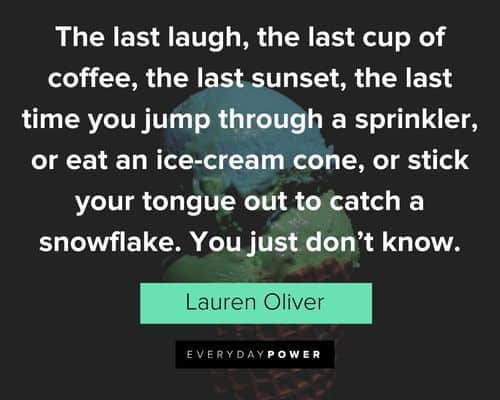 5. "Living life without a purpose is like having an ice cream cone in your hand, letting it melt and drip without eating it. It was yours to enjoy, but you lost it!" — RVM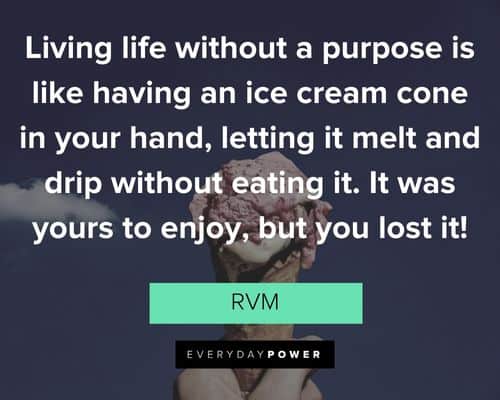 6. "If life is a bowl of dark ice cream, small moments we enjoyed are colorful sprinkles all over it." — Unknown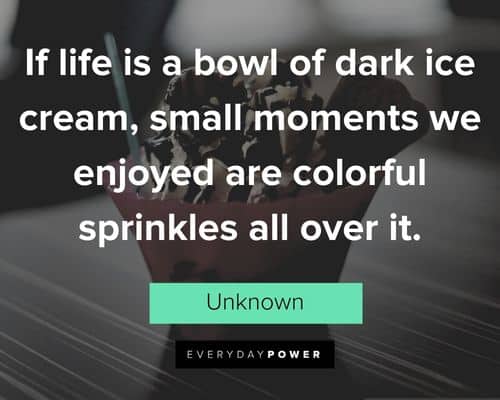 7. "Ice cream is good for the soul." ― Adrienne Posey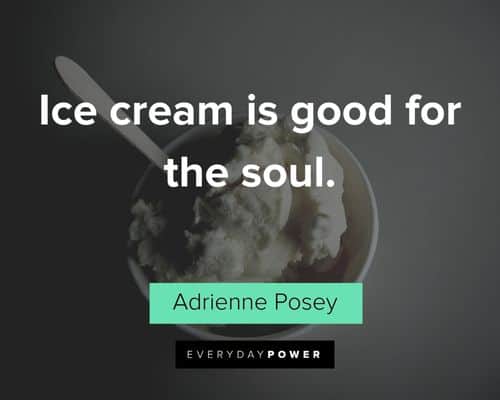 8. "Kipling said that Success and Failure are both imposters, and we should all listen to Kipling, if only because none of us are likely to know anybody else named Rudyard. But having been bitten in my life by the jaws of both victory and defeat, I must rush to add that success is to failure as butter pecan ice cream is to death." – Rupert Holmes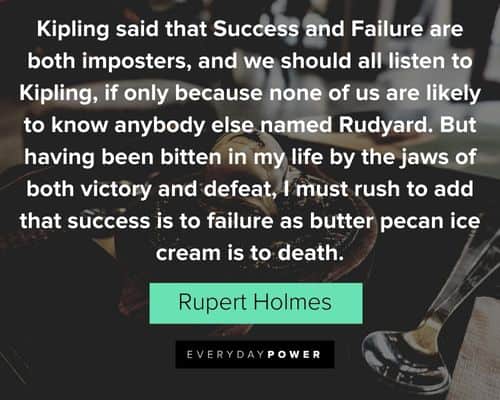 9. "Ice cream is cheaper than therapy." — Unknown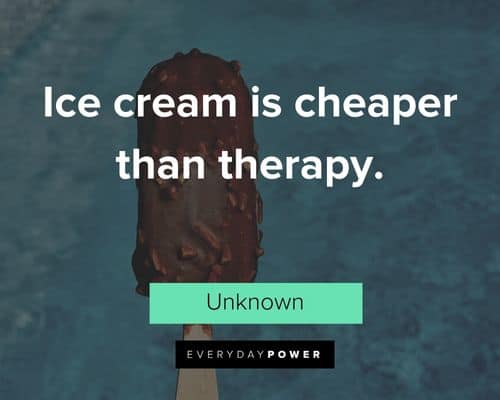 Ice Cream quotes that make everything better
10. "Sometimes all you need is love… Oh, wait! And ice cream, and chocolate to go along with it as nowadays love is anything but sweet." — Meghan Khare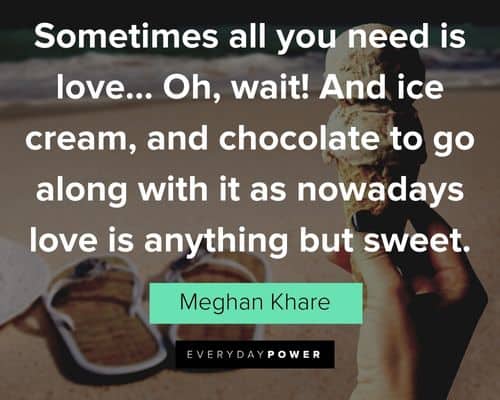 11. "There is no sincerer love than the love of ice cream." – George Bernard Shaw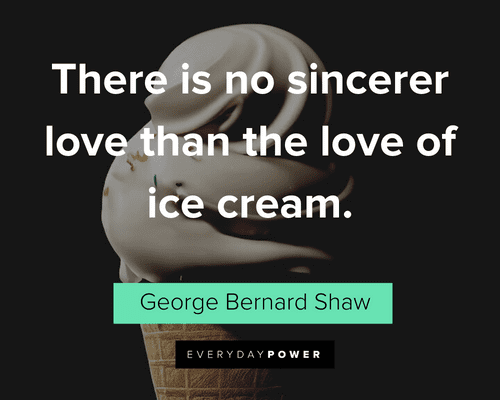 12. "Ice cream never asks silly questions. Ice cream understands." – Anonymous
13. "Oh, everyone likes ice cream, yes indeed they do. Everyone likes ice cream, I do, do you? Search the whole world over, travel near and far. But everyone likes ice cream no matter who they are." – Bert & Ernie Sing-Along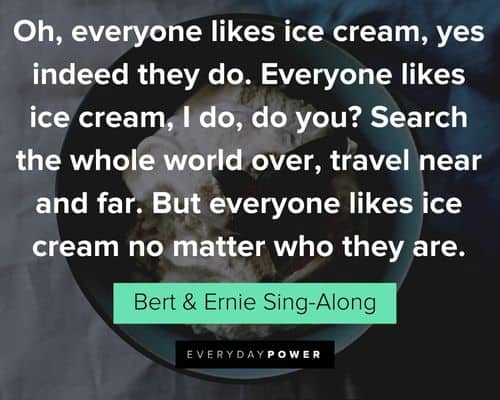 14. "Ice cream brings people together." – Doug Ducey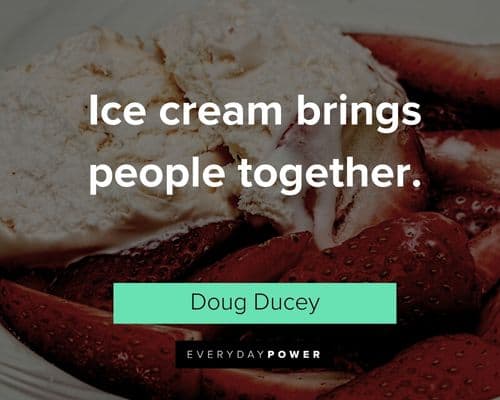 Ice Cream quotes about happiness
15. "It's fun. When people come in to buy ice cream, they're happy. It's a treat." – Mike Manfredi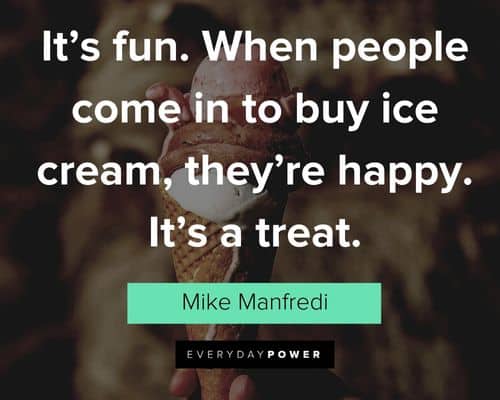 16. "There were some problems only coffee and ice cream could fix." — Amal El-Mohtar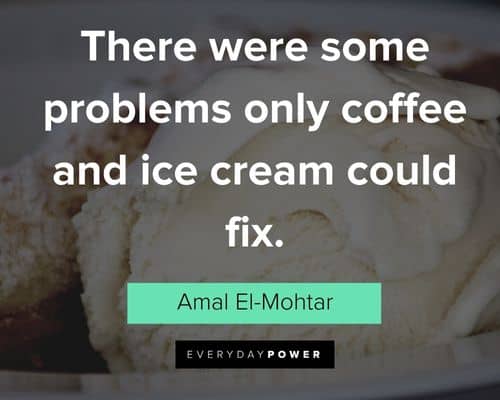 17. "Without ice cream, there would be darkness and chaos." — Don Kardong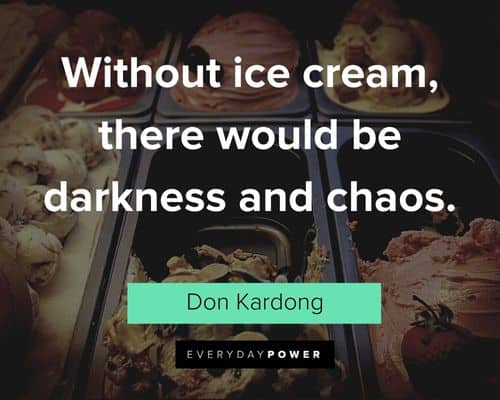 18. "Happiness is a tub of ice cream." – Anonymous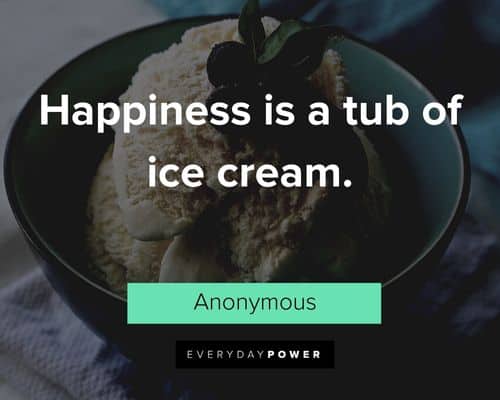 19. "If you were ice cream, you would be my favorite flavor." – Anonymous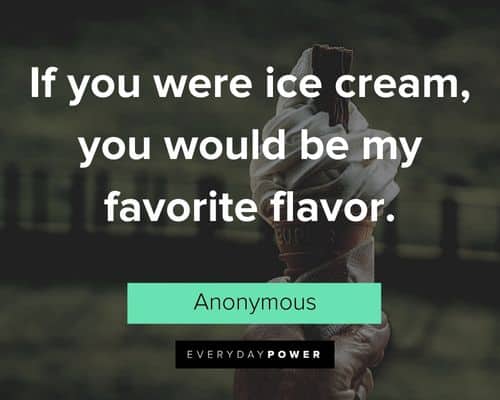 20. "My secret indulgent food is dessert. I have an incredible sweet tooth – chocolate pudding with vanilla ice-cream or trifle and pavlova. I do love dessert." – Deborra-Lee Furness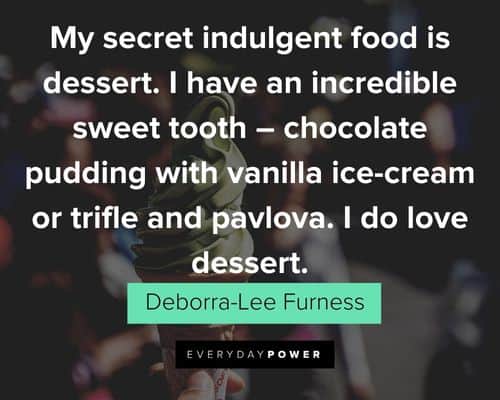 21. "Ice cream is my comfort food." – Jessie Ware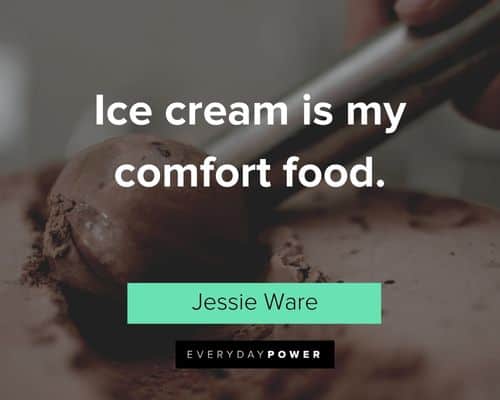 22. "I'd rather be at home and eat ice cream than go out and get wasted." – Taylor Swift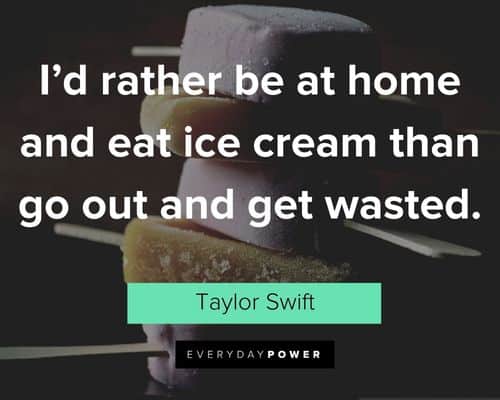 Funny Ice Cream Quotes
23. "My brain said salad but my stomach autocorrected it to ice cream." – Anonymous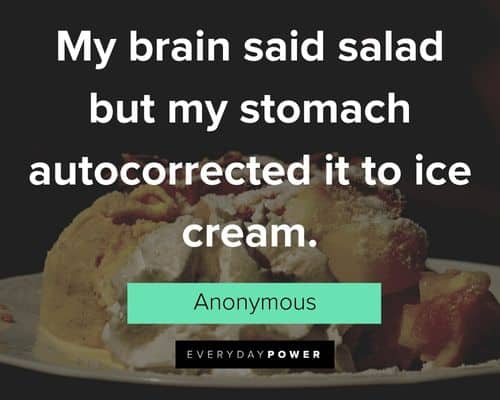 24. "Now just the thought of eating ice cream puts pounds on me." – David Nail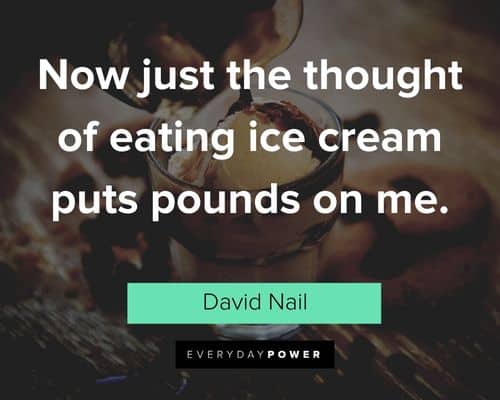 25. "I always say whoever can figure out how to make ice cream healthy will be a gazillionaire." – Justin Deeley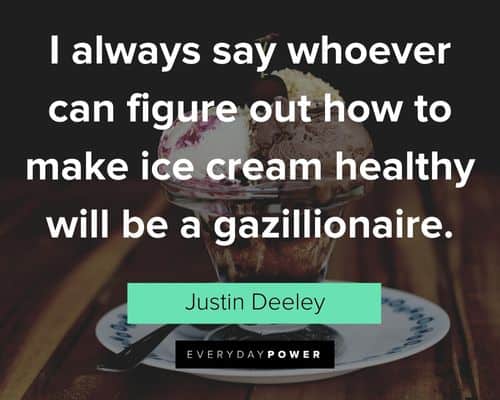 26. "Eating ice cream and not exercising is great. The downside is your health isn't so good." – Jeff Bridges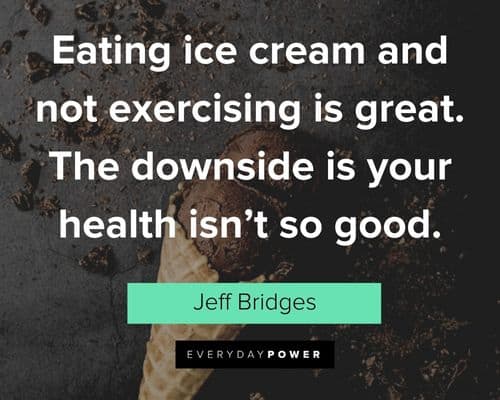 27. "The only running I do is to chase the ice cream truck." – Anonymous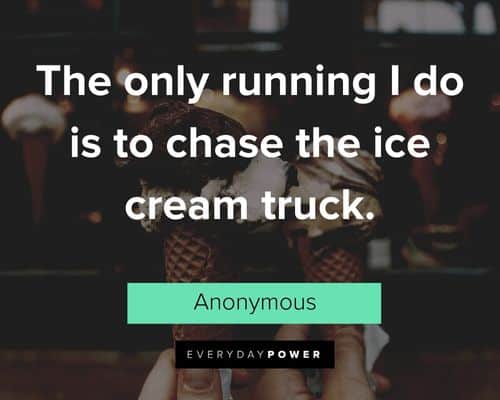 28. "To see a hungry kid eating a bowl of rice like it's ice cream — there's a satisfaction in that, that words can't express." – Ronnie Hepperly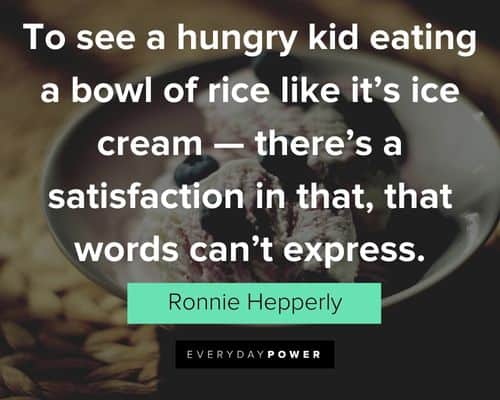 29. "If you like ice cream, why stop at one scoop? Have two, have three. Too much is never enough." – Morris Lapidus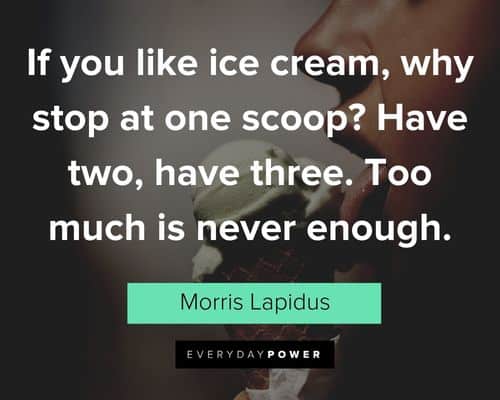 30. "Gelato. Italian ice cream. The greatest thing that will ever happen to you." – Jenna Evans Welch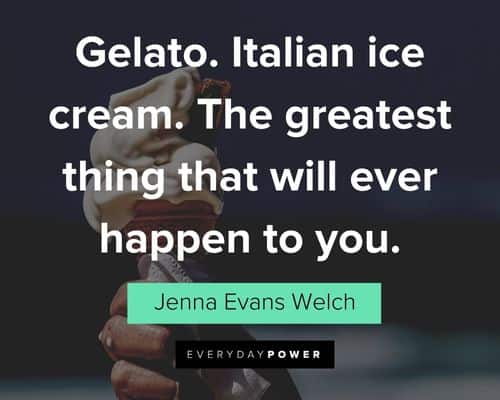 31. "It is like a temptation to eat ice cream instead of something that is better for you." – Pete Sorensen
32. "I ain't no veggie, like my flesh to the bone, alive and licking on your ice cream cone." – Alice Cooper
33. "Tomorrow we can eat broccoli, but today is for ice cream." — Malory Hobson
34. "Ice cream cravings are not to be taken lightly." – Betsy Canas Garmon
35. "I always say whoever can figure out how to make ice cream healthy will be a gazillionaire." – Justin Deeley
36. "If your arteries are good, eat more ice cream. If they are bad, drink more red wine. Proceed thusly." ― Sandra Byrd
37. "I go running when I have to. When the ice cream truck is doing sixty." – Wendy Liebman
38. "Just taught my kids about taxes by eating 38% of their ice cream." – Conan O'Brien
39. "Ice-cream is exquisite – what a pity it isn't illegal." – Voltaire
40. "Sucking your thumb without a blanket is like eating a cone without ice cream!" – Charles M. Schulz
41. "It is a grave error to assume that ice cream consumption requires hot weather." – Anne Fadiman
42. "Not to like ice cream is to show oneself uninterested in food." – Joseph Epstein
43. "I think the serving size of ice cream is when you hear the spoon hit the bottom of the container." – Brian Regan
More Ice Cream quotes and sayings
44. "You see, patriotism is a lot like ice cream. It comes in many flavours these days. Ours that tastes of freedom, love, and peace may not exactly be a bestseller but that doesn't mean there aren't people who wouldn't like to try it." ― Chirag Tulsiani
45. "Forget art. Put your trust in ice cream." – Charles Baxter
46. "… everyone knows that ice cream is worth the trouble of being cold. Like all things virtuous, you have to suffer to gain the reward." – Brandon Sanderson
47. "The only thing that ultimately matters is to eat an ice-cream cone, play a slide trombone, plant a small tree, good God, now you're free." – Ray Manzarek
48. "If you like ice cream, why stop at one scoop? Have two, have three. Too much is never enough." – Morris Lapidus
49. "Age does not diminish the extreme disappointment of having a scoop of ice cream fall from the cone." – Jim Fiebig
50. "Ice cream is the perfect buffer because you can do things in a somewhat lighthearted way. Plus, people have an emotional response to ice cream; it's more than just food. So I think when you combine caring and eating wonderful food, it's a very powerful combination." – Jerry Greenfield
Cool Ice Cream Quotes For Instagram
51. "Revenge is sweet, but ice cream is sweeter." — Holly Black
52. "Never ask a woman who is eating ice cream straight from the carton how she's doing."
― Nitya Prakash
53. "Ice cream refreshes the soul and life." ― Adrienne Posey
54. Some say, 'I'm going out to get some fresh air. Eat ice cream and fresh up your life." ― Alan Maiccon
55. "I guess ice cream is one of those things that are beyond imagination" ― L.M. Montgomery
56. "Ask about our daily ice cream special." ― Richelle Mead
57. "Snow always makes me think of ice cream. Glaciers look like where it's dribbled." ― Jane Wilson
58. "I am forever yearning for ice cream." — Noor Ashour
59. "Eat Ice Cream. Read Books. Be Happy." ― Carew Papritz
60. "It's harder to hate someone when they like the same ice cream as you." ― Shannon Wiersbitzky
Simple Ice Cream Quotes For The Love Of Ice Cream.
61. "No, I was just good at holding ice cream cones." — Mitch Hedberg
62. "It was the color of someone buying you an ice cream cone for no reason at all." — Lemony Snicket
63. Lieutenant Dan, I got you some ice cream. Lieutenant Dan, ice cream!" — Forrest Gump
64. "I never say no to an ice cream." — Ingrid Betancourt
65. "When I have bad days, I just eat lots of chocolate ice cream and dance to the 'Lion King' soundtrack. It's really odd, but it's true." — Blake Lively
66. "When I was a kid, I used to think, 'Man, if I could ever afford all the ice cream I want to eat, that's as rich as I ever want to be.'" — Jimmy Dean
67. "My love for ice cream emerged at an early age — and has never left!" — Ginger Rogers
68. "Forget diamonds. Ice cream is a girl's best friend." – Huckleberry's.
69. "When everyone has let you down… You still have ice cream." – Keegan Allen.
70. "How do you say no when a little kid is asking you for ice cream? I know I can't say no to it myself." – Jimmie Johnson.
Mouthwatering Ice Cream Quotes
71. "Ice cream goes with springtime." ― Susan Hill
72. "You miss 100% of the ice cream you don't scoop." ― Wayne Gretzky
73. "Spoon the sauce over the ice cream. It will harden. This is what you have been working for." ― Nicholson Baker
74. "This is not ice cream. These are powerful products." ― Billy Tauzin
75. "Don't let your ice cream melt while you're counting somebody else's sprinkles." ― Akilah Hughes
76. "Easy as an ice cream sundae. Slipping outta your hand into the dirt. Easy as an ice cream sundae. Every dancer gets a little hurt." ― Joshua Jenkinson
77. "They can crumble as easily as ice cream in this heat." ― Sammy Nelson
78. "First love is like vanilla ice cream. There may come many eclectic flavors, but there shall be only one classic." ― Akshar
79. "Scoops of mint ice cream with chips of chocolate cows." ― Jim Bishop
80. "We're all ice cream castles in the summertime. Ice cream castles in the summer." ― Morris Day
Ice Cream Quotes For Ice Cream Lovers
81. "I have the best memories as a kid eating ice cream. It was a family tradition that I had with my father. It was nice." ― Michael Strahan
82. "Candy is my fuel. Ice cream, too." ― Jane Smiley
83. "Sometimes if you've got a story that's interesting enough, you don't need to pour sugar on ice cream. The ice cream is great." ― Paul Schneider
84. "You feel better in the short run when you have a tub of ice cream, but in the long run, you don't." ― Meredith Vieira
85. "After I win a match, I celebrate it by having an ice cream." ― Saina Nehwal
86. "Sweet cream on an ice cream sandwich!" ― Dwayne Johnson
87. "Do I want an ice cream bar with my name on it? You're DAMN right!" ― CM Punk
88. "I have always wanted to own a homemade ice cream shop!" ― Lela Rose
89. "You're gonna grow up and marry some ice cream! Haha!" ― Jeff Kinney
90. "For a thorough use of ice cream cones, buy two; eat one and drop the other." ― Claes Oldenburg
Which of these Ice Cream quotes is your favorite?
There is a long list of reasons why people love ice cream.
Aside from being a classic dessert for everyone, it suits every person's character, however different they may be with one another.
It is just plain irresistible for those craving some sugary and creamy treat.
Indeed, everyone's love for ice cream has transcended time.
Ice creams have always been a favorite for the young and even the young at heart.
Our grandparents surely loved their favorite flavors in their time, and have surely shared tons of memories together while enjoying their favorite dessert.
So, whether you like either chocolate or strawberry flavor, topped with your favorite sprinkles, you have to enjoy life, just like how we enjoy our very own ice cream, one scoop at a time.
Did you enjoy reading these Ice Cream quotes and sayings?
Which of the quotes is your favorite?
Let us know in the comment section below.