60 Soul-Searching Quotes to Discover Who You Are
These soul-searching quotes will help you better understand who you are and why you should examine your thoughts and feelings.
Most everyone has heard the term soul searching before.
However, many people wonder what does it mean exactly?
Tell us what you think of when you think of soul-searching in the comment section below.
What are the benefits of reading these soul-searching quotes?
Well, according to the Collins English Dictionary, soul-searching means "a long and careful examination of your thoughts and feelings, especially when you are trying to make a difficult moral decision or thinking about something that has gone wrong."
Soul searching might look an awful lot like meditation and practicing mindfulness.
Each of these things increases your:
tendency to turn inward
ability to breathe
ability to embrace the moment
If you are on a soul journey because you are trying to decide something or understand what went wrong, then meditation and mindfulness are good places to start.
Now, soul searching doesn't look the same for everyone.
Some people might practice meditation daily, while others might incorporate things like a daily walk into their routine and use that as their time to reflect and ponder about life.
Still, others might go on a long trip into the woods with no phone or Wi-Fi and face the elements.
There is more than one way to soul search, and since this is you and your very essence we are talking about, you decide what works best!
Keep reading through these soul-searching quotes and get inspired to dig deep into who you are and what you want!
Check out our most popular quote article, a list of short inspirational quotes for daily inspiration.
Our inspirational quotes category page has all of our motivational quotes for all the different areas of life.
Soul-searching quotes about meditation and mindfulness
When you are trying to find out who you are or why you think certain things, it is imperative to take time to meditate or process things. Look at the quotes below for some ideas.
1. "Let the breath lead the way." — Sharon Salzberg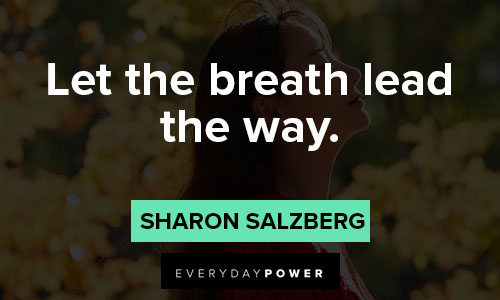 You will also enjoy our article on jurassic park quotes.
2. "Quiet the mind, heal the source." — Tiffany Stoffer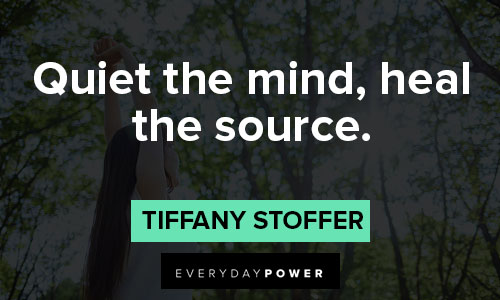 You will also enjoy our article on nourish your soul.
3. "Mindfulness helps us see perfection in the ordinary." — Alex Kakuyo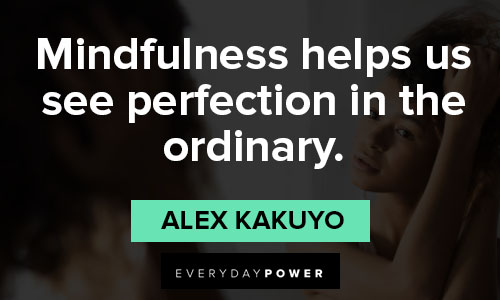 4. "Sound soul; commence and end your day with meditation." — Lailah Gifty Akita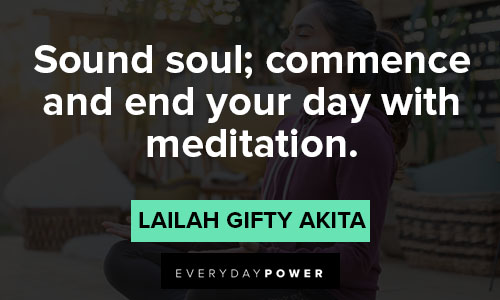 5. "Meditation is spending time with the self. It is the time to be intimated with the soul." — Amit Ray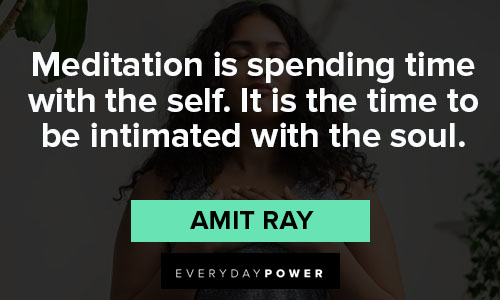 6. "Meditation is an essential travel partner on your journey of personal transformation." — Sarah McLean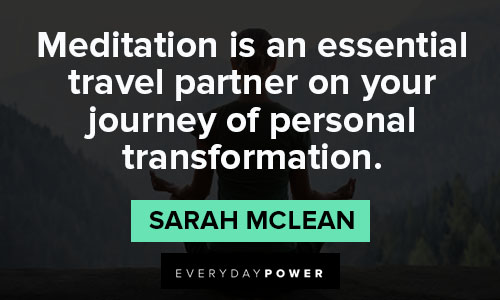 7. "The least amount of mind resistance allows maximum conscious awareness." — Steve Leasock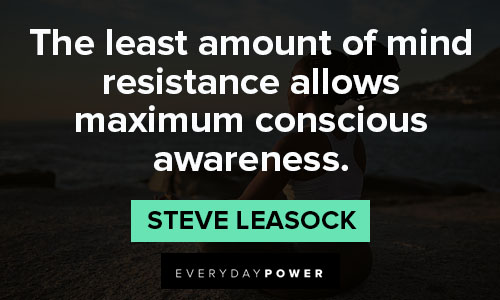 8. "Meditation is like a lullaby to the mind. Like the body, the mind too needs rest." — Shivanshu K. Srivastava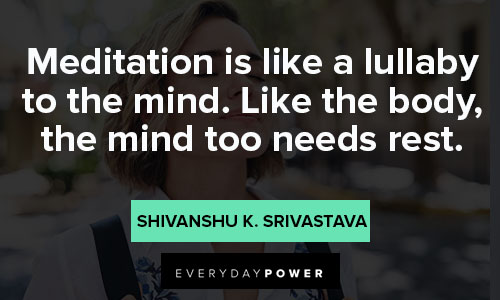 9. "Meditation will declutter your mind from the negative emotions to make way for more positivity." — Shivanshu K. Srivastava
10. "People turn to meditation because they want to make good decisions, break bad habits and bounce back better from disappointments." — Sharon Salzberg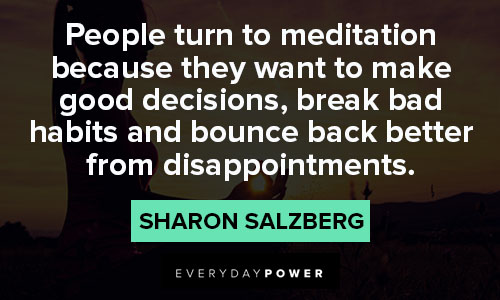 Soul-searching quotes about the self and looking inward
Soul searching requires you to be honest and look inward at yourself. Check out the quotes below from some people that have looked inward at themselves.
11. "Mind knows the questions, soul knows the answers." — Amit Ray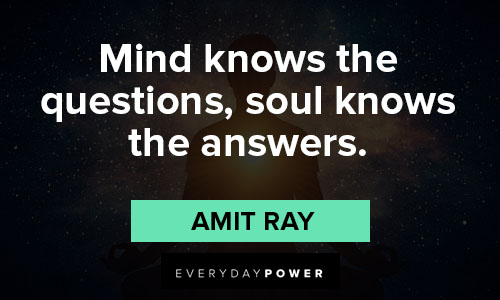 12. "Spend time alone and often, touch base with your soul." — Nikki Rowe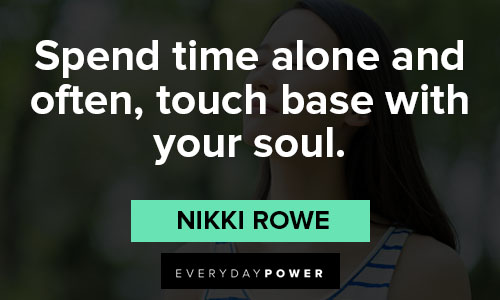 13. "Searching outside of you is Samsara. Searching within you leads to Nirvana." — Amit Ray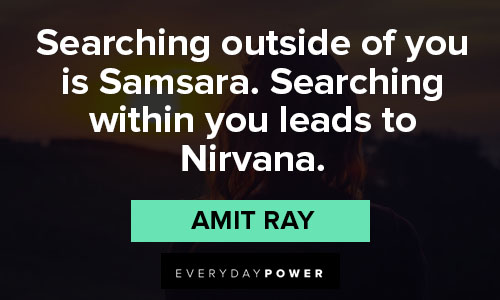 14. "Your sacred space is where you can find yourself over and over again." — Joseph Campbell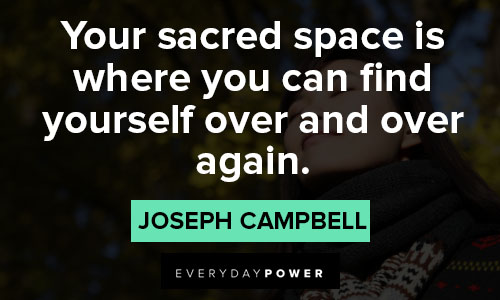 15. "I can't do everything for you. You must walk alone to find your soul." — Laurie Halse Anderson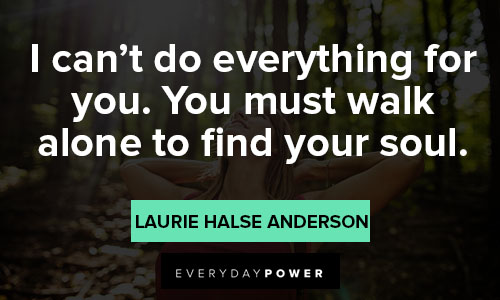 16. "It's impossible to fill the loss of one's soul with anything, other than yourself." — Gerard Armond Powell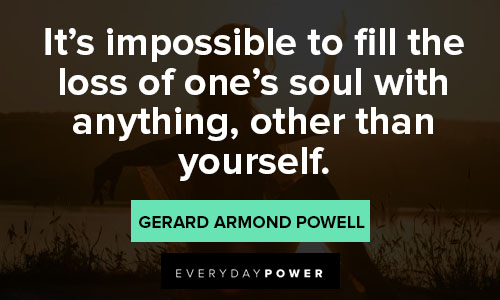 17. "Never forget that there is a soul within you, which loves you very much ,only because it's you." — Munia Khan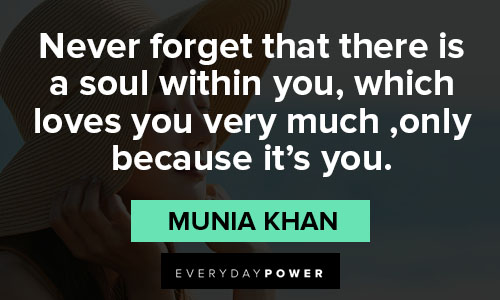 18. "Hold this rope while I dive into my soul; don't even bother pulling it if I didn't come up on my own." — Ahmed Mostafa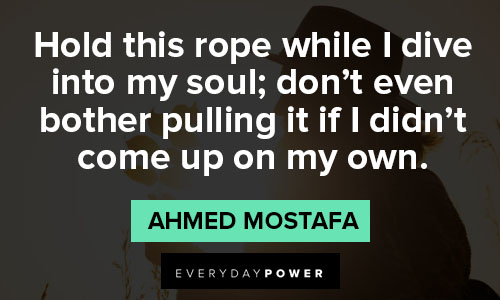 19. "Before you can successfully make friends with others, first you have to become your own friend." — Stephen Richards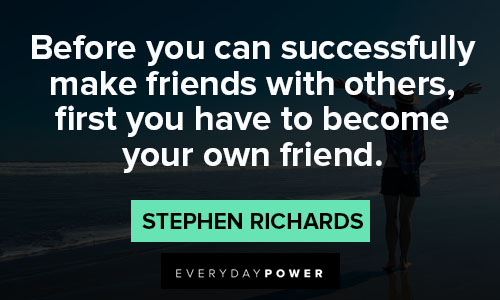 20. "Your real self may be hiding somewhere, look for it within, when you find yourself, you can freely be what you want to be." — Michael Bassey Johnson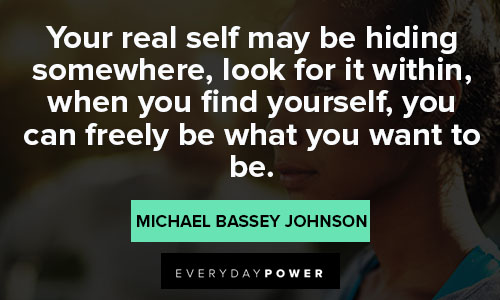 Soul-searching quotes about your purpose and calling
Many of us will do soul-searching to find out what our purpose is. For ideas on how to get started, look at the quotes below.
21. "The next message you need is always right where you are." — Ram Das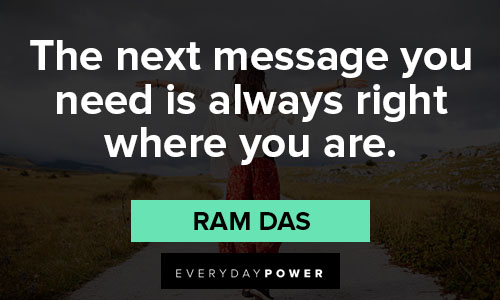 22. "We were built differently, locate your own calling and explore it." — Sunday Adelaja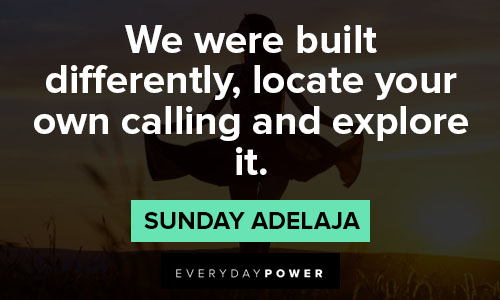 23. "You were born with everything you need to answer the call of your soul." — Marie Forleo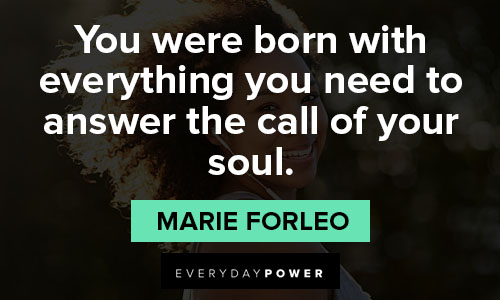 24. "Life is about realizing oneself as a divine being with higher consciousness." — Shiva Negi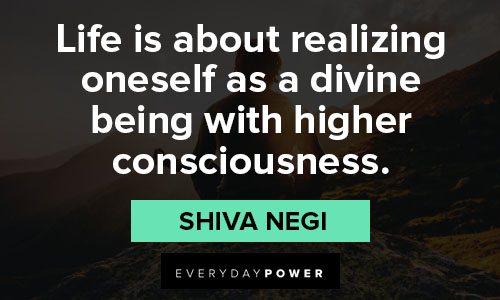 25. "You and your purpose in life are the same thing. Your purpose is to be you." — George Alexiou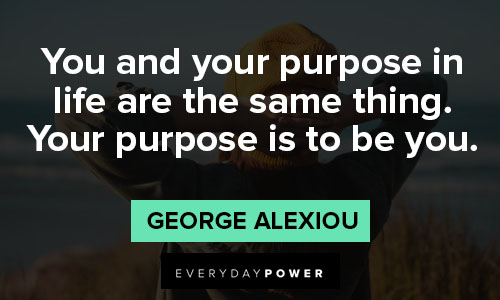 26. "Seek self before you venture to conquer the world. Most of what you are looking for is rooted inside you." — Eric Onyango
27. "That deep longing that you keep dismissing as impractical, may be the very thing your soul is calling you to do." — Renae A. Sauter
28. "Realizing your potentials and spirituality begins with seeing yourself as imperfect with the intent of working towards perfection." — Victor Vote
29. "If your art is calling to you, it's doing so for a reason. You are feeling a pull toward something for which your soul is yearning." — Teresa R. Funke
30. "If you think you know what your purpose is, but can never seem to gain satisfaction from it, then it's probably not the purpose you're destined for." — A.J. Darkholme
Spirituality and enlightenment soul-searching quotes
Oftentimes spiritual growth will aid you in soul searching. As evidenced by the quotes below, it helps be to at peace spiritually if you want to be able to search your soul.
31. "Spirituality awakens the soul to act." — Hingori Sutras
32. "I seek spirituality of the soul and infinite mysteries of a great mind." — Lailah Gifty Akita
33. "Spirituality is not about changing who you are. It's about discovering who you are." — Shunya
34. "Enlightenment arrives like a thief in the middle of the dark night of the soul." — Stefan Emunds
35. "Physical growth is constrained, having said that, spiritual growth is unconstrained" — P.S. Jagadeesh Kumar
36. "I spend my days trying to remember what only my soul knows but my mind can't comprehend." — Raneem Kayyali
37. "Spiritual enlightenment includes the realization that there is no 'there' to go to, and no one to go." — Mokokoma Mokhonoana
38. "The only spiritual journey is the one that leads one within. Everything else is just the mind playing games." — Meeta Ahluwalia
39. "We cannot achieve personal enlightenment—a clarification of our souls—until we cease deluding ourselves." — Kilroy J. Oldster
40. "Spirituality, in a sense, is the different sides of emotions, which transcend from the human spirit and go beyond and above the worldly desires and human needs." — Alyaa Sadek
Soul-searching quotes about happiness and fulfillment
We often perform 'soul searching' when we are not happy. Check out the quotes below on things that bring happiness.
41. "Wake up, live your life and sing the melody of your soul." — Amit Ray
42. "Happiness resides not in possessions, and not in gold, happiness dwells in the soul." — Democritus
43. "If there is one thing to do, it is to do introspective soul searching to find your passion." —
Winston Damarillo
44. "Do not seek death. Death will find you. But seek the road which makes death a fulfillment." — Dag Hammarskjold
45. "Happiness prefers to live inside those who do not have preferences, because it never gets evicted there." — Mokokoma Mokhonoana
46. "Mindfully practicing authenticity during our most soul-searching struggles is how we invite grace, joy and gratitude into our lives." — Brené Brown
47. "You will never be happy if you continue to search for what happiness consists of. You will never live if you are looking for the meaning of life." — Albert Camus
48. "In the struggle between the 'needs' of the soul and the 'wants' of the body, satisfy the soul first for it carries also the riches of the body." — Chinonye J. Chidolue
49. "Take a moment or two for yourself, just reflect on your path and where it is leading you. If you are not happy with where it is heading, choose a new path." — Nyki Mack
50. "No man, with a man's heart in him, gets far on his way without some bitter, soul-searching disappointment. Happy is he who is brave enough to push on to another stage of the journey." — John Mason Brown
More soul-searching quotes to keep in mind
Soul searching is different for each individual. With that in mind, there are some ideas to get started in the collection of quotes below.
51. "We must look deep into our soul daily." — Lailah Gifty Akita
52. "Put your ear down close to your soul and listen hard." — Anne Sexton
53. "It's a lifetime process to figure out how to fill your soul." — Jennifer Mattern
54. "To find peace in any moment all we need to do is respect our own soul" — Mimi Novic
55. "Serenity is not the conclusion of a soul journey, it is the acceptance of being on a soul journey." — Lorraine Nilon
56. "You can't find what was never lost and that's why all this seeking, this soul-searching, is ultimately futile." — Marty Rubin
57. "Don't ever stop believing in your own transformation. It is still happening even on days you may not realize it or feel like it." — Lalah Delia
58. "You're not a broken soul. You're a whole soul who's just feeling a little lost as you try a new path up the mountain." — Brittany Burgunder
59. "The power is in you. The answer is in you. And you are the answer to all your searches: you are the goal. You are the answer. It's never outside." — Eckhart Tolle
60. "Give yourself the gift of time in coming to answers for your life…It takes time, and a lot of introspection and soul-searching, to get clear about what you really want to manifest in your life." — David Emerald Womeldorff
Why soul searching is important
Soul searching matters because it can help us understand who we are.
What really motivates you? What are your true values and priorities?
Do you have a calling or a purpose that you haven't explored yet?
If you are feeling lost or stuck in life, then a little soul-searching might be just what you need.
It is important because often soul searching will help us determine the next move in our lives.
It can help us live a more fulfilled life. One where our outer activities are aligned with what we want and who we truly are.
This alignment can lead to increased happiness and a sense of purpose.
Meditation and stillness are good places to begin, but here are a few other things you can try as well.
Journaling is a great way to examine your thoughts and feelings about certain situations.
Write what you want and the steps you are taking to get there.
Write about how you feel when doing things that move you toward that goal.
Journaling is a great way to express your fears and concerns as well.
Nature can also be helpful in your quest. Being out in nature connects us to something bigger than ourselves.
Often, it can provide answers to questions you didn't even know you had.
Did the soul-searching quotes provide any clarity to you?
This is a great post to share with family and friends, as we all have to do some soul-searching at some point in our lives.
Share your thoughts with us in the comment section below.