Strawberry Quotes for Enjoying the Sweetness of Summer
Strawberry quotes to enjoy all summer long.
Technically, strawberry blooms all year round, but it truly shines during early summer.
Strawberries have this unique appeal to them.
It is shaped like a heart with rich scarlet color on the outside, and more importantly, it is extremely delicious.
For most of us, strawberry has a sweet spot both in our tongue and in life.
It is most delicious when the season of summer begins.
It is when people are going on vacations and having the time of their lives.
It is not hard to associate strawberries with gentle memories and sweet fun with the people who matter to us.
So, here are some strawberry quotes that will make you excited for summer.
Don't forget to also check out these ice cream quotes just in time for summer.
Check out our most popular quote article, a list of short inspirational quotes for daily inspiration.
Check out our entire collection of motivational quotes here.
Cute Strawberry quotes for nice mornings
1. "Strawberry fields forever." – John Lennon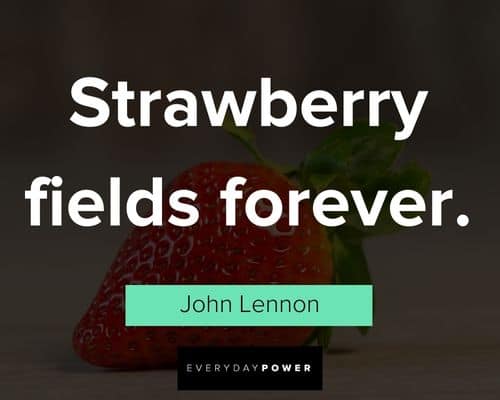 You will also enjoy our article on candy quotes.
2. "You taste like Strawberry stars On my lips." ― Melody Lee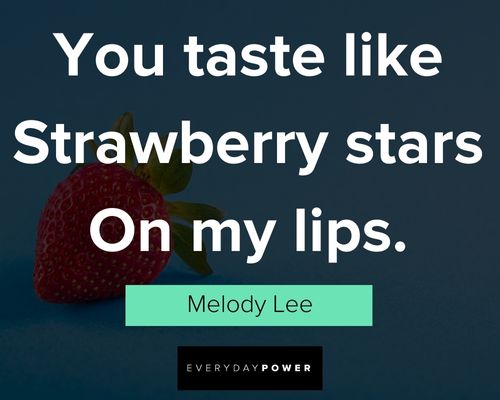 You will also enjoy our article on fruit quotes.
3. "Who doesn't love strawberries? My family certainly does." –Ayesha Curry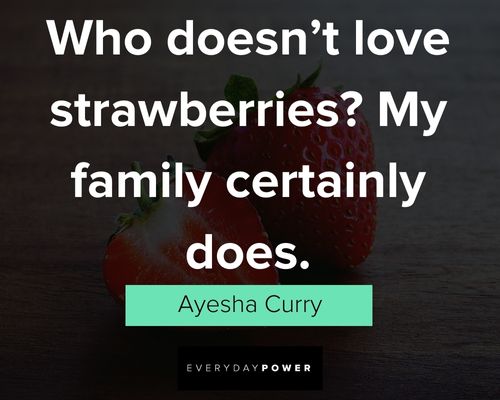 4. "One must ask children and birds how cherries and strawberries taste." –Johann Wolfgang von Goethe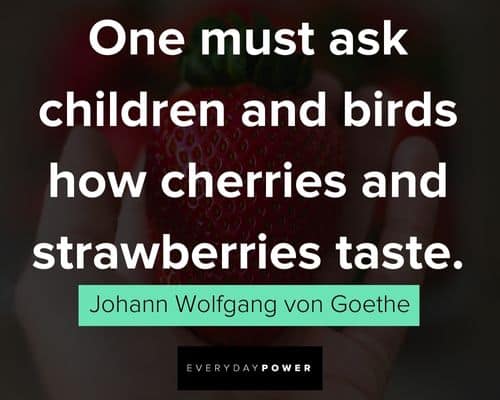 5. "Instead of past, present and future, I'd prefer chocolate, vanilla, and strawberry." – Ashleigh Brilliant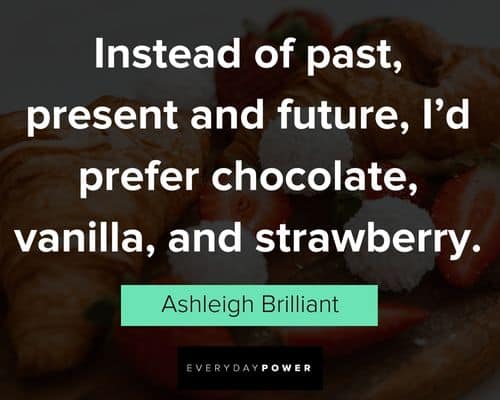 6. "But don't forget, in the meantime, that this is the season for strawberries. Yes." – Clarice Lispector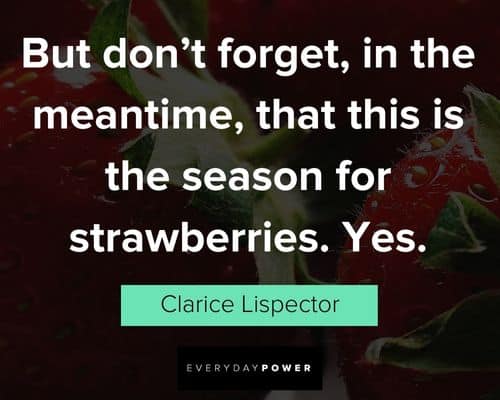 7. "Strawberry Fields is anywhere you want to go." – John Lennon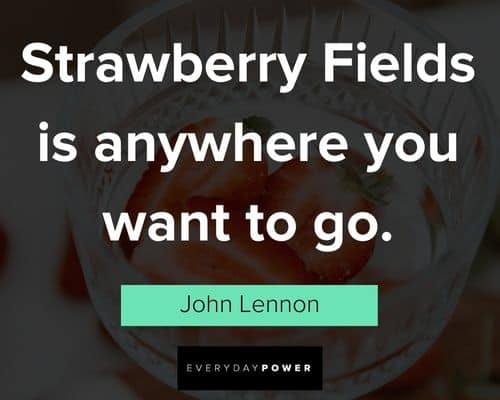 8. "Once it's jam, it can't be strawberries anymore." – Marilyn Wallace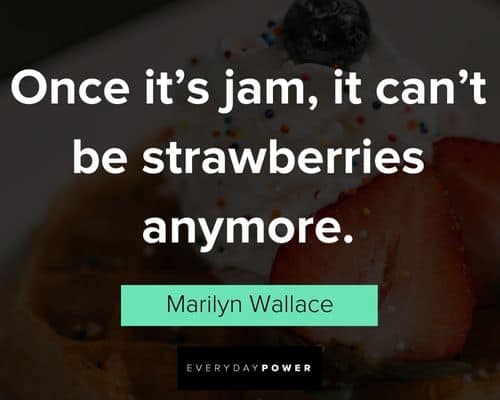 9. "Dating a new man is like holding a strawberry milkshake; first the taste, then the pleasure" – Marilyn Monroe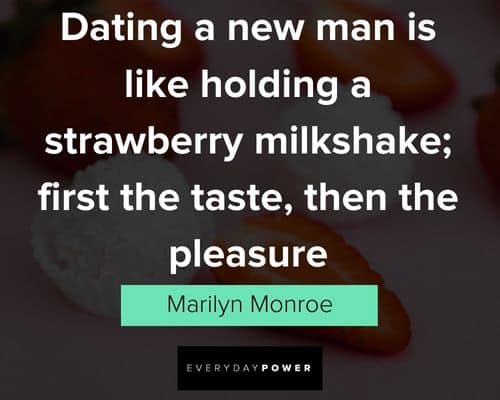 10. "Strawberry sky dusted with white winter powder sugar sun. And nobody to munch on it with" –Francesca Lia Block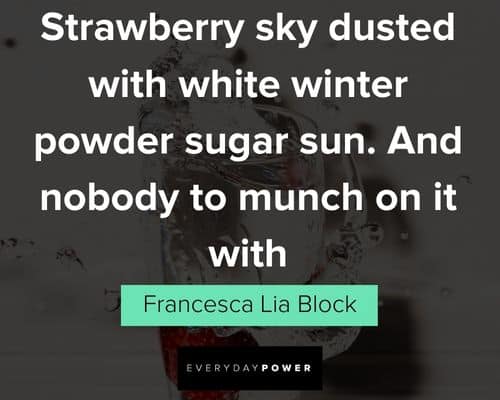 Funny strawberry quotes and sayings
11. "I found a strawberry blossom in a rock. I uprooted it rashly and felt as if I had been committing an outrage, so I planted it again." – Dorothy Wordsworth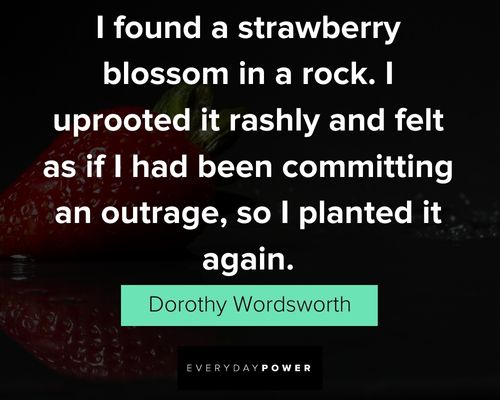 12. "I love surprises – champagne and strawberries, all that pampering, romantic stuff. Guys ought to know how to pamper their women properly." – Danica McKellar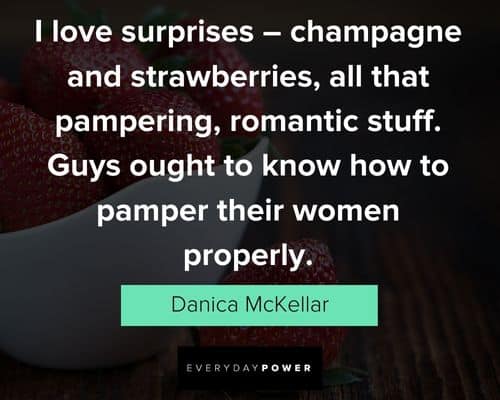 13. "The first strawberry is the sourest." ― Owllover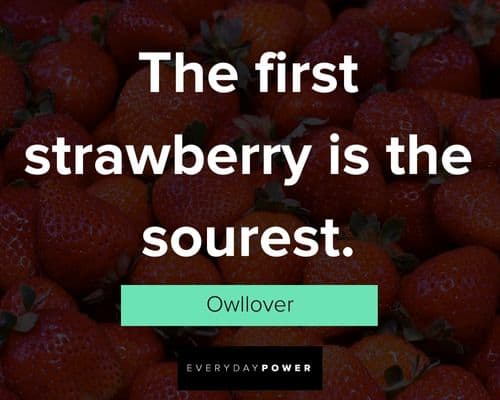 14. "Happiness, I have grasped, is a destination, like strawberry Fields. Once you find the way in, there you are, and you'll never feel low again." – Rachel Simon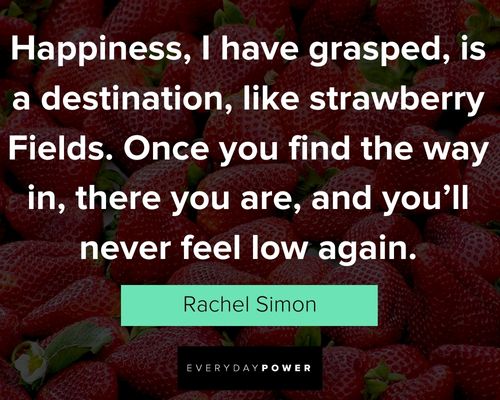 15. "Poetry and music are very good friends. Like mommies and daddies and strawberries and cream – they go together." – Nikki Giovanni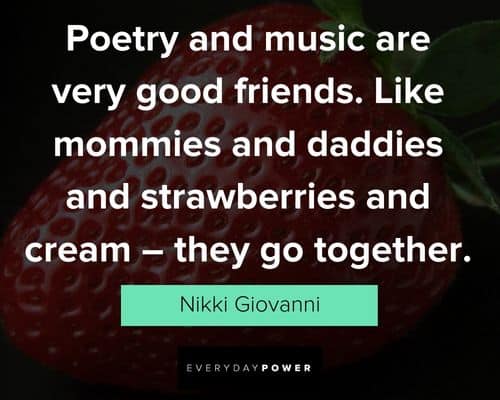 16. "The days were sunny, the nights were star-studded. Indeed married life was strawberries for breakfast and loving all the time." – Marabel Morgan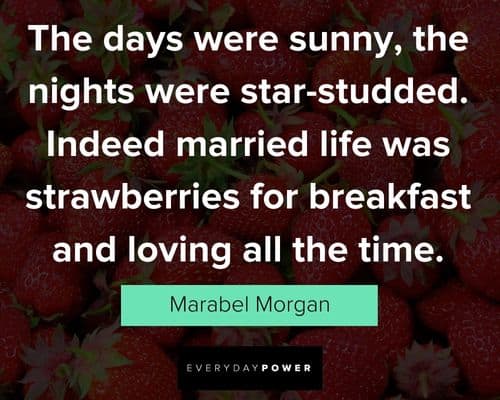 17. "I grow vegetables – I'm a vegetarian; I've got strawberries, artichokes, leeks, broad beans." –Anita Pallenberg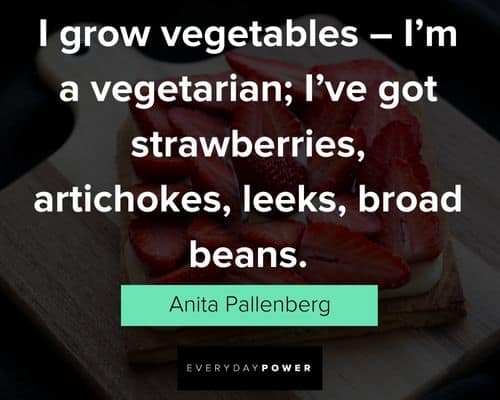 18. "Nobody would ask the strawberry to go to the prom because it was past her sale-by date." –Unknown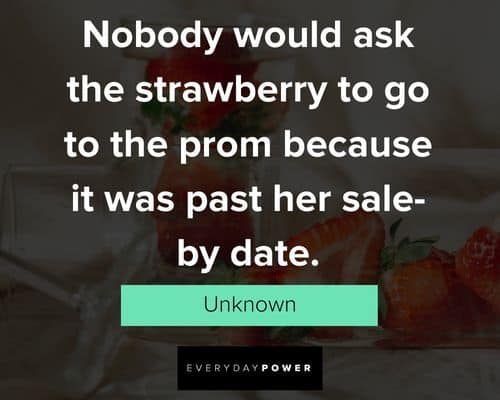 19. "Strawberries are only made in the strawberry planet." – Unknown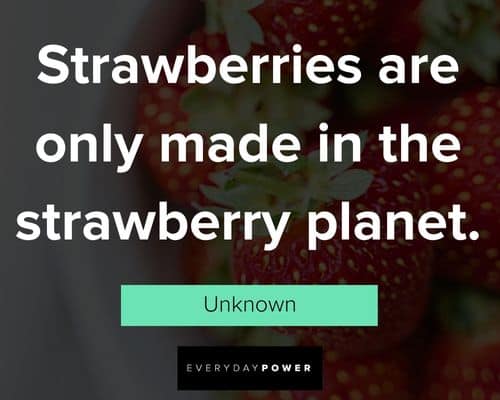 Strawberry quotes for relaxing moments
20. "Fruit is nature's candy." — Unknown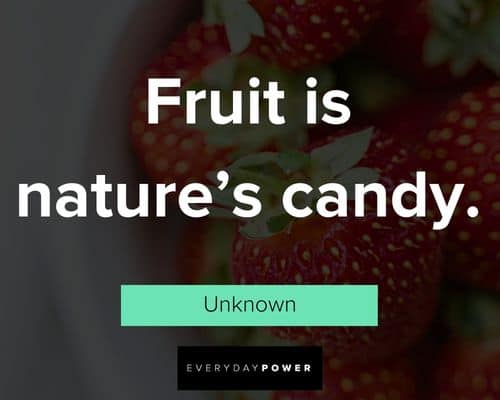 21. "Strawberries are an excellent source of vitamin C and K. So why don't you get fit? Have a strawberry Ice cream." — Unknown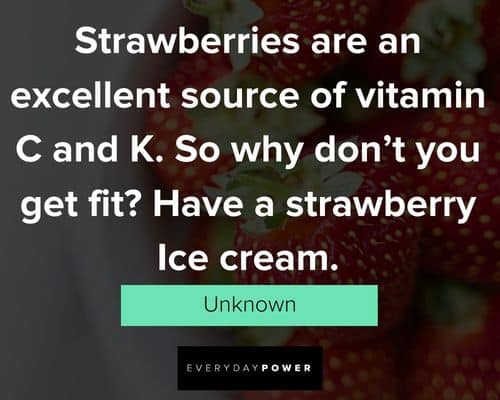 22. "Today I don't have to worry about my diet because I'm going to have the superfood strawberry." — Unknown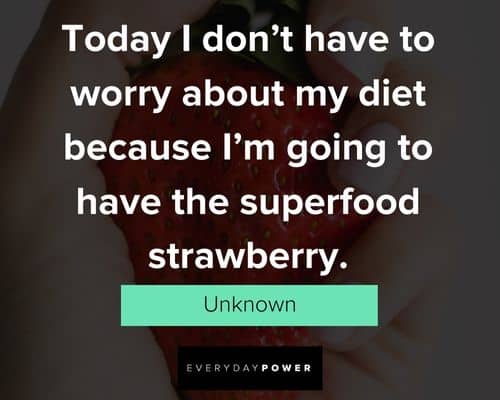 23. "Strawberry is diet-friendly and the ice cream is a source of energy. What a combination and what a great reason to have Strawberry Ice cream today!" — Unknown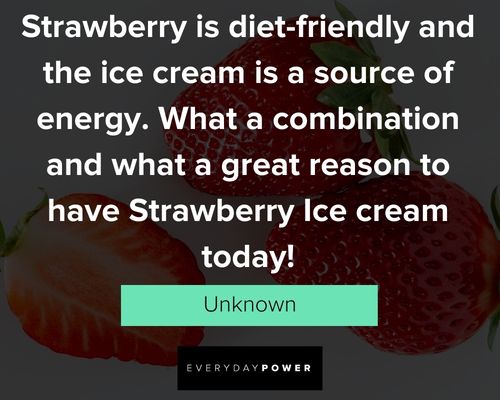 24. "If you keep my secret, this strawberry is yours" – Tsugumi Ohba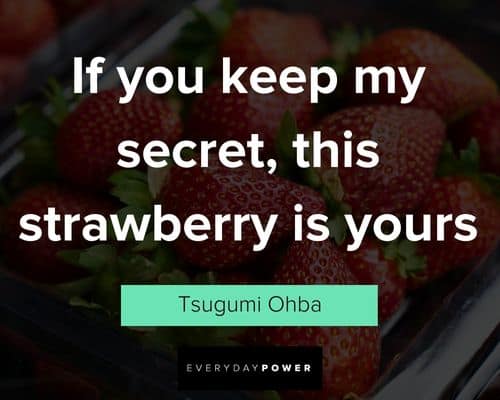 25. "Strawberry shampoo doesn't taste as good as it smells" — Unknown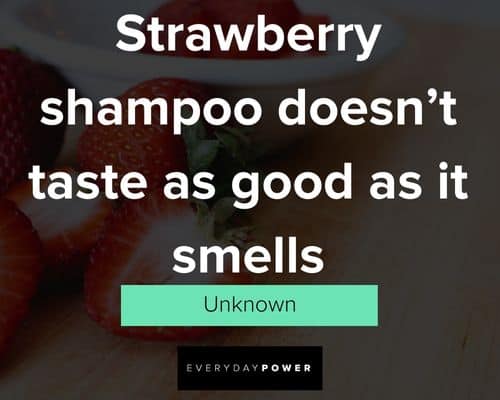 26. "The night is a strawberry" – Louise Pennery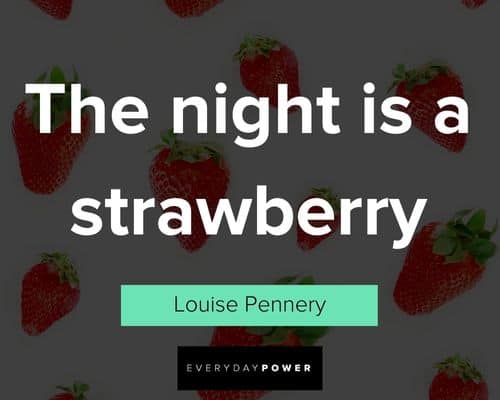 27. "I have only to break into the tightness of a strawberry, and I see summer – its dust and lowering skies." – Toni Morrison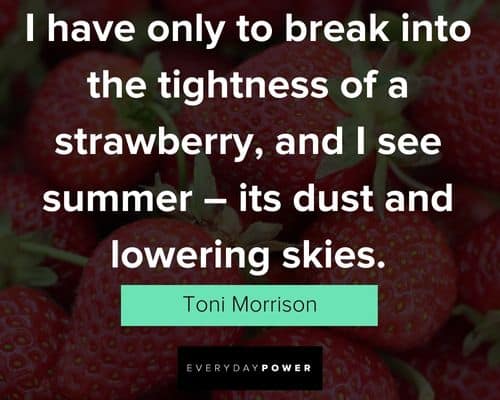 28. "We do not rejoice in victories. We rejoice when a new kind of cotton is grown and when strawberries bloom in Israel." – Golda Meir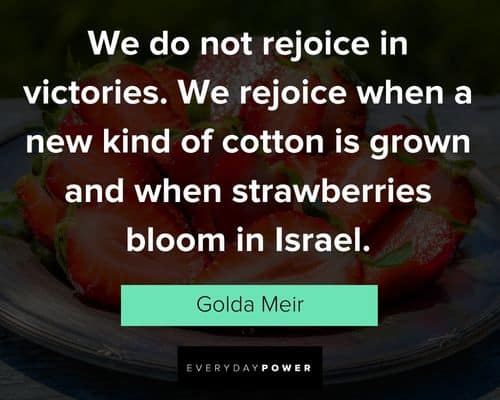 29. "Reunited with strawberry, raspberry and blueberry, I am berry, berry happy to be back working with JELL-O." – Bill Cosby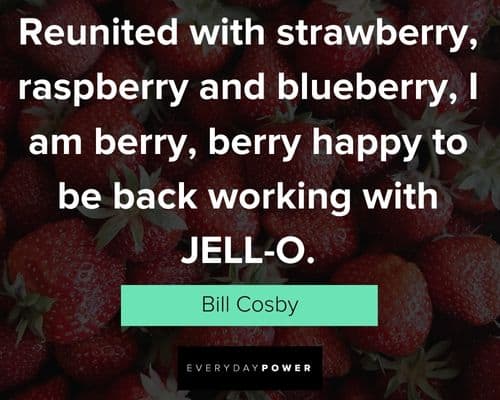 30. "He had kissed her good night that night, and she had tasted like strawberry daiquiris, and he had never wanted to kiss anyone else again." – Neil Gaiman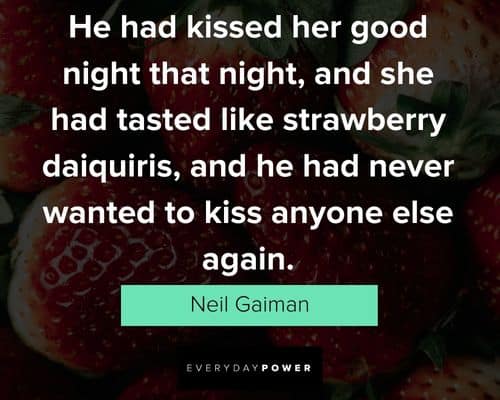 Quirky strawberry quotes and captions
31. "I eat a lot of fruit because if I fill up on strawberries or an apple, then I'll have one small piece of cheesecake rather than two big pieces." – Tom Frieden
32. "The anti-oxidant property of strawberry makes it rich and today I'm having the rich food Strawberry Ice cream!" — Unknown
33. "I came across a man who was eating strawberries at the bank. He told me he wanted to eat rich food." — Unknown
34. "A scarecrow's favorite fruit to eat is straw-berry." — Unknown
35. "The unluckiest berry in the group is the one that drew the short straw-berry." — Unknown
36. "A strawberry usually needs batteries when it runs out of juice." — Unknown
37. "Picking strawberries can be a very fruitful endeavor!" — Unknown
38. "Most of the fruits usually drink their juice with a straw-berry." — Unknown
39. "Strawberries are berry healthy. They pack a punch when it comes to beating cancer and other diseases." — Unknown
40. "The only type of berry you will ever find in a barn is a straw-berry." — Unknown
Strawberry quotes to make you smile
41. "Strawberries have berry good eyesight because they are packed with a lot of Vitamin See." — Unknown
42. "I found a sour strawberry today. It was berry bad." — Unknown
43. "When you want to propose to a person who loves strawberries, just say, "I love you berry much." — Unknown
44. "A turkey's favorite dessert is a strawberry gobbler." — Unknown
45. "The strawberry was scared of the cream. They were afraid it had gone bad." — Unknown
46. "John Lennon's favorite donut is Strawberry' Filled Forever." — Unknown
47. "The strawberry was bruised because it was under peer pressure." — Unknown
48. "A crayon that looks like a strawberry is usually called a cranberry." — Unknown
49. "When you find a blue strawberry, try to cheer it up." — Unknown
50. "The pie-maker couldn't eat any more strawberries because she was already stuffed." — Unknown
Strawberry quotes about the yummy red berry
51. "I like strawberries, kiwis, and oranges." — Tierra Whack
52. "Just see some movies and pick some strawberries." — Lauren Ambrose
53. "One of my favorite salads is spinach with pickled strawberries." — Katie Lee
54. "I make sure to eat lots of kale, broccoli, blueberries, strawberries, and spinach." — Lara Spencer
55. "I love berries. Strawberries, blueberries, raspberries, black berries, anything with an 'errie' in it!" — Jordin Sparks
56. "We do not rejoice in victories. We rejoice when a new kind of cotton is grown and when strawberries bloom in Israel." — Golda Meir
57. "You can pick wild strawberries with your eyes closed, locating them by smell, for they are two parts perfume to one part taste." — Hope Jahren
58. "Extremely ripe things are not ideal for pickling. If you pour a hot liquid over super ripe strawberries, you're going to have strawberry soup." — Wylie Dufresne
59. "Strawberries are like tomatoes for me; I just won't eat them year round. I'll happily wait for them to come into season, then I gorge like a brown bear eating salmon before hibernation." — Brad Leone
60. "Blueberries, strawberries and blackberries are true super foods. Naturally sweet and juicy, berries are low in sugar and high in nutrients – they are among the best foods you can eat." — Joel Fuhrman
Strawberry Quotes For The Sweet Vibe
61. "Her lips are like strawberries which tickles my taste buds every time, making me kiss her red lips every time." ― Vishal Antapurkar
62. "Truth out of season was sourer than strawberries at Christmas time." ― Eleanor Hallowell Abbott
63. "A girl told me my lips looked like somebody had pressed strawberry yogurt against my face." ― Katherine Heigl
64. "Like strawberry wine and 17, the hot July moon saw everything. My first taste of love, oh bittersweet." ― Deana Carter
65. "I got a sweet tooth and strawberry youth." ― Jeffree Star
66. "As far as I am concerned, bigotry in strawberry or vanilla flavor is still bigotry." ― Christina Engela
67. "May, don't these strawberry tarts just make you want to cry?" ― Kiera Cass
68. "The strawberry grows underneath the nettle, and wholesome berries thrive and ripen best neighbor's by fruit of baser quality." ― William Shakespeare
69. "My gardening apprenticeship was similar to the way a chimney sweep is pushed up a chimney. It was enforced by my parents, non-negotiable. It would be weeding the strawberries, mowing the grass." ― Monty Don
70. "Blueberries, strawberries, and broccoli are all high in vitamins." ― David Kirsch
Which of these strawberry quotes is your favorite?
Strawberry is essentially one of the most nutritious fruits out there.
Although we enjoy it when it's not as healthy too, like a good thick strawberry milkshake!
It is really amazing how we can associate a little fruit with our feelings.
Just like strawberries, we all have our flat lines and dull seasons in life.
But remember, sooner or later, our time will come and everyone will see you shine in your own time.
So, try a strawberry one of these days and enjoy all the goodness in life.
Hopefully, the strawberry quotes and sayings above made you feel light and reminded you of the summer vibes.
If you enjoyed our strawberry quotes, take a look at these Bluberry quotes!