Thankful Quotes to Change Your Perspective
These thankful quotes will help you look at your life through a new lens.
Life can be hard and everyone goes through difficult periods from time to time. During those times it's easy to only focus on the bad things. But the more you focus on the bad, the harder it is to notice the good things that you have in your life.
That's why it's so important to keep a mindset of gratitude at all times. When you do focus on what you're thankful for instead of all the problems in your life, it can change the way you think of everything.
Below is our collection of inspirational, wise, and thoughtful thankful quotes and sayings, collected from a variety of sources over the years.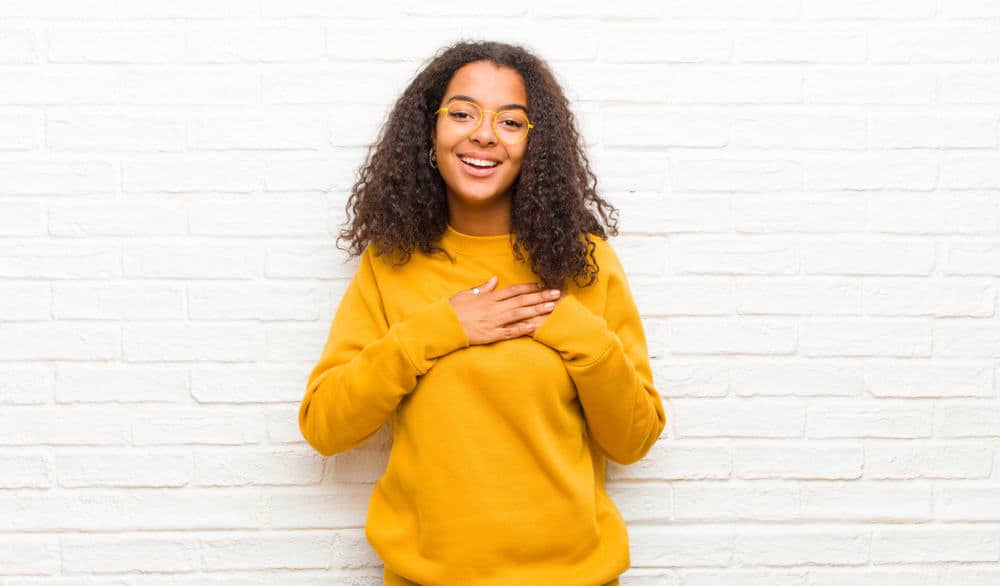 Also check out these gratitude quotes celebrating, life and love.
Thankful quotes for when you feel like you don't have enough
1. "Be thankful for what you have; you'll end up having more. If you concentrate on what you don't have, you will never, ever have enough." —Oprah Winfrey
2. "When you arise in the morning give thanks for the food and for the joy of living. If you see no reason for giving thanks, the fault lies only in yourself."—Tecumseh
3. "I have a lot to be thankful for. I am healthy, happy and I am loved." – Reba McEntire
4. "I'm just thankful I'm surrounded by good people." – Jon Pardi
5. "There is always, always, always something to be thankful for."- Anonymous
6. "We don't need more to be thankful for, we just need to be more thankful."- Carlos Castaneda
7. "Sometimes the little things in life mean the most."- Ellen Hopkins
8. "When you rise in the morning, give thanks for the light, for your life, for your strength."- Tecumseh
9. "Take as a gift whatever the day brings forth."- Horace
10. "Be glad of life because it gives you the chance to love, to work, to play, and to look up at the stars."- Henry Van Dyke
Thankful Quotes for appreciating your family
11. "My advice: Take a second out of the day and be thankful for your family."- Jenna Morasca
12. "Family is the most important thing in the world." – Princess Diana
13. "Family is not an important thing. It's everything." – Michael J. Fox
14. "I am thankful for each and every day that I am blessed to receive, to spend in this life with my family."- Karen Madewell
15. "Today be thankful and think how rich you are. Your family is priceless. Your health is wealth. Your time is gold."- Anonymous
16. "The most important thing in the world is family and love." – John Wooden
17. "Family is a unique gift that needs to be appreciated and treasured, even when they're driving you crazy. As much as they make you mad, interrupt you, annoy you, curse at you, try to control you, these are the people who know you the best and who love you." – Jenna Morasca
18. "The only rock I know that stays steady, the only institution I know that works is the family." – Lee Lacocca
Don't forget to also read these grateful quotes that will transform your perspective.
Thankful quotes on the power of gratitude
19. "It is only with gratitude that life becomes rich!" – Dietrich Bonhoeffer
20. "It's not happiness that brings us gratitude. It's gratitude that brings us happiness." – Anonymous
21. "Gratitude is something of which none of us can give too much. For on the smiles, the thanks we give, our little gestures of appreciation, our neighbors build their philosophy of life."- A.J. Cronin
22. "Without gratitude and appreciation for what you already have, you'll never know true fulfillment." – Tony Robbins
23. "Gratitude is the fairest blossom which springs from the soul."- Henry Ward Beecher
24. "An attitude of gratitude brings great things."— Yogi Bhajan
25. "If you want to find happiness, find gratitude."— Steve Maraboli
26. "We must never forget the importance of gratitude."— Anonymous
27. "Wear gratitude like a cloak, and it will feed every corner of your life."— Rumi
28. "Gratitude unlocks the fullness of life. It turns what we have into enough, and more. It turns denial into acceptance, chaos to order, confusion to clarity. It can turn a meal into a feast, a house into a home, a stranger into a friend."— Melody Beattie
29. "When we focus on our gratitude, the tide of disappointment goes out, and the tide of love rushes in."— Kristin Armstrong
30. "Gratitude is one of the most medicinal emotions we can feel. It elevates our moods and fills us with joy."— Sara Avant Stover
31. "The essence of all beautiful art is gratitude."— Friedrich Nietzsche
Inspiration thankful quotes
32. "When you are grateful – when you can see what you have – you unlock blessings to flow in your life." – Suze Orman
33. "The unthankful heart discovers no mercies; but the thankful heart will find, in every hour, some heavenly blessings." — Henry Ward Beecher
34. "When it comes to life the critical thing is whether you take things for granted or take them with gratitude." — Gilbert K. Chesterton
35. "There is something that happens when you are grateful: You continue to keep receiving blessings. So I will always be grateful." — Chrissy Metz
36. "Blessed are those who give without remembering and take without forgetting." – Elizabeth Bibesco
37. "I'm thankful for every moment." – Al Green
38. "Thankfulness, gratitude and being able to serve others are the foundation of character."- Jim Loehr
39. "If you are really thankful, what do you do? You share."- W. Clement Stone
40. "If you want to turn your life around, try thankfulness. It will change your life." – Gerald Good
Being thankful for friends quotes
41. "Let us be grateful to people who make us happy, they are the charming gardeners who make our souls blossom."- Marcel Proust
42. "Since our yesterdays are gone and tomorrow is never promised, today I want to thank all my amazing friends and family for being in my life."- Steven Aitchison
More thankful quotes
43. "I'm always grateful for this moment, the now, no matter what it takes."-Eckhart Tolle
44. "Feeling gratitude and not expressing it is like wrapping a present and not giving it."- William Arthur Ward
45. "I am what I am, I am doing very well in my life, and I'm thankful to God for that."- LL Cool J
46. "Showing gratitude is one of the simplest yet most powerful things humans can do for each other."— Randy Rausch
47. "When a person doesn't have gratitude, something is missing in his or her humanity." – Elie Wiesel
48. "The thankful receiver bears a plentiful harvest."- William Blake
49. "Thank you for life, and all the little ups and downs that make it worth living." – Travis Barker
50. "There's no happier person than a truly thankful, content person." – Joyce Meyer
Don't forget to also read these manifestation quotes that will elevate your perspective.
Other thankful quotes to brighten your day
51. "Be thankful for everything that happens in your life; it's all an experience." – Roy T. Bennett
52. "Grant me daily the grace of gratitude, to be thankful for all my gifts, and so be freed from artificial needs, that I might lead a joyful, simple life." – Edward Hays
53. "Life is the most important thing. I thank God for the gift of life." – Lailah Gifty Akita
54. "A thankful heart is a happy heart." – Anonymous
55. "When life is sweet, be thankful, and rejoice; but when bitter, be strong, and persevere." – Matshona Dhliwayo
56. "No matter how big or small the service is, Always express your Thanks to the person who served you." – Mohith Agadi
57. "So grateful for the people who heard me when I was silent and saw me when I was invisible." – Steve Maraboli
58. "The truist indication of gratitude is to return what you are grateful for." – Richard Paul Evans
59. "Be grateful for the life of those who mass up challenges on the paths to your fulfillment. At least they taught you self-defense!" – Israelmore Ayivor
60. "Sometimes we make being happy so difficult. And being thankful such a chore." – Carew Papritz
What are you thankful for?
Hopefully reading through these quotes helped you think of the things that you're thankful for in your own life. Gratitude is powerful and can change your outlook and attitude going forward.
However, it's important to understand that gratitude is not a one and done thing. If you don't continue to think about the things you're thankful for, it's easy to forget. That's why you should take at least a few minutes out of each day to think about those things. It can also be helpful to keep a gratitude list that you can read when you need to be reminded of all those things.
What's your biggest takeaway from these thankful quotes and sayings? Do you have any other inspirational quotes to add? Let us know in the comment section below.
May 26, 2021 6:00 AM EST
Be the first one to leave a comment!