116 Anchor Quotes to Keep You Steady in Life's Stormy Waters
Read through these insightful anchor quotes and scroll to the bottom and share which quote was your favorite.
You might have heard someone refer to someone or something as their "anchor."
What does it mean to have a life anchor?
You may also enjoy our article on:
Well, it usually means a person or feeling one uses to keep his or herself grounded.
It's the thing that helps them stay calm when things are turbulent.
An actual anchor is an old nautical symbol that represents stability, strength, and support.
These anchor quotes do a great job illustrating how they represent hope, life, and provide inspiration.
There are many references to the bible and God in these anchor quotes for those who are looking for a deeper spiritual meaning.
If you want a fun anchor quote for your Instagram post or even tattoo ideas, then some of these lighter and funny quotes are perfect!
Keep reading through these anchor quotes for the practical use of an anchor on a ship to better understand the reason people use the reference so much when times are tough. 
Anchor quotes about life and hope
1. "Neither should a ship rely on one small anchor, nor should life rest on a single hope." ― Epictetus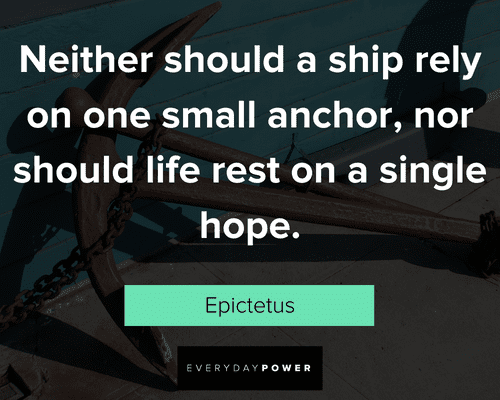 You will also enjoy our article on tattoo quotes.
2. "Have an anchor so that life doesn't toss you around." ― Debby Ryan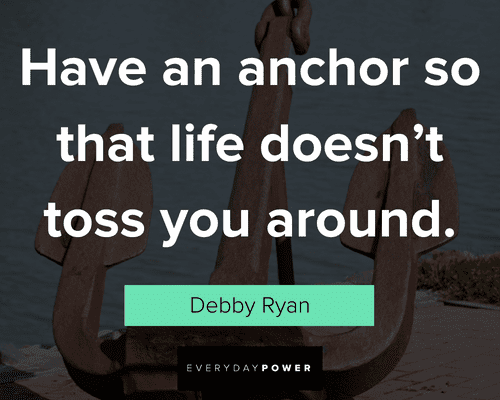 3. "We can endure almost anything if we are centered if we have some focus in our life. You can endure if you have an anchor." ― Renita J. Weems.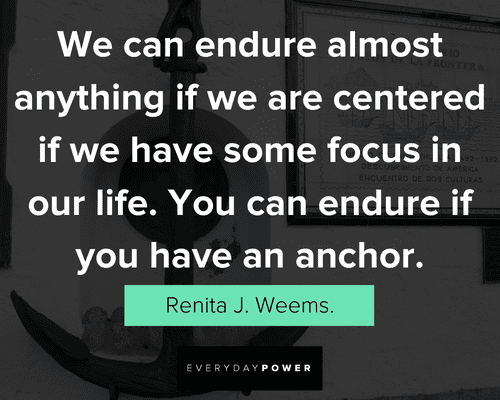 4. "Hope is the anchor of life." ― Lailah Gifty Akita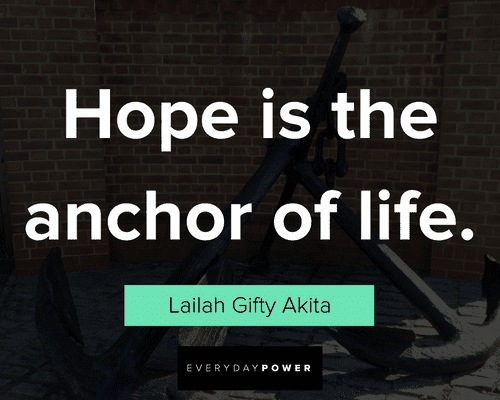 You will also enjoy our article on waves quotes.
5. "Without an anchor, we can be drifted to any shore. May you find hope as an anchor." ― Lailah Gifty Akita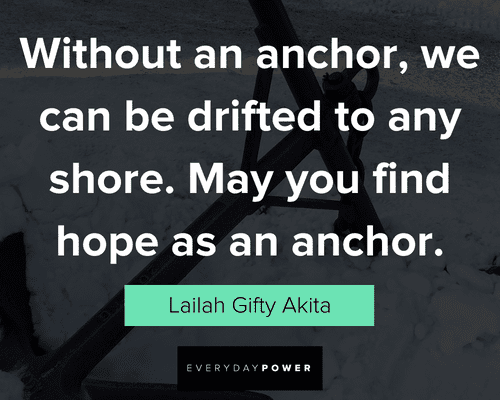 6. "Hope holds you fast like an anchor, so you don't give way." ― Philip Pullman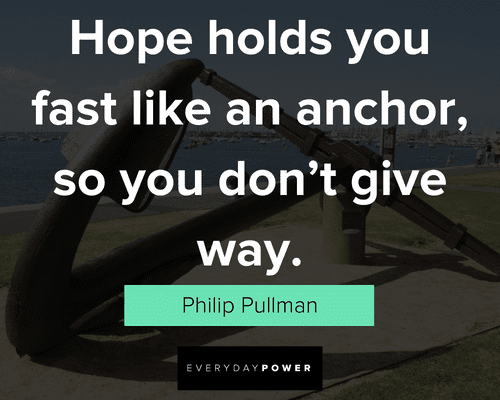 7. "Hope is the anchor of our souls. I know of no one who is not in need of hope – young or old, strong or weak, rich or poor." ― James E. Faust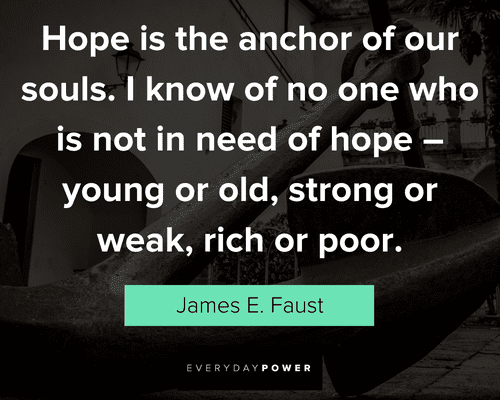 8. "To lose our connection with the body is to become spiritually homeless. Without an anchor we float aimlessly, battered by the winds and waves of life." ― Anodea Judith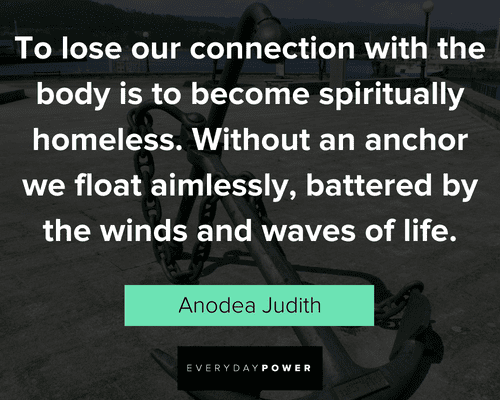 9. "What an anchor is to a ship, hope is to the soul. Both ships and souls are kept safe by a firm, secure anchor that keeps holding despite turbulent winds and churning tides." ― June Hunt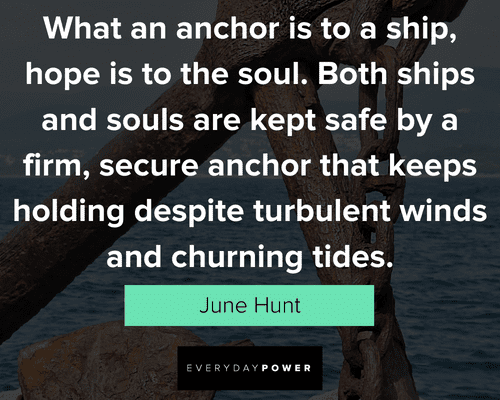 10. "Ultimate hope constitutes the anchor of the soul." ― Neal A. Maxwell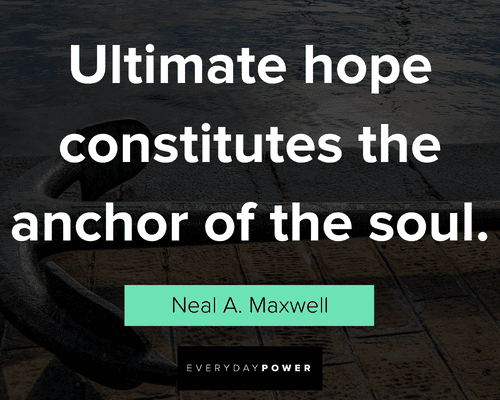 Anchor quotes for tattoos and Instagram
According to the National Institute of Mental Health, anxiety disorders affect approximately 19% of the U.S. adult population yearly.
This highlights the need for greater awareness, understanding, and support for those who experience anxiety.
11. "Who tries to sink me is already below me." — Unknown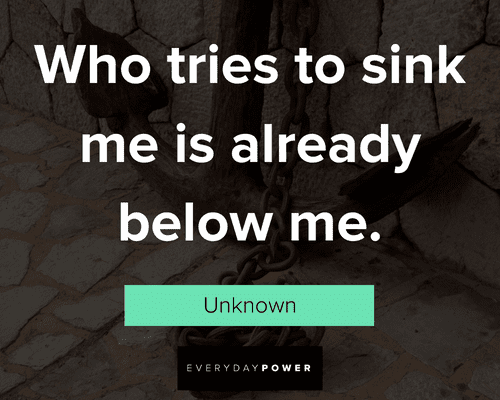 12. "Rough seas cannot make me waver." — Unknown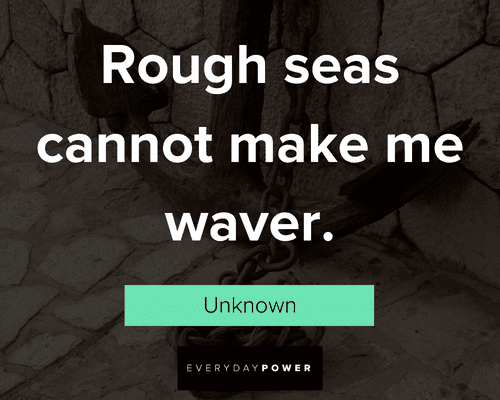 13. "Life's roughest storms prove the strength of our anchors." — Unknown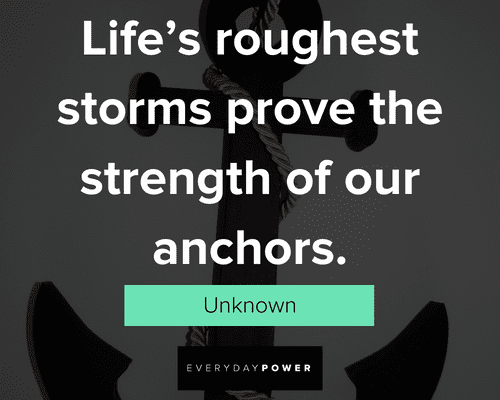 14. "Your love is an anchor in my life." — Unknown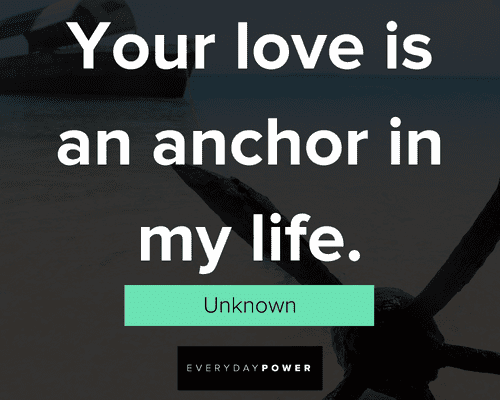 15. "The anchor holds on despite the storm." — Unknown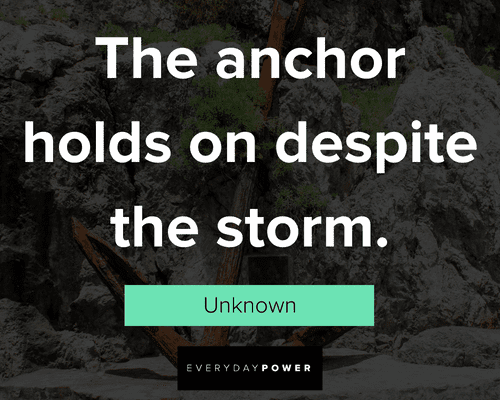 16. "Love anchors the soul." — Unknown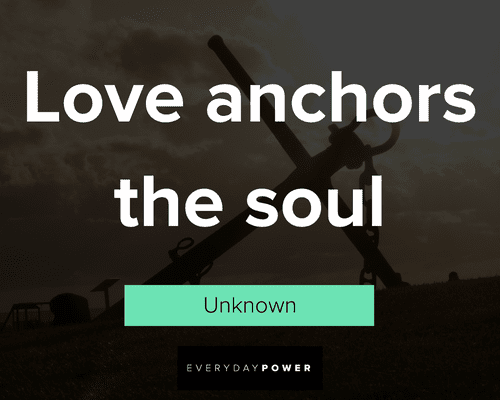 17. "You are my anchor when the waves come crashing down." — Unknown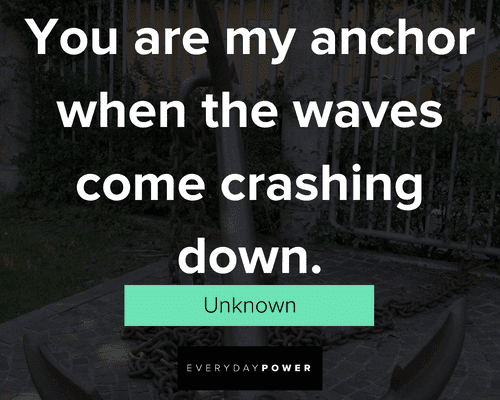 18. "Though Hope be a small child, she can carry a great anchor!" ― Edward Bulwer-Lytton, 1st Baron Lytton
19. "Be your own anchor." — Unknown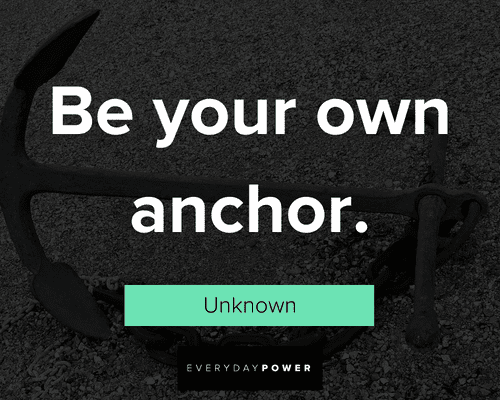 Anchor quotes about love
20. "I'll keep your heart anchored in my soul for as long as we both shall live." ― Brandi Fitzgerald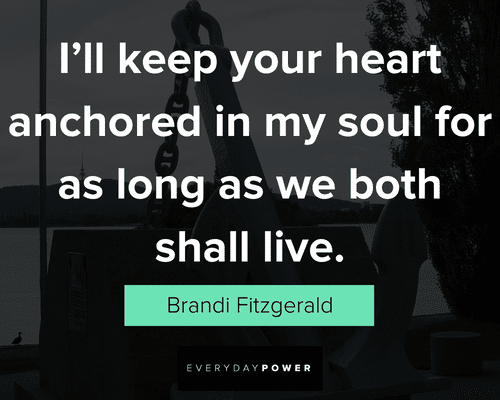 21. "All you need is one safe anchor to keep you grounded when the rest of your life spins out of control." ― Katie Kacvinsky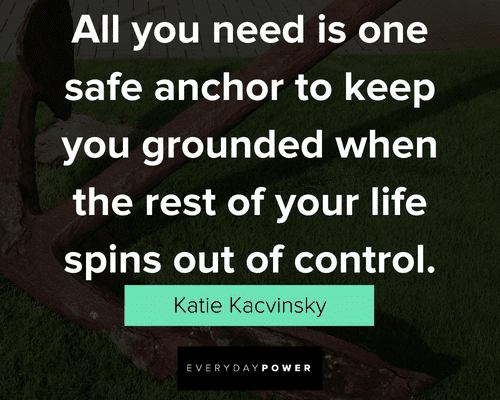 22. "A faithful companion is a sure anchor." ― Motto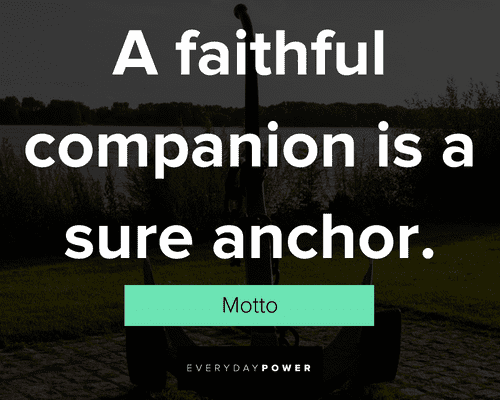 23. "Unless man anchors real love; man will always drift in the middle of nowhere!" ― Mehmet Murat Ildan.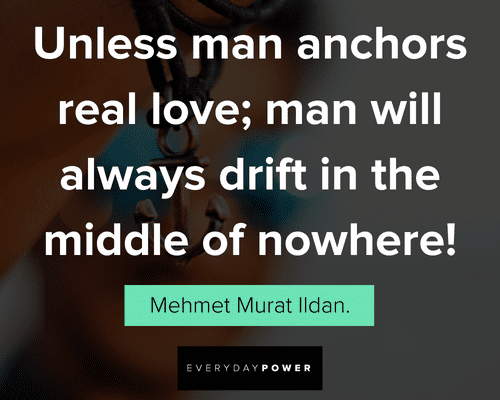 24. "Let your heart be the anchor and the beat of your song." ― Neil Peart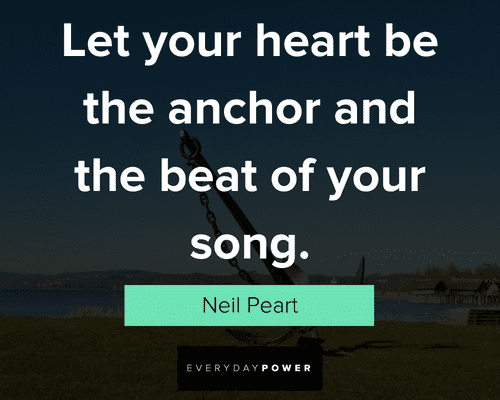 25. "Home should be an anchor, a port in a storm, a refuge, a happy place in which to dwell, a place where we are loved and where we can love." ― Martin J. Ashton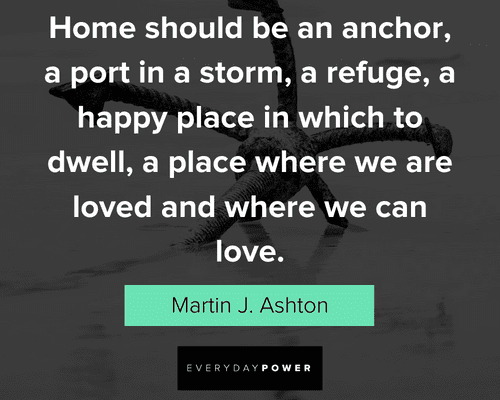 26. "The heart is the anchor to all things, be it love to hate, or light to dark." ― TA Cline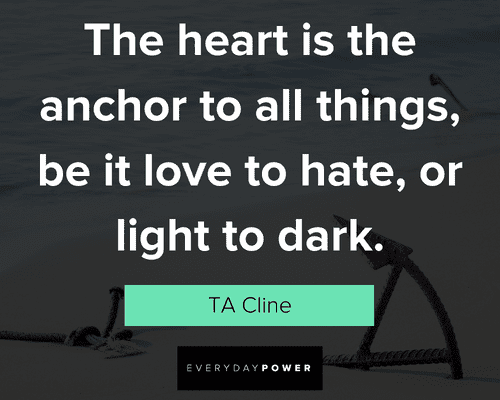 27. "Your love keeps me afloat but will remain the anchor in my soul… I don't really have words to describe how romantic I find that. Your love is what keeps me going, but it's also the anchor that keeps me close to you." ― Rabindranath Tagore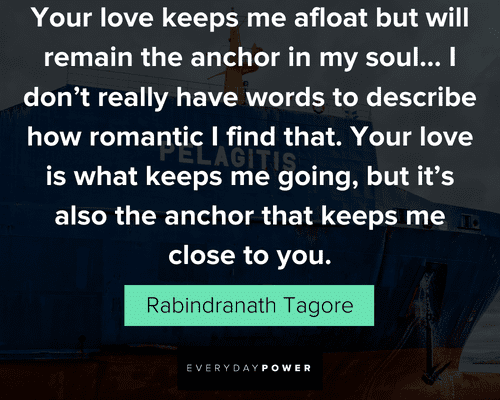 28. "Love is an anchor, it stops you from drifting away." ― Robert Corbert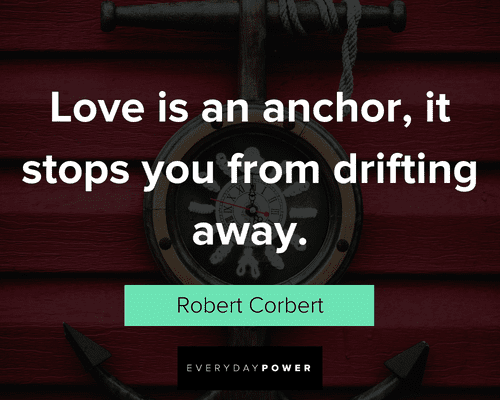 Anchor quotes about God and from bible verses
29. "Cast your cares on God; that anchor holds." ― Frank Moore Colby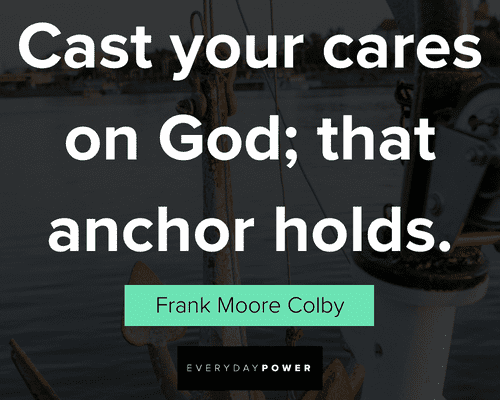 30. "Women and God are the two rocks on which a man must either anchor or be wrecked." ― Frederick W. Robertson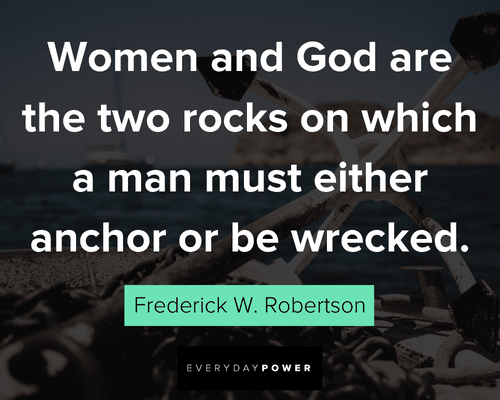 31. "A life without God is like a boat without an anchor." ― Billy Graham
32. "We have this hope as an anchor for the soul, firm and secure." ― Hebrews 6:19
33. "Fearing that we might run aground somewhere on the rocks, they cast four anchors from the stern and wished for daybreak." ― Acts 27:29
34. "Instead of drifting away from God, you'll be firmly anchored, able to swim against the tide, offering living water to all you meet." ― Craig Groeschel
35. "Christ is the anchor of my life." ― Ryan Tannehill
36. "The promises of God for tomorrow are the anchor for believers today." ― R. C. Sproul
37. "Have Jesus always for your patron, His Cross for a mast on which you must spread your resolutions as a sail. Your anchor shall be a profound confidence in Him, and you shall sail prosperously." ― Saint Francis de Sales
38. "Everyone has their own boat, it's a matter of pulling it out of the sand, and putting it in the water. But further, you can anchor the boat in fear when the storms rage, and go nowhere, let it drift aimlessly on its own or you can let God be the navigator and guide you on a journey in a way that is right for you." ― Anthony Liccione
Inspirational anchor quotes
39. "Allow yourself to be an anchor and anchored by others." ― Asa Don Brown
40. "To reach a port we must sail, sometimes with the wind, and sometimes against it. But we must not drift or lie at anchor." ― Oliver Wendell Holmes
41. "Better lose the anchor than the whole ship." ― Dutch Proverb
42. "It is a far, far better thing to have a firm anchor in nonsense than to put out on the troubled seas of thought." ― John Kenneth Galbraith
43. "Being unhappy is a part of life; no big deal! continue your life because neither unhappiness nor happiness drop anchor in your life!" ― Mehmet Murat Ildan
44. "Once you find your anchor, never let go of it. No matter what." ― John Marrs
45. "Let us not remain anchored in the quicksand of a waning past, and lose the war on obliviousness, but let us listen to the bracing sounds of new horizons, grasp the enchantment of the fleeting instants and seize the cleverness of the moment." ― Erik Pevernagie
46. "Learn to forgive yourself. Guilt is the biggest anchor that pulls us and delays our growth and transformation." ― Purvi Raniga
47. "Be aware of what you anchor your happiness to. Is it internal or external? How vulnerable is your happiness?" — Akiroq Brost
48. "The past is an anchor with suffering written on the rope. I don't live there now. I am cutting myself free." — Mark Millar
49. "Work is an anchor; it prevents the undisciplined minds drifting to the past. It keeps them in the present time." — Unknown
50. "A good heavy book holds you down. It's an anchor that keeps you from getting up and having another gin and tonic." — Roy Blount
Anchor Quotes To Uplift Your Hope and Give You Strength
51. "Being an anchor is not just a matter of sitting in front of a camera and looking pretty." — David Brinkley
52. "In order to realize the worth of the anchor we need to feel the stress of the storm." — Corrie Ten Boom
53. "Life has a way of testing our anchors and tempting us to drift. Nevertheless, if our anchors are correctly placed in the rock of our Redeemer, they will hold—no matter the force of the wind, the strength of the tide, or the height of the waves." — Dieter F. Uchtdorf
54. "Hope gives the heart wings; the soul, an anchor." — Janet Todd
55. "Trust means you anchor your heart in the reality of God's awareness of your situation." — James MacDonald
56. "If we are always arriving and departing, it is also true that we are eternally anchored. One's destination is never a place but rather a new way of looking at things." — Henry Miller
57. "Amidst the confusion of the times, the conflicts of conscience, and the turmoil of daily living, an abiding faith becomes an anchor to our lives." — Thomas S. Monson
58. "Feelings come and go like clouds in a windy sky. Conscious breathing is my anchor." — Nhat Hanh
59. "Hope is called the anchor of the soul because it gives stability to the Christian life." — R. C. Sproul
60. If you have the Shepherd, you have grace for every sin, direction for every turn, a candle for every corner, and an anchor for every storm. You have everything you need." — Max Lucado
Anchor Quotes To Help You Find Strength
61. "We ought neither to fasten our ship to one small anchor nor our life to a single hope." — Epictetus
62. "People are looking for stability in a shaky world. They want something they can get hold of that's firm and sure and an anchor in the midst of all of this instability in which they're living." —
Gordon B. Hinckley
63. "A lot of people look at a basketball team as an anchor tenant for an arena. I look at an arena as the anchor tenant for a much larger program." ― Ross Perot, Jr.
64."You be the anchor that keeps my feet on the ground; I'll be the wings that keep your heart in the clouds." ― Mayday Parade
65. "Don't bring an anchor, on a sinking boat" — Anthony Liccione
66. "You can anchor the mind into answering a question a certain way by giving them a totally unrelated piece of information dropped before." — Michael Lewis
67. "It is best to moor your bark with two anchors." — Publilius Syrus
68. "The anchors now made are contrived so as to sink into the ground as soon as they reach it, and to hold a great strain before they can be loosened or dislodged from their station." — William Falconer
69. "Unless man anchors real life, man will always drift in the middle of nowhere!" — Mehmet Murat ildan
70. "The anchor in our world today is freedom, holding us steady in times of change, a symbol of hope to all the world." — George H. W. Bush
Anchor Quotes To Make You Feel Secure
71. "A family needs a father to anchor it." — L. Tom Perry
72. "Politicians, they give the visible aspect of the change, but the change, the root, the anchor are in young people." — Elie Wiesel
73. "One word I had throughout the first year and a half of my mother's death was 'unmoored.' I felt that I had no anchor, that I had no home in the world." — Meghan O'Rourke
74. "A ship should not be held by a single anchor; neither should life depend upon a single hope." — Epictetus
75. "The night will close the door & fasten my anchor within the veil and I shall go away to sleep." — Samuel Rutherford
76. "We must not lose hope. Hope is an anchor to the souls of men. Satan would have us cast away that anchor." — Ezra Taft Benson
77. "A corner is important. It provides privacy and an anchor and lets you exist independently of the room." — Roger Ebert
78. "My mother is everything to me. She's my anchor, she's the person I go to when I need to talk to someone. She is an amazing woman." — Demi Lovato
79. "My testimony has been my anchor and my stay, my satisfaction in times of joy and gladness, my comfort in times of sorrow and discouragement." — Amy B. Lyman
80. "I AM your anchor. I AM your haven. Let My Peace and Love infill and enfold you." — Eileen Caddy
Anchor Quotes To Ensure You Get Strong Support
81. "The anchor man / thrown overboard / has simply rooted us / in history's repeating cycle." — Saul Williams
82. "I have never in my life walked with a harness. The weight of the tether, makes it feel like I'm dragging an anchor behind me." — Nik Wallenda
83. "I am inspiring and activating others to wake up to their unique selves to anchor the next stage of our unfoldment." — Michael Beckwith
84. "You're stronger than us. Once you find your anchor never let go of it. No matter what." — John Marrs
85. "A landline is an anchor – busy signals, long distance bills, missed connections and all." ― Rainbow Rowell
86. "Visit the port of goodness often; if you can, cast your anchor over there!" — Mehmet Murat ildan
87. "In good times, we all want to drop anchor, to stop in time! But man is condemned to move till the far end of the precipice!" — Mehmet Murat Ildan
88. "We should not moor a ship with one anchor, or our life with one hope." — Epictetus
89. "Hopefully, any character I play has an anchor in reality." ― Michael Sheen
90. "I live by the ocean / And during the night / I dive into it / Down to the bottom / Underneath all currents / And drop my anchor / As this is where I'm staying / This is my home." — Bjork
Anchor Quotes For Life Success
91. "For this brief moment, he was the anchor and I was the boat caught in my sea of doubt and despair until we were back in his house where everything seemed to be so ordinary." ― Meara O'Hara
92. "Lighting the lamp is an art. A ritual. A discipline. Lighting the lamp became my anchor, and my focus, a deliberate act, and a resolution." ― Ranjani Rao
93. "Purpose is like an anchor for our awareness" ― Cynthia Yoder
94. "Purpose can be grand and large and visionary, and it can be very small, subtle and simple. Understanding your purpose anchors your awareness to the contribution you make every day." ― Cynthia Yoder
95. "I am (you are) the anchor, creator of mine and (your) dreams." ― Santosh Kumar
96. "There is no anchor like hopeful faith." ― Lailah Gifty Akita
97. "Family can be like an anchor. An anchor may tether you. An anchor may also pull and sink your ship." ― Tiphanie Yanique
98. "Regret is the strongest anchor that latches on to the ground, and you carry it within you, it is a feeling quite unlike others for it is despair mingled with hope." ― Saim .A. Cheeda
99. "Solitude was her anchor. A familiar misery, and anymore the safest, most sensible approach." ― Jill Alexander Essbaum
100. "In the storm, our only anchor is hope." ― Lailah Gifty Akita
Anchor Quotes For Stability in Life
101. "Not all children have the anchor of a strong family." ― Kate Middleton
102. "I don't want to be an opinion anchor." ― Megyn Kelly
103. "Someone – a man – advised me not to become a news anchor because my eyelashes were too long, and they would distract the viewers." ― Tamron Hall
104. "Any good defensive team has a strong anchor, because he cleans up mistakes." ― J. B. Bickerstaff
105. "My mother was the strength. She was the anchor. She was a preacher and a teacher." ― Ellen Johnson Sirleaf
106. "You've got to be the anchor of the defense at that five position. Call out pick-and-rolls, screens. The five is usually around the rim, so you see everything." ― Kyle Kuzma
107. "Reporting makes you a better anchor and vice versa." ― Brooke Baldwin
108. "But there are wanderers o'er Eternity Whose bark drives on and on, and anchor'd ne'er shall be." ― Lord Byron
109. "My father has been the real anchor of the family. Hes the one who has always encouraged my mother, my brother and me." ― Yvette Clarke
110. "Meditation has been an anchor throughout my life – it helps me feel balance, connected and at peace." ― Mallika Chopra
111. "Consistency: It's the jewel worth wearing; It's the anchor worth weighing; It's the thread worth weaving; It's a battle worth winning." ― Charles R. Swindoll
112. "Any structure must have a strong foundation. The cornerstones anchor the foundation. For some reason the cornerstones that I chose to begin with I never changed." ― John Wooden
113. "Religion is, in fact, the dominion of the soul; it is the hope, the anchor of safety, the deliverance from evil. What a service has Christianity rendered to humanity!" ― Napoleon Bonaparte
114. "She was the light of our lives, our anchor, compass and vision." ― Ralph Nader
115. "Let your home be you mast and not your anchor." ― Khalil Gibran
116. "Yeah, run if you want to. Time is the anchor, change is the constant, love is the trigger." ― Chris Pureka
An anchor on a ship or boat is used to keep the vessel from drifting away, despite the current or wind conditions.
It fixes the vessel to a certain position.
It's easy to see how this can be a great way to describe life, but it isn't just the nautical terminology of an anchor that can apply to life.
In photography, anchoring the foreground can help you keep your pictures from looking lifeless and boring.
Certain lenses can create distance from the background, so the eye needs something closer to engage it.
Thinking of an anchor as a focal point can be a helpful way to understand why this term is so prevalent when speaking about life.
What is your eye focused on?
The small, yet important details in front of you, or the whole picture.
Of course, seeing the big picture is important but focusing on the steps you need to take can help you reach your goals.
We can all use a little help to stay grounded and steady on the course in front of us.
What anchors you?
Do you have a favorite anchor quote that didn't make the list?
Share your thoughts in the comment section below.