Cake Quotes To Get You Baking a Delectable Dessert You Can't Wait to Share
These cake quotes highlight the wonderful dessert that makes every celebration better.
Cake might just be the best thing on this planet.
The texture is just right, moist yet fluffy, and the icing just makes it even better.
You may also enjoy our article on:
Of course, there are your standard flavors like chocolate, vanilla, and yellow cake, but a true cake connoisseur knows there is are so many more worth exploring.
There are fruit-filled cakes, red velvet, carrot, and even Earl Grey cake with a lavender-infused frosting.
I may have to go bake that right now…and some of these cake quotes would make a lovely Instagram caption for my sophisticated pretty purple cake!
Whether you are captioning your latest cake or cupcake creation, or even a beautiful cake you purchased, these cake quotes will capture whatever sentiment you would like to convey!
There are funny cake quotes, cake quotes about life, and even some about icing!
We have already talked about some of the flavors that cake can come in, but did you realize that there are many different types of cakes?
Keep reading to learn more!
Don't forget to also check out these baking quotes to help you create a delicious masterpiece.
If you enjoy this article, check out our most popular quote article, a list of short inspirational quotes for daily motivation.
Browse our entire collection of inspirational quotes for more motivating ideas and concepts.
Funny cake quotes
1. "My policy on cake is pro having it and pro eating it." — Boris Johnson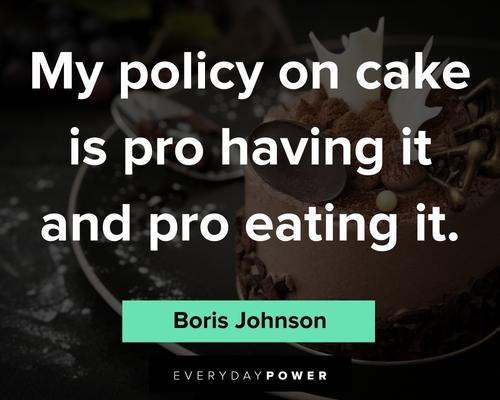 You will also enjoy our article on birthday quotes.
2. "Life is too short to say no to cake." — Unknown
You will also enjoy our article on Charles Dickens quotes.
3. "A balanced diet is having a piece of cake in each hand." — Unknown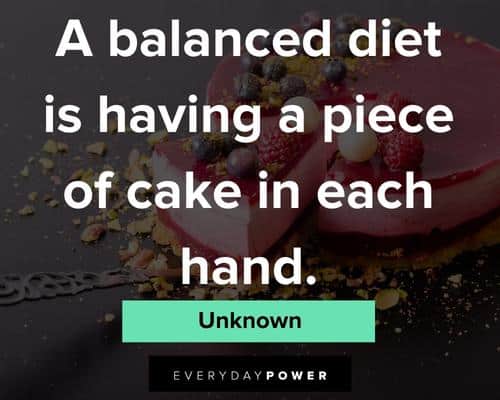 You will also enjoy our article on Napoleon Dynamite quotes.
4. "Cake will always be the answer. The question is irrelevant." — Unknown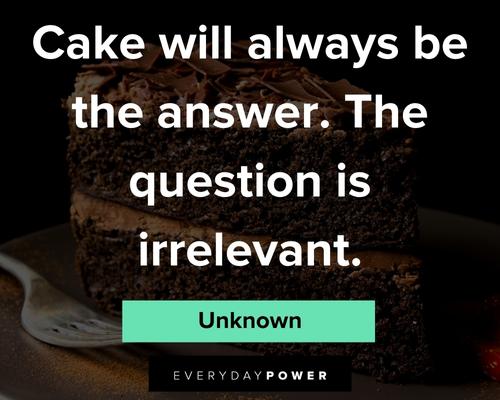 You will also enjoy our article on Cherry quotes.
5. "You know you're getting old when you get that one candle on the cake. It's like, 'See if you can blow this out.'" — Jerry Seinfeld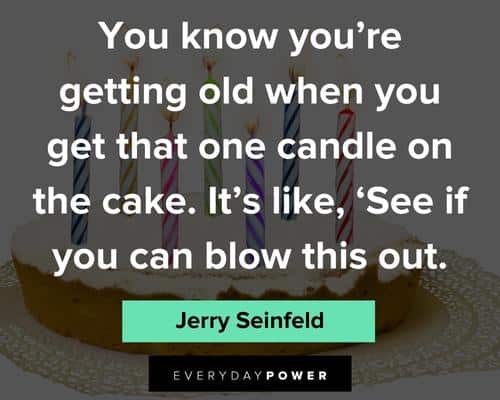 You will also enjoy our article on funny yearbook quotes.
6. "I'm not saying I don't enjoy the days that I'm not eating chocolate cake. But I do particularly like those days when I am eating chocolate cake." — Trisha Yearwood
7. "I'll do almost anything for cake—even trample little children!" — Gayle King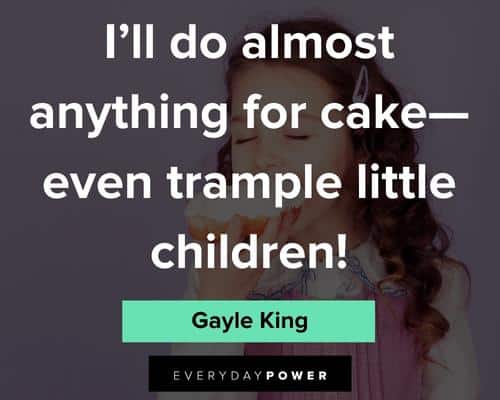 You will also enjoy our article on Marie Antoinette quotes.
8. "Everyone who knows me knows that I always eat cake. My nutritionist hates it, but I just tell her I like to eat it, and she's not going to stop me!" — Lucy Bronze
9. "Where there is cake, there is hope. And there is always cake." — Dean Koontz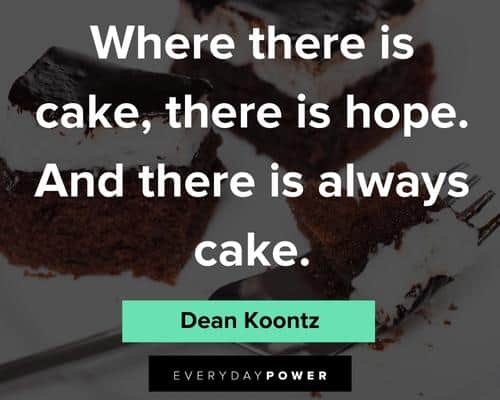 You will also enjoy our article on glow quotes.
10. "If eating cake is wrong, I don't want to be right." — Lorelai Gilmore, The Gilmore Girls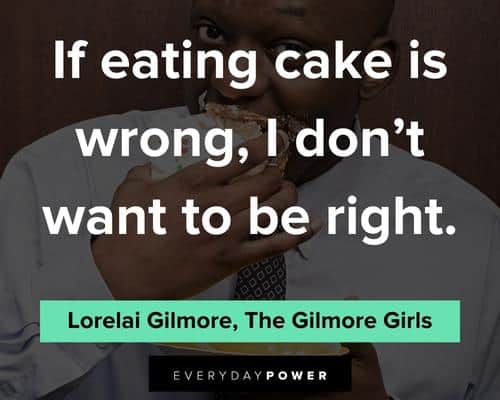 You will also enjoy our article on best senior year quotes.
11. "There's nothing better than cake, but more cake." — Harry S. Truman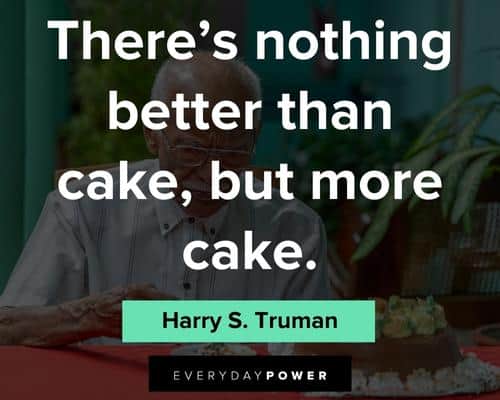 Cake quotes for Instagram
12. "Romance is the icing, but love is the cake." — Unknown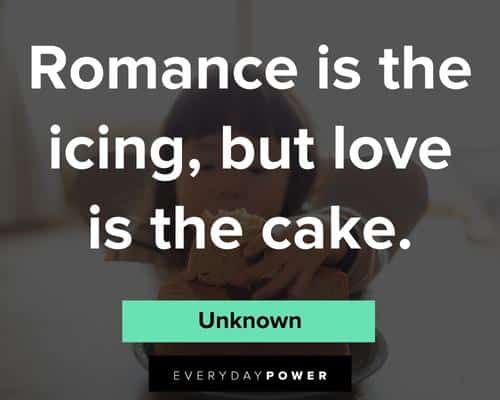 You will also enjoy our article on funny birthday quotes.
13. "Live. Love. Cake." — Unknown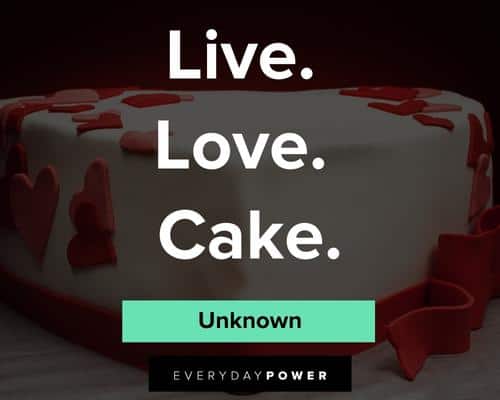 You will also enjoy our article on September quotes.
14. "A bad day with cake is better than a good day without it." — Unknown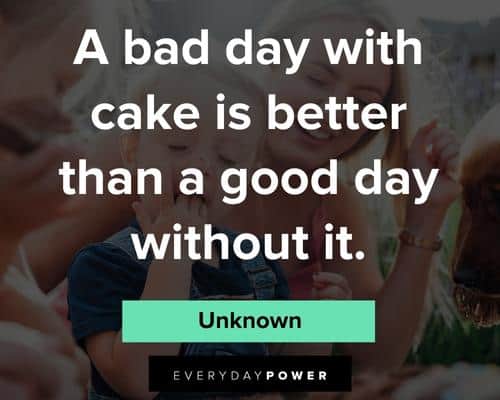 You will also enjoy our article on candle quotes.
15. "Cake is a very beautiful thing." — Milly Shapiro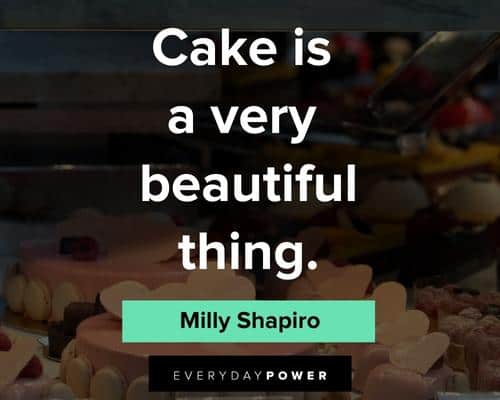 16. "Photographing a cake can be art." — Irving Penn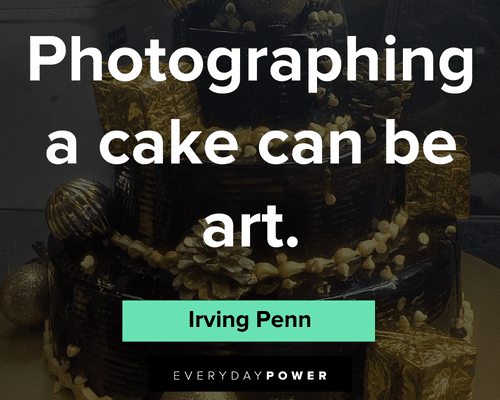 17. "Love is when you have a really amazing piece of cake, and it's the very last piece, but you let him have it." — E. Lockhart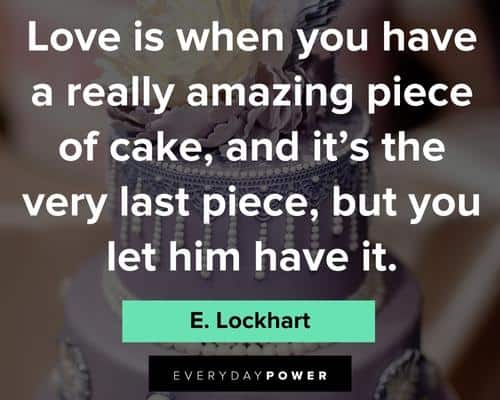 18. "Sweetest slice of paradise." — Unknown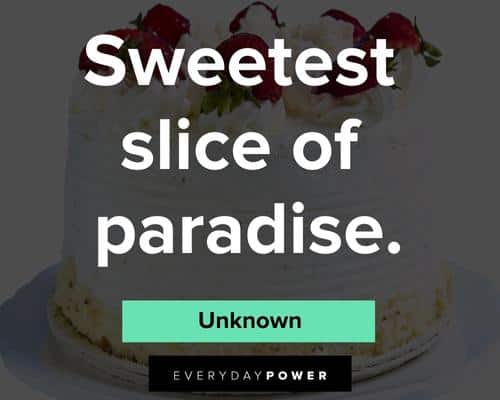 19. "Cake for later; cake as a way of life." — Laini Taylor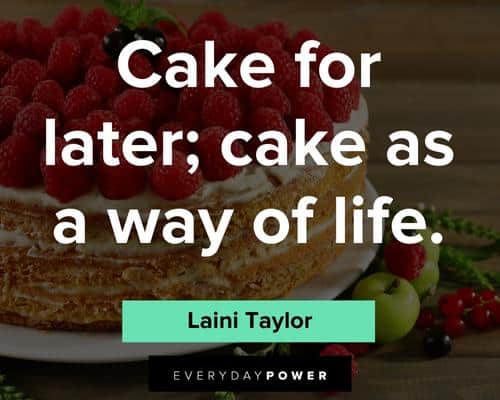 20. "I've never met a problem a proper cupcake couldn't fix." — Sarah Ockler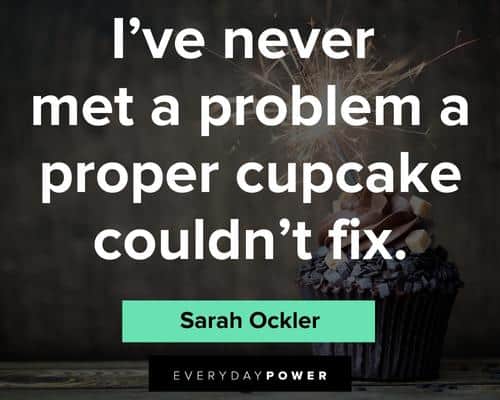 21. "Cake is for life, not just for birthdays!" — Unknown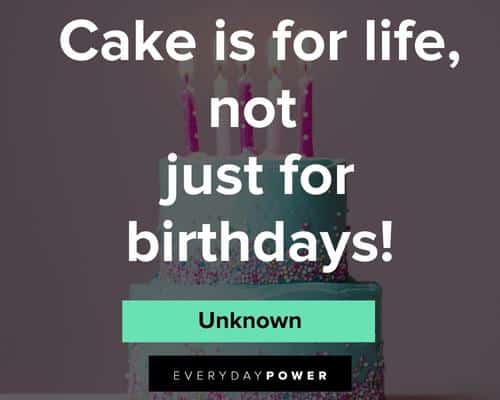 If you enjoy this article, check out our collection of pizza quotes to satisfy your craving.
Cake quotes about birthdays, weddings, and celebrations
22. "Cakes are special. Every birthday, every celebration ends with something sweet, a cake, and people remember. It's all about the memories." — Buddy Valastro
23. "The most dangerous food is wedding cake." — James Thurber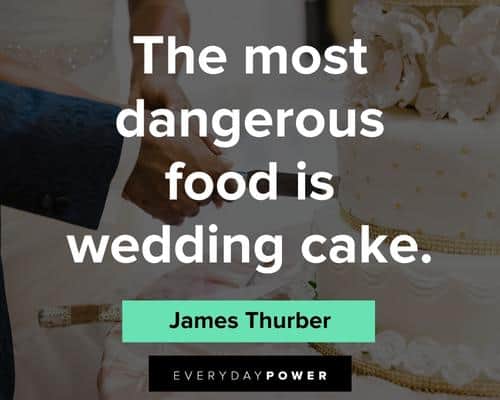 24. "All the world is birthday cake, so take a piece, but not too much." — George Harrison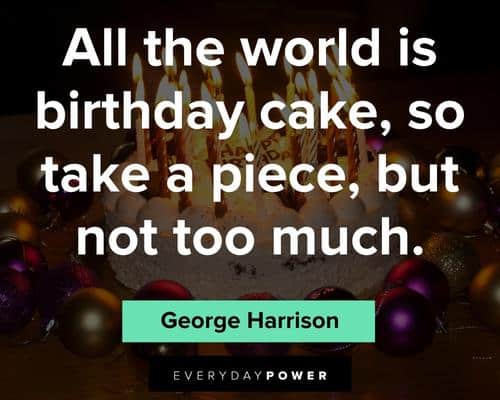 25. "Having a birthday cake squashed into your face by young kids? Delicious. I always don a Santa suit at Christmas. Remaining childish is a tremendous state of innocence." — John Lydon
26. "My son's twin girls, Abby and Grace, are 14; they make birthday cakes and like to do it on their own with Mum out of the way." — Mary Berry
27. "For me, the end of childhood came when the number of candles on my birthday cake no longer reflected my age, around 19 or 20. From then on, each candle came to represent an entire decade." — Yotam Ottolenghi
28. "I like birthday cake. It's so symbolic. It's a tempting symbol to load with something more complicated than just 'Happy birthday!' because it's this emblem of childhood and a happy day." — Aimee Bender
29. "A party without cake is just a meeting." — Julia Child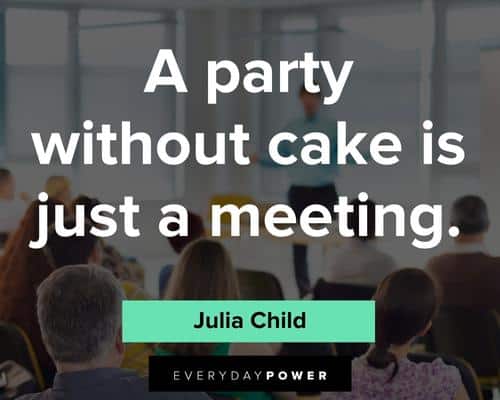 30. "Birthdays are nature's way of telling us to eat more cake." — Jo Brand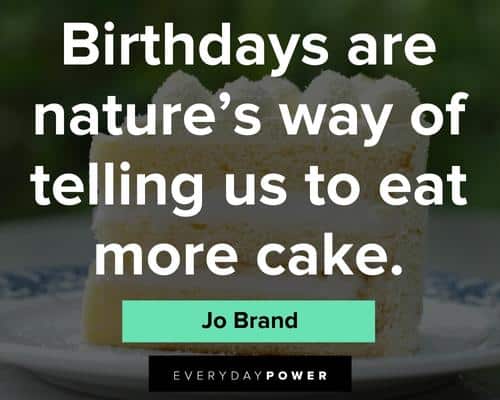 31. "You know you're getting old when the candles cost more than the cake." — Bob Hope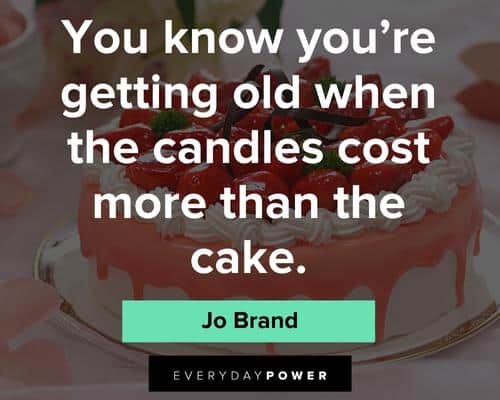 'Like a cake' and 'icing on the cake' quotes
32. "A great empire, like a great cake, is most easily diminished at the edges." — Benjamin Franklin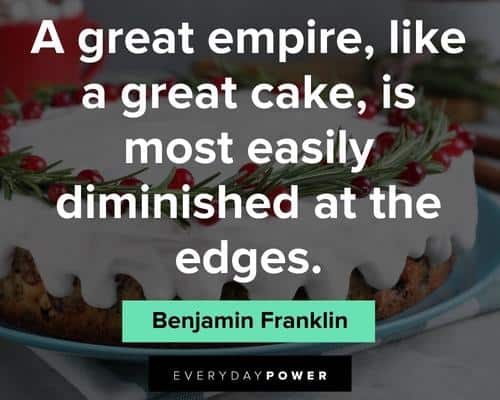 33. "A lot of movies are about life, mine are like a slice of cake." — Alfred Hitchcock
34. "In my experience, entrepreneurship tends to be kind of cumulative, like a layer cake. Taking some time away can make it hard to rev up." — Andrew Yang
35. "If you're trying to create a company, it's like baking a cake. You have to have all the ingredients in the right proportion." — Elon Musk
36. "Success is not like a cake that needs to be divided." — Maeve Binchy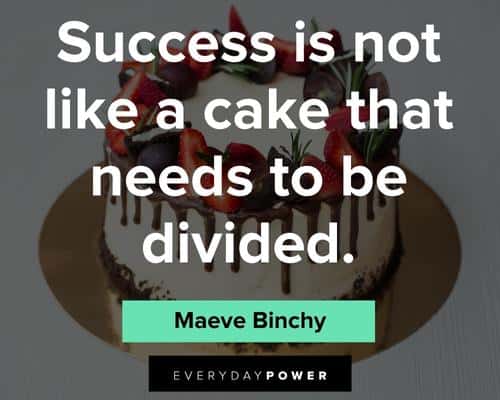 37. "I want people to fall in love with themselves and to be really proud and full of joy for the space they take up. If someone else appreciates the space you take up, then that's icing on the cake." — Jonathan Van Ness
38. "In any other context, 'icing' is a great and exciting word: The proverbial icing on the cake, for instance, is a bonus — a wonderful thing on top of another wonderful thing." — Steve Rushin
39. "If the theory turns out to be right, that will be tremendously thick and tasty icing on the cake." — Brian Greene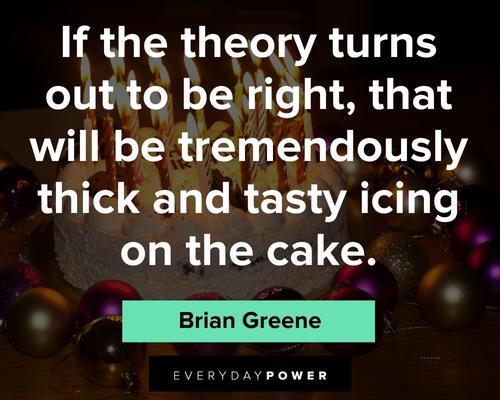 40. "Life is a cake and love is the icing on top of it. Without love, it becomes difficult to swallow life." — Mehek Bassi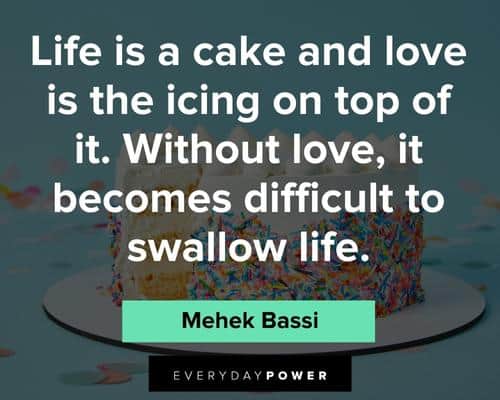 41. "I saw the world I had walked since my birth, and I understood how fragile it was, that the reality was a thin layer of icing on a great dark birthday cake, writhing with grubs and nightmares and hunger." — Neil Gaiman
Cake quotes about life
42. "Let's face it, a nice creamy chocolate cake does a lot for a lot of people; it does for me." — Audrey Hepburn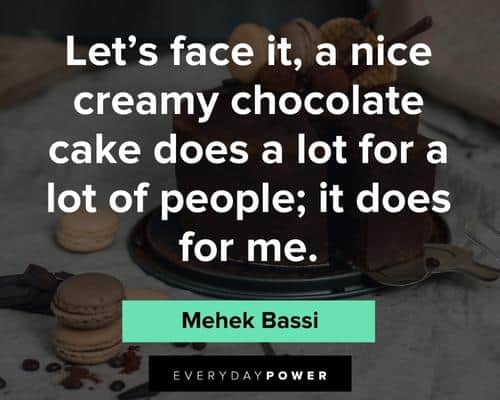 43. "Freedom is not to be bound by my wounds. And to be able to eat cake every day." — Amanda de Cadenet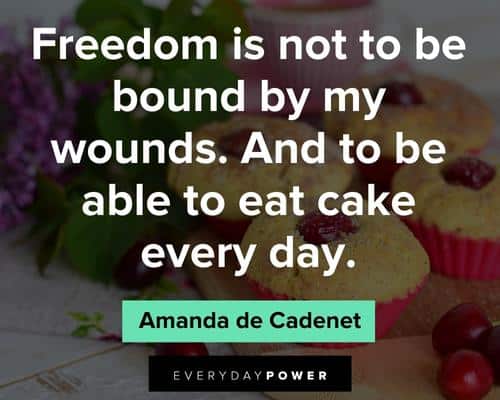 44. "Because the sweeter the cake, the more bitter the jelly can be." — Lady Gaga
45. "What can cake teach you about life? That practice makes perfect, and if you try something once, it probably won't be perfect, and you have to keep working on it if you want to be good at it." — Nicole Byer
46. "The great thing about cake is it doesn't feel like work. You forget about work. Kids, adults, they all get the same look in their eye when they're decorating cakes. That's the magic right there." — Duff Goldman
47. "Life is short and unpredictable. Eat the dessert first." — Helen Keller
48. "Take the broken pieces of your life, bake a master cake out of it. Don't stand still like a lake; keep flowing like a stream!" — Israelmore Ayivor
49. "Happiness is like a cake: have too much of it and you get sick of it." — Karl Pilkington
50. "So, if I have two pieces of cake, do I have twice as good an experience as the first piece of cake? One of the things I've found in life is that the first piece of cake is the best." — David Frum
Cake quotes when you're craving for something sweet
51. "Cakes are healthy too, you just eat a small slice.― Mary Berry
52. "Let's just say you may regret that second piece of cake.' Oh my God. Regret cake? Whatever was about to happen must be truly evil." ― Rachel Hawkins
53. "If you're going to lick the icing off somebody else's cake you won't be nourished and it won't do you any good, or you might find the cake had caraway seeds and you hate them." ― Emily Carr
54. "Here's a basic difference between Morelli and me. My first thought was always of cake. His first thought was always of sex. Don't get me wrong. I like sex . . . a lot. But it's never going to replace cake." ― Janet Evanovich
55. "If I was made of cake I'd eat myself before somebody else could." ― Emma Donoghue
56. "Love is like a good cake; you never know when it's coming, but you'd better eat it when it does!" ― C. JoyBell C.
57. "Cake is happiness! If you know the way of the cake, you know the way of happiness! If you have a cake in front of you, you should not look any further for joy!" ― C. JoyBell C.
58. "But I'm really enjoying my retirement. I get to sleep in every day. I do crossword puzzles and eat cake." ― Derek Landy
59. "I'm going to die. And as if that weren't bad enough, I'm going to die inside a cake." ― Peter H. Fogtdal
60. "But how will I eat cake if my head is over there, and my hands are over here?" ― Marie Antoinette
Inspiring Cake Quotes For Bakers
61. "Once you get rid of integrity the rest is a piece of cake." — Larry Hagman
62. "If the people have no bread, let them eat cake." — Marie Antoinette
63. "It's a piece of cake until you get to the top. You find you can't stop playing the game the way you've always played it." — Richard M. Nixon
64. "We'll take the cake with the red cherry on top." — Navjot Singh Sidhu
65. "The real cake isn't HAVING what you want, it's DOING what you want." — Lady Gaga
66. "Everyone is dealing with something. This is life; this is not just a piece of cake." — Tom Brady
67. "I don't want to die tomorrow knowing I could've had a piece of cake tonight." — Gabriel Iglesias
68. "It's time to blow out the candles on the pity party cake." — Louie Giglio
69. "I am proud of my cake-making image but life is not that perfect. There are socks in my fruit bowl." — Jane Asher
70. "By the second tour I had rice cakes and hummus with me, and I was jumping rope in my room." — Taylor Dane
Cake Quotes To Encourage You To Indulge Your Sweet Tooth
71. "I think to eat cake is very good for us, but it's the size of the slice and how often you have it." — Mary Berry
72. "You can freeze a nice sponge cake and then have a strawberry shortcake any time." — Lidia Bastianich
73. "If it were easy to resist, it would not be called chocolate cake." — Maryrose Wood
74. "My favorite food is chocolate cake. I need to have a slice of chocolate cake every single day, without fail." — Soha Ali Khan
75. "Baking cake is one of the easiest things in the world." — Paul Hollywood
76. "I drink diet coke so I can eat regular cake." — Gabriel Iglesias
77. "For me, almost always, the answer was cake." — Diana Abu- Jaber
78. "Men come and go, but the cake stays forever." — George Augustus Sala
79. "My favorite food is cake. What kind of cake? It doesn't matter. All cake." ― Jenny Han
80. "Time heals all things. But if time fails, try cake." ― Maggie Knox
Cake Quotes That Will Leave You Drooling
81. "The icing on the cake is when other people enjoy your vision and support what you do." ― Cise Star
82. "There's nothing better than cake but more cake." ― Harry S. Truman
83. "You cannot have a cake and eat it too. Either you eat it, or you have it." ― Zygmunt Bauman
84. "The easiest way to make a fruit cake is to buy a darkish cake, then pound some old, hard fruit into it with a mallet. Be sure to wear safety glasses." ― Dave Barry
85. "My idea of baking is buying a ready make cake mix and throwing in an egg." ― Cilla Black
86. "I like to serve chocolate cake, because it doesn't show the dirt." ― Phyllis Diller
87. "I've always told my children that life is like a layer cake. You get to put one layer on top of the other, and whether you frost it or not is up to you." ― Ann Richards
88. "The process of making a wedding cake is complex on its own, from designing, mis-en-place, baking, frosting, structuring, decorating, to delivering." ― Ron Ben-Israel
89. "If the cake fits, eat it!" ― Gordon Korman
90. "Not always the fanciest cake that's there Is the best to eat!" ― Margaret Elizabeth Sangster
Cake Quotes For Your Baking Skills
91. "What I really do is take real plums and put them in an imaginary cake." ― Mary McCarthy
92. "White grapes are very attractive but when it comes to dessert people generally like cake with icing." ― Fran Lebowitz
93. "I can cook to please people, but it's quite conventional. I make a good sponge cake. I find it hard to follow recipes." ― Anna Chancellor
94. "You can keep your willpower, Frog. I am going home to bake a cake." ― Arnold Lobel
95. "Nothing seems to please a fly so much as to be taken for a currant; and if it can be baked in a cake and palmed off on the unwary, it dies happy." ― Mark Twain
96. "I love making down-home Southern cooking, and just chilling out and having cakes and pies and baking stuff, you know. I'm a pretty simple girl." ― Nicole Scherzinger
97. "Gotta get it, even if it's in the worse way. Got cake like everyday my birthday." ― Lil Wayne
98. "I love cakes. Chocolate and coconut cakes. I love that combination!" ― Adriana Lima
99. "You're like a cake when you're young. You can't rush it or it will fall, or just turn out wrong. Rising takes patience, and heat." ― Anna Quindlen
100. "A cake is a very good test of an oven: if it browns too much on one side and not on the other, it's not your fault you need to have your oven checked." ― Delia Smith
Which of these cake quotes is your favorite?
Professional bakers categorize cakes by their ingredients and mixing methods.
If your recipe starts with "cream butter and sugar" then you are about to make a butter cake.
Pound cake, which is often made in a loaf or bundt pan, is a derivative of butter cake.
It gets its name because its ingredients can be measured proportionately: a pound of butter, a pound of sugar, a pound of eggs, and a pound of flour.
If you have a recipe that calls for no baking soda or baking powder, but lots of whipped eggs or egg whites, then you are about to bake a sponge cake!
Genoise and biscuit cakes are French versions of a sponge cake.
Then there is angel food cake, which you might recognize as the base of strawberry shortcake.
It also has a distinct spongy texture, and no egg yolks!
There are even flourless cakes, for those of you who might be trying to cut out gluten.
You could also find a recipe for a cake with a gluten-free type of flour.
Just because gluten might be off the table, does not mean that cake has to be!
Cake is so fabulous, you can also find a Keto recipe if you are trying to follow a lower-carb diet!
Did you enjoy reading these cake quotes and sayings?
Tell us your favorite type and flavor of cake in the comment section below!