175 Self Reflection Quotes to Ignite Your Future
If you're ready to look inward, these self-reflection quotes are perfect for you.
These self-reflection quotes will allow you to see deeper inside yourself to discover what makes you tick.
How we conduct ourselves says a lot about who we are, what we believe in, and what matters most.
In life, actions always speak louder than words.
Tell us which self-reflection quotes resonated most with you in the comment section below.
What are the benefits of reading these self-reflection quotes?
With the kind of life we live nowadays, it's difficult to find time to understand our:
We are busy trying to earn a living and keeping up with our lifestyles that we hardly find time for introspection.
But despite how busy our lives might be, it's important to make time for self-reflection because it's a crucial ingredient of success.
Famous athletes like Michael Jordan, successful TV personalities like Oprah Winfrey, and even world-renowned scholars all acknowledge the importance of self-reflection for a successful and happy life.
Being one with your thoughts helps you shift your mindset from negative to positive.
Self-reflection helps you understand your response to various situations, allowing you to deal with them positively.
How do you reflect on yourself?
By self-reflecting, you can process your thoughts and feelings and understand why you feel the way you do.
Understanding and being in control of your thoughts and feelings is one way to change your behavior for the better and achieve your goals.
To help ignite your future, below is our collection of inspirational, wise, and thoughtful self-reflection quotes, self-reflection sayings, and self-reflection proverbs collected from several sources over the years.
Be sure to check out our collection of lonely quotes that prove it's okay to be alone.
If you enjoy this article, check out our most popular quote article, a list of short inspirational quotes for daily motivation.
If you want more motivational quotes, check out our motivational quotes category page.
Self-Reflection Quotes to Ignite Your Future
1. "The journey into self-love and self-acceptance must begin with self-examination… until you take the journey of self-reflection, it is almost impossible to grow or learn in life." – Iyanla Vanzant
You will also enjoy our article on actions speak louder than words quotes.
2. "What we perceive about ourselves is greatly a reflection of how we will end up living our lives." – Stephen Richards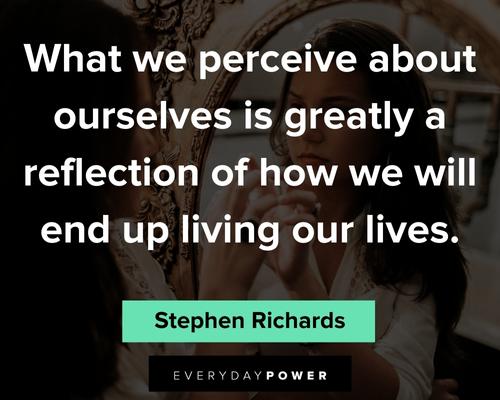 You will also enjoy our article on future quotes.
3. "Everything that irritates us about others can lead us to an understanding of ourselves." – Carl Jung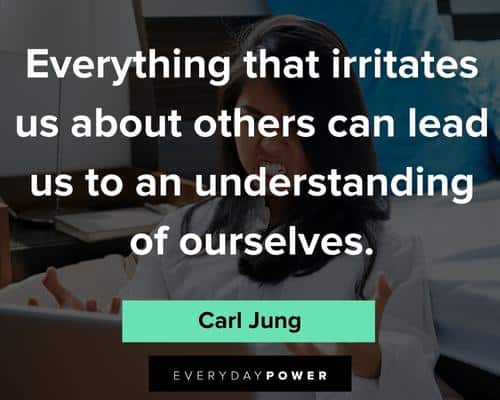 You will also enjoy our article on Kahlil Gibran quotes.
4. "It is always our own self that we find at the end of the journey. The sooner we face that self, the better." – Ella Maillart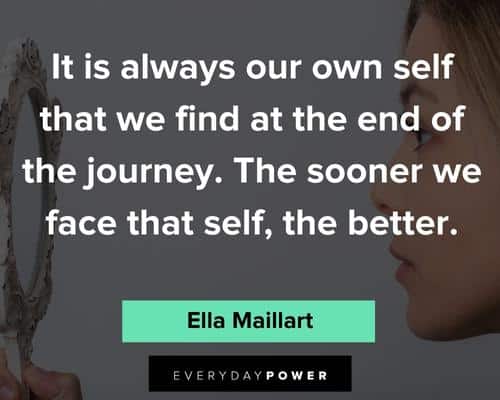 You will also enjoy our article on Blind Side quotes.
5. "I visualize where I wanted to be, what kind of player I wanted to become. I knew exactly where I wanted to go, and I focused on getting there." – Michael Jordan
6. "The world is a looking glass and gives back to every man the reflection of his own face." – William Makepeace Thackeray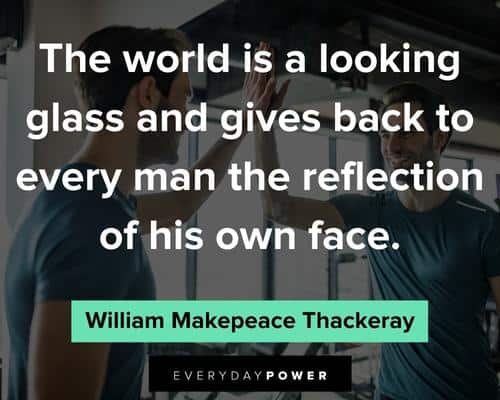 You will also enjoy our article on Personal Growth Quotes.
7. "Our self-image, strongly held, essentially determines what we become." —Maxwell Maltz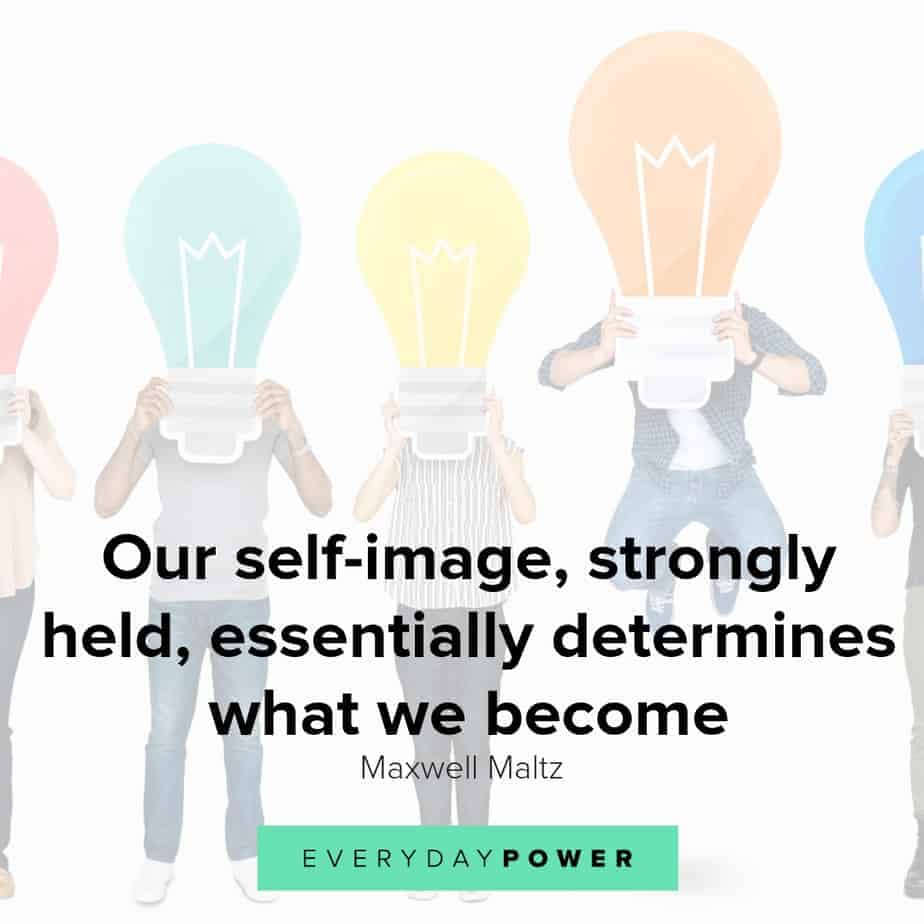 You will also enjoy our article on self acceptance quotes.
8. "One of the greatest tragedies in life is to lose your own sense of self and accept the version of you that is expected by everyone else." —K.L. Toth
9. "The cosmos is evolving toward greater self-reflection, allowing us to open the eye of Spirit and see our source." —Alex Grey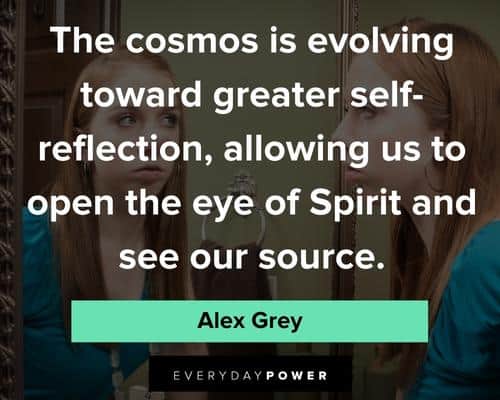 10. "Self-awareness gives you the capacity to learn from your mistakes as well as your successes." —Lawrence Bossidy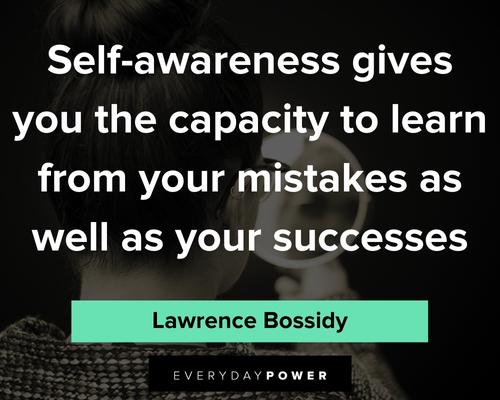 Don't forget to read these mirror quotes that will elevate your perspective.
Self-reflection quotes to help brighten your future
11. "If you have no confidence in self, you are twice defeated in the race of life." —Marcus Garvey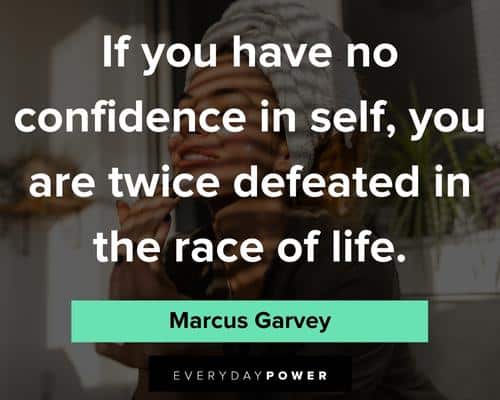 If you're enjoying these quotes, you'll love our collection of self-worth quotes to boost your confidence.
12. "The promises of this world are, for the most part, vain phantoms; and to confide in one's self, and become something of worth and value is the best and safest course." —Michel Angelo
13. "You cannot have a meaningful life without having self-reflection." —Oprah Winfrey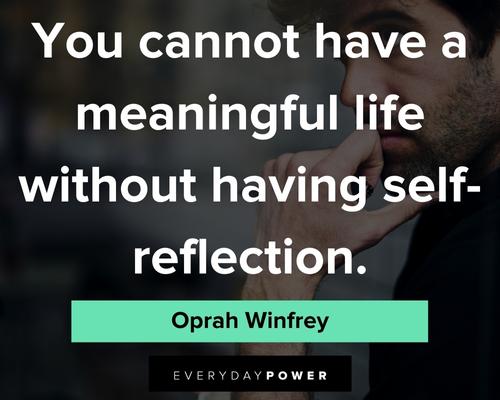 14. "Honest self-reflection opens your mind to reprogramming, change, success and freedom." —Unknown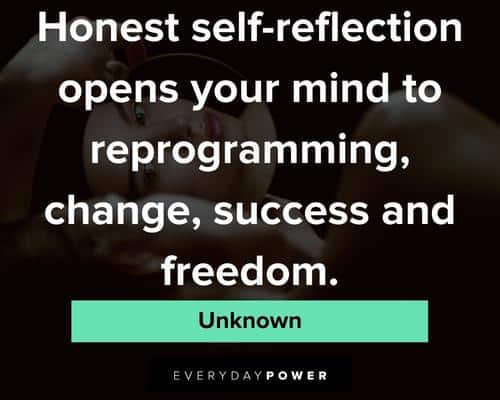 If you're enjoying these quotes, make sure to check out our collection of mindset quotes that will help take you where you want to go in life.
15. "Self-reflection is the school of wisdom." – Baltasar Gracian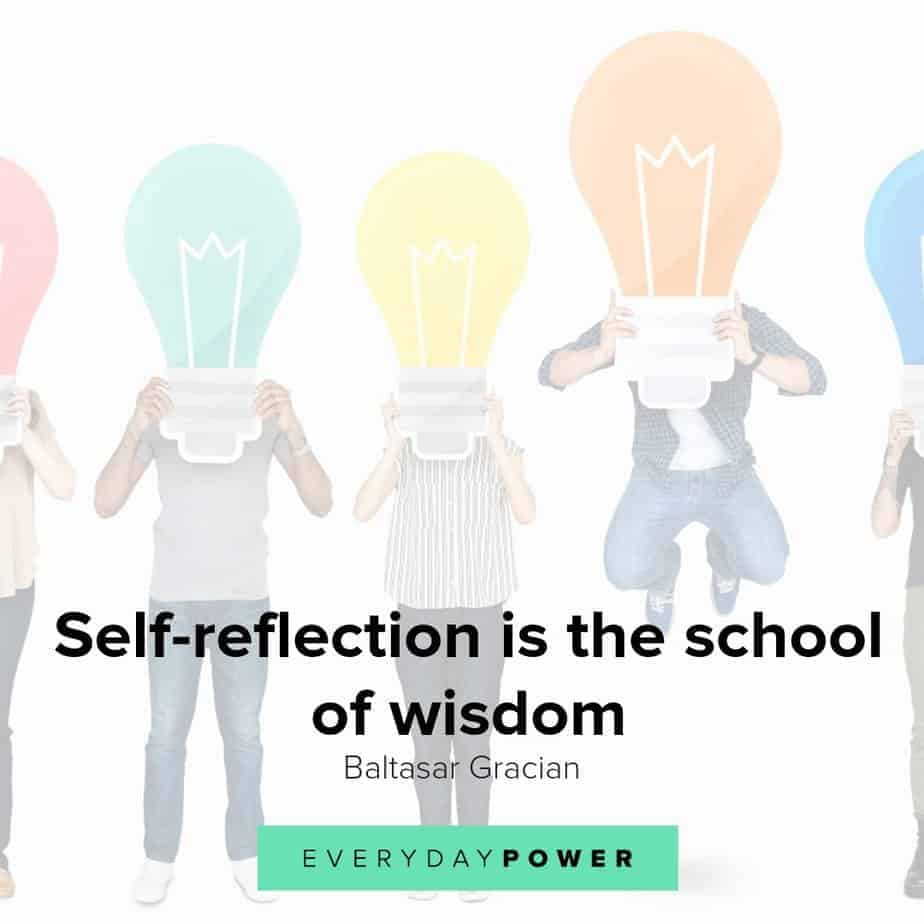 16. "Doubt, not self-reflection, comes from a destructive energy, and when it rears its head, I talk to it like a lunatic." —Gwyneth Paltrow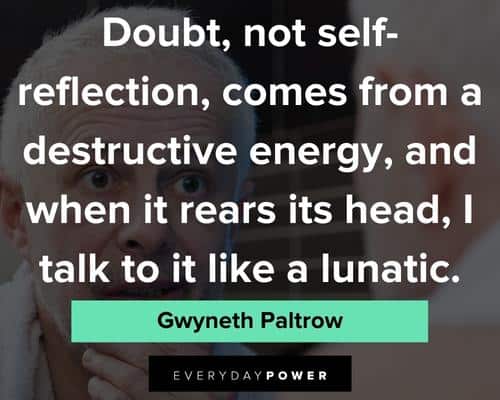 17. "Women need real moments of solitude and self-reflection to balance out how much of ourselves we give away." – Barbara De Angelis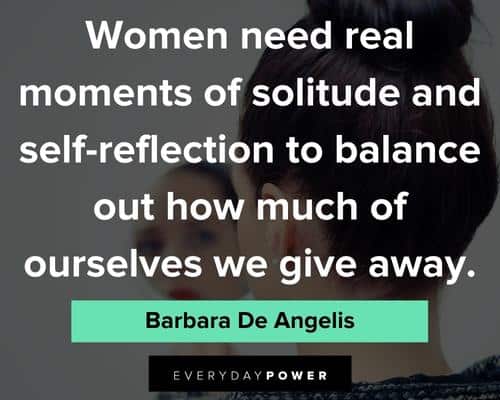 If you're enjoying these quotes, make sure to check out our collection of solitude quotes to bring you peace.
18. "There is one art of which people should be masters – the art of reflection." – Samuel Taylor Coleridge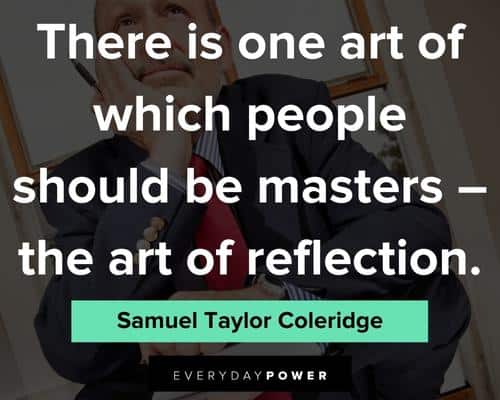 19. "Friendship with one's self is all-important, because without it one cannot be friends with anyone else in the world." —Eleanor Roosevelt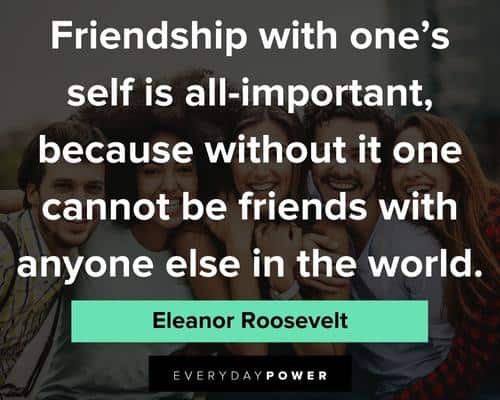 20. "The people accusing me of being productive don't know how hard it is for me to just bend my elbow sometimes." – Lena Dunham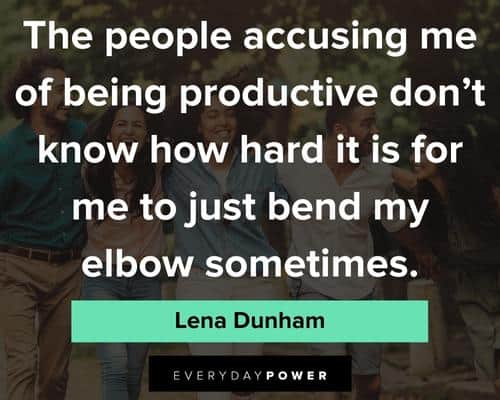 Also, check out these one day at a time quotes and sayings to live by.
Self-reflection quotes to help you grow
21. "Self-reflection entails asking yourself questions about your values, assessing your strengths and failures, thinking about your perceptions and interactions with others, and imagining where you want to take your life in the future." – Robert L. Rosen
22. "Emotions are there to enjoy life; but they are not used in self-reflection because they inhibit a proper reflection. They gunk us up." – Frederick Lenz
23. "Difficulty creates the opportunity for self-reflection and compassion." – Suzan-Lori Parks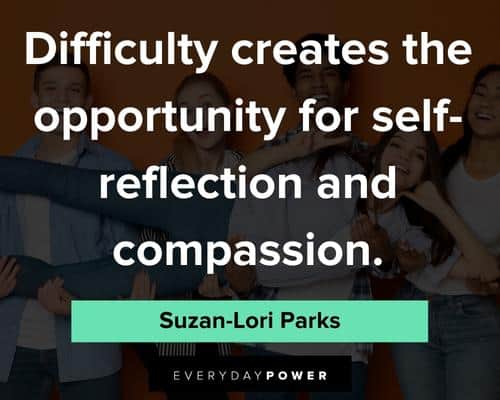 24. "Self-reflection is the gateway to freedom. It also brings greater appreciation and enjoyment. We begin to enjoy spending time with our own mind, and we enjoy reflecting on our experience of the teachings. Like the sun emerging from behind the clouds, the teachings of the dharma become clear." – Dzigar Kongtrul Rinpoche
25. "A worldview is probably an expression of self." —Michael Leunig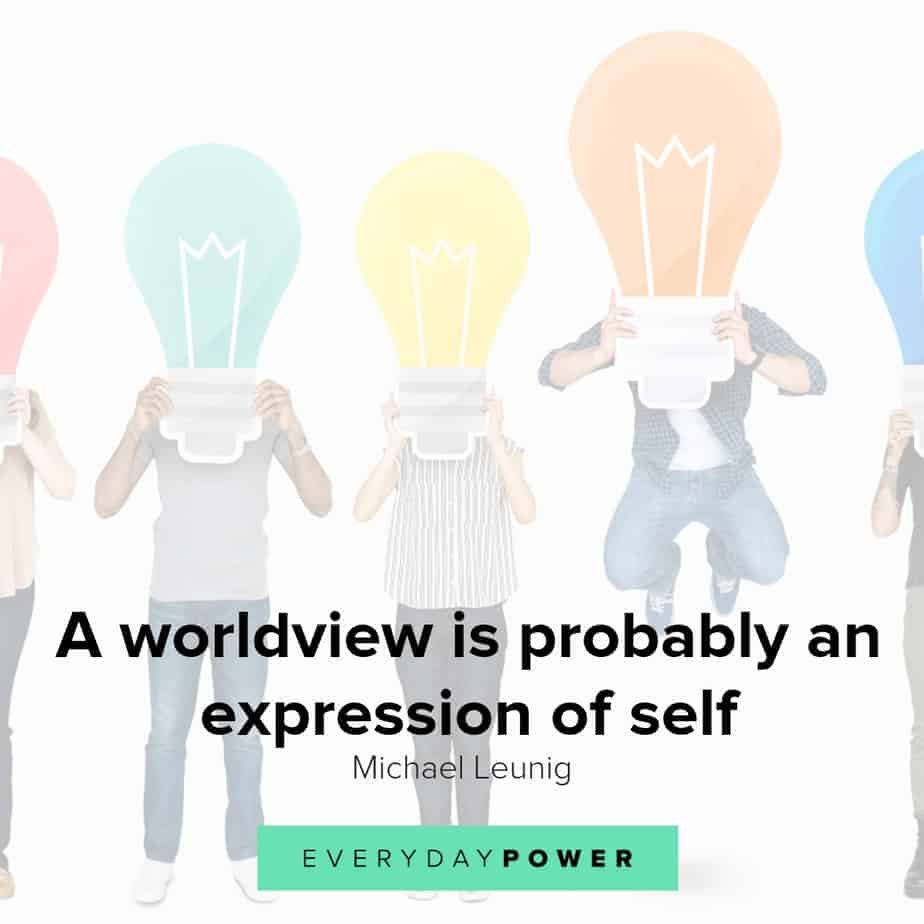 26. "It is great to be introspective, self-analysis can be useful, but only if it results in action." —Joe Sacco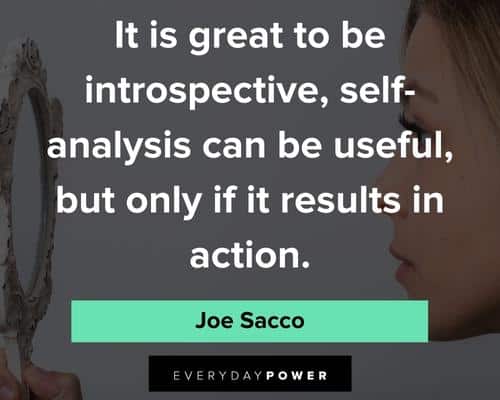 27. "These years in silence and reflection made me stronger and reminded me that acceptance has to come from within and that this kind of truth gives me the power to conquer emotions I didn't even know existed." –  Ricky Martin
28. "Everyone and everything that shows up in our life is a reflection of something that is happening inside of us." – Alan Cohen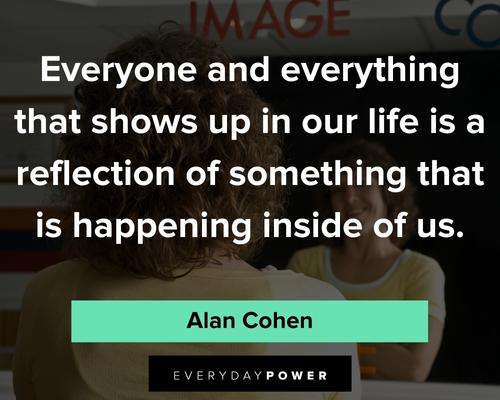 29. "Your self-esteem won't come from body parts. You need to step away from the mirror every once in a while, and look for another reflection, like the one in the eyes of the people who love you and admire you." – Stacy London
30. "By three methods we may learn wisdom: First, by reflection, which is noblest; Second, by imitation, which is easiest; and third by experience, which is the bitterest." – Confucius
You might also like these realization quotes that will have you pondering life.
Self-reflection quotes for a healthy relationship with yourself
31. "Without reflection, we go blindly on our way, creating more unintended consequences, and failing to achieve anything useful." – Margaret J. Wheatley
32. "True self is non-self, the awareness that the self is made only of non-self-elements. " —Nhat Nanh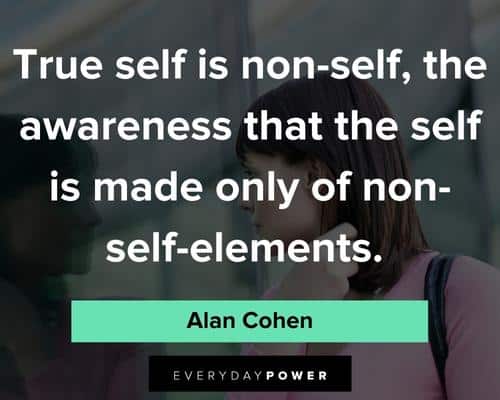 33. "Self-reflection is an important stage to diagnose, develop and strengthen your creativity." —Pearl Zhu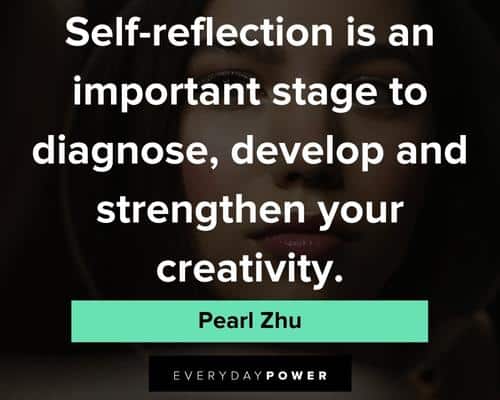 34. "The ultimate mystery is one's own self." —Sammy Davis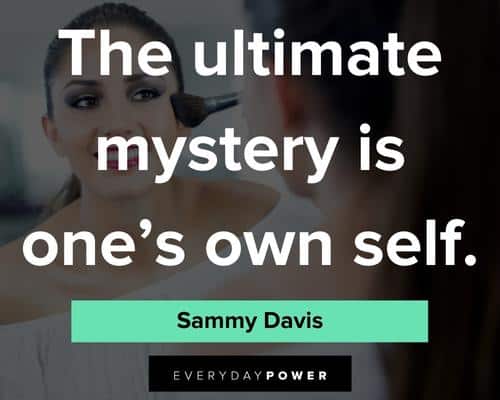 35. "To realize the Self is to be still." —Ramana Maharshi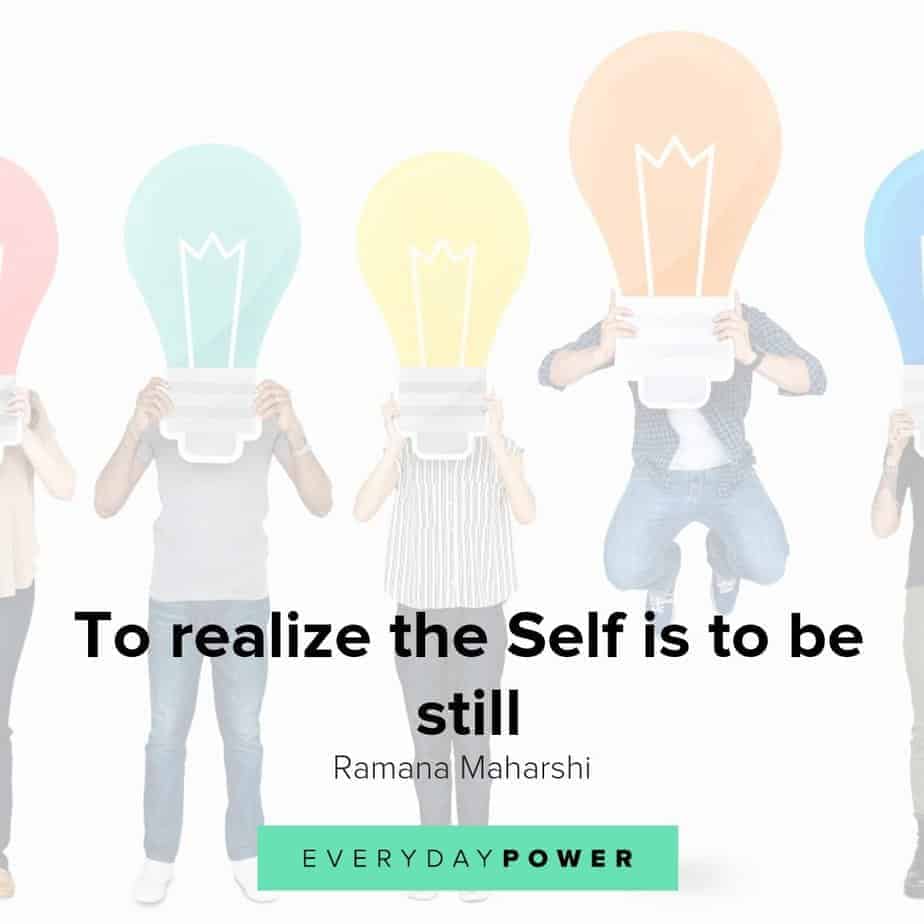 36. "The self is only that which it is in the process of becoming." —Kirkegaard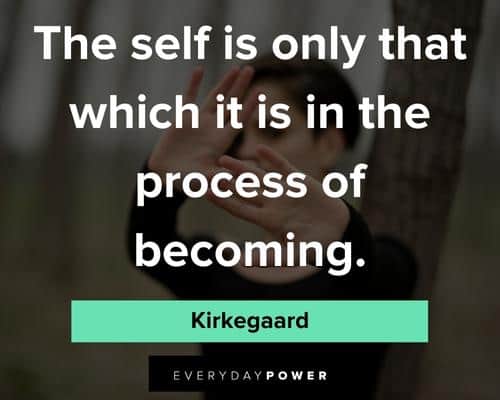 37. "Like water which can clearly mirror the sky and the trees only so long as its surface is undisturbed, the mind can only reflect the true image of the Self when it is tranquil and wholly relaxed." —Indra Devi
38. "We cannot see our reflection in running water. It is only in still water that we can see." – Zen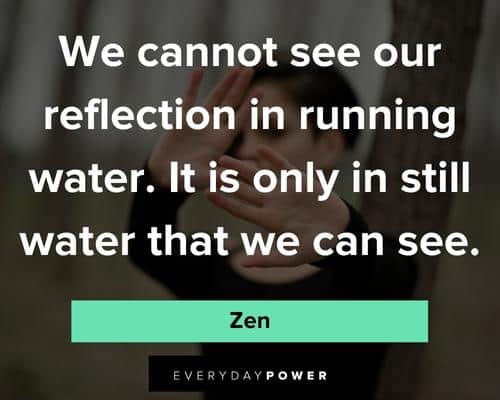 39. "Reflection is the lamp of the heart. If it departs, the heart will have no light." – Abdullah ibn Alawi al-Haddad
40. "Reflection on the infinite seems to call, almost by definition, for infinite reflection." – Daniel Taylor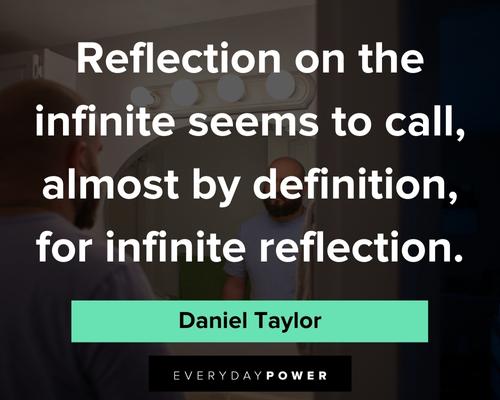 Have you seen these silence quotes on the importance of reflection?
Self-reflection quotes to give you inspiration and motivation
41. "Reflection is one of the most underused yet powerful tools for success." – Richard Carlson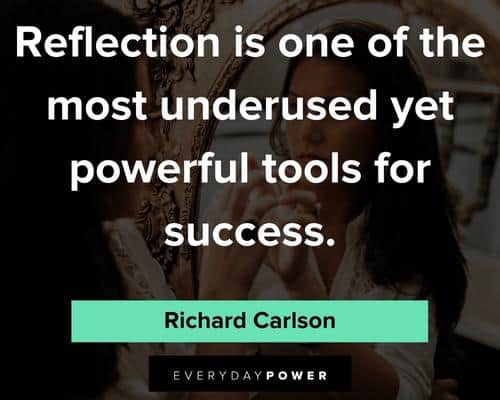 42. "Reflection can transform something familiar." – Diane L. Dunton
43. "We have so committed ourselves in different ways that we have hardly any time for self-reflection, to observe, to study." —Jiddu Krishnamurti
44. "Your greatest self has been waiting your whole life; don't make it wait any longer." —Dr. Steve Maraboli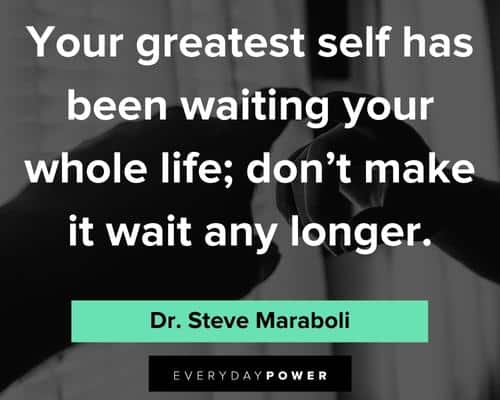 45. "We do not learn from experience… we learn from reflecting on experience." – John Dewey
If you're enjoying these quotes, you'll love our collection of experience quotes that will inspire you to live a fulfilled life.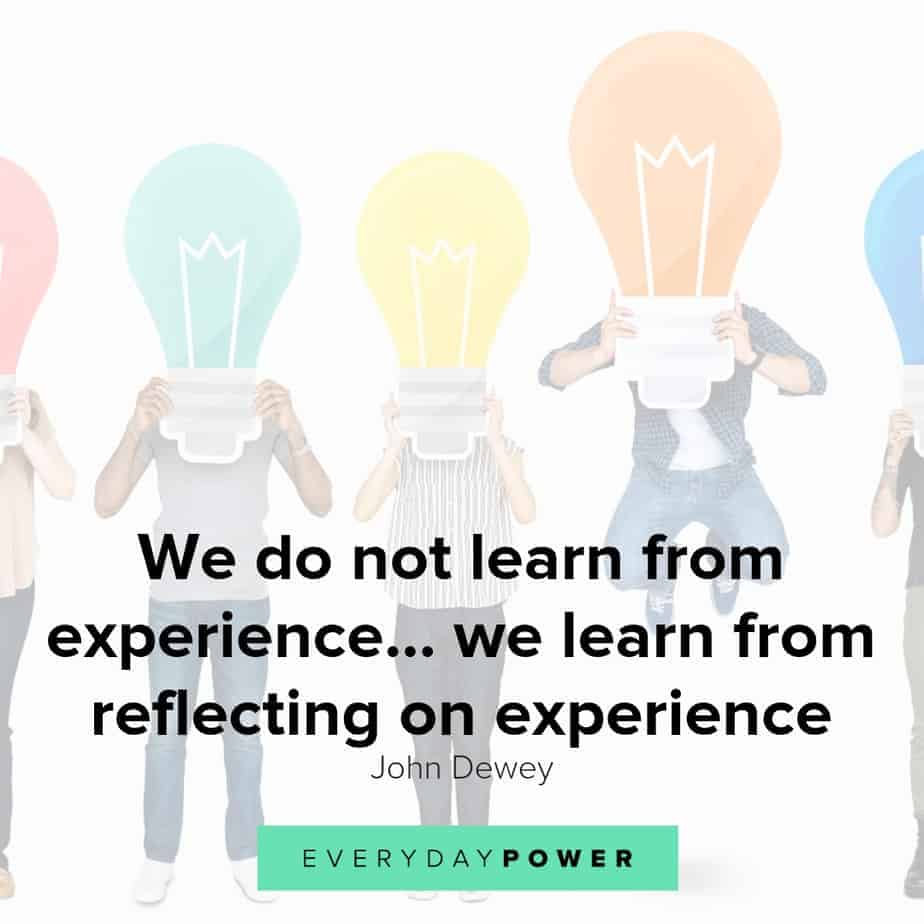 46. "No matter where you are in life right now, no matter who you are, no matter how old you are—it is never late to be who you are meant to be." – Esther and Jerry Hicks
47. "If you are not evolving, you are dying." – Marcus Lemonis
48. "Unless you learn to face your own shadows, you will continue to see them in others, because the world outside you is only a reflection of the world inside you." – Unknown
49. "People who have had little self-reflection live life in a huge reality blind-spot." – Bryant McGill
50. "You're always with yourself, so you might as well enjoy the company." – Diane von Furstenberg
Quotes about self-reflection to make you a better person
51. "Examining your thoughts is an important part of the practice of self-reflections" —Ryuho Okawa
52. "Engaging in meditative self-reflection and gaining increased control of inner experiences provides a person with a sense of control over fear and trembling and the chaos of life." —Kilroy J. Oldster
53. "We don't realize that, somewhere within us all, there does exist a supreme self who is eternally at peace." —Elizabeth Gilbert
54. "Self-reflection is a desire felt by the body, as well as the soul." —Susan Griffin
55. "True freedom is the capacity for acting according to one's true character, to be altogether one's self, to be self-determined and not subject to outside coercion." —Corliss Lamont
If you're enjoying these quotes, make sure to read our collection of character quotes about the power of integrity.
56. "To achieve happiness I advocate four major principles, the principles of love, wisdom, self-reflection, and progress." —Ryuho Okawa
57. "When the mind is still, the beauty of the self is seen reflected in it." -B.K.S Iyengar
58. "Time spent in self-reflection is never wasted – it is an intimate date to yourself." —Paul T.P. Wong
59. "One must find the source within one's own Self, one must possess it." —Hermann Hesse
60. "When your higher self is present, it always promotes peace." —Wayne Dyer
61. "We have to dare to be ourselves, however frightening or strange that self may prove to be."— May Sarton
62. "Self-reflection is a kind of self-judgment. The difference is just this—the former is positive and the latter is negative." —Balroop Singh
63. "There is only one corner of the universe you can be certain of improving, and that's your own self." — Aldous Huxley
64. "Remind yourself that you cannot fail at being yourself." — Wayne Dyer
65. Zen masters say you cannot see your reflection in running water, only in still water." – Elizabeth Gilbert
You might also like these judging others quotes for deep self-reflection.
Self-reflection quotes to elevate your mind
66. "I'm a work in progress, and I hope I will never be complete."― Nick Frost
67. "Knowing yourself is the beginning of all wisdom." – Aristotle
68. "Examination of our past is never time-wasting. Reverberations from the past provide learning rubrics for living today."― Kilroy J. Oldster
69. "When we strive to become better than we are, everything around us becomes better too." — Paulo Coelho
70. "We are chained by our own control. Life is nothing more than finding the key that unlocks every part of our soul."― Shannon L. Alder
71. "There is nothing noble in being superior to your fellow man; true nobility is being superior to your former self." — Ernest Hemingway
If you're enjoying these quotes, make sure to read our collection of Ernest Hemingway quotes from the iconic author.
72. "During self-reflection, the realization came that revolution begins within."― Amanda Mosher
73. "It is not as much about who you used to, as it is about who you choose to be." — Sanhita Baruah
74. "There is no greater journey than the one that you must take to discover all of the mysteries that lie within you." – Michelle Sandlin
75. "The unexamined life is not worth living." — Socrates
Thought-provoking self-reflection quotes
76. "I had the urge to examine my life in another culture and move beyond what I knew." – Frances Mayes
77. "Knowledge of the self is the mother of all knowledge. So it is incumbent on me to know myself, to know it completely." – Kahlil Gibran
78. "Close your eyes and stare into the dark." – Cecelia Ahern
79. "It's not the plan that is important, it's the planning." – Graeme Edwards
If you're enjoying these quotes, read our collection of planning quotes to help you take control of your life.
80. "Let go of who you think you're supposed to be and embrace who you are." – Brene Brown
81. "Don't bother just to be better than your contemporaries or predecessors. Try to be better than yourself." – William Faulkner
82. Without deep reflection one knows from daily life that one exists for other people." – Albert Einstein
83. "He that knows himself, knows others." – Charles Caleb Colton
84. "Can you remember who you were, before the world told you who you should be?" – Charles Bukowski
If you're enjoying these quotes, make sure to read our collection of Charles Bukowski quotes to help you see life from a brand new perspective.
85. "Blessed are those who can laugh at themselves, for they shall never cease to be amused." – Anonymous
More self reflection quotes and sayings
86. "I think making mistakes and discovering them for yourself is of great value, but to have someone else to point out your mistakes is a shortcut of the process." – Shelby Foote
87. "Your personal truth is your gift to the world." – Jennifer Elisabeth
88. "Look outside and you will see yourself. Look inside and you will find yourself." – Drew Gerald
89. "You only truly learn when you question the answer." – Mystqx Skye
90. "Self-reflection becomes self-torment when learning doesn't occur." – Jeffrey G. Duarte
91. "We are all capable of great self-deception when it serves us." – Holly Black
92. "Lessons are learned by acknowledging the grossest and cruelest parts of ourselves." – Anne T. Donahue
93. "Speak criticism into the mirror before you share with anyone else." – Maureen Joyce Connolly
94. "Self-reflection is a much kinder teacher than regret is. Prioritize yourself by making a habit of it." – Andrena Sawyer
95. "Quit trying so hard and sit quietly with yourself and you will see that there are no demands within you." – Bryant McGill
Don't forget to check out these spiritual quotes about inner peace and love.
Self-reflection quotes about what it looks like and why it is vital
96. Our language is the reflection of ourselves." — Cesar Chavez
97. "Reflective thinking turns experience into insight." — John C. Maxwell
98. "One of the saddest things in life is the things one remembers." — Agatha Christie
99. "The time is now. Stop hitting the snooze button on your life." — Mel Robbins
100. "Time and reflection change the sight little by little 'til we come to understand." — Paul Cezanne
101. One travels more usefully when alone because he reflects more." — Thomas Jefferson
102. "Imaginary evils soon become real one by indulging our reflections on them." — John Ruskin
103. Everyone thinks of changing the world, but no one thinks of changing himself." — Leo Tolstoy
104. "If you always do what you've always done, you'll always be where you've always been." — T. D. Jakes
105. "If I speak of myself in different ways, that is because I look at myself in different ways." — Michel de Montaigne
Self-reflection quotes on things we can reflect on and why
106. "I had chosen to use my work as a reflection of my values." — Sidney Poitier
107. "Style is a reflection of your attitude and your personality." — Shawn Ashmore
108. "Transitions are a time for reflection, and a time for looking forward." — Roy Cooper
109. "The real man smiles in trouble, gathers strength from distress, and grows brave by reflection." — Thomas Paine
110. "The way we experience the world around us is a direct reflection of the world within us." — Gabrielle Bernstein
111. "Your grammar is a reflection of your image. Good or bad, you have made an impression. And like all impressions, you are in total control." — Jeffrey Gitomer
112. "Surround yourself with really good people. I think that's an important thing. Because the people you surround yourself are a reflection of you." — Aaron Rodgers
113. "I thank God for my failures. Maybe not at the time but after some reflection. I never feel like a failure just because something I tried has failed." — Dolly Parton
114. "With all of the bad things that are happening in the world right now, I think we need a message of togetherness and true unity. I believe that starts with personal reflection and then we can find kindness toward each other." — Marielle Heller
115. "We all strive for balance, often moving to extremes to find ourselves somewhere in the middle where we can sustainably exist in optimal inspiration. Working toward balance takes a lot of ingredients. We need courage, reflection, attention, action, and a push-and-pull relationship between effort and relaxation." — Tara Stiles
Self-Reflection Quotes That Inspire Change
116. "Your past is the key to the next stage in your life." — Rendon Noel.
117. "Self-reflection is a humbling process. It's essential to find out why you think, say, and do certain things… then better yourself." — Sonya Teclai.
118. "Your life is a reflection of your thoughts. If you change your thinking, you change your life." — Brian Tracy.
119. "The more reflective you are, the more effective you are."— Hall And Simeral.
120. "Sometimes, you have to look back in order to understand the things that lie ahead." — Yvonne Woon.
121. "Great leaders develop through a never-ending process of self-study, self-reflection, education, training, and experience." — Tony Buon
122. "Don't become too preoccupied with what is happening around you. Pay more attention to what is going on within you." – Mary-Frances Winters
123. "Growing into the worlds above us, realizing the higher realms of consciousness within us, requires that we outgrow the worlds beneath us." — Guy Finley
124. "Quiet reflection is often the mother of deep understanding. Maintain that peaceful nursery, enabling stillness to speak." — Tom Althouse
125. "Honest self-understanding liberates us from our stuck emotions." — C Terry Warner
More Self-Reflection Quotes To Help You Gain Perspective
126. "The mirror is a worthless invention. The only way to truly see yourself is in the reflection of someone else's eyes." – Voltaire
127. "Make sure the outside of you is a good reflection of the inside of you." – Jim Rohn
128. "When you do The Work, you see who you are by seeing who you think other people are. Eventually you come to see that everything outside you is a reflection of your own thinking. You are the storyteller, the projector of all stories, and the world is the projected image of your thoughts." – Byron Katie
129. "A photograph must come from imagination and not be a reflection of what is." – Thierry Mugler
130. "Living in a way that reflects one's values is not just about what you do, it is also about how you do things." – Deborah Day
131. "I couldn't imagine that I'd ever fall in love again like I had with Gideon. For better or worse, he was my soulmate. The other half of me. In many ways, he was my reflection." – Sylvia Day
132. "It takes a certain ingenuous faith – but I have it – to believe that people who read and reflect more likely than not come to judge things with liberality and truth." – A.C. Grayling
133. "Learning without reflection is a waste. Reflection without learning is dangerous." – Confucius
134. "You are a mirror of yourself in others. Whatever you want, give. Be the best reflection of yourself." – Karen A. Baquiran
135. "One can not reflect in streaming water. Only those who know internal peace can give it to others." – Lao Tzu
Self Reflection Quotes To Motivate Change And Self Growth
136. "Spiritual growth requires the development of inner knowing and inner authority. It requires the heart, not the intellect." — Gary Zukav
137. "Life is a mirror; you only see it when you are looking for your own true self." — Prakash Damodaran
138. "A soul without reflection, like a pile without inhabitants, to ruin runs." — Edward Young
139. "Who apart from ourselves, can see any difference between our victories and our defeats." — Christopher Fry
140. "Before you look at your future, reflect on your past." — Sam Ade
141. "Time spent in self-reflection is never wasted—it is an intimate date with yourself." — Paul TP Wong
142. "Whenever you find yourself on the side of the majority, it's time to pause and reflect." — Mark Twain
143. "You attract what you are, not what you want. So if you want it then reflect on it." — Tony Gaskins
144. "The more peace we have within our own lives, the more we can reflect into the outer world." — Senora Roy
145. "Life is only a reflection of what we allow ourselves to see and be." — Trudy Symeonakis Vesotsky
Importance of Self-Reflection Quotes in Your Life
146. "Sometimes you've got to be able to listen to yourself and be okay with no one else understanding." ― Christopher Barzak
147. "We are human, and, being human, we are imperfect creatures. Through the process of injury, self-examination, and amends, we grow. We all grow." ― Shellen Lubin
148. "When the act of reflection takes place in the mind, when we look at ourselves in the light of thought, we discover that our life is embosomed in beauty." ― Ralph Waldo Emerson
149. "I've always had a talent for recognizing when I am in a moment worth being nostalgic for." ― Lena Dunham
150. "Your vision will become clear only when you can look into your own heart. Who looks outside, dreams; who looks inside, awakes." ― Carl Jung
151. "It is necessary … for a man to go away by himself … to sit on a rock … and ask, 'Who am I, where have I been, and where am I going?" ― Carl Sandburg
152. "Your soul needs time for solitude and self-reflection. In order to love lead, heal and create you must nourish yourself first." ― Linda Joy
153. "Before you judge another, ask yourself if what you don't like in them is actually what you don't like in yourself." ― Joe Vitale
154. "History is like self-reflection through the medium of language propelling itself into self-recognition." ― Terence McKenna
155. "It is not by muscle, speed, or physical dexterity that great things are achieved, but by reflection, force of character, and judgment." ― Marcus Tullius Cicero
Self Reflection Quotes To Focus on Yourself
156. "Your life is a reflection… you don't get what you want, you get what you are. You gotta be it to see it." — Steve Maraboli
157. "Only through the act of self-reflection — is the Creator truly known." — Kurt Philip Behm
158. "Only through the eyes of soft empathy, can a child see its true reflection." — Nikhil Parekh
159. "The reflection staring back at me. And when they say you're all alone. Tell them it will not last that long." — RJ Intindola
160. "Wisdom is the fruits of reflection." — Gino Norris
161. "Your inability to see the wisdom in someone else is not a reflection on their lack of perspicacity, it is a reflection on yours." — Ilyas Kassam
162. "Passing through its own reflection, eternity is beauty — and beauty is truth." — Kurt Philip Behm
163. "Now my reflection shows my nudity and struggle with such clarity, it's not hard to relate to me." — Amanda D Shelton
164. "Knowing others is intelligence; knowing yourself is true wisdom. Mastering others is strength; mastering yourself is true power." — Tao Te Ching
165. "Your life is a reflection of how effectively you balance potential and kinetic energy." — Steve Maraboli
Self Reflection Quotes to Discover Your Inner Self
166. "We can only conceive of changing the self-reflection in response to our concept of self-reflection, which is predicated on our concept of self, which is a self-reflection." ― Frederick Lenz
167. "I think sex is really about the self, and really a self-reflection." ― Margaret Cho
168. "It seems to me that information is the thing which uses matter, uses light, uses spirit, uses whatever it can put its hands on to organize itself into higher and higher levels of self-reflection." ― Terence McKenna
169. "When you hit 30, it's that time of self-reflection. Some people are a success. Some people feel like they haven't achieved what they wanted to. Some people are married, some have kids, some are still single." ― Hayden Schlossberg
170. "I think psychology and self-reflection is one of the major catastrophes of the twentieth century." ― Werner Herzog
171. "Kids look up to me. I'm not saying I make my music for kids, I do what I feel, its just a self reflection of how I am as a person and it relates to a lot of people." ― Tyga
172. Wisdom is to see the difference between nirvana and this world, this self-reflection that the mind creates." ― Frederick Lenz
173. "Information is just simply bootstrapping itself to higher and higher levels of self-reflection and self-coordination using whatever means are necessary." ― Terence McKenna
174. "Life is just masturbation in a sense, mentally. What people do is they just create a world out of their self-reflection." ― Frederick Lenz
175. "Follow effective action with quiet reflection. From the quiet reflection will come even more effective action." ― Peter Drucker
Which of these self-reflection quotes was your favorite?
It is almost impossible to succeed in life without taking time to reflect on your actions.
At first, self-reflection may feel like a task, but with time, you will be used to it and look forward to it.
By knowing you are you, you will accept yourself more and know your strengths and your weaknesses.
This is a crucial step in being successful.
So create time to self-reflect and how your life changes to amaze you.
Let the above quotes guide and inspire you to succeed.
Did you enjoy these self-reflection quotes?
Which of the quotes resonated with you best?
Let us know in the comment section below.