50 Frank Ocean Quotes on Music and More
These Frank Ocean quotes show why he is often referred to as one of the most dominant artists of the 2010s.
The list of Frank Ocean's achievements is not a short one.
He's an American singer, songwriter, record producer, photographer, and visual artist.
He has opened the door to different styles of music and has a creative influence on the industry.
Growing up Ocean was introduced to a wide range of music genres by his mother, which shows through in his music.
And he has a number of awards throughout the years including being named as one of the 100 most influential people in the world.
Let these Frank Ocean quotes inspire you to fight for your dreams and live your best life.
Don't forget to also check out these Jim Morrison quotes that open 'The Doors' to his mind.
Check out our most popular quote article, a list of short inspirational quotes for daily inspiration.
Check out our entire collection of motivational quotes here.
Wise Frank Ocean quotes
1. "When you're happy you enjoy the music, but when you're sad you understand the lyrics." – Frank Ocean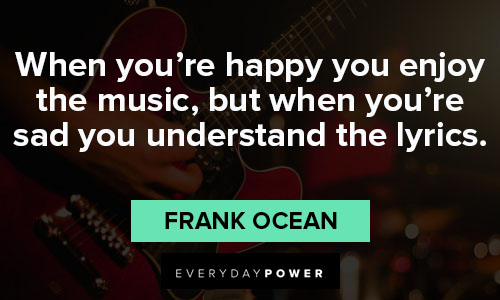 You will also enjoy our article on Sonic quotes.
2. "Those who are heartless, once cared too much." – Frank Ocean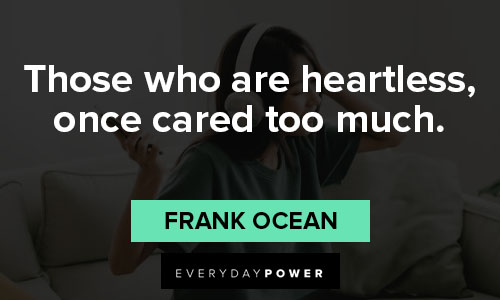 You will also enjoy our article on ocean quotes.
3. "Just remember; someone loves everything you hate about yourself." – Frank Ocean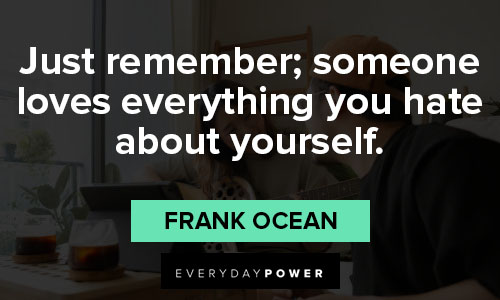 You will also enjoy our article on waves quotes.
4. "Don't ever play with someone's feelings, you could win the game but you could lose that person forever." – Frank Ocean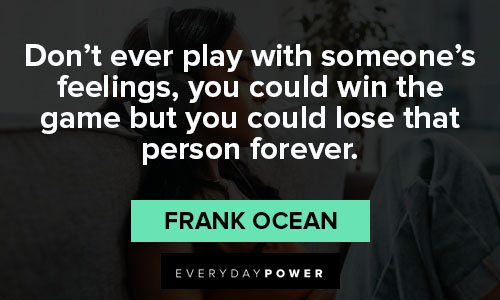 5. "You just do what you can and you have as much fun as possible." – Frank Ocean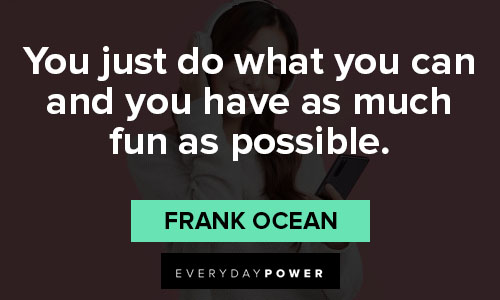 6. "The worse part of being lied to is when you realize you believed it." – Frank Ocean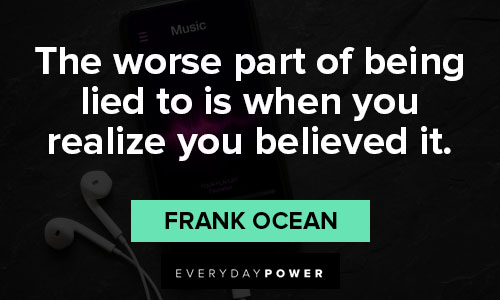 7. "I won't touch on risky, because that's subjective. People are just afraid of things too much. Afraid of things that don't necessarily merit fear." – Frank Ocean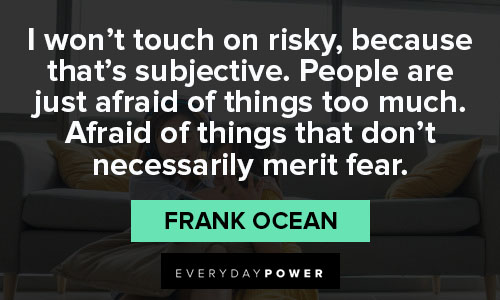 8. "I don't have any secrets I need kept any more." – Frank Ocean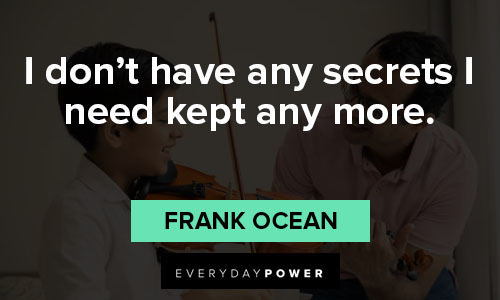 9. "Work hard in silence, let your success be your noise." – Frank Ocean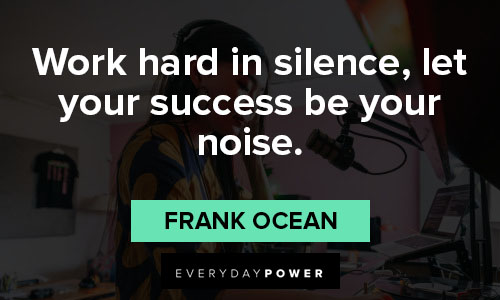 10. "Never run back to what broke you." – Frank Ocean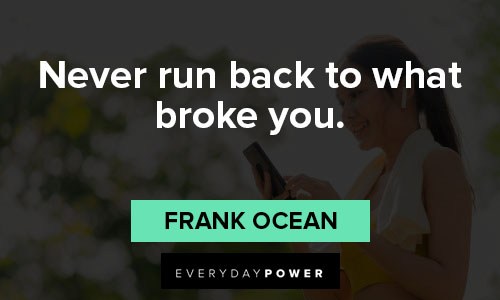 You will also enjoy our article on music quotes.
Frank Ocean quotes about music
11. "Each individual's success as a solo artist is pretty much a win for the whole team." – Frank Ocean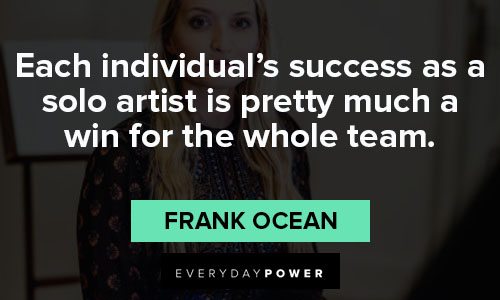 12. "The first four and a half years was me in the studio every day, writing songs for other people. I had jobs, too – eleven jobs. I worked at Kinko's, Fatburger, Subway – I was a sandwich artist – and I was a claims processor at Allstate Insurance." – Frank Ocean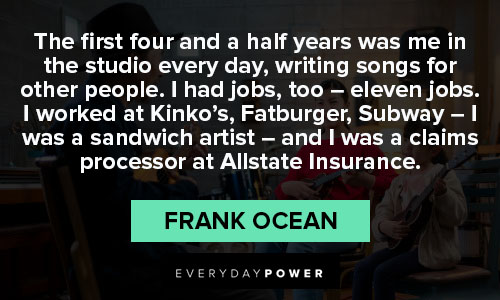 13. "I play piano every day. I enjoy that." – Frank Ocean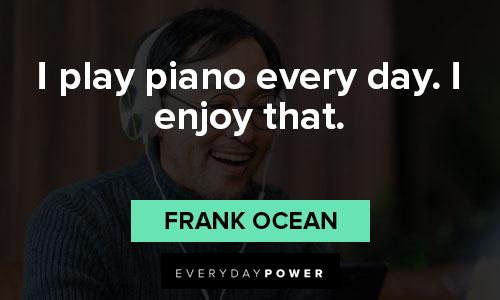 14. "It's about the stories. If I write 14 stories that I love, then the next step is to get the environment of music around it to best envelop the story, and all kinds of sonic goodness – sonic goodies." – Frank Ocean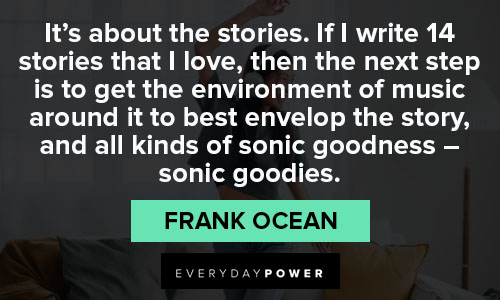 15. "I'm an artist and a modern person." – Frank Ocean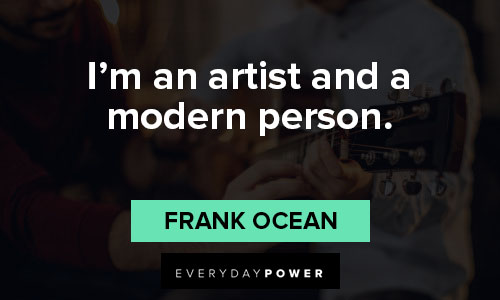 16. "As a writer, as a creator, I'm giving you my experiences. But just take what I give you. You ain't got to pry beyond that." – Frank Ocean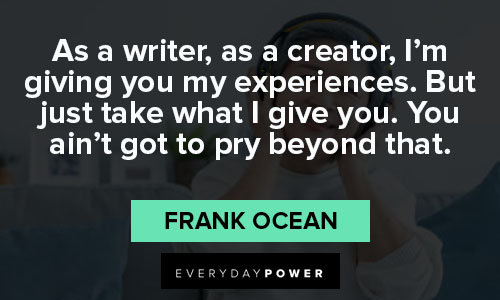 17. "Some people focus more on sonics. Some people focus more on the story. I focus on both sonics and story." – Frank Ocean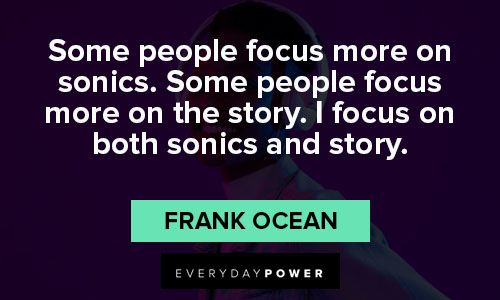 18. "I don't intend to stop making music." – Frank Ocean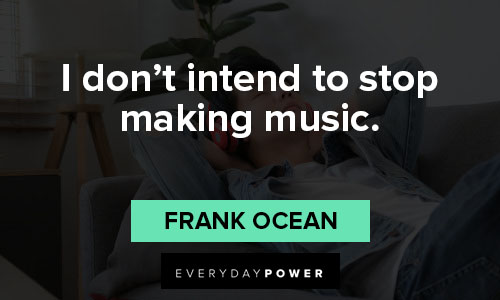 19. "I booked my first studio at like 12 or 13. Somewhere in that season of my life, singing along with the radio became me wanting to be on radio, you know." – Frank Ocean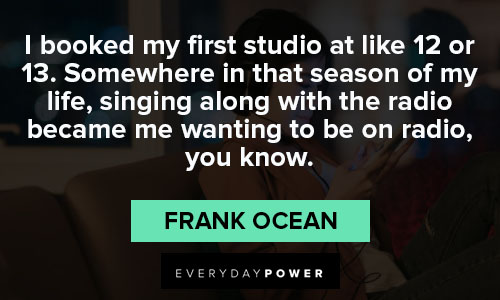 20. "I enjoy singing my songs in front of people. I enjoy being involved in making the artwork for albums and stupid stuff like that." – Frank Ocean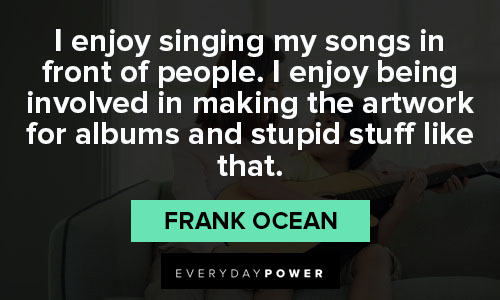 Frank Ocean quotes from his lyrics
21. "Spaceships are lifting off of a dying world and millions are left behind while the sky burns." – Frank Ocean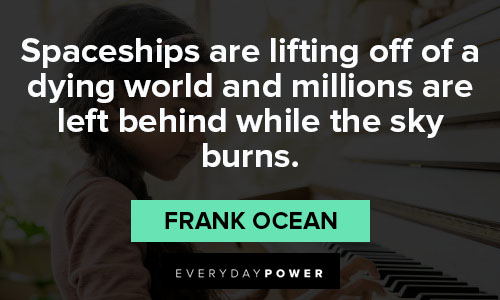 22. "It takes a mind to wander, conscience to feel ashamed, there's no place to hide out here, these skies are filled with pain." – Frank Ocean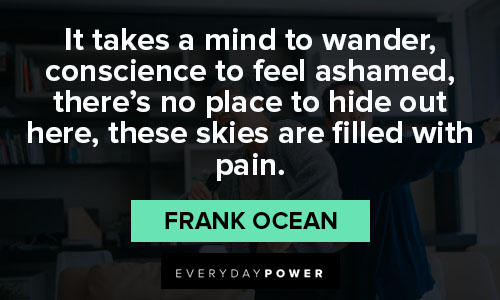 23. "I don't cry cause I'm strong, I don't cry cause nothing lasts forever." – Frank Ocean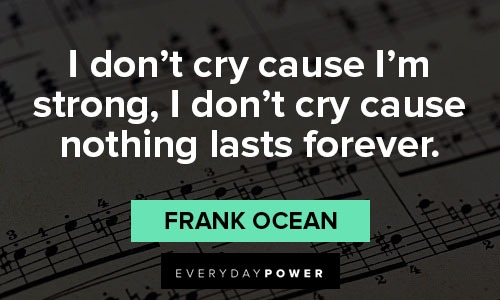 24. "One winter morning I went for a drive, I stopped somewhere between June and July." – Frank Ocean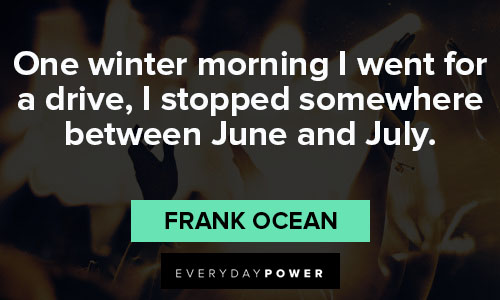 25. "I bet our mother would be proud of you." – Frank Ocean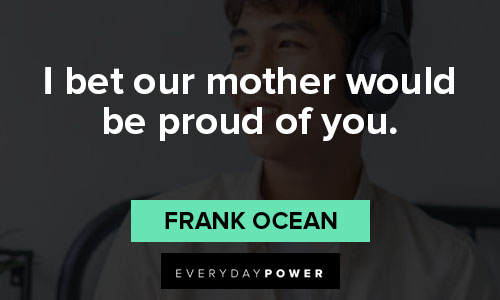 26. "And I can't believe it, it's crazy because I like her." – Frank Ocean
27. "My cameras shed some tears since you left him with nothing, with nothing." – Frank Ocean
28. "I quit writing, I kept living, I kept loving, and when the ink dries and the pages turn to dust so will we." – Frank Ocean
29. "Even my heartbeat wakes me up, and I can't drown it out." – Frank Ocean
30. "Do you remember that October night? The 29th, I almost lost my life." – Frank Ocean
Relatable Frank Ocean quotes
31. "Once I catch you in one lie, it makes me question everything you said." – Frank Ocean
32. "Don't feel sad over someone who gave up on you, feel sorry for them because they gave up on someone who would have never given up on them." – Frank Ocean
33. "Smile, it's easier than explaining why you're sad." – Frank Ocean
34. "Distance sometimes lets you know who's worth keeping and who's worth letting go." – Frank Ocean
35. "It's cool to be recognized by your peers." – Frank Ocean
36. "I'm extremely compassionate, loving, all of those warm fuzzy things, but the outer shell doesn't project that all the time." – Frank Ocean
37. "The idea of recognizing your strengths and using them in as versatile a way as you can is cool to me." – Frank Ocean
38. "Why see the world when you got the beach?" – Frank Ocean
39. "We'll never be those kids again." – Frank Ocean
40. "How we experience memory sometimes, it's not linear. We're not telling the stories to ourselves. We know the story; we're just seeing it in flashes overlaid." – Frank Ocean
More Frank Ocean quotes
41. "The Internet is just another experiment showing us more sides of us." – Frank Ocean
42. "I hope not to define myself by suffering." – Frank Ocean
43. "I had writer's block for almost a year." – Frank Ocean
44. "I can't usually stomach a project after I finish it, but for those days and weeks and months that it's new to me, I do listen to it, and it might change over time, but it's about function." – Frank Ocean
45. "I've gotten used to being Frank Ocean." – Frank Ocean
46. "The work is the work. The work is not me." – Frank Ocean
47. "I guess I'm just inspired to tell stories." – Frank Ocean
48. "We were poor. But my mom never accepted that. She worked hard to become a residential contractor – got her master's with honors at the University of New Orleans. I used to go to every class with her. Her father was my paternal figure." – Frank Ocean
49. "I make pop culture." – Frank Ocean
50. "I might just write a novel next. I don't know!" – Frank Ocean
Did you enjoy reading these Frank Ocean quotes?
Frank Ocean has overcome some difficult situations in life.
He lost his personal recording studio and home when Hurricane Katrina hit back in 2006.
This altered his path, including what college he was attending.
However, he didn't let that stop him and he eventually dropped out in order to pursue his music career.
It turned out to be a wise decision.
If you're unfamiliar with his music, try listening to some today.
You'll see why it stands out among others in the industry.
You can also use his example in life to develop your own talents in a way that is unique to you.
Which of these Frank Ocean quotes and lyrics is your favorite?
Which other personalities do you want to see featured on Everyday Power.
Let us know in the comment section below.