30 Human Rights Day Quotes for 2023 and Beyond
Check out our latest collection of Human Rights Day quotes on Everyday Power.
December 10 is Human Rights Day to commemorate the United Nations General Assembly's adoption of the Universal Declaration of Human Rights and the importance of securing human rights for all people.
This year will be the 72nd anniversary of the Universal Declaration of Human Rights, and we will celebrate the day with the theme "Stand Up For Human Rights."
Tell us which Human Rights Day quote resonated with you in the comment section below.
What are the benefits of reading these Human Rights Day quotes?
Just by being human, there are things we are allowed to be, to do, or to have.
We should respect each other's rights regardless of who we are and uphold them even when we disagree.
Human rights are there to help us live in peace and get along with each other.
They help protect us against harmful people and anyone trying to hurt us.
These Human Rights Day quotes will:
help you understand the plight of certain people worldwide
remind you how unique and special every human is
give you a new perspective on what human rights mean
In honor of Human Rights Day, here are some inspiring quotes.
You may also enjoy our collection of Frederick Douglass quotes.
Check out our most popular quote article, a list of short inspirational quotes for daily inspiration.
Our inspirational quote category page has even more inspirational and educational quotes.
Human Rights Day quotes
1. "We declare that human rights are for all of us, all the time: whoever we are and wherever we are from; no matter our class, our opinions, our sexual orientation." – Ban Ki-moon
2. "Joy is found when you focus your energy on improving human dignity, human capacity and human values." ― Amit Ray
3. "No human being should be maltreated under any circumstances. We are all wonderful creation of God. May we affectionately love one another." ― Lailah Gifty Akita
4. "Liberty must be engraved in our heart and practiced every minute to the letter and spirit." ― Abhijit Naskar
5. "A right delayed is a right denied." – Martin Luther King, Jr.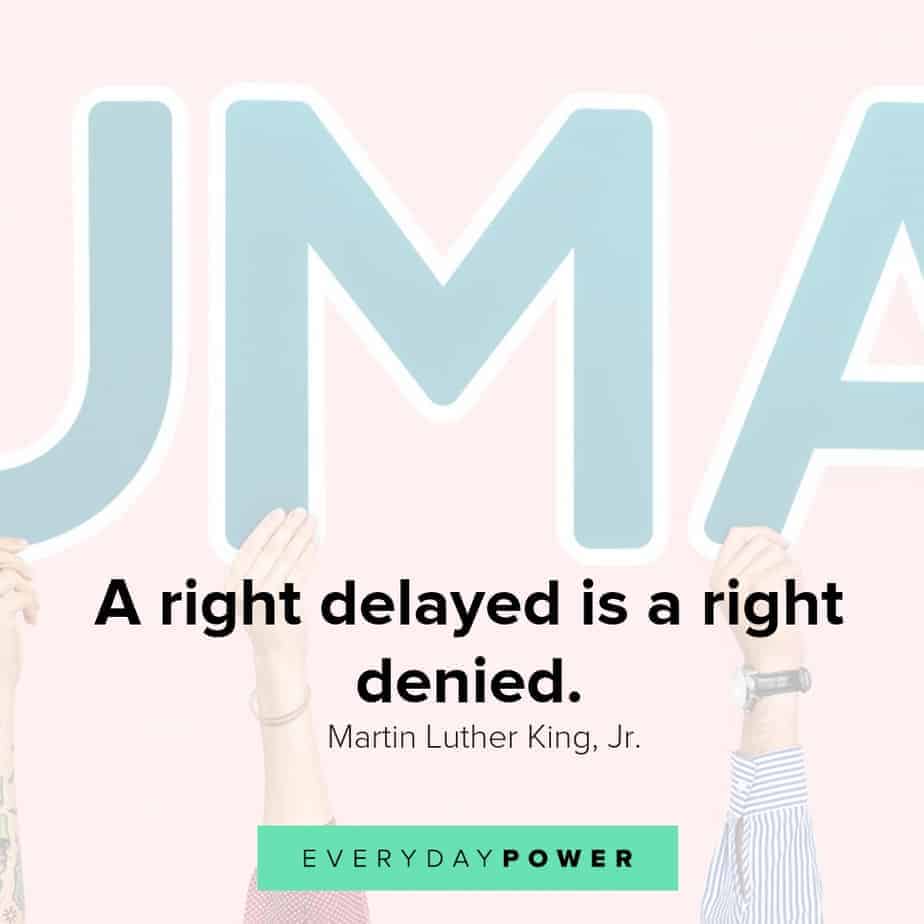 6. "You're not under attack when others gain rights and privileges you've always had." ― DaShanne Stokes
7. "Our hopes for a more just, safe, and peaceful world can only be achieved when there is universal respect for the inherent dignity and equal rights of all members of the human family." – Phumzile Mlambo-Ngcuka
If you're enjoying these quotes, you'll love our collection of world peace quotes to give you hope for humanity.
8. "My dreams for the future are simple: work, a happy, healthy family, a lovely long motorcycle ride, and continuing the struggle to awaken people to the need for serious human rights reform." – Mike Farrell
9. "Some values must be universal, like human rights and the equal worth of every human being." – Bjorn Ulvaeus
10. "It means a great deal to those who are oppressed to know that they are not alone. Never let anyone tell you that what you are doing is insignificant." – Desmond Tutu (see more Desmond Tutu quotes)
Human Rights Day quotes for 2020
11. "Where, after all, do universal human rights begin? In small places, close to home — so close and so small that they cannot be seen on any maps of the world. […] Unless these rights have meaning there, they have little meaning anywhere. Without concerted citizen action to uphold them close to home, we shall look in vain for progress in the larger world." — Eleanor Roosevelt
12. "The day we become silent about the things that matter is the moment our lives begin to end."- Shenita Etwaroo
13. "The rights of every man are diminished when the rights of one man are threatened." ― John F. Kennedy
14. "There may be times when we are powerless to prevent injustice, but there must never be a time when we fail to protest." – Elie Wiesel
15. "No voting on who gets to be people." ― N. K. Jemisin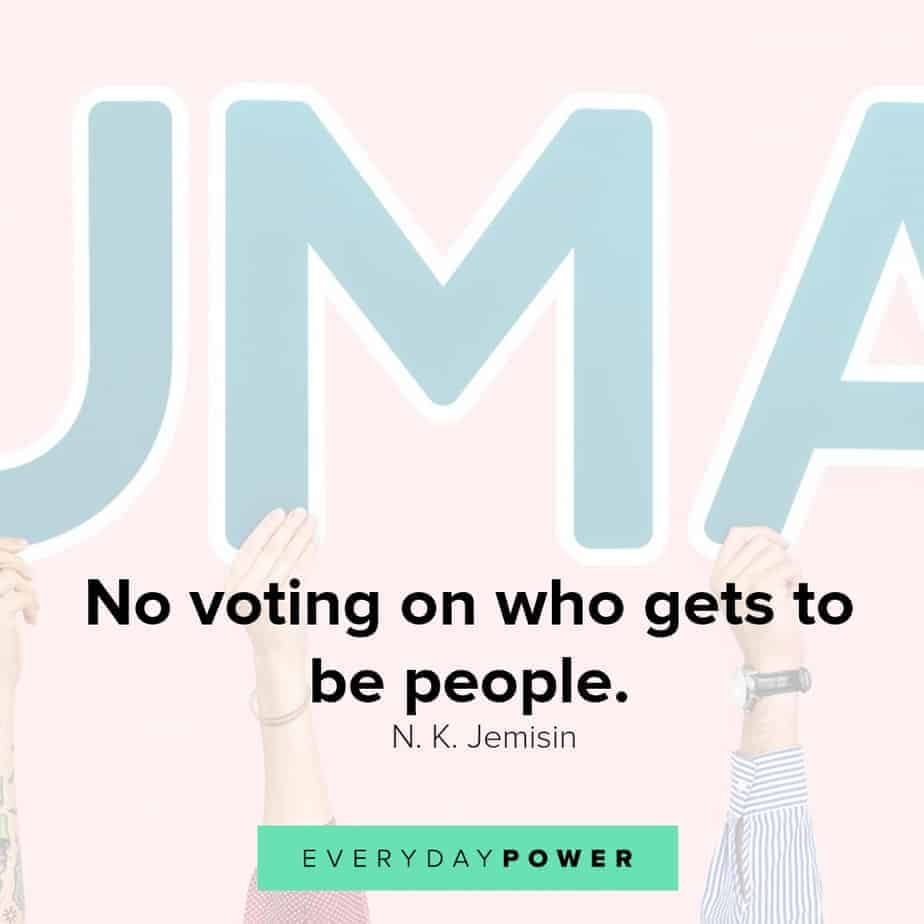 16. "There can be no peace without development, no development without peace, and no lasting peace or sustainable development without respect for human rights and the rule of law." –  Jan Eliasson
17. "Human rights are not only violated by terrorism, repression or assassination, but also by unfair economic structures that creates huge inequalities."-  Pope Francis
18. "Peace does not just mean putting an end to violence or war, but to all other factors that threaten peace, such as discrimination, such as inequality, poverty."  – Aung San Suu Kyi
19. "We are way more powerful when we turn to each other and not on each other, when we celebrate our diversity… and together tear down the mighty walls of injustice." – Cynthia McKinney
20. "Human rights is the soul of our foreign policy, because human rights is the very soul of our sense of nationhood." – Jimmy Carter
Inspiring Human Rights Day quotes
21. "To deny people of their human rights is to challenge their very humanity." ― Nelson Mandela
22. "The humanity of all Americans is diminished when any group is denied rights granted to others." ― Julian Bond
23. "It is the purpose of government to see that not only the legitimate interests of the few are protected but that the welfare and rights of the many are conserved." ― Franklin D. Roosevelt
24. "You can never be a first-class human being until you have learnt to have some regard for human frailty." ― Abhijit Naskar
25. "Human rights must work to uplift human dignity." – Rodrigo Duterte
If you're enjoying these quotes, you'll love our collection of short uplifting quotes that inspire positivity.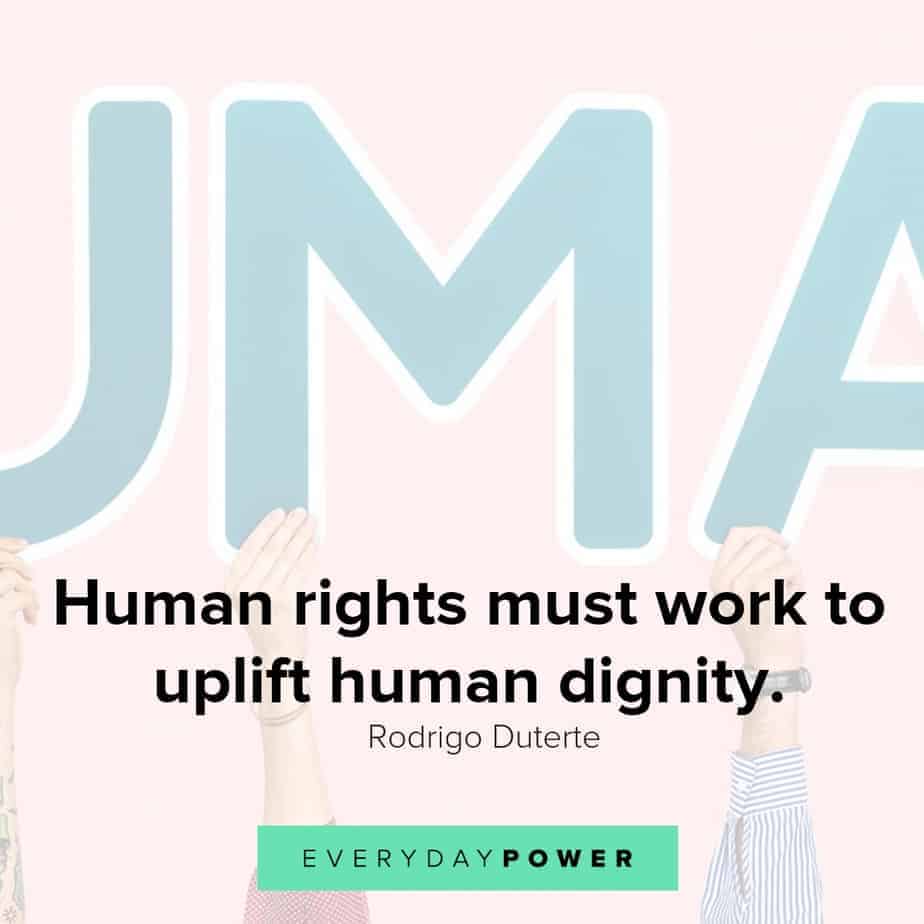 26. "When you deprive people of their right to live in dignity, to hope for a better future, to have control over their lives, when you deprive them of that choice, then you expect them to fight for these rights." – Queen Rania Al Abdullah of Jordan
27. "There can be no peace without justice and respect for human rights." –
Irene Khan
28. "Life is not a matter of place, things, or comfort; rather, it concerns the basic human rights of family, country, justice and human dignity." – Imelda Marcos
29. "Peace can only last where human rights are respected, where the people are fed, and where individuals and nations are free." –Dalai Lama
30. "A right is not what someone gives you; it's what no one can take from you." – Ramsey Clark
Which of these Human Rights Day quotes was your favorite?
All humans are born free and equal in dignity and rights.
Hopefully, these quotes have inspired and motivated you to uphold the rights that protect us all and promote the kinship of all human beings.
Which of these human rights day quotes was your favorite?
Do you have any other quotes to add?
Let us know in the comment section below.
We would love to hear all about it.