25 Sons of Anarchy Quotes from the Popular Crime Drama
If you're one of the millions of people who watched Sons of Anarchy, you will love these Sons of Anarchy quotes.
What is your favorite Sons of Anarchy episode?
Sons of Anarchy follows single dad, Jax Teller, as his loyalty to his motorcycle gang is tested due to the group's unlawfulness.
When the final episode of the crime drama aired in 2014, an estimated 7.54 million people tuned in.
This ranked the television drama's final season as the most-watched season of any series on the FX cable channel. 
Sons of Anarchy ran for seven seasons between 2008 and 2014.
Intoxicated with drama, the show had an addictive plot that continues to entice streamers looking for a binge-watching fix.
The following Sons of Anarchy quotes share the underlying themes of the show, including family, love, struggle, and change.
Don't forget to also check out these thrilling Gladiator quotes to keep you entertained.
Check out our most popular quote article, a list of short inspirational quotes for daily inspiration.
Our inspirational quotes category page has all of our motivational quotes for all the different areas of life.
Sons of Anarchy quotes about family
1. "When the time comes, she needs to tell my sons who I really am. I'm not a good man. I'm a criminal and a killer. I need my sons to grow up hating the thought of me." – Jax Teller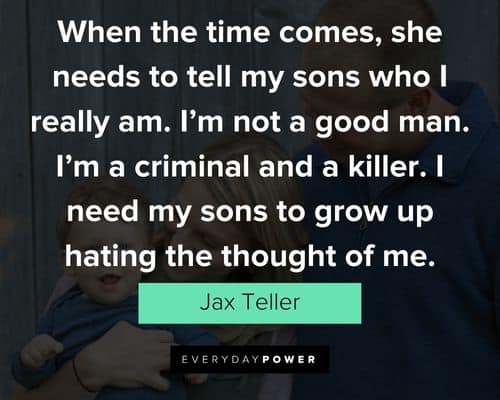 If you're enjoying these quotes, make sure to read our collection of Criminal Minds quotes that prove it's the best show ever.
2. "If you gave a shit about Tara maybe you'd spend a little less time being a thug and a little more time being a dad." – Wayne Unser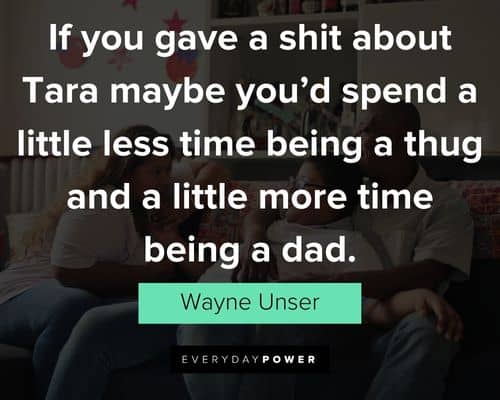 You will also enjoy our article on Jabba the Hutt quotes.
3. "Today I will be the man my father tried to be. I will make you proud." – Jax Teller
You will also enjoy our article on Dirty Harry quotes.
4. "Gemma knows every truth behind every lie inside every secret. She's the gatekeeper." – Juice Ortiz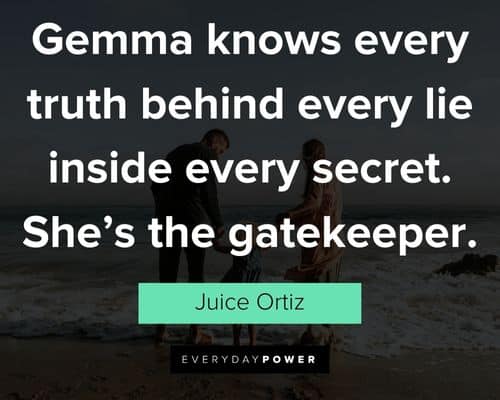 5. "I just pulled my six-year-old out of T-ball because I found out they're giving trophies to every boy on every team for simply playing the game. Trophies should be earned. Teaching children that everyone's equal is a dangerous philosophy." – A.J. Weston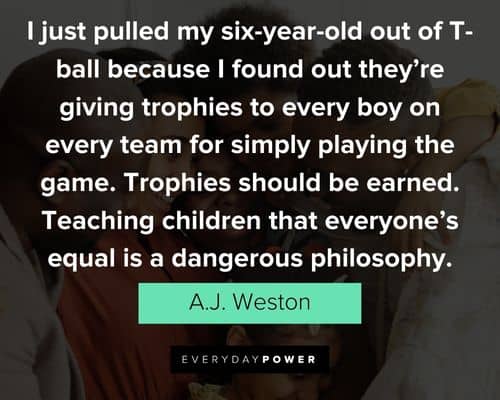 6. "I'm protecting the innocent. If I step on a few toes in the meanwhile, so be it." – Gemma Teller Morrow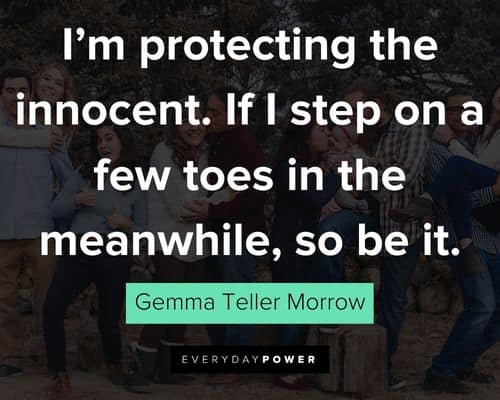 7. "I'm sorry that the family I was given has created such chaos in the family I've chosen. I hope you know I love you all very much." – Jax Teller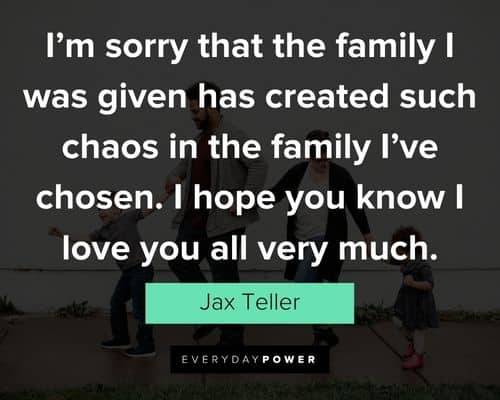 8. "Dear God, thank you for saving this boy…from his murderous junkie mom, who cared more about a $40 rush than she did her own flesh and blood." – Gemma Teller Morrow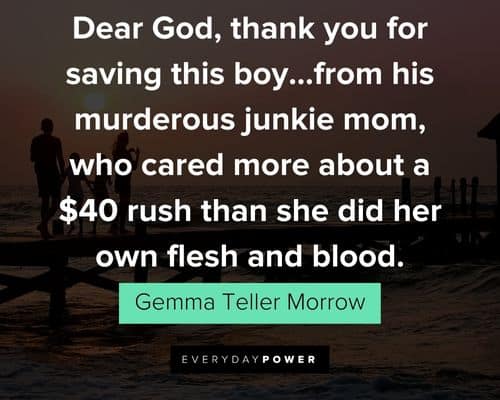 9. "Anything happens to my grandson, anything, I promise you I'm gonna shove a gun barrel up that bony ass of yours and I'm gonna blow that black heart of yours out." – Clay Morrow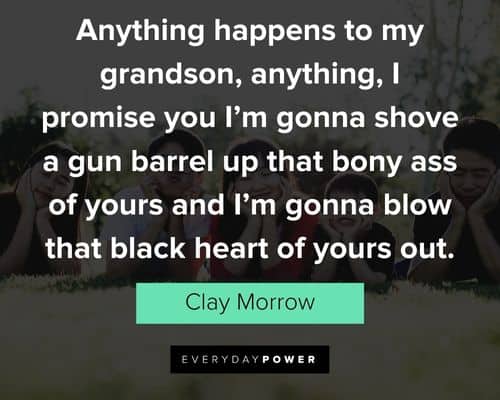 Also check out these Dumb and Dumber Quotes.
Sons of Anarchy quotes that offer words of wisdom
10. "Anger clouds judgement and it makes us do things that we end up regretting. Things we can never take back." – David Hale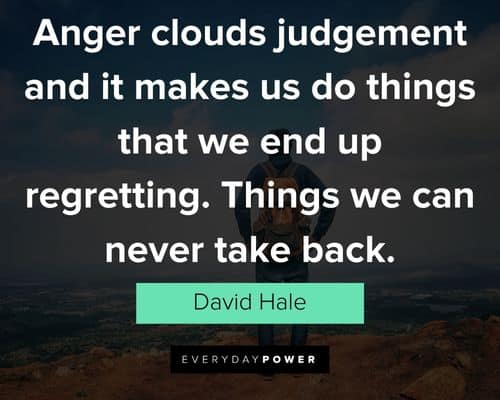 11. "Benefit of an end date: Nothing more dangerous than a guy who knows he's already dead." – Clay Morrow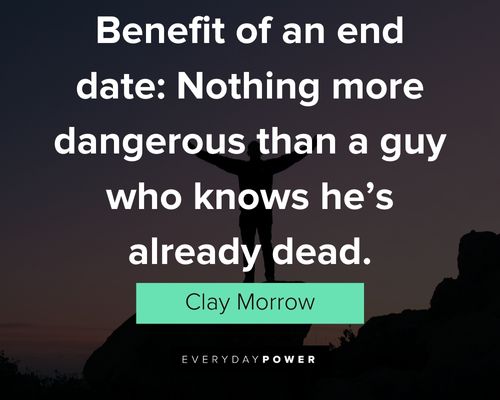 12. "We can't allow our hearts to be louder than our reason." – Chibs Telford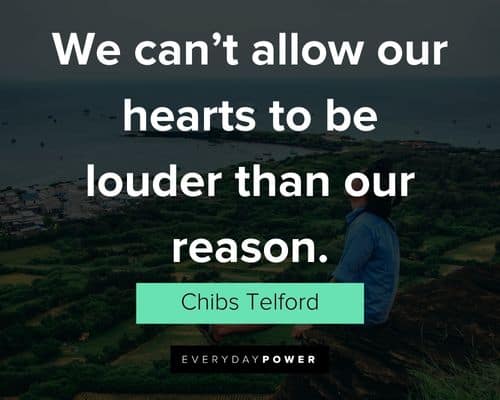 13. "That's a natural reaction. The desire for revenge, it's a part of grieving. The difference is in my world, I knew that those violent desires would never become real. In yours, it's a very likely outcome." – Tyne Patterson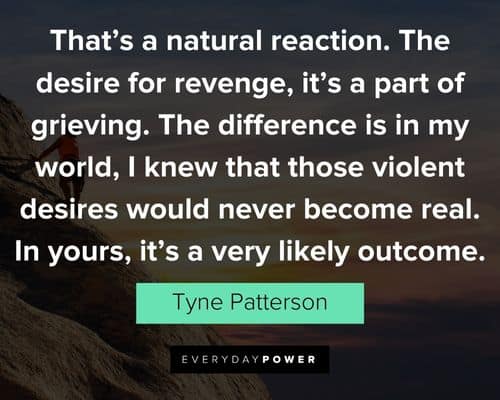 14. "Some days you're the Beamer, some days you're the goddamn deer." – Jax Teller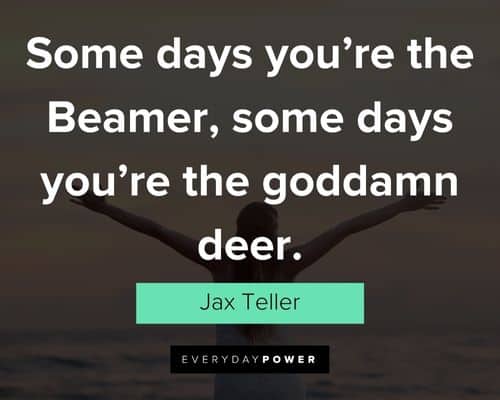 15. "Not my place to judge. We all fall down. It's about how we get up." – Gemma Teller Morrow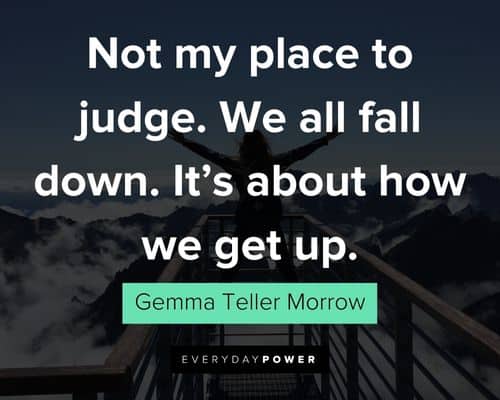 16. "Einstein said that any intelligent fool can make things bigger, more complex, and more violent. But it takes a touch of genius and lots of courage to move something in the opposite direction. I'm realizing that my touch of genius and my courage are coming too little, too late." – John Teller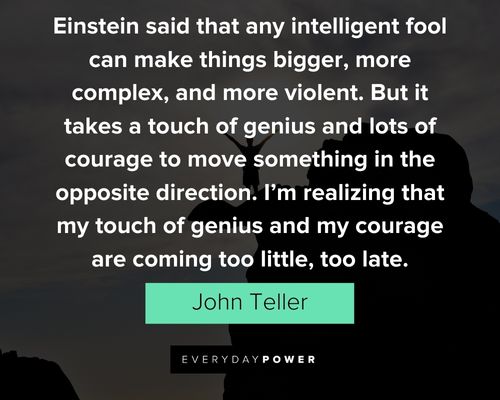 17. "Every day is a new box, boys. You open it, you take a look at what's inside. You're the one who determines if it's a gift… or a coffin." –Jax Teller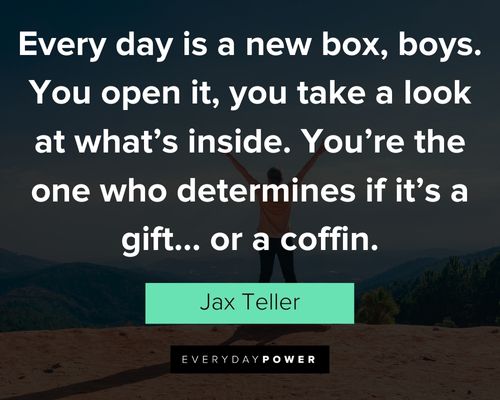 18. "This life, it ain't romantic or free. There's no path to anything that makes any sense. It's just dirty and sad. And we both know it's only going to get worse." – Wayne Unser
If you're enjoying these quotes, make sure to read our collection of This Is Us quotes from the award-winning series.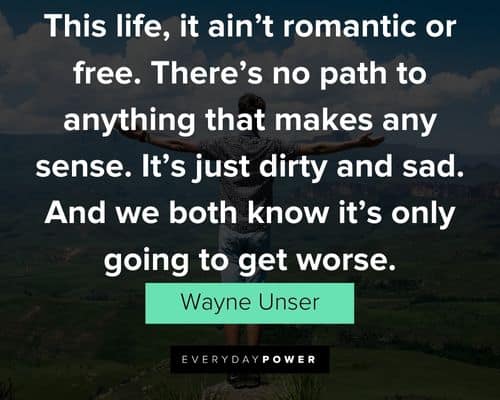 Sons of Anarchy quotes about love
19. "And what is it you think I need? Love? Only men need to be loved, sweetheart. Women need to be wanted." – Gemma Teller Morrow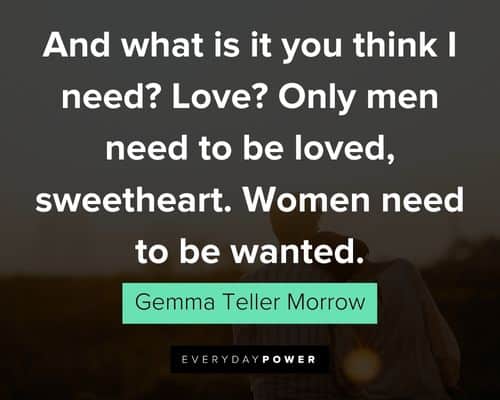 20. "I promise, always, to cherish and protect you…and treat you as good as my leather and ride you as much as my Harley." – Harry "Opie" Winston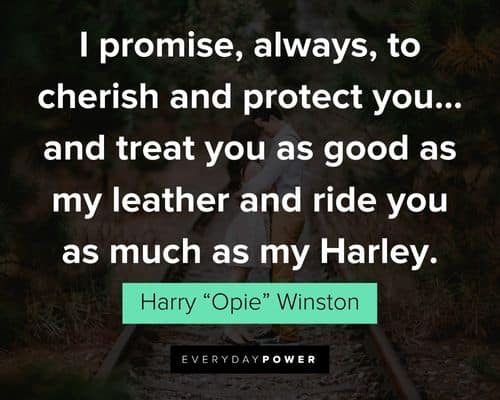 21. "You so much as flash a pretty grin at him—I will jam my fist so far up your bony ass, your cup size will double." – Gemma Teller Morrow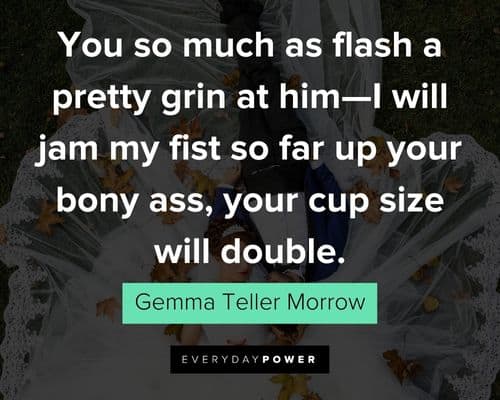 22. "We don't know who we are until we're connected to someone else. We're just better human beings when with the person we're supposed to be with. I wasn't supposed to leave…I belong here." – Tara Knowles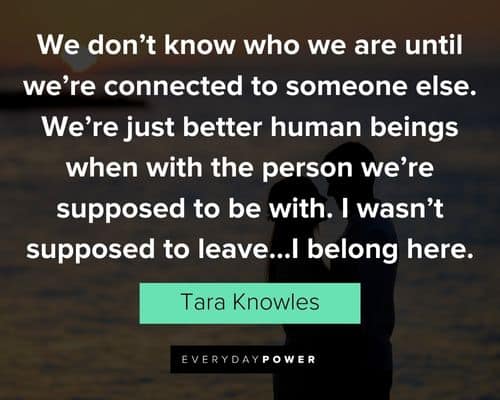 23. "You're a man who dares to dance with the freaks." — Venus Van Dam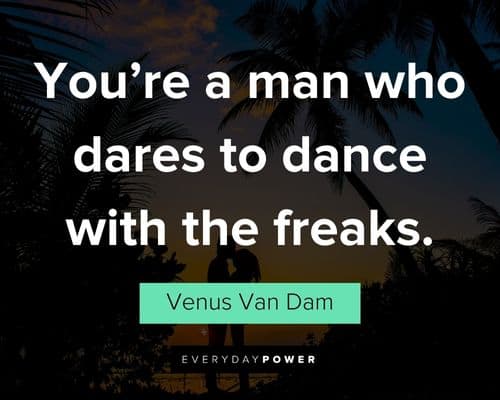 24. "Is there anything you love so much, you'd protect it, no matter the cost; the damage it did to you?" – Jax Teller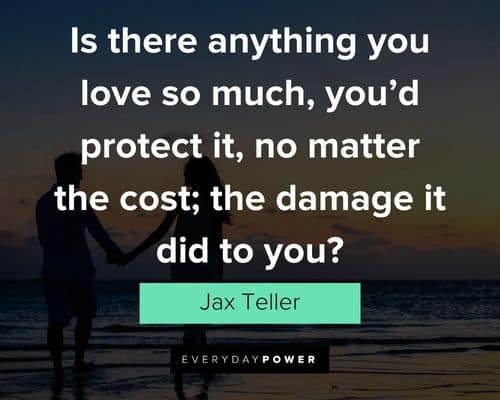 25. "I buried my best friend three days ago. As cliché as this sounds, I left a part of me in that box." –Jax Teller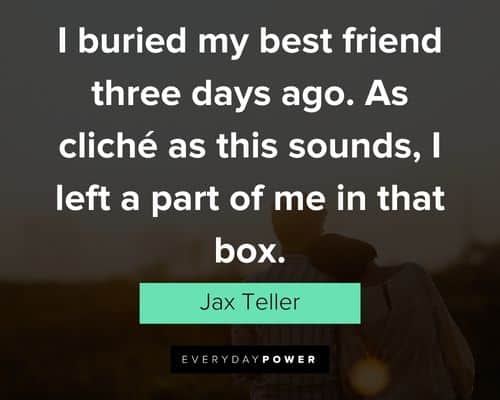 Don't forget to also check out these thrilling Gladiator quotes to keep you entertained.
Do you have a favorite Sons of Anarchy character?
When showrunner, Kurt Sutter, created Sons of Anarchy he based many of the plot points on real-life American motorcycle clubs, such as Hell's Angels.
Many of the themes that show up in the series are values that are claimed by motorcycle clubs like these.
Themes such as loyalty, family (both blood and brotherly), rebellion, and freedom.
The irony comes from the fact that while these outlaw clubs claim freedom as an important value, often they have more rules or regulations than the government.
When Sutter created his show, he wanted to share the struggle that comes with living this type of lifestyle.
Yet, even though our lives are not as dangerous as Jax Teller's, these Sons of Anarchy quotes can be related to our lives, too.
We've all faced struggle and change, and we all have someone we love enough to die for.
Did you enjoy these Sons of Anarchy quotes and lines?
Which quote was your favorite?
Do you have a favorite season from the show?
Let us know in the comment section below!