50 TobyMac Quotes About Love and Music
These TobyMac quotes by the Christian singer are sure to fill your day with a bit of much needed hope.
Share which quote you think is the most uplifting in the comments below.
Toby McKeehan, known as TobyMac, is a hip-hop artist, music producer, and songwriter with a passion for Christian music.
This collection of the best TobyMac quotes will make you want to listen to all of his songs.
Some of the most beloved TobyMac songs include Speak Life, Lose My Soul and Love Broke Thru.
If you're a fan of these songs or any of his other hits, you're sure to enjoy this list of new TobyMac quotes about love and music.
Throughout his music career, TobyMac has earned numerous awards, accolades, and nominations.
He won the titles of Top Christian Artist and Favorite Contemporary Inspirational Artist, along with seven Grammy Awards.
These TobyMac quotes will give you deeper insight into who this artist is as a human being.
Share this collection of quotes with someone who loves God and music.
Don't forget to also check out these Kim Namjoon quotes about beauty in society.
Check out our most popular quote article, a list of short inspirational quotes for daily inspiration.
Check out our inspirational quotes category page for more inspirational life quotes.
TobyMac quotes that will brighten your day
1. "I am passionate about God, about Jesus, and what His influences do to me." – TobyMac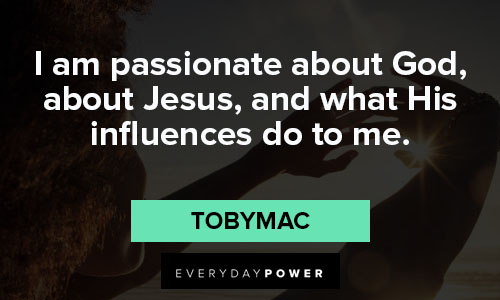 2. "Focusing on the negative only makes a difficult journey more difficult." – TobyMac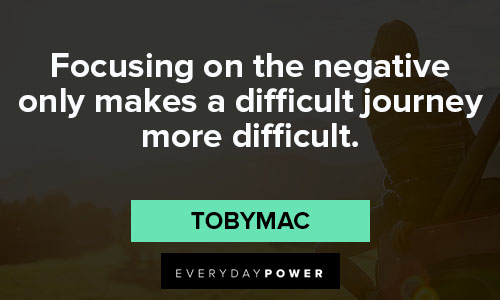 3. "I don't wanna gain the whole world and lose my soul." – TobyMac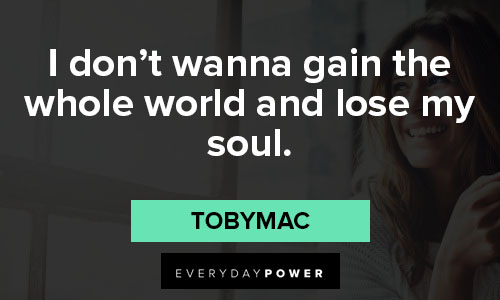 4. "God has been faithful time and again to surround me with people that sharpen me and that make me better." – TobyMac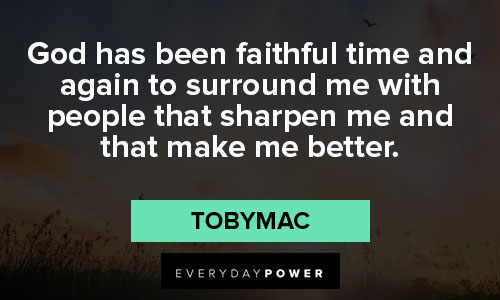 5. "Selling millions of records is great, but at the end of the day it really doesn't bring peace." – TobyMac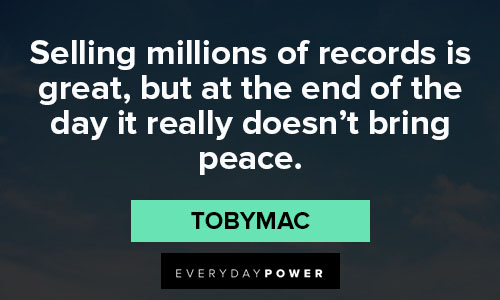 6. "You're like the lyrics to my favorite song. You stick with me all day long. And when I reach the end I wanna hear it again." – TobyMac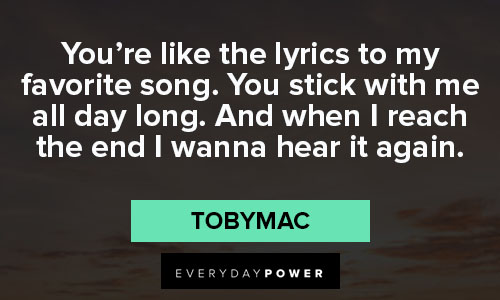 7. "I want to fight for what we got because I believe in family." – TobyMac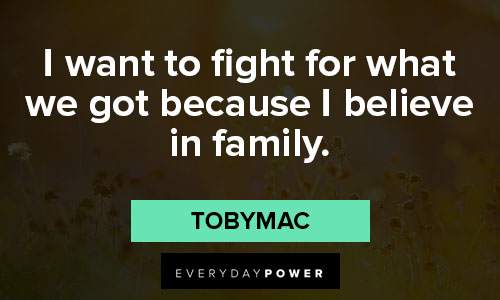 8. "Life is serious, but I do think that God wants us to enjoy the things He's given us, like music." – TobyMac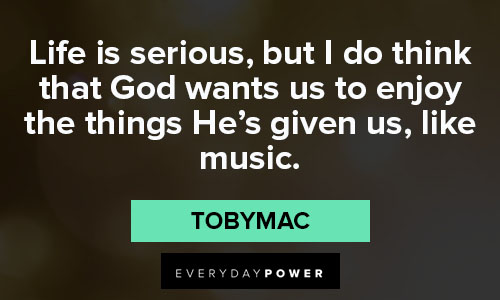 9. "I can't immediately get all this coverage when my record comes out. The way I sell gold and platinum records is by being on the road." – TobyMac
10. "During the holidays, everyone needs a break from studying for exams and Christmas shopping. I wanted to put together a diverse tour that rocks in many musical directions but always points to Christ." – TobyMac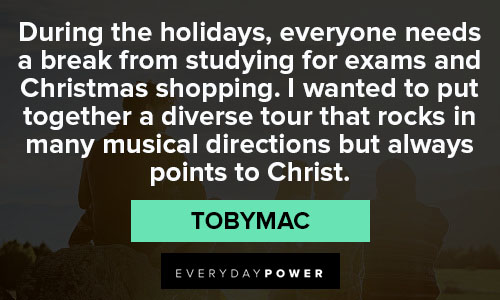 You will also enjoy our article on Kenny Powers quotes.
TobyMac quotes that will inspire you to believe in yourself
11. "I'll never be a non-stumbler. I'll be a forgiven stumbler, but never a non-stumbler." – TobyMac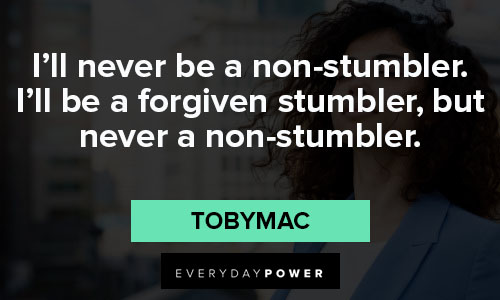 12. "People love that you're human and that we're frail and we face the same situations. Honesty tends to communicate with people better than standing up there like you have an 'S' on your chest." – TobyMac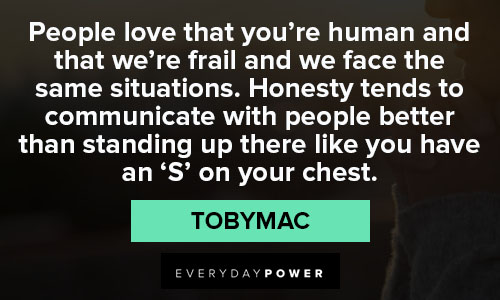 13. "If I could reach the stars, I could touch the sky. And if I spread my wings, I could almost fly." – TobyMac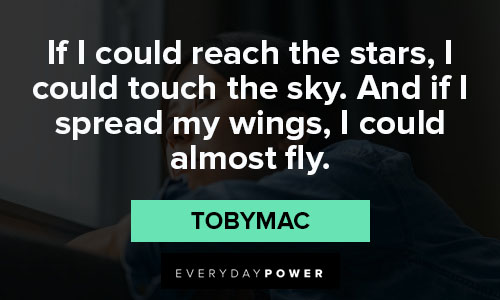 14. "And if I played my role, they would feel my style. If I bought the night they would buy my smile. I've been runnin' this game for a million miles." – TobyMac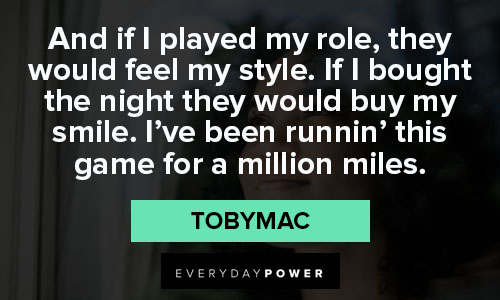 15. "Whatever happened to a passion I could live for; What became of the flame that made me feel more." – TobyMac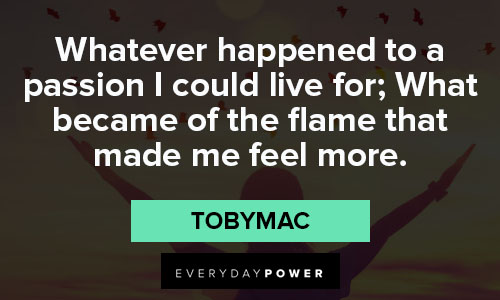 16. "I want my music to be everywhere, I want it to be heard. I want to give people an opportunity to enjoy my music, and maybe even hear about this beautiful truth that's in it." – TobyMac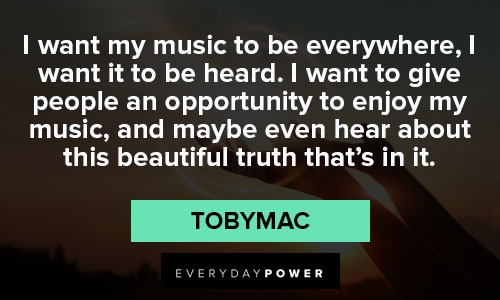 17. "Some days the tongue gets twisted; Other days my thoughts just fall apart. I do, I don't, I will, I won't, It's like I'm drowning in the deep." – TobyMac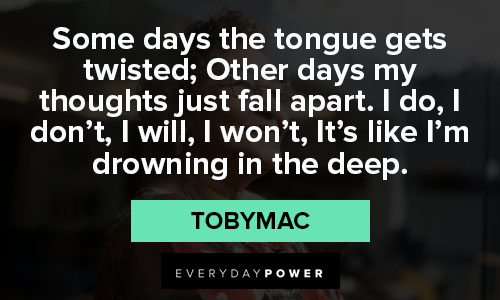 18. "I was young and runnin' wide open. It was just another summer night. Had to be the last thing on my mind." – TobyMac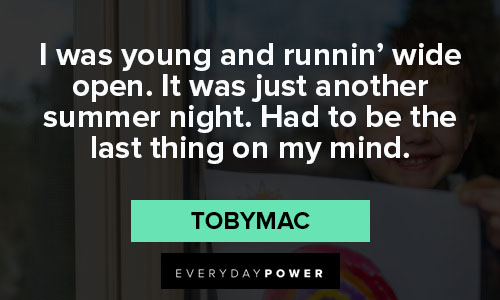 19. "The dream's alive with my eyes opened wide; Back in the ring you've got me swinging for the grand prize." – TobyMac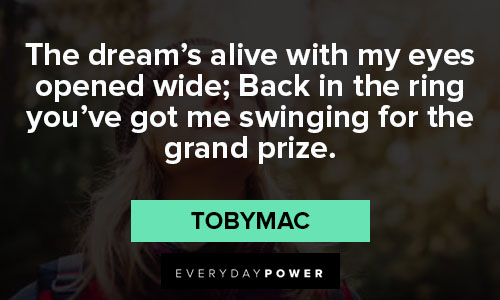 20. "Literally as I walk into the studio I say, "God, hollow me of all my junk. Hollow me of my insecurity, my pride, and my doubt. Make me hollow enough that you can breathe something through me that would turn eyes to you." And whether that's a song or a conversation you're going to have with a co-worker, or whatever you're facing, that's for everybody." – TobyMac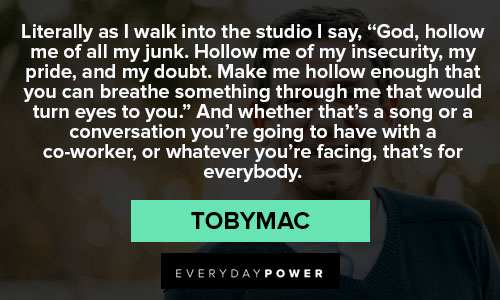 TobyMac quotes to uplift your spirits
21. "I just pinch myself, because I think if there's anything I can be proud of, I've survived success, which I think is difficult these days." – TobyMac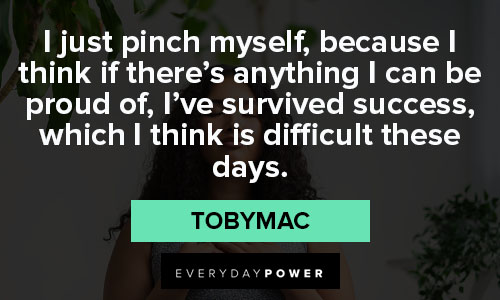 22. "From the hymns that my Daddy sang, I know I was made to glorify Your name. And from the prayers that my Momma prayed, I know I was made to glorify Your name." – TobyMac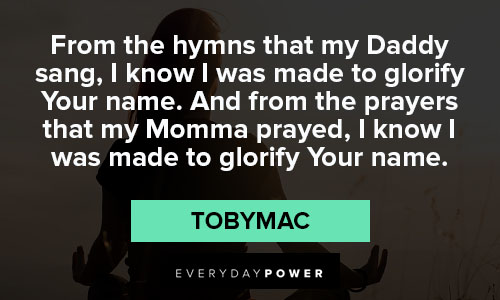 23. "Some days, life feels perfect. Other days it just ain't workin'. The good, the bad, the right, the wrong, And everything in between." – TobyMac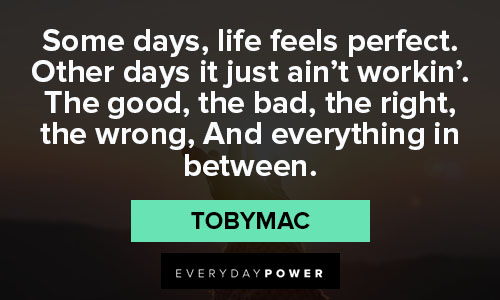 24. "I'm not going to put out a Christmas CD until it's coming out of me naturally." – TobyMac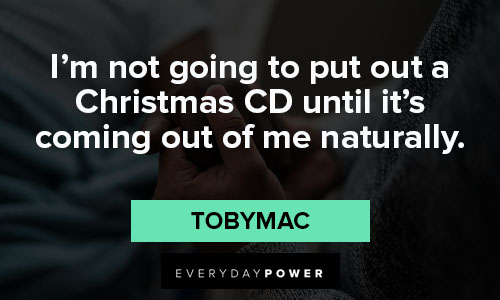 25. "Are you kidding? This is crazy, man. I thought I was Mr. Pre-Televised awards." – TobyMac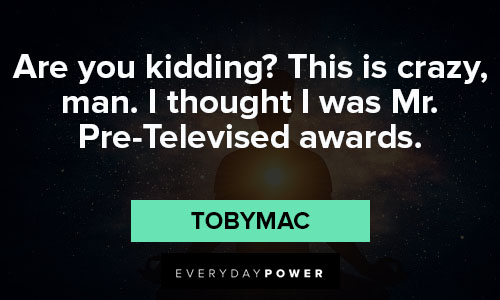 26. "I think Christmas is about celebration and come on, on the inside everyone wants to dance." – TobyMac
27. "Just a glimpse of Your face and my whole world changed; Then I saw Your face, and I was changed forever." – TobyMac
28. "I've been walking till my feet hurt, holes in my t-shirt." – TobyMac
29. "Lift your head a little higher, Spread the love like fire, Hope will fall like rain, When you speak life with the words you say." – TobyMac
30. "Take all that you see and shape it to be; The story you're writing." – TobyMac
TobyMac quotes to elevate your perspective
31. "I wanted my new release 'Get Back Up' to benefit Haiti in their tragedy and I am blessed to use my music to help as your purchase becomes our gift." – TobyMac
32. "Though it's crazy, amazing We can turn a heart through the words we say. Mountains crumble with every syllable." – TobyMac
33. "You found me in the darkness; Wanderin' thru the desert. I was a hopeless fool; Now I'm hopelessly devoted." – TobyMac
34. "I like sunsets but she likes sunrise. I'm always running late and she's always on time." – TobyMac
35. "There are moments that I doubt You. Blind to the beauty that surrounds me. I try to push away the need that I'm needin' proof; And this struggle that I have, it ain't nothing new." – TobyMac
36. "I'm not the only person who has something in their life they can't control." – TobyMac
37. "So speak life, speak life. To the deadest, darkest night." – TobyMac
38. "I feel like I'm not living a life different than anyone else. You know, I live in a house with 5 kids and a wife, but I also travel on the road with a band of brothers, just doing life. I am a member of a church, but it's almost like it's a little church on our bus. It's about trying to pursue God and stay faithful to Him in this crazy world." – TobyMac
39. "When the sun won't shine and you don't know why. Look into the eyes of the broken-hearted; Watch them come alive as soon as you speak hope, You speak love, you speak…" – TobyMac
40. "I was made to love you; I was made to find you; I was made just for you; Made to adore you; I was made to love; And be loved by you." – TobyMac
More TobyMac quotes
41. "Side by side, we recognize that Hope has brought us together tonight." – TobyMac
42. "I'd heard Your name, but never seen Your face. Been touched before but never Your embrace." – TobyMac
43. "Open up your mind and let your soul be free; I can feel the Most High shining on me, so… Let's get this party started." – TobyMac
44. "The dream is fading, now I'm staring at the door; I know it's over cause my feet have hit the cold floor." – TobyMac
45. "I did all that I could to undo me; But You loved me enough to pursue me." – TobyMac
46. "When You pull me closer, I come to life." – TobyMac
47. "Shepherds, why this jubilee? Why your joyous strains prolong? What the gladsome tidings be?" – TobyMac
48. "I've always been a dreamer, a soul seeker. I knew my life was meant for something deeper." – TobyMac
49. "Take me as I am. I'm Yours. So take this space between us and fill it up again." – TobyMac
50. "You're the bright and morning star; But still You speak to my heart." – TobyMac
What are your favorite TobyMac quotes about love, music, and faith?
As a Grammy-winning musician and a passionate Christian, TobyMac has touched the lives of many people.
If you believe in God, have strong religious values, and also have a musical spirit, you will love these Toby Mac song quotes.
One of the best ways to uplift your spirit is to listen to music that feeds the soul.
When you listen to TobyMac songs, you can feel the healing that takes place in your heart.
TobyMac has accomplished so much as a rapper, songwriter, and music producer.
If you also want to reach your goals, read these Toby Mac quotes and take the advice to heart.
When you trust God and believe in yourself, anything is possible.
What are your favorite TobyMac quotes and lyrics about love and religion?
Let us know in the comment section below.