Self-Respect Quotes To Remind You How Much You Matter
These self-respect quotes offer some thought-provoking ideas, examples of what self-respect looks like, and the impact it can have on your life.
What is self-respect, and why is it so important?
Having self-respect means that you can recognize your worth and value as a person.
Let us know your favorite self-respect quote in the comment section below.
What are the benefits of reading self-respect quotes?
People with a healthy amount of self-respect can take pride in what they do and believe in things like treating people fairly.
You make sure and prioritize your:
health
mental well-being
life goals
These self-respect quotes will help you understand that you matter!
It is not too difficult to identify those with a high self-respect level.
A good sign that you might need to work on building up your self-respect is if you constantly try to please others.
Another indicator might be that you feel you are no longer being your "true self."
Check out these tips for finding yourself and improving the amount of self-respect you have.
Hopefully, these words from authors, philosophers, and writers can inspire you to see how much being you is the most important thing you can bring to the table.
Check out our most popular quote article, a list of short inspirational quotes for daily inspiration.
Our inspirational quote category page has even more inspirational and educational quotes.
Self-Respect quotes about how self-respect looks
1. "The greatest thing in the world is to know how to belong to oneself." ― Michel de Montaigne
2. "Dare to love yourself as if you were a rainbow with gold at both ends." ― Author-Poet Aberjhani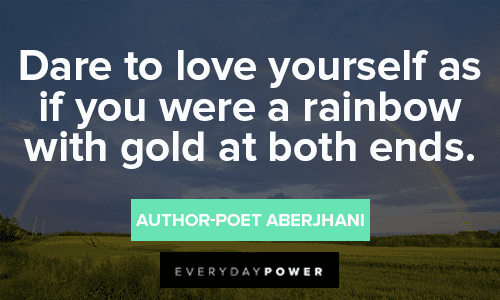 3. "If your compassion does not include yourself, it is incomplete." ― Jack Kornfield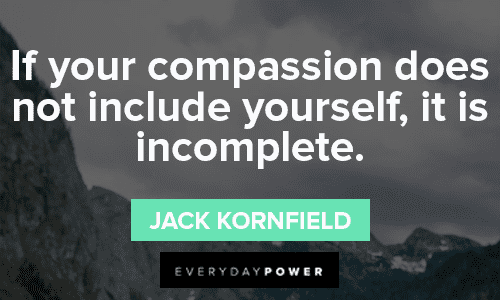 4. "Character — the willingness to accept responsibility for one's own life — is the source from which self-respect springs." ― Joan Didion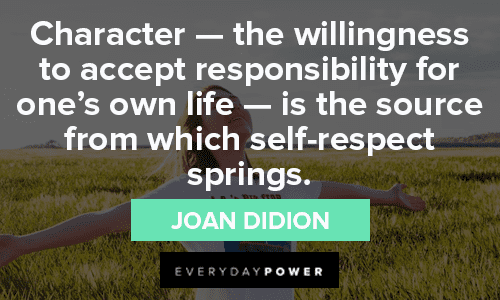 5. "Having healthy boundaries not only requires being able to say "no" but also being willing and able to enforce that "no" when necessary." ― Jessica Moore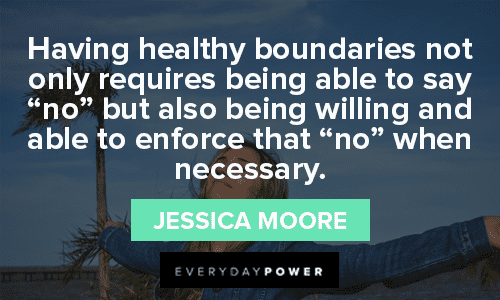 6. "Everything and anything we communicate to others, communicates to them, how to see us and treat us." ― Miya Yamanouchi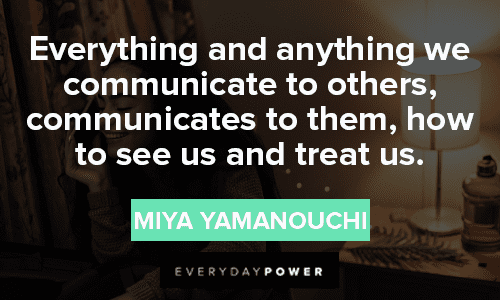 7. "Self-respect is the root of discipline: The sense of dignity grows with the ability to say no to oneself." ― Abraham Joshua Heschel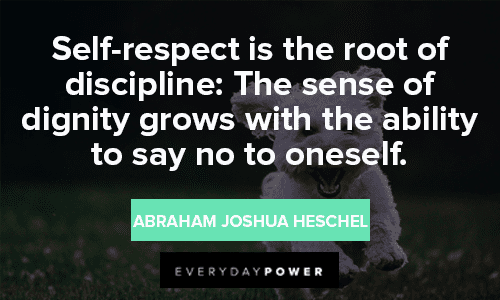 8. "Self-control is the chief element in self-respect, and self-respect is the chief element in courage." ― Thucydides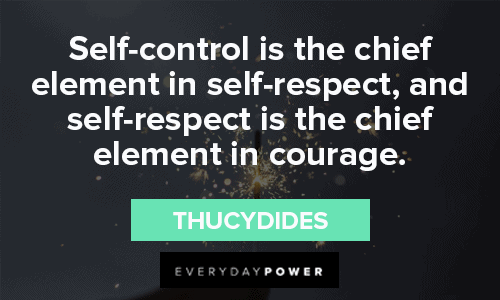 9. "Happiness is the highest form of self-respect. A person who allows himself to be happy shows his self-respect." ― Marty Rubin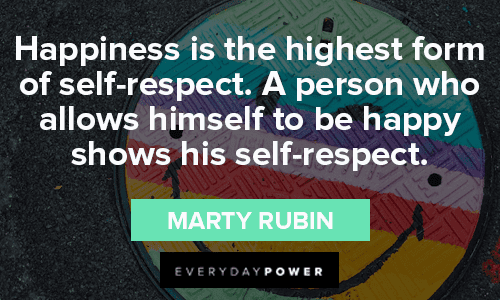 10. "A man with self-confidence has a natural smile on his face, sense in his mind, and strength in his hands." ― Amit Kalantri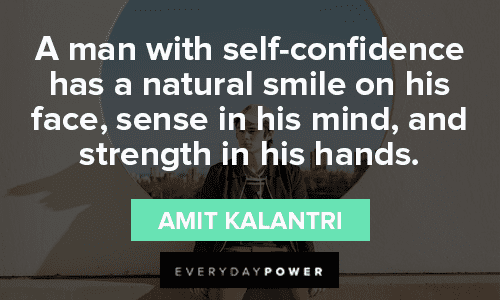 11. "The most important form of respect is self-respect. Not only does it show others how to treat themselves, it teaches them how to treat you." ― Richelle E. Goodrich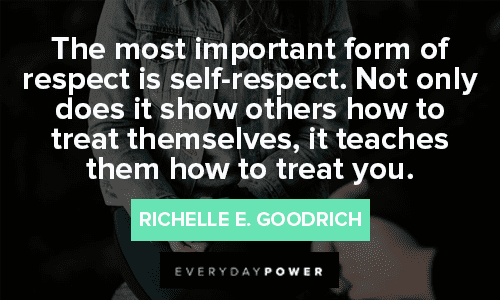 Self-Respect quotes that remind you to take care of yourself
12. "I care for myself. The more solitary, the more friendless, the more unsustained I am, the more I will respect myself." ― Charlotte Brontë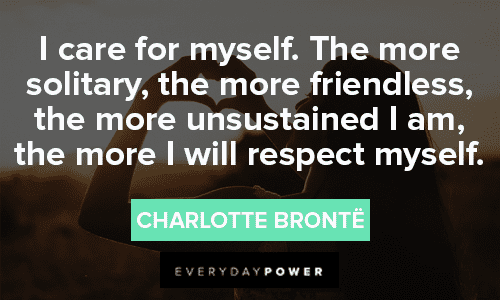 13. "One of the greatest regrets in life is being what others would want you to be, rather than being yourself." ― Shannon L. Alder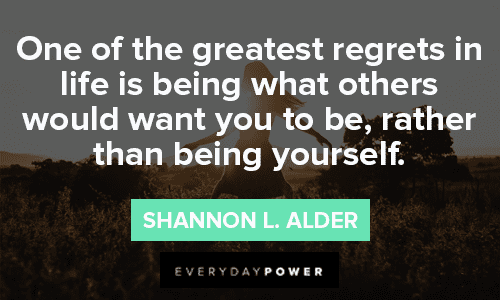 14. "Stand up for who you are. Respect yourself and ignite the divine sparks in you. Access your powers. Choose your rights and work together with others to bring blessings into the lives." ― Amit Ray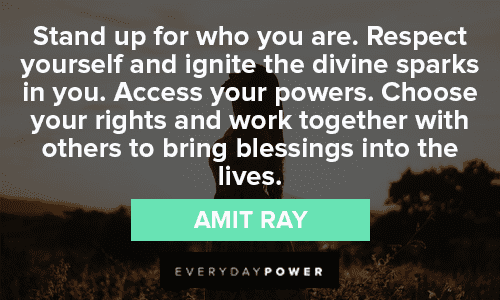 15. "When you are content to be simply yourself and don't compare or compete, everyone will respect you." ― Lao Tzu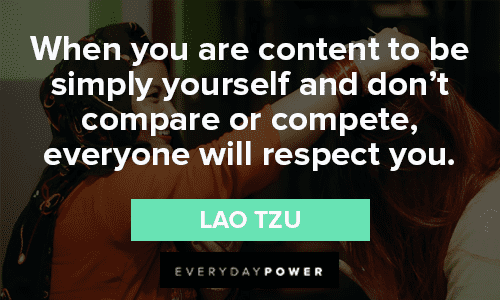 16. "Respect yourself enough to walk away from anything that no longer serves you, grows you, or makes you happy." ― Robert Tew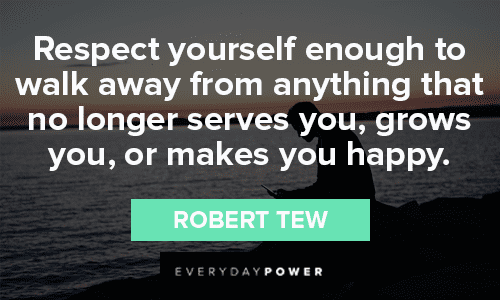 17. "Don't ever stray from yourself, in order to be close to someone that doesn't have the courtesy to remind you of your worth or the integrity of a gentleman to walk you home." ― Shannon L. Alder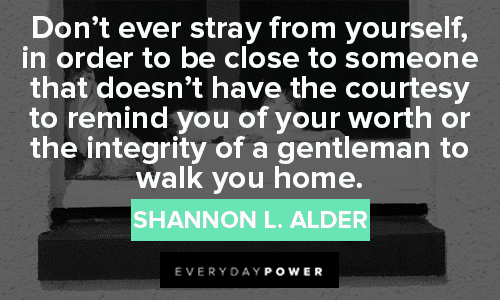 18. "Do not be scared to say "I love you" to yourself. Stand in front of the mirror and look at yourself and say to yourself as loudly as you can "I love you. I respect you for what you have faced in life. And I love you for what you have become." ― Avijeet Das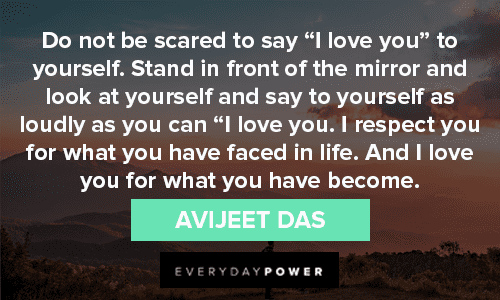 19. "Not being yourself is the worst form of self-disrespect." ― Mokokoma Mokhonoana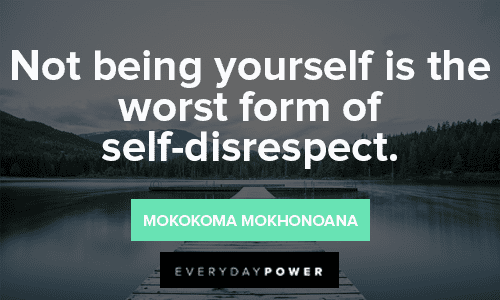 20. "The best gift you can give to others is your presence. The best gift you can give to yourself is perseverance." ― Maxime Lagacé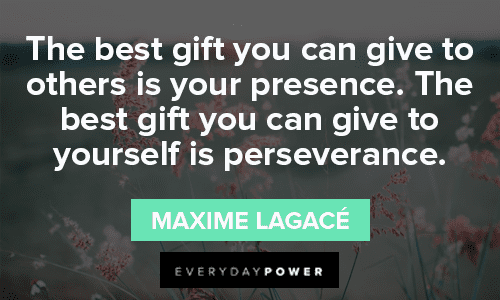 21. "Do things that give you happiness, increasing your respect in yourself." ― Giridhar Alwar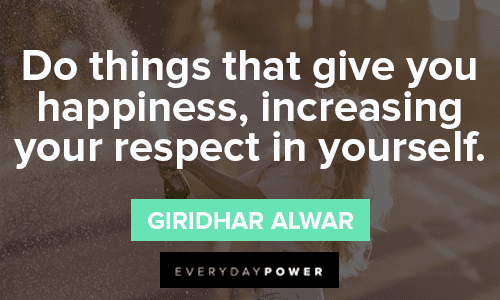 22. "Remember who you are. This creature wants to take it from you. Do not let him." ― Jim Butcher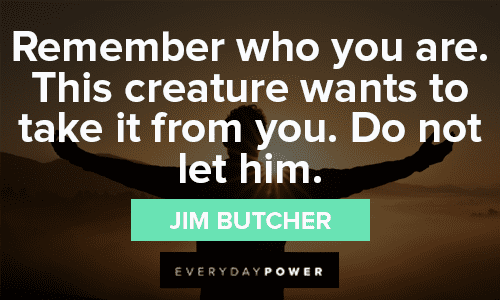 23. "I want to feel proud and happy about my selflessness. But what happens when being selfless takes away a big part of yourself?" ― Jaye Robin Brown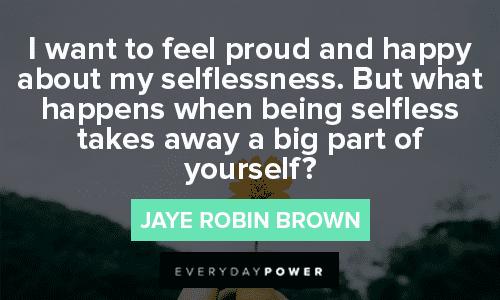 Self-respect quotes the impact it has on others
24. "I think the reward for conformity is that everyone likes you except yourself." ― Rita Mae Brown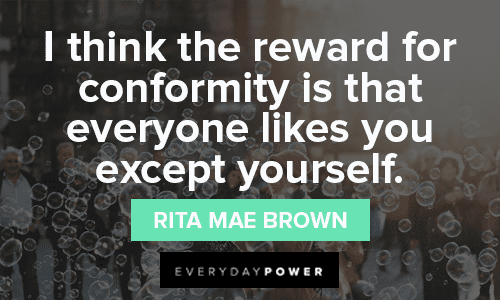 25. "Respect yourself and others will respect you." ― Confucius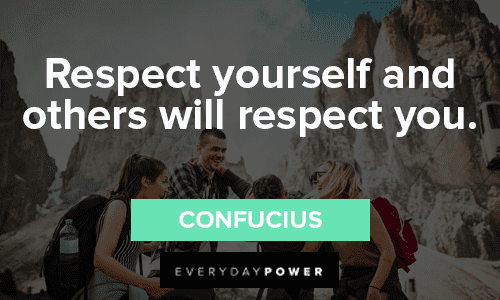 26. "If you want to be respected by others, the great thing is to respect yourself. Only by that, only by self-respect will you compel others to respect you." ― Fyodor Dostoyevsky
27. "Once you embrace your value, talents, and strengths, it neutralizes when others think less of you." ― Rob Liano
28. "They cannot take away our self-respect if we do not give it to them." ― Mahatma Gandhi
29. "Deeply respecting yourself is the first step toward having a deep respect for others." ― Amy Leigh Mercree
30. "Who wouldn't live in utter despair if their sense of self depended entirely on the opinions of others?" ― Marty Rubin
31. "Their opinions are not your oxygen. They should only fan your fucking flames." ― Curtis Tyrone Jones
32. "When you like yourself, you are free to enjoy others, and in your presence, people experience an invitation to become and enjoy who they truly are." ― Stasi Eldredge
33. "The respect you show to others (or lack thereof) is an immediate reflection on your self-respect." ― Alex Elle
Quotes about self-respect that will leave you contemplative
34. "I cannot conceive of a greater loss than the loss of one's self-respect." ― Mahatma Gandhi
35. "Never esteem anything as of advantage to you that will make you break your word or lose your self-respect." ― Marcus Aurelius
36. "In yourself right now is all the place you've got." ― Flannery O'Connor
37. "I have an inward treasure born with me, which can keep me alive if all extraneous delights should be withheld, or offered only at a price I cannot afford to give." ― Charlotte Brontë
38. "Take your self-respect with you where ever you go and hold onto it tightly. There are many who are just waiting for you to leave it up for grabs." ― Christine E. Szymanski
39. "Self-Respect and wisdom are the only symbols of human beings." ― Periyar E. V. Ramasamy
40. "You already hold the most valuable possession you will ever own, your integrity." ― T Jay Taylor
41. "Self-respect is the noblest garment with which a man may clothe himself, the most elevating feeling with which the mind can be inspired." ― Samuel Smiles
42. "The great thing in the world is not so much to seek happiness as to earn peace and self-respect." ― Thomas Huxley
43. "This was the pain that gouged out great holes in the soul, hollowing out self-esteem and cratering a person's self-respect" ― Chris Bohjalian
44. "Self-respect and reality is tough to rival when it comes to balancing it honestly." ― Ankit Samrat
Self-respect quotes and the power it has on your life
45. "Those with high self-esteem and self-knowledge take the plunge and trust. They realize life happens in the river, not the shore." ― Maxime Lagacé
46. "Not having self-worth can be detrimental to your health, wealth, success, relationships, parenting ability, happiness, and probably a lot more. It ruins your experience of life. Worth is like a light switch. Low self-worth switches the light off. You live in the darkness and the shadows, unable to see all the beautiful things in the world around you. By increasing self-worth, the light switches on. Now you can see all the beauty life has to offer in all its colorful glory." ― Rachel D. Greenwell
If you're enjoying these quotes, you'll love our collection of self worth quotes to boost your confidence.
47. "Life is finite. (Duh.) Time is valuable. (Ditto.) And so am I. I'm valuable. I'm starting to treat myself as valuable." ― Louie Anderson
48. "Being well and wellbeing is my way of life." ― Akosua Dardaine Edwards
49. "They will call you crazy once you stop living someone else's dream and start living your own." ― Efrat Cybulkiewicz
50. "Be honest with who you are, what you want, and how you want to be treated. Boundaries only scare off the people that were not meant to be in your life." ― Shannon L. Alder
More self-respect quotes and sayings
51. "When you tolerate disrespectful people you disrespect yourself." – Wayne Gerard Trotman
52. "Having self-esteem is easy, obtaining self-respect is the real challenge." – Jeffrey Fry
53. "Self-respect is the fruit of discipline." – Abraham Heschel
54. "If you don't love yourself it's tough to love anything about your life. Appreciating who you are is essential to your happiness." – Karen Salmansohn
55. "Love yourself, love your uniqueness. You are the only person can be true to yourself." – Lailah Gifty Akita
56. "We all deserve to be treated with nothing but respect. In order to command respect from others, we must first and foremost respect ourselves." – Julie-Anne
57. "Love yourself for what you are, instead of hating yourself for what you are not." – Faraaz Kazi
58. "Don't let loving someone be the reason you allow them to hurt you." – R.H. Sin
59. "They who care the self-respect, their love is real and true, and they don't break the trust and certainty of their beloved. Love cannot stay where is no self-respect." – Ehsan Sehgal
60. "Don't apologize for being yourself, but ask for an apology if they want you to be something else." – Amit Kalantri
Self-Respect Quotes To Help You Focus Less On People's Opinions.
61. "No one can make you feel inferior without your consent." – Eleanor Roosevelt.
62. "Your peers will respect you for your integrity and character, not your possessions." – David Robinson
63. "The best day of your life is the one on which you decide your life is your own." – Bob Moawad
64. "What's important to me is not others' opinions of me, but what's important to me is my opinion of myself." – C. Joybell C.
65. "If you do not respect your own wishes, no one else will. You will simply attract people who disrespect you as much as you do." ― Vironika Tugaleva.
66. "Respect your efforts, respect yourself. Self-respect leads to self-discipline. That's real power." – Clint Eastwood
67. "That's what I grew up with. I didn't aspire to be anything besides that."– Jennifer Lopez.
68. "The final forming of a person's character lies in their own hands." ― Anne Frank.
69. "If you do not respect your own wishes, no one else will. You will simply attract people who disrespect you as much as you do."― Vironika Tugaleva
70. "I don't want everyone to like me; I should think less of myself if some people did." – Henry James.
Self Respect Quotes That Will Boost Your Confidence
71. "Do we not realize that self-respect comes with self-reliance?" — A. P. J. Abdul Kalam
72. "Our self-respect tracks our choices." — Dan Coppersmith
73. "Self-respect is the cornerstone of all virtue." — John Herschel
74. "The respect you show to others is an immediate reflection of your own self-respect." — Alex Elle
75. "Self-respect means valuing all levels of yourself from the soul, mind, and body. You know you've made mistakes at times and you've owned up to them. You have dignity and integrity. You're honest in your dealings with others." — Kevin Hunter
76. "Self-respect permeates every aspect of your life." — Joe Clark
77. "Self-respect knows no considerations." — Mahatma Gandhi
78. "Don't. Self respect is everything." — Jordan Christy
79. "The more you know and respect yourself, the less you fear rejection, setbacks and failure. The more inner power you gain, the less outer control you allow." — Gordana Biernat
80. "Having self – respect also means honoring your own thoughts and feelings." — Lucia Raatma
Self-Respect Quotes To Make Your Life Better
81. "There are days I drop words of comfort on myself and remember that it is enough to be taken care of by myself." — Brian Andreas
82."I prefer to be true to myself, even at the hazard of incurring the ridicule of others." — Frederick Douglass
83."Respect for self is the beginning of cultivating virtue in men and women." — Gordon B. Hinckley
84. "In my day, we didn't have self-esteem, we had self-respect and no more of it than we had earned." — Jane Haddam
85."Love yourself first, and then others." – Chetan Bhagat
86."Don't lose your self-respect for your feelings." — Priyanshu Singh
87. "To free us from the expectations of others, to give us back to ourselves – there lies the great, singular power of self-respect." — Joan Didion
88. "A person without self-respect cannot respect others." — Eleanor Roosevelt
89. "The only way to have self-respect is to take what you need." — Alice Walker
90. "If you have earned your self-respect, respect by others is a luxury; if you haven't, respect by others is a necessity." — Nassim Nicholas Taleb
Self-Respect Quotes To Give You Confidence
91. "Overcoming difficulties leads to courage, self-respect, and knowing yourself." — Alfred Adler
92. "Maintaining self-respect in the face of a devastating experience is of prime importance." — Ann Landers
93. "Know yourself. Feel yourself. Love yourself. Respect yourself. Take good care of yourself. You are your most precious possession on Earth." — Robert Muller
94. "Self respect beats social approval, every time." — Robin Sharma
95. "There is no use of simply acquiring titles or amassing wealth if one has no self-respect and scientific knowledge." — Periyar E. V. Ramasamy
96. "Hard work breeds self-respect." — Pat Summitt
97. "I did learn that it was the greatest thing in the world to respect yourself. Respect other people." — Little Milton
98. "Self-respect to be nourished in the mind of the pupil, is one of the most valuable results of a well conducted education." — William Godwin
99. "Find joy in simplicity, self-respect, and indifference to what lies between virtue and vice. Love the human race. Follow the divine." — Marcus Aurelius
100. "Finding out what you're good at, and doing it to the best of your ability, is the route to self-respect." — J. K. Rowling
Self-respect Quotes To Make You Feel Powerful
101. "If one doesn't respect oneself one can have neither love nor respect for others." — Ayn Rand
102. "Self respect, Colie. If you don't have it, the world will walk all over you." — Sarah Dessen
103. "It is easiest to "be all things to all men," but it is not honest. Self-respect must be sacrificed every hour in the day." — Abraham Lincoln
104. "Self-respect and a clear conscience are powerful components of integrity and are the basis for enriching your relationships with others." — Denis Waitley
105. "Nothing resembles selfishness more closely than self-respect." — George Sand
106. "The one who fights back retains his dignity and his self-respect." — Jeff Cooper
107. "The conquering of adversity produces strength of character, forges self-confidence, engenders self-respect, and assures success in righteous endeavor." — Richard G. Scott
108. "The proper response toward what we occasionally imagine to be democracy, methinks, is to retain one's self-respect by not participating in it." — Fred Reed
109. "Exercise often moves us straight from stagnation to inspiration, from problem to solution, from self-pity to self-respect." — Julia Cameron
110. "Have respect for yourself, and no one can take away your self-respect." — Sri Sri Ravi Shankar
Self-respect Quotes To Improve Your Self-esteem
111. "Self-respect: the secure feeling that no one, as yet, is suspicious." — H. L. Mencken
112. "Everyone in society should be a role model, not only for their own self-respect but for respect from others." — Barry Bonds
113. "Ego is false confidence, self-respect is true confidence." — Naval Ravikant
114."Everyone is worthy of respect. Dignity begins with poise and self-respect." — Juliann Mangino
115. "When you have self-respect, you have enough." — Gail Sheehy
116. "Perhaps the surest test of an individual's integrity is his refusal to do or say anything that would damage his self-respect." — Thomas S. Monson
117. "Our self-respect does not have a price tag." — Nawaz Sharif
118. "Self-love, self-respect, self-worth….there is a reason they all start with 'self.' You cannot find them in anyone else." — Liz
119. "Self-respect is a question of recognizing that anything worth having has a price." — Joan Didion
120. "Never violate the sacredness of your individual self-respect." — Theodore Parker
Which of these self-respect quotes resonated with you best?
The amount of self-respect you have can affect your life in more ways than one.
For example, do you struggle when others compliment you?
I had the hardest time accepting compliments or when others would seem to think I genuinely had talent and purpose.
I struggled with my self-esteem and self-respect for most of my life, but I couldn't see that for myself.
I had to dig deep, talk to a therapist, and read about how I could live the best life possible.
The life that each of us deserves to live.
You are a unique being like non-other on Earth!
It is practically a miracle that each of us exists and is who we are.
Don't let anything else make you feel different.
Try to do one thing today that helps you build self-respect, self-confidence, or self-esteem.
If you have any tips, please leave them in the comment section below and tell us what worked for you and what didn't!
Also, let us know which of these self-respect quotes and sayings is your favorite.
November 28, 2022 6:00 AM EST