Booklover Quotes Every Bookworm Will Appreciate
Reading these booklover quotes is a great way to spend time on National Booklover's Day, which is August 9th, but really you can love books any day of the year!
Reading is one of the best hobbies to have.
It gives a person the chance to explore, travel, imagine, or learn – sometimes a book can accomplish more than one of those things at a time!
Of course, those words are spoken like the true booklover that I am.
Did you know that there is an actual word for a booklover, though?
That word is bibliophile, and is derived from the Greek words for 'book' and 'loving.'
What other fancy words describe a bibliophile or booklover?
Well, there is bibliomania, which is used to describe someone who has an actual problem hoarding books.
I have books everywhere… on the shelf, the desk, my dresser, but you can still walk around the house without stepping over piles of books so I don't think I have reached the stage of bibliomania… yet.
I may have already finished a book this morning before lunch and will read another one, so I might just fit the definition of a bibliophage, which is someone who "devours" books.
If any of these terms sound like you, then you will definitely want to check out these booklover quotes about libraries, reading, and even some from the best authors.
Don't forget to also check out these reading quotes that will expand your mind.
Check out our most popular quote article, a list of short inspirational quotes for daily inspiration.
Explore our complete collection of motivational quotes here.
Booklover quotes about libraries
1. "I have always imagined that Paradise will be a kind of library." ― Jorge Luis Borges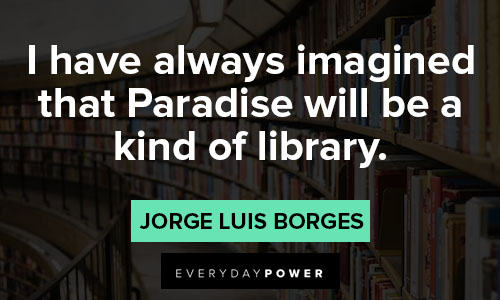 You will also enjoy our article on Raymond Reddington quotes.
2. "People can lose their lives in libraries. They ought to be warned." ― Saul Bellow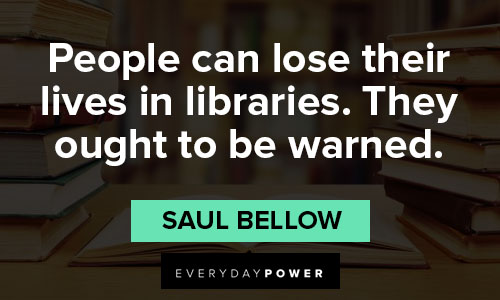 3. "Libraries will get you through times of no money better than money will get you through times of no libraries." ― Anne Herbert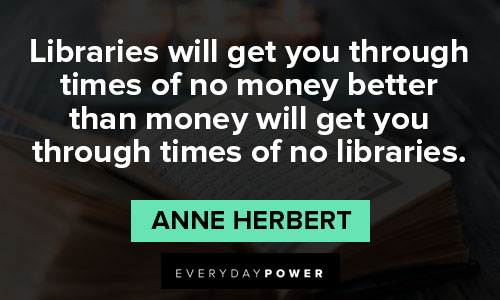 You will also enjoy our article on quotes about reading.
4. "Libraries are the wardrobes of literature." ― George Dyer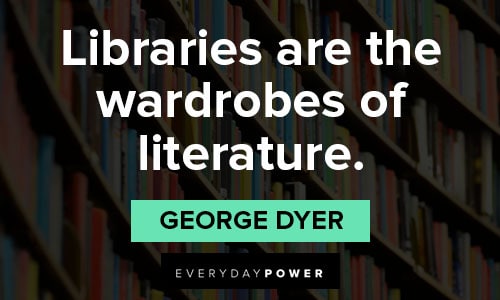 5. "You can get lost in any library, no matter the size. But the more lost you are, the more things you'll find." ― Millie Florence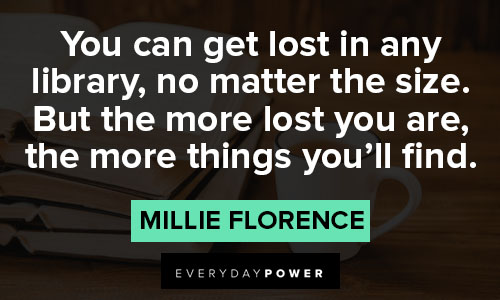 6. "A library is a hospital for the mind." ― Alvin Toffler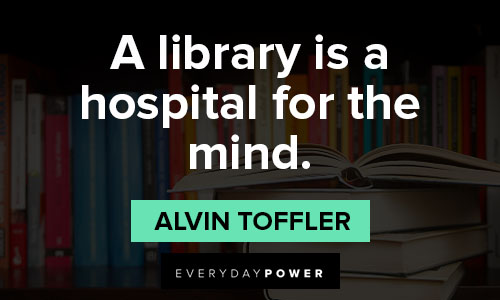 7. "Ordinary people have big TVs, extraordinary people have big libraries." ― Robin Sharma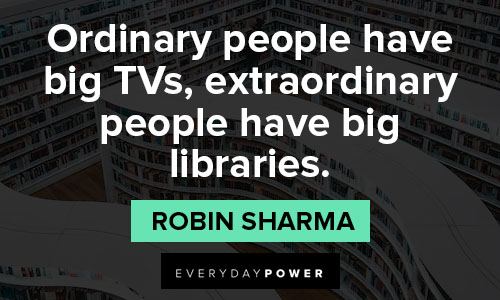 8. "If you have a garden and a library you have everything you need." ― Cicero
Booklover quotes from well-known authors
9. "Books were safer than other people anyway." ― Neil Gaiman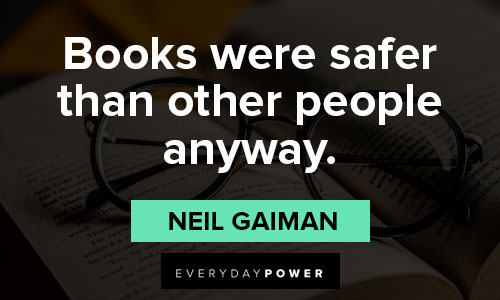 10. "The more that you read, the more things you will know. The more that you learn, the more places you'll go." ― Dr. Seuss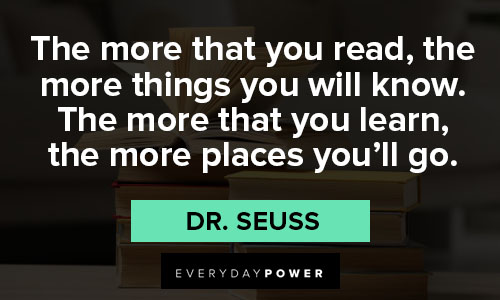 11. "Books are a uniquely portable magic." ― Stephen King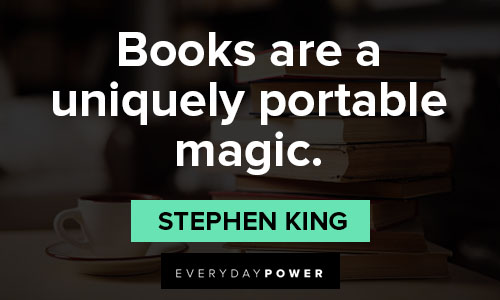 12. "There is no friend as loyal as a book." ― Ernest Hemingway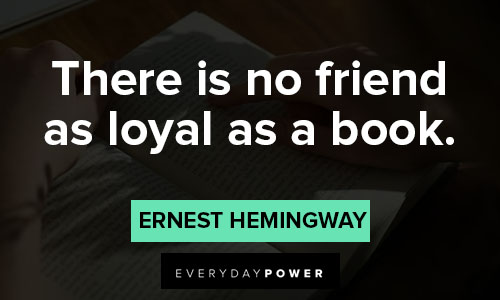 13. "A reader lives a thousand lives before he dies." ― George R.R. Martin
14. "I lived in books more than I lived anywhere else." ― Neil Gaiman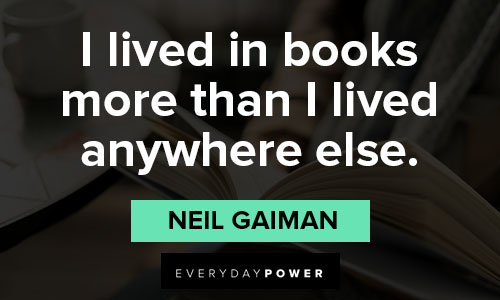 15. "A book is a dream that you hold in your hand." ― Neil Gaiman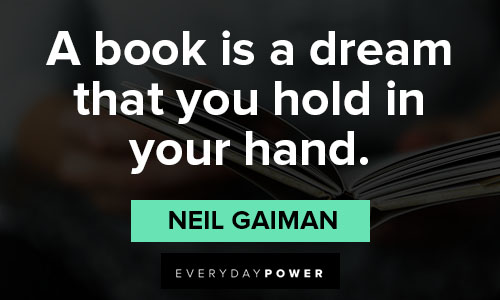 16. "It is what you read when you don't have to that determines what you will be when you can't help it." ― Oscar Wilde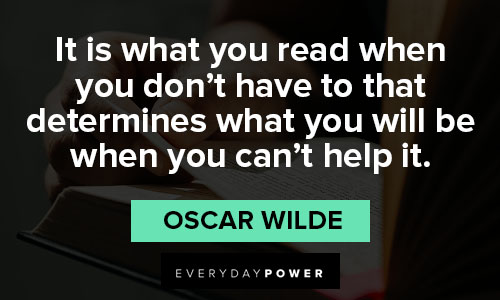 17. "If there's a book that you want to read, but it hasn't been written yet, then you must be the one to write it." ― Toni Morrison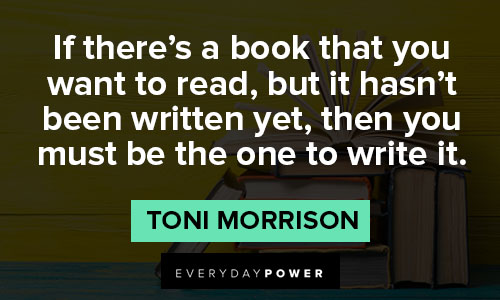 Booklover quotes about reading and the pages of books
18. "Reality doesn't always give us the life that we desire, but we can always find what we desire between the pages of books." ― Adelise M. Cullens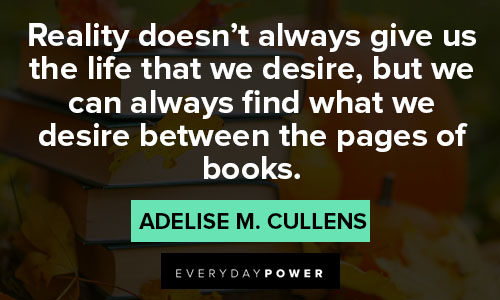 19. "I love the solitude of reading. I love the deep dive into someone else's story, the delicious ache of a last page." ― Naomi Shihab Nye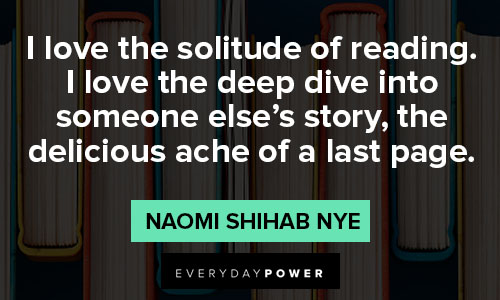 20. "Dogeared pages were Antichrist of booklovers everywhere." ― Jennifer L. Armentrout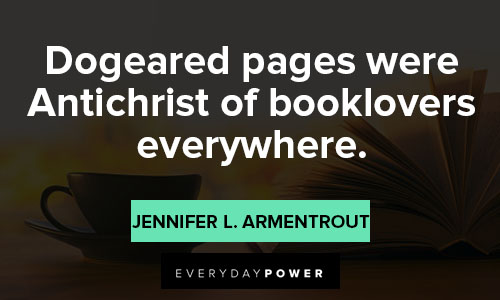 21. "I love books. I adore everything about them. I love the feel of the pages on my fingertips. They are light enough to carry, yet so heavy with worlds and ideas." ― Nnedi Okorafor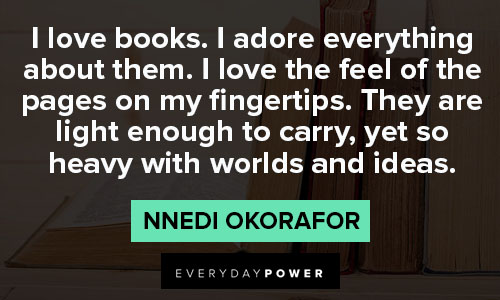 22. "I love the sound of the pages flicking against my fingers. Print against fingerprints. Books make people quiet, yet they are so loud." ― Nnedi Okorafor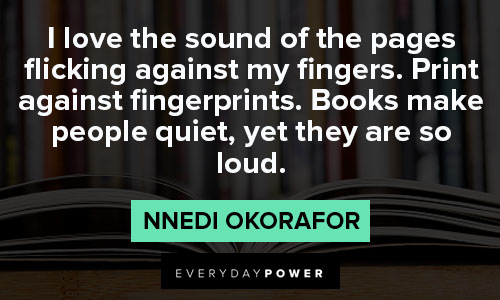 23. "You know you've read a good book when you turn the last page and feel a little as if you have lost a friend." ― Paul Sweeney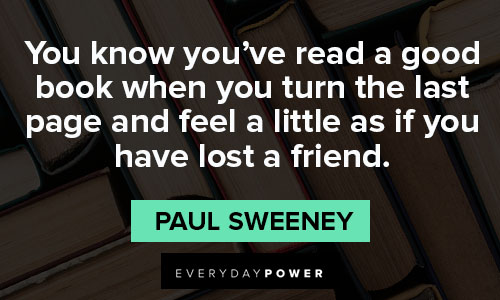 24. "If you only read the books that everyone else is reading, you can only think what everyone else is thinking." ― Haruki Murakami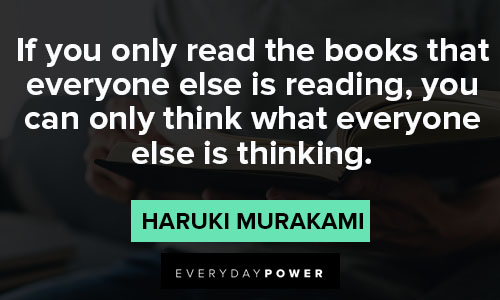 25. "Any room in our house at any time in the day was there to read in or to be read to." ― Eudora Welty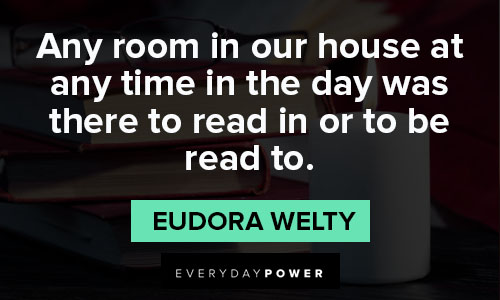 26. "Some books are so familiar that reading them is like being home again." ― Louisa May Alcott
27. "Reading is an act of civilization; it's one of the greatest acts of civilization because it takes the free raw material of the mind and builds castles of possibilities." ― Ben Okri
28. "Reading one book is like eating one potato chip." ― Diane Duane
29. "The whole world opened to me when I learned to read." ― Mary McLeod Bethune
30. "When I get a little money, I buy books; and if any is left, I buy food and clothes." ― Desiderius Erasmus
Booklover quotes about life
31. "I read a book one day and my whole life was changed." ― Orhan Pamuk
32. "It is both relaxing and invigorating to occasionally set aside the worries of life, seek the company of a friendly book…from the reading of 'good books' there comes a richness of life that can be obtained in no other way." ― Gordon B. Hinckley
33. "There is more treasure in books than in all the pirates' loot on Treasure Island…and best of all, you can enjoy these riches every day of your life." ― Walt Disney
34. "Every man who knows how to read has it in his power to magnify himself, to multiply the ways in which he exists, to make his life full, significant, and interesting." ― Aldous Huxley
35. "Literature is the most agreeable way of ignoring life." ― Fernando Pessoa
36. "Books can be dangerous. The best ones should be labeled "This could change your life"." ― Helen Exley
37. "Once I began to read, I began to exist. I am what I read." ― Walter Dean Myers
38. "She read books as one would breathe air, to fill up and live." ― Annie Dillard
39. "We live for books." ― Umberto Eco
40. "I believe there is power in words, power in asserting our existence, our experience, our lives, through words." ― Jesmyn Ward
Poetic booklover quotes
41. "Books are the plane, and the train, and the road. They are the destination and the journey. They are home." ― Anna Quindlen
42. "Reading is that fruitful miracle of a communication in the midst of solitude." ― Marcel Proust
43. "Once you learn to read you will be forever free." ― Frederick Douglass
44. "No two persons ever read the same book." ― Edmund Wilson
45. "I would rather be a poor man in a garret with plenty of books than a king who did not love reading." ― Thomas Babington Macaulay
46. "A room without books is like a body without soul." ― Cicero
47. "Maybe this is why we read, and why in moments of darkness we return to books: to find words for what we already know." ― Alberto Manguel
48. "Books are mirrors: you only see in them what you already have inside you." ― Carlos Ruiz Zafón
49. "That's the thing about books. They let you travel without moving your feet." ― Jhumpa Lahiri
50. "The odd thing about people who had many books was how they always wanted more." ― Patricia A. McKillip
Booklover Quotes That WIll Make You Develop Interest in Reading
51. "Book lovers will understand me, and they will know too that part of the pleasure of a library lies in its very existence." — Jan Morris
52. "She is too fond of books, and it has turned her brain." — Louisa May Alcott
53. "Books are the quietest and most constant of friends; they are the most accessible and wisest of counsellors, and the most patient of teachers." — Charles William Eliot
54. "Book lovers are engaged with writers in a private communion that occurs in some vaporous cenacle of the mind." — Joe Queenan
55. "A house without books is like a room without windows." — Horace Mann
56. "Good friends, good books and a sleepy conscience: this is the ideal life." — Mark Twain
57. "We expect a great man to be a good reader." — Ralph Waldo Emerson
58. "No entertainment is so cheap as reading, nor any pleasure so lasting." — Mary Wortley Montagu
59. "Books are my friends, my companions. They make me laugh and cry and find meaning in life." — Christopher Paolini
60. "There are worse crimes than burning books. One of them is not reading them." — Joseph Brodsky
What did you learn from these booklover quotes?
For years, I refused to read on a Kindle or my phone, because as I told my husband, "Books are made from paper, not cold hard steel.
They have pages that you turn and a special book smell that is part of the experience."
Now, I have given up and read on my phone just because it is much more convenient, and I might be running out of space to put books, but I do still miss turning the page.
That experience, along with the ability to escape, is why I have been an avid reader since I was a teenager.
As a lonely girl who never felt pretty, the characters from my books were my friends and epic romances like the ones found in Jane Eyre fueled my romantic nature.
Let's just say after reading hundreds of period romances, the bar had been set pretty high!
Of course, I didn't just read romance.
I also passed the time with stories from King and Koonz.
In college, I met my husband, who is not nearly as big a bibliophile as I am, but he is a fan of King and Koonz; so, there is that.
Did you enjoy reading these booklover quotes and sayings?
What is your favorite book?
Let us know in the comment section below, I might just need a new one to read!