Cheer Quotes that Make You Want to Join the Squad
May 6, 2022 5:00 AM EST
Listen to article
4 minutes
If you're one of the fans that was surprised at how much you love the popular Netflix show, you're going to enjoy these Cheer quotes.
Have you watched Cheer yet?
The world was taken by storm when Netflix released the show Cheer.
It follows the story of the competitive cheer squad from Navarro College.
That might not sound like the most exciting show but it managed to pull in people from the very start.
The stories of the cheerleaders both personally and on their quest for the championship has people all over the country cheering them on.
And they can't seem to get enough.
If you feel the same way, enjoy these Cheer quotes.
Don't forget to also check out our list of memorable Little Mermaid quotes that will make you sing under the sea.
Check out our most popular quote article, a list of short inspirational quotes for daily inspiration.
Check out our entire collection of motivational quotes here.
Cheer quotes from Twitter
1. "I want to binge the rest of #CheerNetflix but I know Monica would want me to go to bed at a reasonable hour and we're not letting her down in this house." – @oharasemmy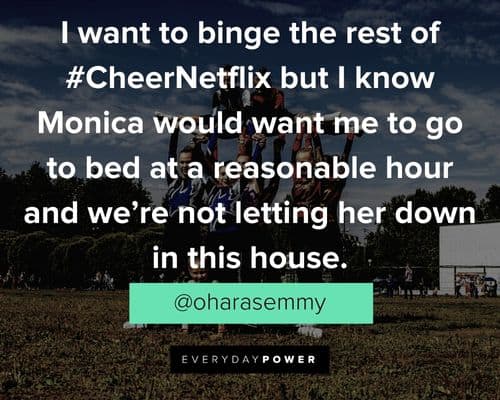 2. "I don't even know Jerry but he can have one of my kidneys if he ever needs it." – @ItsMarjories313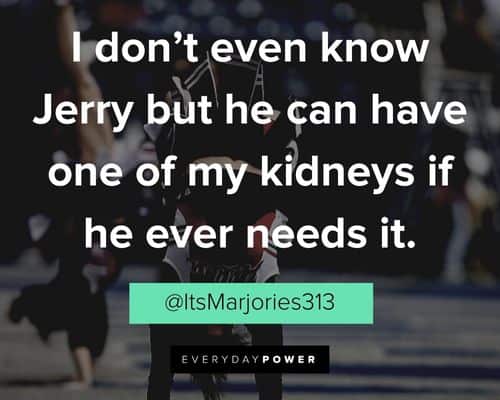 3. "Staying in and watching #CheerNetflix and I didn't expect to spend Saturday night emotional and becoming invested." – @vanemxx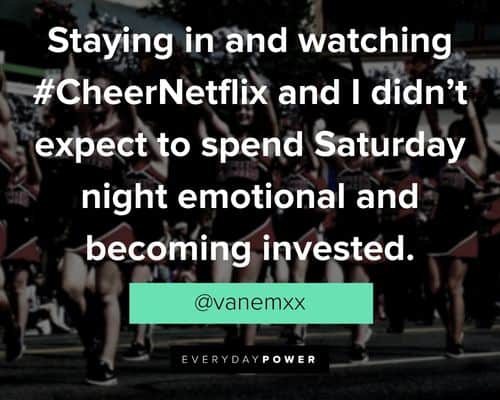 4. "Have never paid much attention to cheerleading; but #CheerNetflix is so good. Was sucked in the whole time, emotionally invested, & the last ep had my heart racing/tears flowing. Best part – it's about so much more than cheerleading for so many of those amazing competitors." – @Jude_Dee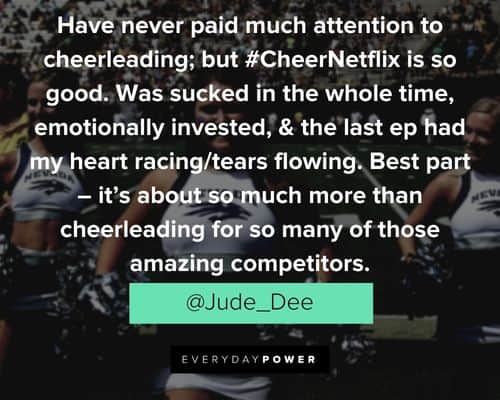 5. "Finished #CheerNetflix last night ♥️ Brought back so many good memories of my high school cheer days 🙌🏼 Whenever I hear the song DaisyDukes, "come on baby, kick them daisies" I hit my starting position😆 That routine was drilled into my brain permanently. 👊🏼" – @skittersthecat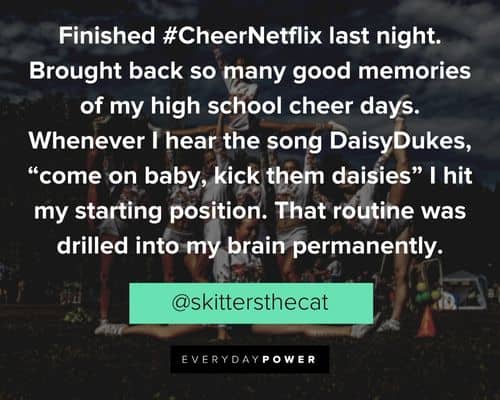 6. "I finished watching #CheerNetflix and I'm definitely putting on my cheer shoes and stretching today" – @queenmena_3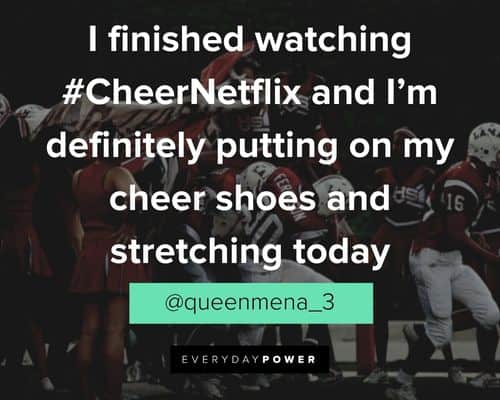 7. "I've purposefully held off from watching the #CheerNetflix finale because idk if I'm ready for all of the tears…I mean, I've legit cried with every character. I'm finalizing adoption papers for both Morgan & Jerry. I'm replacing Gabi Butler's dad as her manager. Monica is 👑" – @XorjeO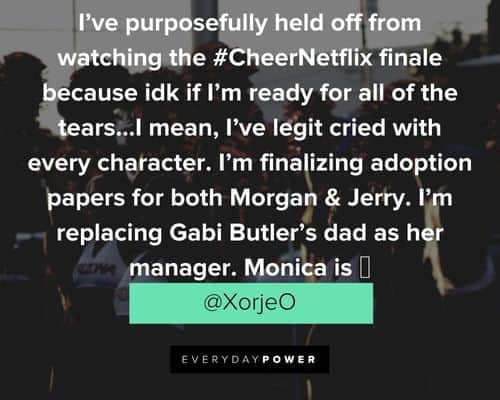 8. "Who else's day was made brighter when they discovered #CheerNetflix GIFs on IPhone?!?!" – @SBSOnTheRun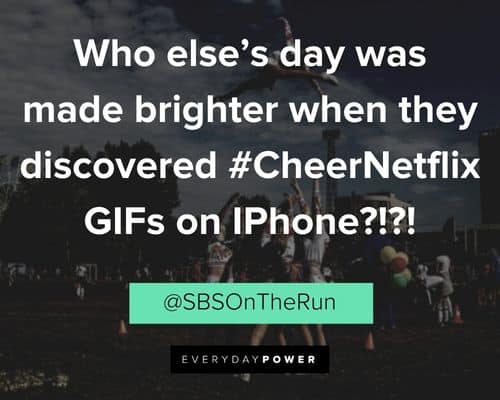 9. "Ok, but who is Jerry's Jerry? Because Jerry deserves a Jerry more than anyone. #CheerNetflix #Jerry" – @deborahseward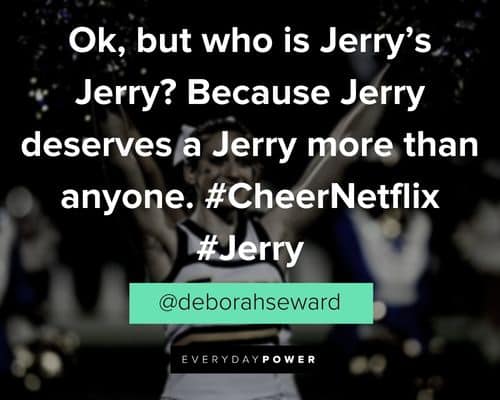 10. "I thought I cared about my friends and family and then I watched #CheerNetflix and the only thing I care about now is the Navarro Cheer Team, making mat for Daytona, and protecting Jerry at all costs." – @EugeneLeeYang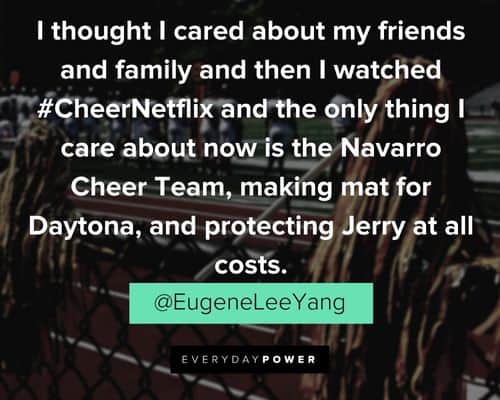 You might also like these quotes from The Hunger Games.
Cheer quotes about cheerleading
11. "It doesn't matter what people think about cheerleading, if it's something that you love to do than that's all that counts." – Jade
12. "We may make it look easy, but like all sports it takes hard work and dedication" – Shawna Fox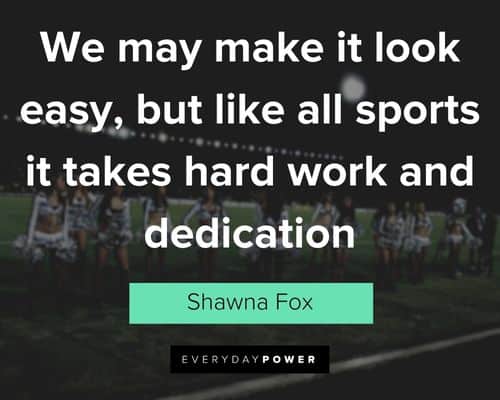 13. "Next time someone tells you cheerleading is easy, tell them to do your routine and then get back to you." – Tif Tif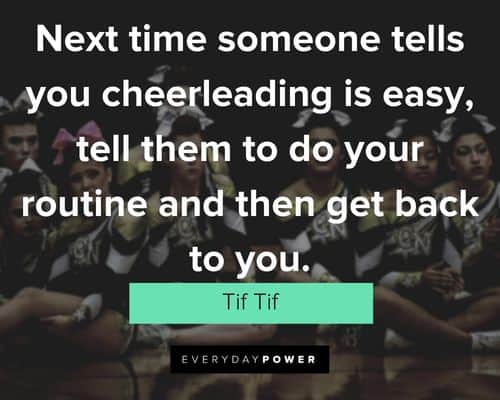 14. "Fly high, do or die, dare to dream, cheer extreme." – Kara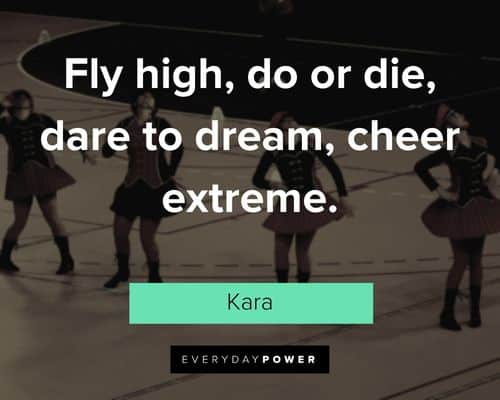 15. "Cheerleading is a part of you. You live it all the time. People will judge you based upon it, but you can't be ashamed because although they may make fun of you, they are just jealous that you are on of the elite, the superior, the best… a cheerleader!" – Kacy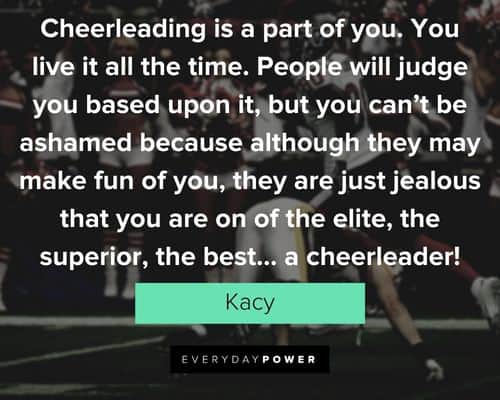 16. "A cheerleader is like an elastic, their flexible, they stretch and spring, they get snapped into the air, they do hair, but with too much stress they can break……….cheer hard, love life." – Sara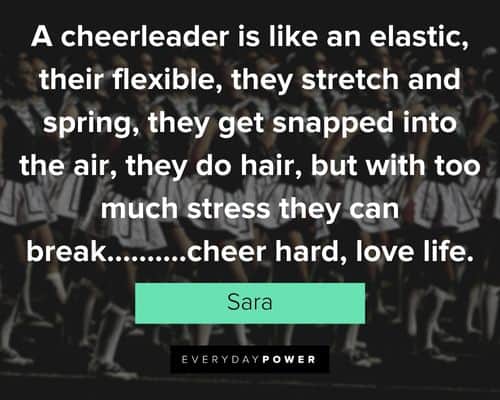 17. "Cheer as hard as you can, be the best you can at what you do because remember if you don't think you're good there's always a little girl looking up to you thinking she wants to be like you." – Michelle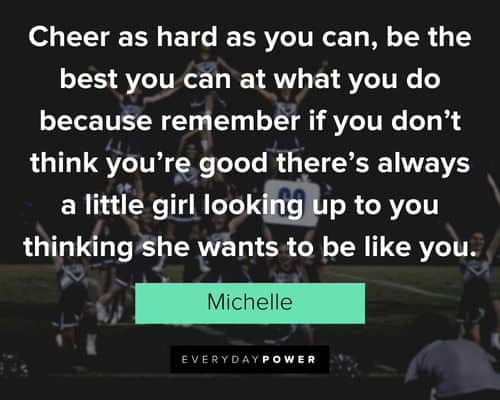 18. "Cheerleading is life, you must give it your all, and always strive to be on top. It teaches you so much, from how to be a team player, leadership, dedication, confidence, and many other qualities." – Natasha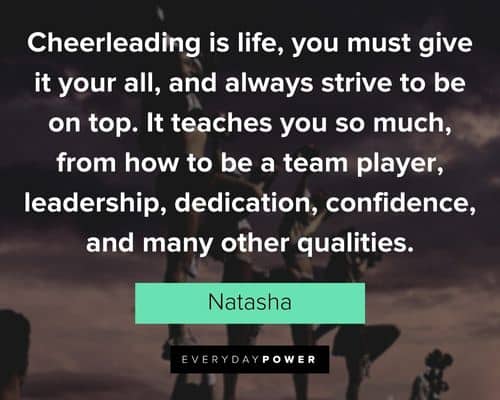 19. "We cheerleaders are peppy and happy and get front row seats to the game!" – Casey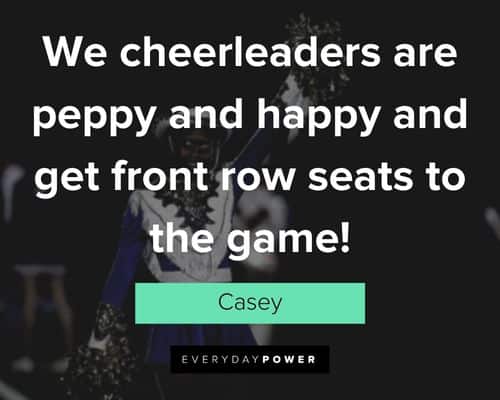 20. "Wanna know what CHAMPIONS look like? Gimme 2 minutes and 30 seconds and I'll show you." – Megan Done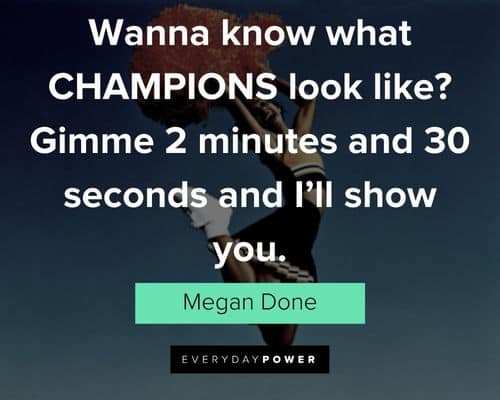 21. "It's so much fun! Girls just think that it is all about popularity, but it's not. You have to work really hard if you want to be good at cheerleading. It's just like any other sport!" – Stephanie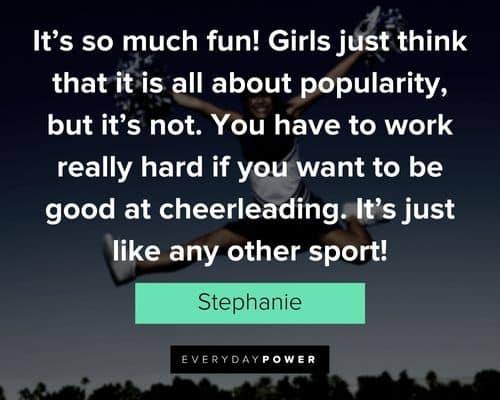 If you're enjoying these quotes, make sure to read our collection of 13 Reasons Why quotes from the hit Netflix show.
Motivational cheer quotes
Since we don't all have cheerleaders following us around each day, it can help to have some cheer quotes to motivate you and lift your spirits.
22. "The time when there is no one there to feel sorry for you or to cheer for you is when a player is made." – Tim Duncan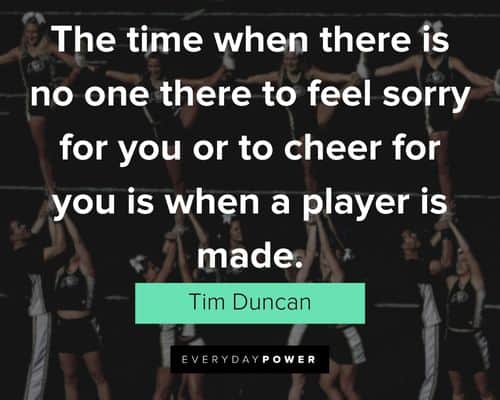 23. "The sun never stops shining, sometimes you just have to look beyond the clouds to see it." – Arjun Loveable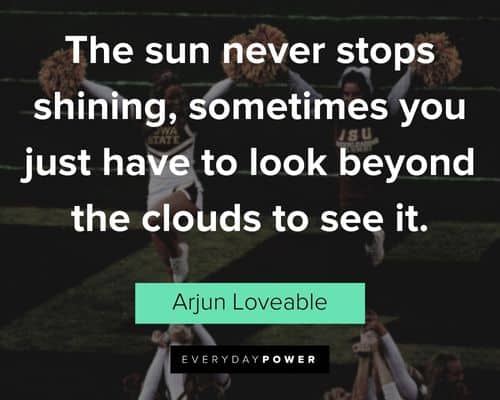 24. "If you paint in your mind a picture of bright and happy expectations, you put yourself into a condition conducive to your goal." – Norman Vincent Peale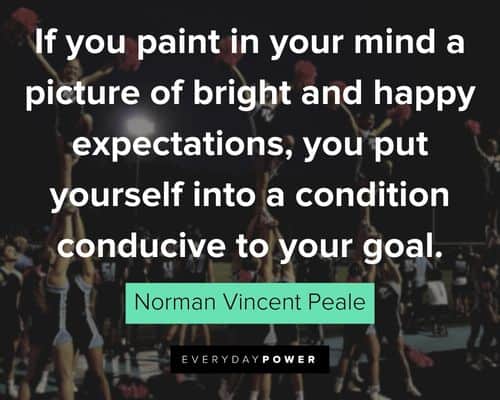 25. "After every storm the sun will smile; for every problem there is a solution, and the soul's indefeasible duty is to be of good cheer." – William Alger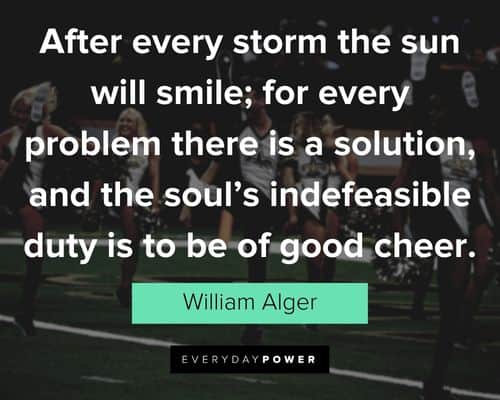 26. "Let us be of good cheer, however, remembering that the misfortunes hardest to bear are those which never come." – James Russell Lowell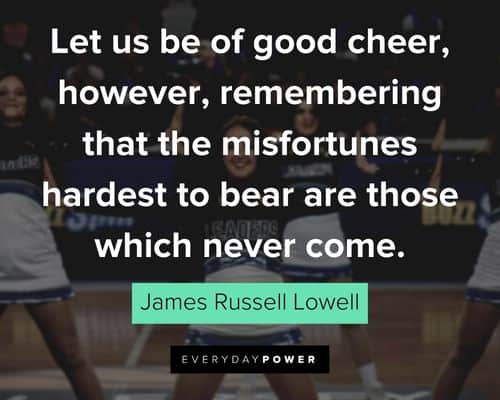 27. "What lies behind us and what lies before us are tiny matters compared to what lies within us." – Ralph Waldo Emerson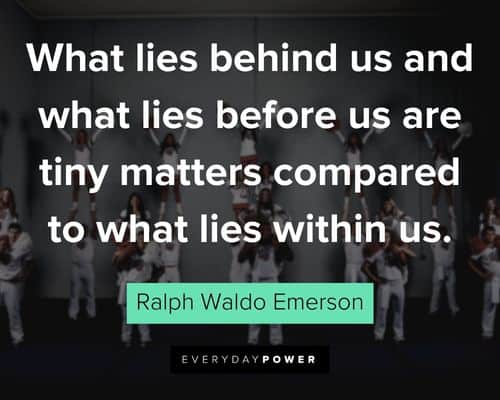 28. "Leave any problem alone for long enough and it will solve itself." – Nell Dixon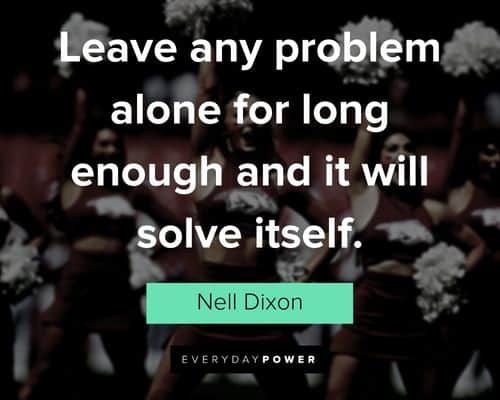 29. "The man who radiates good cheer, who makes life happier wherever he meets it, is always a man of vision and faith." – Ella Wheeler Wilcox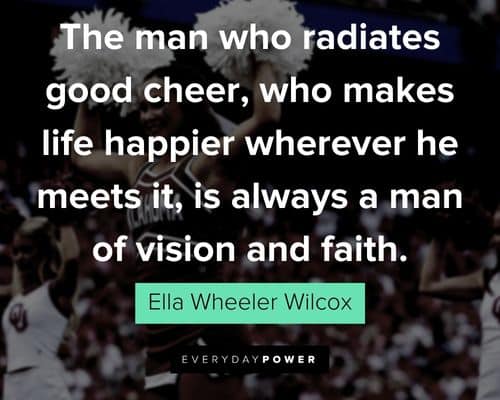 30. "You never fail until you stop trying." – Albert Einstein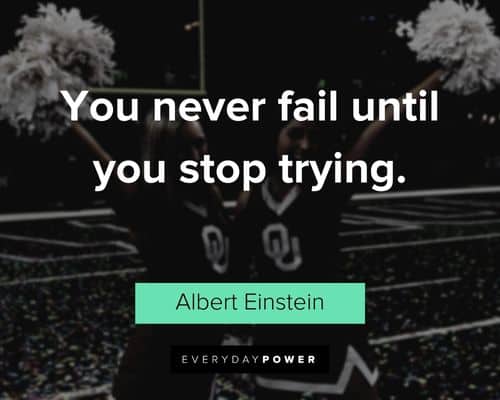 31. "You will succeed if you persevere; and you will find joy in overcoming obstacles." – Helen Keller
32. "Stop thinking you're not good enough. You are beautiful and way stronger than you realize. Stand up for yourself. Don't just let people tear you down because soon enough… you'll start tearing yourself down." – Mckenzie Hasslet
33. "When you come out of the storm, you won't be the same person who walked in. That's what this storm's all about." – Haruki Murakami
34. "Life is too short to spend even one day in misery." – Ravi Melwani
Don't forget to also read these great Princess Bride quotes from the 80s classic film.
Cheer quotes to encourage you to cheer others on
35. "Wherever the invitation of men or your own occasions lead you, speak the very truth, as your life and conscience teach it, and cheer the waiting, fainting hearts of men with new hope and new revelation." – Unknown
36. "When you have exhausted all possibilities, remember this: you haven't." – Thomas Edison
37. "Often we can help each other most by leaving each other alone; at other times we need the hand-grasp and the word of cheer." – Elbert Hubbard
38. "The best way to cheer yourself up is to try to cheer somebody else up." – Mark Twain
39. "I would go to the deeps a hundred times to cheer a downcast spirit. It is good for me to have been afflicted, that I might know how to speak a word in season to one that is weary." – Charles Spurgeon
40. "As athletes, we're always going to have aches and pains, but when your teammates cheer you on, you don't think about it." – Simone Biles (see more Simone Biles quotes)
More Cheer quotes from this Netflix original show
41. "You keep going until you get it right. And then you keep going until you can't get it wrong." — Monica Aldama
42. "That was not my plan, you know? I had a business degree. I wasn't gonna teach cheerleading… But I definitely took everything I learned in business school and used it to build a program." — Monica Aldama
43. "You cаn't grow if you don't experience fаilure." — Monica Aldama
44. "If you don't have failure, you don't grow. You tend to stay complacent." — Monica Aldama
45. "Every place that you can find to mat talk them, do it." — Monica Aldama
46. "Who knows what it takes to actually 'make it'? I'm still working on it and am definitely proud of the positive stepping stones I've hit along the way." — Monica Aldama
47. "You're not gonna fall if you go 100… It's when you try to hold back, that's when you hurt your ankle. You have to build up your confidence… Once you get your confidence built up, it'll be fine." — Monica Aldama
48. "I didn't inherit some great program. It was a lot of blood, sweat, and tears." — Monica Aldama
49."The hard work and the sacrifice that y'all put in all year long, take that into life after cheerleading because if you work hard in anything you do, you will be rewarded. You will be successful in life." — Monica Aldama
50. "Girl you're arguing with the wrong bitch." — La'Darius Marshall
Inspiring cheer quotes for when you're feeling down
51. "The unselfish effort to bring cheer to others will be the beginning of a happier life for ourselves." ― Hellen Keller
52. "The man who radiates good cheer, who makes life happier wherever he meets it, is always a man of vision and faith." ― Ella Wheeler Wilcox
53. "Be of good cheer, I have overcome the world." ― Thomas Hughes
54. "Good cheer is no hindrance to a good life." ― Aristippus
55. "I am my own cheerleader. I am the one who puts my goals, who pushes myself to get to the next goal. I don't have someone next to me saying, 'Here you go, now do this, it's your next step, go for it.'" ― Reem Acra
56. "Love is a good thing on a bad day when the last thing you want is to be cheered up."― Chad Sugg
57. "If at first, you don't succeed, think how many people you've made happy." — H. Duane Black
58. "Find a place inside where there's joy, and the joy will burn out the pain." — Joseph Campbell
59. "Joyfulness keeps the heart and face young. A good laugh makes us better friends with ourselves and everybody around us." — Orison Swett Marden
60. "They say a person needs just three things to be truly happy in this world: someone to love, something to do, and something to hope for." ― Tom Bodett
Check out our most popular quote article, a list of short inspirational quotes for daily inspiration.
Explore our complete collection of motivational quotes here.
Which of these Cheer quotes is your favorite?
If you haven't already watched the first season of Cheer, put it on your list.
It makes the perfect season to binge-watch over a weekend, but if you do that you'll probably regret how fast you got through it.
You will feel like you are on an emotional roller coaster as you watch the Navarro College cheer squad go through the ups and downs that come with seeking greatness.
Whether you were a cheerleader in the past or if you don't know the first thing about cheerleading, you won't be able to help but fall in love with the show.
It's going to leave you wanting more.
Did you enjoy these memorable Cheer quotes?
Which of the quotes is your favorite?
Let us know in the comment section below.