20 Chief Keef Quotes From The Rapper Who Influenced the Industry
Chief Keef quotes to learn about the famous rapper.
Chief Keef is the stage name for rapper, singer, songwriter, and record producer Keith Farrelle Cozart.
His music first became popular in Chicago's South Side while still in high school.
His song "I Don't Like" was picked up and remixed by Kanye West in 2012, which propelled his career forward.
Most recently, Chief Keef announced his new label, 43B, where he hopes to pass on his industry knowledge to artists who are changing the culture.
He previously owned the label Glory Boyz Entertainment (GBE) until it dissolved at the start of 2014.
In addition, Chief Keef has five albums, including his most recent one, 4NEM.
Take a look at these Chief Keef quotes below.
Check out our most popular quote article, a list of short inspirational quotes for daily inspiration.
If you enjoy this collection, check out our inspirational quotes category page.
Chief Keef quotes about his personal thoughts
Our upbringing and lifestyle make it so that we all have different worldviews. Chief Keen shares some of his personal thoughts below.
1. "Situation is what all you make of it." ― Chief Keef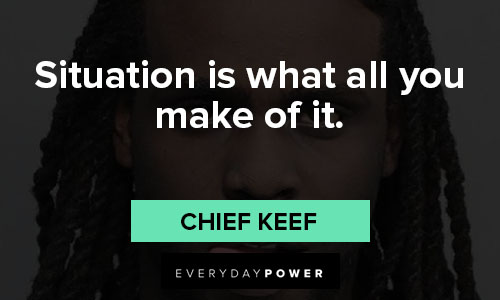 You will also enjoy our article on Taxi Driver quotes.
2. "We are all in the gutter, but some of us are looking at the stars." ― Chief Keef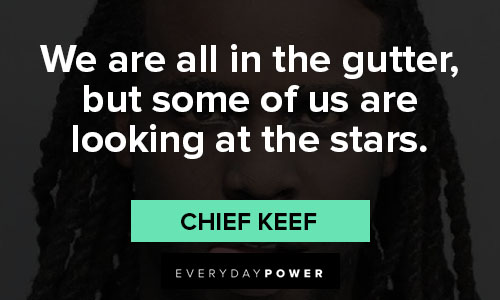 You will also enjoy our article on Lil Wayne quotes.
3. "I'm with the stop the violence campaign; that's why I paintball now." ― Cheif Keef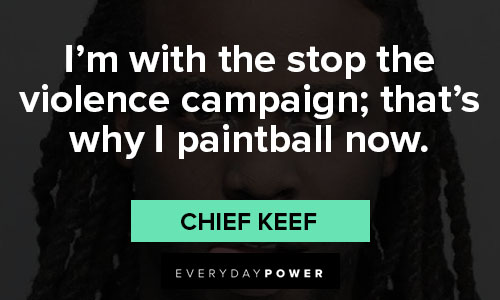 4. "What inspired it is really just how I am, kinda fun. The colors, I like stuff like that." ― Chief Keef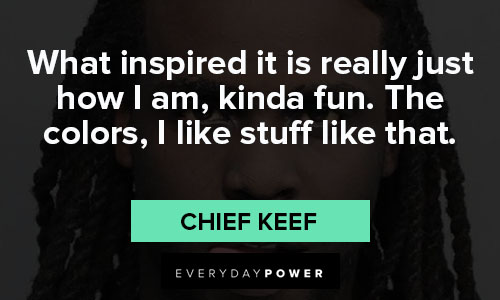 5. "They don't want to see a young black man be successful and try to do something good. It's crazy." ― Chief Keef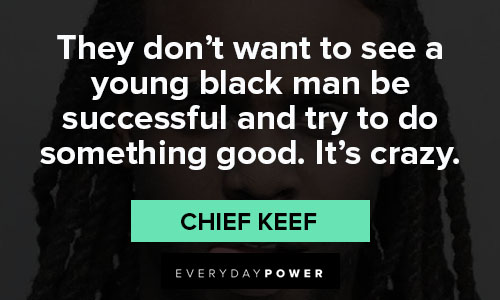 6. "I got away from all the unnecessary trouble, drama, problems. I came out here to where it's better life-wise, living." ― Cheif Keef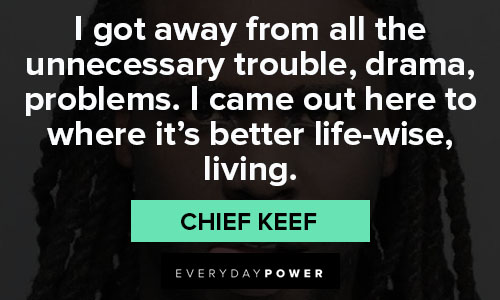 7. "I firmly believe the world will sort itself out in the end. Believe it with me. At least none of us will be around to be proven wrong." ― Cheif Keef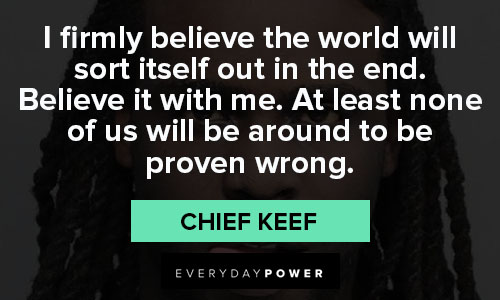 8. "I'm glad to be someone that people listen to and look up to. Glad that I can help change the situations and be the scenery in Chicago. I love my city still but it is crazy." ― Chief Keef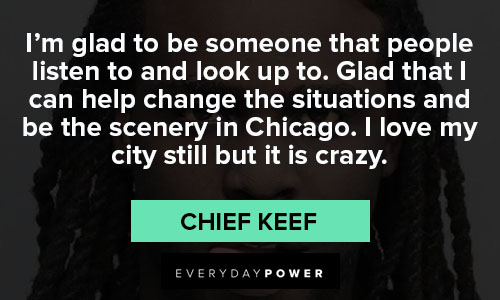 9. "There ain't gonna be nothing the same. I'm gonna try to go another way. I like to keep going different ways and keep it the same. I don't copy. Come up with my own stuff, my own everything." ― Chief Keef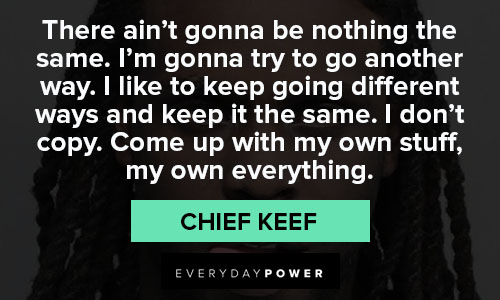 10. "I know my cousin would want me to be a better person and do better. When that happened it was like he jumped in me… that was the biggest lesson like you have to grow up and make stuff happen. It really changed me a lot." ― Chief Keef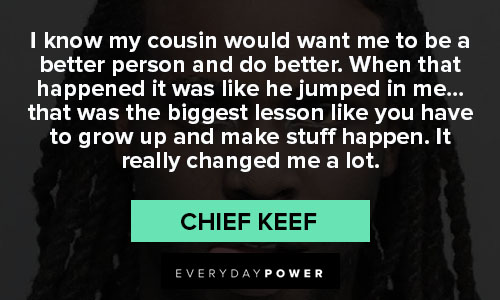 Chief Keef quotes about his life
Chief Keef lets his thoughts be known in this next collection of quotes. Check out the quotes below.
11. "I growed up. No, I Glo'd Up." ― Cheif Keef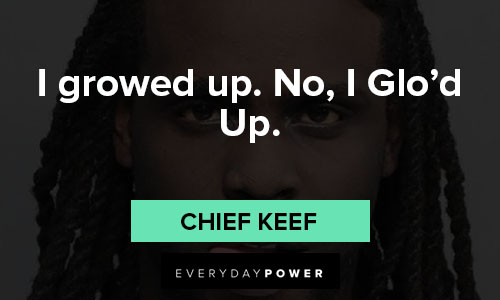 12. "Damn I hate being sober, I'm a smoker." ― Chief Keef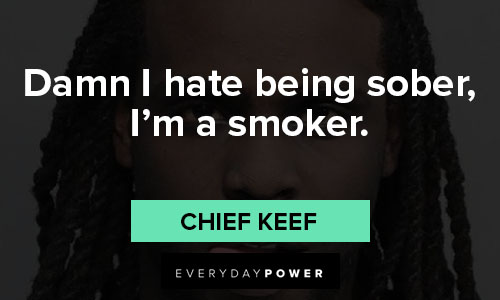 13. "I can cut my dreads and sell them on Ebay." ― Chief Keef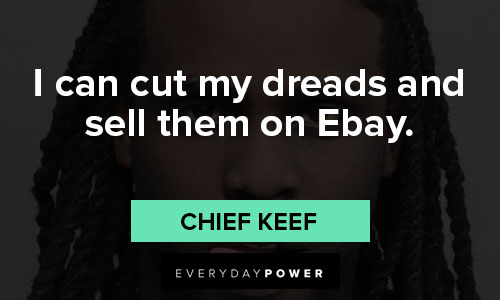 14. "If I still went to school, I would walk in so icy." ― Chief Keef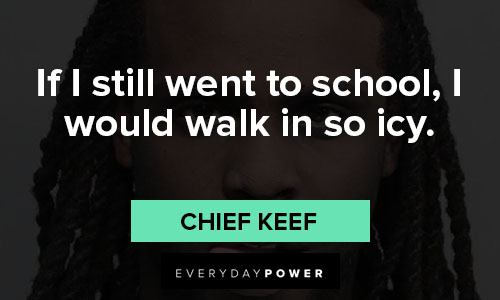 15. "I been ballin' so damn hard I swear I think that I'm Kobe." ― Chief Keef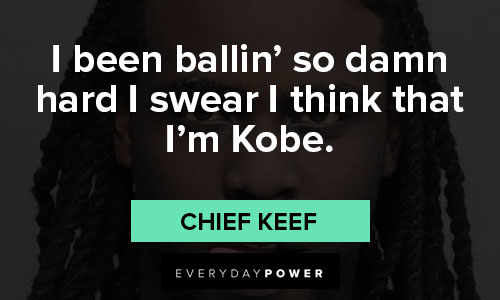 16. "I'm starting my day off with a blunt of herb, looking myself up see how much I'm worth." ― Chief Keef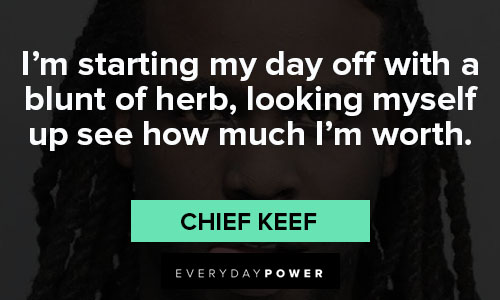 17. "I come up on the scene, and I'm stealing light. Bi*ch I'm high off life, got me feeling right." ― Chief Keef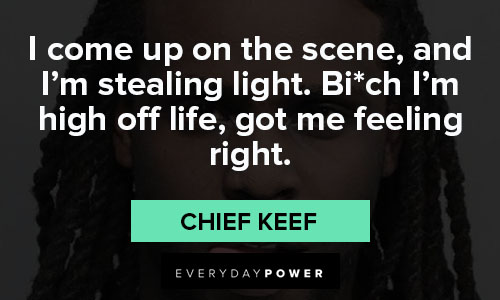 18. "I come up on the scene, and I'm stealing light. B**** I'm high off life, got me feeling right." ― Chief Keef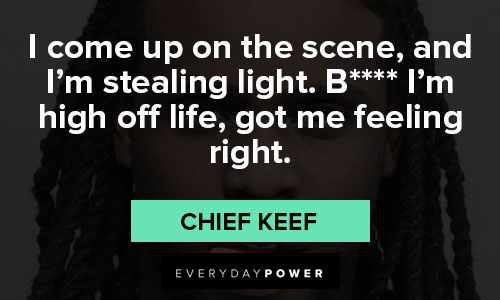 19."Ain't nobody surf — everybody try to skateboard, referring to rappers like Lil Wayne and Lupe Fiasco. It'll be cool. It's a hobby." ― Chief Keef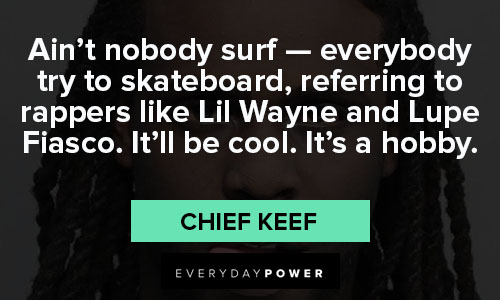 20. "I used to know how to draw and do art. When I was 7 years-old, I learned how to draw. I think it's a way to express myself through pictures, pictures of me, all pictures of me. I love art." ― Chief Keef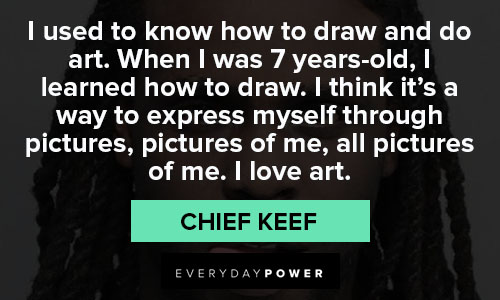 Did the Chief Keef quotes make you think he was wilder or calmer than you thought?
The gangsta rap style he is known for doesn't stop with this music.
Over the years, Chief Keef had his share of legal issues.
He has been arrested multiple times and spent time in and out of court and jail for drugs, shooting at police officers, reckless behavior, assault, and more.
Within the music industry, he has been viewed by many as an influential figure in the hip-hop industry and was part of popularizing the sub-genres of mumble rap and Chicago's drill music scene.
Some believe his work paved the way for others, like Playboi Carti, Lil Pump, and Lil Uzi Vert.
Do you think that the Chief Keef Quotes match what his music portrays?
Share with your friends and post comments below to keep the conversation going.