These Cuddle Quotes Will Have You Looking for a Partner to Squeeze
If you love a good snuggle from time to time, you'll love these cuddle quotes.
There's no denying that we need other people in our lives.
We weren't meant to do life alone.
And sometimes, you just need a good cuddle from someone that you care about.
You may also enjoy our article on:
Ready for a cuddle?
It could be that you are having a bad day and need a little comfort.
Or it could be that you just want to be close to the person you love the most in the world.
It doesn't matter if you're young or old, a good cuddle can make things seem right in the world.
In that respect, below is our collection of loving cuddle quotes and sayings, collected from a variety of sources over the years.
Check out our most popular quote article, a list of short inspirational quotes for daily inspiration.
If you enjoy this collection, check out our inspirational quotes category page.
Cuddle quotes to remind of your love for your partner
1. "I'm tired of going to an empty bedroom every night. I wish I had a girl I could cuddle with." – Harry Styles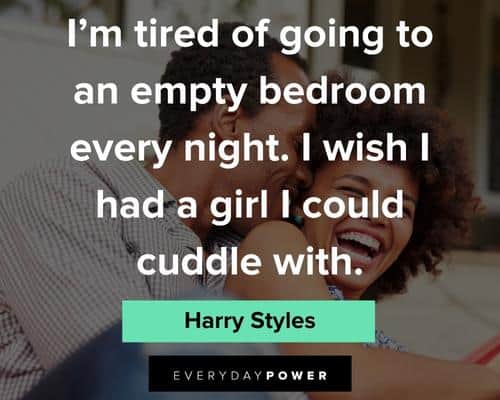 You will also enjoy our article on actions speak louder than words quotes.
2. "Cuddle up. Rain always stops. It always stops. It always does." – Ellen Gilchrist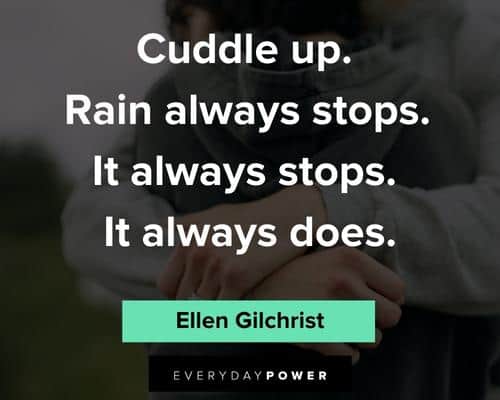 You will also enjoy our article on time flies quotes.
3. "Being cuddly has nothing to do with size." – Brigitte Nielsen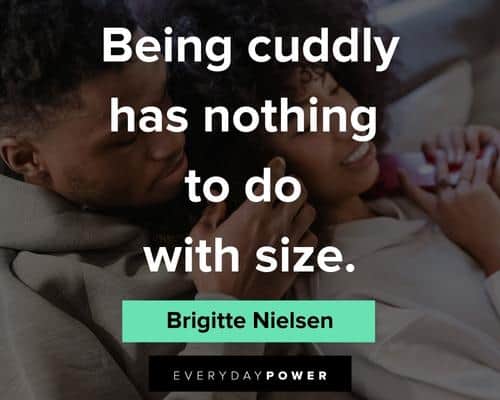 You will also enjoy our article on good morning texts for her.
4. "I'm a little monster. Cuddling is my special attack." – Crina Popescu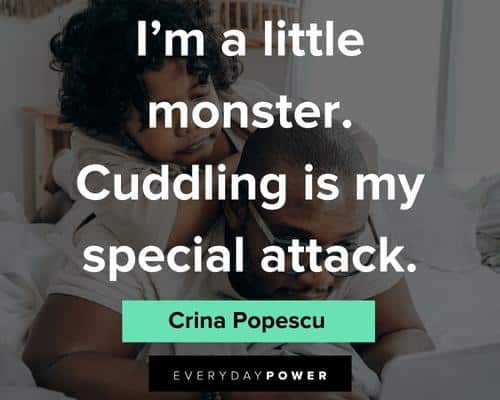 You will also enjoy our article on good night quotes.
5. "I don't have any particular burning desire to go back to being cuddly. Not really." – Hugh Grant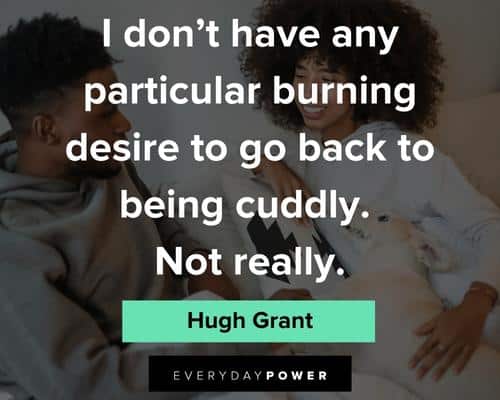 You will also enjoy our article on grandma quotes.
6. "If models are made for modeling, thick girls are made for cuddling." – Andre Benjamin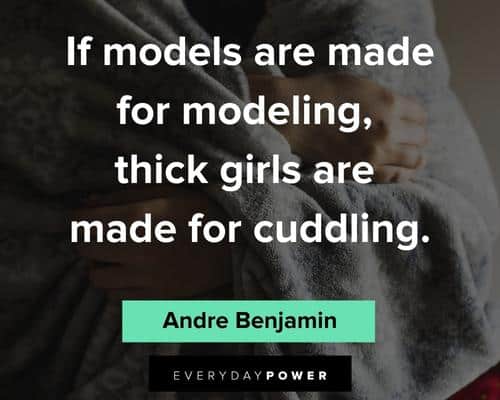 You will also enjoy our article on Mary Poppins quotes.
7. "I just want to be your teddy bear." – Elvis Presley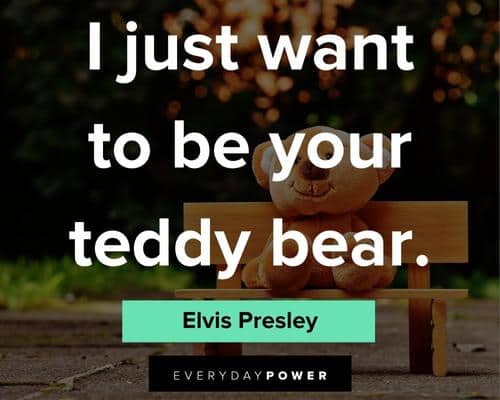 You might also like these powerful hug quotes
Cuddle quotes about the comfort
8. "You can never have too many books or too many hugs." – Gina House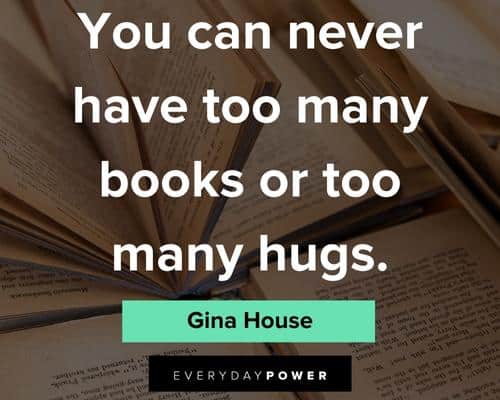 You will also enjoy our article on pet quotes.
9. "They invented hugs to let people know you love them without saying anything." – Bil Keane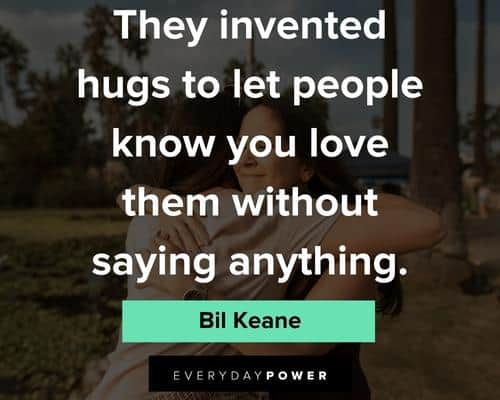 You will also enjoy our article on aunt quotes.
10. "Cuddling with you feels like touching stars." -Giovannie de Sadeleer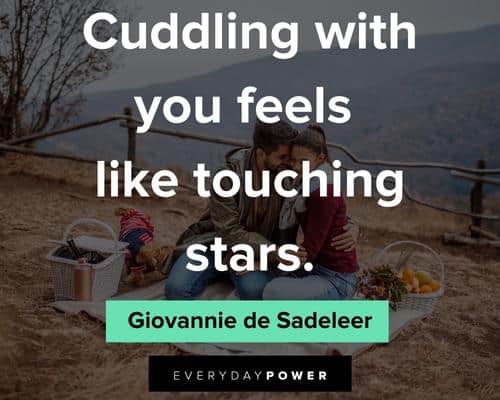 You will also enjoy our article on rain quotes.
11. "Come, cuddle your head on my shoulder, dear, your head like the golden rod, and we will go sailing away from here to the beautiful Land of Nod." – Ella Wheeler Wilcox
Cuddle quotes about the best times to snuggle
12. "Fight less, cuddle more. Demand less, serve more. Text less, talk more. Criticize less, compliment more. Stress less, laugh more. Worry less, pray more. With each new day, find new ways to love each other even more." – Dave Willis
13. "When it's cold & dark at night, and we're alone together, I long to take you in my arms, and cuddle you forever." – Giles Andreae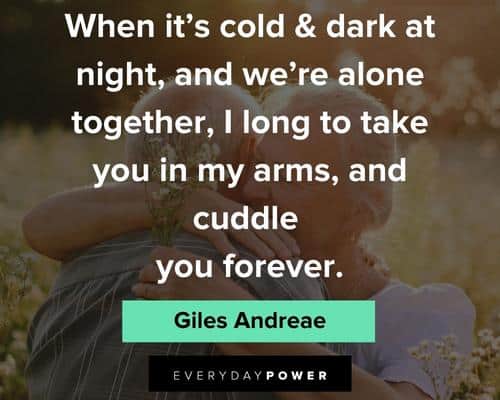 You will also enjoy our article on polar express quotes.
14. "Sunday night meant, in the dark, wintry, rainy Midlands… anywhere where two creatures might stand and squeeze together and spoon… Spooning was a fine art, whereas kissing and cuddling are calf-processes." – D.H. Lawrence
15. "I love fall because I love the whole cuddling aspect of it, and a sweater dress has that vibe of I'm going to hunker down and be warm, but it's also very feminine." – Jessica Chastain
16. "My days, if they start in the morning with a cuddle from my son, are just so much more glorious than they were prior to that." – Russell Crowe
Don't forget to also read these romantic freaky quotes to share with your bae.
Cuddle quotes about animals
17. "There is something really mysterious about lions. They could rip you apart if they wanted to, but at the same time they look so cuddly. Can you imagine what humans look like to animals? They must think we're so weird." – Lee Ryan
18. "There's nothing else I would rather do, unless there was a profession that involved cuddling bunny rabbits and kittens all day for money." – Kat Dennings
19. "I read that when cats are cuddling and kneading you, and you think it's cute, they're really just checking your vitals for weak spots." – Kandyse McClure
20. "Petting, scratching, and cuddling a dog could be as soothing to the mind and heart as deep meditation and almost as good for the soul as prayer." – Dean Koontz
If you're enjoying these quotes, you'll love our collection of funny dog quotes to make you LOL with your furry best friends.
21. "Rottweilers are really protective. They always want to be around you, and they are really cuddly. They are good around family." – Le'Veon Bell
You will also enjoy our article on german shepherd quotes.
More cuddle quotes
22. "Don't get me wrong, I like to cuddle. But there is such a fine line between cuddling and holding someone down so that they can't get away." – Dave Attell
23. "I feel like a total hippie right now. I'm passionate about all sorts of things – a lot of boring, cuddly Hallmark things, to be honest." – Dreama Walker
If you're enjoying these quotes, make sure to read our collection of motivational hippie quotes to inspire positivity.
24. "You know how as a kid you picture yourself with a tall, handsome husband, and you imagine him cuddling your baby? Ben is like that, like, on crack." – Jennifer Garner
25. "One surprise of motherhood for me was how little control I have. I thought it would be blissful romance with me at the helm, cuddling this little creature. It's been bittersweet and humbling to let her lead and to not try to be perfect myself." – Amanda Peet
26. "I'd do anything to cuddle up to you, lay my head on your chest and fall asleep while you hold me right now." – Unknown
27. "Memories keep us stay alive as they gently cuddle us along the squirming roads of our lives and even warn us sometimes of insidious pitfalls." – Erik Pevernagie
28. "What is life, without your arms around me? What is life without the smell of you next to me? What is life without you by my side? Cuddle me, love me and promise never to ever live my side." – Jane Thomson
29. "I miss having someone to cuddle up and have an early night with. But I'm looking. Meanwhile, I'm having a few relationships that don't mean much." – Robbie Williams
30. "I feel your love so real in my love, so true and strong especially when you put your arms around me. You make me always crave your cuddles." – Purity Hogan
Also check out these true love quotes and sayings for the hopeless romantic.
Cuddle quotes that make you want to stay home with your loved one
31. "With our sides pressed together and his arm around my shoulders, it was like having one foot in the past and one in the present."  -Jennifer L. Armentrout
32. "When I pick up one of my children and cuddle them, all the strain and stress of life temporarily disappears. There is nothing more wonderful than motherhood and no-one will ever love you as much as a small child." – Nicola Horlick
33. "I have found the best place to be in the entire world… standing by your side." -Ronan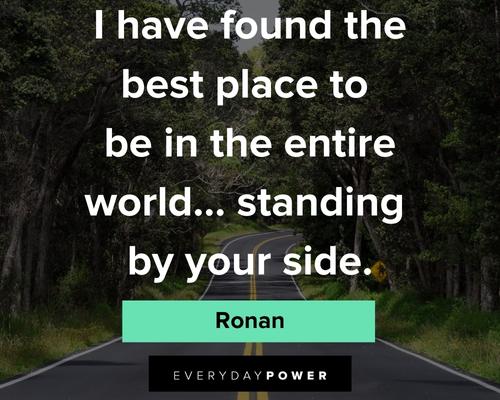 34. "Things I like: cuddling, you, cuddling with you."-Serpil Ozturkmen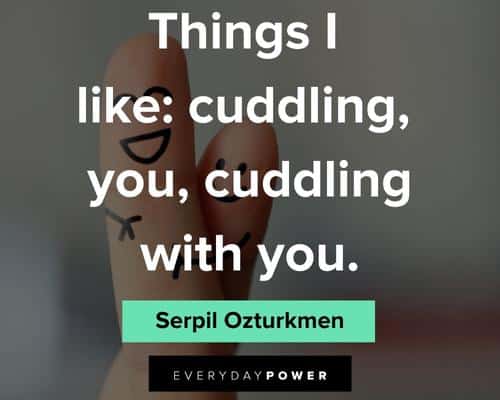 35. "Come snuggle with me on this early eve because I just want to feel your heart beat."-Michael P. McParland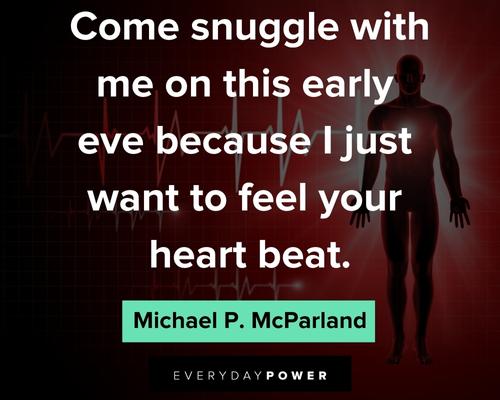 36. "Living cuddled in your life is one thing I would give my life for, having to be kissed by you every morning I would die for and without you; my life is not worth living." – James Clarke
37. "He imagined them sitting somewhere, just enjoying each other's company, her head on his chest, his arm around her. And he realized how desperately lonely he had become." – Tim LaHaye
38. "Let's cuddle so I can steal your body heat."-Ivy Woodson-Holm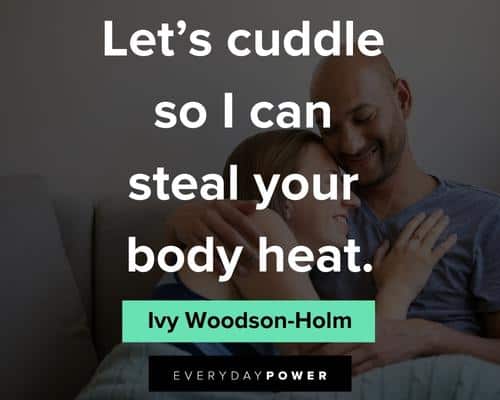 39. "Sundays are for cuddling." -Author Unknown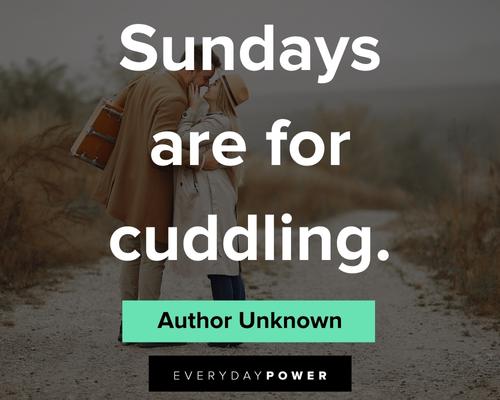 40. "Snuggle up and feel so safe and comfy, and know that you'll never be lonely."-Michael P. McParland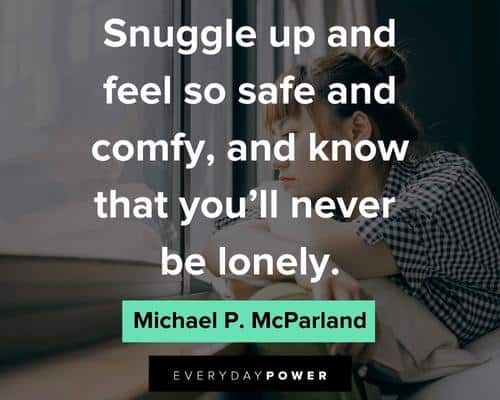 Cuddle Quotes That Makes You Want to Hug Your Partner Every Day
41. "'Sweet dreams, baby,' he whispered into my hair, his arm giving me a squeeze. 'See you on the other side.'" ― Kristen Ashley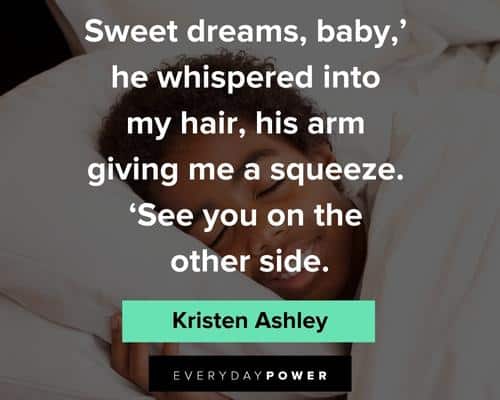 42. "I wrapped my arms around him, threading my fingers through his hair, wanting to be as close as humanly possible to this person I loved so much." ― Raleigh Ruebins
43. "I don't need you, but the world, sometimes, seems more peaceful and manageable when holding someone." ― Darnell Lamont Walker
44. "Just the thought of being with you tomorrow is enough to get me through the day." – Sara Baio
45. "Even the memory of cradling her in my arms is pure euphoria. And all that I ask out of life is that it be constant and unending euphoria." ― Roman Payne
46. "Being in love with you makes every morning worth getting up for." – Jasminder Singh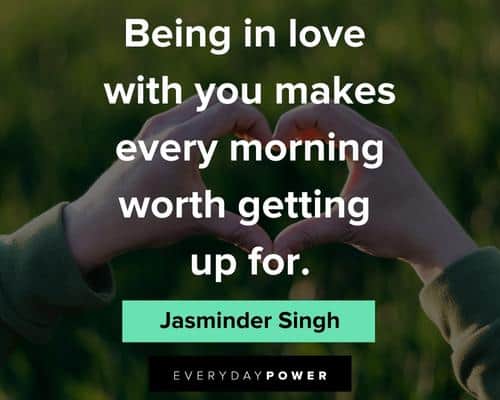 47. "I would like to crawl under the sheets with you and cuddle until sunrise, forever." – Cora Nigro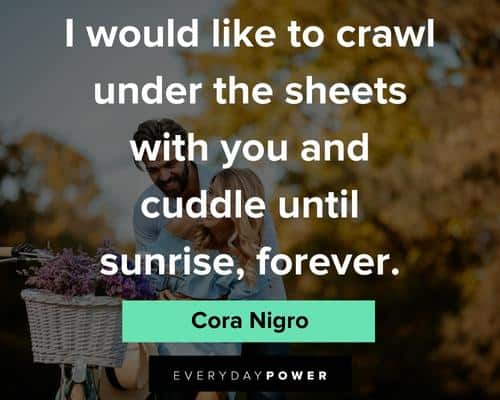 48. "This cuddle weather makes me want to dial her number." – Supriyo Ghosh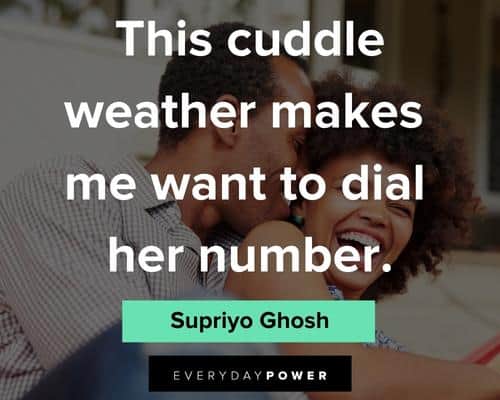 49. "All I really wanted to do was cuddle back under the blankets, maybe with a certain stuffed toy penguin I knew." – Laurell K Hamilton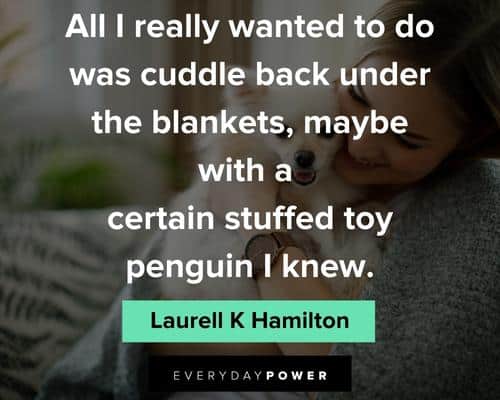 50. "Come cuddle close in daddy's coat Beside the fire so bright, And hear about the fairy folk That wander in the night." – Robert Bird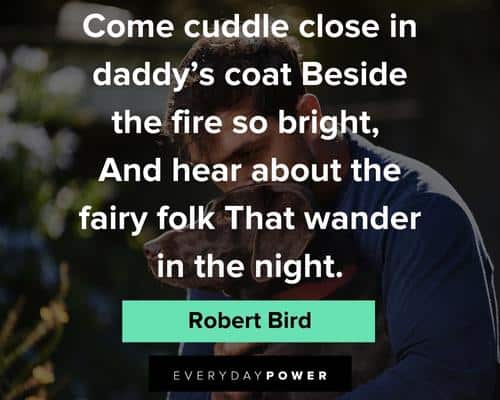 Cuddle Quotes To Warm Your Heart
51.  "Do me a favor and get in my bed and cuddle me all night." —  Jodi Winkler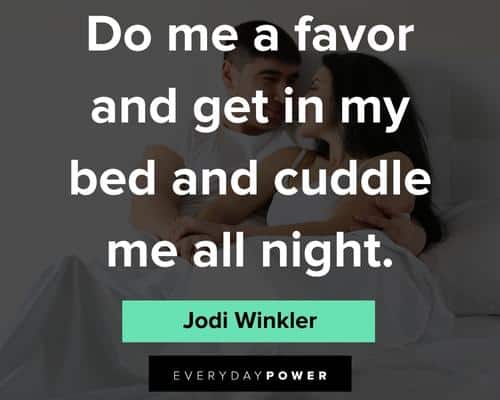 52. "Above all else, a cuddle must be comfortable for it to be comforting." — Rob Grader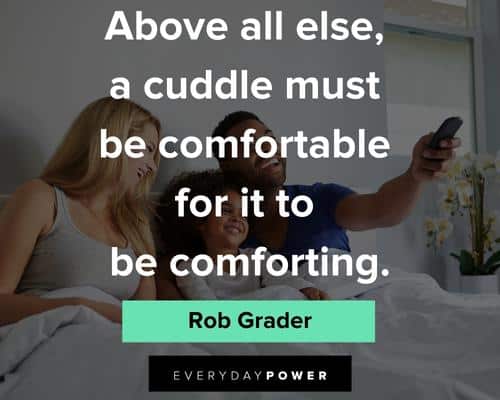 53. "Moms are always busy but never too busy to give you a quick cuddle." — Richard Exley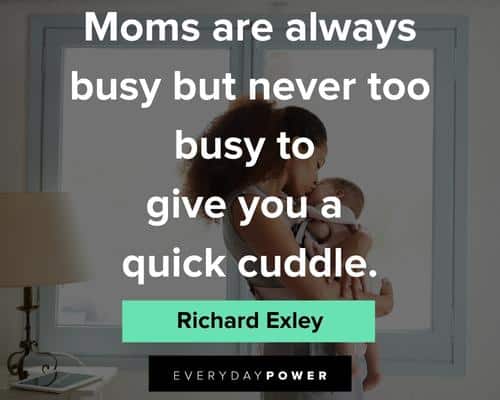 54. "I get really upset some days , and I really just wish I had someone there to cuddle." — Harry Styles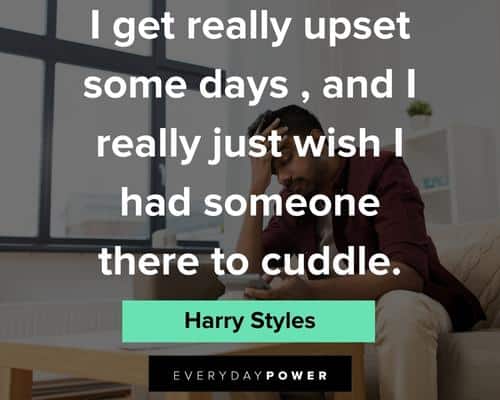 55. "I want to be able to go home after work, put on my sweats, wipe off my makeup, and cuddle up with someone who doesn't care and is fine with that." — Victoria Justice
56. "Within the simple act of an embrace, two people can be joined together in such an intense bond taht words no longer serve a purpose. The cuddle says it all." — Rob Grader
57. "One of the magical things about cuddling is that anyone can do it. It is not limited by gender, age, sie, or acrobatic abilities." — Rob Grader
58. "I have learned that there is more power in a good strong hug than in a thousand meaningful words." — Ann Hood.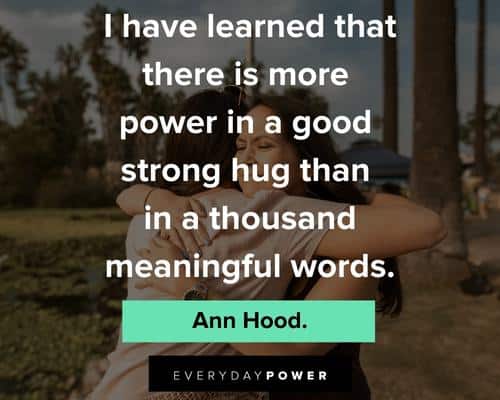 59. "Cuddling my baby, cuddling soo tight, Oh dear stress no more fights!" — Sarah Khan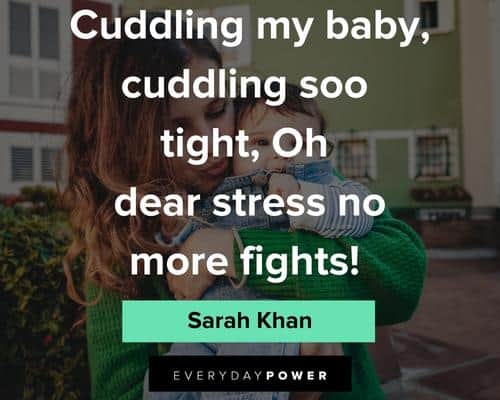 60. "I get those cuddles on his bed or on his couch and I get those hugs at Skool or in his car." — Andrea Celestine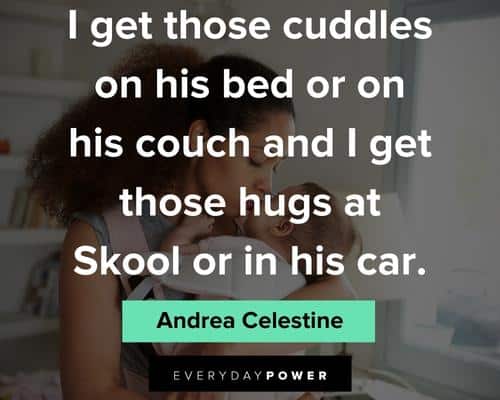 Cuddle Quotes To Give You Warmth
61. "I'm not a hugger. People make fun of me. It's something that I have a hard time with. If someone hugs me, I hold my breath. Snuggling, cuddling, hugging, crying – all that stuff makes me very uncomfortable." ― Angelina Jolie
62. "Cuddle time can help your baby calm down after an upset or get ready for naps and beds. Make cuddling a frequent part of your daily routine." ― Elizabeth Verdick
63. "It's similar to the way you feel cuddling an infant or a kitten when you want to squeeze it so hard you'd kill it." ― Zoe Heller
64. "Grandma's cuddles start with a hug, / And soon you're feeling safe and snug. / She pulls you in then tickles your chin, / And asks you how your day has been." ― Sonica Ellis
65. "Love for me is innocence, honesty, compassion, trust, loyalty, a gentle summer breeze, sunshine, a great cuddle." ― AJ McLean
66. "Cuddle and love me, cuddle and love me,' / Crows the mouth of coral pink: / Oh, the bald head, and, oh, the sweet lips, / And, oh, the sleepy eyes that wink!" ― Christina Georgina Rossetti
67. "End up blowing all of his wages for the week, all for a cuddle and a peck on the cheek." ― Ray Davies
68. "Once you are physically communicating with your partner through the cuddle, verbal communication will have even more of an impact." ― Rob Grader
69. "When you miss your loved one, remember the beautiful moments you've had with them. And when your heart swells, cuddle your pillow and let your tears soothe the pain." ― Anoir Ou-Chad
70. "There is no wrong way to cuddle, but there are ways to make your cuddles more intimate and enjoyable." ― Rob Grader
Cuddle Quotes To Make You Fall In Love
71. "Our bodies are made to nurture and cuddle and all of those amazing things that come along with being a mom." ― Alyssa Milano
72. "Cuddling was for great aunts and teddy bears. Cuddling gave him cramp." ― David Nicholls
73. "All this cuddling and kissing on stage these days, well it's all right in football when someone scores a goal, but not when you're playing darts." ― Eric Bristow
74. "I love it when I hug someone, and just when I'm about to let go, they hug me even tighter." ― Nitya Prakash
75. "Yeah, I treat all my heroines like children now. I pick them up, I cuddle them, I call them baby." ― Shahrukh Khan
76. "I can sit on her lap, though, and she tells me stories about when she was young and I can cuddle up with her. It sounds weird, but I like to snuggle into her and smell her and rub her arm in my face. She is cozy." ― Patty
77. "He looks such a wooly cuddle and sounds smoother than a pint of Guinness going down a dry throat." ― Clive James
78. "When I look into your eyes, / I see you're in love, / When we cuddle I feel safe, / And I don't feel like a waif." ― Angelina Sabia
79. "All my friends are bums. We all gather around our camp-fire (in a can) and sing songs of togetherness as we cuddle, to preserve our warmth…" ― Will Advise
80. "It is wonderful to be in the country in a glasshouse because no matter what happens out there, you're nice and safe, you know, cuddled in your little bed, and there it is, raging storms, snowing – wonderful." ― Philip Johnson
Cuddle Quotes on the Power of Physical Affection
81. "You are the one I want to spend the rest of my life with, the one I want to wake up next to every morning." — Nicholas Sparks
82. "Even on bad days, I'll still be happy with you." — Nicole Rosatti
83. "Feel the presence of love, wrapped up within a hug." — Robert M. Hensel
84. "This is a place where grandmothers hold babies on their laps under the stars and whisper in their ears that the lights in the sky are holes in the floor of heaven." — Rick Bragg
85. "There's nothing that I wouldn't do to make you feel my love." — Bob Dylan
86. "I could never get tired of holding you and being held by you. That's all I need to be happy." — Nicholas Sparks
87. "Boys, at war, so far away, will naturally droop, both in body and mind, from lack of a particular girl's snuggling and cuddling." ― Ernest Vincent Wright
88. "Every conversation, every cuddle, every kiss and caress, even every disagreement, adds another brushstroke to the picture of home you paint with the days and hours of your life." — Thomas Kinkade
89. "When I come home, my daughter will run to the door and give me a big hug, and everything that's happened that day just melts away." — Hugh Jackman
90. "I love the way you feel in my arms, it's like coming home." — J.R. Ward
Did you enjoy these cuddle quotes?
Do all these cuddle quotes have you wanting to snuggle your kids close or cuddle up with your partner on the couch?
Cuddling can communicate love, show your support or give comfort to someone that needs it.
And, the best part is you can communicate so many things without having to speak a word.
People of all ages can use a good cuddle from time to time.
Don't be afraid to ask for a hug when you need one or to give one if you see someone you care about that could use it too.
It's an easy way to communicate all your positive feelings for someone.
Did you enjoy these loving cuddle quotes?
Which of the quotes is your favorite?
Tell us in the comment section below.
We would love to hear all about it.