Cigar Quotes For All the Cigar Aficionados
These cigar quotes from cigar aficionados will certainly try to help you understand the allure of smoking cigars.
We have all seen a scene in a movie where a new father passes cigars around to celebrate, or an old-school gumshoe smokes a cigar while working a case.
Cigars seem to have this old-fashioned vibe attached to them, will everyone from Winston Churchill and Mark Twain praising the tobacco product.
You may also enjoy our article on:
According to a survey conducted by Cigar Aficionado, over 90% of cigar smokers say they smoke cigars for relaxation, with 83% saying they enjoy the taste.
This highlights the importance of relaxation and flavor in the cigar smoking experience.
However, even modern stars like Demi Moore sing their praises.
So, what is the point of smoking a cigar?
It comes down to relaxation, celebration, and taste. Similar to cigarettes, cigars also contain nicotine, which is a chemical relaxant.
The difference though is that the average cigar contains between 100 to 200mg of nicotine.
In contrast, the average cigarette only contains about 10mg.
This means you would need to smoke 10 to 20 cigarettes to get the same amount of relaxant as one cigar.
It isn't just about the chemical form of relaxant for cigar smokers.
Keep reading through these cigar quotes to find out how the act of smoking a cigar helps that relax.
Don't forget to also check out these weed quotes to lift your stoner spirits.
If you enjoy this article, check out our most popular quote article, a list of short inspirational quotes for daily motivation.
If you want more motivational quotes, check out our motivational quotes category page.
Cigar quotes from famous authors and poets
Cigars have been enjoyed by many famous historical figures, including Winston Churchill, Mark Twain, and John F. Kennedy.
Their love for cigars and the accompanying quotes have helped to elevate the cigar to a symbol of luxury and sophistication.
1. "I never smoke to excess—that is, I smoke in moderation, only one cigar at a time." — Mark Twain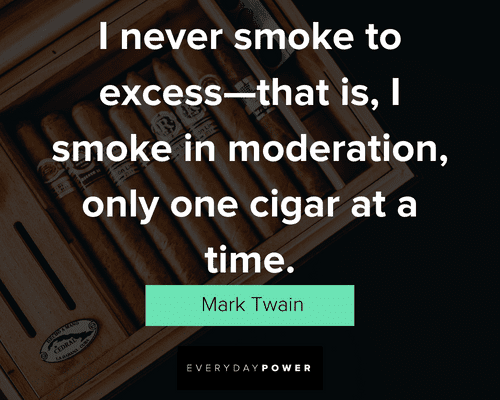 You will also enjoy our article on stoner quotes.
2. "Sometimes a cigar is just a smoke and a story's just a story." — Stephen King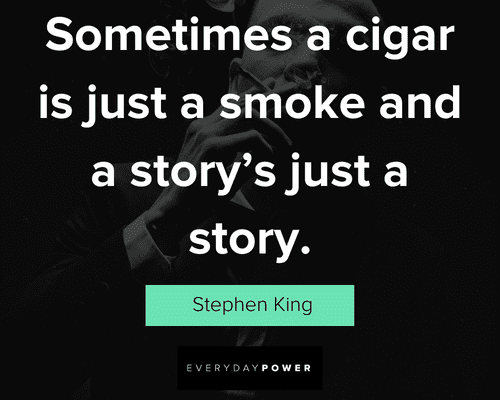 You will also enjoy our article on ron swanson quotes.
3. "A good Havana is one of the best pleasures I know." — Somerset Maugham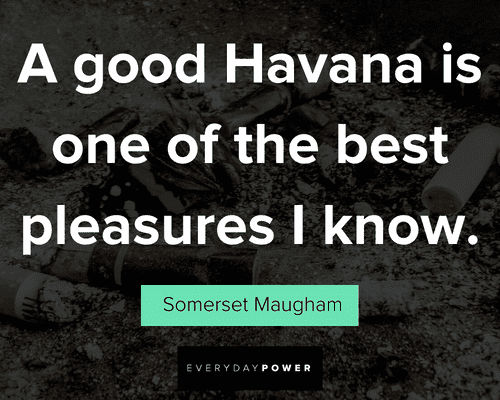 You will also enjoy our article on quotes on having a positive attitude.
4. "A cigar is a sort of thing, not exactly a pleasure, but the crown and outward sign of pleasure." — Tolstoy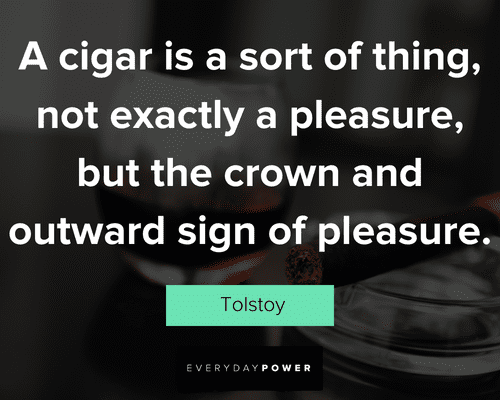 You will also enjoy our article on duke nukem quotes.
5. "Eating and sleeping are the only activities that should be allowed to interrupt a man's enjoyment of his cigar." — Mark Twain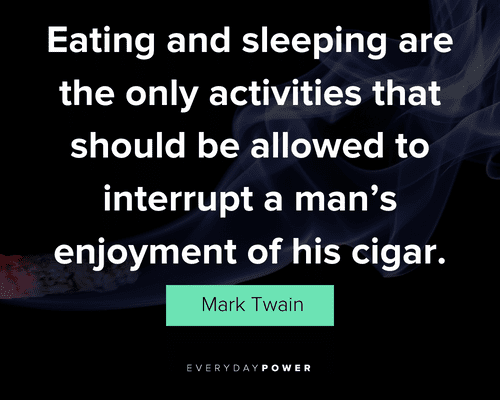 You will also enjoy our article on blue quotes.
6. "When all else fails…try smoking a good cigar and have a stiff drink." — Timothy Pina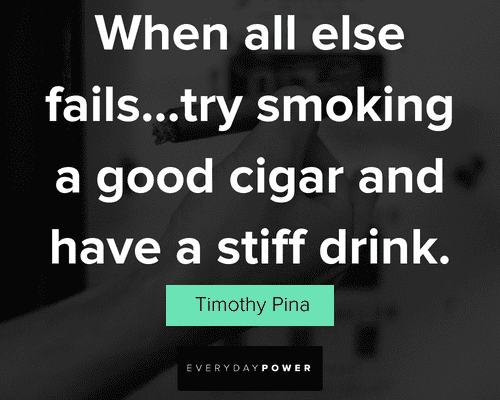 You will also enjoy our article on annie oakley quotes.
7. "Cigars are too expensive, to smoke them for any reason other than enjoyment." — Jonah Goldberg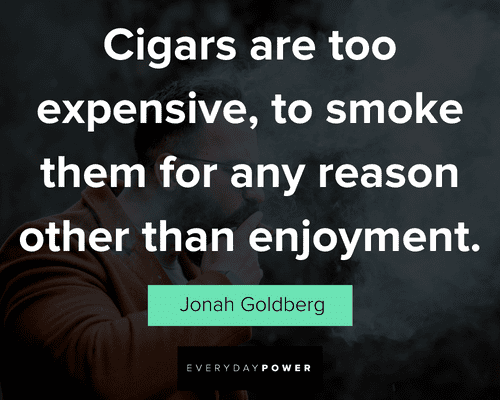 You will also enjoy our article on weekend quotes.
8. "When a man is smoking a cigar, wearing a hat, he has an advantage; it is harder to find out how he feels." — Saul Bellow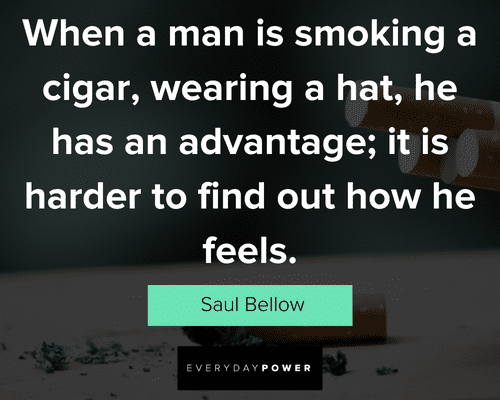 You will also enjoy our article on fishing quotes.
9. "The most futile and disastrous day seems well spent when it is reviewed through the blue, fragrant smoke of a Havana Cigar." — Evelyn Waugh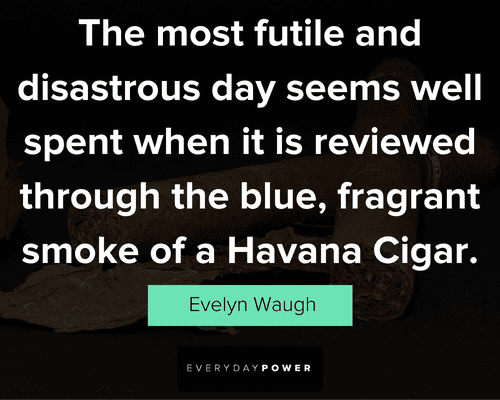 You will also enjoy our article on jury quotes.
10. "The cigar smoker, like the perfect lover or bagpipe player, is a calm man, slow and sure of his wind." — Marc Alyn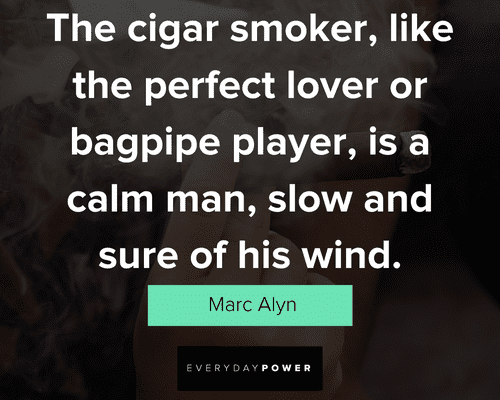 You will also enjoy our article on Matthew McConaughey quotes.
Cigar quotes from famous people
A study published in the journal Appetite found cultural factors, such as upbringing and social status, often influence taste preferences for cigars.
This suggests that the appreciation of cigars is not just based on individual taste but also broader cultural and social contexts.
11. "Some people meditate; I smoke cigars." — Ron Perlman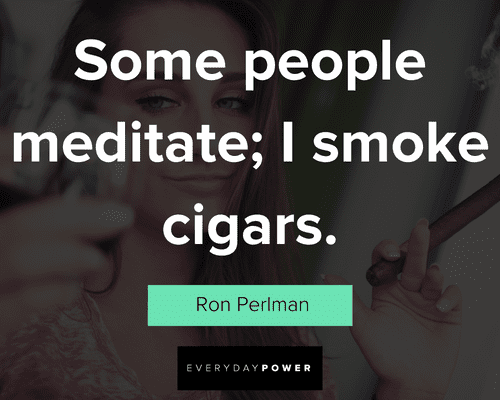 You will also enjoy our article on happy friday quotes.
12. "A good Cuban cigar closes the doors to the vulgarities of the world." — Franz Liszt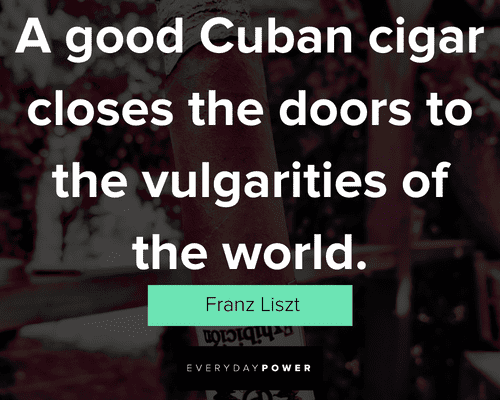 You will also enjoy our article on dandelion quotes.
13. "The cigar must match the shape of the smoker. Round-faced people should avoid long, thin cigars and vice-versa." — Kees Van Dongen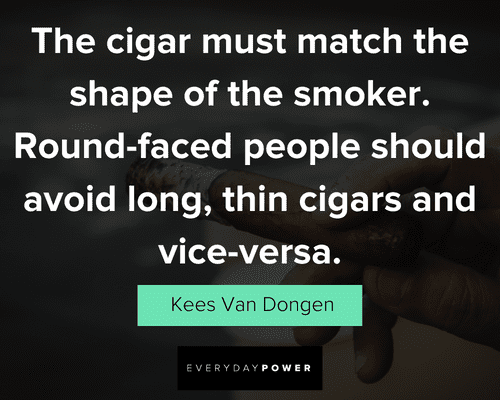 You will also enjoy our article on grandma quotes.
14. "The only way to break a bad habit was to replace it with a better habit." — Jack Nicholson, explaining why he switched from cigarettes to cigars.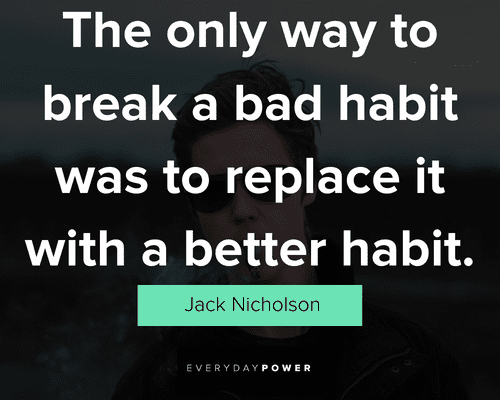 You will also enjoy our article on how to roll a joint.
15. "Fresh air makes me throw up. I can't handle it. I'd rather be around three cigars blowing in my face all night." — Frank Sinatra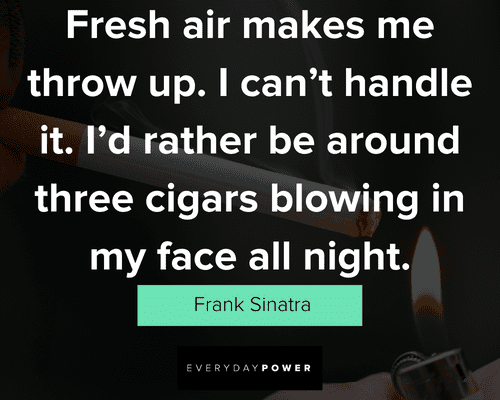 16. "Why pay $100 on a therapy session when you can spend $25 on a cigar? Whatever it is will come back; so what, smoke another one." — Raul Julia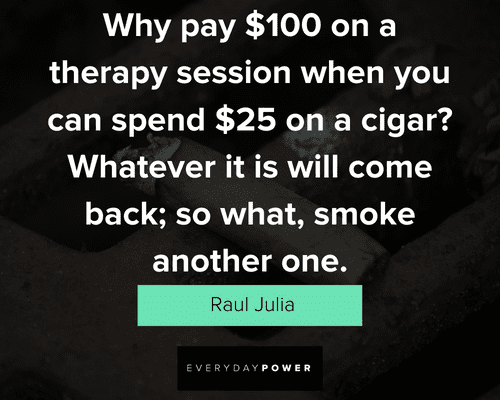 17. "I smoke ten to fifteen cigars a day. At my age, I have to hold on to something." — George Burns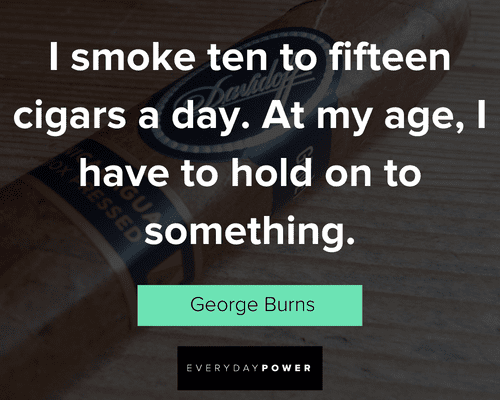 18. "Only fine cigars are worth smoking and only men who smoke fine cigars are worth kissing." — Joan Collins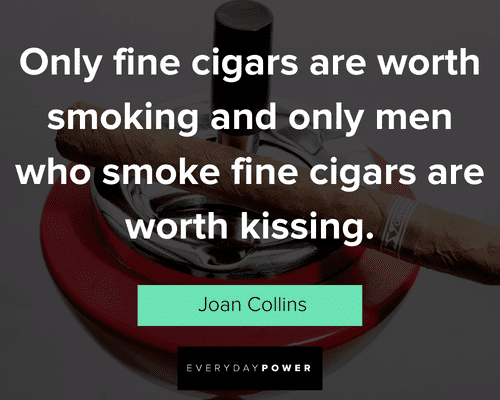 19. "If I had taken my doctor's advice and quit smoking when he advised me to, I wouldn't have lived to go to his funeral." — George Burns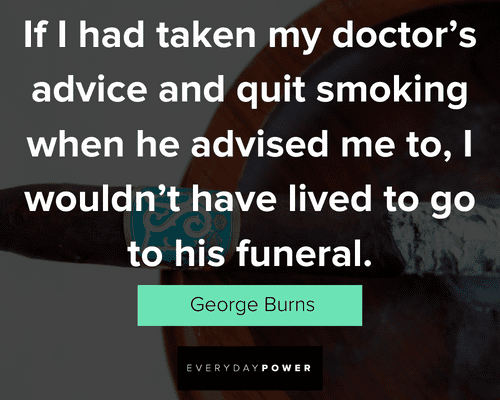 20. "Cigars served me for precisely fifty years as protection and a weapon in the combat of life… I owe to the cigar a great intensification of my capacity to work and a facilitation of my self-control." — Sigmund Freud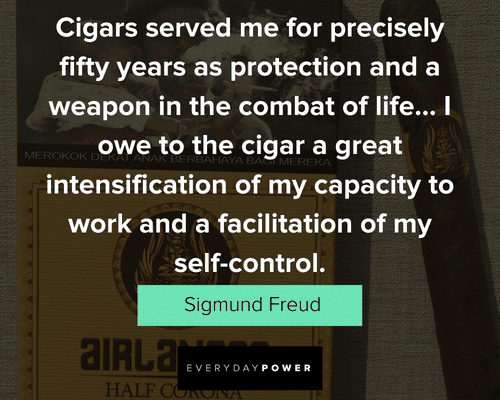 Funny cigar quotes mostly comparing them to women and alcohol
21. "Given the choice between a woman and a cigar, I will always choose the cigar." — Groucho Marx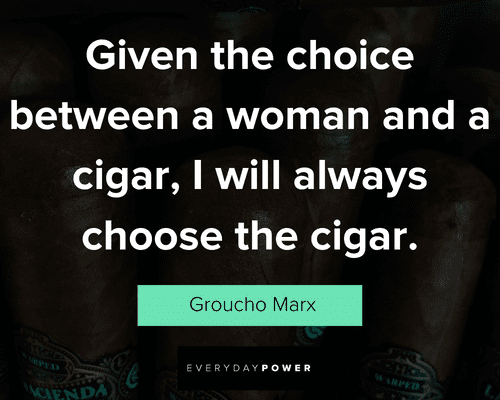 22. "A woman is only a woman, but a good cigar is a smoke." — Kipling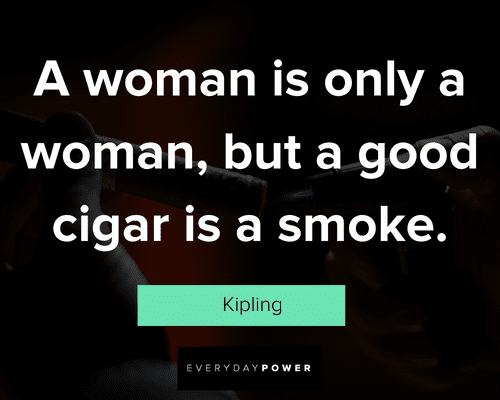 23. "A Havana Cigar is to the art of smoking what a great wine is to the art of drinking." — Alan Senderens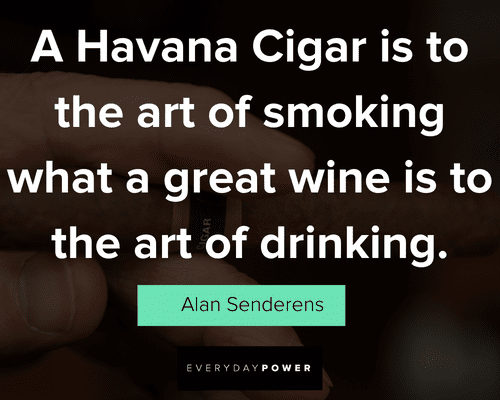 24. "Cigars—they're not just for breakfast anymore!" — Unknown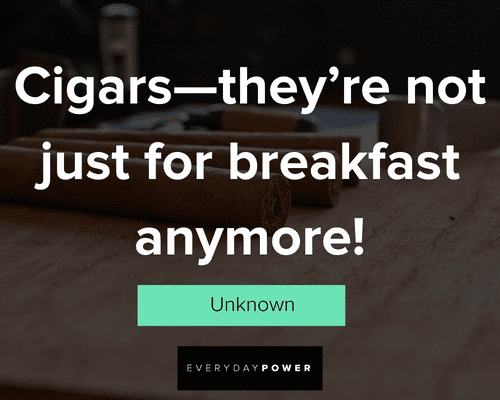 25. "If your wife doesn't like the aroma of your cigar, change your wife." — Zino Davidoff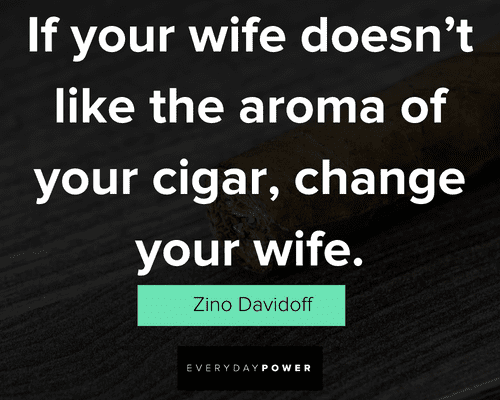 26. "Asthma doesn't seem to bother me anymore unless I'm around cigars or dogs. The thing that would bother me most would be a dog smoking a cigar." — Steve Allen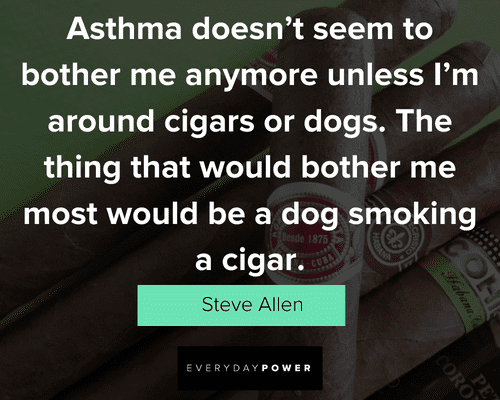 27. "A good cigar is like a beautiful chick with a great body who also knows the American League box scores." — Klinger in a M*A*S*H TV Episode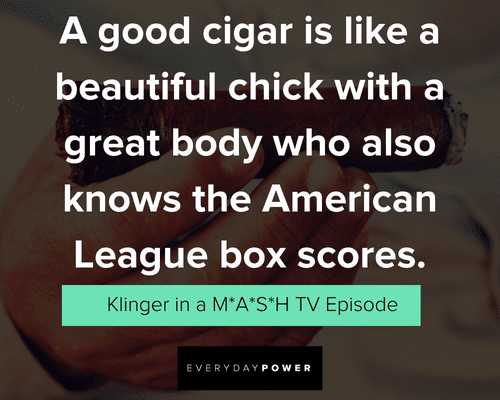 28. "Happiness? A good cigar, a good meal, a good cigar and a good woman—or a bad woman; it depends on how much happiness you can handle." — George Burns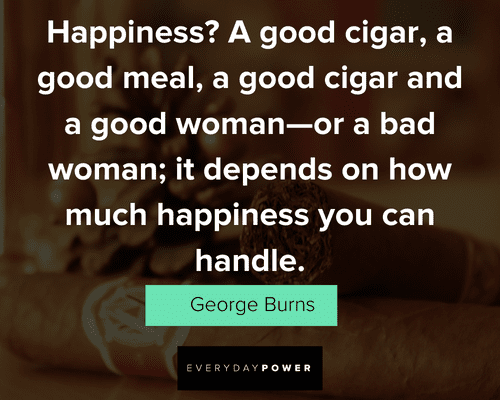 29. "There's something about smoking a cigar that feels like a celebration. It's like a fine wine. There's a quality, a workmanship, a passion that goes into the smoking of a fine cigar." — Demi Moore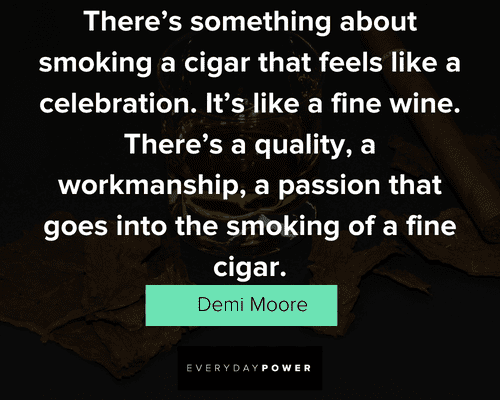 30. "I neither coughed nor felt sick. Instead, a sensation of wellbeing filled me, and I became slightly wired, not the reaction you get from alcohol, but sharper and calmer." — BBC reporter John Simpson, experiencing a cigar for the first time, Sunday Telegraph, July 1999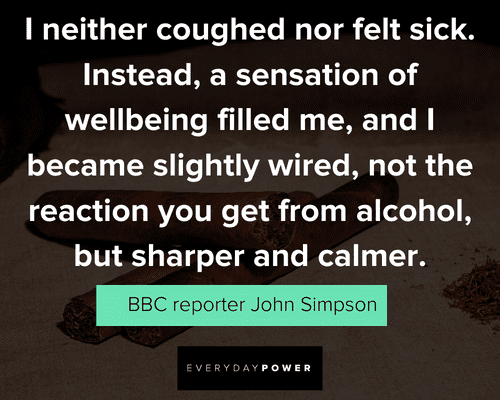 Cigar quotes from Winstone Churchill, politicians, and kings
31. "If you cannot send money, send tobacco." — George Washington
32. "Gentlemen, you may smoke." — King Edward VII of England (ending Queen Victoria's long smoking ban in court)
33. "Cheap cigars come in handy; they stifle the odor of cheap politicians." — Ulysses S. Grant
34. "I drink a great deal. I sleep a little, and I smoke cigar after cigar. That is why I am in two-hundred-percent form." — Winston Churchill
35. "Smoking cigars is like falling in love. First, you are attracted by its shape; you stay for its flavor, and you must always remember never, never to let the flame go out!" — Winston Churchill
36. "There is nothing more agreeable than having a place where one can throw on the floor as many cigar butts as one pleases without the subconscious fear of a maid who is waiting like a sentinel to place an ashtray where the ashes are going to fall." — Fidel Castro
37. "I must point out that my rule of life prescribed as an absolutely sacred rite smoking cigars and also the drinking of alcohol before, after, and if need be during all meals and in the intervals between them." — Winston Churchill
Cigar quotes about heaven and God and souls
38. "If heaven has no cigars, I shall not go there." — Mark Twain
39. "I intend to smoke a good cigar to the glory of God." — Charles Spurgeon
40. "In heaven, tobacco will be good for you." — Unknown
41. "Everyone should believe in something. I believe I'll have another cigar." — Unknown
42. "Heaven is a large Havana cigar with black coffee for breakfast." — Rev Thaddeus Birchard
43. "A good cigar is proof that God loves us and wants us to be happy." — Unknown
44. "I smoke a cigar to celebrate the joy that is life." — Unknown
45. "By the cigars they smoke, and the composers they love, ye shall know the texture of men's souls." — John Galsworthy
Hilarious Cigar Quotes To Make You Laugh
46. "Tobacco is the plant that converts thoughts into dreams." – Victor Hugo
47. "It has always been my rule never to smoke when asleep, and never to refrain when awake." – Mark Twain
48. "There's a ritual about smoking a cigar that slows my clock down." – Matthew McConaughey
49. "Cigar smoking by its very nature is much more reflective than interactive." – Michael Douglas
50. "Cigars solicit conversation. You see someone smoking a cigar and you feel instantly closer to them." – Michael Stahan
51. "Tobacco is the passion of honest men and he who lives without tobacco is not worthy of living." – Moliere
52. "Cigars force me to slow down and live in the present." – Muata Onyemachi
53. "My favorite cigar is a free cigar." – Nelson Monteiro
54. "Personally, I believe a rocking hammock, a good cigar, and a tall gin-and-tonic is the way to save the planet." – P. J. O'Rourke
55. "I'll smoke anything anybody gives me." – Peter Falk
Cigar Quotes To Celebrate a Good Smoke
56. "The cigar is the perfect complement to an elegant lifestyle." — George Sand
57. "There are two things worth living for, one is a good cigar, the other is a better one." — Raul Julia
58. "I am sure there are many things better than a good cigar, but right now, I can't think of what they might be." — Richard Carleton
59. "A cigar is as good as the memories that you have when you smoke it." — Raul Julia
60. "Any cigar smoker is a friend, because I know how he feels." — Alfred de Musset
61. "A good smoker, like a good lover, always takes his time with a cigar." — Guillermo Cabrera Infante
62. "Life's too short to drink bad wine or smoke poor cigars." — Don Johnson
63. "I think cigars are just a tremendous addition to the enjoyment of life." — Rush Limbaugh
64. "If smoking cigars is not permitted in heaven, I won't go." — Mark Twain
65. "My boy! Smoking is one of the greatest and cheapest enjoyments in life, and if you decide in advance not to smoke, I can only feel sorry for you." — Sigmund Freud
Funny Cigar Quotes That Will Make You Smile
66. "I could juggle anything in my day. Balls, cigar boxes, knives…But there was one thing I could never juggle. My income tax." ― W. C. Fields
67. "Cigarette sales would drop to zero overnight if the warning said "CIGARETTES CONTAIN FAT." ― Dave Barry
68. "Somehow I had to turn the salted peanuts in the cigar box into petits fours." ― Ruta Sepetys
69. "I smoke really good cigars, I don't smoke Cuban cigars. I would never do anything as Un-American as smoke a decent cigar." ― Ron White
70. "I collect cigars. I love giving 'em away to people that really enjoy 'em, and I could think of no better place than West Point!" ― Rush Limbaugh
71. "I quit smoking cigarettes and with the $70 a month I am saving not smoking cigarettes I'm smoking $700 worth of cigars." ― Ron White
72. "A pipe for the hour of work; a cigarette for the hour of conception; a cigar for the hour of vacuity." ― George Gissing
73. "Cuban cigars are a big expense because I do smoke a lot of them, eight to 12 a day, so that would be almost as bad as a cocaine habit, a hundred bucks a day." ― Kinky Friedman
74. "If you think that one individual can't make a difference in the world, consider what one cigar can do in a nine-room house." ― Bill Vaughan
75. "I started smoking as soon as I went on the stage. I'd make cigars out of the Morning World when I was a kid." ― Groucho Marx
Cigar Quotes To Enjoy The Moment
76. "Break windows, smoke cigars, and stay up late. Tell 'em to do that, they'll find a little pot of gold." ― Tom Waits
77. "I'm at the age now where just putting my cigar in its holder is a thrill." ― George Burns
78. "I always smoked cigars. I've smoked cigars with everybody in show business." ― Al Hirt
79. "You know, what's nice about Montreal? Not only is it a beautiful city, but you have Cuban cigars…" ― Jamie Farr
80. "Ah, if only I had brought a cigar with me! This would have established my identity." ― Charles Dickens
81. "I have only one moral precept; never smoke more than five cigars at a time." ― Mark Twain
82. "Rhythm is best expressed in any swing directed at a cigar stump or a dandelion head." ― Grantland Rice
83. "If I paid $3 or $4 for a cigar, first I'd sleep with it." ― George Burns
84. "We all like people who do things, even if we only see their faces on cigar-box lids." ― Willa Cather
85. "I don't want to have a bad influence on anybody, but there's no point in my giving up cigarettes now. I won't die young." ― Golda Meir
Cigar Quotes To Smoke While Chilling
86. "There are a million really good cigars, you gotta really float around cigars. It's not like being locked into a brand of cigarettes; at least to me it's not." — Ron White
87. "I wrinkled my nose, trying to figure out what he smelled like. Not cigarettes. Something richer, fouler. Cigars." — Becca Fitzpatrick
88. "Every day my mother had tea. My dad has his ritual cigar. They had their evening cocktail. Those rituals were done nicely, with flair and feeling." — John Travolta
89. "But when I don't smoke I scarcely feel as if I'm living. I don't feel as if I'm living unless I'm killing myself." — Russell Hoban
90. "The light ones may be killers, the dark ones mild; not the wrappers but the fillers, make cigars or women wild." — Keith Preston
91. "I would rather smoke one cigar than hear two sermons." — Robert Green Ingersoll
92. "No cigar-smoker ever committed suicide." — William Maginn
93. "I smoke a cigar or two a day. I did have a brownie once. It made me sleepy." — Barney Frank
94. "I went to a cigar store, the man behind the counter asked me, "What kind of cigars do you like?" I answered, "It's a Boys."" — Mitch Hedberg
95. "It would be a service to mankind if the pill were available in slot machines and the cigarette were placed on prescription." — Malcolm Potts
Which of these Cigar quotes is your favorite?
Smoking a cigarette is quick—it takes maybe 10 minutes at most.
However, enjoying a cigar can take anywhere from 30 minutes to 2 hours depending on the size.
Imagine someone leaving you alone for that long!
If you think back to all the old movies or books where people smoked a cigar, you can probably picture them with their robe on and their feet up.
Chances are they also had a drink of something in their other hand.
These people clearly smoke cigars as an escape from the stress of their day.
Cigars are also often used when our favorite movie or novel characters have something to celebrate.
New fathers used to smoke cigars in the waiting rooms after their children were born.
People still mark impressive work milestones or career advances with a celebratory cigar.
I wouldn't know first hand, but apparently, they also taste pretty good.
It is said they have a subtly to them, much like coffee or spirits.
They just are more flavorful than cigarettes.
However, they do contain nicotine and tobacco and are not healthy by any means (even though George Burns disagreed).
Which of these Cigar quotes and sayings is your favorite?
Have you smoked a cigar before?
Let us know what all the hype is about in the comment section below!