50 Naughty Quotes for When You're Tired of Being Nice
If you've ever gotten tired of striving to be good, you'll like these naughty quotes.
There always seems to be a constant battle of naughty and nice in the world.
We're taught it from childhood.
And we all know that it's much better for our own lives to choose the good things and to choose to be nice instead of naughty.
But throughout life, it's something that people struggle with.
And sometimes, just knowing that you're not the only one can be enough to help you feel a little better.
These naughty quotes show that you're not the only one struggling to be nice.
Don't forget to also check out these badass quotes to jolt your motivation levels.
Being naughty quotes, sayings and captions
1. "If you smile when you are alone, then you really mean it, or you're up to something." – Saleem Sharma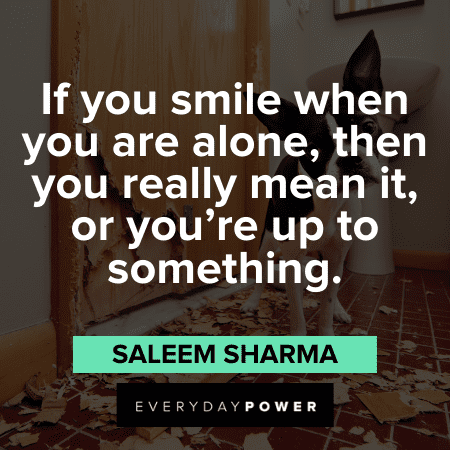 2. "Let's be naughty and save Santa the trip." – Gary Allen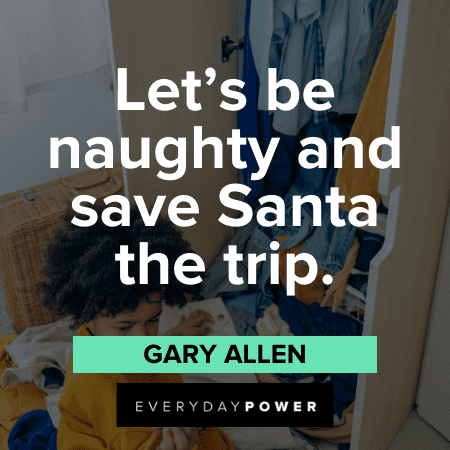 3. "I'm a naughty sweetheart." – Jessica Simpson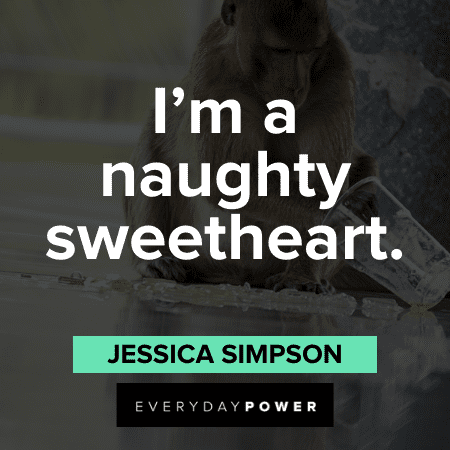 4. "I'm only naughty when I have to be." – Michelle McCool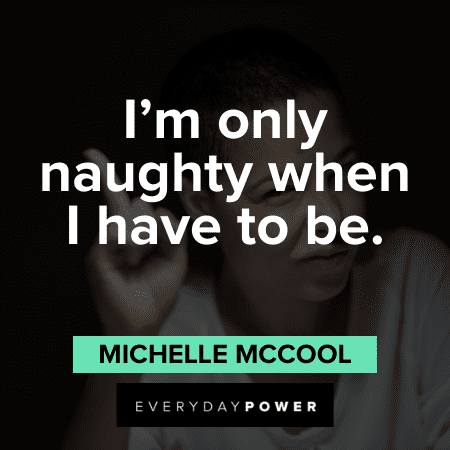 5. "Well if it isn't my old nemesis, the consequences of my own actions." – Unknown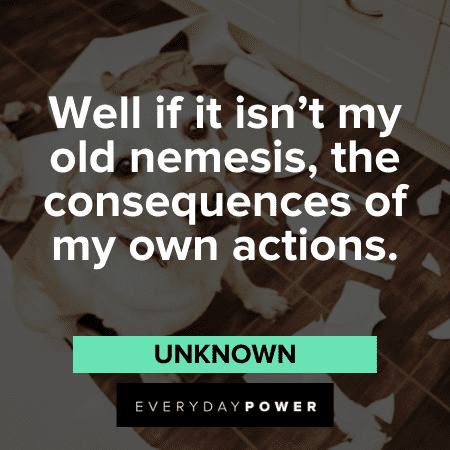 6. "I sometimes still feel I am living in a goldfish bowl, and I now manage it better. I still have a naughty streak, too, which I enjoy and is how I relate to those individuals who have got themselves in trouble." – Prince Harry
7. "Actors are the best and the worst people. They're like kids. When they're good, they're very good. When they're bad they're very very naughty." – Kenneth Branagh
8. "I might put a nicer pair of heels on and a cooler outfit, but I'm still that naughty girl who likes a slice of cheesecake on my day off." – Jessie J
9. "As Latinas, we tend to be overly partial considering stereotypes. I'm interested in being naughty and edgy." – Judy Reyes
10. "I am all for niceties. But, I love and appreciate a healthy dose of naughtiness in everything I do and everywhere I go as well. You need some sugar sweethearts as well as some total nuts to make your life a real party." – Tina Sequeira
11. "I am bad-mannered, naughty, and one of those few people who lands up in controversies, but I guess that's expected of me." – Ekta Kapoor
12. "I was often very, incredibly naughty, and if I didn't come home at tea time I used to be sent to bed without any dinner. But people used to bring me things. I was better fed in bed." – Diane Cilento
13. "I was very naughty. That's the reason I didn't go very much to the university because I was partying with my friends more than going to the university." – Bianca Balti
14. "I am in love with girls that are bad and naughty and badass, and a little selfish, but I like to watch from a respectful distance!" – Dreama Walker
Funny naughty quotes and dirty sayings
15. "I've always had a lot of energy and had a lot of opinions all my life – people misunderstood that about me being naughty, gobby, or different." – Yungblud
16. "I went to a school called Tring Park School for the Performing Arts. I went because initially, I was very naughty, and my mom thought if I was busy, I'd be better. And I didn't really do acting until later on in school, with an amazing teacher. I left, went traveling, came back." – Daisy Ridley
17. "Tantrums are not bad behavior. Tantrums are an expression of emotion that became too much for the child to bear. No punishment is required. What your child needs is compassion and safe, loving arms to unload in." – Rebecca Eanes
18. "The hurt that troubled children create is never greater than the hurt they feel." – L.Tobin
19. "Just because I look sexy on the cover of Rolling Stone doesn't mean I'm naughty." – Britney Spears
20. "I got into a lot of trouble. Maybe that's why my parents didn't really like me and I didn't blend in with my family. I was always the naughty one." – Benjamin Clementine
Naughty quotes about misbehaving children
21. "I was naughty but never demanding. I never asked my parents for shoes or tracksuits. I was happy with what I had." – Hima Das
22. "I was a naughty kid." – Liam Hemsworth
23. "It's important for every child to have a bit of a naughty streak." – Unknown
24. "Probably spending 12 years at boarding school – comedy became a survival gene. But I think some people are funny right off the bat, as soon as they can speak or be naughty." – Eric Idel
25. "Right from the start, I loved the works of Mark Twain. Every time I read about Tom Sawyer, I'd got out and do something low-level naughty, just like him." – John Grisham
26. "I was a very naughty child, on the verge of getting expelled, but I wasn't a bad child; everything I did was for my own entertainment. But when I went into an exam, I did really well." – Stormzy
27. "I was a naughty kid. Teachers did not like me much." – Kapil Dev
28. "As a kid, I was hyperactive and the naughty one in school. I wouldn't listen to anyone and thought I knew best. At home, I was always breaking things and annoying everyone." – Amir Khan
Nice and Naughty Quotes for Christmas
29. "It's all fun and games 'til Santa checks the naughty list." – Unknown
30. "Don't get your tinsel in a tangle." – Unknown
31. "I'm a little bit sweet and yet I'm a little bit twisted. So I guess I'm a little bit like a candy cane." – Unknown
32. "This year instead of giving gifts, I will be giving everyone my opinion – Get ready for some real surprises!" – Unknown
33. "I might be on the naughty list this year. Sorry, not sorry, Santa." – Unknown
34. "Dear Santa: Please define naughty. Yours Truly." – Unknown
35. "I'm dreaming of a white Christmas, but if the white runs out, I'll drink the red." – Unknown
More naughty quotes and sayings
36. "Curly hair is not just a hairstyle; it's kind of a lifestyle. There is something really free and careless about it and loose and kind of naughty. I love it." – Inbar Lavi
37. "They're naughty, all those writers – they mess around with people. I know James Gandolfini got a bit fed up on 'The Sopranos': if he said anything in front of a writer, told them a story from his life, it could make its way into the script." – Kelly Macdonald
38. "It is not when truth is dirty, but when it is shallow, that the lover of knowledge is reluctant to step into its waters." – Friedrich Nietzsche
39. "If goodness is its own reward, shouldn't we get a little something for being naughty?" – Lauren Bacall
40. "My voice went recently, never happened before, off like a tap. I had to sit in silence for nine days, chalkboard around my neck. Like an old-school mime. Like a kid in the naughty corner. Like a Victorian mute." – Adele
41. "I think that short films often contain an originality, a creative freedom, an energy, and an invitation that is inspiring and entertaining. I think they are, as Shakespeare put it, a good deed in a naughty world." – Kenneth Branagh
42. "Of course I'm naughty. I've always had to compete for attention, you see." – Rachel Johnson
43. "Naughty is the new nice." – Unknown
44. "Mozart was a punk, which people seem to forget. He was a naughty, naughty boy." – Shirley Manson
45. "I like persons better than principles, and I like persons with no principles better than anything else in the world." – Oscar Wilde
46. "If your boss is getting you down, look at him through the prongs of a fork and imagine him in jail." – Ricky Gervais
47. "Everybody is naughty, everybody is good." – Rob Lowe
48. "England is still a place where a naughty boy who comes from nothing can live his dream." – Raheem Sterling
49. "How far that little candle throws its beams! So shines a good deed in a naughty world." – William Shakespeare
50. "Once you begin being naughty, it is easier to go on and on and on, and sooner or later something dreadful happens." – Laura Ingalls Wilder
Naughty Quotes To Burst Out Laughter
51. "I'm just a good Catholic boy – I do naughty things and feel guilty about them." ― Steve Coogan
52. "People in general are used to seeing me as the naughty girl because that's what they've always cast me as." ― Eartha Kitt
53. "Quoting, like smoking, is a dirty habit to which I am devoted." ― Carolyn Heilbrun
54. "Definitely, I'm always nice. Sometimes I wish I could be naughty, I'm just a little too boring." ― Gabrielle Dennis
55. "I don't pay to have my dirty work done for me. I do it myself." ― Ted Nugent
56. "I was naughty. I wasn't bad. Bad is hurting people, doing evil. Naughty is not hurting anyone. Naughty is being amusing." ― Sydney Biddle Barrows
57. "Ah, there's the governess's voice. All stern and disapproving. It makes me feel like a naughty schoolboy." ― Lisa Kleypas
58. "No, I'm just a very naughty boy. I do all sorts of bad things. I kick kittens. I make rude gestures at nuns." ― Cassandra Clare
59. "I really enjoyed stepping into that side of [Princess Margaret] and being silly and naughty and fun." ― Vanessa Kirby
60. "I've never been that cute kid that was forgiven for being naughty." ― Richard Armitage
Which of these naughty quotes is your favorite?
That Laura Ingalls Wilder quote is a good one to end on.
Yes, sometimes it can be a lot more fun to be naughty than nice, but it usually doesn't lead us down a path that we want to go.
While we all might have that little naughty streak in us, it's much better when we learn how to control it instead of being controlled by it.
While it might be fun for a little while, chances are that you won't really like where it's going to take you.
So if you're debating being naughty or nice, like some of the people in these naughty quotes and sayings, remember that nice really is the way to go!
Let us know your thoughts in the comment section below.
September 25, 2022 7:00 AM EST
Be the first one to leave a comment!