Get Well Soon Quotes to Tell Those You Love When They Feel Under the Weather
These get well soon quotes will help you know what to say when someone you love is feeling sick.
It's not fun for anyone when someone you love is feeling ill.
It is natural to be inclined to help them in whatever way you can.
Sometimes the best thing you can do to lift their spirits is to send a bouquet of beautiful flowers (and maybe a bowl of soup) with card and well wishes for a speedy recovery.
While you may have someone's best wishes at heart, it can be hard to come up with the right words to express your feelings on paper.
Take a look at our list of get well soon quotes to find inspiration on what to tell those you love when they are feeling under the weather.
Check out our most popular quote article, a list of short inspirational quotes for daily inspiration.
Our inspirational quotes category page has all of our motivational quotes for all the different areas of life.
Uplifting Get Well Soon Quotes
1. "There is no medicine like hope, no incentive so great, and no tonic so powerful as expectation of something tomorrow" – Orison Swett Marden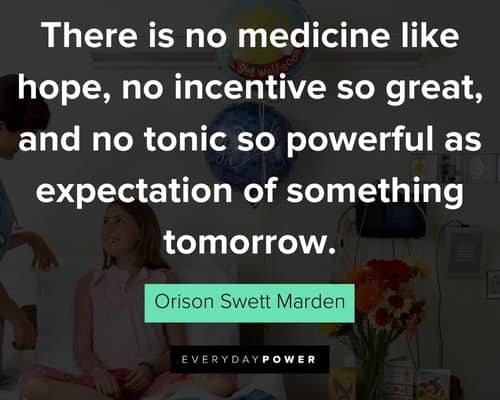 2. "We're sorry you're feeling poorly, the (factory's) empty of your laughter so get yourself well, cos we miss you, mate you're a much sought after grafter." – John Bratton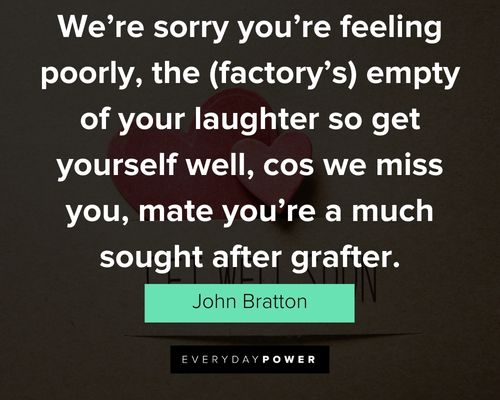 You will also enjoy our article on ex quotes.
3. "I heard your're feeling blue today and wanted you to know friends are all around you till the dark skies are to go when you're down and want to smile but haven't found the strength just open up this little card and feel the love I've sent." – Unknown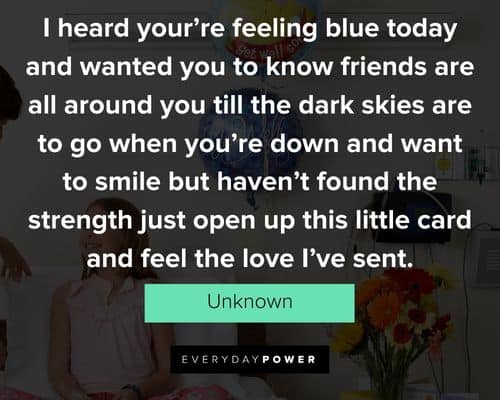 4. "The treatment is really a cooperative of a trinity. the patient, the doctor and the inner doctor." – Ralph Bircher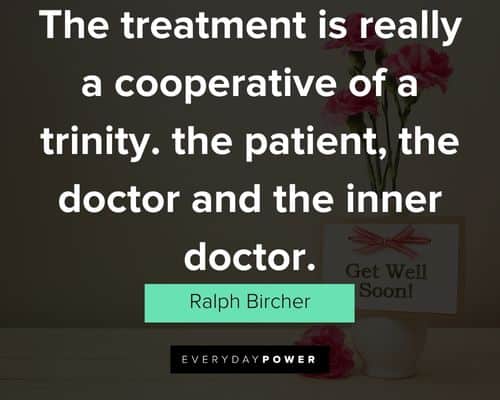 5. "This card is sent to cheer you as you're confined to bed, I'm sure it'll feel all worthwhile In the happier days ahead." – John Walter Bratton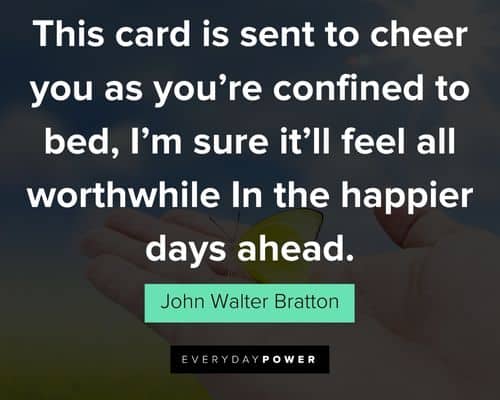 6. "Okay, so today you are feeling low. But soon you will be better you know. Listen to the doctors you meet and before you know it you'll be back on your feet." – C. Pulsifer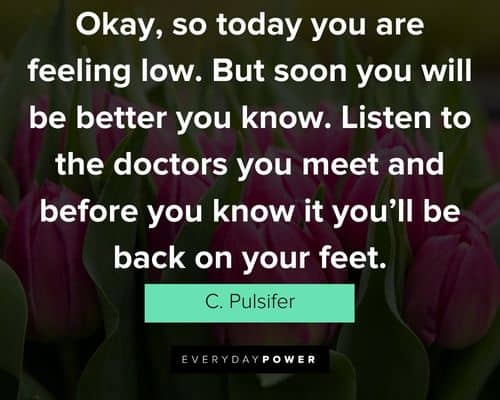 7. "If knowing that someone really cares, helps healing along its way then I hope you now feel better and keep improving, day by day." – Jon Bratton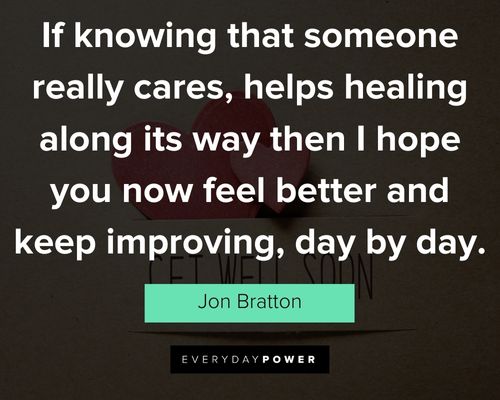 8. "There is no medicine like hope, no incentive so great, and no tonic so powerful as expectation of something tomorrow." – Orison Swett Marden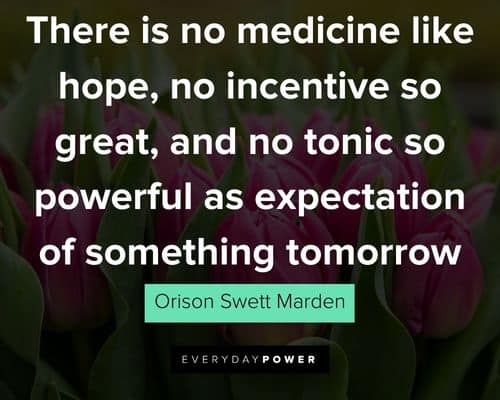 9. "The is one consolation in being sick; and that is the possibility that you may recover to a better state than you were ever in before." – Henry David Thoreau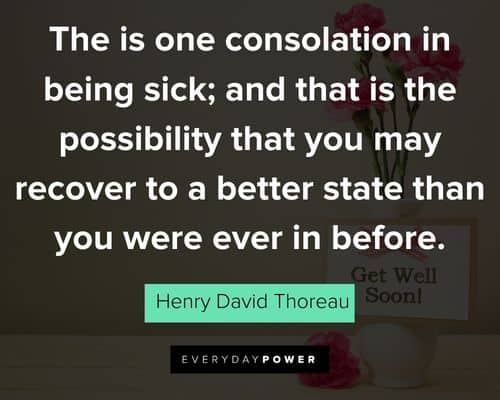 Humorous Get Well Soon Quotes
10. "Get well cards have become so humorous that if you don't get sick, you're missing half the fun." – Flip Wilson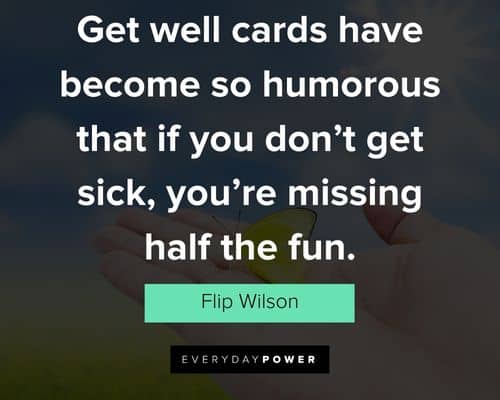 11. "Health and good humor are to the human body like sunshine to vegetation." – Jean Baptiste Massillon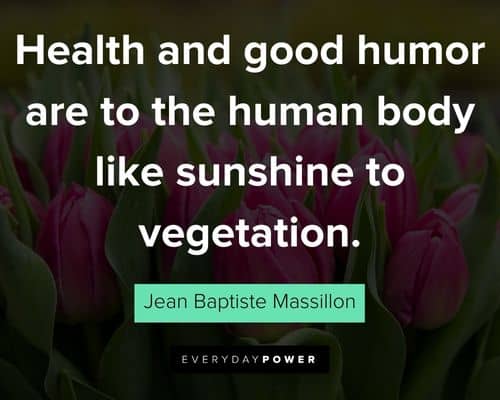 12. "You have a cough? Go home tonight, eat a whole box of Ex-Lax – tomorrow you'll be afraid to cough." – Pearl Williams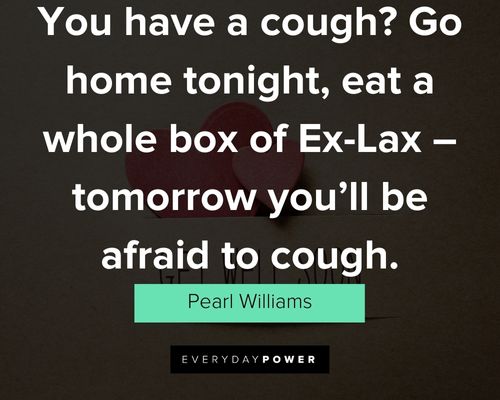 13. "Happiness is your dentist telling you it won't hurt and then having him catch his hand in the drill." – Johnny Carson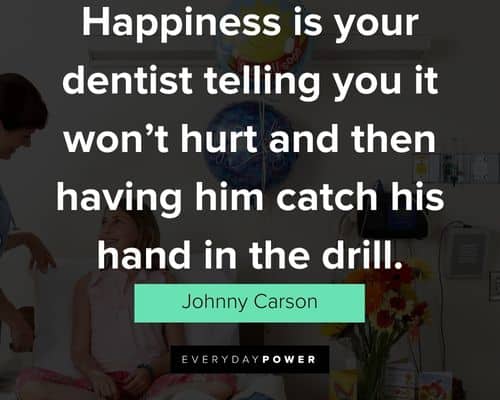 14. "If I had my way, I'd make health catching instead of disease." – Robert Ingersoll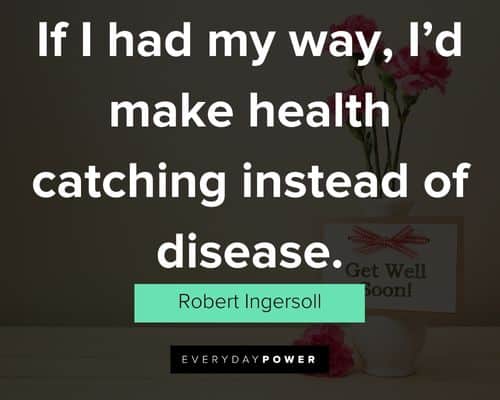 15. "A bad cold wouldn't be so annoying if it weren't for the advice of our friends." – Kin Hubbard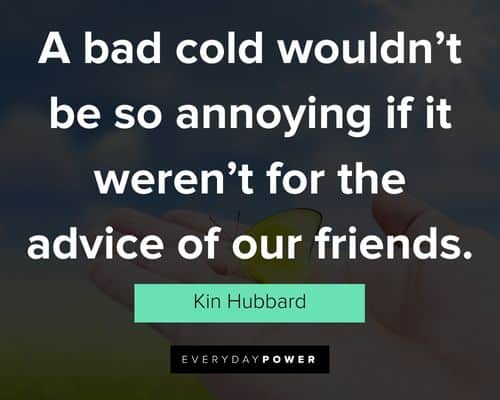 Spiritual Get Well Soon Quotes
16. "Heard you're feeling not so good and need some cheering up, something that would brighten your day and says you're valued much we pray that you will feel God's love and know that He is near and that we all are thinking of you and want to show we care." – M. S. Lowndes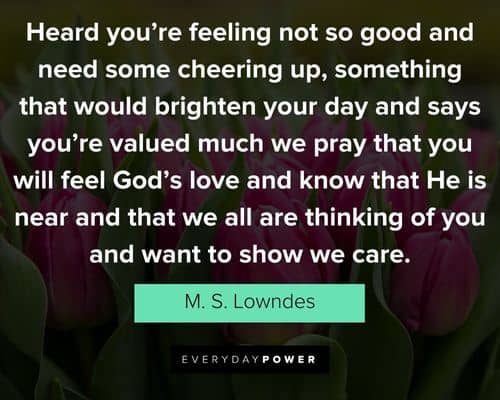 17. "Thinking of you and praying for you for a fresh touch from the Lord, so you will get well and be strengthened again to be whole and completely restored." – M. S. Lowndes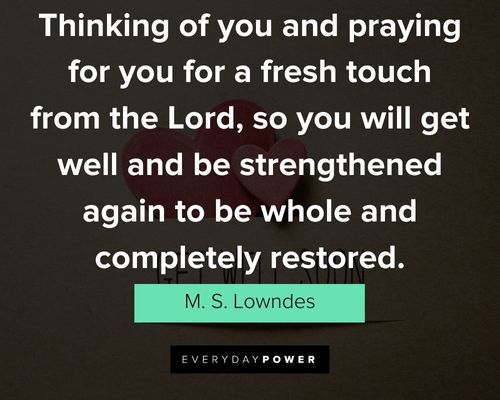 18. "May God's love overshadow you at this time you feel unwell and know we're here thinking of you and praying for your good health." – M. S. Lowndes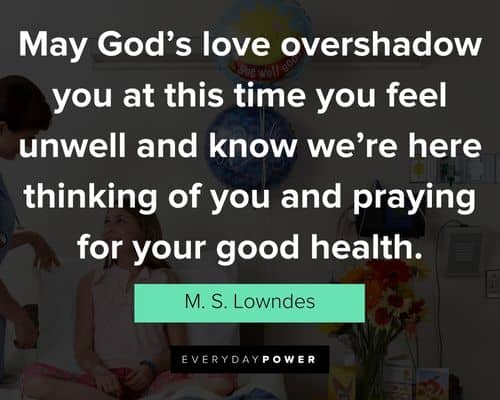 19. "I am praying that you have the strength and the peace to get you through your illness." –Blake Flannery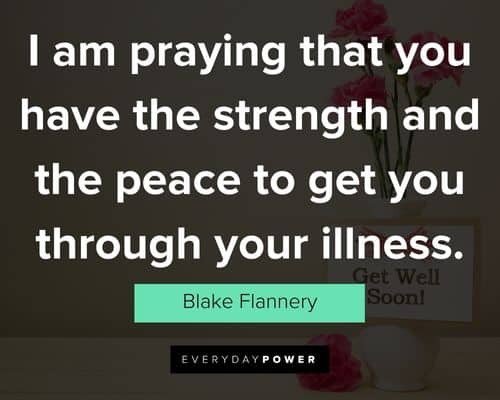 20. "I just wanted to write you to encourage you to stay strong and to let you know you are in my thoughts and prayers." – Blake Flannery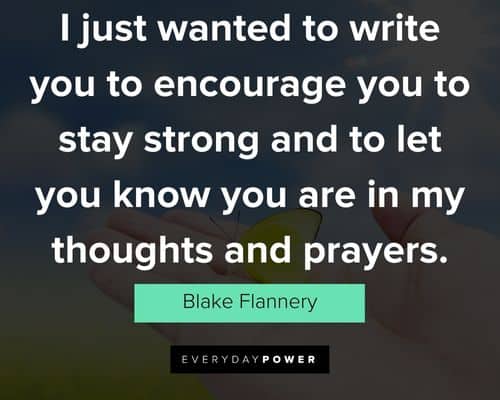 21. "Get well soon my dear, you're the only one in my life may Lord be with you for the quick recovery." – Jentrinda Banda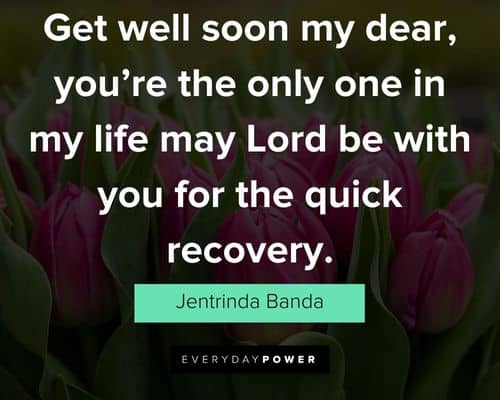 More Get Well Soon Quotes
22. "I am sorry you are not feeling well. I hope you have a complete and quick recovery. " –Blake Flannery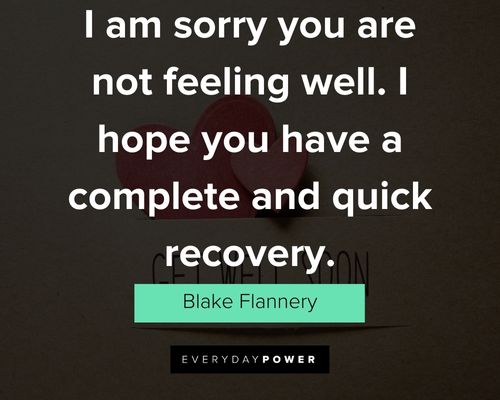 23. "Here's us hoping avidly, your recovery will be trouble free and very soon we shall see you fit as fit can be." – Jon Bratton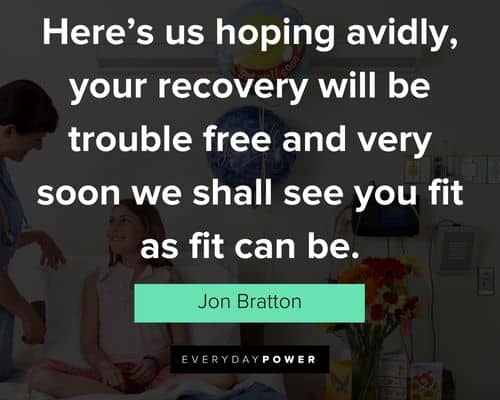 24. "I was starting to think that you were invincible. It's good to know that you are human after all. I'm looking forward to you getting back to your invincible self. Get well soon, superman." – Blake Flannery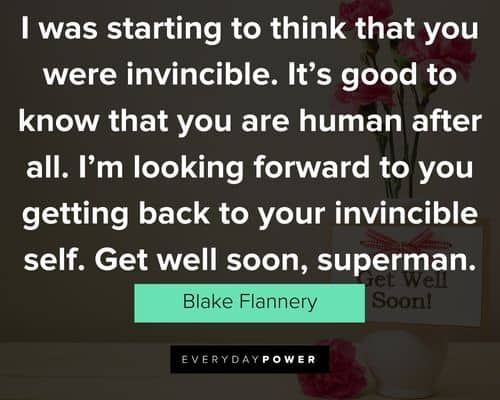 25. "When I see the moon, I think of you. So, get well soon and you'll be good as new." – Ellice Booth
26. "Remember what I say, you're getting better by the day." – Unknown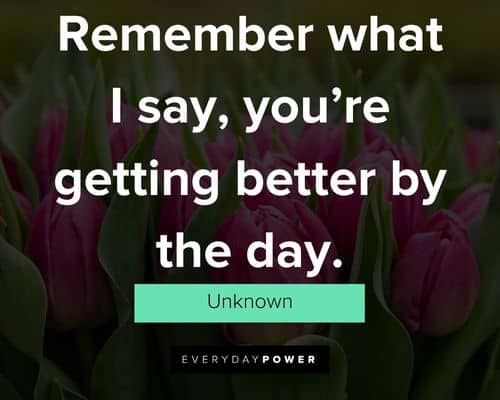 27. "It's nice to hear you're doing well and convalescing fast, and here's a wish that your good health will last and last and last." – John Bratton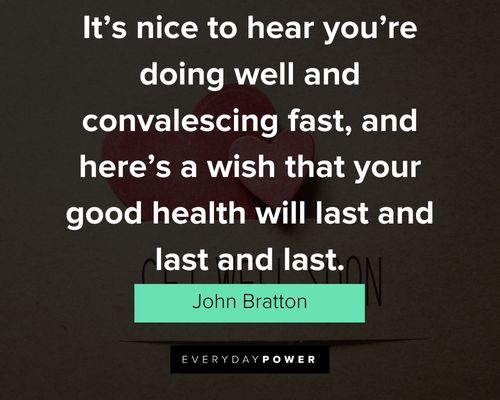 28. "If these flowers were wishes, then my wish for you is to get well soon." – Unknown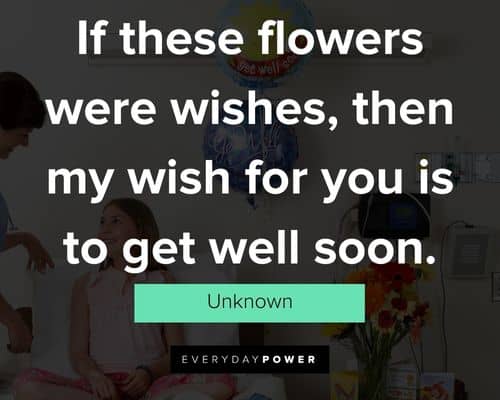 29. "For life is not to live, but to be well." – Unknown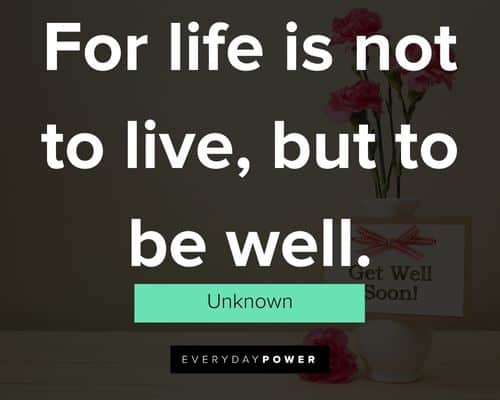 30. "Wishing that each day brings your renewed strength, brighter times, and a healthier, happier you. Get well soon." – Jahanzab Waheed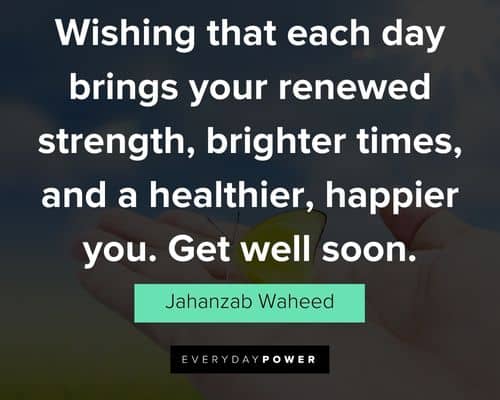 Cute & inspiring get well soon quotes for your loved ones
31. "I enjoy convalescence. It is the part that makes the illness worthwhile." – George Bernard Shaw
32. "The most important thing in illness is never to lose heart." – Vladimir Lenin
33. "I reckon being ill as one of the great pleasures of life, provided one is not too ill and is not obliged to work till one is better." – Samuel Butler
34. "A Jewish woman had two chickens. One got sick, so the woman made chicken soup out of the other one to help the sick one get well." – Henry Youngman
35. "Throughout history, 'tender loving care' has uniformly been recognized as a valuable element in healing." – Larry Dossey
36. "Know that healing can be yours with time, effort, and desire. Know you can laugh again, can enjoy life again. " – Sally Peters Roll
37. "Always laugh when you can. It is cheap medicine." – Lord Byron
38. "Healing yourself is connected with healing others." – Yoko Ono
39. "If these flowers were wishes, then my wish for you is to get well soon." – Nana
40. "Sometimes all we need is a little pampering to help us feel better." – Charles M. Schulz
Get Well Soon To Help You Have Faith In Recovery
41. "The art of medicine consists in amusing the patient while nature cures the disease." ― Voltaire
42. "There's no better way to energize your body, mind, and spirit than by taking care of yourself." ― Stephanie Tourles
43. "Each patient carries his own doctor inside him." ― Norman Cousins
44. "We are not victims of aging, sickness and death." ― Deepak Chopra
45. "Eventually, you will come to understand that love heals everything, and love is all there is." ― Gary Zukav
46. "Sickness is a sort of early old age; it teaches us a diffidence in our earthly state." ― Alexander Pope
47. "Some remedies are worse than the disease." ― Publilius Syrus
48. "Take care of your body. It's the only place you have to live." ― Jim Rohn
49. "You can't have healing without sickness." ― T. D. Jakes
50. "First thing about being a patient – you have to learn patience." ― Oliver Sacks
Did these quotes inspire you what to write in a get well soon card?
In the digital age, receiving a hand-written card is rare and unexpected.
The smile your card will bring to your loved one's face when they read it can make all the difference when they're feeling sick.
But even if cards aren't your style, keep these quotes handy so that you know what to say when someone you love falls under the weather.
Whether you express your wishes in person, over the phone, through text, or in a card, they will appreciate your good thoughts.
Did you like these get well soon quotes?
Which quote did you like the best?
Let us know in the comment section below.