Will Smith Quotes About Life, Fear and Success
Want valuable insight on life, fear, and success? Check out these Will Smith quotes.
Will Smith quotes That Encourage You To Follow Your Dreams!
For decades, Will Smith has remained one of the most sought-after entertainers in Hollywood.
Many things helped elevate him to where he is today, including his:
If you haven't seen Will Smith in Bright yet, check it out on Netflix!
Who is Will Smith?
Will Smith is known for his blockbuster movies like Independence Day, 7 Pounds, Men in Black, The Pursuit of Happiness, I Am Legend, Bad Boys…the list goes on and on.
For anyone to reach the level of success, impact, and popularity that Will Smith has over the past 20 years deserves to have their thinking looked at.
Take a peek into the mind of the legendary and award-winning actor Will Smith with his highly motivational and inspirational quotes from his various pieces of work and interviews.
Will Smith Quotes About Life, Fear, and Success
Smith worked hard from a young age to achieve his goals, and these quotes will inspire and advice you to have the same drive.
1. "If you're not making someone else's life better, then you're wasting your time. Your life will become better by making other lives better." — Will Smith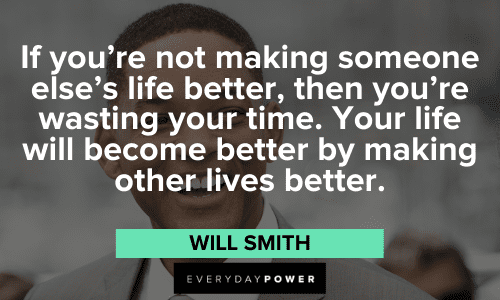 2. "Money and success don't change people; they merely amplify what is already there." — Will Smith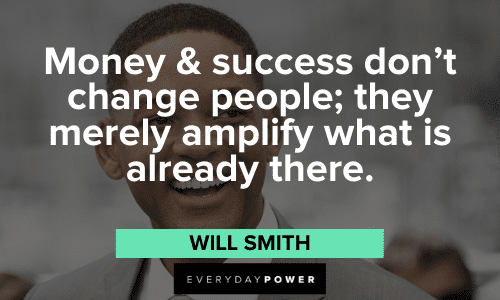 3. "Life isn't how many breaths you take, but it's the moments that take your breath away." — Will Smith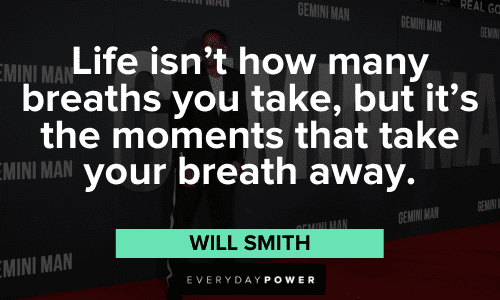 You will also enjoy our article on engineering quotes.
4. "Basic principles: no matter what, no matter when no matter who… any man has a chance to sweep any woman off her feet. He just needs the right broom." — Will Smith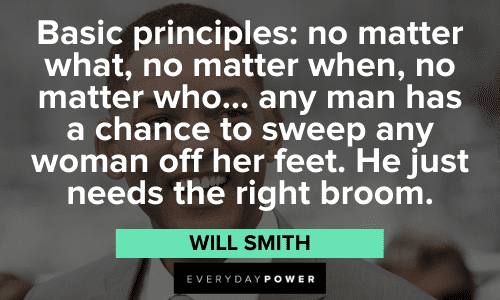 You will also enjoy our article on anxiety quotes.
5. "There's no reason to have a plan B because it distracts from plan A." — Will Smith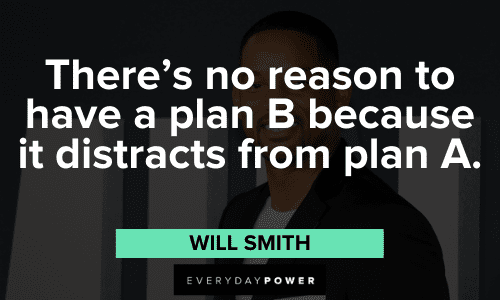 6. "If you're absent during my struggle, don't expect to be present during my success." — Will Smith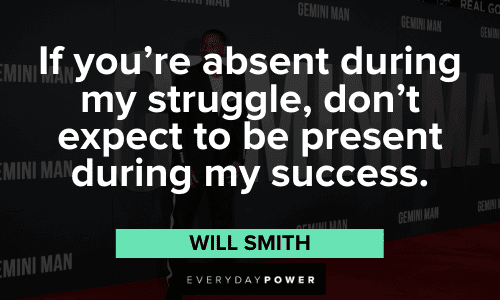 You will also enjoy our article on fear quotes.
7. "I believe you need to be educated on what you want to do in life, but I don't believe you necessarily need college to get there." — Will Smith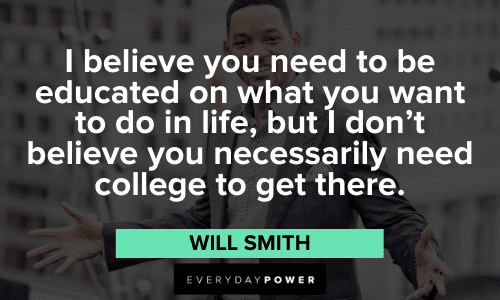 8. "You can't be scared to die for the truth. The truth is the only thing that is ever going to be constant." — Will Smith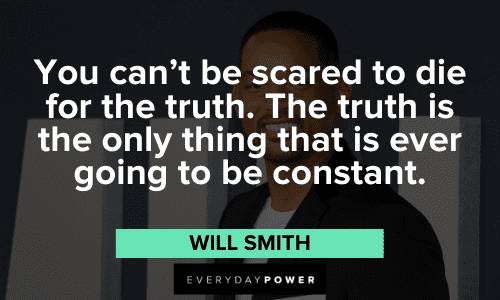 9. "There's two kinds of people in this world. There's hammers and nails …
You decide what to be…" — Will Smith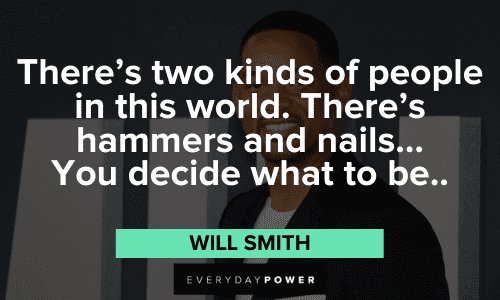 10. "Stop letting people who do so little for you control so much of your life." — Will Smith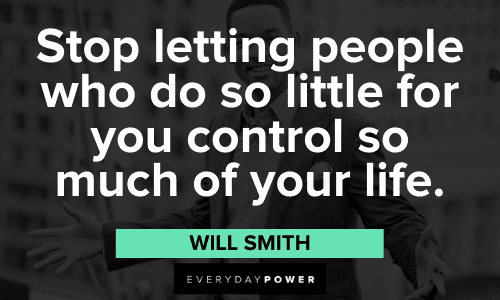 You can also benefit from reading our article on domestic violence quotes.
Will Smith Quotes on Fear
Learn more about overcoming fear in the following quotes.
11. "Throughout life, people will make you mad, disrespect you and treat you bad. Let God deal with the things they do, cause hate in your heart will consume you too." — Will Smith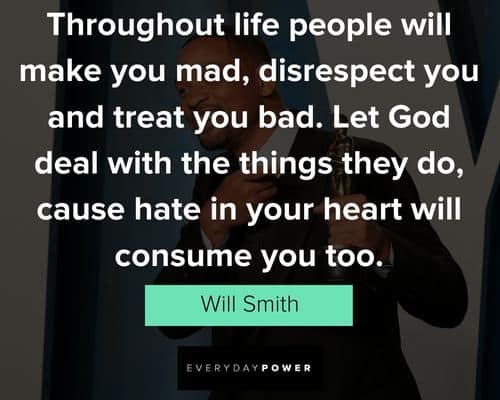 12. "Fear is not real. The only place that fear can exist is in our thoughts of the future. It is a product of our imagination, causing us to fear things that do not at present and may not ever exist. That is near insanity. Do not misunderstand me; danger is very real, but fear is a choice." — Will Smith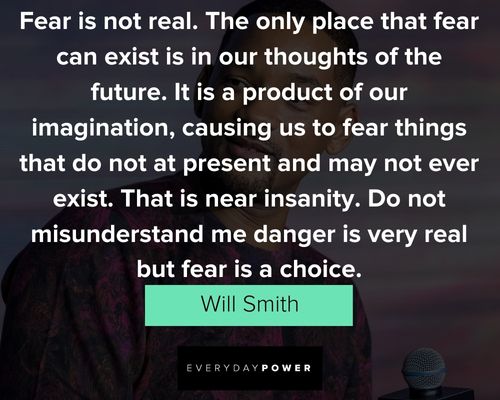 13. "Never lie, steal, cheat, or drink. But if you must lie, lie in the arms of the one you love. If you must steal, steal away from bad company. If you must cheat, cheat death. And if you must drink, drink in the moments that take your breath away" — Will Smith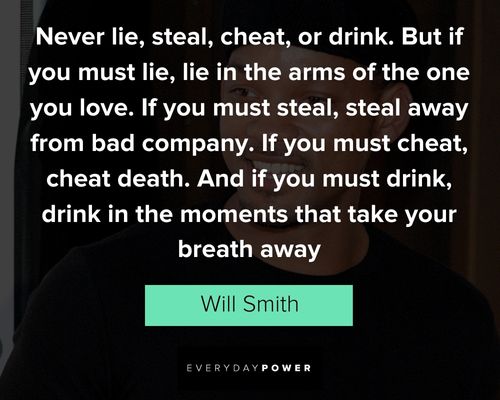 14. "For reading: there have been gazillions of people that have lived before all of us. There's no new problem you could have–with your parents, with school, with a bully. There's no new problem that someone hasn't already had and written about it in a book." — Will Smith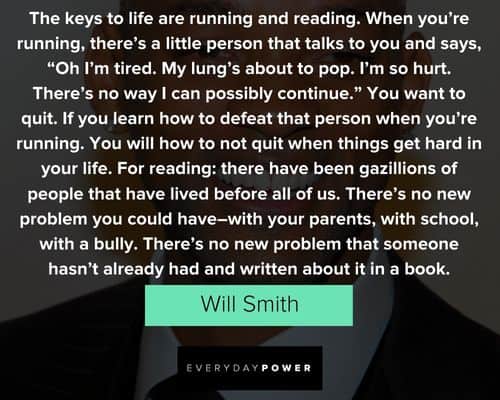 Also, read these inspirational Keanu Reeves quotes on living life with kindness.
Will Smith quotes about hard work
You can only succeed at the level of Will Smith through hard work and determination.
15. "Don't chase people. Be yourself, do your own thing, and work hard. The right people – the ones who really belong in your life – will come to you. And stay." — Will Smith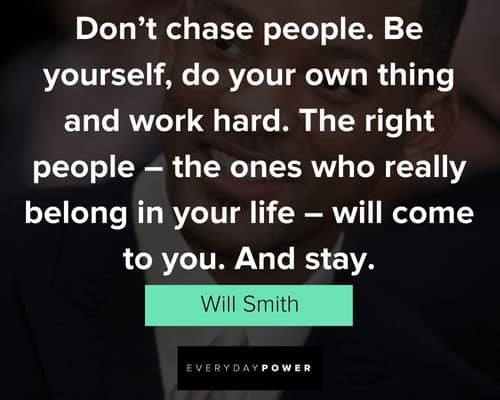 16. "The only thing that I see that is distinctly different about me is I am not afraid to die on a treadmill. You might have more talent than me; you might be smarter than me. But if we get on the treadmill together, there's two things: you are getting off first, or I am going to die. It's that simple." — Will Smith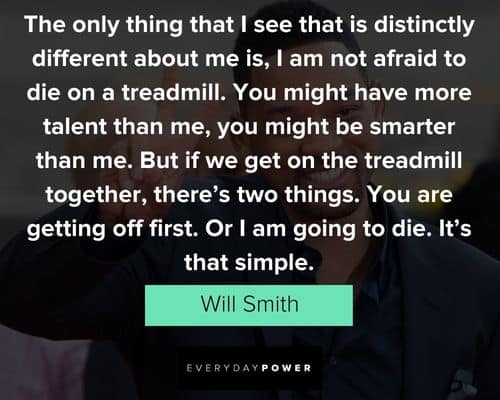 17. "Never underestimate the pain of a person because, in all honesty, everyone is struggling. Some people are just better at hiding it than others." — Will Smith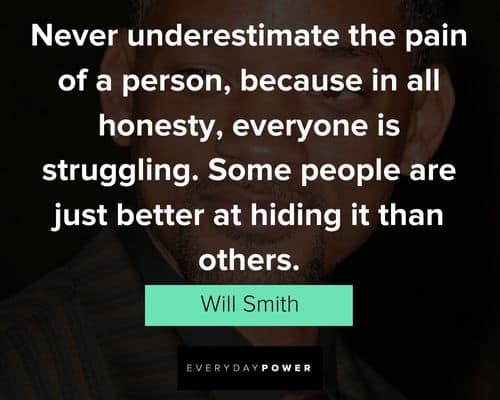 18. "The separation of talent and skill is one of the greatest misunderstood concepts for people who are trying to excel, who have dreams, who want to do things. Talent you have naturally. Skill is only developed by hours and hours and hours of beating on your craft." — Will Smith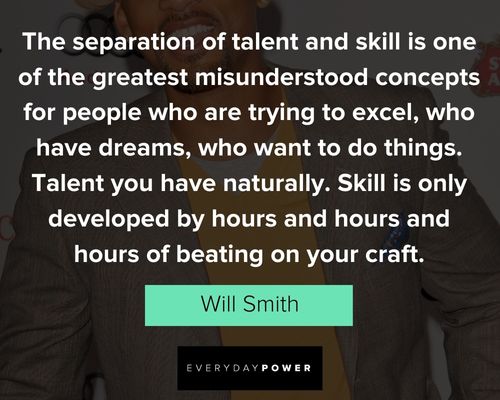 Will Smith quotes on love
Smith has played many roles where he shares thoughts on love, such as when he played the main character in the movie Hitch.
19. "I was raised in a Baptist household, went to a Catholic church, lived in a Jewish neighborhood, and had the biggest crush on the Muslim girls from one neighborhood over." — Will Smith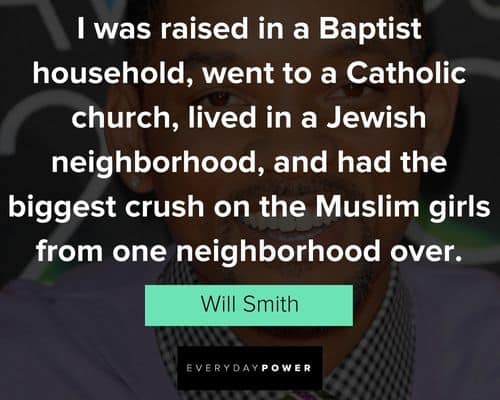 20. "When you're wondering what to say or how you look… just remember… she is already out with you. That means she said yes when she could've said no. That means she made a plan… when she could've just blown you off. So that means it is no longer your job to make her like you… It's your job NOT TO MESS IT UP." — Will Smith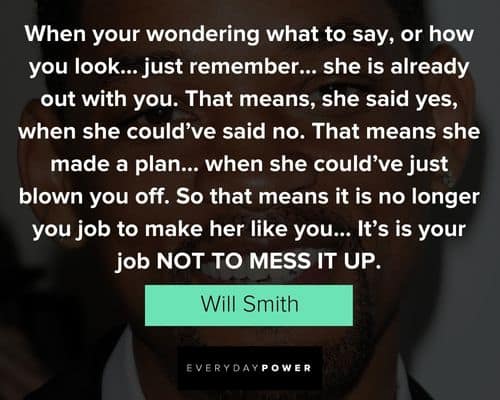 21. "Because that's what people do… they leap and hope to God they can fly! Because otherwise, we just drop like a rock… wondering the whole way down… 'why in the hell did I jump?' But here I am, Sarah, falling. And there's only one person that makes me feel like I can fly… That's you." — Will Smith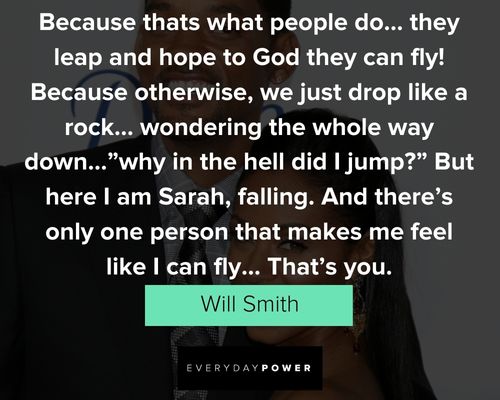 22. "I'm a guy. Since when do we get anything right the first time?" — Will Smith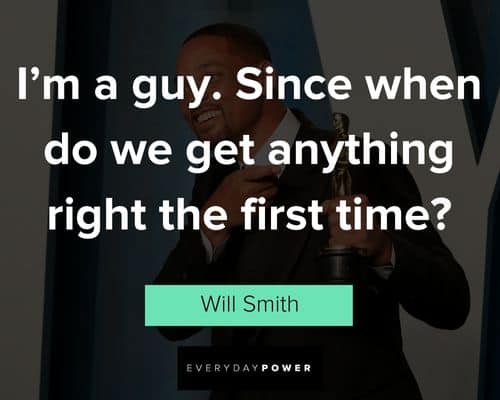 23. "Being realistic is the quickest path to mediocrity." — Will Smith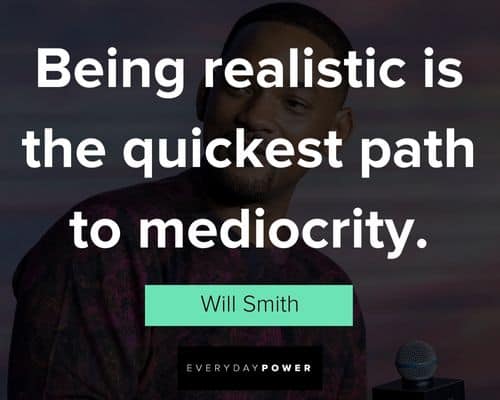 You might also like these Idris Elba quotes on acting, music, and more.
Will Smith quotes on greatness
Gain a new perspective on pursuing greatness in the following quotes from the actor.
24. "Greatness is not this wonderful, esoteric, elusive, godlike feature that only the special among us will ever taste; it's something that truly exists in all of us." — Will Smith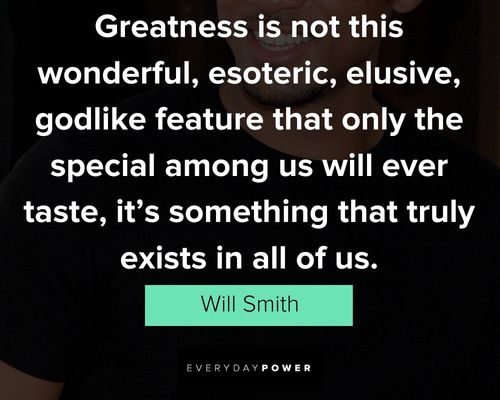 25. "I want to represent possibilities." ― Will Smith
26. "Parents just don't understand." — Will Smith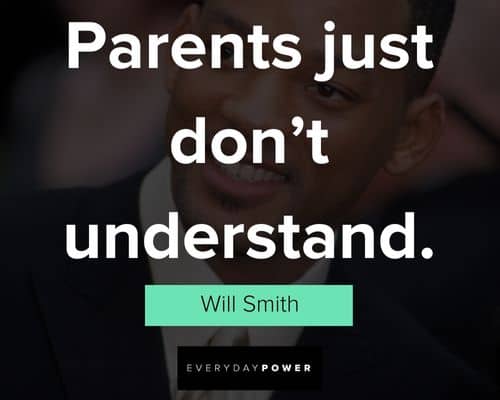 27. "I am inspired beyond my ability to articulate… and now I know what and who I want to be… a soldier for peace." ― Will Smith
28. "And where I excel is ridiculous, sickening work ethic. You know, while the other guy's sleeping? I'm working." — Will Smith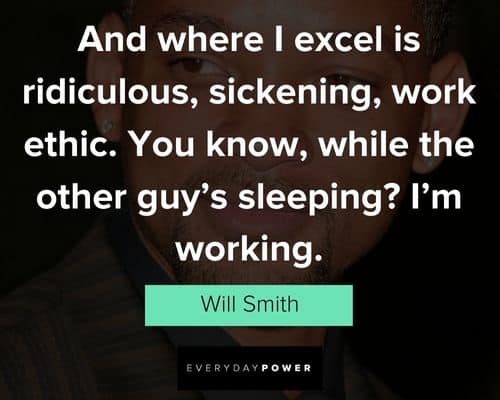 29. "I've viewed myself as slightly above average in talent." — Will Smith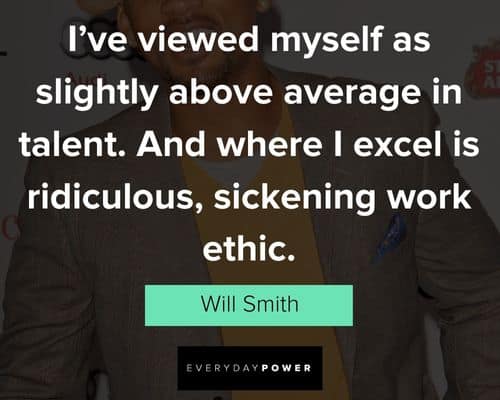 30. "I'm a student of patterns. At heart, I'm a physicist. I look at everything in my life as trying to find the single equation, the theory of everything." — Will Smith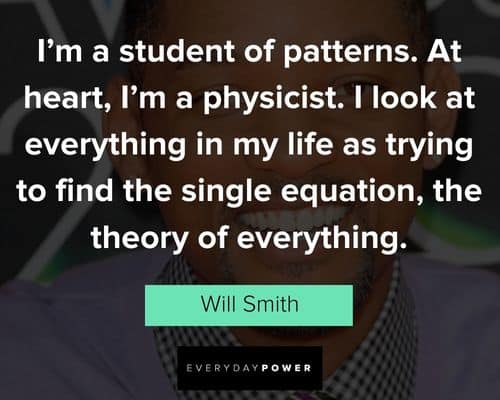 Will Smith quotes on struggle
Will Smith's journey to Hollywood success was full of perseverance and determination to become a celebrated actor and entertainer.
31. "You can cry, ain't no shame in it." — Will Smith
32. "There are so many people who have lived and died before you. You will never have a new problem; you're not going to ever have a new problem. Somebody wrote the answer down in a book somewhere." — Will Smith
33. "I've trained myself to illuminate the things in my personality that are likable and to hide and protect the things that are less likable." — Will Smith
34. "When you find things that are tried and true for millennia, you can bet that it's going to happen tomorrow." ― Will Smith
35. "Let your smile change the world. Don't let the world change your smile." — Will Smith
36. "Too many people spend money they haven't earned to buy things they don't want, to impress people they don't like." — Will Smith
37. "Sometimes you have to forget what's gone, appreciate what still remains, and look forward to what's coming next." — Will Smith
38. "The first step is you have to say that you can." — Will Smith
39. "Ten ways to love: listen, speak, give, pray, answer, share, enjoy, trust, forgive, promise." — Will Smith
40. "If you're not willing to work hard, let someone else do it. I'd rather be with someone who does a horrible job but gives 110% than with someone who does a good job and gives 60%." — Will Smith
Will Smith quotes to elevate your perspective
The following quotes will help you elevate your perspective and motivate you to reach for your dreams.
41. "Begin each day as if it were on purpose." ― Will Smith
42. "Look at your five closest friends. Those five friends are who you are. If you don't like who you are, then you know what you have to do." — Will Smith
43. "I've always considered myself to be just average talent, and what I have is a ridiculous insane obsessiveness for practice and preparation." — Will Smith
44. "Greatness exists in all of us." — Will Smith
45. "The things that have been most valuable to me I did not learn in school." — Will Smith
46. "I have a great time with my life, and I wanna share it." — Will Smith
47. "Traditional education is based on facts and figures and passing tests – not on a comprehension of the material and its application to your life." — Will Smith
48. "So if you stay ready, you ain't gotta get ready, and that is how I run my life." — Will Smith
49. "When you create art, the world has to wait." — Will Smith
50. "I had to focus and create a character in Bagger Vance, not just do my 'Will Smith' thing and get paid." — Will Smith
Will Smith quotes to broaden your thoughts
Will Smith's thought-provoking quotes serve as a catalyst to expand your thoughts so you can see things with a new perspective.
51. "If it was something that I really committed myself to, I don't think there's anything that could stop me becoming President of the United States." — Will Smith
52. "Whatever your dream is, every extra penny you have needs to be going to that." — Will Smith
53. "For me, there is nothing more valuable than how people feel in a movie theater about a movie." — Will Smith
54. "Life is lived on the edge." — Will Smith
55. "I know how to learn anything I want to learn. I absolutely know that I could learn how to fly the space shuttle because someone else knows how to fly it, and they put it in a book. Give me the book, and I do not need somebody to stand up in front of the class." — Will Smith
56. "In black neighborhoods, everybody appreciated comedy about real life. In the white community, fantasy was funnier. I started looking for the jokes that were equally hilarious across the board, for totally different reasons." — Will Smith
57. "In my mind, I've always been an A-list Hollywood superstar. Y'all just didn't know yet." — Will Smith
58. "A rapper is about being completely true to yourself. Being an actor is about changing who you are." — Will Smith
59. "It's quite highly possible that I have peaked. I mean, I can't imagine what else I could do beyond this. It's really a bittersweet kind of feeling." — Will Smith
60. "I don't know what my calling is, but I want to be here for a bigger reason. I strive to be like the greatest people who have ever lived." — Will Smith
Other insightful Will Smith quotes
Will Smith's fame is a testament to his exceptional talent, versatility, and enduring appeal.
61. "When I was growing up, I installed refrigerators in supermarkets. My father was an electrical engineer." — Will Smith
62. "What people are perceiving will dictate what their life and ultimately what your interaction is." ― Will Smith
63. "I'm a student of world religion, so to me, it's hugely important to have knowledge and to understand what people are doing." — Will Smith
64. "I mean, I'm very serious with my kids about them comprehending the intricacies of global finance." — Will Smith
65. "We all want to be in love and find that person who is going to love us no matter how our feet smell, no matter how angry we get one day, no matter the things we say that we don't mean." — Will Smith
66. "There's so much negative imagery of black fatherhood. I've got tons of friends that are doing the right thing by their kids, and doing the right thing as a father – and how come that's not as newsworthy?" — Will Smith
67. "You say, 'I'm going to lay this brick as perfectly as a brick can be laid.' You do that every single day. And soon you have a wall." — Will Smith
68. "You can't win enough, you can't have enough money, you can't succeed enough. There is not enough." ― Will Smith
69. "Boys laugh at what they put girls through, but they don't be laughing when they're wiping tears off their daughter's face for the same reason." — Will Smith
70. "I want the world to be better because I was here." — Will Smith
More Will Smith quotes and sayings
These quotes give you more insight into the professional and the road to success.
71. "I don't make jokes. I just watch the government and report the facts." — Will Smith
72. "Running and reading are the keys of life." — Will Smith
73. "Smiling is the best way to face every problem, to crush every fear, and to hide every pain." — Will Smith
74. "I think that there's a certain delusional quality that all successful people have to have. You have to believe that something different can happen." — Will Smith
75. "Don't let success go to your heads and don't let failure into your hearts." — Will Smith
76. "The road to success is through commitment and through the strength to drive through that commitment when it gets hard. And it is gonna get hard, and you're gonna wanna quit sometimes, but it'll be colored by who you are, and more who you want to be." — Will Smith
77. "I'm motivated by fear. Fear of fear. I hate being scared to do something. I started attacking things that I was scared of." — Will Smith
78. "I want to represent the idea that you really can make what you want… I believe I can create whatever I want to create." — Will Smith
Will Smith Quotes To Keep You Going
Stay motivated to not give up with the following quotes.
79. "I work from almost a dangerous place in my mind sometimes." ― Will Smith
80. "Life is…the moments that take your breath away." ― Will Smith
81. "I think it would be arrogant and borderline foolish to believe there's no other life forms that exist out there." ― Will Smith
82. "You have to create something in a way that has direction, that it has vision, and then your partner will take it and figure out whatever their expertise is." ― Will Smith
Where is Will Smith now?
In 2022, during the Academy Awards, Will Smith famously walked on stage and slapped Chris Rock after the comedian made a joke about his wife, Jada Pinkett Smith.
While it took a while for the hype to die down, public attention has since moved on from this situation.
Will Smith is set to host a podcast called Class of '88 starting in October 2023.
The podcast will focus on hip-hop artists from the year, featuring guests such as Queen Latifah, Salt-N-Pepa, and DJ Jazzy Jeff.
If you're a fan of the actor and musician, you may want to check it out.
Will Smith shares his secrets of success
What other Will Smith quotes would you add to the list?
Please tell us in the comment section below.
If you found this article inspiring, please share it with your friends on social media.
Check out these related lifestyle articles:
Books for Men About Self Improvement
These books for men will help you discover who you want to be, what is holding you back, and how to create a path forward.
Chase Your Dreams: The Best Advice I Ever Got
You are never too old, poor, young, or sick to live your dreams.
Reinvent Yourself When You're Stuck in Life
Rather than doing nothing and getting sucked into a terrible rabbit hole, let's explore ten ways to reinvent yourself so you – and your life – can become unstuck.
Inspirational Biographies: Books to Motivate You
Inspirational biographies, however, provide insight into the life struggles of the rich and successful.
Check out these related quote articles:
Acting Quotes To Help You Appreciate the Art
Empower yourself by reading this article on acting quotes from Everyday Power. Learn, grow & build positivity in your life every day!
Hitch Quotes From the Hilarious Movie
Take a moment and read through our selection of funny Hitch quotes.
Jaden Smith Quotes That Expand Your Mindset
Never let anyone else's light overshadow you. Read these Jaden Smith quotes to find out how.
Famous Movie Quotes From Your Favorite Characters
Whenever you're feeling low or just need a burst of motivation, famous movie quotes are like little nuggets of wisdom, aren't they?