70 Brilliant Marketing Quotes to Boost Your Business
These inspirational quotes will transform the way you think about marketing and business strategy.
Effective marketing can help business owners boost sales, strengthen brand awareness, and increase revenue.
Reading marketing quotes and business tips from experienced professionals is a fantastic way to learn the basics of the industry.
These inspiring words will motivate and guide you on your path to success.
Whether you're using social media marketing, email campaigns, print ads, or some other growth strategy, you can benefit from this wisdom.
Open your mind to fresh ideas and embrace your potential as a marketing maven.
These insightful marketing quotes come from great entrepreneurs, business gurus, and brand-building geniuses.
If you want to truly understand the science of advertising and sales, study their advice and wisdom.
Marketing a brand may seem overwhelming, but anyone can learn to do it with enough practice.
The insight and experience found in these words is invaluable to a budding master of business.
Read the brilliant marketing quotes below and inspire yourself to reach your business goals.
Also read these customer service quotes that will change your perspective on customer satisfaction.
Check out our most popular quote article, a list of short inspirational quotes for daily inspiration.
Explore our complete collection of motivational quotes here.
Brilliant Marketing Quotes to Boost Your Business
1. "Marketing is no longer about the stuff that you make, but about the stories you tell." – Seth Godin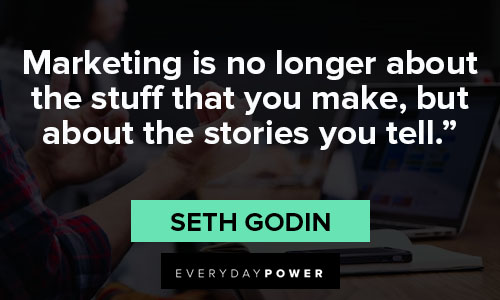 You will also enjoy our article on engagement quotes.
2. "Whether B2B or B2C, I believe passionately that good marketing essentials are the same. We all are emotional beings looking for relevance, context and connection." – Beth Comstock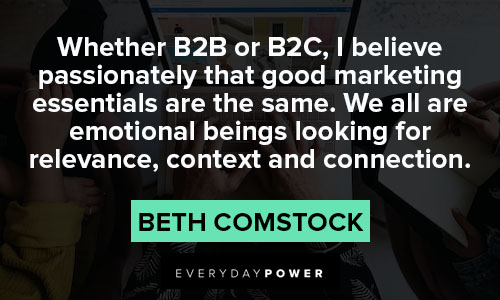 You will also enjoy our article on business motivational quotes.
3. "I know that half my ad dollars are wasted, I just don't know which half." – John Wanamaker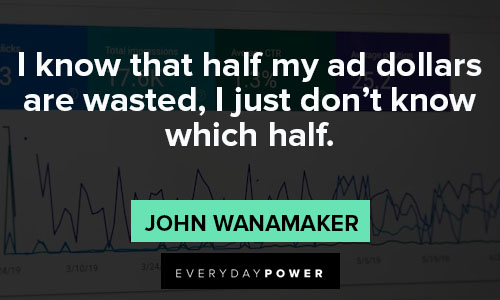 You will also enjoy our article on mind your business quotes.
4. "Good marketing makes the company look smart. Great marketing makes the customer feel smart." – Joe Chernov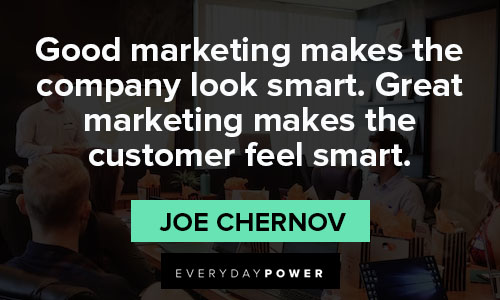 5. "Search marketing, and most Internet marketing in fact, can be very threatening because there are no rules. There's no safe haven. To do it right, you need to be willing to be wrong. But search marketing done right is all about being wrong. Experimentation is the only way." – Mike Moran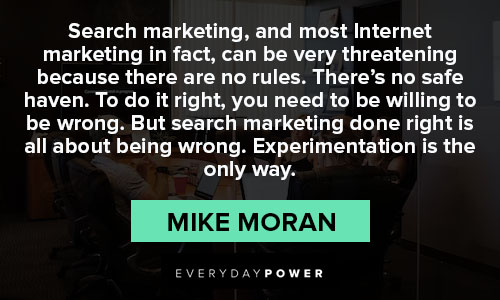 6. "The best marketing doesn't feel like marketing." – Tom Fishburne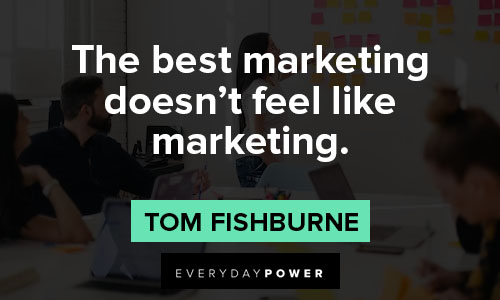 7. "Successful companies in social media function more like entertainment companies, publishers, or party planners than as traditional advertisers." – Erik Qualman
If you're enjoying these quotes, you'll love our collection of thought-provoking social media quotes.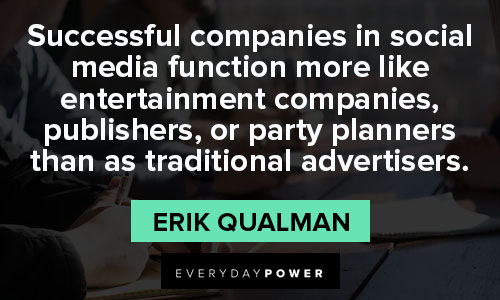 8. "Content marketing is more than a buzzword. It is the hottest trend in marketing because it is the biggest gap between what buyers want and brands produce." – Michael Brenner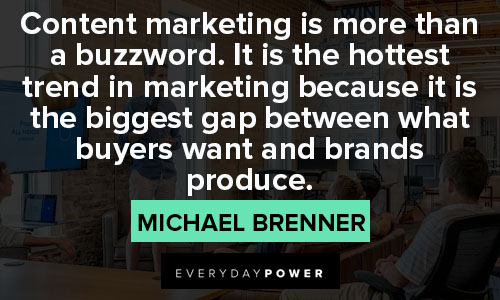 9. "Content builds relationships. Relationships are built on trust. Trust drives revenue." – Andrew Davis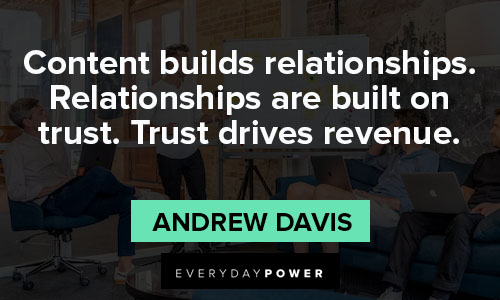 10. "Personally, I am very fond of strawberries and cream, but I have found that for some strange reason, fish prefer worms." – Dale Carnegie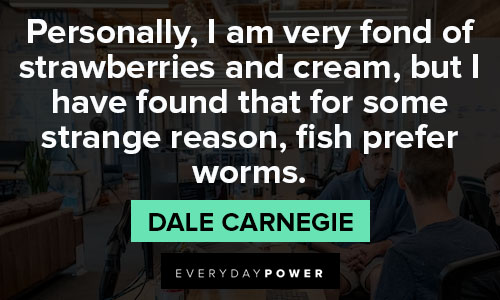 Marketing quotes to inspire fresh ideas
11. "A brand is no longer what we tell the consumer it is — it is what consumers tell each other it is." – Scott Cook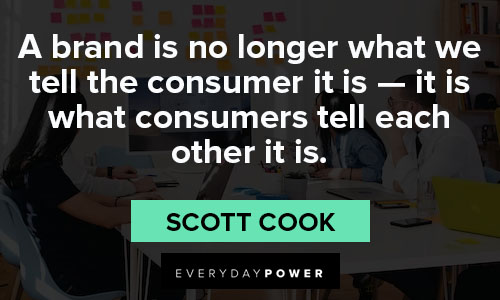 12. "If you're looking for the next big thing, and you're looking where everyone else is, you're looking in the wrong place." – Mark Cuban
13. "Marketing is telling the world you're a rock star. Content Marketing is showing the world you are one." – Robert Rose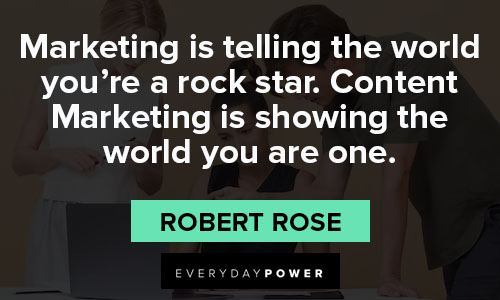 14. "If you build it… you may still need Google AdWords." – Jennifer Mesenbrink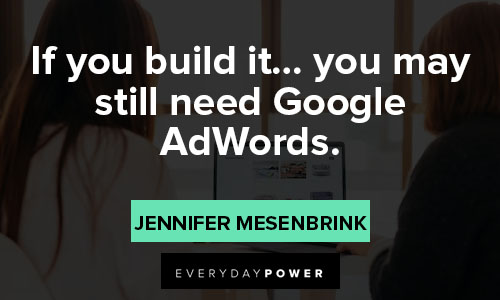 You will also enjoy our article on Building an Empire quotes.
15. "Even when you are marketing to your entire audience or customer base, you are still simply speaking to a single human at any given time." – Ann Handley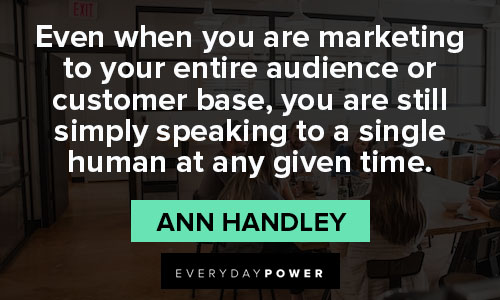 16. "No great marketing decisions have ever been made on qualitative data." – John Scully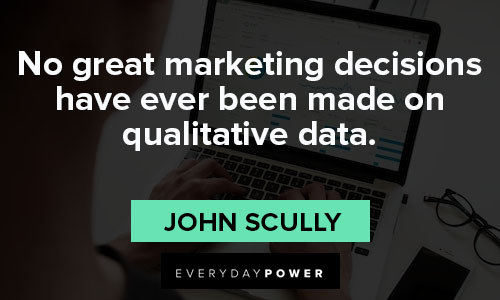 17. "If you just help your customers, or help your buyers buy, and answer the questions that they have in that journey, then you can really succeed." –Michael Brenner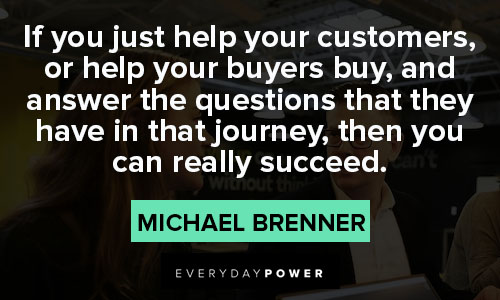 18. "Content is King but engagement is Queen, and the lady rules the house!" – Mari Smith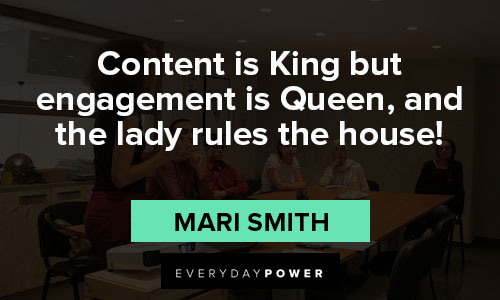 If you're enjoying these quotes, make sure to read our collection of engagement quotes about the power of commitment and love.
19. "The aim of marketing is to know and understand the customer so well the product or service fits him and sells itself." – Peter F. Drucker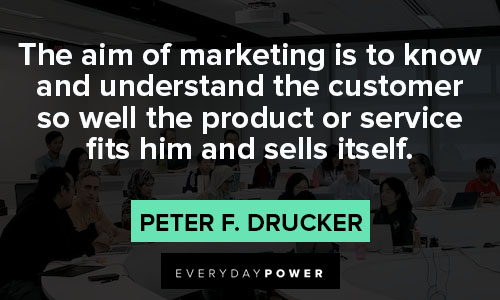 20. "Word of mouth can be as important, if not more important, for neighborhood businesses as traditional advertising." – Ekaterina Walter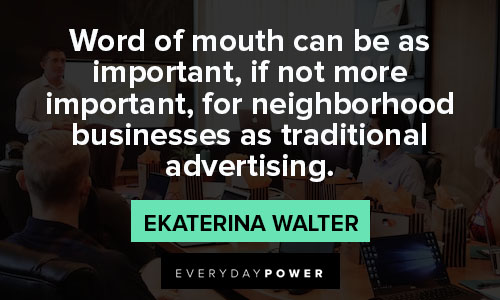 Also check out these powerful sales quotes for landing your next big sale.
Marketing quotes to help you reach your business goals
21. "Take two ideas and put them together to make one new idea. After all, what is a Snuggie but a mutation of a blanket and a robe?" – Jim Kukral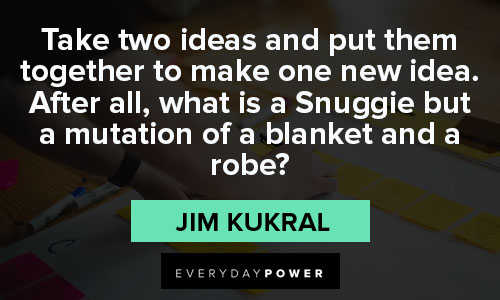 22. "Content marketing is really like a first date. If all you do is talk about yourself, there won't be a second date." – David Beebe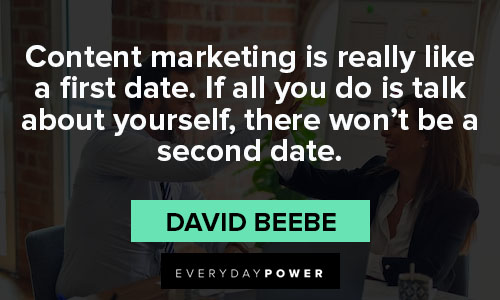 23. "If your stories are all about your products and services, that's not storytelling. It's a brochure. Give yourself permission to make the story bigger." – Jay Baer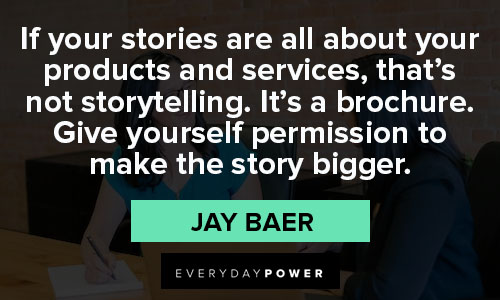 24. "Focus on the core problem your business solves and put out lots of content and enthusiasm and ideas about how to solve that problem." – Laura Fitton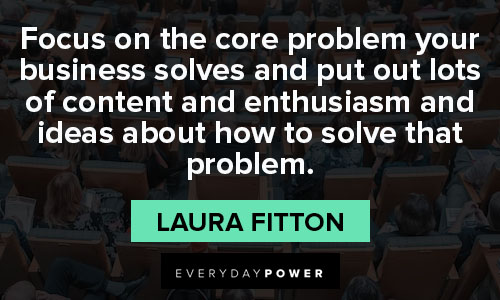 25. "The number of people publishing content on social networks is growing at a staggering rate. Standing out means not trying to be all things to all people. Stand for something specific and focus on going deep on that topic with your messaging, engagement, connections and content." – Lee Odden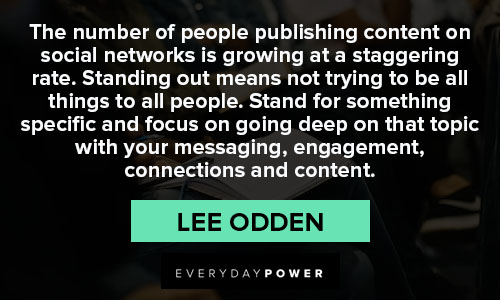 26. "Make it simple, but significant." – Don Draper
27. "Going viral is not an outcome; it"s a happening. Sometimes it happens; sometimes it doesn't. Just remember, fans are vanity and sales are sanity." – Lori Taylor
28. "On social networks be helpful 85 percent of the time by sharing and engaging, 10 percent publish original content and less than 5 percent talk about what your organization does." – David Meerman Scott
29. "Never let ads write checks your website can't cash." – Avinash Kaushik
30. "It's much easier to double your business by doubling your conversion rate than doubling your traffic." – Bryan Eisenberg
Marketing quotes that will transform the way you think about business strategy
31. "Social media is about sociology and psychology more than technology." – Brian Solis
32. "On the average, five times as many people read the headline as read the body copy. When you have written your headline, you have spent eighty cents out of your dollar." – David Ogilvy
33. "The internet is a big place and yes, most things have already been done… You have to be even more creative." – Jon Henshaw
34. "You get biased by your existing understanding of the field." – Rand Fishkin
35. "Behind every tweet, share and purchase, there is a person. Care more about the person and less about the share." – Shafqat Islam
36. "Here's my whole marketing idea: treat people the way you want to be treated." – Garth Brooks
37. "Marketing used to be about making a myth and telling it. Now it's about telling a truth and sharing it." – Marc Mathieu
38. "Affiliate marketing has made businesses millions and ordinary people millionaires." – Bo Bennett
39. "Many companies have forgotten they sell to actual people. Humans care about the entire experience, not just the marketing or sales or service. To really win in the modern age, you must solve for humans." – Dharmesh Shah
40. "As marketers, we should be changing the mantra from 'always be closing' to 'always be helping.'" – Jonathan Lister
Other invaluable marketing quotes
41. "To continue winning the internet marketing game, your content has to be more than just brilliant – it has to give the people consuming that content the ability to become a better version of themselves." – Michelle StinsonRoss
42. "What separates good content from great content is a willingness to take risks and push the envelope." – Brian Halligan
43. "One of the best ways to sabotage your content is to not tie it to your goals. Know why you're creating content." – Ellen Gomes
44. "Ignoring online marketing is like opening a business but not telling anyone." – KB Marketing Agency
45. "When you are first getting started on social media, you really need to do your research… don't just choose a channel because Facebook owns the world or because everyone's doing Twitter." – Celeste Mora
46. "Word of mouth is the most valuable form of marketing, but you can't buy it. You can only deliver it. And you have to really deliver." – G-Eazy
47. "Smart marketers and smart brand managers understand the importance of leveraging frame of reference to build their brands." – Mark Shapiro
48. "A brand is the set of expectations, memories, stories, and relationships that, taken together, account for a consumer's decision to choose one product or service over another." – Seth Godin
49. "People don't buy what you do, they buy why you do it." – Simon Sinek
50. "At its very core, marketing is storytelling. The best advertising campaigns take us on an emotional journey — appealing to our wants, needs, and desires — while at the same time telling us about a product or service." – Melinda Partin
More marketing quotes and sayings
51. "When marketing is not grounded in a foundation of authentic messaging with authority, integrity and ability, it can end up costing worlds more, saying worlds less and sounding the same as so many others." – Loren Weisman
52. "Make the shift from random acts of marketing to building an earnings growth program." – John H. Watson
53. "Marketing is awareness and sales is the solution. Marketing and sales combined are awareness about a solution that goes hand in hand together." – Aiyaz Uddin
54. "You need to be a risk-taker, but you have to also make sure that you are a calculated risk-taker." – Pooja Agnihotri
55. "Marketing is the thoughtful practice of speaking to one individual with content that is personal and purposeful." – Unknown
56. "Given the reality of limited time and resources, best practices provide a valuable, low risk, default starting point." – Chad White
57. "Marketing is a never-ending story. It's about perpetual motion where innovation plays the lead role." – Stacey Kehoe
If you're enjoying these quotes, make sure to read our collection of innovation quotes that will inspire you to find new successes by trying new things.
58. "If you think marketing is expensive, you're doing it wrong." – Stacey Kehoe
59. "Make something people want and sell that, or be someone people need and sell you." – Ryan Lilly
60. "Marketing without statistics is navigating without a map." – Amit Kalantri
Marketing Quotes To Help You Build A Successful Brand
61. "Marketing is not selling. Marketing is building a brand in the mind of the prospect." ― Al Ries
62. "Marketing strategy is a series of integrated actions leading to a sustainable competitive advantage." ― John Sculley
63. "Marketing is the act of inventing the product. The effort of designing it. The craft of producing it. The art of pricing it. The technique of selling it." ― Seth Godin
64. "Our success is a direct result of knowing how to market a brand and having the right people representing the brand." ― Greg Norman
65. "Marketing has always been about the same thing – who your customers are and where they are." ― Noah Kagan
66. "Marketing is not the art of finding clever ways to dispose of what you make. It is the art of creating genuine customer value." ― Philip Kotler
67. "The aim of marketing is to make selling superfluous." ― Peter Drucker
68. "Good marketers tell a story." ― Seth Godin
69. "It's about using the right tools, with the right triggers, within a proper marketing framework." ― Vishen Lakhiani
70. "Perhaps the most important marketing step any business can take is to discover a way to be different." ― John Jantsch
Which of these brilliant marketing quotes inspires you the most?
If you want to build your business and increase profits, heed the advice of successful marketers.
The marketing quotes above reflect years of experience in the industry, rigorous research, and many instances of trial and error.
Keep these words in mind as you strategize your marketing goals and begin on your path to success.
The best marketing quotes and sayings will inspire you to dream big, innovate, and achieve your goals.
At the end, marketing is the key to your success and profitability.
Transform the way you think about business and start reaching your full potential today.
If you put in the time, energy, and patience, you can succeed in the world of business.
Want more marketing quotes from one of the industry greats?
Check out these David Ogilvy quotes!
Share these quotes with your team to motivate them towards business greatness.
What are your favorite marketing quotes about business, sales, and success?
Let us know in the comment section below.