90 Powerful Sales Quotes for Landing Your Next Big Sale
These sales quotes will help you better understand the relationship between your business and your customers.
Sales, whether you're working as an insurance sales agent or an online entrepreneur, is integral to keeping a business afloat.
Below is a hand-picked selection of insightful sales quotes to help you bring home the bacon.
Is sales a part of your current job?
The lifeblood of maintaining a thriving business is profit.
The only way you can earn that profit is to sell.
As a result, being a salesperson can come with tons of pressure.
Getting customers to trust in you and put their money where their mouth is, is very difficult. 
Below is a curated selection of quotes about sales to help you through the ups and downs of being a salesman.
Check out all of the business-minded, sales quotes below!
Sales quotes about business
Topics discussed in the below quotes include the importance of hard work, how to handle failure, and how to succeed in sales. 
1. "I have always said that everyone is in sales. Maybe you don't hold the title of salesperson, but if the business you are in requires you to deal with people, you, my friend, are in sales." — Zig Ziglar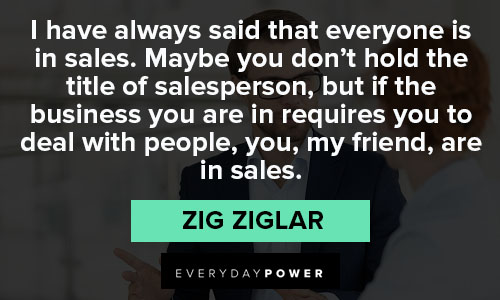 2. "I like to think of sales as the ability to gracefully persuade, not manipulate, a person or persons into a win-win situation." — Bo Bennett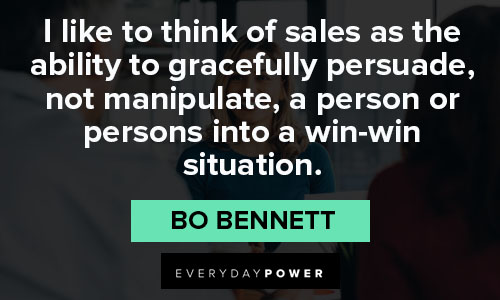 3. "In sales, a referral is the key to the door of resistance." — Bo Bennett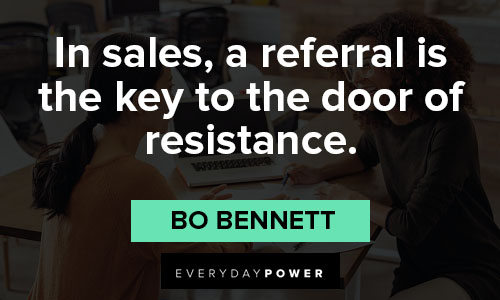 4. "If eighty percent of your sales come from twenty percent of all of your items, just carry those twenty percent." — Henry Kissinger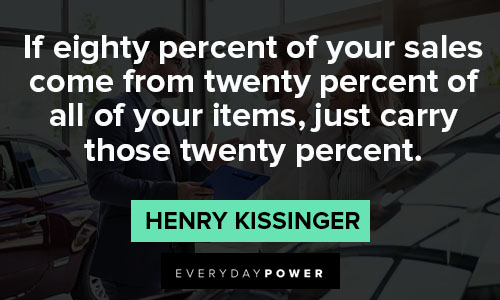 5. "Hard numbers tell an important story; user stats and sales numbers will always be key metrics. But every day, your users are sharing a huge amount of qualitative data, too – and a lot of companies either don't know how or forget to act on it." — Stewart Butterfield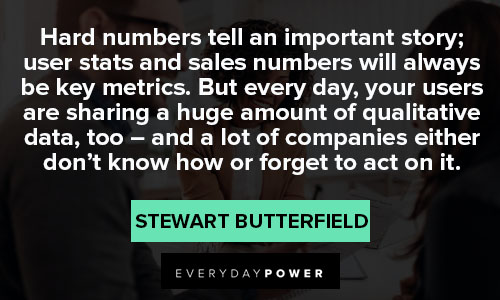 Motivational Sales Quotes For Sales Representatives 
These quotes emphasize the importance of creativity, hard work, cost management, and customer service, in achieving success in sales.
6. "The ability to take another perspective has become one of the keys to both sales and non-sales selling. And the social science research on perspective-taking yields some important lessons for all of us." — Daniel H. Pink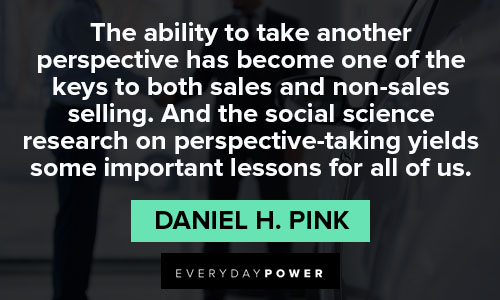 7. "So long as new ideas are created, sales will continue to reach new highs." — Dorothea Brande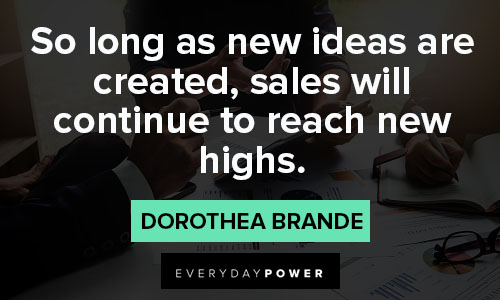 8. "Scarcity is a good sales tactic if you are selling something people want." — Katie Hopkins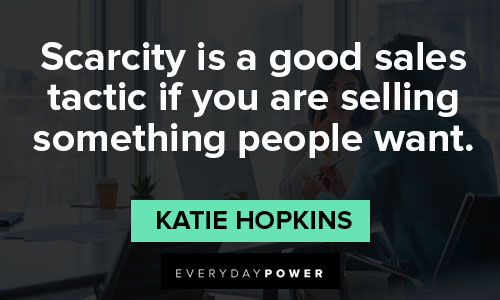 9. "There's no lotion or potion that will make sales faster and easier for you – unless your potion is hard work." — Jeffrey Gitomer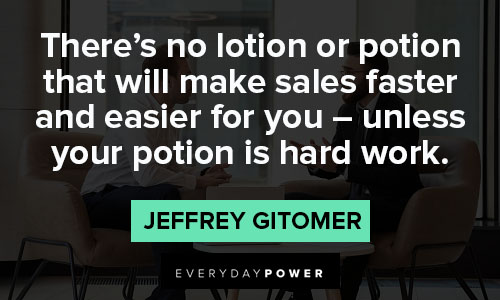 10. "Profit or perish… There are only two ways to make money: increase sales and decrease costs." — Fred DeLuca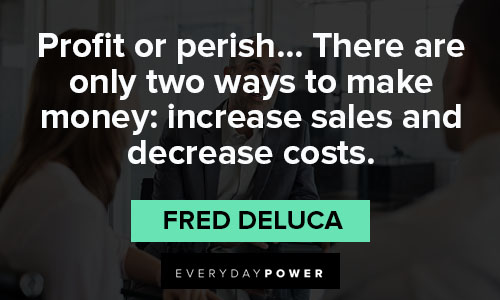 11. "I ask people what they do in sales, how much money they made last year, what their cost of sales is, and they don't even know. If you don't know your numbers, you're going out of business. I don't care how good your product is." — Tilman J. Fertitta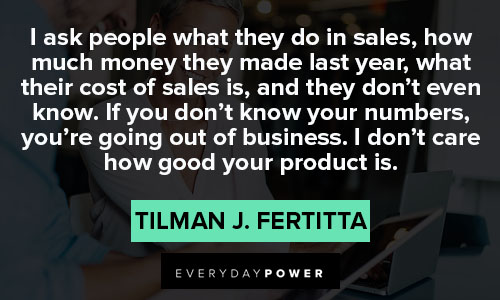 12. "Really good customer service will deliver sales. You are training salesmen to give the best possible advice and then to achieve the sale. People actually like you to ask for a sale because it shows you value their business." — John Caudwell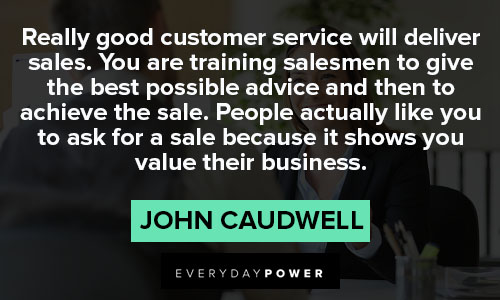 Sales quotes about success and hard work
Learn more about the nature of success, emphasizing the significance of hard work, determination, resilience, and unwavering dedication in achieving one's goals.
13. "One of the best predictors of ultimate success in either sales or non-sales selling isn't natural talent or even industry expertise, but how you explain your failures and rejections." — Daniel H. Pink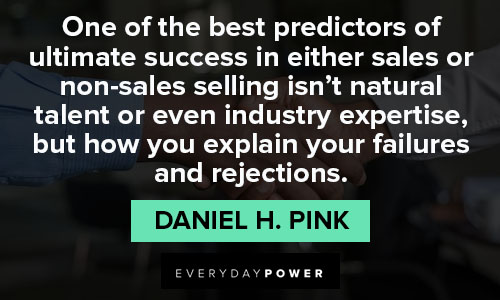 14. "There is no prize in sales for second place. It's win or nothing. The masters know this and strive for – they fight for – that winning edge." — Jeffrey Gitomer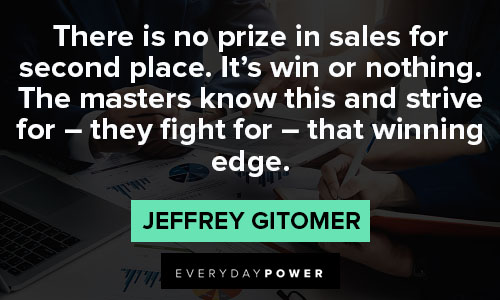 15. "Success looks a lot like failure up until the moment you break through the finish line." — Dan Waldschmidt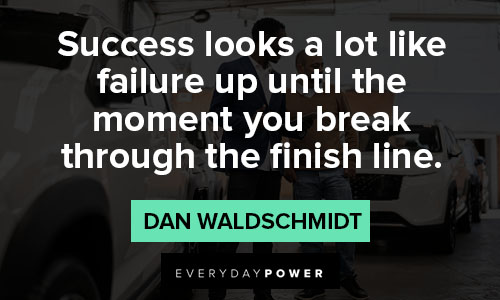 16. "The price of success is hard work, dedication to the job at hand, and the determination that whether we win or lose, we have applied the best of ourselves to the task at hand." — Vince Lombardi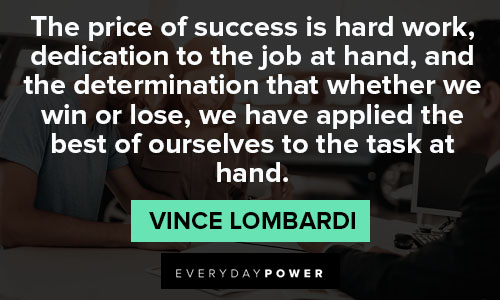 17. "Talent is cheaper than table salt. What separates the talented individual from the successful one is a lot of hard work." — Stephen King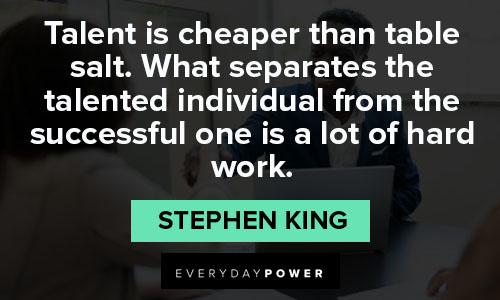 18. "Outstanding people have one thing in common: An absolute sense of mission." — Zig Ziglar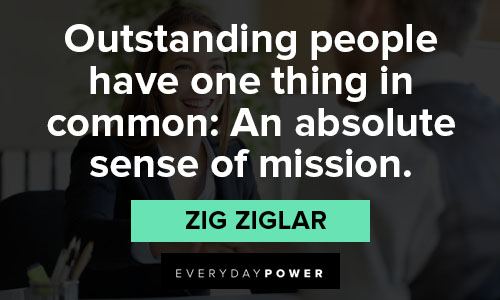 19. "Success is not final; failure is not fatal: it is the courage to continue that counts." — Winston Churchill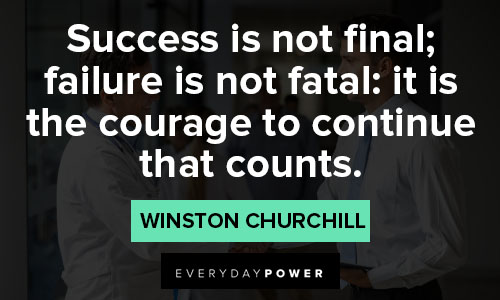 20. "Success usually comes to those who are too busy to be looking for it." — Henry David Thoreau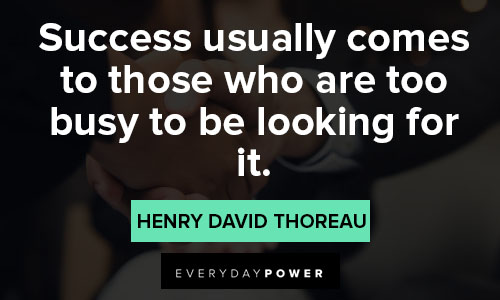 21. "I don't know the word 'quit.' Either I never did, or I have abolished it." — Susan Butcher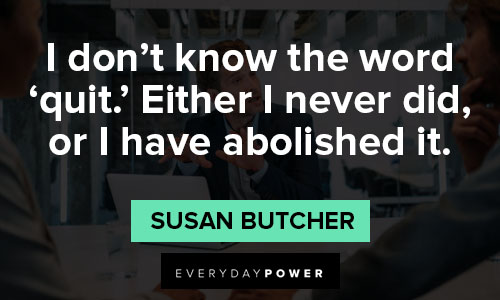 22. "If you really look closely, most overnight successes took a long time." — Steve Jobs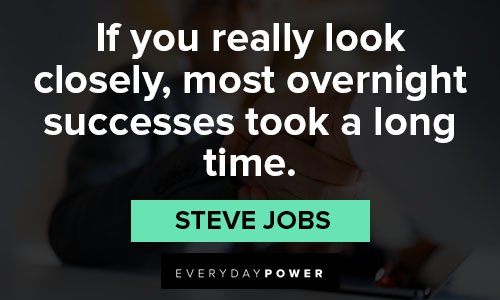 23. "You wanna know what scares people? Success. When you don't make moves and when you don't climb up the ladder, everybody loves you because you're not competition." — Nicki Minaj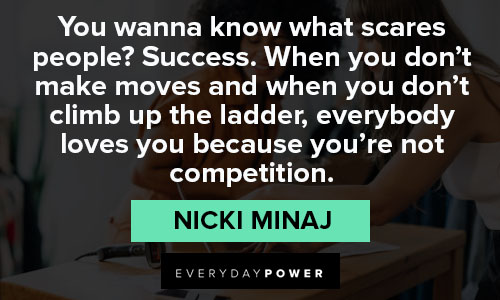 Sales quotes about competition
These quotes share the role that competition plays in the sales industry, driving people to sucecss.
24. "The healthiest competition occurs when average people win by putting above average effort." — Colin Powell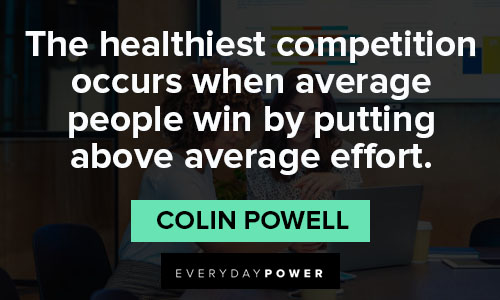 25. "Control your expenses better than your competition. This is where you can always find the competitive advantage." — Sam Walton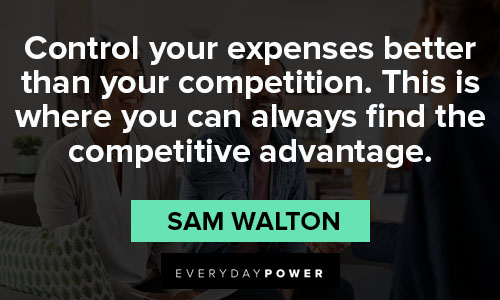 26. "Number one, cash is king… number two, communicate… number three, buy or bury the competition." — Jack Welch
27. "As humans, we have evolved to compete… it is in our genes, and we love to watch a competition." — Peter Diamandis
28. "Taste the relish to be found in competition – in having put forth the best within you." — Henry J. Kaiser
29. "Believing that your competition is stronger and better than you pushes you to better yourselves." — Simon Sinek
30. "Competition is not only the basis of protection to the consumer, but is the incentive to progress." — Herbert Hoover
31. "It's competition that forces companies to get out of their complacency." — John Mackey
You will also enjoy our article on Narcos quotes.
Sales quotes about salespeople
Relationship building, providing value, and understanding decision-making are importantant aspects to succeeding in sales.
32. "Too often, sales reps simply regurgitate their presentations and expect to land the sale. It doesn't work." — Harvey Mackay
33. "We have this idea that extroverts are better salespeople. As a result, extroverts are more likely to enter sales; extroverts are more likely to get promoted in sales jobs. But if you look at the correlation between extroversion and actual sales performance – that is, how many times the cash register actually rings – the correlation's almost zero." — Daniel H. Pink
34. "Salesmanship is limitless. Our very living is selling. We are all salespeople." — James Cash Penney
35. "Great salespeople are relationship builders who provide value and help their customers win." — Jeffrey Gitomer
36. "Salespeople are in the decision business. Their livelihood depends on the decisions of others." — Mark Goulston
37. "Salespeople are the most important people in any organization. Until a salesperson gets an order, nobody in the company has a job." — Chris Gardner
38. "I still remember the five points of salesmanship: attention, interest, conviction, desire and close." — Annette Bening
39. "The best of merchandise will go back to the shelf unless handled by a conscientious, tactful salesman." — James Cash Penney
Sales quotes about failure
Successful salespeople need to change the way they think and feel about failure.
40. "Failure is simply the opportunity to begin again, this time more intelligently." — Henry Ford
41. "Don't let what you cannot do interfere with what you can do." — John Wooden
42. "Every problem is a gift—without problems we would not grow." — Tony Robbins
43. "The real test is not whether you avoid this failure, because you won't. It's whether you let it harden or shame you into inaction, or whether you learn from it; whether you choose to persevere." — Barack Obama
44. "Forget past mistakes; forget failures; forget everything except what you're going to do now and do it." — William Durant
45. "Taste the relish to be found in competition – in having put forth the best within you." — Ralph Waldo Emerson
46. "Failures, repeated failures, are finger posts on the road to achievement. One fails forward toward success." — C.S. Lewis
47. "Failure is the condiment that gives success its flavor." — Truman Capote
48. "The wisest of the wise may err." — Aeschylus
49. "If you're not failing every now and again, it's a sign you're not doing anything very innovative." — Woody Allen
50. "Sometimes the best gain is to lose." — George Herbert
More sales quotes and sayings
Continue learning more about the world of sales in the following quotes.
51. "Challenge your sales force, but above all, set your salespeople up to succeed, not to fail." — Yuri van der Sluis
52. "You can take and nail two sticks together like they've never been nailed together before and some fool will buy it." — George Carlin
53. "We're all somebody's prospect; we're all somebody's customer." — Chris Murray
54. "Focusing on Earning the Right will have an incredible effect on the success of every single sales call that you will make from this day on." — Chris Murray
55. "No business is just a one-man's job. You need sales, you need operations, you need partnerships, you need even customer and brand loyalty." — Pooja Agnihotri
56. "Stop assuming the fail and start assuming the sale." — Rob Liano
57. "Retailing is the art of making habits and the business of maintaining habits." — Sijin Bt
58. "Closing sales is a different process altogether. It is as important as marketing. Marketing can bring you the leads but the last step of turning those leads into customers decide the fate of all your efforts. This is known as closing sales." — Pooja Agnihotri
59. "When you take care of your customers, they will reward you with increased business sales and increased profits in return." — Pooja Agnihotri
60. "Perfect balance in sales is combining a sense of urgency to close deals with great patience to listen, understand and act in a customer's best interest." — Yuri van der Sluis
Sales Quotes on how attitude plays an important role in its success
Sales plays an important role in everything we do in life and business.
61. "Your customers are the lifeblood of your business. Their needs and wants impact every aspect of your business, from product development to content marketing to sales to customer service." — John Rampton
62. "Someone told me that each equation I included in the book would halve the sales." — Stephen Hawking
63. "Pretend that every single person you meet has a sign around his or her neck that says, 'Make me feel important.' Not only will you succeed in sales, you will succeed in life." — Mary Kay Ash
64. "Sales are contingent upon the attitude of the salesman – not the attitude of the prospect." — W. Clement Stone
65. "In any competitive environment, whether you're in sales or marketing or whatever it is, you have to know your competition, understand who they are, do intelligent analysis on them and then you have to know yourself – who you are and what you're capable of doing." — Edwin Moses
Sales quotes with helpful tips you can learn
Learn more about how to improve at sales from the following professionals.
66. "It is not just disposable income but whether people feel good about their immediate future that drives sales. It is this feel-good factor that drives the purchases more and more than mere economic wealth." — Johann Rupert
67. "After-sales service is more important than assistance before sales. It is through such service that one gets permanent customers." — Konosuke Matsushita
68. "I told our employees several times, 'Let's focus on the end user, let's focus on committing to society, and focus on the crisis and doing the right thing, show our corporate social responsibility.' Don't focus on marketing and sales. That's horrible culture." — Eric Yuan
69. "I don't pay that much attention to sales figures or awards. To me, the big question is: 'Did you influence the next generation?' That's my goal." — Stephan Pastis
70. "Basically, you're selling a world as an actor, right? I mean it's like any sales person: if you believe in your product, you know your product, you sell it a lot better." — Paul Walker
Sales Quotes To Achieve Sales Success
Keep reading through these sales quotes to find out more about the customer and the psychology and soft skills used in sales.
71. "Sales success comes from the right balance of quality human interaction as well as appropriate use of supplemental tools." ― Deb Calvert
72. "Customers don't care at all whether you close the deal or not. They care about improving their business. It's easy to forget this in the heat of a sales cycle." ― Aaron Ross
73. "You're only as good as your last sale, so you put your all into something and just hope that from that you can get your next job." ― Josh Peck
74. "In high-productivity sales organizations, salespeople do not cause customer acquisition growth, rather they fulfill it." ― Aaron Ross
75. "Sales success comes after you stretch yourself past your limits on a daily basis." ― Omar Periu
76. "If you harness the power of innovation, you'll surely convert sales complexity into a brutal competitive advantage." ― Tim Sanders
77. "The trust that a customer has in your company and in you strongly outweighs the techniques you use to sell. Establishing trust is better than any sales technique." ― Mike Puglia
78. "You have to drop your sales mentality and start working with your prospects as if they've already hired you." ― Jill Konrath
79. "Keep your sales pipeline full by prospecting continuously. Always have more people to see than you have time to see them." ― Brian Tracy
80. "On any given Monday, I am one sale closer and one idea away from being a millionaire." ― Larry D. Turner
Sales quotes about the customer
Learn more about the customer experience and sales in the following quotes.
81. "Make a customer, not a sale." — Katherine Barchetti
82. "If you are not taking care of your customer, your competitor will." — Bob Hooey
83. "How you sell matters. What your process is matters. But how your customers feel when they engage with you matters more." — Tiffani Bova
84. "Don't find customers for your products; find products for your customers." — Seth Godin
85. "Merely satisfying customers will not be enough to earn their loyalty. Instead, they must experience exceptional service worthy of their repeat business and referral. Understand the factors that drive this customer revolution." — Rick Tate
86. "Filter everything you're doing, saying and pitching through the customer point of view, and you'll improve just about every metric you care about today." — Matt Heinz
87. "Approach each customer with the idea of helping him or her solve a problem or achieve a goal, not of selling a product or service." — Brian Tracy
88. "Care enough to create value for customers. If you get that part right, selling is easy." — Anthony Iannarino
89. "It is not your customer's job to remember you. It is your obligation and responsibility to make sure they don't have the chance to forget you." — Patricia Fripp
90. "You don't need a big close, as many sales reps believe. You risk losing your customers when you save all the good stuff for the end. Keep the customer actively involved throughout the presentation and watch your results improve." — Harvey MacKay
Are you a good salesperson? 
The art of selling isn't just important for salespeople to master.
It is a key tool for every person to have in their toolbelt.
You may not have been aware of it, but you probably have stepped into the salesperson role many times throughout your life.
Have you ever written a persuasive essay for one of your classes?
You were selling the validity of your idea to your teacher or professor.
Have you ever applied for a job?
You were selling your skills and experience to an employer.
Learning how to be a good salesperson can open doors for you and connect you to opportunities that you never knew existed.
Which of these sales quotes and sayings were you drawn to the most?
Tell us your thoughts below, and share them with your coworkers and friends.
Check out these related lifestyle articles:
What is Your Measure of Success?
The truth is that we all have the ability to become successful and interpret success the way we want to – regardless of where we are in life.
20 Meaningful Ways to Ask How Was Your Day
Do you ask your loved ones, "How was your day?" And each day, you get "fine." Switch up how you ask, and their response will delight you!
How To Discover Your Purpose When You Feel Off Course
Discovering your purpose when you feel like you have none can be tough – but it can be done. Maybe your life purpose has been with you all along.
Why Some People Succeed and Others Don't
Have you ever wondered why some people succeed in many areas of life, while others remain stagnant or give up altogether? Find out why here.
Check out these related quote articles:
Customer Service Quotes to Inspire You at Work
These customer service quotes about sales, retail, and helpfulness will change your perspective on customer satisfaction.
Brilliant Marketing Quotes to Boost Your Business
These inspirational quotes will transform the way you think about marketing and business strategy.
Motivational Quotes For Entrepreneurs
Every entrepreneur will encounter challenging times, and these motivational quotes for entrepreneurs will help you handle them!
Service Quotes About Country and Community
These quotes about service to the country and community show how vital service is to our nation (and the world).