50 New Year Resolution Quotes to Give You a Boost
Are you looking for inspiring New Year resolution quotes? If yes—this is the article for you. We have collected and compiled the most popular quotes associated with New Year's resolutions.
Tips to Make New Year Resolutions
People are often excited about setting their New Year resolutions but it quickly fades.
After a few months, a lot of people have even forgotten what their resolutions were.
However, if you are willing and committed to finding the right resolution for you, we can help.
Here are a few quick tips to create New Year's resolutions you will stick to.
Just Focus on One Thing
It is nearly impossible to change your whole life at once. Instead, identify one specific area of your life that requires improvement.
This will help you understand what change you want to make for the new year.
You can start on another one when you have successfully completed that resolution.
Plan Ahead of Time
When making a New Year's resolution, try to be vigilant, as you need to keep an eye on the challenges ahead.
Ignorance of the challenges ahead can serve as the major cause of failure.
To be successful, you have to foresee the time and plan ahead.
As a result, you can collect the required resources that are necessary for your success.
Don't Overlook the Problems
Reaching a goal is never easy, as you would come across all sorts of problems. However, you need to act prudently and consider each problem as a hurdle between you and your goal.
So, don't overlook a problem, no matter how small it is. The best way to counter a problem is to anticipate it and devise a strategy to overcome it.
Keep a Track of Your Progress
This is the most essential factor to consider when on a journey towards a successful new year resolution.
To make sure you are going in the right direction, it is imperative to track your progress.
For example, you can monitor your progress through an app. This can help you keep moving in the right direction.
Now, if you're feeling motivated, here are some New Year Resolution quotes to keep you inspired.
Check out our most popular quote article, a list of short inspirational quotes for daily inspiration.
Our inspirational quote category page has even more inspirational and educational quotes.
Top 10 New Year Resolution Quotes
It can be helpful to have quotes posted up around your house when trying to make changes. These ones are quick and easy to remember.
1. "To improve is to change; to be perfect is to change often." – Winston Churchill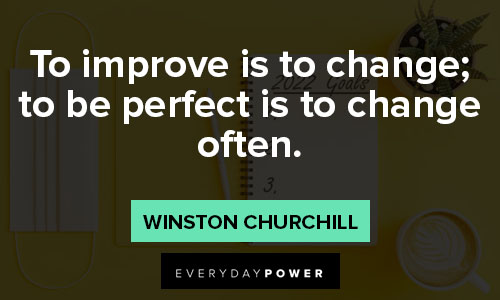 2. "It is not in the stars to hold our destiny but in ourselves." – William Shakespeare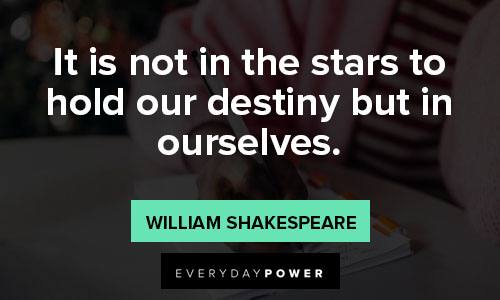 3. "As long as I am breathing, in my eyes, I am just beginning." – Criss Jami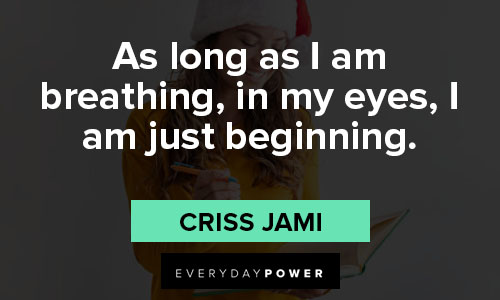 4. "There are far better things ahead than any we leave behind." – C.S. Lewis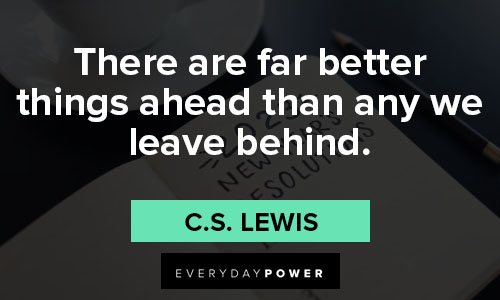 5. "Year's end is neither an end nor a beginning but a going on." – Hal Borland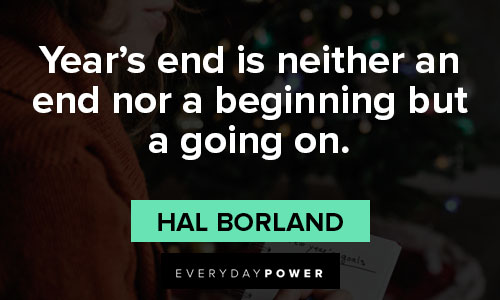 6. "Cheers to a new year and another chance for us to get it right." – Oprah Winfrey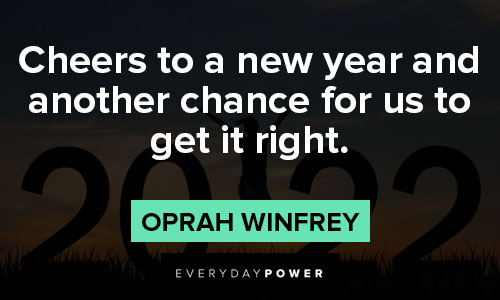 7. "Celebrate what you want to see more of." – Tom Peters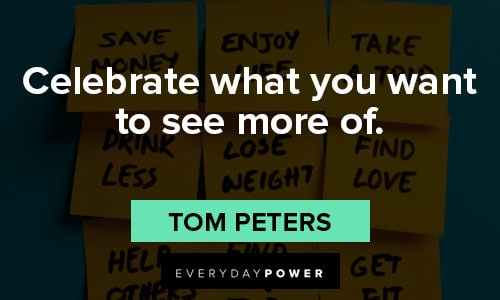 8. "Write it on your heart that every day is the best day in the year." – Ralph Waldo Emerson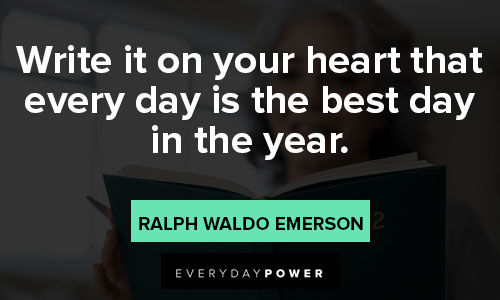 9. "You do not find the happy life. You make it." – Camilla Eyring Kimball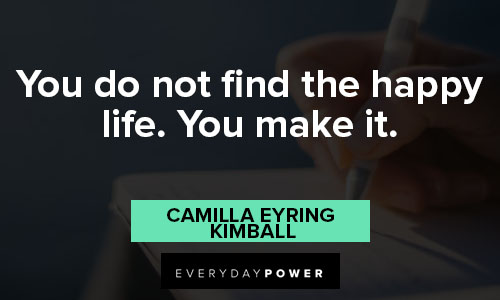 10. "I like the dreams of the future better than the history of the past." – Thomas Jefferson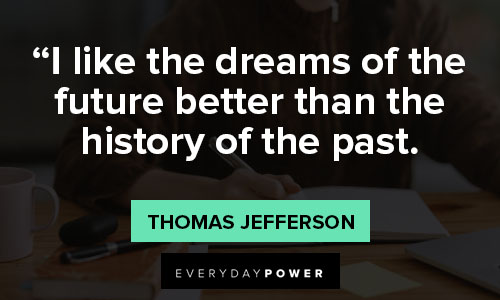 New Year Resolution Quotes to Inspire Change
The year is going to go by whether you make resolutions or not. So, you might as well set some goals that you can work toward and these quotes can help.
11. "A year from now, you're gonna weigh more or less than what you do right now." – Phil McGraw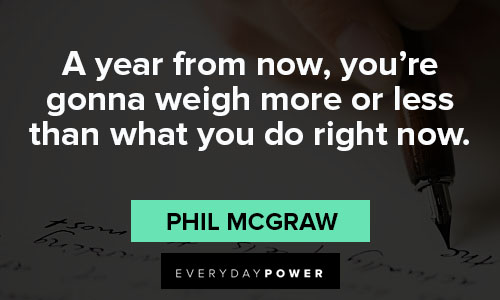 12. "Each year's regret are envelopes in which messages of hope are found for the New Year." – John R. Dallas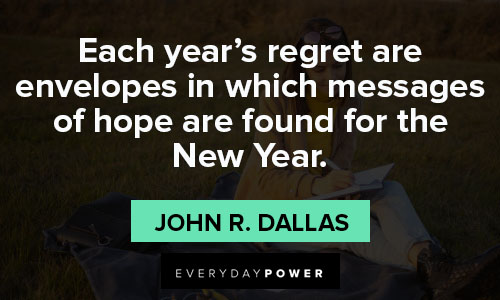 13. "If you don't like something, change it. If you can't change it, change your attitude." – Maya Angelou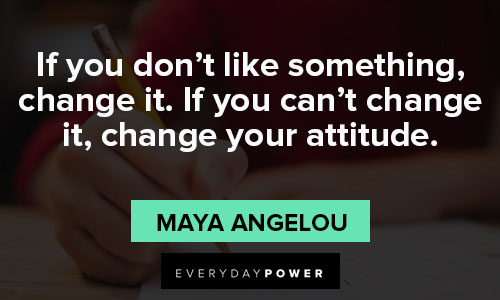 14. "New Year – a new chapter, new verse, or just the same old story? Ultimately we write it. The choice is ours." – Alex Morritt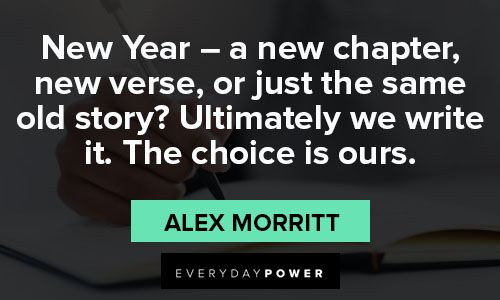 15. "New Year's Resolution: To tolerate fools more gladly, provide this does not encourage them to take up more of my time." – James Agate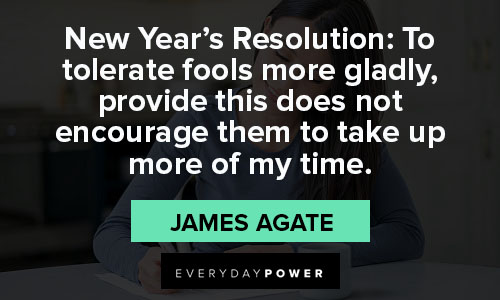 16. "Resolve to keep happy, and your joy and you shall form an invincible host against difficulties." – Helen Keller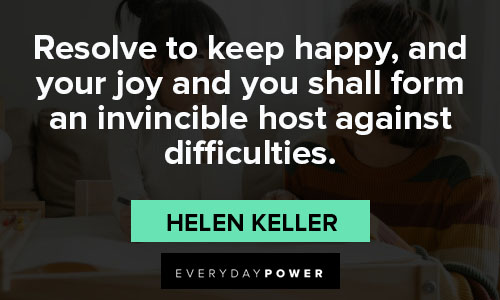 17. "Listen. I wish I could tell you it gets better. But, it doesn't get better. You get better." – Joan Rivers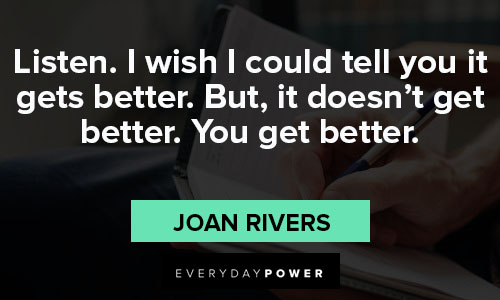 18. "Go confidently in the direction of your dreams." – Henry David Thoreau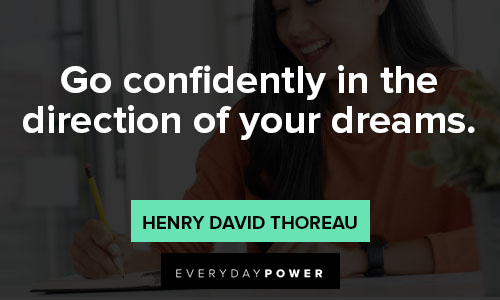 19. "You are never too old to set another goal or to dream a new dream." – C.S. Lewis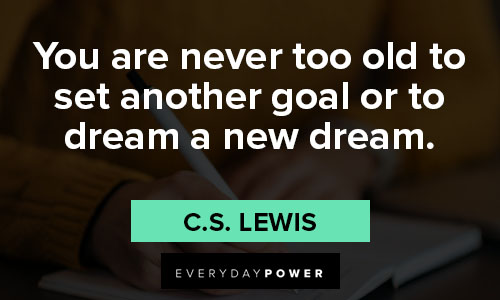 20. "An optimist stays up until midnight to see the New Year in. A pessimist stays up to make sure the old year leaves." – William E. Vaughan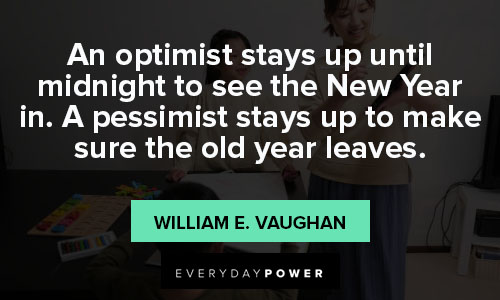 New Year Resolution Quotes for all ages
You can set resolutions no matter how young or old you are. These quotes show examples of the types of resolutions you can make and why you should.
21. "Always bear in mind that your own resolution to succeed is more important than any other." – Abraham Lincoln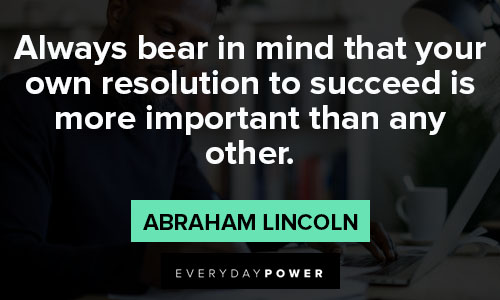 22. "What the New Year brings to you will depend a great deal on what you bring to the New Year." – Vern McLellan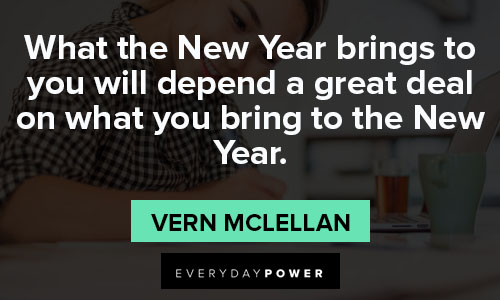 23. "For last year's words belong to last year's language. And next year's words await another voice." – T.S. Eliot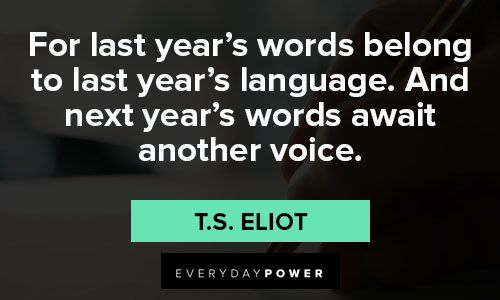 24. "Kindness, kindness, kindness. I want to make a New year's prayer, not a resolution. I'm praying for courage." – Susan Sontag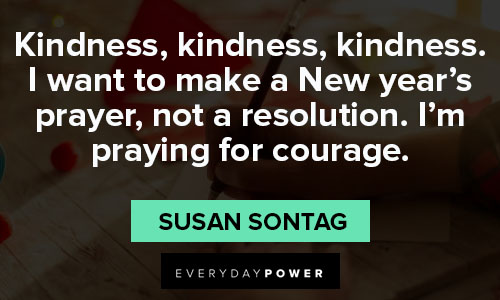 25. "You don't have to see the whole staircase, just take the first step." – Martin Luther King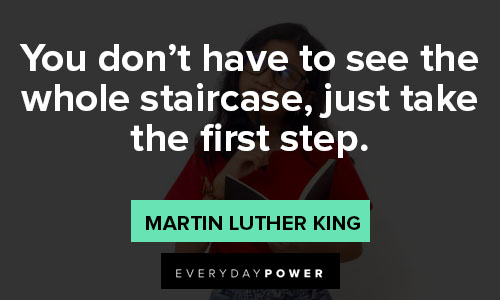 26. "The magic in new beginnings is truly the most powerful of them all." – Josiyah Martin  
27. "Don't live the same year 75 times and call it a life." – Robin Sharma
28. "Strength shows not only the ability to persist, but the ability to start over." – F. Scott Fitzgerald
29. "Every new beginning comes from some other beginning's end." – Seneca 
30. "Sometimes a year has been so disastrous and so terrible that entering a new year will automatically mean entering a wonderful year!" – Mehmet Murat ildan
New Year Resolution Quotes to help you take control
You are the only one who can accomplish your resolutions and make positive changes in your life. If you are ready to take action, these quotes can keep you motivated throughout the year.
31. "I hope you realize that every day is a fresh start for you. That every sunrise is a new chapter in your life waiting to be written." – Juansen Dizon
32. "Packaged inside of every mistake there lays a great lesson. And while I don't want to take the mistake into the New Year, I most certainly want to take the lesson that's packaged inside of it." – Craig D. Lounsbrough
33. "In order to be successful in the New Year, stay focused, develop a positive attitude and be passionate with your dreams." – Bamigboye Olurotimi
34. "And now we welcome the new year. Full of things that have never been." – Rainer Maria Rilke
35. "I don't know where I'm going from here, but I promise it won't be boring." – David Bowie
36. "New year is the glittering light to brighten the dream-lined pathway of future." – Munia Khan
37. "The bad news is time flies. The good news is you're the pilot." – Michael Altshuler
38. "Your present circumstances don't determine where you can go. They merely determine where you start." – Nido Qubein
39. "You can get excited about the future. The past won't mind." – Hillary DePiano
40. "In our perfect ways. In the ways we are beautiful. In the ways we are human. We are here. Happy New Year. Let's make it ours." – Beyoncé
New Year Resolution Quotes for Everyone
Each new year is full of new possibilities. But you don't have to wait for a new year to start to begin making progress. Use these quotes to inspire you into change now.
41. "The most important thing to remember is this: To be ready at any moment to give up what you are for what you might become." – W.E.B. Du Bois
42. "Be at war with your vices, at peace with your neighbors, and let every New Year find you a better man." – Benjamin Franklin
43. "The only person you are destined to become is the person you decide to be." – Ralph Waldo Emerson
44. "Take a leap of faith and begin this wondrous New Year by believing." – Sarah Ban Breathnach
45. "Every time you tear a leaf off a calendar, you present a new place for new ideas." – Charles Kettering
46. "It's a new dawn, It's a new day, It's a new life, for me, And I'm feeling good." – Nina Simone
47. "Enter this new year with a gratitude for this new chance to create your dreams.' – Avina Celeste
48. "You are never too old to reinvent yourself." – Steve Harvey
49. "No matter how hard the past, you can always begin again." – Buddha
50. "Whatever it is you're scared of doing, do it. Make your mistakes, next year and forever." – Neil Gaiman
Which of these New Year Resolution Quotes encouraged you the most?
The New Year resolution quotes mentioned above can help boost your morale, especially when facing a hard time in your life.
We have included a wide range of quotes to give you a nice collection to read and refer back to often.
Whether you're reading this at the start of the year, the beginning or a month, or smack dab in the middle of the year, it doesn't matter.
We can always be making improvements in our lives. If you failed at your resolutions in January, get started with them again today.
Setting S.M.A.R.T. goals can help you take small steps to keep you moving toward the big goals you have for your year and your life.
These quotes can strongly impact your way of thinking and how you perceive things around you.
Share which one of these New Year quotes is your favorite in the comments and with your friends to help keep them motivated too.