Ambition Quotes To Set Your Sights Sky High
Want to supercharge your drive? These awesome ambition quotes are perfect for you.
When we dream, there's no reason why we shouldn't dream big.
It's perfectly fine to have smaller goals, but it's good for our souls and mind to dream big and want more out of life.
This collection of ambition quotes will help you shoot for the stars and make you feel like anything is possible if you set your mind to it.
Ambition is what fuels people to accomplish great things.
It's what makes winners come out on top, regardless of what obstacles are placed in front of them.
Without that strong desire to succeed, nothing great would ever be achieved.
If you're an ambitious person, you know what you want, you have clear goals, and you are ready to work extra hard to achieve them.
You embrace challenges because you see them as a force that will make you stronger.
You have willpower and determination.
While talent and resources are undoubtedly important, ambition overrides them by far.
You might not be the best at something, but if you want to succeed badly, you'll make it.
To supercharge your drive, below is our collection of inspirational, wise, and powerful ambition quotes, ambition sayings, and ambition proverbs, collected from various sources over the years.
But even as you dream big, be sure to check out our list of quotes from Macbeth that will remind you to use your ambition and power in a good way.
If you enjoy this article, check out our most popular quote article, a list of short inspirational quotes for daily motivation.
Browse our entire collection of inspirational quotes for more motivating ideas and concepts.
Ambition Quotes To Set Your Sights Sky High
1. "Those who are crazy enough to think they can change the world usually do." ― Steve Jobs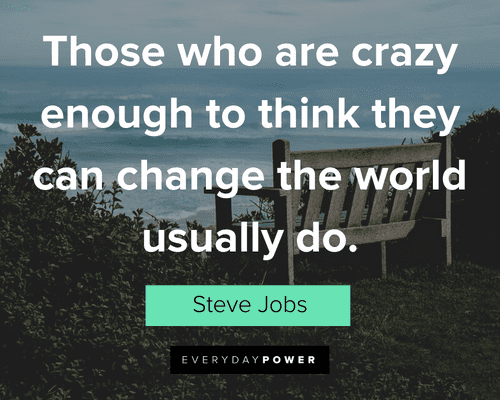 You will also enjoy our article on sky quotes.
2. "I'm tough, I'm ambitious, and I know exactly what I want. If that makes me a bitch, okay." ― Madonna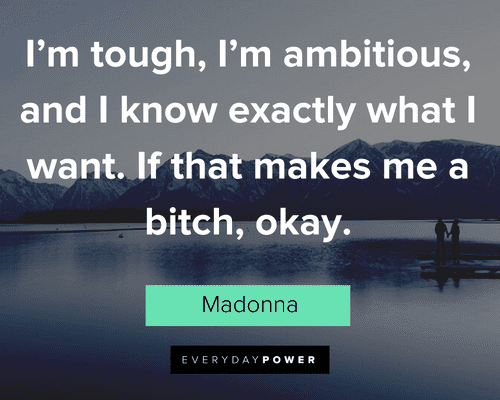 If you're enjoying these quotes, make sure to read our collection of bad bitch quotes to whip your self-confidence back into shape.
3. "People with ambition don't give a damn what other people think of them." ― Diane Setterfield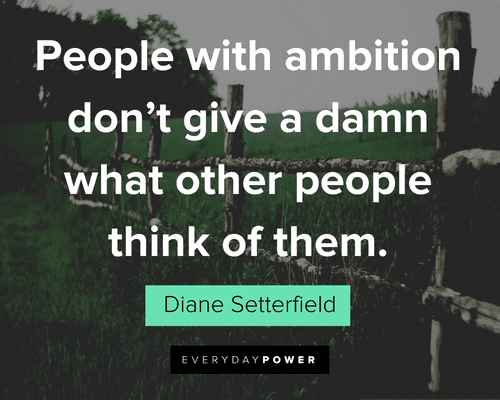 You will also enjoy our article on Macbeth quotes.
4. "There is hope in dreams, imagination, and in the courage of those who wish to make those dreams a reality." ― Jonas Salk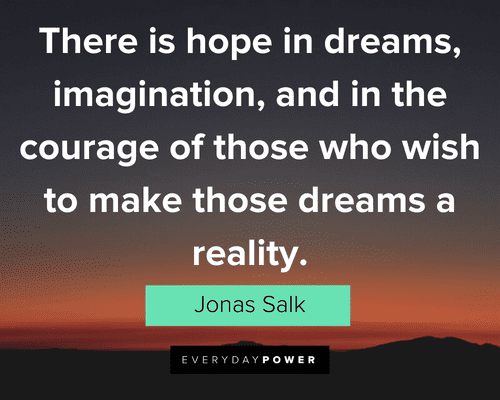 You will also enjoy our article on dream quotes.
5. "Ambition is not what a man would do, but what a man does, for ambition without action is fantasy." ― Bryant McGill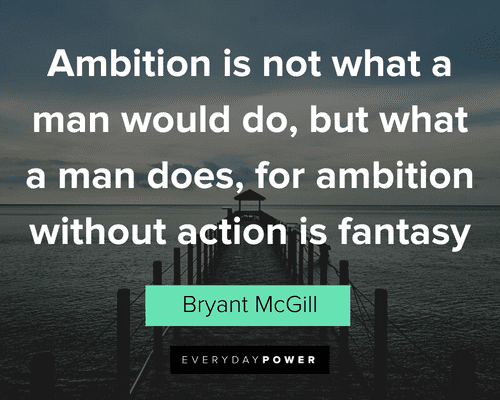 You will also enjoy our article on Frozen quotes
6. "Big results require big ambitions." – James Champy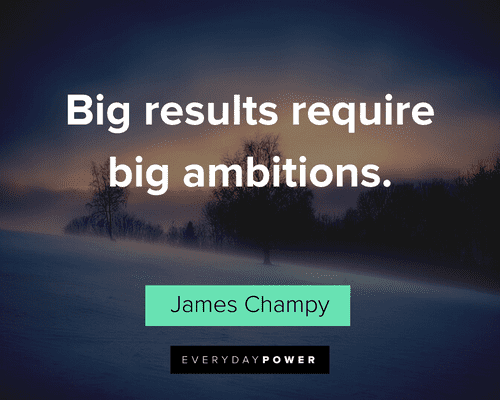 You will also enjoy our article on passion quotes.
7. "A man without ambition is like a beautiful worm–it can creep, but it cannot fly." – Henry Ward Beecher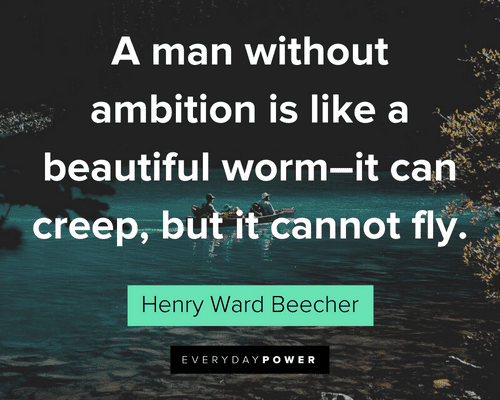 You will also enjoy our article on selfish people quotes.
8. "Our ambitions can only be limited by our doubts."― Rajesh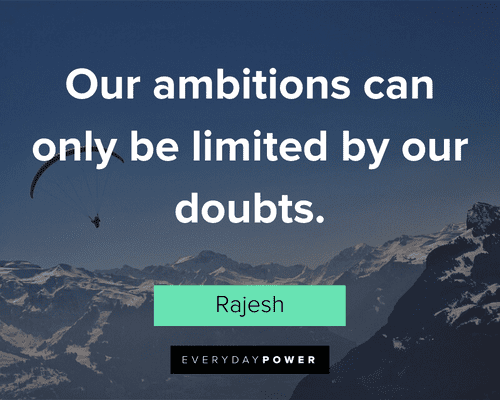 9. "Our ambition should be to rule ourselves, the true kingdom for each one of us; and true progress is to know more, and be more, and to do more." ― Oscar Wilde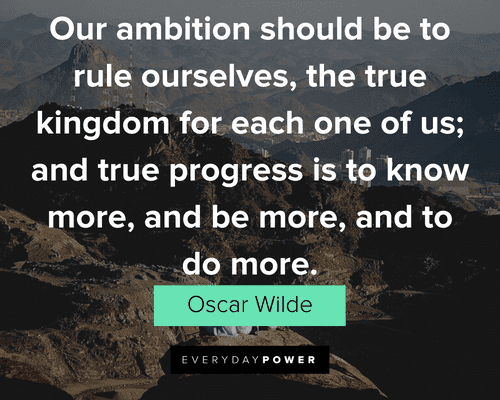 Check out our collection of "take the high road" quotes if you enjoy this article.
Ambition quotes that will inspire you to go after your dreams
10. "Ambition is a dream with a V8 engine. Ain't nowhere else in the world where you can go from driving a truck to cadillac overnight" ― Elvis Presley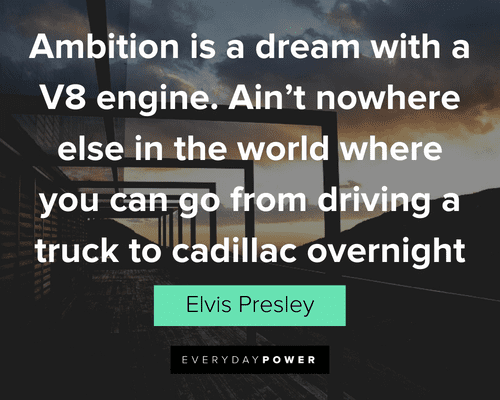 If you're enjoying these quotes, you'll love our collection of Elvis Presley quotes that illustrate the man behind the music we all know and love.
11. "Intelligence without ambition is a bird without wings." ― Walter H. Cottingham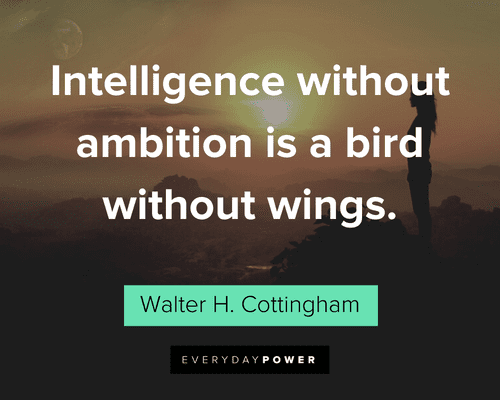 12. "My belief in life is that you need only three things to get to the top- Talent, Ambition and Initiative." ― Ankit Patni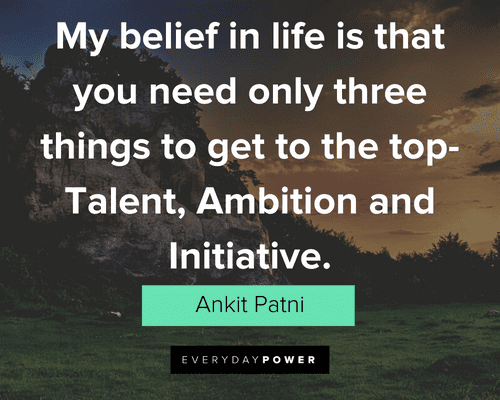 13. "Ambition is the germ from which all growth of nobleness proceeds." – Ralph Waldo Emerson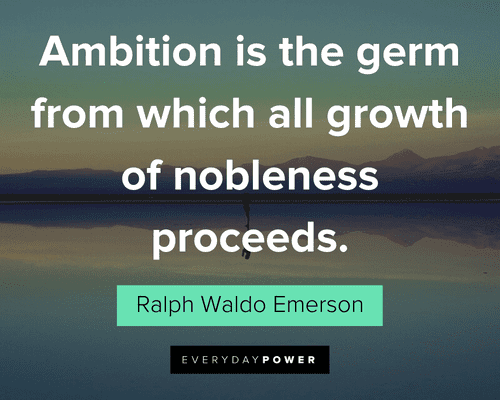 14. "Success reveals how little ambition is worth." ― Marty Rubin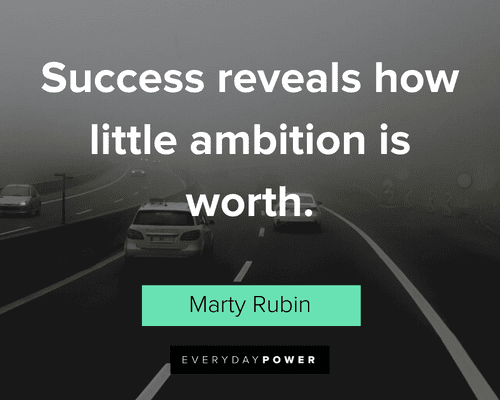 15. "If a person holds no ambitions in this world, he suffers unknowingly. If a person holds ambitions, he suffers knowingly, but very slowly."― Alan Lightman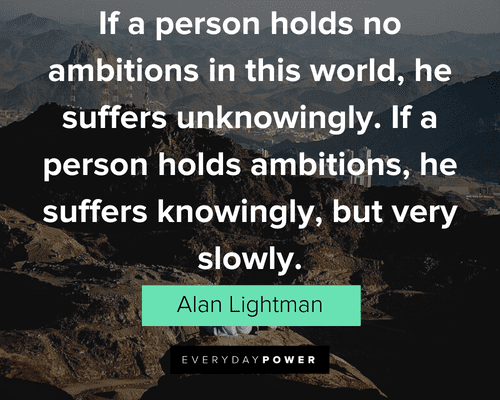 16. "My ambition is always is to get better and better." – Leo Messi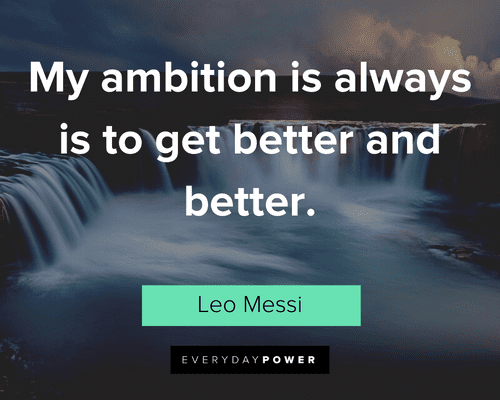 17. "Ambition is an idol, on whose wings great minds are carried only to extreme, to be sublimely great, or to be nothing." – Thomas Southerne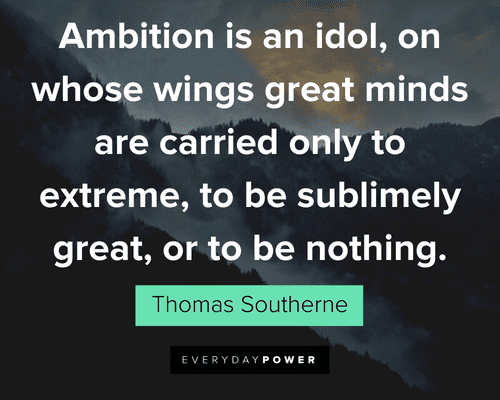 18. "When it comes to fighting for your dreams, be a dragon. Breathe fire." ― Richelle E. Goodrich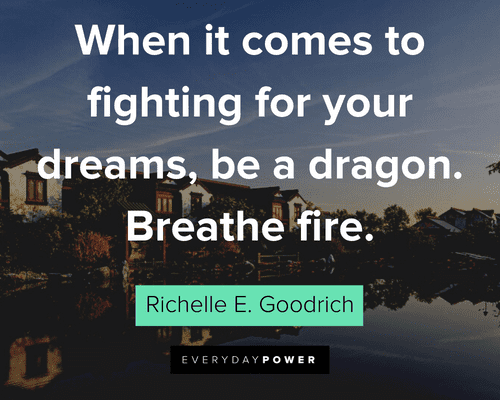 19. "Ambition is the path to success. Persistence is the vehicle you arrive in." – Bill Bradley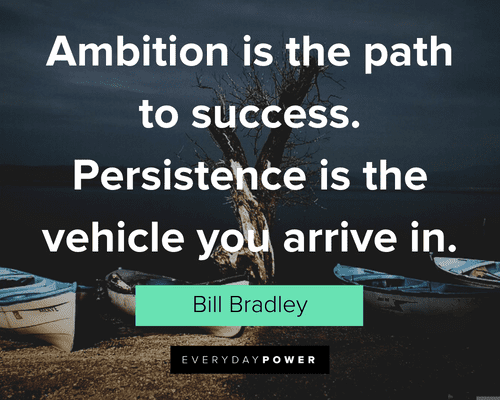 20. "If the fire in your heart is strong enough, it will burn away any obstacles that come your way." ― Suzy Kassem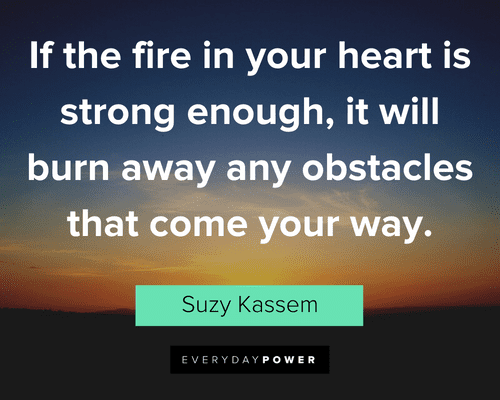 Ambition quotes to inspire passionate action
21. "The struggles we endure today will be the 'good old days' we laugh about tomorrow." ― Aaron Lauritsen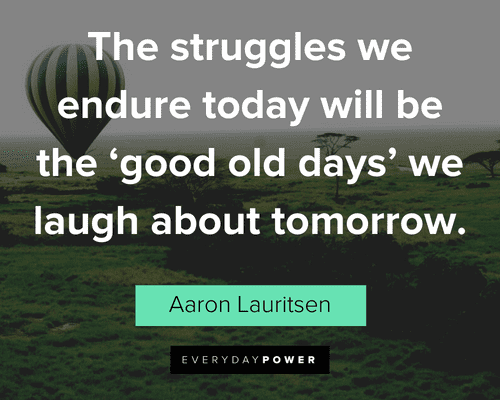 22. "Do what you can, but also know your limits. Don't forget to take care of you too." ― Akiroq Brost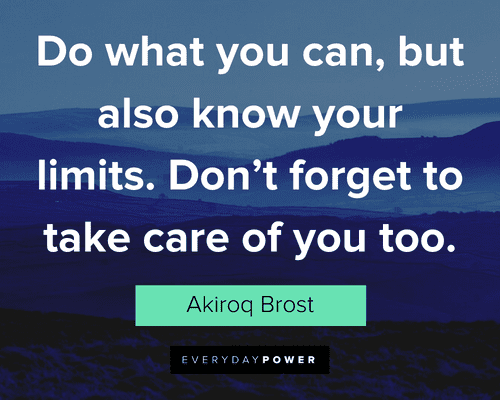 23. "Ambition is a Dead Sea fruit, and the greatest peril to the soul is that one is likely to get precisely what he is seeking." – Edward Dahlberg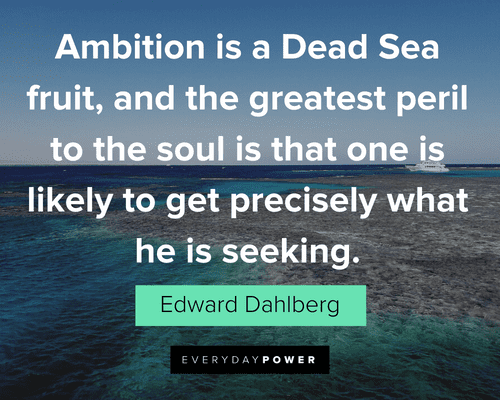 24. "Ambition is enthusiasm with purpose." – Frank Tyger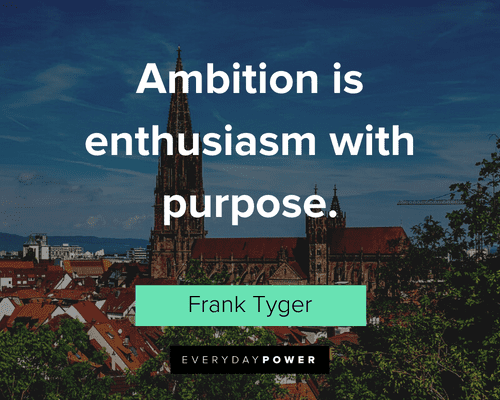 25. "Follow your star, it's never too late, even if it doesn't quite happen as you expect." ― Jemima Pett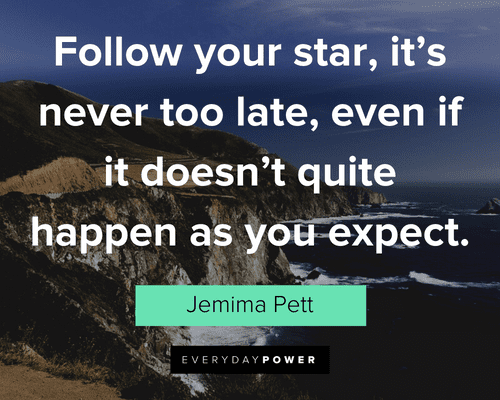 26. "When your ambition is greater than your fear, your life will get bigger than your dream." ― Farshad Asl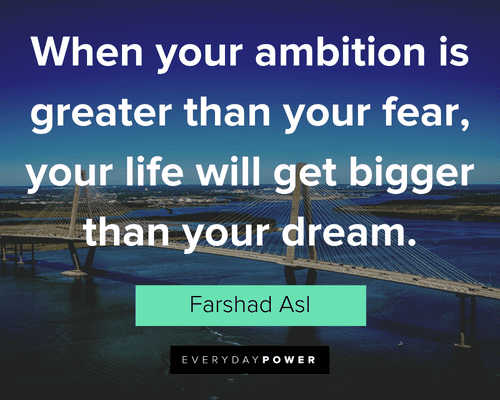 27. "Ambition has the power to change the fate of success" ― Aniket S Sharma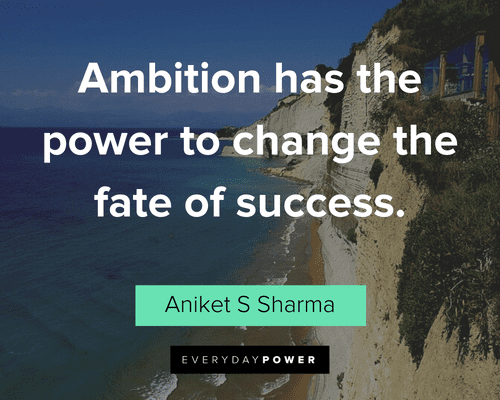 28. "At the age of six I wanted to be a cook. At seven I wanted to be Napoleon. And my ambition has been growing steadily ever since." ― Salvador Dali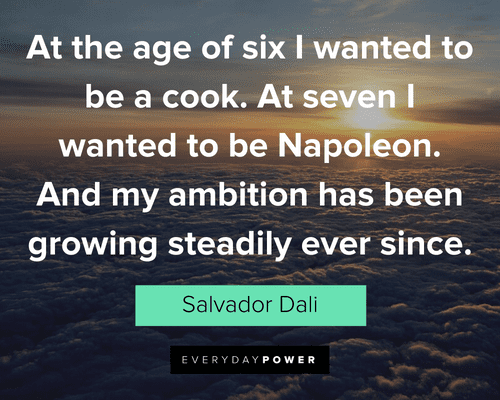 29. "Don't be afraid to be ambitious about your goals. Hard work never stops. Neither should your dreams." – Dwayne Johnson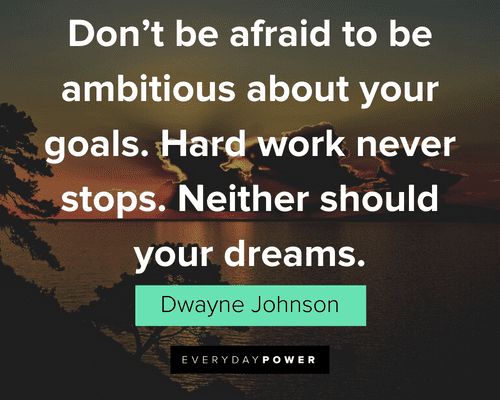 30. "Live for each second without hesitation." ― Elton John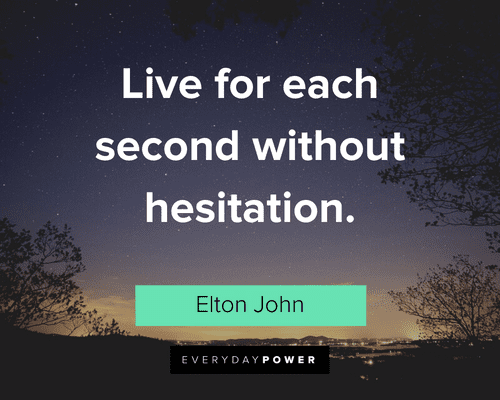 Ambition quotes to supercharge your drive
31. "Where ambition can cover its enterprises, even to the person himself, under the appearance of principle, it is the most incurable and inflexible of passions." – David Hume
32. "The biggest changes in a woman's nature are brought by love; in man, by ambition"― Tagore
33. "Persistence. Perfection. Patience. Power. Prioritize your passion. It keeps you sane." ― Criss Jami
If you're enjoying these quotes, make sure to read our collection of passion quotes expressing the love of things you're interested in.
34. "Whatever you dream of, there will be fulfillment." ― Lailah Gifty Akita
35. "It doesn't matter how great your shoes are if you don't accomplish anything in them."― Martina Boone
36. "Find a purpose to serve, not a lifestyle to live." ― Criss Jami
37. "Remember how far you've come, and you won't have to rely on a destiny for your future. It will come on your own." ― Shannon A. Thompson
38. "Ambition is more important than ability." ― P.S. Scott
39. "The desire to reach for the stars is ambitious. The desire to reach hearts is wise." ― Maya Angelou
40. "Beware of those who criticize you when you deserve some praise for an achievement, for it is they who secretly desire to be worshiped." ― Suzy Kassem
Ambition quotes that will make you dream big
41. "Let your action manifest your thought, your belief and your passion." ― Mohammed Ali Bapir
42. "Some people think 'ambition' is a dirty word. I'm here to tell you healthy ambition is a gorgeous sight to behold." ― Michelle Kinsman
43. "I'd rather be partly great than entirely useless." ― Neal Shusterman
44. "Surround yourself with positive people who believe in your dreams, encourage your ideas, support your ambitions, and bring out the best in you."― Roy T. Bennett
45. "Women who seek to be equal with men lack ambition."― Timothy Leary
46. "The difference between greed and ambition is a greedy person desires things he isn't prepared to work for." ― Habeeb Akande
If you're enjoying these quotes, make sure to read our collection of greed quotes to curb any selfish tendencies.
47. "Grab it while you can because tomorrow could suck you dry."― Nora Roberts
48. "It occurred to me that the voracious ambition of humans is never sated by dreams coming true, because there is always the thought that everything might be done better and again."― John Green
49. "If a man does not work passionately – even furiously – at being the best in the world at what he does, he fails his talent, his destiny, and his God." ― George Lois
50. "Anxiety is the handmaiden of contemporary ambition." ― Alain de Botton
Don't forget to also read these superhero quotes to inspire the best version of you.
Ambition quotes to encourage you to dream big
51. "Character cannot be developed in ease and quiet. Only through experience of trial and suffering can the soul be strengthened, ambition inspired, and success achieved." ― Helen Keller
52. "We cannot seek achievement for ourselves and forget about progress and prosperity for our community… Our ambitions must be broad enough to include the aspirations and needs of others, for their sakes and for our own." ― Cesar Chavez
53. "Intelligence without ambition is a bird without wings." ― Salvador Dali
54. "Focusing your life solely on making a buck shows a certain poverty of ambition. It asks too little of yourself. Because it's only when you hitch your wagon to something larger than yourself that you realize your true potential." ― Barack Obama
55. "A man's worth is no greater than his ambitions." ― Marcus Aurelius
56. "Great Ambition is the passion of a great character. Those endowed with it may perform very good or very bad acts. All depends on the principles which direct them." ― Napoleon Bonaparte
57. "Big results require big ambitions." ― Heraclitus
58. "My personal ambition remains the same – to be creative, to be modern, to stay one step ahead, to enjoy life." ― Natalie Massenet
59. "We can each define ambition and progress for ourselves. The goal is to work toward a world where expectations are not set by the stereotypes that hold us back, but by our personal passion, talents and interests." ― Sheryl Sandberg
60. "Be a warrior when it comes to delivering on your ambitions. And a saint when it comes to treating people with respect, modeling generosity, and showing up with outright love." ― Robin S. Sharma
Ambition Quotes To Guide You In Achieving Your Dreams
61. "Just be yourself, hold true to yourself, your dreams and ambitions." ― Patrick Rahn
62. "Your ambitions and desires should always be within your control and to benefit you." ― Victoria Michael
63. "Motivation and ambition either come from fear or love, it's up to you to choose." ― Kevin Kerr
64. "When once ambition has passed its natural limits, its progress is boundless." ― Seneca the Younger
65. "You quit, you lose. You keep going, you may still lose. But, your ambition will never die." ― Gurbaksh Chahal
66. "Ambitions reveal direction." ― Mace Windu
67. "To rise above the crowd, you must discipline yourself unceasingly to the strict demand and realities of your ambition." ― Arturo Sandoval
68. "Your ambitions will rise above your faults and you will get where you wish to go." ― Isabel Stevens Webster
69. "Ambition is the epicenter of perseverance through which accomplishments spell success." ― Byron Pulsifer
70. "I wanted to be an outstanding player, that was my ambition." ― Imran Khan
Did you enjoy these ambition quotes?
A healthy dose of ambition is a major driver for growth and success.
Having a strong desire to succeed is what drives winners to advance and achieve their goals, regardless of the challenges they face.
Ambition is vital in being successful and achieving true satisfaction.
Without it, your talents and skills means nothing.
We hope the quotes above have inspired you to have big dreams and work extra hard to make them a reality.
Which of these ambition quotes is your favorite?
Do you have any other inspirational quotes to add?
Feel free to share with us in the comment section below.
We would love to hear all about it.