90 Big Brother Quotes About this Important Man in Your Life
Siblings are a special gift, and big brothers are even more so, at least according to these big brother quotes.
I am the oldest of six, so I fully understand the complex relationship that makes up the sibling bond, but unfortunately no older brother for me!
I have two brothers but only my two youngest siblings (the baby brother and my youngest sister) get the joy of an older brother.
I am sure they would gladly post some of these quotes on their Instagram photos!
You may also enjoy our article on:
According to a study by the University of Utah, having a big brother can increase a child's emotional stability and decrease anxiety.
This statistic highlights the positive impact a big brother can have on a child's mental health.
What is it like having an older brother?
I can only imagine it is like being the oldest sister but in reverse!
If you are female, then your older brother and his friends were role models for what men and boys are like.
Big brothers are also great at teaching their siblings how to be tough.
If you had a great big brother, he was probably pretty protective of you too!
These big brother quotes are full of quotes from famous people about how having a big brother impacted their lives.
If you love this quote collection, read out our most popular quote article about short inspirational quotes for daily motivation.
If you need more inspirational quotes, check out our motivational quotes category page.
Big brother quotes for Instagram
Research conducted by the University of California, Berkeley, found that having a big brother can lead to greater self-esteem and confidence in younger siblings.
This statistic suggests that big brothers can help their siblings develop a positive sense of self-worth.
1. "Big pain with a big heart. That's my big brother." — Unknown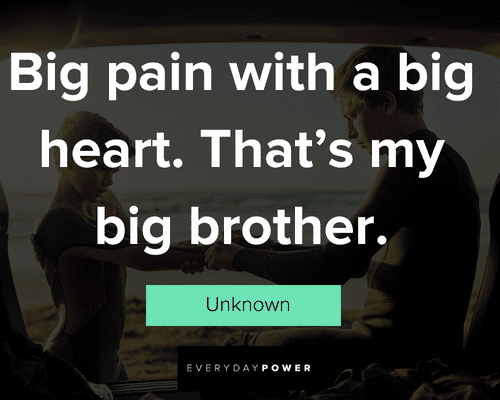 2. "I wouldn't let my big brother do anything stupid… alone." — Unknown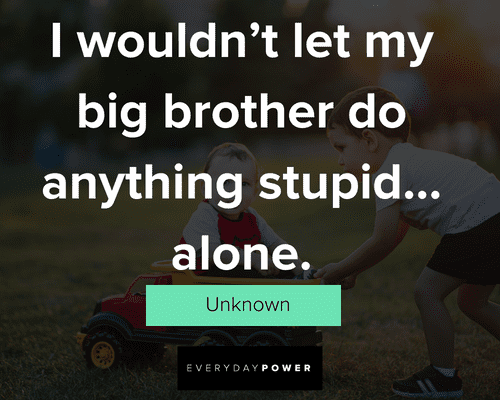 3. "Looking out for yours truly ever since I was born, love you, big bro!" — Unknown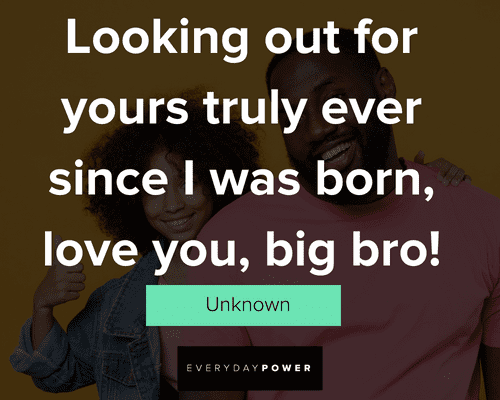 4. "My protector and my nemesis all rolled into one: my big brother." — Unknown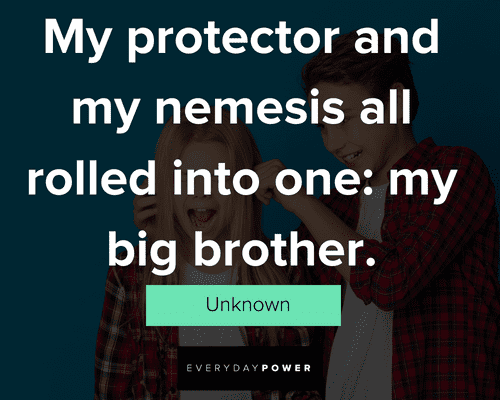 5. "I always looked up to my big brother, and I still do." — Unknown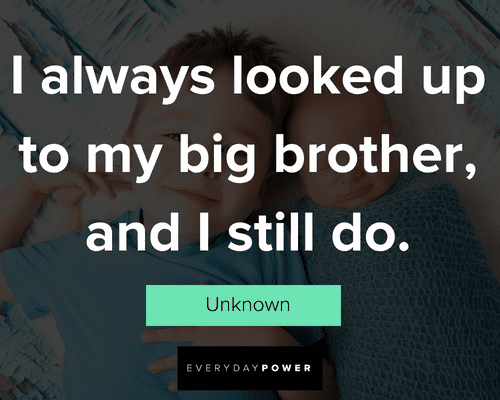 6. "Big brother's always watching." — Unknown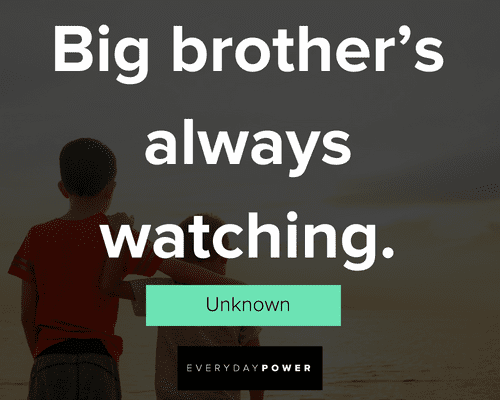 7. "Couldn't imagine life without my big bro." — Unknown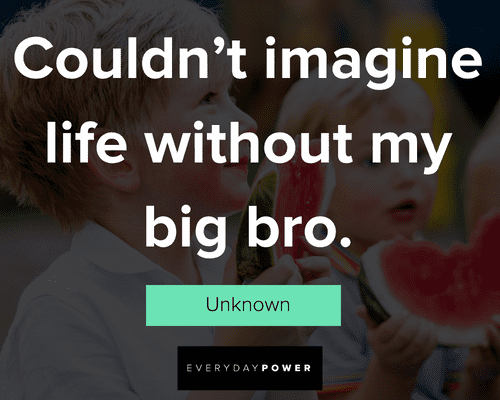 8. "I lost count of all the noogies he gave me, but I still love my big brother." — Unknown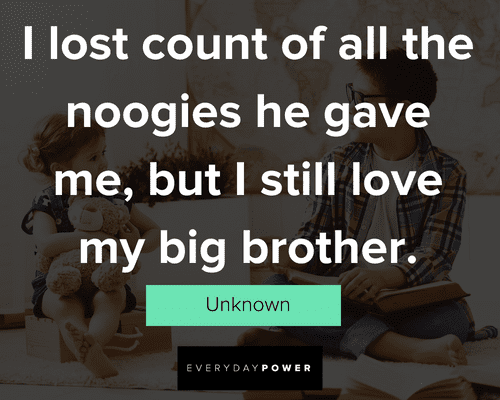 9. "No one picked me on me, except for you. Love you, big bro!" — Unknown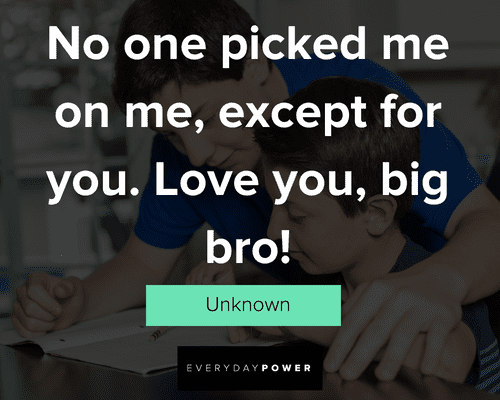 10. "My big brother's not perfect (obviously, because my parents had me after), but I still love him." — Unknown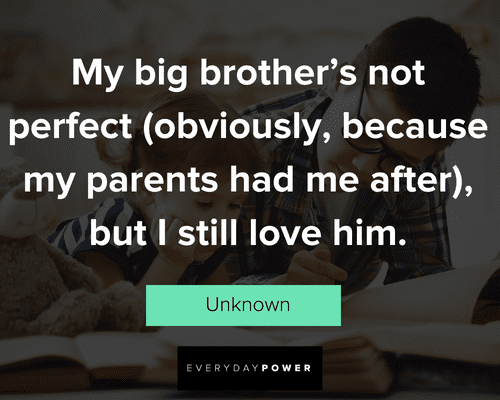 Funny big brother quotes
According to a study by the University of Michigan, children with a big brother are less likely to engage in risky behaviors like smoking, drinking, or drug use.
This statistic highlights a big brother's positive influence on their younger siblings' behavior.
11. "What strange creatures brothers are!" — Jane Austen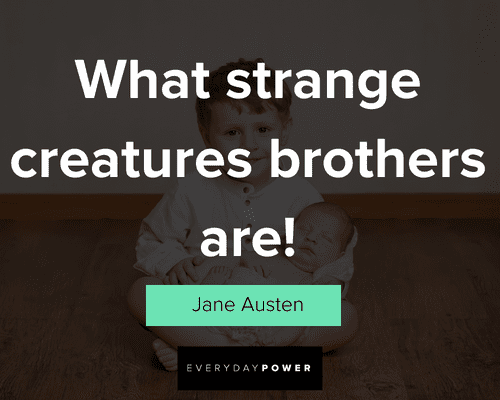 12. "Half the time when brothers wrestle, it's just an excuse to hug each other." — James Patterson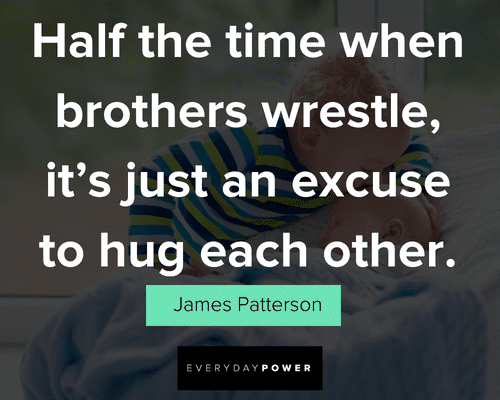 You will also enjoy our article on Scorpio quotes.
13. "When you deal with your brother, be pleasant, but get a witness." — Hesiod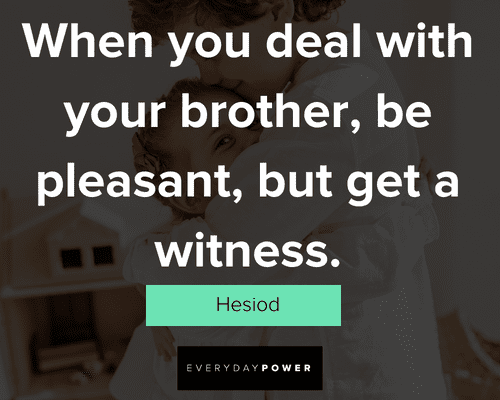 You will also enjoy our article on Meek Mill quotes.
14. "You were first a bother, then a brother, and now a friend." — Unknown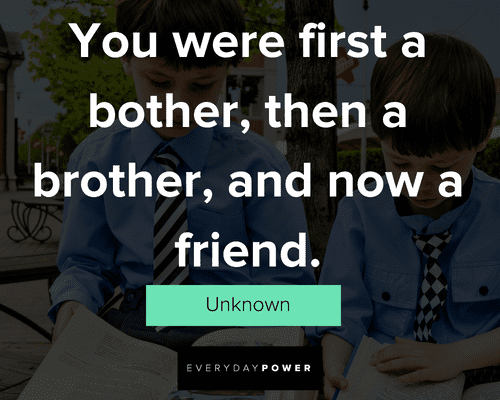 15. "My mother was nuts. My father was boring. My older brother was funny." — Penny Marshall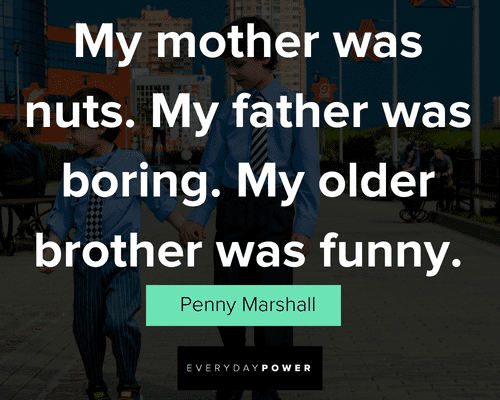 16. "Oh, brothers! I don't care for brothers. My older brother won't die, and my younger brothers seem never to do anything else." — Oscar Wilde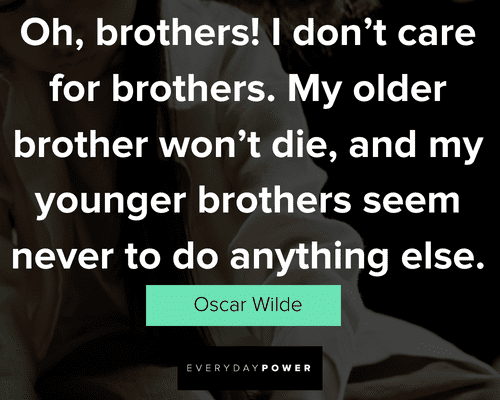 17. "The younger brother must help to pay for the pleasures of the elder." — Jane Austen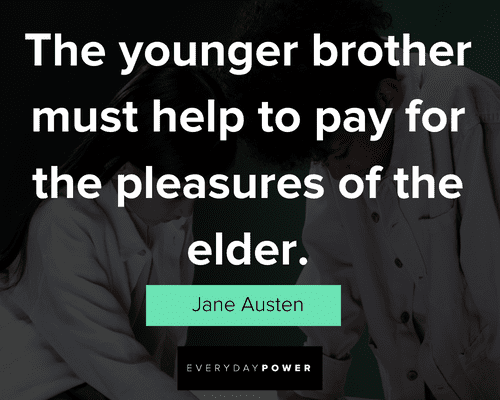 18. "I grew up with six brothers. That's how I learned to dance – waiting for the bathroom." — Bob Hope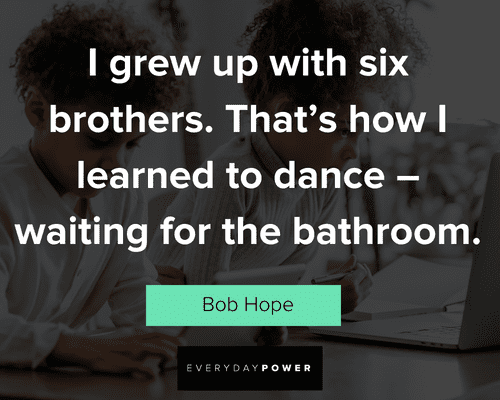 19. "The best thing about having four big brothers is you always have someone to do something for you." — Chloe Moretz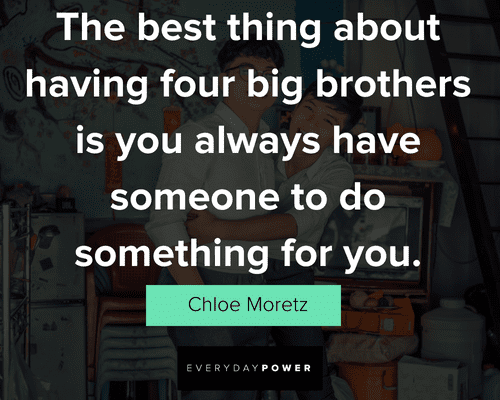 20. "After a girl is grown, her little brothers—now her protectors—seem like big brothers." — Terri Guillemets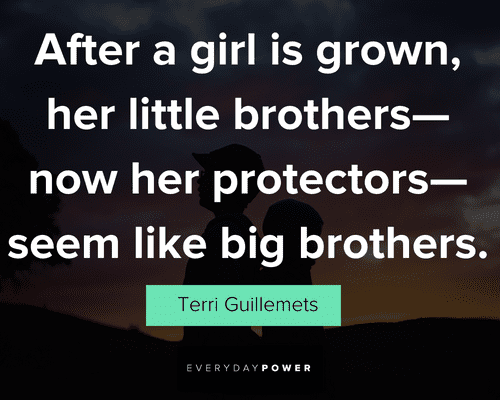 Big brother quotes from those in the entertainment industry
21. "I'm a big brother, I'm the first of four." — Omarion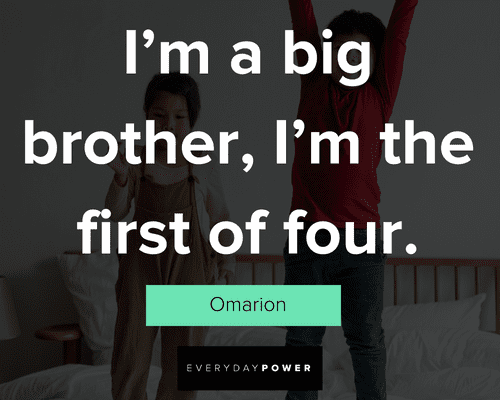 22. "My biggest influence is my big brother." — Anthony Ramos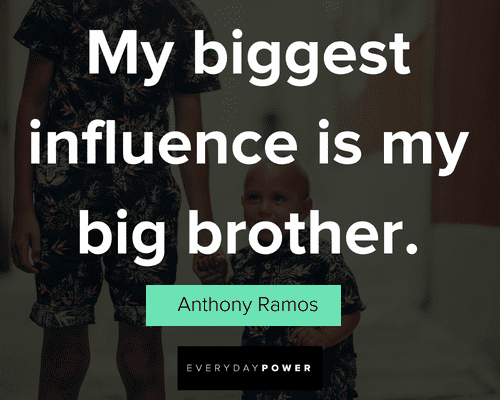 23. "My big brother still thinks he's a better singer than me." — Rod Stewart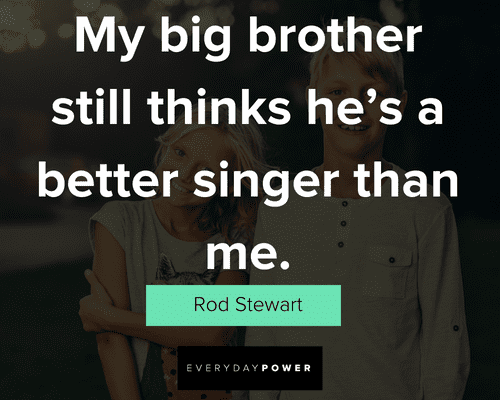 24. "So, my big brother was playing guitar and I figured I'd try it too." — Stevie Ray Vaughan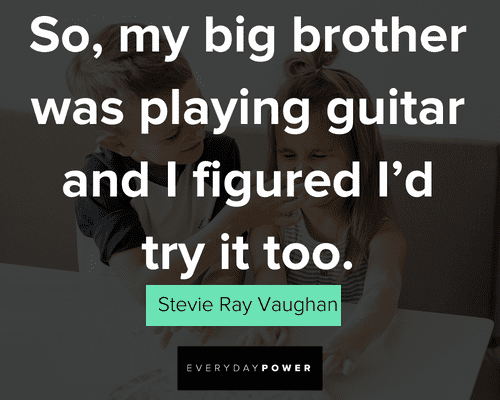 25. "My big brother listened to classic rock, and I grew up listening to a classic rock station called KSHE." — Louise Post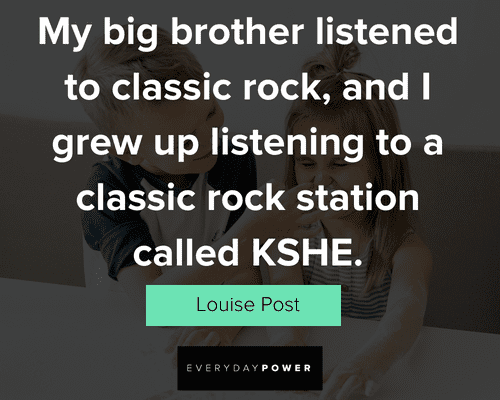 26. "Paul was just the most real guy ever. The best big brother, the best son, and the best father. The best everything." — Cody Walker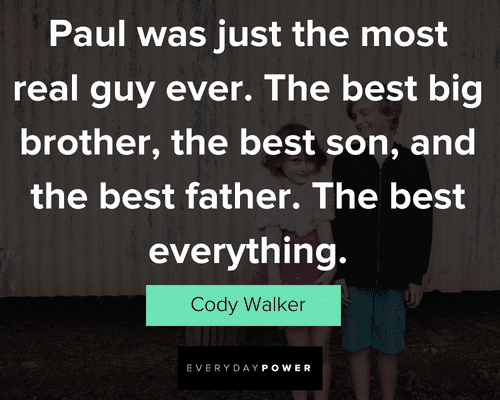 27. "Daniel, my big brother, is eight years older. I'm lucky he didn't mind hanging out with his little sister and my younger brother." — Samantha Stosur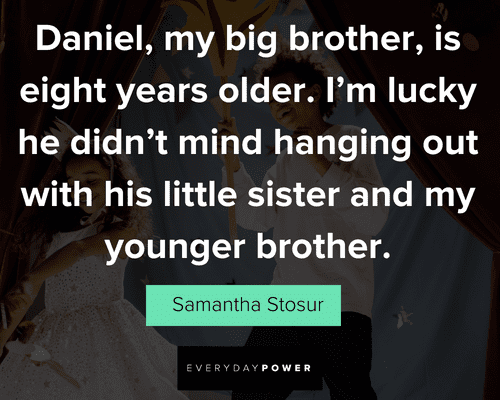 28. "At first, I had such stage fright, and it was always comforting to look over and see my big brother." — Sasha Spielberg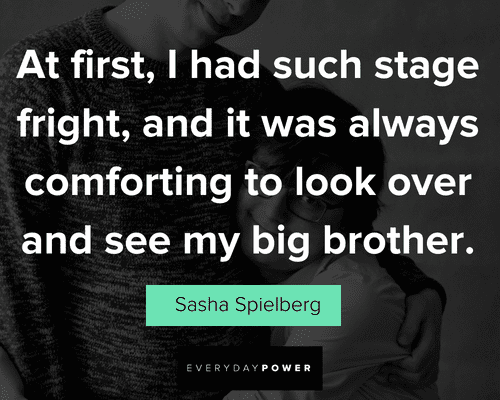 29. "I had a big brother, so I always wanted him to hang out with me, but he wouldn't. So I always did sports and I always really liked it, but I just was never good at it." — Lindsey Morgan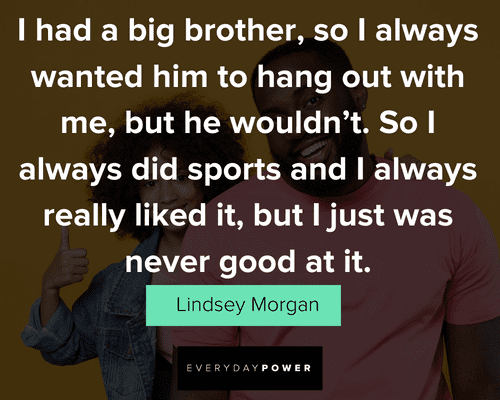 30. "I don't look at negative comments because my parents and family don't let me. My big sister controls my Instagram, and my big brother controls my Twitter. I also don't really Google myself or anything like that." — Millie Bobby Brown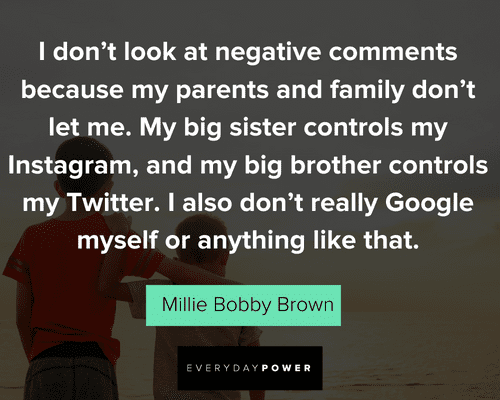 31. "I always thought my big brother was the coolest. We were very close when I was young, and we still are in many ways! He was a very open-minded, urban guy with an outdoorsy edge. He is mostly responsible for exposing me to art and culture." — Rekha Sharma
32. "I have a big brother who would make dolls' houses and playhouses and furniture out of wood. He was the one who taught me from such a young age that you could just make something. The physical act of gluing something together was really formative for me." — Miranda July
Big brother quotes from famous people
33. "Having a big brother who taught me protections and blitz recognition has helped out a lot." — Derek Carr
34. "My first steps in football came thanks to my big brother who taught me the game." — Paulinho
35. "A little sister looks up to her big brother all through her life." — Catherine Pulsifer
36. "Thank you for always being there, for always being the one person I could talk with. You are the most amazing big brother a person could have." — Kate Summers
37. "Dear big brother, you may be part of my family, but I will always consider you a friend." — Catherine Pulsifer
38. "You'll move from big brother to the adult world faster by cooking food for your younger siblings while your peers are playing video games." — Alphonso Davies
39. "In my executive advising role, my persona, which seems to work very well with both women and men, is being 'the big brother you always wanted.' I am fortunate to have two such big brothers, so this isn't just a theoretical construct." — Mark Goulston
Big brother quotes from literature, written works, and song lyrics
40. "Lost my big brother to that block who'd knew he'd be a victim." — True Scorpio, Reminiscing
41. "Don't be a slob. Get it together like your big brother." — George Thorogood, Get a Haircut
42. "I wrote a song for your big brother, and I'm gonna write a song for you." — Loudon Wainwright III, Pretty Little Martha
43. "Hey big brother, as soon as you arrive you better get in touch with the people, big brother." — Rare Earth, Hey Big Brother
44. "So don't call me out to the playground, downtown, where I strut my sound. Big brother's gonna watch me…." — Liquid Gang, Breakdown
45. "But I promise you this," he says, "no matter what happens, it's gonna be okay. Your almighty, all-knowing big brother will make sure of that." ― Angie Thomas, The Hate U Give
46. "'I remember.' I smile. 'He was the quintessential big brother. But that's just it—he's not here to protect me anymore, Anna.'" ― Sarah Ockler, Twenty Boy Summer
47. "So let's not let another day sail by without sayin' hi to each other 'cause I will never get another big brother." — Christian Chamberlin, My Big Brother
48. "My big brother, he's always been, my friend. My big brother, he's got my back down to the end." — Retina Jay, My Big Brother
49. "I'm broken now, ain't believe in this shit. I'll trade anything just to see big brother get up." — Meek Mill, 8 Figures
50. "I just talk to my big brother. He told me to get the racks. All my dogs really wolves cause we coming as a pack." — Only1jack$on, BBT
Big Brother Quotes For Brotherly Love
51. "Big Brother's busy holding your attention every moment you're awake. He's making sure you're always distracted. He's making sure you're fully absorbed." ― Chuck Palahniuk
52. "Big Brother is watching you." ― George Orwell
53. "Without my big brother, I probably literally wouldn't be here." ― Mikey Way
54. "I didn't know Jewish guys wore ninja outfits when they pray. That's the good thing about being on Big Brother, you know, I can learn about different cultures and how they work." — Lane
55. "I'm happy if everybody else is. I'm a big brother, the oldest. If you're happy and I'm not, I'm cool with that. If I'm happy and you're not, I'm sad." ― Chris Rock
56. "You know, I think everything I do cinematically for the rest of my life will probably have some direct route back to Jonathan. But I love him to death. He's like my best friend and my big brother." ― Ted Demme
57. "That's the function of big brothers… to help their little sisters when their worlds are collapsing." ― Susan Beth Pfeffer
58. "I'd clash with my dad over other things, you know, like difference of opinion and me getting testosterone, you know what I'm saying? Me feeling like I'm a little tough, being a teenager. But my big brother would come in drunk and really, really try my dad and I didn't want to do that." ― Ryan Montgomery
59. "There is no love like the love for a brother. There is no love like the love from a brother." ― Astrid Alauda
60. "The beauty of genuine brotherhood and peace is more precious than diamonds or silver or gold." ― Martin Luther King Jr
Big Brother Quotes For Their Protective Nature
61. "I had older brothers who would pick on me, and injustice always boiled my blood." — Michelle Rodriguez
62. "When brothers agree, no fortress is so strong as their common life." — Antisthenes
63. "Because brothers don't let each other wander in the dark alone." — Aarav Agrahari
64. "Brothers don't necessarily have to say anything to each other, they can sit in a room and be together and just be completely comfortable with each other." — Leonardo DiCaprio
65. "We came into the world like brother and brother; And now let's go hand in hand, not one before another." — William Shakespeare
66. "Bigger sibs learn to nurture by mentoring little ones; little sibs learn about wisdom by heeding the older ones." — Jeffrey Kluger
67. "Sometimes being a brother is even better than being a superhero." — Marc Brown
68. "Big brothers understand that their little baby brothers and sister must do things differently until they get older." — Annie Fellows Johnston
69. "Either men will learn to live like brothers, or they will die like beasts." — Max Lerner
70. "She had always wanted a brother. And she had one now. Sebastian. It was like always wanting a puppy and being a hellhound instead." — Cassandra Clare
Big Brother Quotes To Support Your Siblings
71. "We have flown the air like birds and swum the sea like fishes, but have yet to learn the simple act of walking the earth like brothers." ― Martin Luther King
72. "Big brothering is awesome, but it also means that things are changing. That is totally normal." ― Ashley Moulton
73. "I had older brothers. Growing up the only girl in a family is like growing up to be a tropical fruit drink…somewhere being spoiled and beaten to a pulp." ― Diane Ford
74. "I'll teach you, little sibling, how to crawl and curl up like a tiny ball. We'll be the best of friends, but this isn't where it ends!" ― Lindsey Coker Luckey
75. "There is nothing better than to share thy bread with thy brother in the spirit of love." ― Laila Gifty Akita
76. "Baby brothers are small. Baby brothers are cute. But they can be a pain— and that is the truth." ― Sam Williams
77. "I have a great feeling for the soil. My brother is the leading conservationist in the world, and I just love sitting in my bulldozer and experiencing nature." ― Gary Player
78. "The best way to get a puppy is to beg for a baby brother— and they'll settle for a puppy every time." ― Winston Pendelton
79. "A brother may not be a friend, but a friend will always be a brother." ― Benjamin Franklin
80. "You don't get to be a keeper of the faith without being a keeper of your brother." ― Jonathan Key
81. "In the tapestry of family, a big brother is the sturdy thread that weaves together love, laughter, and lifelong bonds." ― Marion C. Garretty
82. "A big brother is a beacon of strength, a pillar of support, and a source of unwavering guidance in the stormy seas of life." ― Anthony Horowitz
83. "Having a big brother is like having a bodyguard for life, someone who stands by you in the face of challenges and cheers for you in moments of triumph." ― Richelle E. Goodrich
84. "A big brother is a protector of dreams, a defender of innocence, and a champion of the family legacy." ― Wes Fessler
85. "Big brothers are the unsung heroes of childhood, the ones who lead by example and teach the true meaning of loyalty and friendship." ― Rachel Hawthorne
86. "A big brother is a compass, always pointing you in the right direction, and a map, guiding you through the uncharted territories of life." ― Tammy Blackwell
87. "The bond between siblings is like no other, and a big brother is the anchor that keeps the ship of family steady in the turbulent seas of life." ― Jodi Picoult
88. "Big brothers are the architects of our childhood, constructing a foundation of memories that last a lifetime." ― Brad Goreski
89. "A big brother is a source of inspiration, a fountain of wisdom, and a reservoir of love that overflows through the years." ― Richelle E. Goodrich
90. "A big brother is a steady hand on the rudder of family, steering with love, compassion, and a touch of mischief." ― Byron Pulsifer
Big brothers are the best
Having or being a big brother isn't just something famous people talk about.
Many of these big brother quotes came from songs, books, or stories.
Each one of them almost made me sad I didn't get to have a big brother (although I do enjoy being everyone's big sister).
Hopefully, if you have a big brother, he was someone who inspired and motivated you to be better.
Maybe he was the person who introduced you to sports or the great outdoors and you have lots of wonderful memories.
Your big brother should always have your back, as any older sibling would.
We like to look out for our younger lifelong companions, after all.
Even if we do constantly sound like we know so much more just because of the order of our birth!
Sure, older siblings can be annoying, but it all comes from a place of love.
My sister likes to tell me I am like a mama duck with her gaggle of ducklings.
There are 16 years between my youngest sibling and me, and I forget sometimes that I am not their mother.
What's your biggest takeaway from these big brother quotes and sayings?
Share some of your fondest memories of you and your big brother with us in the comment section below.