Brother Quotes to Celebrate the First Men in Your Life
This "brother quotes" collection will help you celebrate and appreciate them.
Our sibling relationships play an important role in our lives.
Though your parents might be key figures in your life, the relationships you have with your brothers and sisters affect you long-term.
Your brother is one of the most important men in your life.
While your father might get a lot of credit, it's your brother who will always be right there next to you, through thick and thin.
Your brother will always love you unconditionally, even knowing your faults.
He will always defend you, make you look good, speak your language and keep your secrets.
Besides, your brother will always value your opinion and be your biggest supporter.
Even if your dad is the leading male role in your life, as you get older, it's your brother you end up relying on more.
To make you appreciate them more, below is our collection of inspirational, wise, and awesome brother quotes, brother sayings, and brother proverbs, collected from a variety of sources over the years.
Don't forget to also check out collection of brotherhood quotes about the beauty of family and friendship.
Check out our most popular quote article, a list of short inspirational quotes for daily inspiration.
Our inspirational quote category page has even more inspirational and educational quotes.
Brother Quotes to Celebrate the First Men in Your Life
1. "Sometimes being a brother is even better than being a superhero."– Marc Brown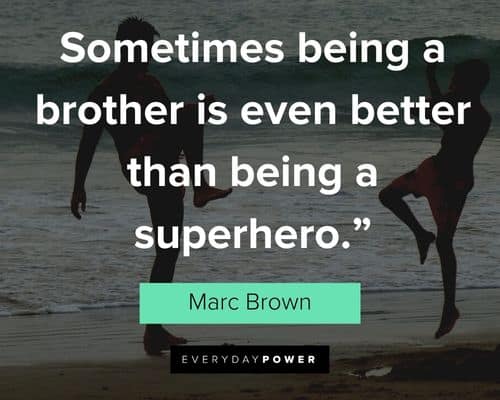 You will also enjoy our article on gentleman quotes.
2. "We came into the world like brother and brother; And now let's go hand in hand, not one before another." – William Shakespeare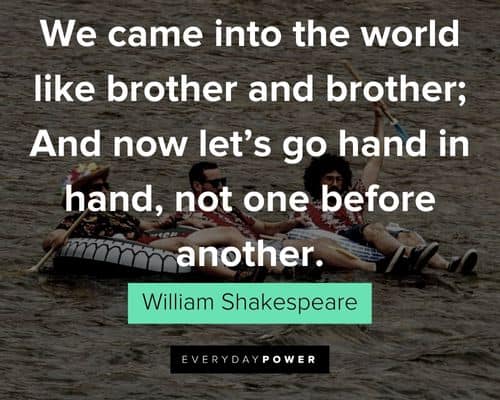 You will also enjoy our article on big brother quotes.
3. "Nothing can stop me from loving my brother." — Brandy Norwood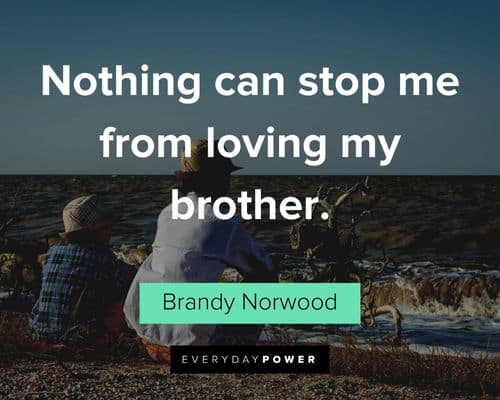 You will also enjoy our article on sibling quotes.
4. "The highlight of my childhood was making my brother laugh so hard that food came out his nose." – Garrison Keillor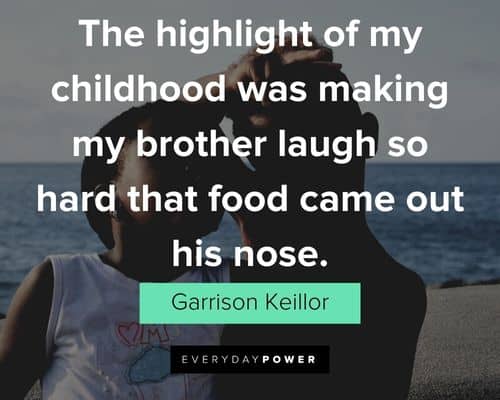 5. "Being pretty on the inside means you don't hit your brother and you eat all your peas – that's what my grandma taught me.." – Lord Chesterfield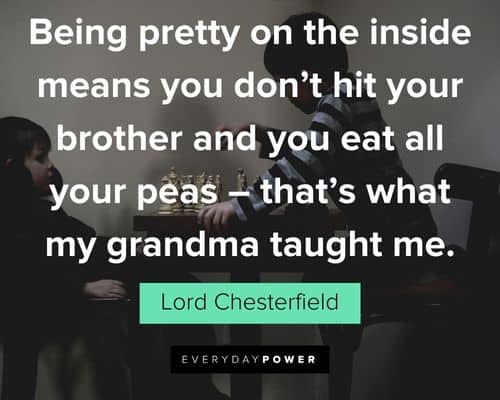 You will also enjoy our article on firstborn quotes.
6. "When brothers agree, no fortress is so strong as their common life."– Antisthenes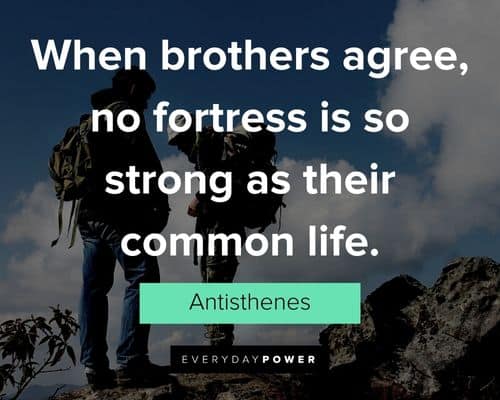 You will also enjoy our article on brother and sister quotes.
7. "I had a brother who was my saviour, made my childhood bearable." – Maurice Sendak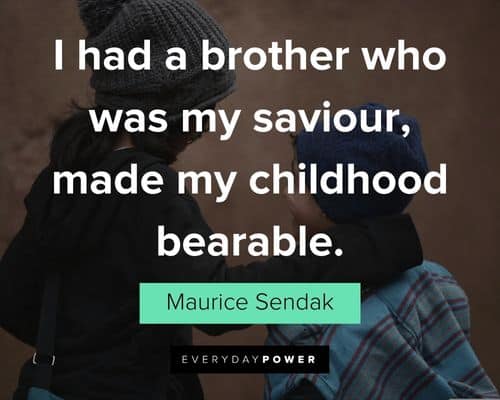 8. "I wish I could say I see my little brother more. We used to fight all the time but now that I don't see him very often I cherish the time I have with him." — Zac Efron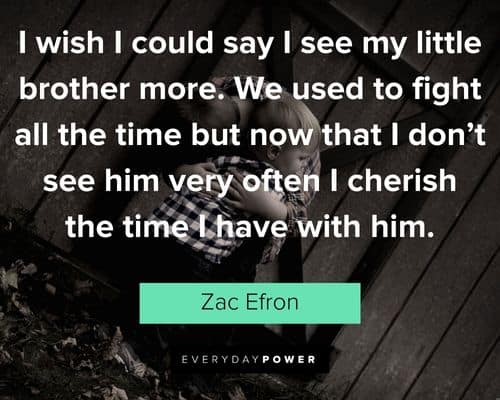 9. "Being his real brother I could feel I live in his shadows, but I never have and I do not now. I live in his glow." – Michael Morpurgo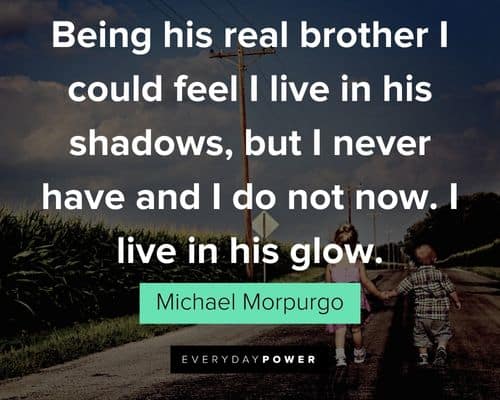 10. "The best way to get a puppy is to beg for a baby brother – and they'll settle for a puppy every time." – Winston Pendelton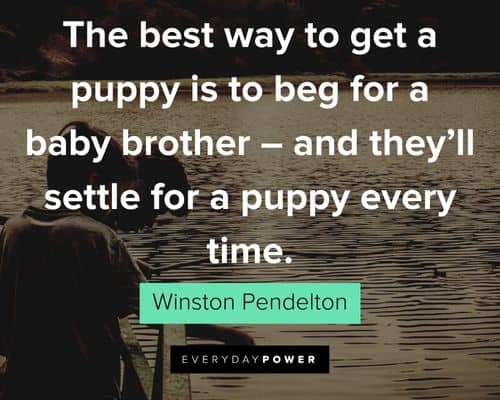 Brother quotes to celebrate and appreciate them

11. "True brothers are never blood-related. But born of the spirit."- Lailah Gifty Akita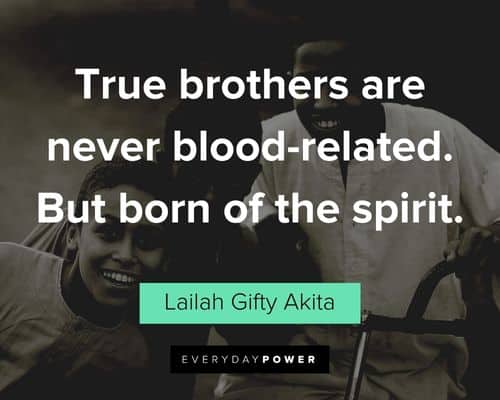 12. "A brother is like gold and a friend is like diamond. If gold cracks you can melt it and make it just like it was before. If a diamond cracks, it can never be like it was before."- Ali Ibn Abi Talib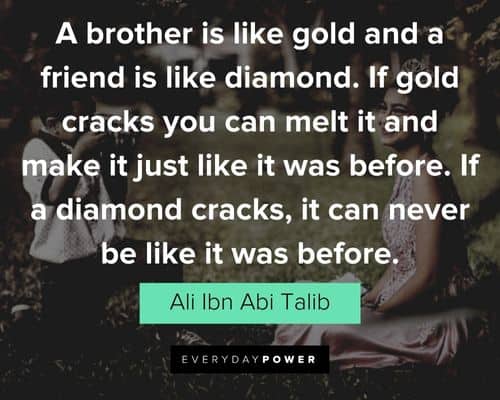 13. "My sister was drowning in the ocean once, and my brother and I dove in and saved her. True story. She owes us her life. It's great leverage; we abuse it all the time!" – Matt Barr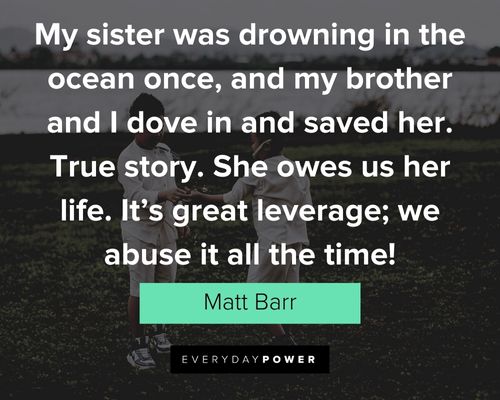 14. "The best thing about having four big brothers is you always have someone to do something for you." – Chloe Moretz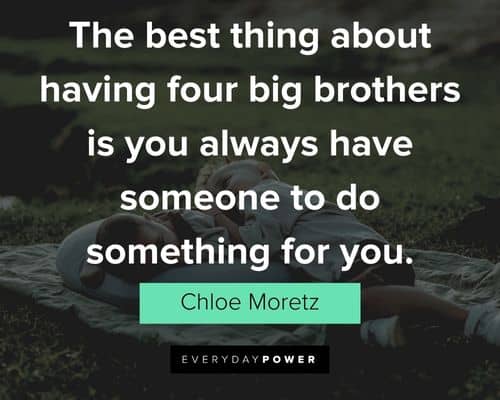 15. "Never make a companion equal to a brother."– Hesiod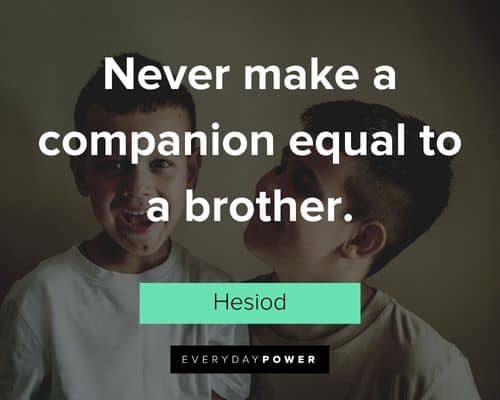 16. "There is a destiny which makes us brothers; none goes his way alone. All that we send into the lives of others comes back into our own." – Edwin Markham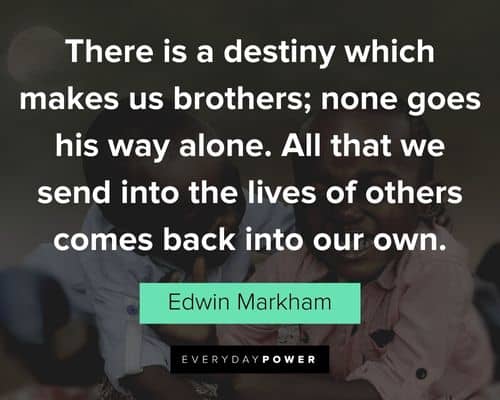 17. "A trial between brothers has no winners or losers." – Ekonda proverb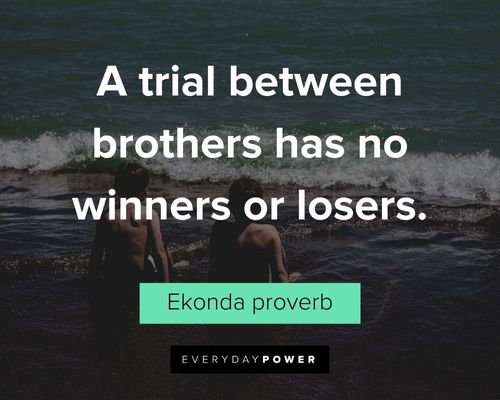 18. "It snowed last year too: I made a snowman and my brother knocked it down and I knocked my brother down and then we had tea." – Dylan Thomas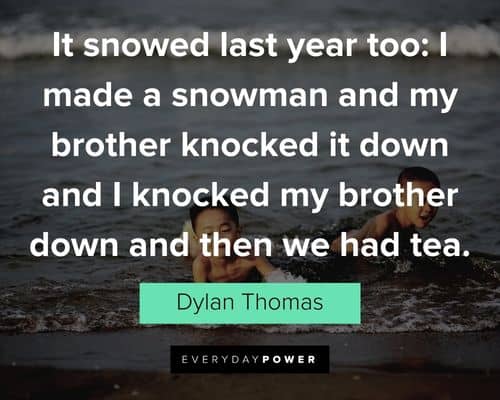 19. "I grew up with six brothers. That's how I learned to dance – waiting for the bathroom." – Bob Hope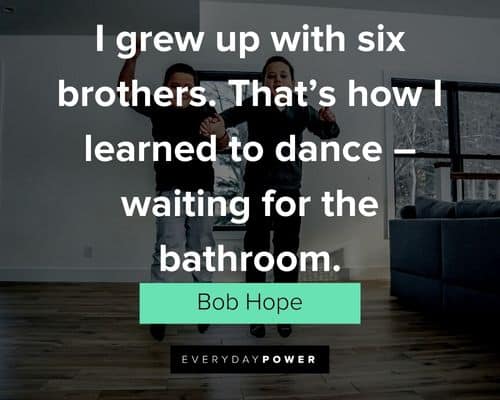 20. "There is no love like the love for a brother. There is no love like the love from a brother." –Astrid Alauda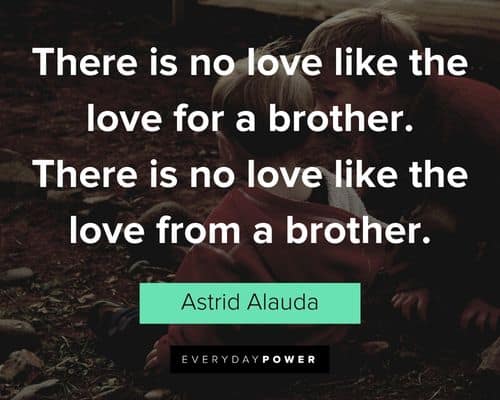 Also read these funny sister quotes celebrating unconditional love.
Brother quotes that recognize the key role they play in our lives
21. "The happiest days of my youth were when my brother and I would run through the woods and feel quite safe." – Rachel Weisz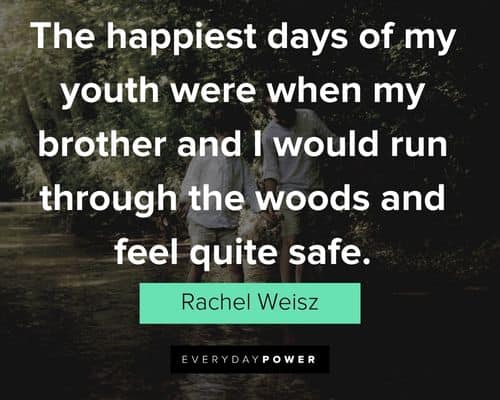 22. "He will make you cry but also make you laugh. He will make you scream but also dream." –Maxime Lagacé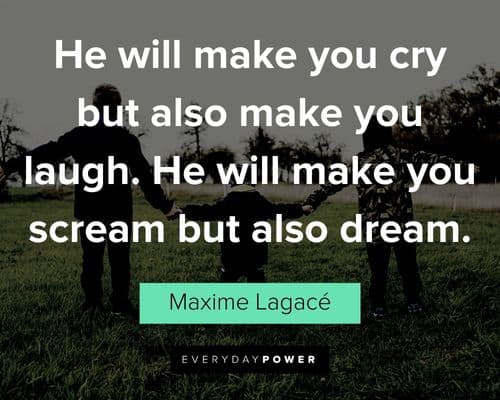 23. "When I look at each of my brothers, I see two things. First, I see the next place I want to leave a rosy welt. Second, I see a good man who will always be there, no matter how hard life gets for me or him. Then, I get out of the way because I realize he's coming at me with a wet dish towel". — Dan Pearce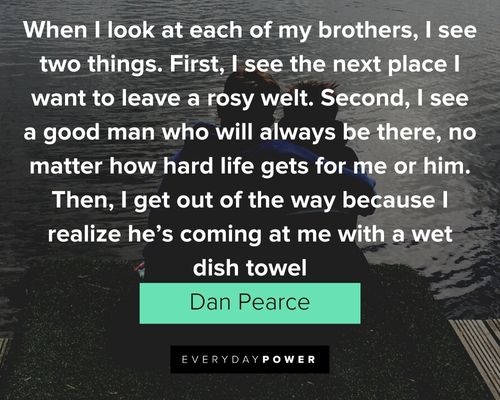 24. "A friend loves at all times, and a brother is born for a difficult time." – Proverbs 17:17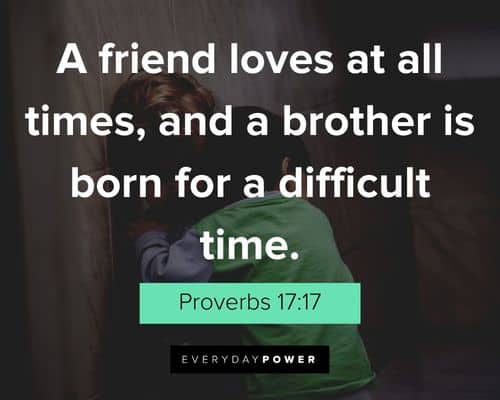 25. "Once a brother, always a brother, no matter the distance, no matter the difference and no matter the issue."- Byron Pulsifer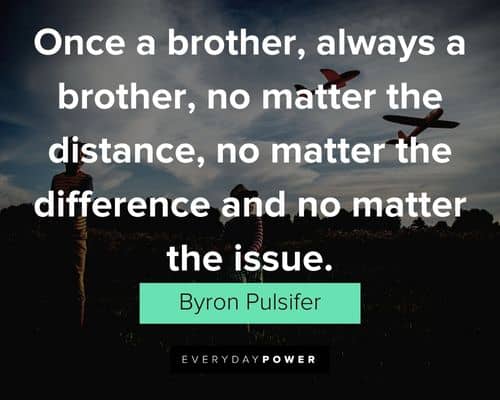 26. "I smile because you're my brother. I laugh because there's nothing you can do about it." – Unknown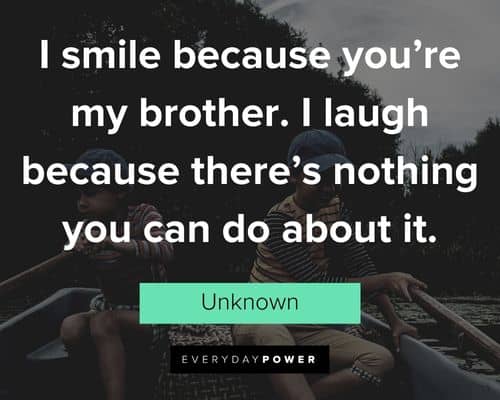 27. "Brothers don't necessarily have to say anything to each other – they can sit in a room and be together and just be completely comfortable with each other." – Leonardo DiCaprio

28. "Your brother is your alter ego. Your friend and sometimes your hero." –Maxime Lagacé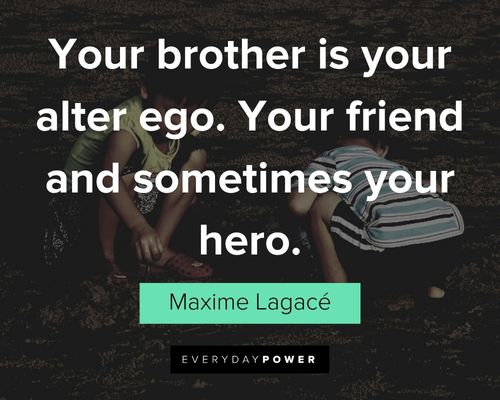 29. "Ambitious. Caring. Positive. Strong. Helpful. Awesome. Reliable. Because I have a brother, I will always have a friend." – Unknown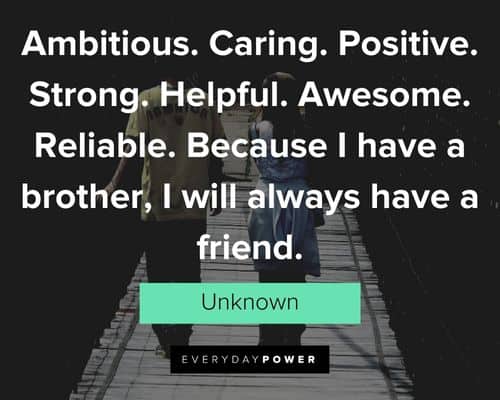 30. "You are not my friend, you are my brother, my friend." – Jaroslaw Jarzabowski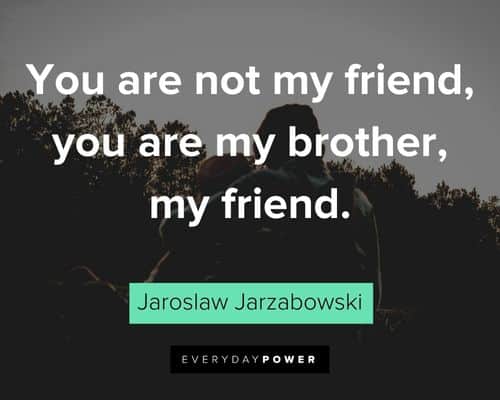 Brother quotes that will make you love them more
31. "If thy brother wrongs thee, remember not so much his wrong-doing, but more than ever that he is thy brother." – Epictetus

32. "After a girl is grown, her little brothers — now her protectors — seem like big brothers." – Terri Guillemets

33. "Our brothers and sisters are there with us from the dawn of our personal stories to the inevitable dusk."– Susan Scarf Merrell
34. "A bad brother is far better than no brother." – Swahili Proverb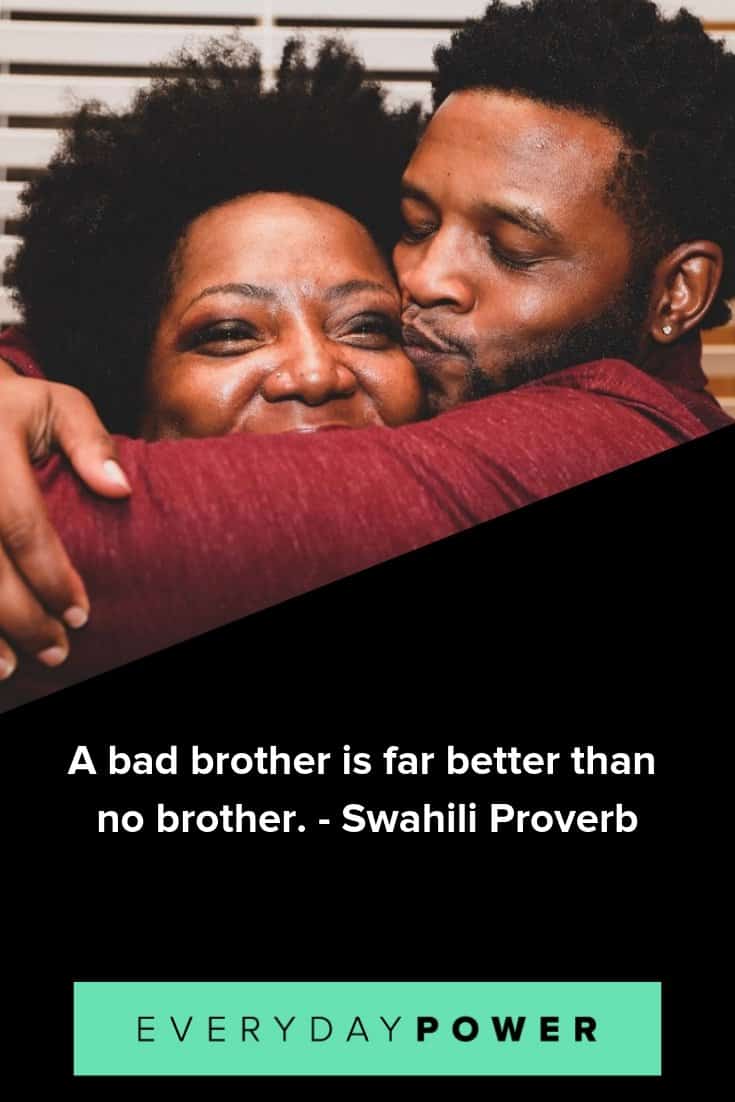 35. "Be grateful when you older brothers growl you, and when they tell you what to do and. Beautiful they are just trying to fulfil their duty of protecting you." – Unknown

36. "There's a lot of times that both myself and my brother wish, obviously, that we were just completely normal" – Prince Harry

37. "Sisters and brothers are the truest, purest forms of love, family and friendship, knowing when to hold you and when to challenge you, but always being a part of you." – Carol Ann Albright

38. "I grew up with a younger brother, so I can get pretty rowdy." – Sarah Wynter

39. "We have flown the air like birds and swum the sea like fishes, but have yet to learn the simple act of walking the earth like brothers." — Martin Luther King, Jr.

40. "My Brother! Someone who hides my toys and breaks my dolls, but picks me up whenever I fall. Someone who stands by my side and holds my hand when things don't go well, he helps me understand. Someone who makes funny faces just to sell how i would react. I love my brother and that's a fact." — Alejandra
You might also like these loving cousin quotes that perfectly describe your bond.

Other awesome brother quotes
41. "If we are not our brother's keeper, at least let us not be his executioner." –Marlon Brando

42. "There is a little boy inside the man who is my brother. Oh, how I hated that little boy. And how I love him too." — Anna Quindlen

43. "The younger brother must help to pay for the pleasures of the elder." – Jane Austen

44. "He is my most beloved friend and my bitterest rival, my confidant and my betrayer, my sustainer and my dependent, and scariest of all, my equal." – Gregg Levoy

45. "All men were made by the Great Spirit Chief. They are all brothers." – Chief Joseph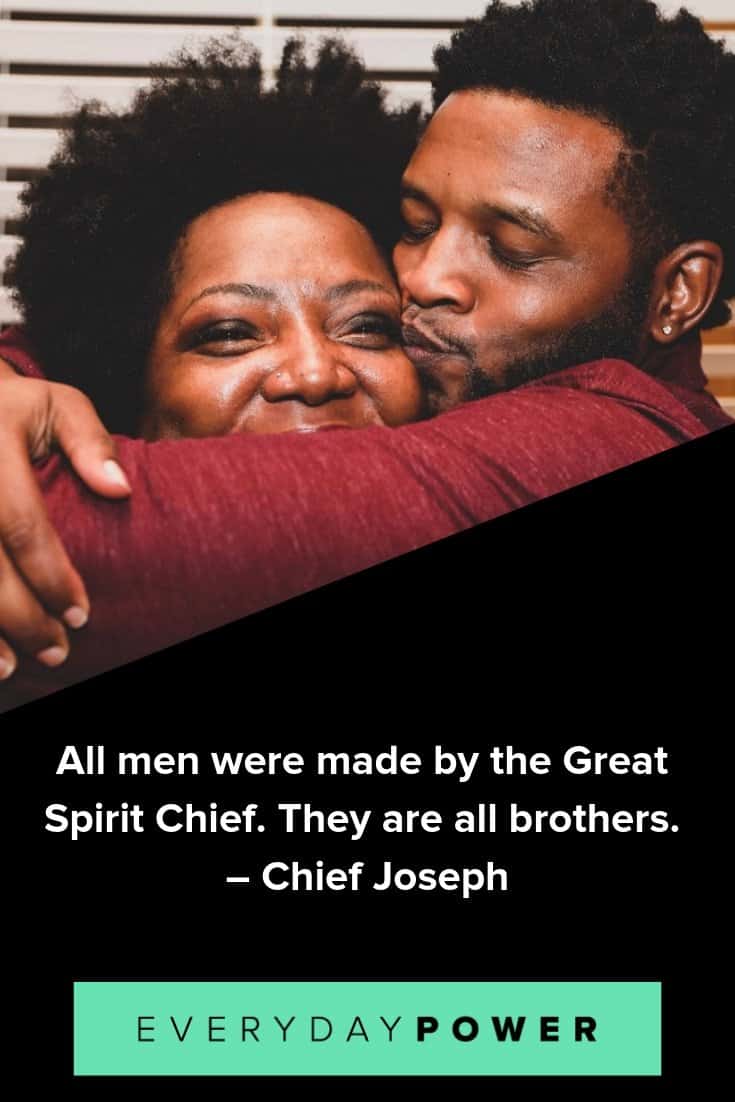 46. "If you have a brother or sister, tell them you love them every day – that's the most beautiful thing. I told my sister how much I loved her every day. That's the only reason I'm OK right now." – Amaury Nolasco

47. "I, who have no sisters or brothers, look with some degree of innocent envy on those who may be said to be born to friends." – James Boswell

48. 'Growing up, I absolutely loved skateboarding and dirt bike riding with my brother and the neighborhood kids.' – Daniella Monet

49. "Your brother is always the first male friend you will have in your life. Nobody will ever be able to understand your craziness like your brother and although you don't see each other as much as you'd like, he will always remain your friend and be there for you when you need him the most. While people will come and go in your life, your brother will be in your heart for a lifetime." – Ritu Ghatourey

50. "She had always wanted a brother. And she had one now. Sebastian. It was like always wanting a puppy and being a hellhound instead." – Cassandra Clare
Brother quotes on why blood is thicker than water
51. "We were unusually brought up; there was no gender differentiation. I was never thought of as any less than my brother." – Maya Lin
52. "I have a wonderful shelter, which is my family. I have a wonderful relationship with my brother and sister; this makes me feel that I know always where I belong." – Jose Carreras
53. "There is no success you can celebrate more than the success of a brother." – Diego Luna
54. "It takes two men to make one brother." – Israel Zangwill
55. "My father used to play with my brother and me in the yard. Mother would come out and say, 'You're tearing up the grass'; 'We're not raising grass,' Dad would reply. 'We're raising boys.'" – Harmon Killebrew
56. "All wars are civil wars, because all men are brothers." – Francois Fenelon
57. "Half the time when brothers wrestle, it's just an excuse to hug each other." – James Patterson
58. "No life's worth more than any other, no sister worth less than any brother." – Michael Franti
59. "No one could understand the bond between me and my brother. I struggled to understand the forces that drove his soul in one direction and mine in another." – Barry White
60. "My brother's my teacher, my mentor, and we both learnt all the acting basics from our father." – Jeff Bridges
Brother Quotes That WIll Make You Miss Your Brother
61. "It's time to be with my brother now." ― Veronica Roth
62. "You're a great brother. You give us a heart attack worrying about your heart attack, which you didn't even have the decency to have!" ― Groucho Marx
63. "Brother, thy tail hangs down behind." ― Rudyard Kipling
64. "I have a brother who is afraid to go to sleep, he dreams he's working." ― Milton Berle
65. "Brothers are a blessing for one thing. There is no possibility of any young lady getting unreasonably conceited if she be endowed with them." ― Arthur Conan Doyle
66. "My singing is my hobby. It's me and my brother. We just enjoy writing music." ― Taryn Manning
67. "Once you get a brother, you don't give him up easy." ― Orson Scott Card
68. "Let anyone who has zeal for God come with me! Let us fight for our brothers! Let Heaven's will be done!" ― Conrad III of Germany
69. "You don't live in a world all alone. Your brothers are here too." ― Albert Schweitzer
70. "When we trust our brother, whom we have seen, we are learning to trust God, whom we have not seen." ― James Freeman Clarke
Which of these brother quotes was your favorite?
If you're like most people, your brother is the one person you spent the most time playing with, fighting with, laughing with and everything in between.
Although you can't always live with him, you should be grateful that you have your brother.
We hope these quotes will help you appreciate and value your brother more.
Did you enjoy these brother quotes?
Which of the quotes was your favorite?
Tell us in the comment section below.
Also, don't forget to share with your brothers and sisters.