80 Disrespect Quotes to Help You Give and Get More Respect
These disrespect quotes will inspire you to respect yourself and others.
Disrespect is all around us, and sometimes it comes in ways we don't even recognize anymore because it has almost become commonplace.
A good example of this would be playing on our phones while we are out with others.
It is such a habit now, that most don't realize it is disrespectful of other people's time.
People disrespect each other in relationships in the obvious ways, like cheating, lying, or degrading each other.
Yet, the less obvious signs of disrespect can also hurt and cause problems.
You can see from these disrespect quotes for men and women that disrespect can go both ways.
The quotes about relationships also illustrate how we disrespect each other often.
What are some examples of disrespect that you might be guilty of doing, without even really noticing?
Maybe it's that exasperated tone you take when you feel like someone is being annoying or dumb.
You might not say mean things, but if people know you well enough, they recognize the truth behind your words.
Saying something mean in a "joking" or funny sense can still hurt the other person's feelings.
There is usually an inkling of truth to these kinds of disparaging jokes, and you are delivering a blow to someone's self-esteem even if you don't realize it.
Keep reading these disrespect quotes to learn more signs that you are disrespecting someone (or being disrespected) and discover how to stop disrespecting yourself, too!
Don't forget to also check out these respect quotes about life, love and relationships.
If you enjoy this article, check out our most popular quote article, a list of short inspirational quotes for daily motivation.
Browse our entire collection of inspirational quotes for more motivating ideas and concepts.
Disrespect quotes for him
1. "Above all, don't lie to yourself. The man who lies to himself and listens to his own lie comes to a point that he cannot distinguish the truth within him, or around him, and so loses all respect for himself and for others. And having no respect he ceases to love." ― Fyodor Dostoevsky
2. "You can't be the dad who takes your kid out after your wife has said, 'No ice cream,' buys the ice cream, and says, 'Don't tell your mother.' You teach the child to lie―and to disrespect the other parent." ― Howie Mandel
3. "A man who goes into a restaurant and blatantly disrespects the servers shows a strong discontent with his own being. Deep down he knows that restaurant service is the closest thing he will ever experience to being served like a king." ― Criss Jami
4. "Men are respectable only as they respect." ― Ralph Waldo Emerson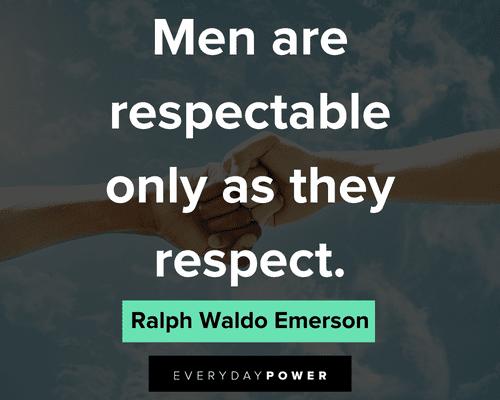 5. "If you want her respect, do not disrespect her feelings." ― Gift Gugu Mona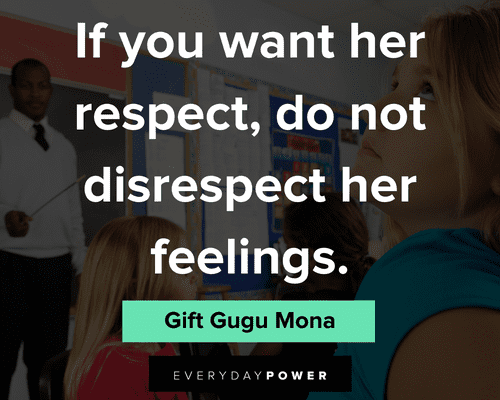 6. "Sometimes, in rare occasions, when I see a man respects a woman, treats her like another valuable human being, uses a proper language when talking to her and does not consider her only as a sex-toy. I feel proud of being a man. I feel grateful for belonging to a gender category as he is. However, the feeling is soon gone after seeing how men in general talk about women, disrespect them and insult them any way they can." ― Kambiz Shabankare
7. "A woman brought you into this world, so you have no right to disrespect one." ― Tupac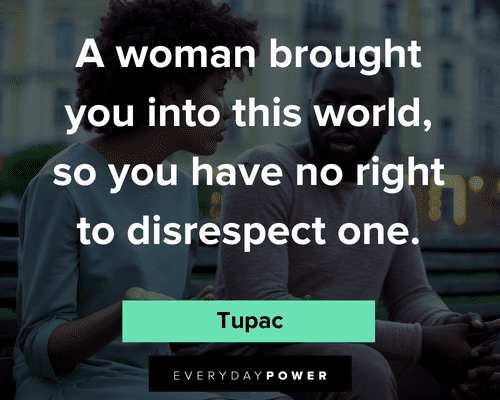 8. "A man who disrespects a woman, doesn't deserve one." ― Unknown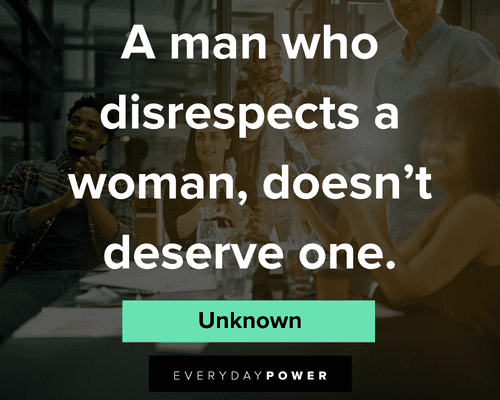 9. "Guys look best when they have a healthy disrespect for their clothes." ― Michael Bastian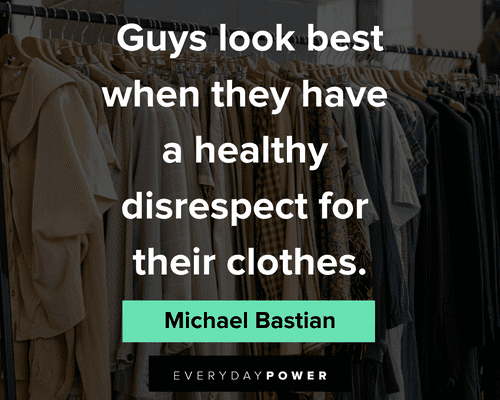 10. "You don't have to disrespect and insult others simply to hold your ground. If you do, that shows how shaky your position is." ― Red Haircrow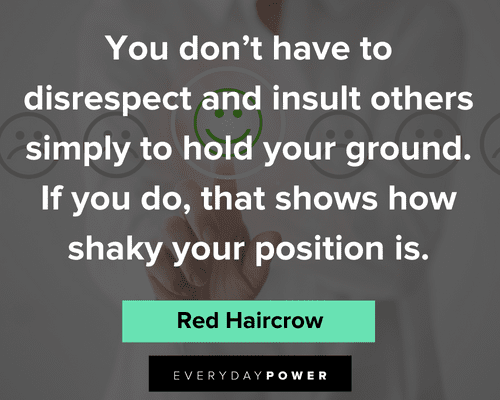 Disrespect quotes for her
11. "I want to say a little something that's long overdue, the disrespect to women has got to be through. To all the mothers and the sisters and the wives and friends, I wanna offer my love and respect till the end." ― Adam Yauch
12. "Disrespect for women grows when religions are dominated by men. I believe without question that the disrespect for women embodied male-dominated religion is a factor in laws and customs that keep women down." ― Melinda Gates
13. "I wonder why guys mistreat and disrespect girls. But then they expect life to hand them a good woman when they're older and ready to settle down?" ― Angelina Jolie
14. "I once heard it said that when a guy often acts disrespectfully to you, his bad behavior is not a piece of the puzzle. It solves the whole mystery. It tells you who he is. So don't get wrapped up in the bliss of his candy-coated personality when he's trying to make it up to you." ― Jason Evert, How to Find Your Soulmate Without Losing Your Soul
15. "No woman deserves to be disrespected; to be beaten up, to be called bitches or sluts. Assaulted or insulted. Even if she's a hooker." ― Imam Shah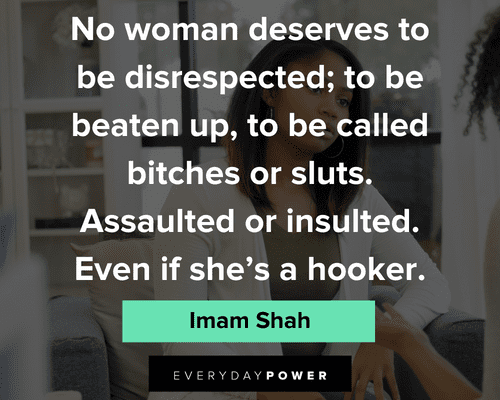 16. "I have never in my life let a man disrespect me, verbally or physically, and that will never change. I feel very strongly about this because it's something my mother instilled in me and that I have instilled in my daughters." ― Yolanda Hadid
17. "The widespread shame of motherhood is criminal, and it needs to stop. The world can never improve if you disrespect the people that bring life." ― Zawe Ashton
18. "If they disrespect you to your face, imagine what they're doing behind your back." ― Sonya Parker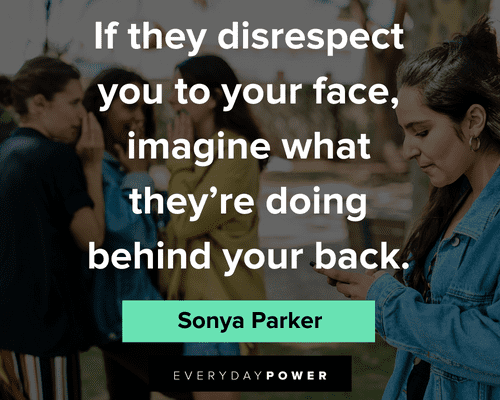 19. "No matter what the reason, if you start to scream and shout, you look a fool, and you feel a fool, and you earn the disrespect of everyone." ― Michael Caine
20. "There should be a little gap between you and your friends, though you'll miss their companionship and you'll also miss their disrespect." ― Michael Bassey Johnson
Relationships and disrespect quotes
21. "Some people console themselves by telling themselves that at least their lover or spouse does not disrespect them enough to cheat on them openly." ― Mokokoma Mokhonoana
22. "Shame, blame, disrespect, betrayal, and the withholding of affection damage the roots from which love grows. Love can only survive these injuries if they are acknowledged, healed and rare." ― Brené Brown
23. "Sometimes it's not always straightforward, but it's not always confusing either. You just have to respect a person's decisions without disrespecting them." ― Temi O'Sola
24. "Disrespect prevents love from growing." ― Anoir Ou-Chad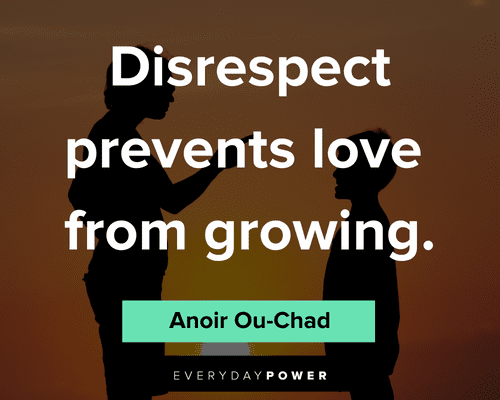 25. "The characteristics of healthy boundaries include self-respect; non-tolerance of abuse or disrespect; responsibility for exploring and nurturing personal potential; two-way communication of wants, needs, and feelings; expectations of reciprocity; and sharing responsibility and power."― Laurie Buchanan, PhD
26. "Love is a reason for so many things… But not to tolerate disrespect and abuse. Let love be the force that heals you from a bad relationship; not what keeps you in it." ― Steve Maraboli
27. "It's better to be alone and keep your dignity than to be in a relationship where you always sacrifice your self-respect." ― Auliq Ice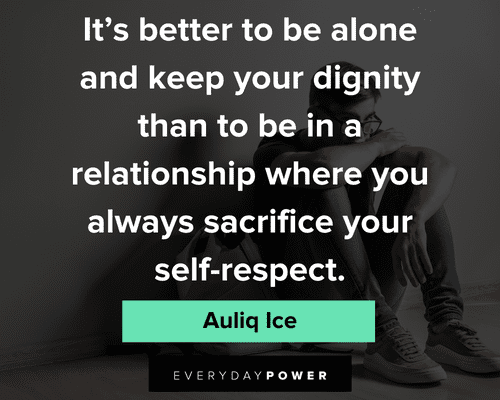 28. "When people don't respect one another seldom is there honesty." ― Shannon L. Alder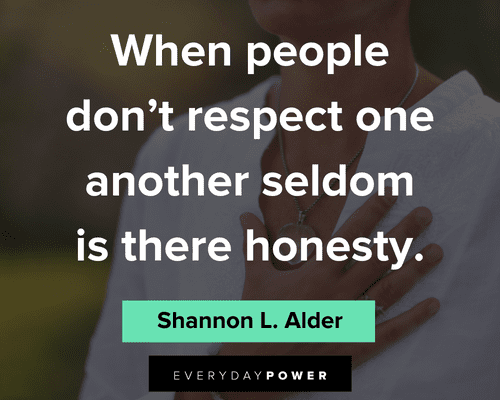 29. "Never fight with or disrespect your partner in front of other people." ― Divyanka Tripathi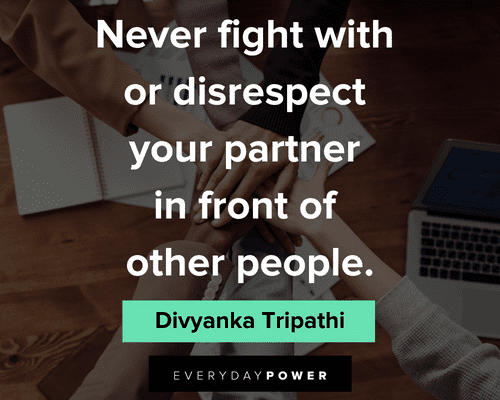 30. "I realized that I had slowly let them get comfortable disrespecting me. I had to put up boundaries for emotional self-defense. There comes a time when Givers must protect themselves because Takers have no interest in protecting you." ― Steve Maraboli
Stop disrespecting yourself quotes
31. "If you do not respect your own wishes, no one else will. You will simply attract people who disrespect you as much as you do." ― Vironika Tugaleva
32. "I'm game for a lot of things. But I won't disrespect myself in any way." ― Ginuwine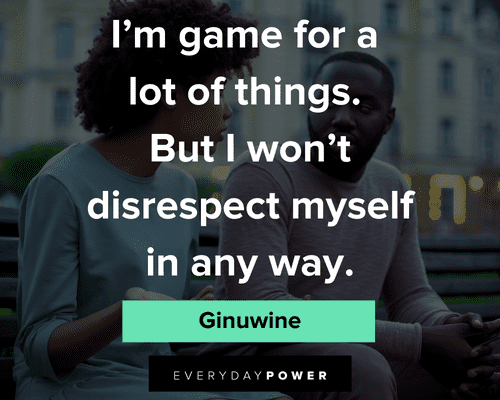 33. "When you tolerate disrespectful people you disrespect yourself." ― Wayne Gerard Trotman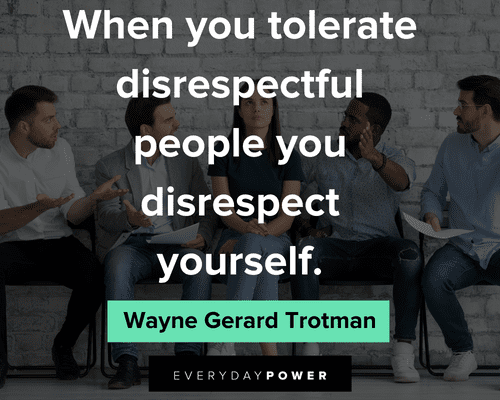 34. "Disrespecting yourself can be harmful to your future self." ― Angel Moreira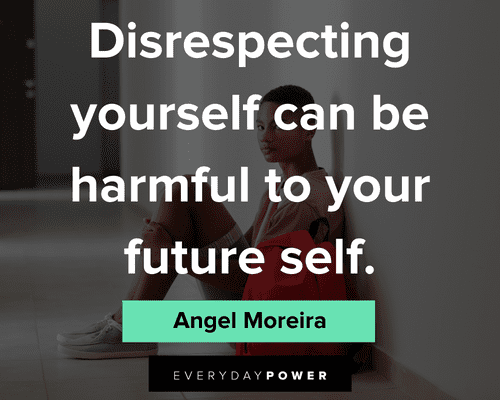 35. "You deserve respect and appreciation. A person who doesn't have respect for themselves will more than likely not give it to you. You have to set the standard for yourself by not allowing the insolence." ― Amaka Imani Nkosazana, Release The Ink
36. "Self respect by definition is a confidence and pride in knowing that your behavior is both honorable and dignified. Therefore when you harass or vilify another person, you not only disrespect them, but you also. Respect yourself by respecting others." ― Miya Yamanouchi, Embrace Your Sexual Self: A Practical Guide for Women
37. "I wouldn't disrespect myself or my art with any imitations." ― Shawn Crahan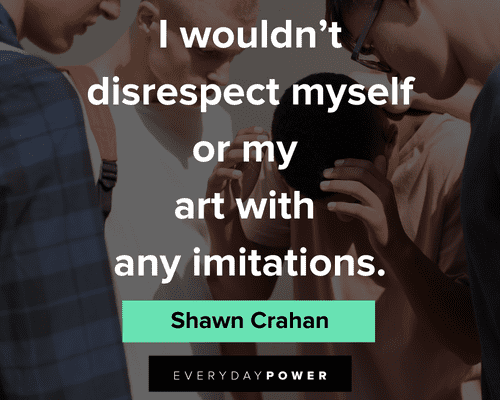 38. "Don't expect others to respect you if you can't even respect yourself. Respect starts with you." ― Unknown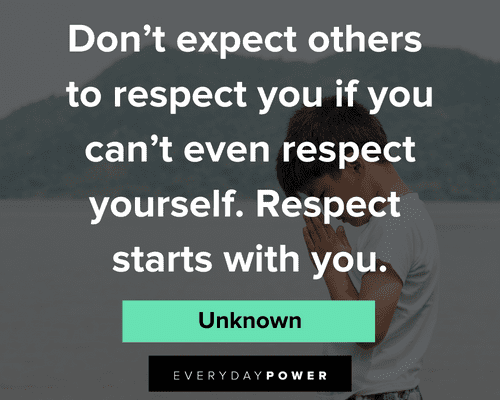 39. "You don't have permission to disrespect yourself." ― Martin De Maat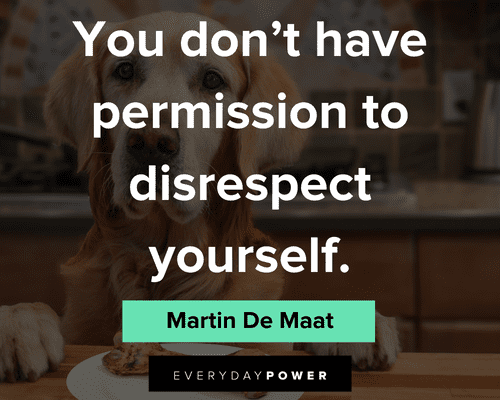 40. "If we as a people realized the greatness from which we came we would be less likely to disrespect ourselves." ― Marcus Garvey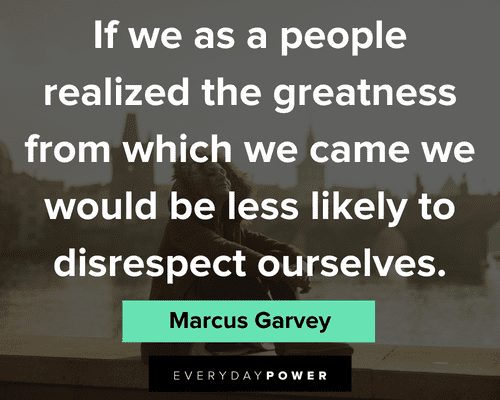 How to handle disrespect quotes
41. "Throughout life, people will make you mad, disrespect you, and treat you bad. Let God deal with the things they do, cause hate in your heart will consume you too." ― Will Smith
42. "Don't let people disrespect you. My mom says don't open the door to the devil. Surround yourself with positive people." ― Cuba Gooding, Jr.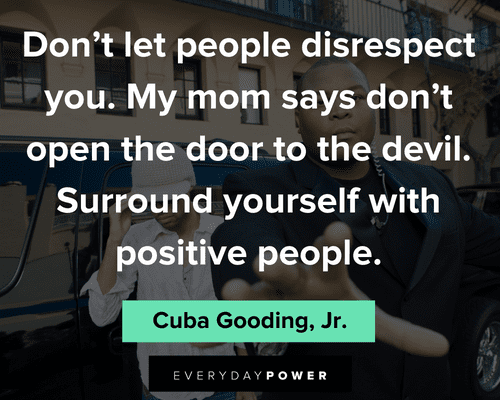 43. "You can choose to disrespect me but I will not give you permission to hurt my spirit." ― Lailah Gifty Akita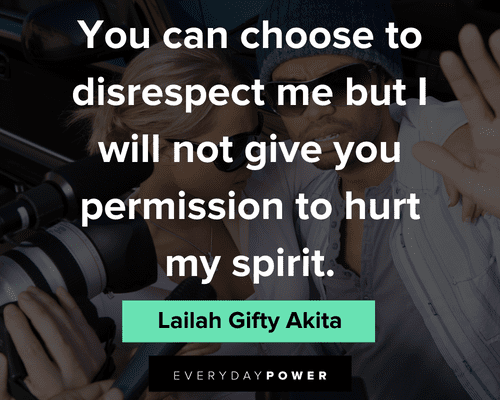 44. "Those who disrespect you with their mouth don't deserve your ear." ― Curtis Tyrone Jones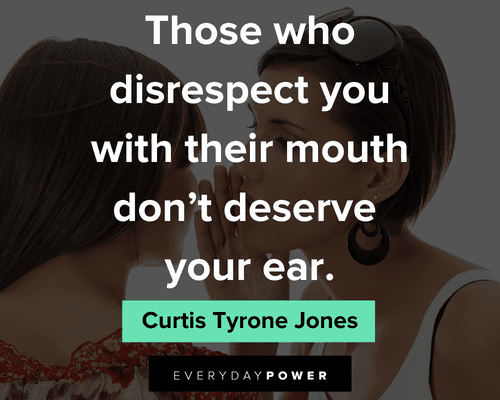 45. "Never make excuses for someone who disrespects you-who they are or what they do isn't a pass to treat you like trash!" ― Trent Shelton
46. "Pity, I knew, was just disrespect wrapped in kindness. I had to address it early, or it would grow unwieldy in time." ― Veronica Roth, Carve the Mark
47. "Respect me at all means. No halfway disrespect." ― Jermell Charlo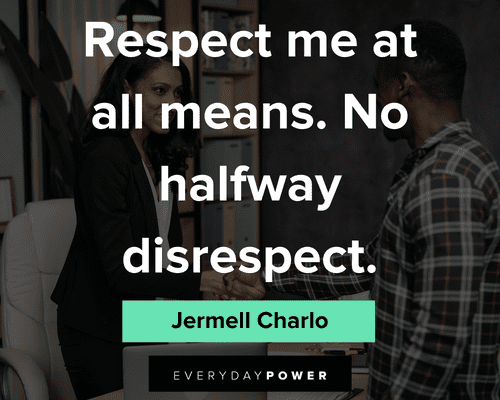 48. "Never make excuses for someone who disrespects you, who they are, or what they do isn't a pass to treat you like trash!" ― Trent Shelton
49. "Disrespect is tired. Shade is old. Sipping 'tea' isn't cute. But loving, supporting, giving, being grateful, and perpetuating light, is." ― Grace Gealey
50. "We are all, by nature, clearly oriented toward the basic human values of love and compassion. We all prefer the love of others to their hatred. We all prefer others' generosity to meanness. And who is there among us who does not prefer tolerance, respect and forgiveness of our failings to bigotry, disrespect, and resentment?" ― Dalai Lama
Disrespect quotes to learn and live by
51. "Arrogance, disrespect and demand have higher price. Kindness, respect and tact give better prize." ― Angelica Hopes
52. "I believe in a lively disrespect for most forms of authority." ― Rita Mae Brown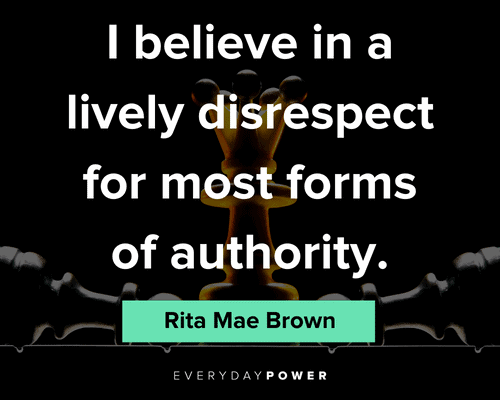 53. "Those who make hostility a daily manner are often left in the lurch at difficult times." ― Michael Bassey Johnson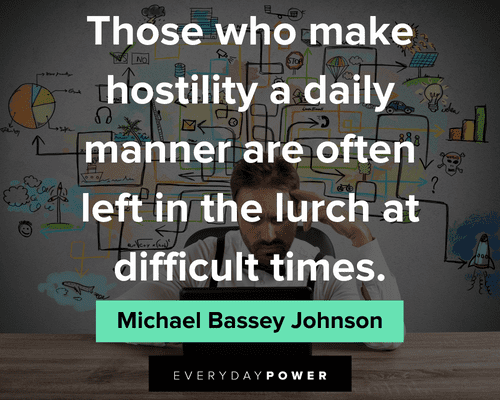 54. "Disrespect adheres to the ignorant; like wet leaves, breathed, on cold skin." ― Sir Kristian Goldmund Aumann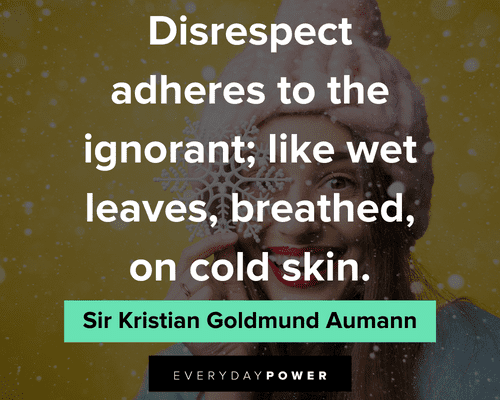 55. "Nothing in the history of humankind has been disrespected as much as nature." ― M.F. Moonzajer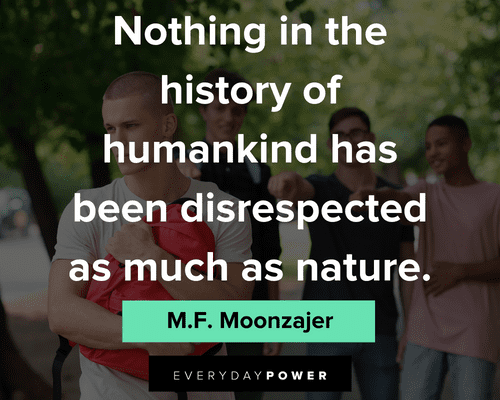 56. "I respect everybody. You don't have to earn my respect. You earn my disrespect." ― Charlie Murphy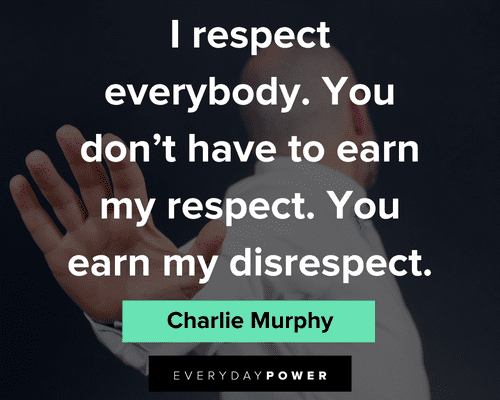 57. "Don't disrespect me, lie about it, and then come smile in my face and act like nothing's wrong." ― Scottie Pippen
58. "I would never disrespect any man, woman, chick or child out there. We're all the same. What goes around comes around, and karma kicks us all in the butt in the end of the day." ― Angie Stone
59. "You're not going to be liked by everybody when you speak the truth. I don't speak the truth to put people down; I don't speak the truth to show disrespect." ― Hope Solo
60. "I have never in my life let a man disrespect me, verbally or physically, and that will never change. I feel very strongly about this because it's something my mother instilled in me and that I have instilled in my daughters." ― Yolanda Hadid
Disrespect Quotes That You Earn Respect By Respecting Others
61. "Disrespect is the weapon of the weak" — Alice Miller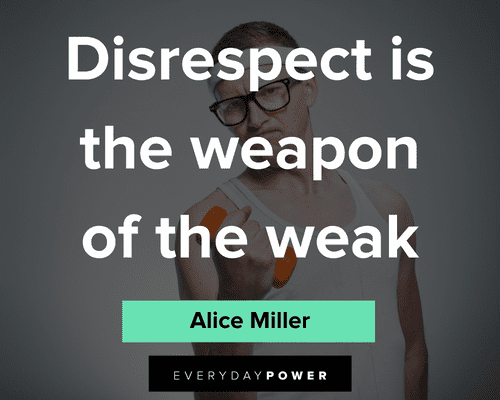 62. "A child who is allowed to be disrespectful to his parents will not have true respect for anyone." — Billy Graham
63. "If you disrespect everybody that you run into, how in the world do you think everybody's supposed to respect you?" — Aretha Franklin
64. "If Somebody disrespects me they will pay for it. I promise." — Anderson Silva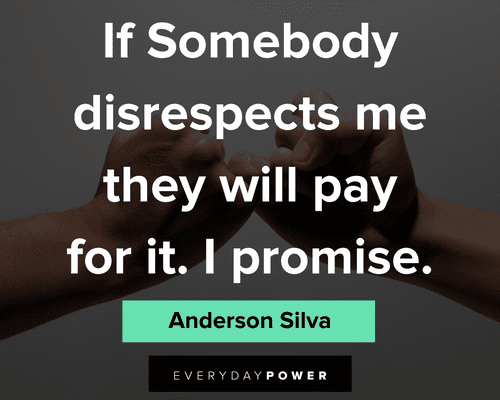 65. "A little rudeness and disrespect can elevate a meaningless interaction to a battle of wills and add drama to an otherwise dull day." — Bill Watterson
66. "Respect depicts acceptance while disrespect is rejection." — Fawad Afzal Khan
67. "When we disrespect a person, we disrespect God." — Shri Radhe Maa
68. "Disrespect cannot be commanded, it must be earned." — Matthew Taberner
69. "Disrespect earns the displeasure of the creator and the creation." — Abdul-Qadir Gilani
70. "I don't appreciate the disrespect, because I've been playing hurt for a guy who won't respect you. I don't deserve it…It's time for me to move on." — Melvin Mora
71. "You can't disrespect the love. You can't disrespect the peace treaty." ― Tupac Shakur
72. "People respond better to kindness than cruelty. Why, it's even caught on in the workplace, that bastion of self-hatred and disrespect." ― Cheri Huber
73. "My critique of democracy begins and ends with this point. kids must be educated to disrespect authority or else democracy is a farce." ― Abbie Hoffman
74. "Genius attracts more hate than love and more disrespect than respect; at least for the first few hundred years." ― Steve Fowler
75. "Gentleness in the gait is what simplicity is in the dress. Violent gestures or quick movements inspire involuntary disrespect." ― Honore de Balzac
76. "Forgive me for my disrespect, forgive me for my lies." ― The Notorious B.I.G.
77. "A woman bought you into this world, so you have no right to disrespect one." ― Tupac Shakur
78. "We must never so thoroughly disrespect someone that they are beyond the pale and, therefore, have no possibility of being changed." ― Cornel West
79. "There's a lot of disrespect in the major leagues. I believe that the disrespect in the major leagues is at a high rate and is really bad for the gam" ― Bengie Molina
80. "I would never disrespect anyone." ― Juan Pablo Galavis
What did you learn from these disrespect quotes?
If I am honest, I do some of these things without realizing it, and it is just rude and hurtful.
Are you guilty of belittling your partner's accomplishments or not listening to their opinions?
Maybe you have been accepting these "little things" from your partner because they don't seem that bad.
I think we can all see ourselves and our partners in some of these behaviors, like how I constantly steal the towels from the bathroom, even though my husband has all but begged that I leave at least one in there after I shower.
Recognizing these truths doesn't mean that we are terrible people; it is just an opportunity to be better.
And a chance to love and respect the people most important to us even more.
Working on being the best version of yourself is a form of self-respect, but it can also improve other areas in your life.
What's your biggest takeaway from these disrespect quotes and sayings?
What are some disrespectful things you draw the line at accepting?
How do you handle it when people disrespect you?
Share your thoughts with us in the comment section below.